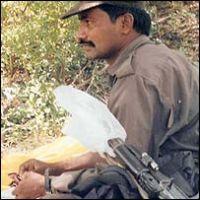 It was a bad day for the Maoists in Andhra Pradesh when their two top leaders, including the most wanted central committee member Shakamuri Appa Rao and South Telangana coordinator Solipeta Kondal Reddy, killed by the state police in two different incidents.
While police claimed the Maois leaders were killed in exchanges of fire in Prakasham and Warangal districts on Friday, the supporters and sympathizers of Maoists have alleged they were killed in cold blood after they were arrested by the police.
Appa Rao's killing is being seen as a big blow to the organisation as he was the last important leader of the Communist Party of India-Maoists in the state, as all others were either killed or had left the state for safer zones in other states.
While Appa Rao was killed in Nallamalla forest area near Netikonda village in Pullalachervu mandal of Prakasham district, 450 kms south of Hyderabad, Kondal Reddy was killed in Kodishala village in Tadvai mandal of Warangal district early on Friday morning. Two AK-47 rifles were recovered from both the scenes of the incidents.
Appa Rao carried a reward of Rs 12 lakh on his head and there was a reward of Rs 5 lakh on Konda Reddy's head.
Though police claimed both the incidents to be separate, known sympathisers of Maoists and the civil rights activists have alleged that both the Maoist leaders were arrested by the Andhra Pradesh police three days ago near Pune, and they were killed in cold blood in 'fake encounters.'
"This is simply a fake encounter which was carried out in full knowledge of Union Home Minister P Chidambaram and state chief minister K Rosaiah," popular balladeer Ghaddar said.
Revolutionary Writers' Association leader and poet Vara Vara Rao also alleged that both the Maoist leaders were killed in a staged encounter.
"Instead of producing them in the court and trying them, police took the law in their own hands and killed them. We have information that many other Maoists are also in police custody. I demand that they should be produced in the court," Vara Vara Rao said.
Some supporters say that Appa Rao alone was killed and there was no loss of life on the part of police.  "If a senior leader like Appa Rao was present in the area, at least 12 body guards should have been there with them and they would have encountered the police first before reaching the leader," one of the symapthisers said.
V Naveen Chand, Prakasham district superintendent of police said that the encounter took place after a combing team of police spotted four naxalites and encircled the place. In the ensuing encounter one of them died and he was identified as Shakhamuri Appa Rao, he said.
An AK-47 rifle was recovered from the scene of the incident. While police claimed that a few other Maoists were also present there and managed to flee, the scene of the incident did not show any indications of any large scale encounter.
Appa Rao, who was the prime accused in the killing of Deputy Inspector General of Police KS Vyas in Hyderabad in 1993, was arrested once and was in Chanchalguda central jail in Hyderabad for seven years.
But he jumped the bail in 2000 and went underground. KS Vyas, who was on the hit list of Maoists for his campaign against them, was killed when he was jogging in Lal Bahadur Stadium in heart of Hyderabad.
Appa Rao, who hailed from Khanapur village of Warangal district, was also a suspect in many high profile incidents including the killing of former home minister A Madhav Reddy in March 2000, and the attack on then chief minister N Chandrababu Naidu in October 2003.
Appa Rao had gone underground in 1982 when he joined Radical Students Union and then moved on to join the CPI-ML People's War.
Warangal district superintendent of police Shahnawaz Qasim said that the police was on combing operations in Tadwai mandal after it received the information about the presence of Naxalites in the area over the last ten days. He said Naxalites were planning to carry out a major attack.
Kondal Reddy, who hailed from Chittapur village in Medak district, had gone underground in 1988 while studying in Hyderabad and went on to become in charge of the South Telangana Regional Committee. As he looked after technical affairs of the organisation, he came to be called 'Tech Ramana. '
This is the second major setback for the CPI-Maoist in Andhra Pradesh in less than a year. Another top leader and expert of guerilla warfare Patel Sudhakar Reddy was killed in an encounter on May 24, 2009 in Warangal district.
Sudhakar Reddy was the member of the Central Committee and the Central Military Commission apart from begin the head of its intelligence wing.
In his underground life spanning over three decades, Patel was involved in a large number of offences including the assassination of former home minister A Madhava Reddy and two senior Indian Police Services officer. He was also the key accused in the attempt to kill the former chief ministers N Chandrababu Naidu and N Janardhan Reddy.
Image: Shakamuri Appa Rao