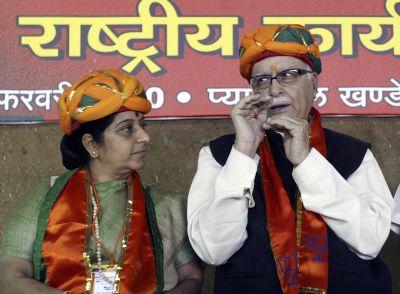 Senior BJP leaders L K Advani and Sushma Swaraj, who are said to be opposed to the declaration of Narendra Modi as the prime ministerial candidate in the next elections, held a dinner meeting with Rashtriya Swayamsevak Sangh Chief Mohan Bhagwat on Thursday to discuss the issue.
Advani hosted the dinner where Bhagwat and Swaraj were present and the three are understood to have discussed whether Modi should be declared the PM candidate now or it should be postponed till the forthcoming assembly elections in Madhya Pradesh, Chhattisgarh, Rajasthan and Delhi are over.
The meeting assumes significance as Madhya Pradesh Chief Minister Shivraj Singh Chouhan reportedly met Bhagwat, Advani and BJP Chief Rajnath Singh here last Sunday and requested them not to declare Modi as the PM candidate before the assembly polls as it will harm the party in over 30 seats in the state due to polarisation of Muslim votes.
However, Chouhan tweeted today afternoon- three days after his meeting with Bhagwat and the BJP top brass- denying that he was opposed to Modi being made the PM candidate.
"Reports in certain sections of media around my objection to Shri @narendramodi being declared as PM candidate are baseless & misleading... In BJP, the party is supreme and it will decide and declare the PM candidate at the right moment. Any speculation in this regard is avoidable," he said.
Party sources said the pros and cons of declaring Modi the PM candidate were discussed between Bhagwat, Advani and Swaraj. Advani and Swaraj are reported to be still opposed to the idea while the RSS and a sizable section of the BJP feels the announcement should not be delayed any further.
A coordination committee meeting of RSS, BJP, VHP and other Sangh parivar outfits is being held on September 8 and 9 to discuss crucial issues. Though the issue of making Modi the PM candidate is not on the agenda, there is likelihood of some noises being made in this regard during the conclave.
Image: Sushma Swaraj with LK Advani
Photograph: Reuters