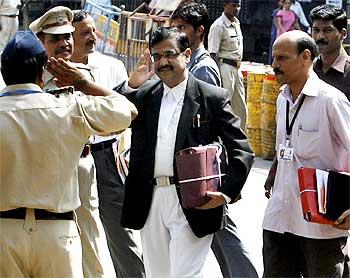 Special Public Prosecutor Ujwal Nikam, who represents the Maharashtra government in the 26/11 trial, looked visibly angry on Thursday over a report published in a Mumbai newspaper that said Judge M L Tahaliyani had reprimanded him during court proceedings on Wednesday.
The judge, during court proceedings on Wednesday, had asked Nikam if investigators had matched terrorist Ajmal Kasab's handwriting with that of some words written in Urdu on a piece of paper found on an unexploded bomb at the Chhatrapati Shivaji Terminus on the night of November 26 last year.
The paper had Mujahideen Fee Sabilillah (waging jihad in the cause of Allah) written on it.
"I think it is purposely and deliberately done to malign my name," Nikam told the judge before filing an application asking the judge why the newspaper should not be issued a contempt of court notice.
"I have not reprimanded the learned Public Prosecutor Ujwal Nikam. The prosecution has nothing to do with the investigation," Tahaliyani had said before issuing an order to that effect.
Nikam maintained that the report sends a wrong message to the public at large.
When this correspondent asked Nikam outside the court why he was so angry, he asked: "Did the judge reprimand me?" anger palpable in his voice.
"Do you belong to that newspaper?" he asked this correspondent, raising an eyebrow.
"The position of a public prosecutor is one of immense responsibility, especially in a sensitive case like this, and it is but likely for him to get upset at such reports that try to malign his reputation," said a contemporary of Nikam, speaking on condition that he would not be identified by name.
"Ever since the 1993 bomb blasts case, Nikam has a clean image as a public prosecutor for which he is respected by the people at large. And it is apt that he would get angry at such misreporting," said his associate.
"He is just trying to safeguard that image and there's nothing wrong in it," he added.
Meanwhile, a notice was issued to Mumbai Mirror Editor Meenal Baghel and a correspondent, asking them to furnish a reply on why contempt of court proceedings should not be initiated against them. The notice is returnable on January 6, when the court proceedings begin after the Christmas vacation.
Image: Ujawal Nikam arrives in court. Photograph: Arko Datta/Reuters