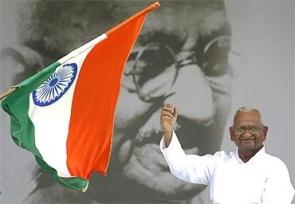 Activist Anna Hazare on Monday accused the Centre of not keeping its promise about passing the Jan Lokpal Bill and said he will sit on an indefinite hunger strike in his hometown Ralegan Sidhi from Tuesday for the passage of the anti-graft law in Parliament.
Hazare said one of the major reasons for the drubbing the Congress received in the just-concluded elections to four states was its failure to get the Jan Lokpal Bill passed.
"The Congress betrayed the people, who responded appropriately," he told reporters.
Hazare sought to know why Prime Minister Manmohan Singh could not make a pledge to get the Jan Lokpal Bill passed in Parliament, the way he had done for the Communal Violence Bill.
Recalling his earlier hunger fast in Delhi, Hazare said, "Sonia Gandhi wrote a letter saying 'the government is ready to bring the Jan Lokpal Bill and please end your fast'. I trusted her and I ended my fast."
"I didn't know that this UPA government will betray the public and me," he said.
"The government has given its written word but it has not been adhered to till today, although two years have gone by," Hazare said.
The anti-graft crusader said when people came out on the streets and the hunger strike was underway, the Jan Lokpal Bill was passed in one day in Lok Sabha. After that, the bill went to the Standing Committee, then to the Rajya Sabha and to a Select Committee, he said.
"This bill came to the Rajya Sabha after being passed everywhere and only discussions on it were left. It has now been over a year and the bill is just lying in the Rajya Sabha. There are 71 Congress MPs there. The bill is still stuck there," he said.
Hazare said he got several letters from the government assuring him that the bill will be brought in the winter session of Parliament in 2012.
Later, he got another communication, saying the bill will be introduced in the budget session and then later, in the monsoon session.
"The monsoon session has also gone by. And that is why we are left with no other option. That is why from Tuesday, I will fast at Ralegan Sidhi," he said.
Hazare said his fast will continue till the Jan Lokpal Bill is passed by Parliament.
"Our fight will continue for the right to reject, right to recall and for the creation of a corruption-free India," he said.
"People have vented their anger against the Congress in the assembly elections to four states," he said, adding the government must remember that it is their responsibility to pass laws for which people have sent them to Parliament.