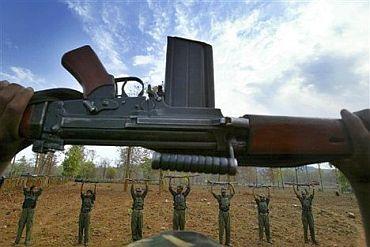 In one of the biggest encounters in the recent times with the Maoists, involving the Andhra Pradesh police and Central paramilitary forces, 10 left-wing ultras were killed while scores of others were injured.
Those killed include senior Maoist leader K Raji Reddy, a Khammam district committee member of the Communist Party of India-Maoist, and an unidentified woman.
The incident took place near Chintalnaar in Chattisgarh, hardly 15 kilometres away from the border of the Khammam district of Andhra Pradesh.
Greyhound, the elite anti-Naxalite force of the AP police and Khammam district police also took part in the encounter along with the Central Reserve Police Force and the Chattisgarh police.
Khammam District Superintendent of police A V Ranganath said that a combing operation was launched in the area on the receipt of information about the presence of a large number of Maoists there.
The encounter started in the wee hours of Tuesday as the Maoist opened fire on the approaching police parties. It is the same area where the Maoists had ambushed the security forces in 2011 and killed 70 CRPF personnel.
Ranganath told mediapersons that the bodies of the Maoists will be brought to Bhadrachalam hospital by helicopter by Tuesday evening.