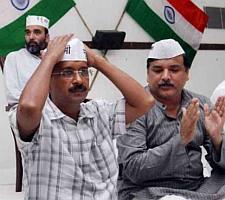 Amid reports that Bharatiya Janata Party is trying to form government in Delhi, the Aam Aadmi Party has called a meeting of its MLAs on Thursday to discuss future course of action.
The Arvind Kejriwal-led party is expected to discuss its future plan if BJP forms the government in the national capital.
At present, AAP has 27 MLAs in the 70-member Delhi Legislative Assembly. It had earlier expelled its Laxmi Nagar MLA Vinod Kumar Binny for indulging in anti-party activities.

AAP sources said Kejriwal has sought an appointment with Delhi Lieutenant Governor Najeeb Jung, but a confirmation is being awaited.
Meanwhile, rubbishing Kejriwal's allegation, former BJP chief and Home Minister Rajnath Singh said his party doesn't indulge in such practices.
"BJP has never indulged in horse-trading. I can confidently say that BJP doesn't indulge in horse-trading," he told media persons.
On July 3, AAP MLAs, led by Kejriwal, had met President Pranab Mukherjee. They demanded dissolution of Delhi assembly and fresh polls in the national capital.
The party, in a memorandum to the President, had alleged that BJP had approached 15 of its MLAs for support.
"They have been luring them with ministerial berths, properties and cash ranging from Rs 10 to Rs 20 crore. When this did not work out, our MLA from Shalimar Bagh Bandana Kumari was given a life threat. She has already filed a police complaint in this regard," Kejriwal had said in the memorandum.
After last December's assembly polls, AAP had formed the government in Delhi with Congress support, but the Kejriwal-led dispensation resigned after just 49 days for failing to pass its pet Jan Laokpal Bill.