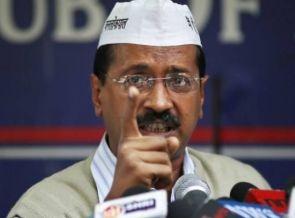 Amid compulsions, the Delhi assembly elections would test the Aam Aadmi Party's endurance, says Sreelatha Menon
Can a single name change politics? The people drawn to Aam Aadmi Party chief Arvind Kejriwal certainly believe so. Nothing, not even slippages in the party's journey, makes them lose their faith in Kejriwal.
AAP has been busy deciding its candidates for 70 assembly constituencies; in Delhi, only five are yet to be announced. This week, the party's volunteers from the Sultanpuri constituency were scheduled to select the candidate from five short-listed names.
However, while the party office had a list of active volunteers from the area, the names of many of those who arrived for voting weren't present on the list. In fact there were two lists -- one maintained by the area coordinator and another by the party office and the two didn't tally.
The names of many Right to Information activists, as well as those who claimed to have been available at the beck and call of the party for protests and agitations, were absent from the list.
Showing a wound on his wrist, one claimed this had resulted while fixing power connections. While his name was included, his fellow volunteers weren't. A teacher was included in the list, though he was upset the names of many volunteers brought by him weren't. Along with others, he questioned the party's claims of transparency. Some were planning to campaign across the constituency, asking people about their right to reject all candidates.
The party's list of woes didn't end here.
To keep track of active volunteers, each seat has one or two coordinators. A coordinator not only accused the party of ignoring his list, but also of allowing volunteers handpicked by a certain candidate to be included, while keeping the others out.
Some alleged a TV channel had already announced the name of a candidate, despite the fact that voting hadn't begun.
A businessman from Sultanpuri, said, "We are being cheated. Our Congress Member of Legislative Assembly Jaikishan is much better -- at least we know we are being cheated. But here, we are being exploited by a party that has promised to end all exploitation."
AAP workers in the party office at Kaushambi, including a former journalist and a bank employee, sought to soothe nerves.
"This happens at every meeting of volunteers. We have to verify whether those claiming to be volunteers are from rival parties… If they have received mobile messages, we would let them vote," they say.
But many haven't received such messages. A volunteer whose name was excluded, said, "To campaign, I used to go house to house till late in the night; now, my name is not there."
Another coordinator in Sultanpuri, realised his name wasn't included in the list. "When there are agitations, all of us get messages. But now, when it is our turn to vote, we get none," he says.
Would the disgruntled volunteers and coordinators quit? "Why should the party suffer for the mistakes within?" asks a volunteer. He, however, ominously adds, "If wrong candidates are foisted on us, we will ask people to use the right to reject, rather than vote for any of them."
Another volunteer says, "When genuine volunteers and old volunteers are excluded, it will reflect on the party's health."