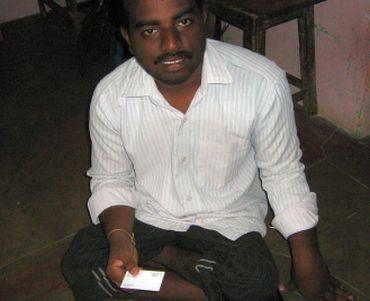 Bhagwathi, 27, is an EEE Engineering graduate with an impressive resume. He was a very good student both in school and college scoring 90 per cent in his higher secondary board exams, and a 74 per cent score in his engineering exams.
When you look at his achievements, you won't realise he has accomplished so much in spite of his handicap -- both his legs are affected by polio.
He got a job on contract at Anna University at Tirunelveli in Tamil Nadu. This university had 90 colleges and they required data entry operators at every college. He was given the job at Jairaj Annabackiam college, Nazareth, where he worked for two years. 

"At school my classes were on the ground floor, but in college it was on the first floor. No one carried me, I just walked to the first floor on my knees," he says with a smile. Similarly, his office too was on the first floor, but he wasn't dependent on anybody to get there and nor did he ever complain.
He has a smile when he tells you that he has a brother and a sister, but they are all unmarried. They used to live in Sathankulam -- about 18 km away -- when he got a job with the college. So they rented a house in Nazareth. "Can you see my Scooty outside. The government gave me that. It has all its controls on the handle so that I can ride it. It has two extra small wheels to make sure I don't topple over," he says.

"You know, the Dravida Munnettra Kazhagam government created the Anna University in Tirunelveli. The first thing the Anna Dravida Munnetra Kazhagam did when they came to power was to shut it down. I lost my job," Bhagwathi says with a sigh. 

"My parents did not have money to pay my engineering college fees. The St. Luke's trust, which runs a leprosy home in Peikulam, paid my fees. For my hostel fees and other expenses I took a bank loan of Rs 25,000 every year for four years," he explained. 

"He was so happy with his job, and now he is upset" says Bhagwathi's mother.
His father works as a salesman in Nazareth and his brother works as a salesman in Eral. Bhagwathi's house is simple. There is a computer in one corner. "The government gave me that too," he says with a smile. There is something endearing about his smile. Nothing can kill this young man's spirit. 

The bank loan of Rs 1 lakh has now come back to haunt him. The bank sends him regular reminders. He does not know how he is going to pay back the loan without a job. 

Bhagwathi has registered with the employment exchange. Tamil Nadu provides a three per cent reservation for employment of the handicapped. 

"I can travel by bus and train but I hate going to Chennai. The rickshaw drivers there are so ill mannered and rude and they want to rob you with their high fares," he says. Every one complains about Chennai's notorious rickshaw drivers but their behaviour toward a polio-stricken person shows how low they have sunk. 

Bhagwathi is not waiting for the government to come forward to give him a job. He has applied to HCL, DCW and is also planning to apply to Sterlite industry. 

As I was leaving his home, he said, "Sir, you're a journalist, you may know so many people. Get me a job na. I want to pay my bank loan and look after my family." His eyes held mine, there was no plea for sympathy; all he wanted was a job. 
Photograph: S Bhagwathi
Credit: A Ganesh Nadar