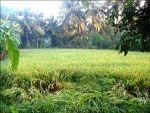 The government on Friday continued its efforts to evolve consensus on the contentious land acquisition bill as Rural Development Minister Jairam Ramesh met Leader of the Opposition Arun Jaitley and CPM's Sitaram Yechury seeking their support.
In his separate meetings with the two leaders, he discussed the draft of the bill and sought their parties' support to pass the measure in the budget session of Parliament, sources said.
Ramesh's meeting with the two top leaders in the Rajya Sabha came a day after he reached out to Leader of Opposition in the Lok Sabha Sushma Swaraj who articulated BJP's view on the bill in the all-party meeting held here on April 9.
He has already spoken to senior CPI leader and Rajya Sabha MP D Raja and assured him that his party's concerns over the measure will be looked into.
The government is keen to forge consensus on the bill when the parties meet again on April 18.
Though Ramesh said the meetings were "very good" he refused to share details.
At the April 9 meeting, Swaraj had submitted BJP's 12 points of concern. One was over the government deleting the term SEZ and replacing it with 'manufacturing zones' in the bill.
BJP had also suggested that instead of acquisition, the land could be leased to the developer as it was a "better proposition" because the land will remain with the farmer and would provide him with regular annual income.
Basudeb Acharya, who represented CPI-M in the all-party meeting, had opposed certain provisions in the bill and said that mandatory employment should be extended to not one but two family members who are affected by land acquisition for various projects.
The CPI-M and the BJP had also asked the government to send the bill back to the standing committee on Rural Development and bring it into Parliament during monsoon session.
Following opposition from parties on such points, the government had asked the parties to submit the suggestions regarding the bill by April 15. The Rural Development Ministry would study the suggestions and get back to them before the consultations on April 18.
So far, BJP, CPI-M and AIADMK have given their suggestions, officials said.