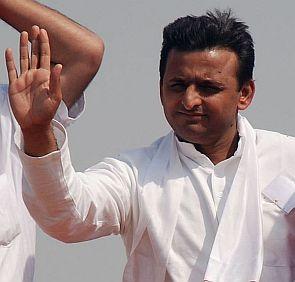 Notwithstanding reluctance of some leaders of regional parties to make it public, UP Chief Minister Akhilesh Yadav is strongly in favour of a Third Front to prevent communal forces from coming to power after the Lok Sabha elections.
However, he avoided a direct answer to whether his father and SP chief Mulayam Singh Yadav would be a prime ministerial candidate of that front. He merely said India needs a Prime Minister who can understand the issues of poor and farmers.

"In UP as well as other parts of the country, communal forces have to be reined in. Only a Third Front can stop such forces. Because of the mistakes of the Congress, the BJP is getting strengthened," he told PTI.
"We need a Third Front. Who will stop those forces in West Bengal -- either Trinamool or Communists. In Tamil Nadu, it is either DMK or AIADMK. In Bihar, the ruling party was with BJP but now they are willing to join the fight against communal forces. SP has been fighting against them for years and has never supported them," he said ruling out any tie up with BJP.
Leaders of non-BJP, non-Congress parties have been talking of fighting the challenge of BJP but probably with the exception of Odisha Chief Minister Naveen Patnaik they have not openly talked of a Third Front before the elections.

Even at Wednesday's convention of 14 non-Congress, non-BJP parties here, there was no talk of forming a Front though the meeting itself was widely interpreted as the first step towards forming such a grouping.
Yadav also parried questions on SP's support to Congress.

"As far as Congress is concerned, it is too early to say anything. First of all, I don't think they (Cong) are going to get that many seats. We supported Congress to prevent communal forces to come into power but it is due to the mistakes of Congress, the BJP has become stronger," Yadav said.

On BSP supremo Mayawati, he said that she has supported the BJP in the past and can again go with it.
On Rahul Gandhi's statement about ISI's attempt to lure victims of Muzaffarnagar riots, Yadav said a national party leader should not come up with such an idea.
"The country is asking questions but he has no answers. Being a leader of a national party he should not come up with such an idea. I don't know if there is any politics in his statement. There was an incident in Muzaffarnagar which was sad but to take that in this context and to do politics on that, to raise a question and than not to have any answer, I think he has invited trouble," he said.
The chief minister dismissed the idea that the next elections will be Narendra Modi versus Rahul Gandhi.

"Years ago, we used to watch test cricket but now there is T20 cricket. Times have changed. When I read the newspaper or watch TV, I feel that these parties are playing T20 match. They hardly discuss real issues. Elections cannot be fought on the basis of speeches or TV discussions. The real issue is price rise and unemployment," he said.
"Corruption is a big issue, I admit, but the poor people do not understand what 2G or spectrum is. Congress has spent all 10 years to save and cover these," the chief minister said.

Charging the BJP with trying to mislead people through Kosi parikrama yatra, he said, "I am watching BJP's politics and ways closely. The timing was not correct. The seers started the yatra saying they will stay in Ayodhya and see places. But the people who were with them said temple will be built which means that temple was an issue."
On allegations that prompt action was not taken during communal riots in Muzaffarnagar, Yadav said government will take stern action against the culprits.
"Whatever happened, it is not easy to compensate. FIR has been lodged and we are taking action. People have been arrested and some more arrests will take place. It took time to assess the situation but we have initiated probe against officials who did not perform their duty efficiently. There is an enquiry commission and government will take stern action on the basis of its report," he said.
Dismissing the charge that SP was indulging in Muslim appeasement, Yadav said the party does not look at Muslims as a vote bank.
"You see our election manifesto. We are trying to bring them in mainstream. It is the recommendations of the Sachar committee and the Rangnath Mishra committee that was constituted by the Centre," he said.
On charges that his decisions are influenced by senior SP leaders, the chief minister said, "It is wrong to say that I have lost the faith of people. When you are in opposition you play a different role. But when you are in government and that too leading for the first time in such a huge state, you have to be very careful.
"We have been doing pro development work but the results will take time to come especially in a state like UP where the former Chief Minister was busy in installing her own statues. It will take time to deliver," he stressed.

"I take suggestions from senior leaders as I am still learning. However, the final decision remains mine and I have to face everything if it is right or wrong. It has been two years since I have taken charge and there is not a single case of internal dispute in our party which is an achievement," he pointed out.
The chief minister, who had to face flak for suspending IAS officer Durga Sakthi Nagpal, said, "You have to take tough decisions on administrative level otherwise what are you there for.
"In Durga Shakti case, the issue was that she could not perform her duty according to legal procedure but I spoke to senior officials and reinstated her and stopped the inquiry after giving her a reprimand since she is new in the profession and still under training. The matter is sorted out," he said.