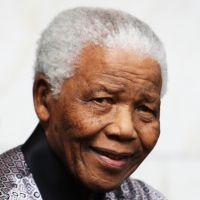 South Africa's anti-apartheid icon Nelson Mandela is suffering from recurring lung infection, but is responding to treatment, the presidential office announced on Tuesday, as his wife Graca Machel said "it's heartsore seeing the sparkle dimming".
Breaking silence four days after he was admitted for what was described as routine tests, the South African presidential spokesman Mac Maharaj said that tests on ailing 94-year-old former president had detected the lung infection.
"Madiba is receiving appropriate treatment and he is responding to the treatment," Maharaj said.
Mandela has been hospitalised at the 1 Military Hospital in Pretoria since Saturday for medical tests and the official announcement ended speculation about the ailment the former president was suffering from.
His hospitalisation had caused worldwide concern.
Mandela had suffered acute respiratory infection in January 2011 elections and his lung impairment is attributed to tuberculosis which he contracted during his 27 long years in prison during apartheid era.
In 2001, he underwent seven-weeks of radiation therapy for prostrate cancer, ultimately beating the disease.
Meanwhile, in an interview with a local TV network, Graca said: "To see him aging, it's something also which pains you... You understand and you know it has to happen".
"It's heartsore seeing the sparkle dimming," said Graca, 67, who became Mandela's third wife in 1998, four years after he became the first democratically elected president of South Africa following 27 years in jail as a political prisoner.
Graca was the widow of assassinated Mozambican President Samora Machel and Mandela had divorced his controversial second wife Winnie.
Her remarks came after several years of Mandela having stopped public engagements following his retirement from public life and several health scares over the past few years.
Thanking international leaders and other people who had sent messages of goodwill, Maharaj called again for calm and to allow the Mandela family their privacy.
As scores of local and international journalists camped outside the hospital, Defence Minister Nosiviwe Mapisa-Nqakula on Monday stopped her vehicle after leaving the hospital to address them, confirming that Mandela was indeed there.
"It is going very, very well with (Mandela). We must keep him in our prayers, but it is important that a panic situation is not created," the minister said.
"South Africans must realise that that someone of his age will have challenges from time to time with his health," Mapisa-Nqakula said.
Maharaj earlier also asked people using social networks to avoid causing panic, after erroneous messages were disseminated widely.
He said while the huge popularity of Mandela would definitely spark widespread interest in his health and speculation of this nature, it was important to act responsibly.
Maharaj said President Jacob Zuma was constantly in touch with Mandela's medical team, and would decide when to release a statement if he felt there was something that needed to be shared with the nation.