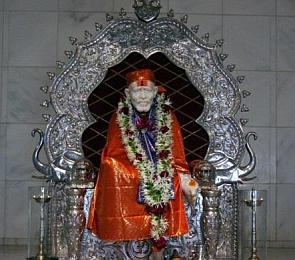 A Sai Baba idol was removed from a temple in Valsad and kept 'safe' in the basement after a resolution to this effect was passed in the recently concluded Dharma Sansad (Religious Convention) held in Chhattisgarh.
Temple authorities said it was decided after consultations with followers of Sai Baba of this town has decided to keep the idol safe in their basement and hand it over to them when they find an appropriate place to re-install the idol.
The decision came after Dwarka Peeth Shankaracharya Swami Swaroopanand Saraswati, who convened the Dharma Sansad, declared that Sai Baba should not be worshipped by followers of Sanatan Dharma. Swaroopanand is known to be a staunch critic of Sai Baba and his followers.
Following the diktat of Swaroopanand, trustees of Bhid Bhanjan Mahadev temple near clock tower in Valsad town shifted a Sai Babal idol from the temple and stored it inside the basement after wrapping it with packing material.
"Our temple is an Akhada run temple, thus we have to abide by rules, such as, we can only put idols of vedic gods, such as Lord Hanuman and Shri Ram. We also had a Sai Baba idol, which we have removed from its place and packed it," said temple trustee Shivjee Maharaj.
After learning about the shifting of the idol, several Sai followers rushed to the temple.
"We are in talks with them for last two months and already conveyed our decision earlier. After meeting with them, it is decided that the idol, which is now packed, will remain in our basement for three months. Sai followers will take it after they build a temple and re-install it," said Shivjee Maharaj.
Image: The idol is kept in the basement of the temple