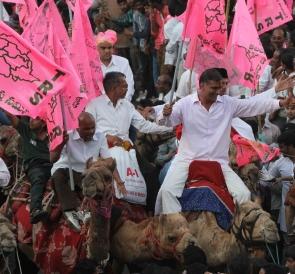 The Telangana unit of the Congress has requested Member of Parliament Ponnam Prabhakar to vacate his Karimnagar seat and make way for party vice president Rahul Gandhi.
Telangana leaders want Gandhi to contest the forthcoming Lok Sabha polls from the Karimnagar seat in a bid to attract the voters of the region and capitalise on the Muslim votes.
This is the second time Gandhi has been urged to contest from south India by local Congress leaders.
Congress leaders from Telangana believe that if Gandhi contests from Telangana, it will be an ultimate tribute to the cause. Such a move would prompt voters to come and vote for the Congress in large numbers, both in the Lok Sabha and assembly segments.
Karimnagar is the ground zero of the Telangana movement, which gained momentum in the district -- in 1969 and then again in 2001 -- before spreading to the rest of the region.
Congress President Sonia Gandhi, during her last visit to the district, had assured the locals about the party's resolve to create Telangana.
The Telangana Rashtra Samiti, formed in 2001, had conducted its first massive rally in Karimnagar. In fact, TRS leader K Chandrasekara Rao has been elected from Karimnagar thrice.
He won in 2004, 2006 and in the by-polls of 2008.
In 2009, KCR chose to contest from Mahboobnagar, and Congress leader Ponnam Prabhakar was elected from Karimnagar.
Image: TRS supporters celebrate the creation of Telangana ' Photograph: SnapsIndia