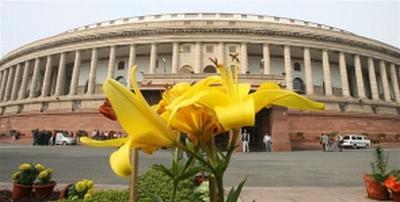 The 15th Lok Sabha, perceived as the worst-ever with many unprecedented low moments, came to an end on Friday on an harmonious note, with leaders from the ruling and opposition sides showering praises on each other.
While bringing down curtains on the extended Winter Session, leaders emphasised that the bitterness witnessed during the proceedings was due to the members' desire to raise issues of "public" and "national" interest.
The outgoing Lok Sabha saw many tumultuous occasions and recorded unprecedented low moments.
In 2012, the entire Winter Session was virtually washed out when the opposition remained firm on its demand for a Joint Parliamentary Committee to probe the 2G spectrum scam.
Prime Minister Manmohan Singh, Home Minister and Leader of the Lok Sabha Sushilkumar Shinde, Leader of Opposition Sushma Swaraj and some other leaders had kind words to say about each other.
The prime minister, who made his farewell speech, noted that the House had the capacity to rise above partisan politics to enact crucial laws. In this context, he referred to the passage of the Telangana Bill.
He hoped that the "birth of a new atmosphere of hope" will take place to take the country "out of this strife and tense atmosphere".
He expressed hope that "a new sense of consensus" will emerge to take the country to "new pathways".
At the same time, he highlighted some optimism when he said that the passage of the Telangana Bill showed that the country can take "difficult" decisions "without worrying about pros and cons of things that do not matter".

Dr Singh, who has been the PM for the last 10 years, has declared that he will not opt for a third term.
Apparently referring to the forthcoming general elections, he said people will have an opportunity to judge the "performance, weaknesses and achievements" of the government.
He also praised the role of the Leader of the Opposition.
Shinde, meanwhile, showered praise on the Opposition and particularly chose Swaraj to hail her party's support to get the crucial Telangana Bill passed.
Swaraj and other leaders praised Lok Sabha Speaker Meira Kumar over the way she conducted the House.
Samajwadi Party chief Mulayam Singh Yadav said all parties should forget their differences after the term of the Lok Sabha ends and they go to polls.
Expressing gratitude towards Sonia Gandhi, he said, "Whenever I have passed on slips to her requesting something, she has always acted on them."
He also used the occasion to praise BJP veteran L K Advani.
He thanked the "elder" leader even while noting that he had differences with him.
In his typical style, the former Uttar Pradesh chief minister said the government at times behaved like a "dictator" and it was the responsibility of the opposition to criticise them.
"So, if the opposition is angry at times, you should not mind. Members don't raise issues for personal benefits but to ensure that people's interests are not affected," he said.
Communist Party of India – Marxist leader Basudeb Acharia referred to the turmoil seen in the House on several occasions and said there was a need to "introspect" as to whether the members were behaving properly.
Janata Dal – United leader Sharad Yadav said nothing should be done beyond the tenets of the Constitution.
"Some parties try to make Constitution out of their manifestos, which is wrong," he said.
Yadav, whose party parted ways with the BJP a few months ago, praised Swaraj, saying she had supported him whenever he raised any issue in the House.
"I also supported her," he said.
He said if there had been any acrimony between them, it should be forgotten.
Yadav praised late Prime Minister Indira Gandhi by saying, "Though we were in jail because of her, some of her decisions were very good. Indiraji's decisions still influence me"
Highlighting the "beauty" of Indian democracy, Shinde said the ruling and the opposition members might air their differences vociferously over various issues in Parliament but they did not carry those sentiments outside the House.
"We took decisions together on a number of subjects that have been pending for long," Shinde said, noting that the outgoing House had enacted a number of landmark laws like the Lokpal Bill, the Food Security Act and the Land Acquisition Act.
Referring to the Telangana Bill, which was passed by the House earlier this week, he said he was "obliged" to the BJP for its support.
Specifically choosing Swaraj for eloquent praise, Shinde said, "Aap ki baat mein jo mithaas hai, mithai khane se bhi woh mithaas nahi hoti (your tone is very sweet, it is sweeter than sweets)."
Reciprocating in a similar vein, Swaraj praised Sonia Gandhi, Manmohan Singh and Shinde for their conduct.
Swaraj, who had once said that she will tonsure her head if Sonia Gandhi becomes the prime minister, today said the Congress chief was a graceful leader.
At her witty best, Swaraj drew applause from members as she mentioned that Kamal Nath tried "shararat (mischief)" while Shinde displayed "sharafat (decency)".
"We oppose each other but we are not enemies. We follow opposing ideologies. We are going back with so many sweet and sour memories," Swaraj said.
"When the history of the 15th Lok Sabha is written, it will say that for most of the time there were interruptions but some most-awaited bills were also passed during this time," she noted.
Conscious that her party will have to fight it out with the Congress in the Lok Sabha, Swaraj said that she cannot wish them victory but she can wish them glory.
"We should contest (elections) with dignity," she added.