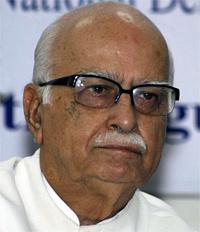 Anticipating general elections later this year, Bharatiya Janata Party leader L K Advani said on Wednesday that no one can form the next government at the Centre without support from either his party or the Congress, virtually conceding that neither could get a majority.
"I hope Lok Sabha polls will be held in 2013 after the assembly polls in six states... whenever they (polls) will take place, it is certain that Congress will taste defeat," he told reporters here on the sidelines of a two-day Madhya Pradesh state BJP executive meeting.
Claiming that no one can form government at the Centre after Lok Sabha polls without the BJP or the Congress, Advani said that the political system has been converted to a bipolar polity.
"There will be no government at the Centre without the BJP or the Congress... it may not be a two-party system but it has certainly been converted by the BJP's efforts into a bipolar polity," Advani said.
He said in the elections in Karnataka, Delhi, Chhattisgarh, Madhya Pradesh, Rajasthan and Jharkhand the main fight was between the BJP and the Congress.
"The BJP is expecting good results in these six states after which Lok Sabha polls will be held," Advani said claiming that common man was fed up with scams and corruption in the present regime and wanted to get rid of the present government.
Advani said that corruption had become the main issue in last three years and a number of scams have come to the fore and even ministers went to the jail in corruption cases.
"The people are worried as they did not see an end to this (corruption) with this type of government... price rise has broken their back bone and they want to see change," Advani said.
He claimed that the Atal Bihari Vajpayee government had many achievements to its credit. This included the country becoming a nuclear power, the national highways project and a check on prices. The government had also faced economic sanctions on account of the Pokhran nuclear tests.
"There was no corruption case in the BJP regime and also prices were under control," he said.
On the issue of black money, Advani said that he had taken out a yatra on the issue of corruption and black money but not a single penny came back.