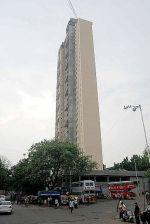 The ministry of defence on Friday filed an intervening application in the Bombay high court opposing the petition filed by former Chief Minister Ashok Chavan seeking to quash the FIR lodged against him by CBI in the Adarsh housing society scam.
In its application, the ministry refuted Chavan's argument that the CBI has no jurisdiction to probe the case as neither the high court nor the Maharashtra government has passed any order asking the central agency to investigate.
According to the MoD, CBI has jurisdiction to probe the scam as the ministry had forwarded a complaint to the agency following which a preliminary enquiry was registered.
A social worker Mahendra Singh, who had earlier filed a PIL seeking high court to monitor the CBI investigation, also filed an application today opposing Chavan's plea. Singh also claimed that CBI had the power to probe the case.
Senior counsel Amit Desai, appearing for Chavan, opposed the two applications.
A division bench of justices P V Hardas and A R Joshi said it would hear arguments on whether the applications should be allowed to intervene in the matter or not on April 22.
Chavan had approached the high court last year seeking to quash the FIR lodged against him by CBI on the ground that he was falsely implicated by his political rivals.
Chavan and 12 others have been named in the charge sheet by CBI in the Adarsh scam for criminal conspiracy, cheating and criminal misconduct under sections 120(B) and 420 of IPC and section 13(1) (d) of the Prevention of Corruption Act.
According to CBI, Chavan had misused his official position and shown undue favours to the society. In return Chavan's mother-in-law Bhagvati Sharma, sister-in-law Seema Sharma and father-in-law's brother Madanlal Sharma were allotted flats in the society.