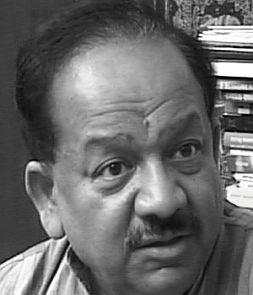 The opposition Bharatiya Janata Party on Monday alleged that the ruling Aam Aadmi Party, which spoke about sending corrupt Congressmen to jail, is now trying to save them.
"The AAP spoke of sending the corrupt ministers and officers under former Delhi chief minister Sheila Dikshit government to jail. Its leaders are now busy protecting the corrupt Congressmen due to the connivance between Arvind and Arvinder," Leader of Opposition Harsh Vardhan said in a statement.
He also accused the AAP of breaking the tradition of the legislative assembly.
"The chief minister left the house during the election of speaker which indicates his ego. On the very first day the ministers and legislators of the AAP entered the house wearing cap of their party. This is an insult to the House.
"The new government had promised that it will end the VIP culture...But many ministers accepted cars with VIP numbers. The chief minister had also announced through posters that he should be called chief servant in place of chief minister. What happened to this promise?" he asked.
He went on to say that after taking oath at Ramlila Maidan, Chief Minister Arvind Kejriwal had promised that he will issue a help line number for getting the corrupt people caught but, "it seems he has forgotten his promise due to his alliance with corrupt Congress party."
This had become clear when the CM said that the Leader of the Opposition should provide proof of corruption against Dikshit, Vardhan claimed.
"It may be mentioned that on October 10, 2010, Kejriwal had himself filed a first information report at the Sansad Marg police station against the corruption of Dikshit.
"This case was not investigated due to the pressure of former Congress government. Will Kejriwal act in a time bound manner for investigation in the case and send the guilty persons to jail?," he asked.
The BJP leader also expressed disappointment at the Lt Governor's address in the House today and said that it is a "blow" to the expectations of people.
"The Lt Governor has neither fixed a time frame for the eradication of corruption nor has said what steps the government is going to take for prevention of day-to-day corruption in the government machinery," he said.
Vardhan claimed that people of Delhi are suffering due to price rise, corruption, lack of security, unemployment and crime.
He also said that just after the formation of the government prices of cooking gas, power, water, CNG, PNG, diesel, petrol were increased.
"The Lt Governor did not mention about steps to curb the price rise in his speech. This has disappointed two crore people of Delhi," he said adding that the government could provide relief to the people of Delhi by ending the monopoly of touts and middlemen within 24 hours resulting in decrease in the price of commodities by 50 per cent, but the government did not take such steps.