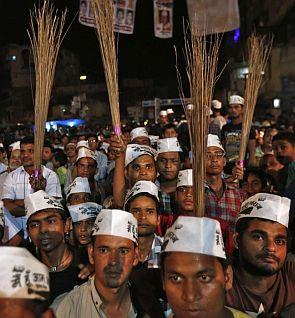 Bharatiya Janata Party leaders on Monday indicated the party is looking at the Aam Aadmi Party-Congress "alliance" to form a government in Delhi with the Congress support as an attempt by the ruling party at the Centre to contain it in the national capital and adjoining areas in the Lok Sabha elections.
BJP leaders, preferring anonymity, said with the Congress losing support in the wake of corruption cases and scams against the United Progressive Alliance government, the party is now banking on the AAP to build a credible counter to the right-wing party.
Party leaders concede the AAP may cause some damage to BJP's prospects in Lok Sabha polls in some urban constituencies.
"The AAP-Congress alliance is not going to last its full term though Congress may not pull the rug till the Lok Sabha polls are over," a BJP leader said. However, BJP leaders feel the AAP government, backed by
the Congress, is not likely to achieve much and take heart from the fact that Arvind Kejriwal has the image of a maverick and this will burn out AAP's prospects soon. He is seen as being more of an activist -- even an "anarchist" -- who will find it difficult to fulfill most of his poll promises.
The BJP is hopeful the AAP will hold the Congress-led Centre responsible for any roadblocks it hits in governance and this should help the opposition.
Meanwhile, Aam Admi Party's "volte face" on accepting support from Congress- a party it had attacked all along on issues of corruption and strongly maintained it would never have any alliance with it- invited attacks from the BJP.
Wishing good luck to "AAP-Congress alliance", BJP spokesperson Prakash Javadekar said Kejriwal still needs to answer many questions on the issue of accepting the Congress support.
"Aam Admi Party owes people many answers. Kejriwal had said he will never accept Congress support. Why is there a U-turn and what is the deal behind accepting the Congress support now? This is hypocrisy," Javadekar said.