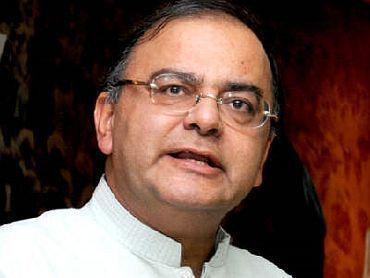 Senior Bharatiya Janata Party leader Arun Jaitley on Tuesday launched a sharp attack on the Aam Aadmi Party terming it as a "party of pathological liars" and alleging it creates falsehood and then convinces itself of its truth.
Jaitley's attack came on a day when AAP supporters protested outside his residence for allegedly trying to topple its government in Delhi by attempting to bribe its MLA.
"I am convinced that AAP is a party of pathological liars. They create a falsehood and then convince themselves of its truth," he said in an article.
He said he had rubbished the allegations made by the AAP on Monday after some "irresponsible" statements made by AAP leaders without any supporting evidence while dragging his name along with that of Narendra Modi in an "unnecessary" controversy.
Jaitley also hit out at All India Congress Committee general secretary Shakeel Ahmed for making a statement about the incident of alleged bribe an hour before AAP MLA Madan Lal's press conference.
"The absurdity of his claim is evident. The facts speak for themselves. But AAP appears to be creating a falsehood, convince itself of its truth and keep pursuing the matter even if it is absurd and false on the face of it," he said.
Taking on Madan Lal who had made the allegations, the Leader of Opposition said neither him nor Narendra Modi is aware of who this MLA is.
He said while Lal claimed of being approached on the phone on December 7, 2013 with an offer to meet him, he does not even know the name of the person who telephoned him nor does he know the number from where the phone came.
"He has not even checked his call data records to provide him the identity of the caller if such a call did exist," he said.
The BJP leader added that on December 7, 2013 the results of the Delhi assembly election had not yet been declared and Madan Lal was not an MLA.
"Most people in Delhi did not visualise that he would be an MLA or that his party will get a sizeable number of seats. Why should somebody call him for a dubious purpose before his election as an MLA"? Jaitley said.
On his claims that he was approached by someone from Gujarat some 10-12 days back with a significant offer of bribe, the BJP leader said he does not know the name of the person who approached him or his status or designation.
He said the AAP MLA did not follow his party's advice to conduct a sting operation on someone offering him a bribe and questioned his silence for about 10 days before coming out with the allegations.