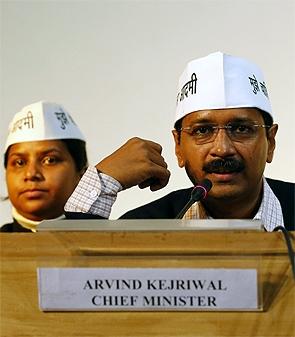 Aam Aadmi Party legislator Vinod Kumar Binny on Wednesday said the Bharatiya Janata Party and the Congress should support the government over issues pertaining to the people.
The party is expected to seek a vote of confidence on the floor of the Delhi assembly on Thursday.
"There are several public-related schemes which we are yet to implement. We have asked both the Congress and the BJP to support us, so that we are able to fulfill all public-related promises," he told reporters.
Binny said Delhi Chief Minister Arvind Kejriwal has a throat infection and has been advised rest.
"Despite this, Kejriwal will go to the Delhi assembly today. He will leave for the assembly from his house around 1 pm," he said.
Talking to reporters outside Kejriwal's residence, AAP leader Sanjay Singh said, "We have formed the government in Delhi keeping 18 issues in mind. If the AAP wins the confidence vote, the Kejriwal-led government would work on such issues".
Asked if the AAP has only 24 hours left to run the government, Singh said, "We don't know what will happen when the confidence motion comes up in the assembly on Thursday".
The first session of the Delhi assembly begins on Wednesday and will continue till January 7.
The Arvind Kejriwal-led government will seek a vote of confidence on the floor of the House.
In the 70-member assembly, AAP has 28 Members of Legislative Assembly, eight short of a majority. The AAP has the support of 8 MLAs of the Congress, which is expected to help it cross the half-way mark. The BJP has 31 members and its ally Akali Dal has one.
The AAP on Tuesday named first-time MLA M S Dhir as its candidate for the Speaker's post.
Senior Congress MLA Mateen Ahmad will be the pro-tem Speaker. A pro-tem Speaker presides over proceedings related to the taking of oath by new members and other business till the election of the Speaker.