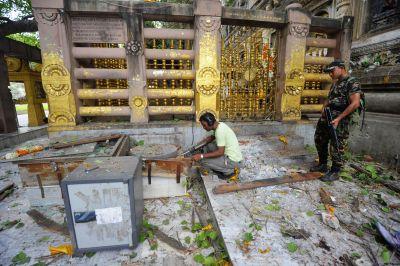 A year after the holy Buddhist city of Bodh Gaya in Bihar was rocked by serial bomb blasts, the city is gearing up for the three-day International Buddhist Conclave in which scholars, historians and Buddhists from across the world will participate. The conclave will be held in September, officials said on Saturday.
An official of the state tourism department said that the move to conduct the conclave at Bodh Gaya, widely regarded as the birthplace of Buddhism, is a bid to send a positive signal to Buddhist countries.
"Hundreds of Buddhist scholars, historians, academicians, travel operators and Buddhists from South East Asian countries are expected to participate at the council in Bodh Gaya on September 25," an official of the Bodh Gaya Temple Management Committee said.
He said two officials of the ministry of culture and tourism from Delhi visited Bodh Gaya this month to chalk out the preparation for the conclave.
The official added that since the terrible 2013 Bihar serial blasts in which 10 bombs had exploded in the vicinity of the Mahabodhi Temple in July, this would be the first big show taking place in the city.
According to him, the conclave would promote cultural and religious tourism. "After the bomb blasts, the number of tourists, particularly foreigners, visiting Bodh Gaya has reduced and potential tourists are still not fully aware that there is no threat. This conclave will help to create awareness of it," he said.
Image: Security personnel inspect the site of an explosion inside the Mahabodhi temple complex at Bodh Gaya.