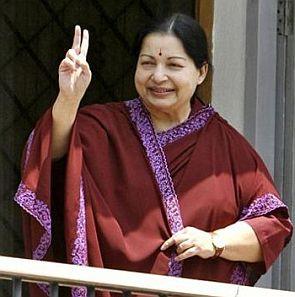 Special havans to "bless Jayalalitha as the next prime minister of India" are being organised on Friday in 66 temples across Tamil Nadu by leaders of the All India Ann Dravida Munnetra Kazhagam.
Why now? Because the party cadres are expecting Lok Sabha elections to be held any time this year.
Why Friday? Because it is the birth star (magam in Tamil) of the Tamil Nadu chief minister that day.
Why 66 temples? Because Jayalalitha will turn 66 in February next year, by which time the party hopes she will become the prime minister.
O Panneerselvam, the state finance minister, is the key coordinator for the secret havans.
The AIADMK headquarters has issued advisories to district secretaries to print and distribute invitation cards and put up street corner banners and posters in front of the temples so that the public can know of the havans.
Apart from the special puja, 6600 people will be given annadhanam or free lunch in the temples.

When did the AIADMK start such havans?

From February 2013, the 66th birthday of Jayalalitha. Since then the party's district secretaries have been holding havans in secret at many temples.

Who began this ceremony? Paul Hector Pandian, a former speaker of the Tamil Nadu assembly who told a party general council meeting that Jayalalitha should now be projected as the next prime minister. "For 15 years you ruled Tamil Nadu, now it is your turn to rule New Delhi," he said.

There is also a catchy slogan coined for the occasion, by none other than Jayalalitha herself: 'Naalai Namadhe, Naarpadhum Namadhe'. Rendered in English it means, 'The future is ours, 40 is ours' (referring to the 40 Lok Sabha seats in Tamil Nadu and Puduchery combined).

Party insiders say that Panneerselvam and other ministers, MPs and MLAs will be in attendance at the various havans on Friday.