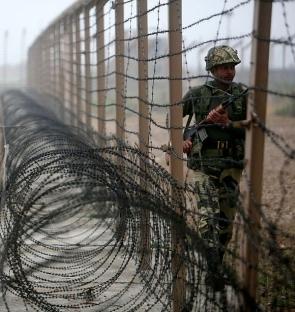 Four children and a woman were among five persons injured in the unprovoked Pakistan firing on the international border in the Pragwal area of Akhnoor sector of Jammu region on Thursday.
Divisional commissioner Jammu, Shantmanu told rediff.com that the injured were evacuated to hospital for treatment. He said the four children were injured outside their house after a shell exploded while the woman received a serious bullet injury in her back while working in her fields.
"Intermittent firing is still going on in the area," he added.
State deputy Chief Mminister Tara Chand has condemned the unprovoked firing on the international border by Pakistani troops.
Directing the civil and police administration to extend all possible help, Chand said all those injured in the incident should be provided necessary medical help at the earliest.
He issued directions to the divisional commissioner, Jammu for ensuring on-the-spot help to those who have sustained injuries, besides supervising arrangements for those affected due to the incident.