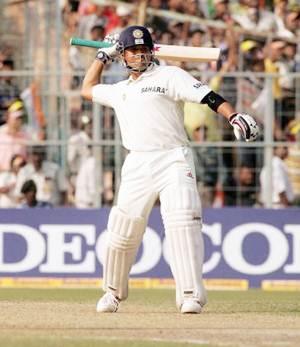 The Cricket Association of Bengal will seek permission from the Board of Control for Cricket in India to have a photograph of Sachin Tendulkar on the ticket for the legendary batsman's 199th Test, which will be staged in Kolkata.
CAB joint-secretary Subir Ganguly and treasurer Biswarup Dey said the state association thought about such a move as Tendulkar plays his penultimate Test at the historic Eden Gardens from November 6-10.
"Normally, we don't have the practise of printing any particular cricketer's photograph on a match ticket. But this is a special and emotional occasion. Therefore, we would like to seek the BCCI's permission if we can use any action photograph of Tendulkar at the Eden Gardens. Once we get the permission, we will issue the print order," Dey said on Thursday.
"It will be like a collector's item for all those who get hold of one ticket. It gives you a feeling of 'I was there on that day'. We are waiting for confirmation of what will be scheduled start, 9:15 am or 9:30 am, as the sun sets quickly in the eastern part (of the country). Once broadcasters confirm that we will put tickets up for sale," Dey informed.
Since the CAB headquarters was closed due to Durga Puja, there hasn't been any elaborate meeting of the members but it is learnt that key components for a grand felicitation will be decided by association president Jagmohan Dalmiya.
"The final decision on how we would felicitate Sachin will be taken by Mr Dalmiya. We will decide something concrete by the end of next week," Ganguly informed.
The CAB is also planning to invite legendary batsman Brian Lara to watch the match.
Image: Sachin Tendulkar celebrates after scoring the winning run for India on Day 5 of the second Test against South Africa at Eden Gardens in Kolkata on December 2, 2004.
Photograph: Touchline Photo/Getty Images