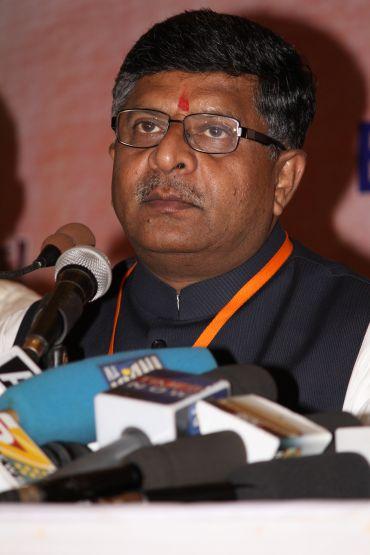 Union Minister Ravi Shankar Prasad has justified the Narendra Modi government's move to raise the rail fare by 14.2 per cent, saying it was a result of the policies undertaken by the previous United Progressive Alliance government.
In an exclusive interview to CNN IBN, Prasad blamed the UPA II government for leaving Indian Railways in shambles, adding that his government never knew that the railways was bleeding, thanks to the Congress-led regime.
"Railways is suffering a heavy loss daily. To give better services, there is a need of resources," said Prasad. "There will be a little unease to the people but ultimately this is for the benefit of the people," he added.
Speaking further on the 'Hindi row', the Bharatiya Janata Party leader rebuffed the entire controversy as uncalled for. He said that the circular from Ministry of Home Affairs which has caught everyone's attention has been there since many years.
On the rape allegations against Minister of State, Chemicals and Fertilizers, Nihal Chand, Prasad said that there is no question of sacking him and that he is a victim of political vendetta.
Transcript:
14.2 per cent hike in passenger and freight fare in Indian railways...is this how your "Acche din" campaign is going to unfurl now before us?
First of all let me tell you that we never knew that the state of the country is so bad when the UPA government left. Railway is bleeding, suffering a loss of Rs 900 crore everyday, revenues are not available and this hike was done in the interim budget in February but very intelligently the UPA government said it will be effective when the next government comes.
Ultimately if the railway has to survive, give good service, it also needs revenue.
This particular hike is designed to augment railways revenue, to improve their services. I do concede that a little sense of unease will be there in the people but we will be able to make them understand that ultimately it is for your benefit. "Ache din aayenge…it will come.
Is this bitter pill going to be administered across sectors?
I didn't say that...we are restoring governance for the benefit of people, therefore some hard decisions maybe taken.
Even one month hasn't passed, you are not giving us time even to restore things, do things which are important for the people and fasten the entire liability of mal-governance of ten years on our shoulders.
If ten years the way country has been governed in such a mess the country is today...we are trying to improve things. Give us the time, we will do that.
On Mr Modi, the then CM of Gujarat, wrote to then Prime Minister Manmohan Singh criticising the earlier rail fare hike...Is there a difference between criticising the government when you are in opposition and when you are in power?
Mr Modi was the chief minister for 14 years...did he deliver or not? Be the power front, be on the governance front. Similarly Mr Modi has been elected with such a massive majority by the people trusting his ability to govern. Please give us the space. Yes some major decisions will have to be taken.
On Modi's governance:
What Mr Modi is doing is to restore the confidence of the bureaucracy. Let me give you an example -- when I took over as the telecom minister, all civil servants were so afraid of taking decisions that ultimately I had to hold a meeting to tell them that now decisions will be taken on merit and not based on lobbying.
Mr Modi is one of the most well informed leaders of the world in matters of governance. He in one stroke removed 87 Group of Ministers and asked us to take decisions.
On the Hindi language debate:
This has been a circular for last so many years for the Hindi speaking states that has been reiterated and who is saying that English is being ignored? This is uncalled for that an issue is being made of this.
On replacing the Congress nominees by BJP representatives:
I have the highest regard for the office of governor. But I remember Kailashpati Mishra, a veteran leader, who was the sitting governor when the Congress government got their nominee sworn in as the governor even before he had left.
We know those things. But let me say something that you come by the back door and you want to go by the front door. Isn't it? But the government decision will be taken...many of the governors' term is coming to an end in one or two months.
But let me tell you even if the governors exit they will be allowed to exit gracefully.
On Smriti Irani's affidavits:
First of all Smriti Irani has explained it. She is a member of the Rajya Sabha and one of the finest parliamentarians in terms of intellectual inputs also. Let me tell you she is better than many PHDs. She is very competent.
We judge by performance and she is performing well.
On the Nihal Chand case:
Nihal Chand has been a four-time MP...his father has been MP twice and he has been a good party worker. Now this lady was having a problem with her husband, she files an FIR in her native place Haryana, she does not name Nihal Chand.
Then her husband files a case against her and his in-laws and when she is questioned by the magistrate at Hanumangarh in Rajasthan, she does not name him. The 3rd time she files a case in Jaipur where she only says Nihal Chand, not son of so and so.
The police under Ashok Gehlot investigated the matter and found no evidence.
She files a protest petition...the magistrate examines everything and finds no evidence in his 20-page order. She goes to a divisional court, it's her right...a notice has been sent. Unfortunately Nihal Chand becomes a minister & therefore it becomes a political issue.
So you are backing Nihal Chand?
I am giving you all the reasons...unfortunately he has become a minister and the Congress party is making politics.