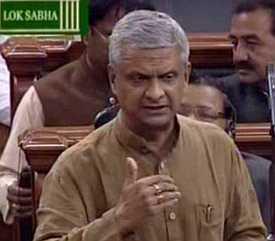 Biju Janata Dal MP Tathagata Satpathy cautions Narendra Modi against going in for early Lok Sabha elections in 2018.
Tathagata Satpathy, the Biju Janata Dal MP from Dhenkanal, Odisha, tweeted on Monday that the Bharatiya Janata Party is conspiring to split his party and claimed that a party MP would help engineer this split.
While Satpathy did not name the MP, Baijayant Panda, the BJD's Kendrapara MP who is supposedly close to Prime Minister Narendra Modi, retorted in a sort of tweet war.
Satpathy also tweeted that the BJP wanted to hold early elections in Odisha along with Rajasthan, Madhya Pradesh and Gujarat at the end of 2017. The last election to the Odisha assembly was held in April 2014 and the assembly's tenure will end in 2019.
In an interview with Rediff.com's Prasanna D Zore, Satpathy denied blaming any one individual but said the BJP should remember the fate of Prime Minister Atal Bihari Vajpayee's India Shining campaign.
The Vajpayee government called an early Lok Sabha election in 2004 following a huge mandate in the BJP's favour in Madhya Pradesh, Chhattisgarh and Rajasthan, only to lose the general election.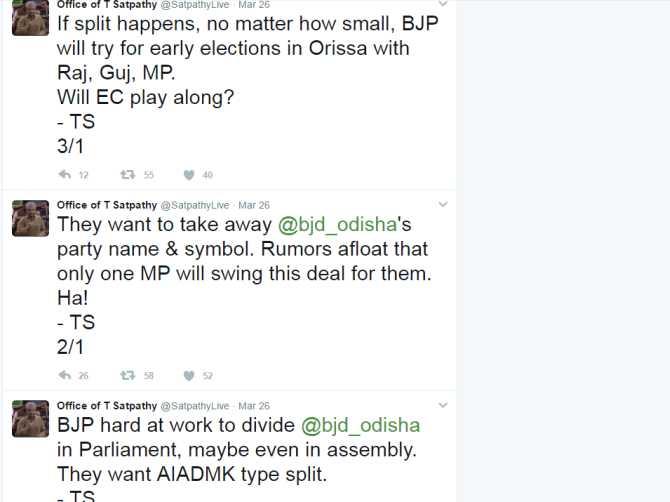 What makes you think the BJP wants to split the BJD in Odisha?
The tweet is enough; I will not comment on that anymore.
(You make) Whatever you (want to) make of it. I have given all the reasons too.
What are the reasons for you to claim so?
I have no further clarifications to make.
You said one of your party MPs would swing the deal for the BJP. While you may not have named the MP, Baijayant Panda has responded to your tweet.
Don't ask me.
Did you mean Mr Panda?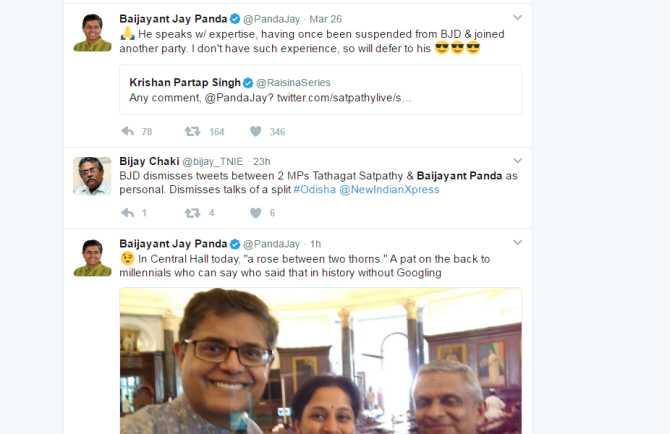 No. I have not said that. I have not named anybody; I have not named any one individual.
Your tweet said, 'Rumours afloat that only one MP will swing the deal for them. Ha!' So you did say 'One MP', didn't you?
So, you read the 'Ha!' also, right?
What does that mean?
Was the tweet then a joke? Are you serious about your charge?
C'mon yaar, you understand English; why are you asking?
Shouldn't we do some plain speaking? Readers don't understand insinuations...
Of course, they don't; It is meant for people like you.
Why did the BJD perform below par (the BJD won 467 zilla parishad seats down from 651 in 2012 against the BJP's rise of 294 seats against 36 in 2012; the BJP dislodged the Congress to emerge the runner-up) in the Odisha panchayat polls?
It is not the BJD's below par performance, but the Congress has vanished from the scene.
Our performance has not fallen below par.
Could it have been better? Are you happy with the BJD's performance in the panchayat polls?
In both my districts, the BJD has won.
Some skew towards couple of districts bordering Chhattisgarh, the result has been a little bad.
Otherwise, all over Odisha we have performed quite well.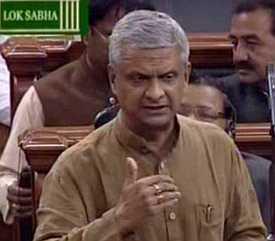 You said the BJP plans to hold elections in Madhya Pradesh, Gujarat, Rajasthan and Odisha together.
How will holding early elections harm the BJD's and brighten the BJP's poll prospects?
As of now, we are in a good situation in Odisha. Our vote base is still intact.
In that case, won't early elections help the BJD too?
People expect you to be in power for the full term. They elect you to do so.
Look at what happened to the BJP in that 'India Shining' episode in 2004.
I only hope Mr Modi has good sense and doesn't dissolve Parliament in 2018 and go for early polls. (If he does that) then he too will realise how interesting it is.
Do you think that will happen?
I don't think so.
Did you speak with Chief Minister Naveen Patnaik or did he speak to you about your tweets?
I have not spoken to him.