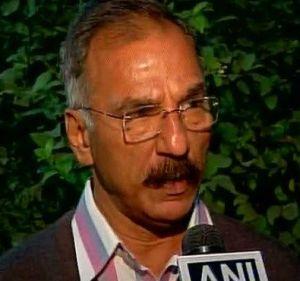 As the Centre ordered a commission of inquiry to probe the alleged snooping of a woman by former Gujarat minister Amit Shah at the behest of one 'saheb', suspended Gujarat IAS officer Pradeep Sharma is delighted at the decision.
Sharma talks to Premal Balan about his involvement in the case and how he plans to help the new panel.
Edited excerpts:
How do you feel about the central government forming a commission of inquiry in the snooping case?
I am happy that the Government of India has formed the inquiry panel. Now, I can expect some justice.
Did you not have faith on the probe panel set up by Gujarat government?
I have no faith in the probe panel set up by the Gujarat government. What kind of justice will I get if the probe panel is formed by the government which has its own chief minister and former minister under investigation? I have already raised this issue before through a petition in the Supreme Court.
When did you come to know about snooping on you?
Some 2-3 people had told me about this earlier. I had even approached the Supreme Court in 2011 regarding this, but I was not able to corroborate the allegations with proper evidence. Till the Cobrapost expose in November this year I was totally in dark.
What will be your next step? How will you help the panel in the investigation?
I will extend all possible support to the central government's commission. I have details of the commandos, house and the superindent of police who did the surveillance. I will put all the evidence I have before the commission.
Image: Suspended Gujarat IAS officer Pradeep Sharma
Photograph courtesy: ANI