December 31, 2016
PHOTOS: New Army, IAF chiefs take charge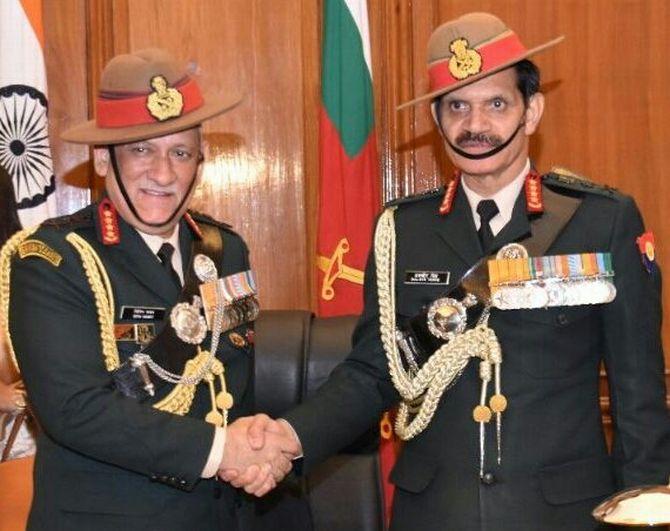 Lt Gen Bakshi announced 'full support' to the new chief and made it clear that he won't resign.
December 30, 2016
6 killed in fire at Pune bakery shop locked from outside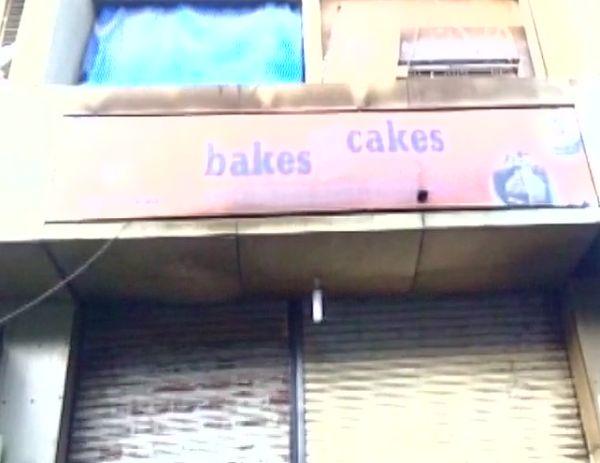 Kondhwa police station Inspector Varsharani Patil said, "We have registered a case against the three co-owners under sections 304 (causing death by negligence), 341 (punishment for wrongful restraint), 342 (wrongful confinement) and relevant sections of Mumbai Municipal Corporation Act and arrested them."
December 29, 2016
PHOTOS: Change of guard in AIADMK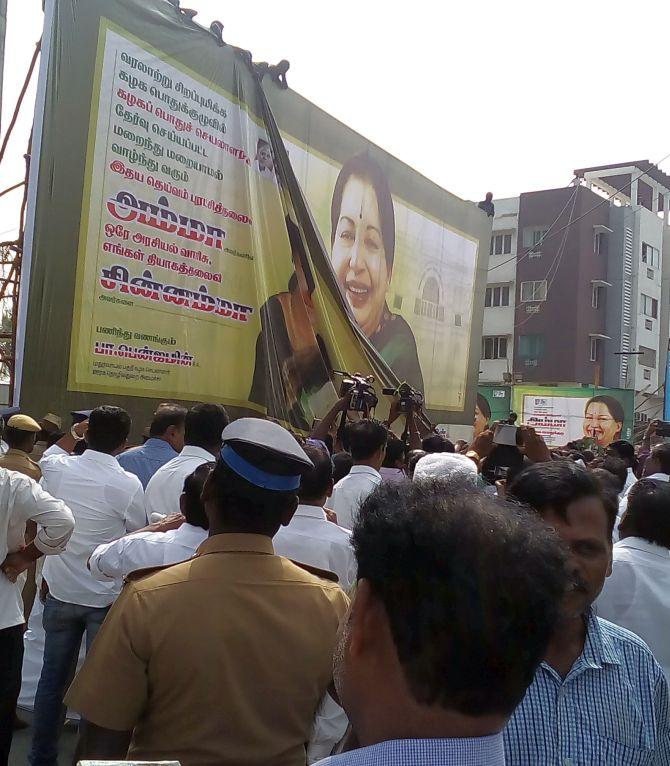 Visible symbols of the All India Anna Dravida Munnetra Kazhagam have undergone a dramatic change and on Thursday, the most dramatic of them all was seen when V K Sasikala was made the face of the party on the posters, replacing late J Jayalalithaa.
December 28, 2016
Wreaths and hugs: Japan's Abe offers sombre tribute at Pearl Harbor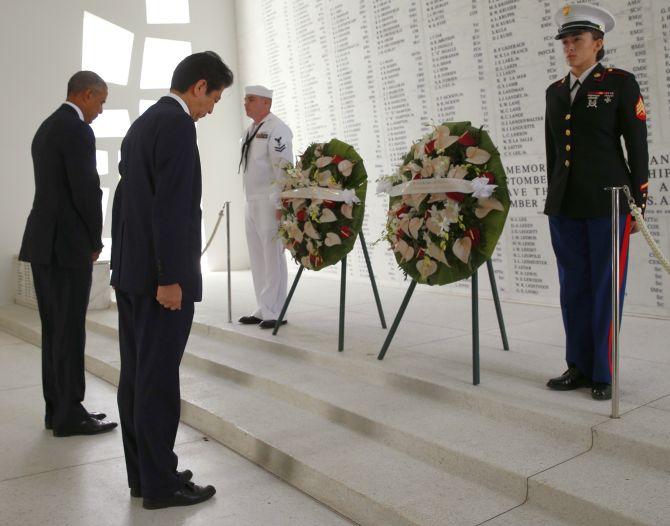 The two leaders, dressed in dark suits and ties, presented wreaths and bowed their heads in silent respect during a brief tour of the USS Arizona Memorial that commemorates the US sailors and Marines who perished on the battleship on December 7, 1941.
2 killed, 43 injured as Ajmer-Sealdah Express derails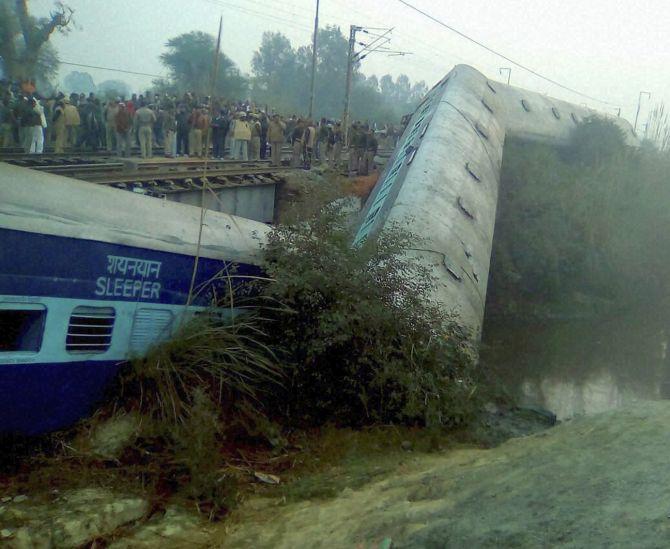 Fifteen coaches of the train, 12987 Ajmer-Sealdah Express, derailed when it was crossing a bridge over a dry canal in the area, he said.
December 27, 2016
The weirdest stories of 2016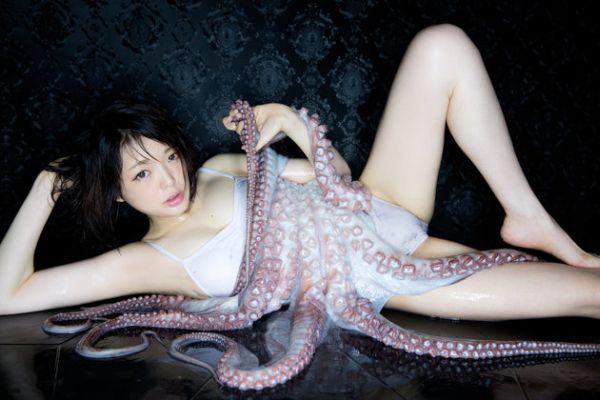 Rediff.com presents you 15 weirdest stories of the year that have to be read to be believed.
When our newsmakers became movie stars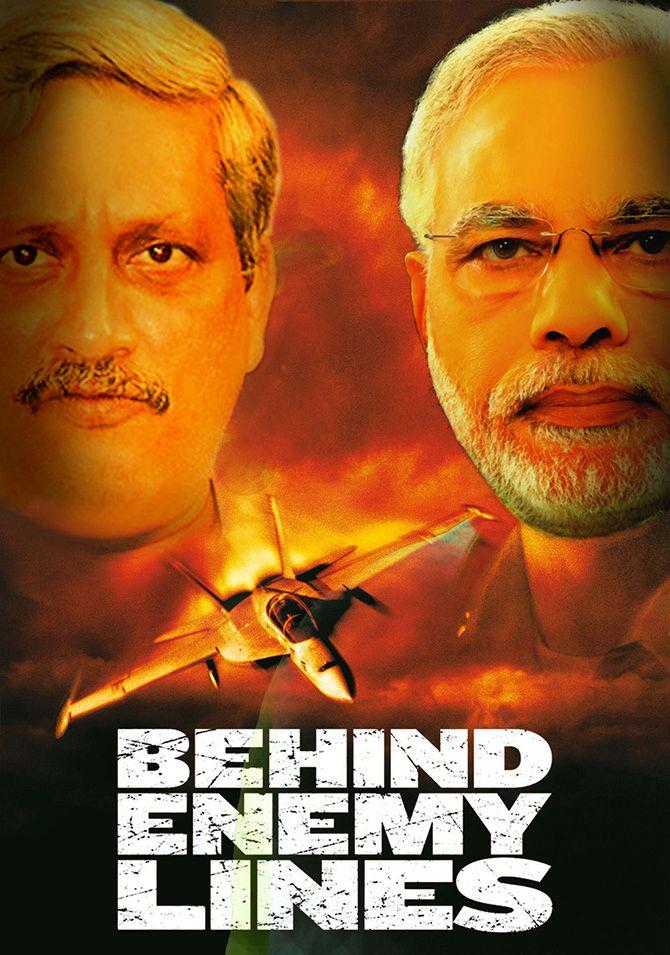 As the year winds down and we start to look forward to the coming year, there are some personalities and events that shaped 2016 -- some struck the right chord whilst others triggered debates, controversies and set rumour mills churning.
Jet Airways flight spins out of control in Goa; 15 hurt, 2 pilots suspended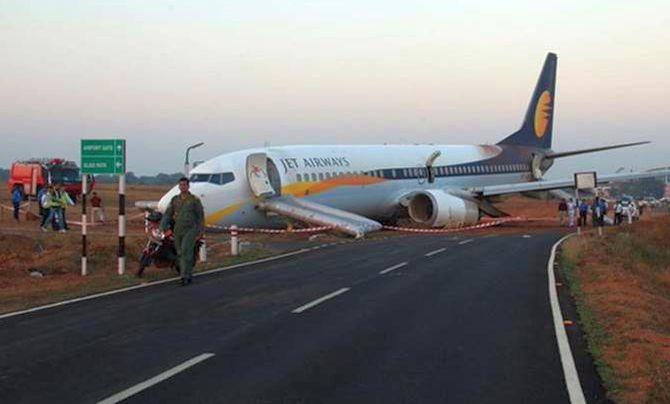 The flying licence of the two pilots was suspended and a probe launched into the accident.
December 25, 2016
It's a white Christmas for Himachal and Uttarakhand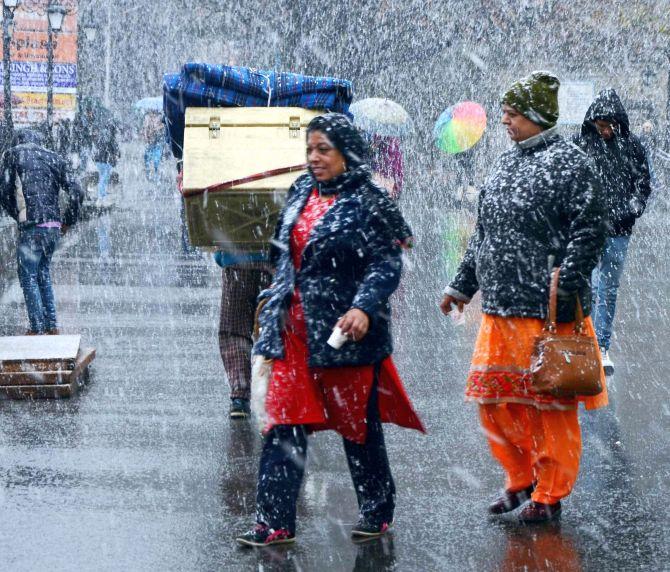 This is the first time after 25 years, that Himachal received snowfall on Christmas day, officials said.
PHOTOS: The world celebrates Christmas!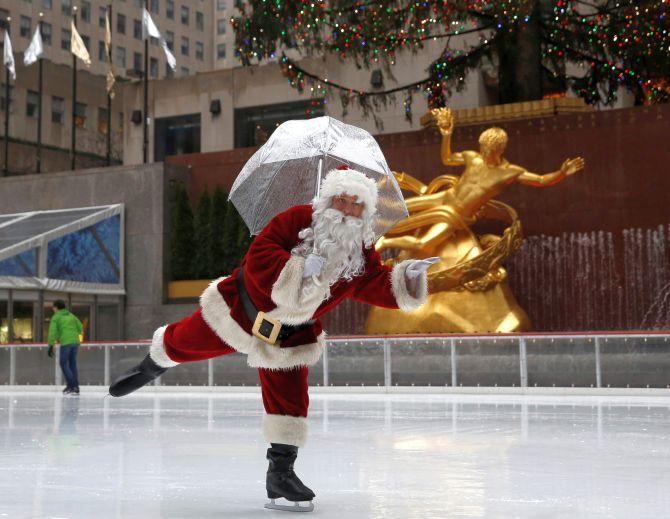 The world celebrates Christmas with great vigour and joy!
December 24, 2016
On board a hoverboat, Modi lays foundation for Shivaji memorial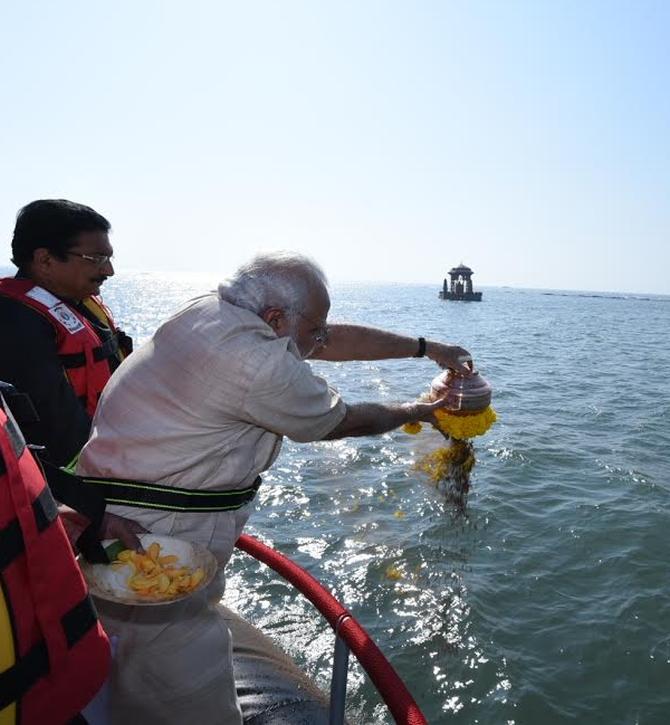 Prime Minister Narendra Modi on Saturday laid the Foundation for a Rs 3,600-crore grand memorial for Shivaji Maharaj off the Mumbai coast, an event that comes a few months ahead of the civic polls and amid tussle among parties to claim the legacy of the 17th century warrior king.
December 23, 2016
No surprise, covering wars is a dangerous job!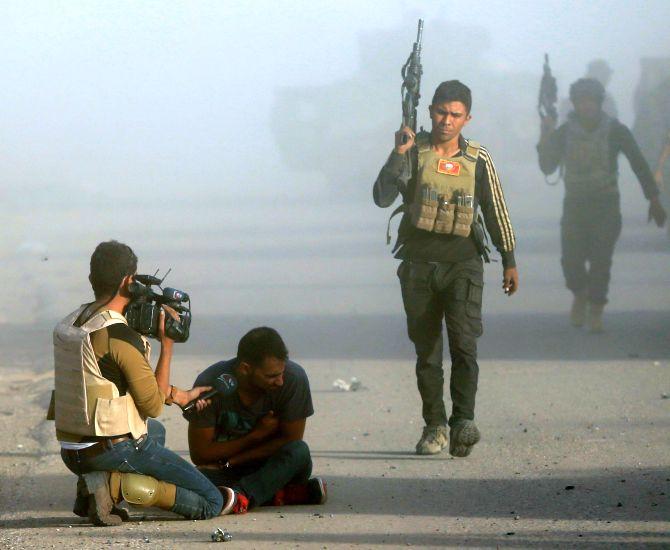 At least 48 journalists worldwide have been killed on the job in 2016 as the year winds down, according to the Committee to Protect Journalists. That is down from 72 journalists in 2015.
OMG! When 'dinosaurs' attacked Japan!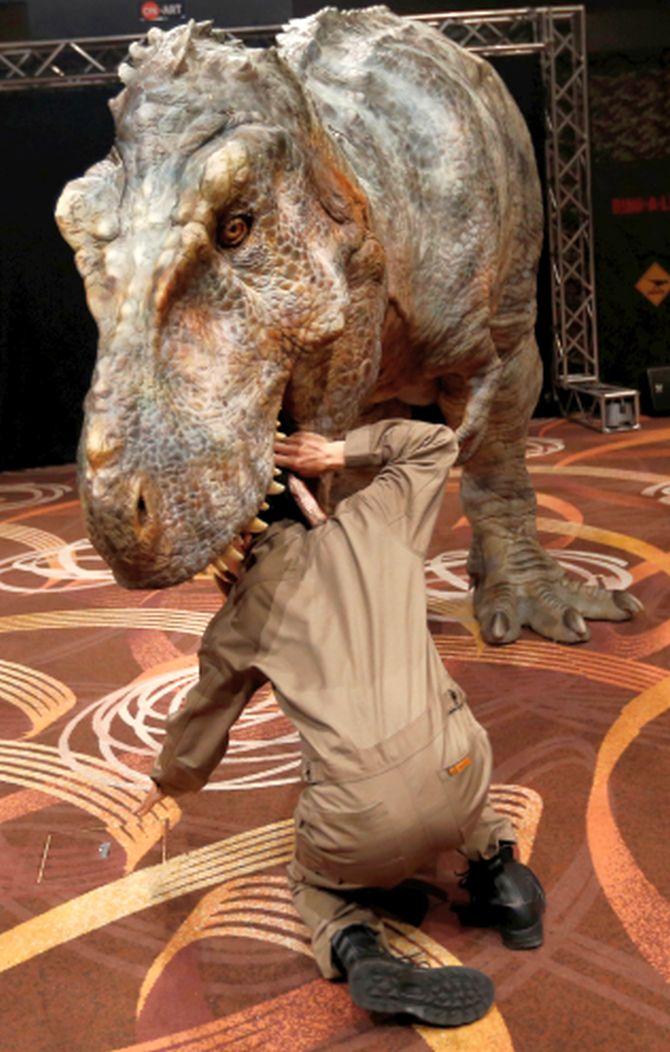 It was a nightmare in Tokorozawa in Japan when dinosaurs attacked men and went on a rampage.
December 22, 2016
PHOTOS: Christmas peace train rolls out from Islamabad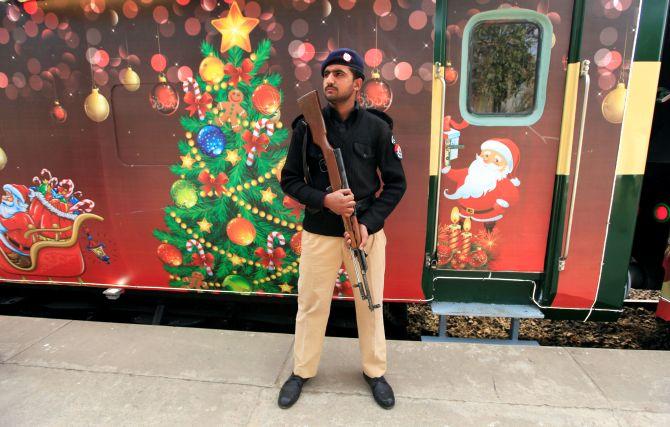 The countrywide Christmas Peace Train will start its journey from Rawalpindi on Thursday and is scheduled to reach Karachi on December 31, 2016.
PM walks the talk on 2017 calendar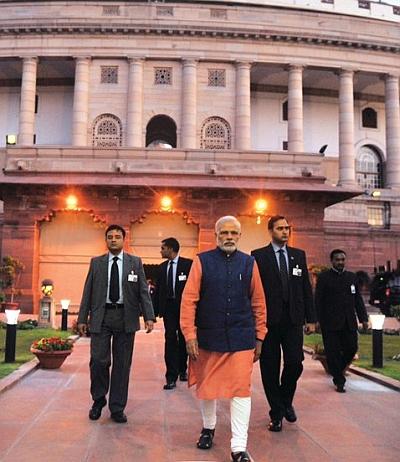 The Narendra Modi government on Thusday released the 2017 government calendar. The calendar comes with a theme for every month and has Prime Minister Narendra Modi featured from start to end.
What the SMOG!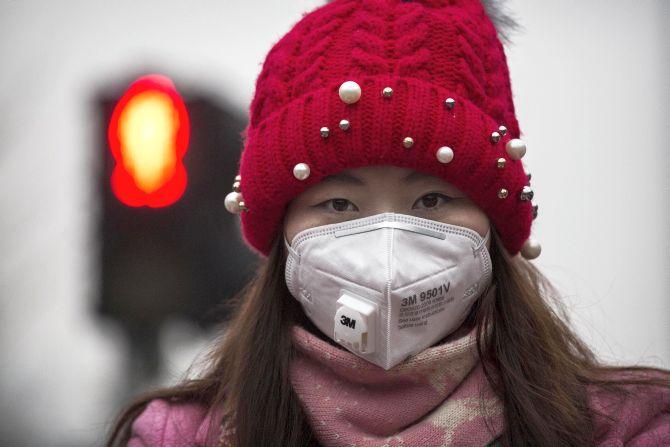 Things have come to a grinding halt as thick smog has suffocated China.
PHOTOS: These Christmas trees give us major feels!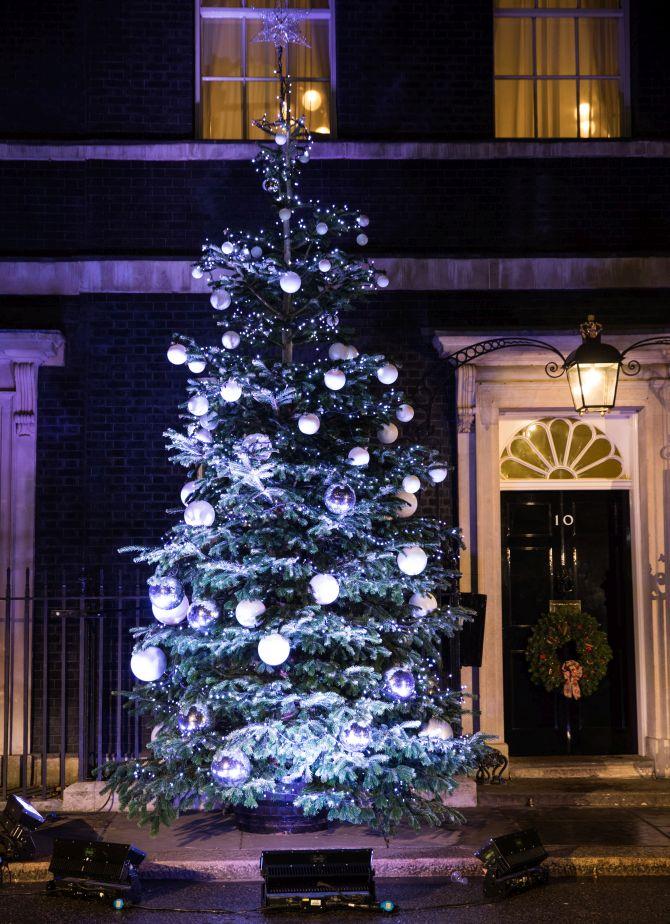 One of the most favourite activities of Christmas is decorating the Christmas tree. From England to Lebanon, here are some of 2016's most over-the-top Christmas trees.
December 21, 2016
PHOTOS: The incredibly odd world we live in!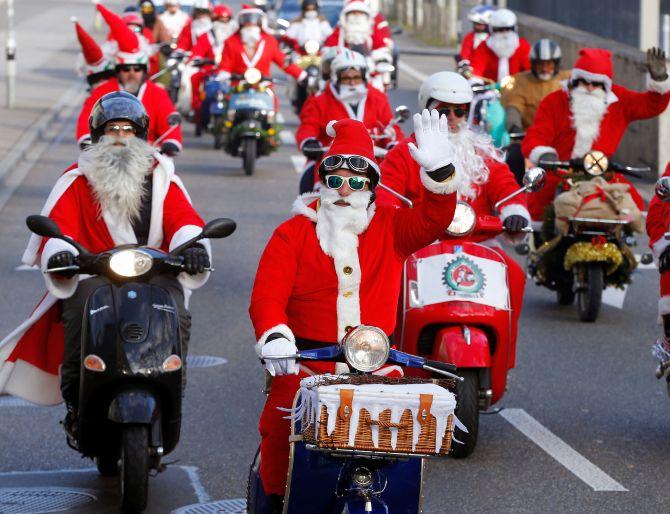 These eight images show that we live in a crazy, mad world!
PHOTOS: The world lights up for Christmas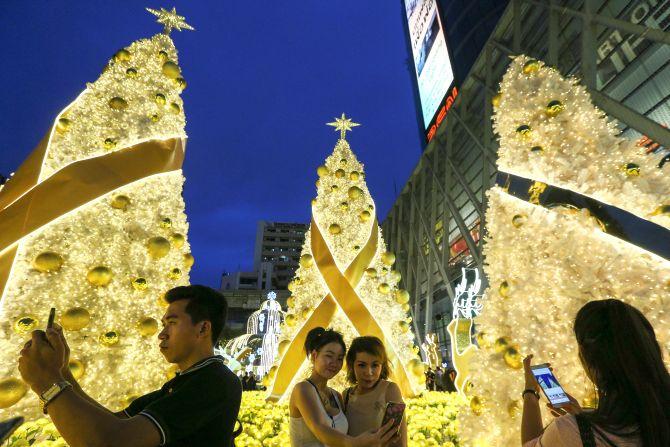 The spirit of Christmas is on show in streets across the world, with Christmas lights displays popping up in people's front yards.
December 20, 2016
PIX: Freezing cold leaves Kashmir shivering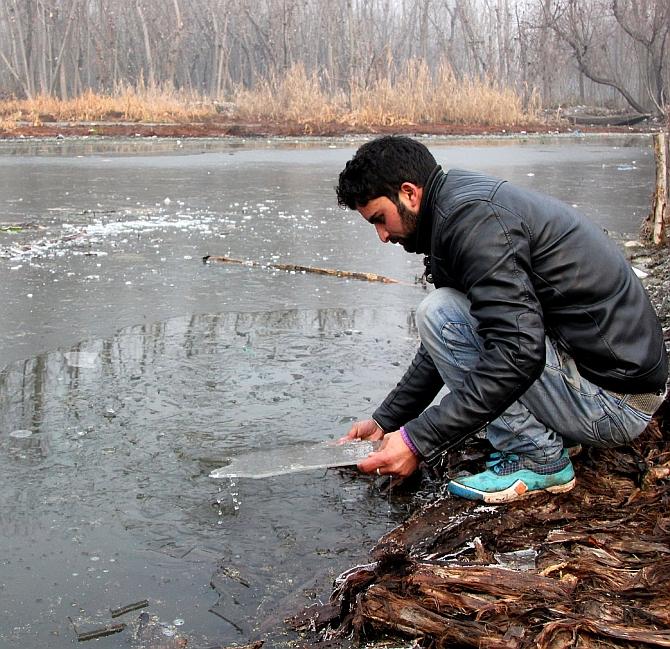 Cold wave tightened its grip on Kashmir Valley ahead of the onset of 'Chillai-Kalan' -- the 40-day harshest winter period -- with the summer capital Srinagar and Leh town recording the coldest night of the season.
Berlin truck carnage kills 12; culprit may still be at large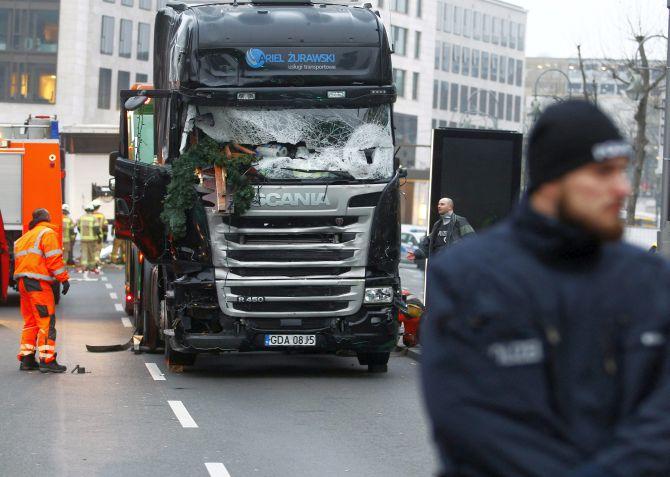 German Chancellor Angela Merkel said the attack was linked to terror.
Russian ambassador to Turkey shot dead, gunman shouted 'Don't forget Aleppo'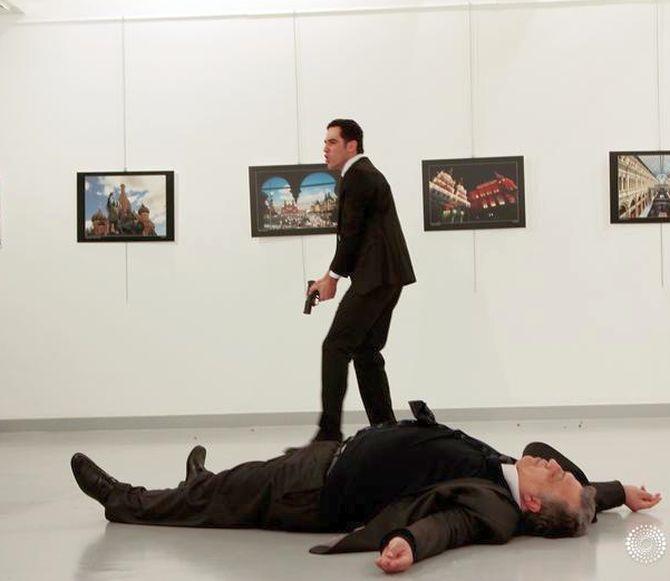 Russia has described the killing of Andrey Karlov at an art exhibition in Ankara as a terror attack.
December 17, 2016
'We did great with the Hindus': Trump thanks Indian-Americans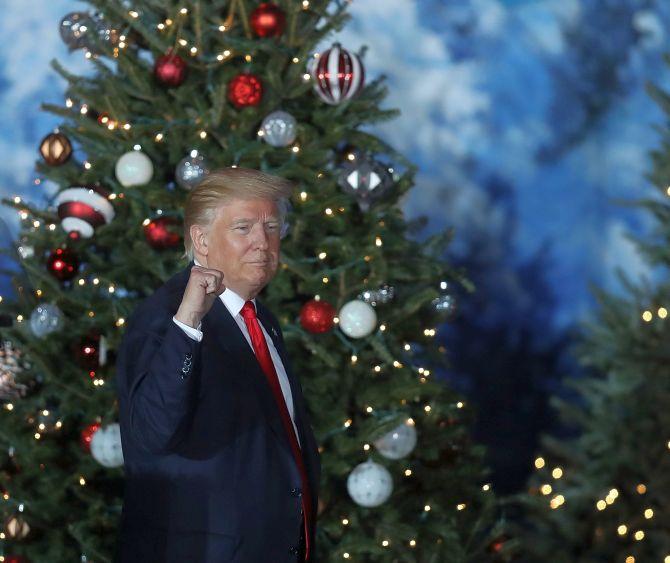 This is for the first time that Trump has acknowledged the contribution of Indian-Americans and Hindus in his historic electoral victory.
December 16, 2016
Parliament sees least productive session in 15 years, courtesy note ban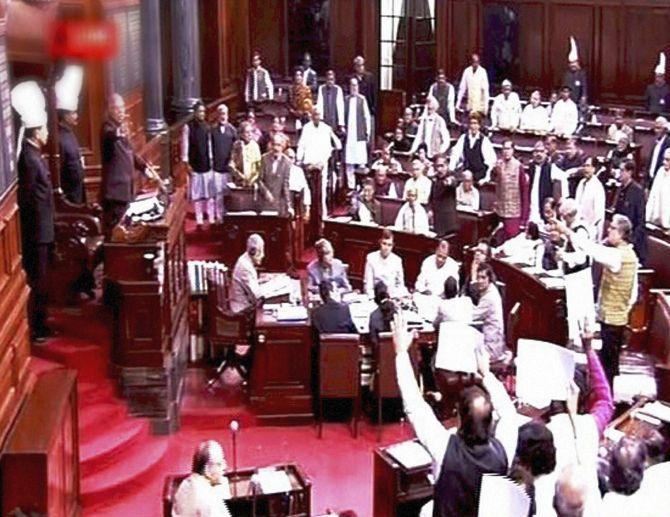 The only other legislative action was the approval of the Supplementary Demands for Grants.
December 15, 2016
The odd, odd world we live in!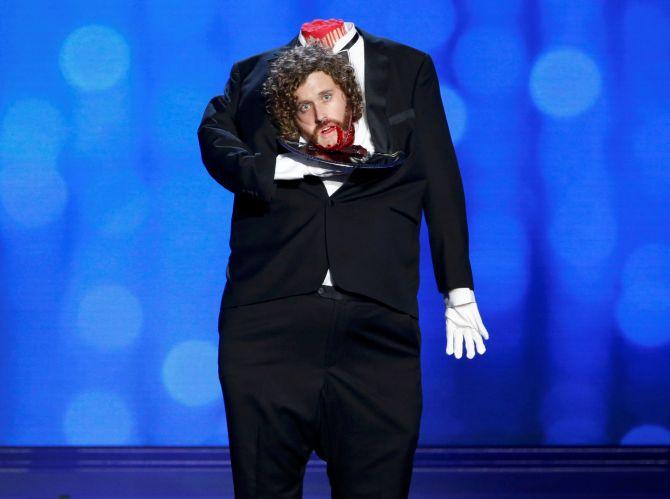 This week's collection of unbelievably unusual images from across the world.
These Indians made it to Global Thinkers 2016 list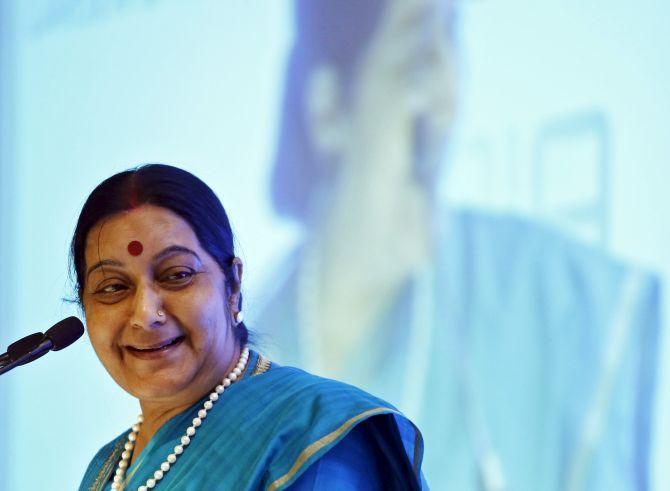 Here is a list of famous names from India as well as the world which are included.
Paris turns off Eiffel Tower lights for Aleppo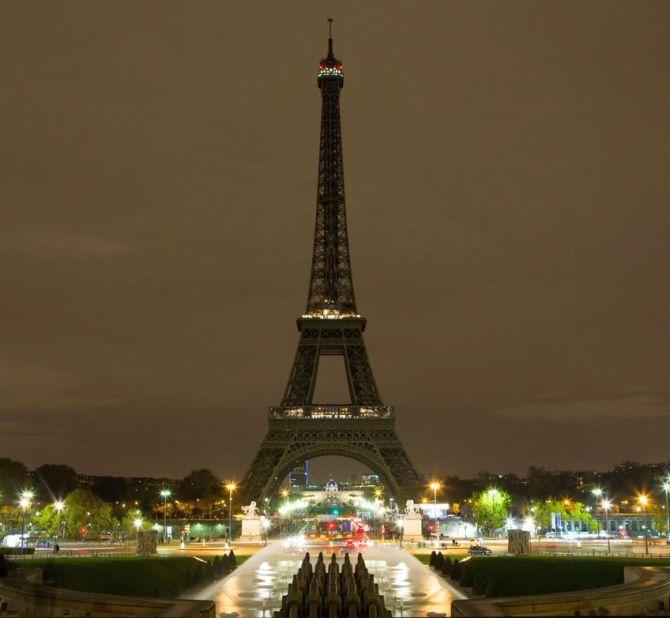 The monument was plunged into darkness in what Paris Mayor Anne Hidalgo said was a protest at the 'unbearable' situation for civilians in the city where fighting raged during the day.
December 14, 2016
2 days after Cyclone Vardah, Chennai picks up the pieces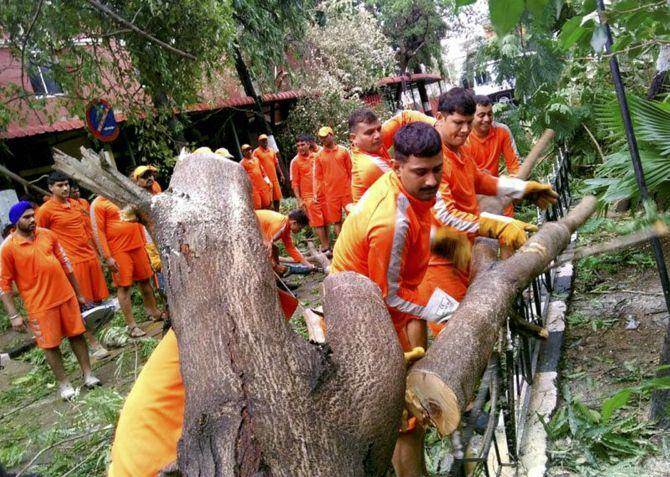 While flight operations have already resumed, inter-intra state train services also were partially operating since Tuesday night, they said.
The worst tragedy of the 21st century comes to an end... for now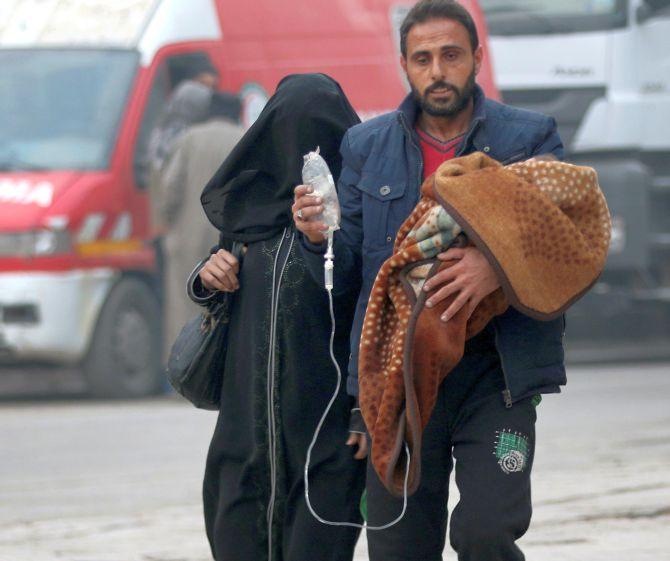 A ceasefire deal has been struck between the pro-Syrian government forces and the rebels for them and the civilians still living there to evacuate the city safely.
December 13, 2016
PHOTOS: Nation remembers martyrs of 2001 Parliament attack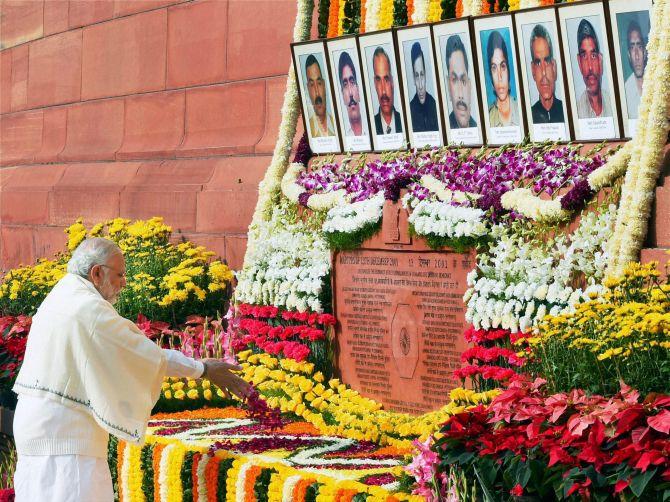 On December 13, 2001, five heavily-armed gunmen stormed the Parliament complex and opened indiscriminate fire, killing nine persons.
PHOTOS: First snow of season covers Gulmarg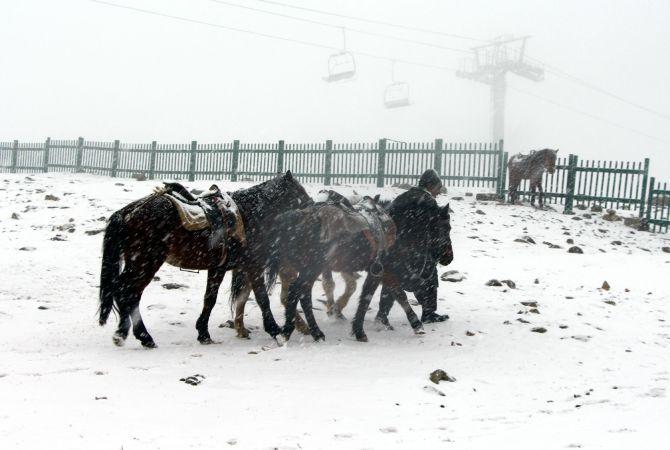 Officials said more than five inches of snow has accumulated in the main Gulmarg bowl so far.
Cyclones that devastated India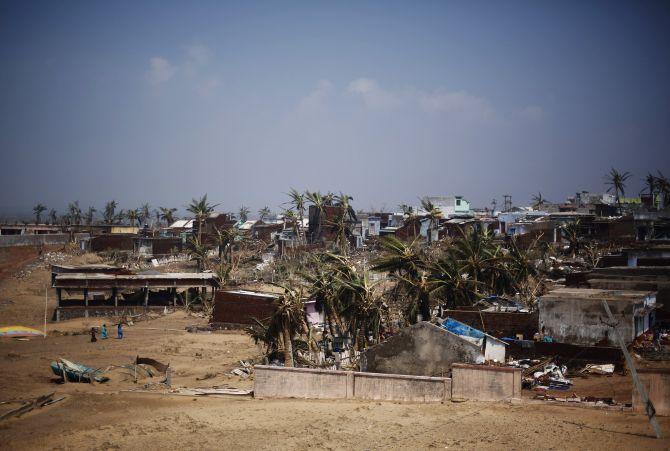 Here is a list of previous cyclones that have struck the country.
December 12, 2016
Cyclone Vardah slams into TN; 4 dead, Chennai airport shut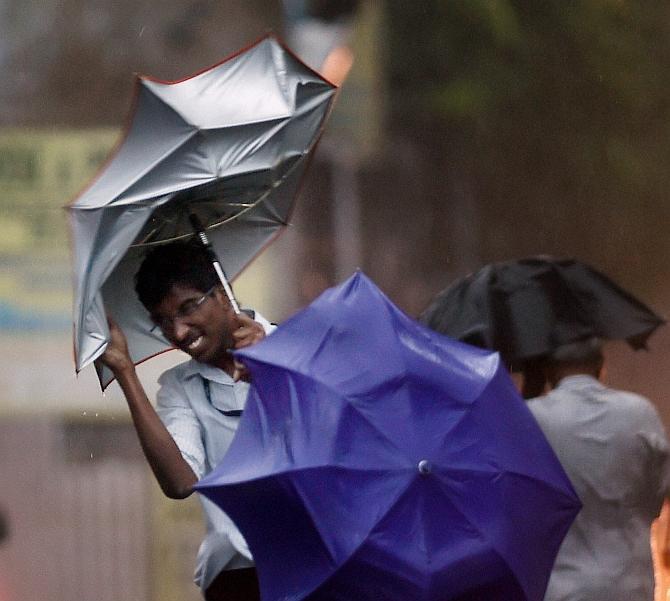 State government announced ex gratia for kin of those who lost lives.
Cyclone Vardah's devastation in PHOTOS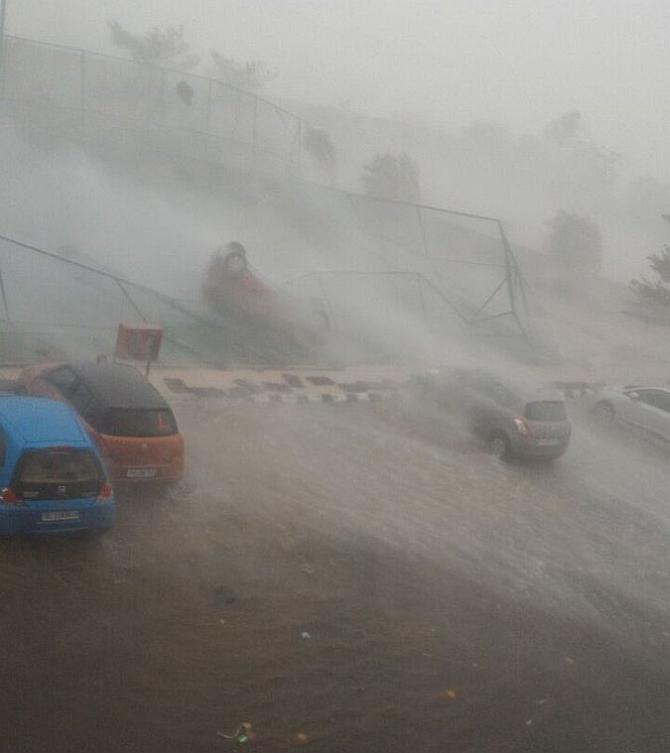 Heavy rains accompanied by high velocity winds on Monday pounded Chennai and coastal districts of north Tamil Nadu due to severe cyclonic storm "Vardah" which made landfall around 3pm, uprooting hundreds of trees, disrupting land and air transport and throwing normal life out of gear.
Trees uprooted, flights cancelled: Cyclone Vardah makes landfall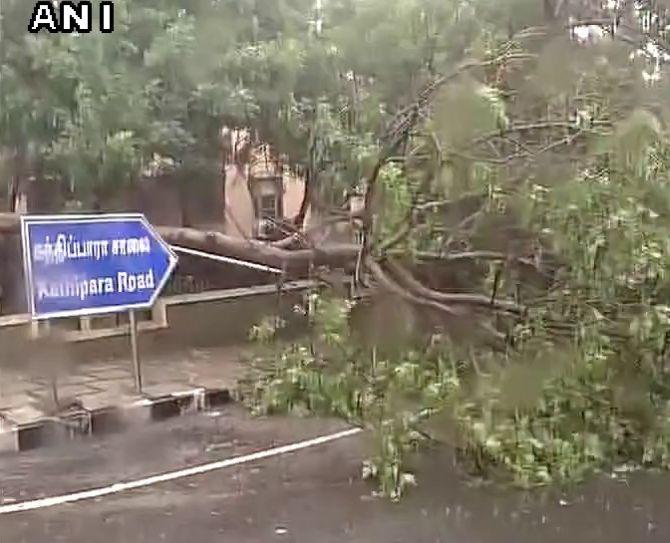 Here are the latest updates.
These PHOTOS will inspire your next trip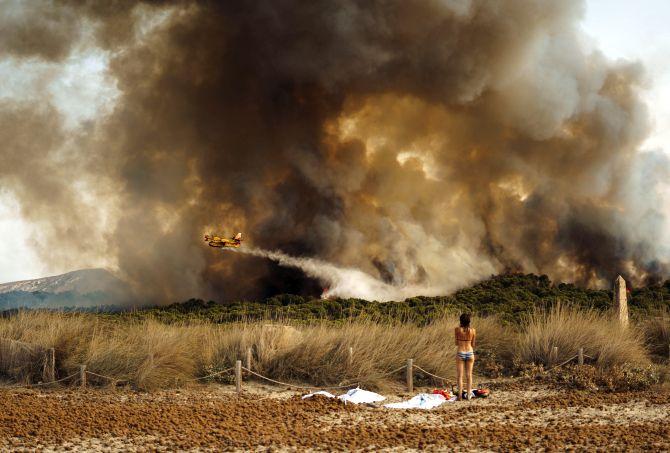 Winners of the 2016 National Geographic Nature Photographer of the Year.
December 11, 2016
Pilot, woman killed after chopper crashes in Mumbai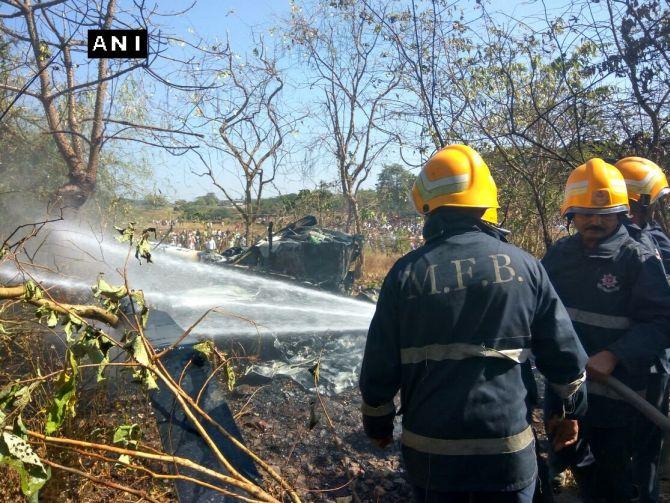 The helicopter 'Robinson R44' crashed in Filter Pada area of Aarey Colony in Goregaon earlier in the day.
December 08, 2016
PIX: Survivors gather at Pearl Harbour, 75 years later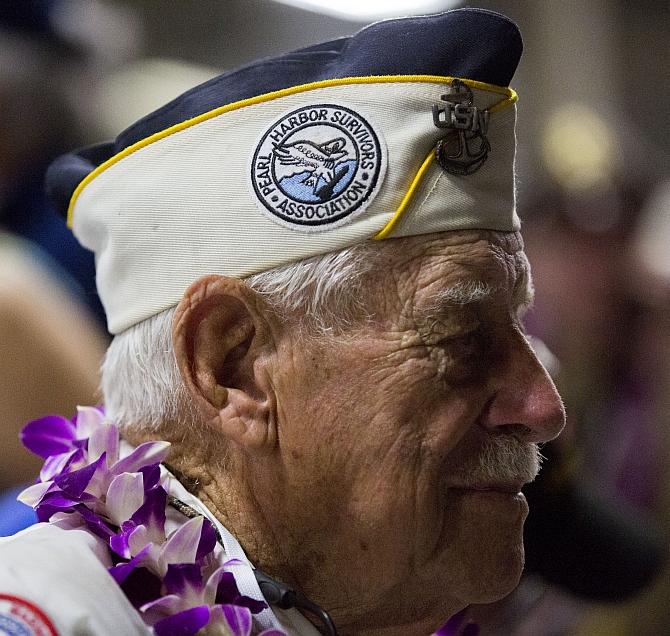 Thousands observed a moment of silence and watched jets streak across the clear blue sky at a ceremony at Pearl Harbor marking the 75th anniversary of the attack that plunged the United States into World War II and left more than 2,400 service people dead.
PIX: 4 awesome hours onboard INS Vikramaditya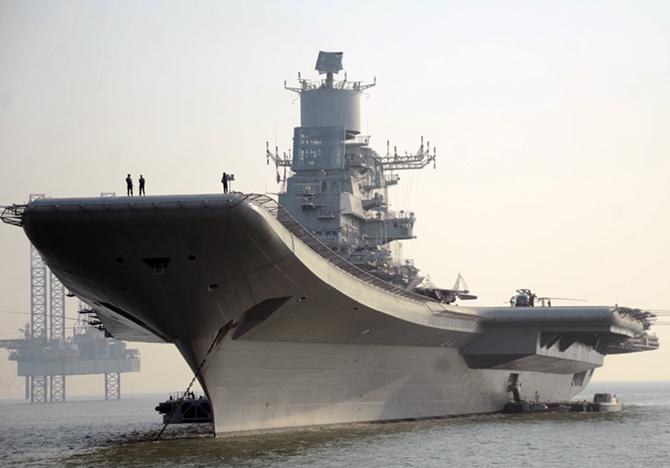 AWESOME!!!
December 07, 2016
Note-worthy!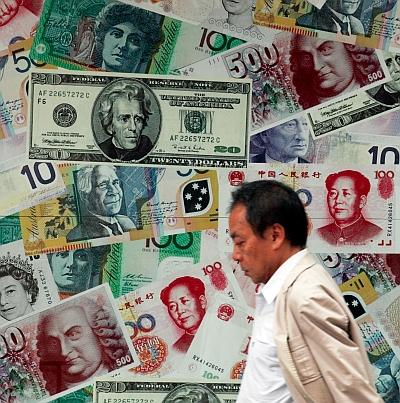 A look at the current contenders International Bank Note Society's Banknote of the Year
December 06, 2016
PHOTOS: Prez, PM, others pay tributes to Jayalalithaa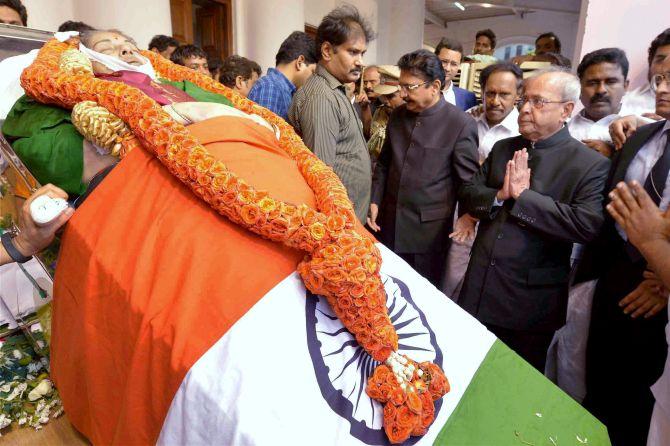 Chief Minister O Panneerselvam hugged Modi emotionally on a couple of occasions.
Shocked Tamil Nadu shuts down to mourn Amma's demise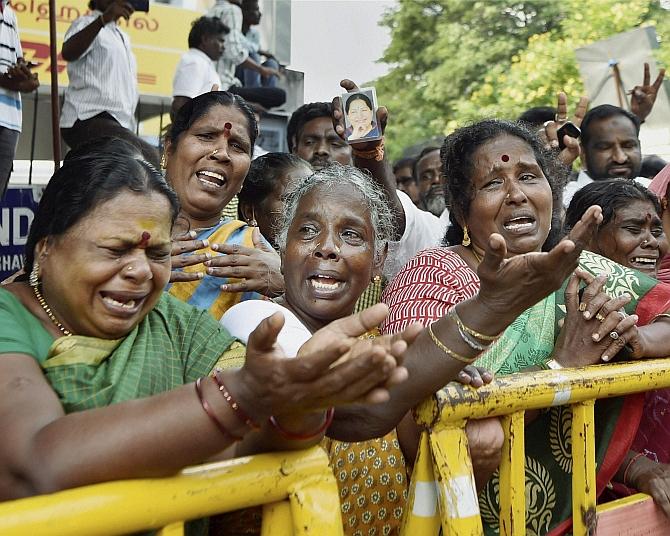 Life virtually came to a grinding halt across Tamil Nadu as the state woke up to deserted streets with shops, including eateries, remaining shut in the wake of the demise of Tamil Nadu Chief Minister J Jayalalithaa.
Amid cries of 'Amma', sea of humanity throngs Rajaji hall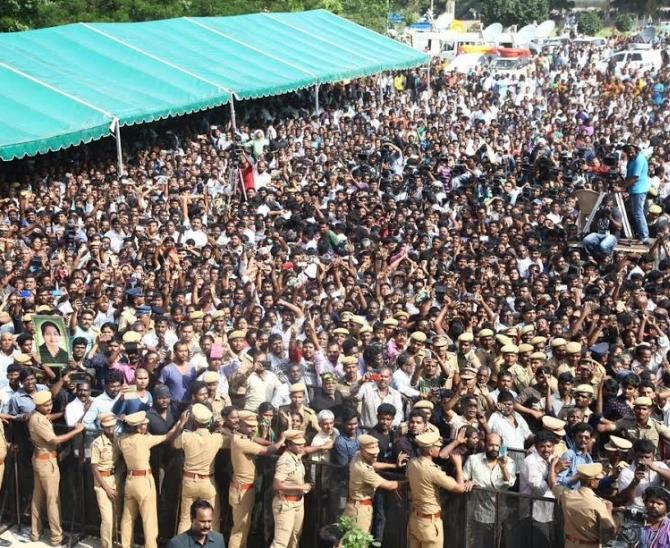 Cries of "Amma" rent the air as a sea of humanity thronged the Rajaji Hall grounds on Tuesday to pay their last respects to AIADMK supremo and Tamil Nadu Chief Minister J Jayalalithaa, whose body lay in state in Chennai where normal life virtually came to a grinding halt.
O Panneerselvam sworn in as Tamil Nadu CM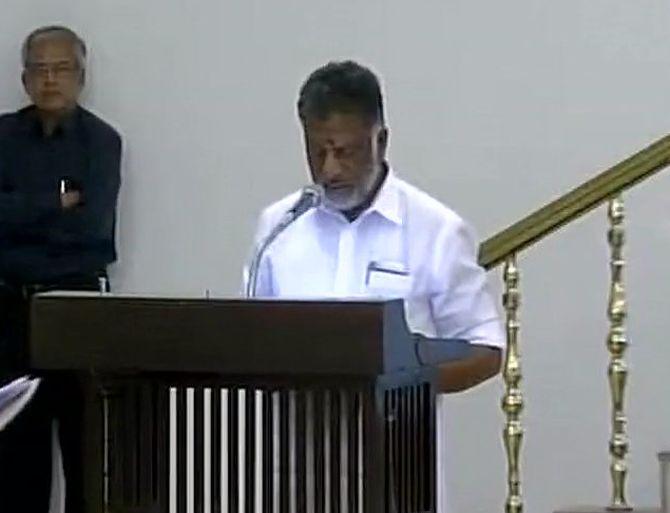 A grim-faced Panneerselvam, who was also seen sporting a beard, was sworn in around 1.15 am by Governor Ch Vidyasagar Rao at the Raj Bhavan amidst a scene of gloom.
December 05, 2016
Karachi: 12 killed in fire at four-star hotel, 110 injured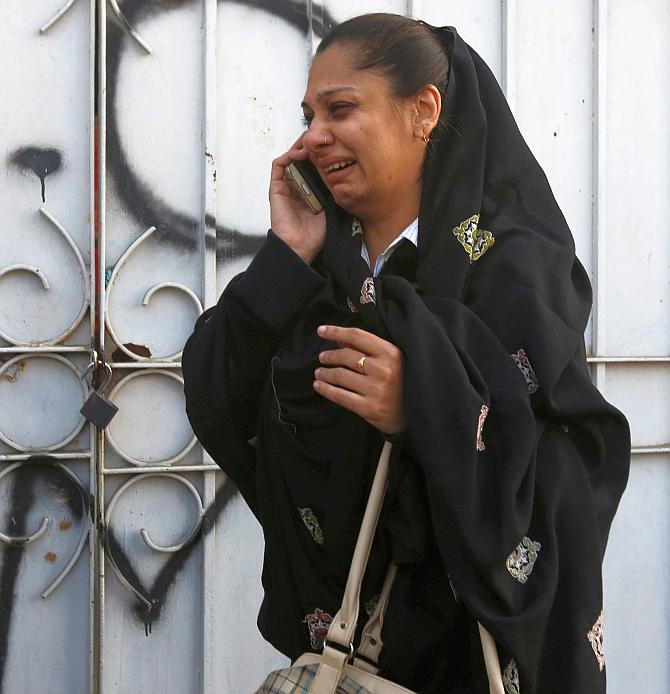 The blaze broke out in the kitchen located at the ground floor of the Regent Plaza hotel at the city's Shahrah-i-Faisal and spread across the six-floor building, trapping nearly 100 hotel guests in their rooms.
PIX: Prayers and tears flow outside Apollo hospital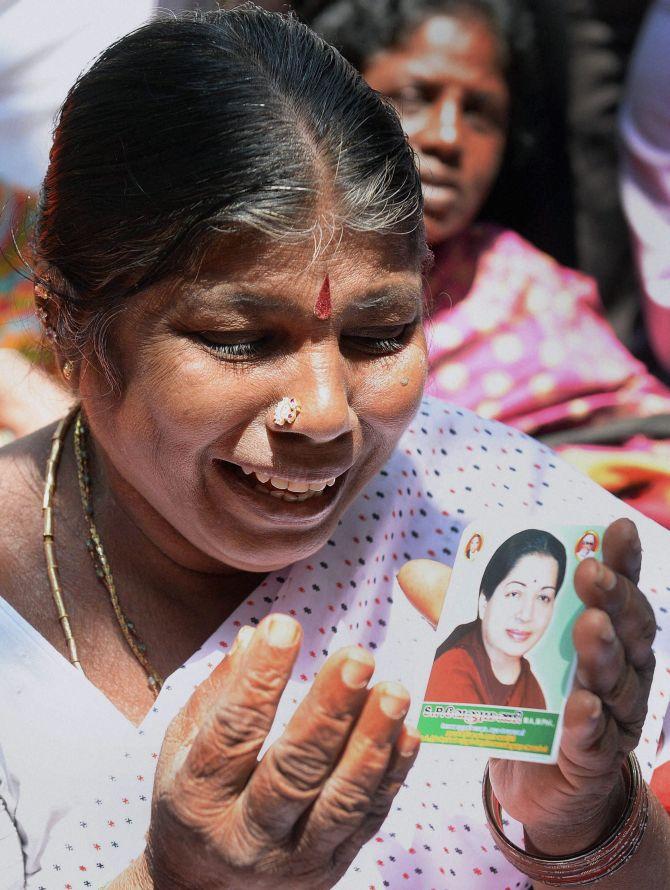 Large number of All India Anna Dravida Munnetra Kazhagam supporters have been waiting anxiously outside the Apollo Hospital in Chennai since Sunday night for information on ailing chief minister and party supremo Jayalaithaa who suffered a cardiac arrest after days of showing improvement.
December 04, 2016
PHOTOS: The colourful Navy Day celebrations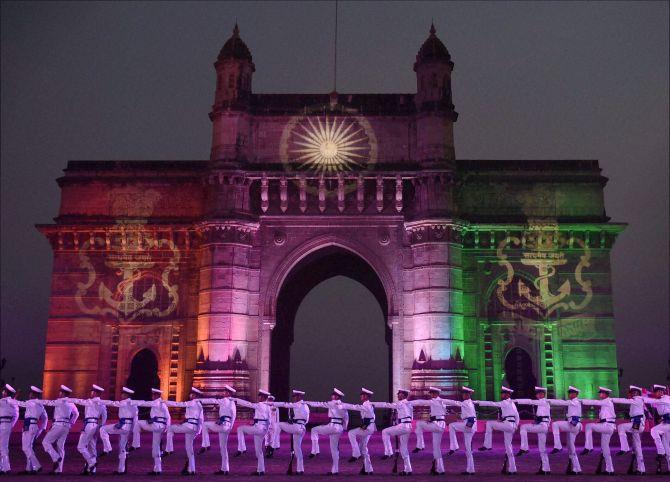 Navy Day is observed on December 4 every year to celebrate the magnificence, achievements and role of the naval force to the country.
PHOTOS: PM serves langar at Golden Temple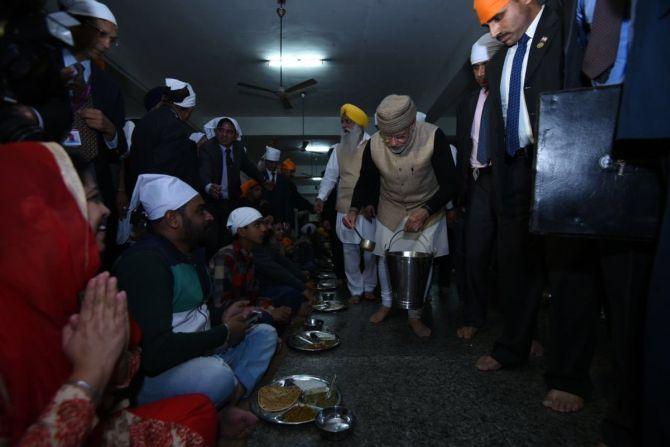 "Modi is the first prime minister of the country who served langar to the devotees in the GoldenTemple," Chief Information Officer Gurbachan Singh said.
December 03, 2016
PHOTOS: Modi, Ghani visit Golden Temple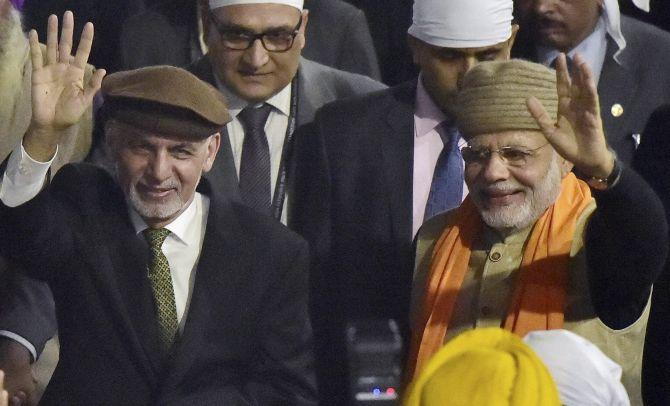 Modi and Ghani walked through the renovated heritage corridor before reaching Harmandir Sahib, popularly known as Golden Temple, where large number of people, waiting for hours, welcomed them.
32 years on, toxic waste still lying in Union Carbide factory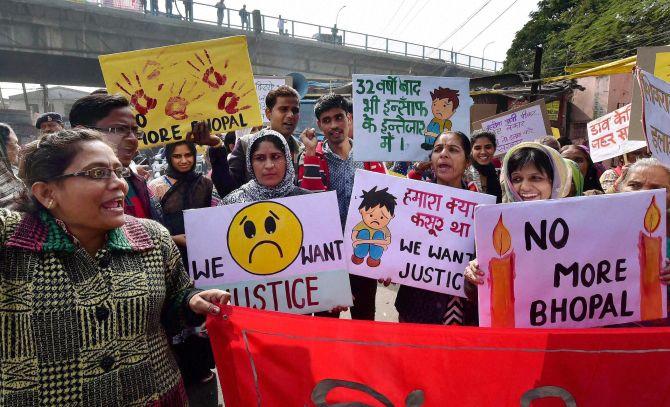 Activists burnt the US flag and logos of Union Carbide and Dow Chemicals - as they have done nothing to end the sufferings of the victims for the last 32 years.
PHOTOS: It's Christmas Wonderland at the White House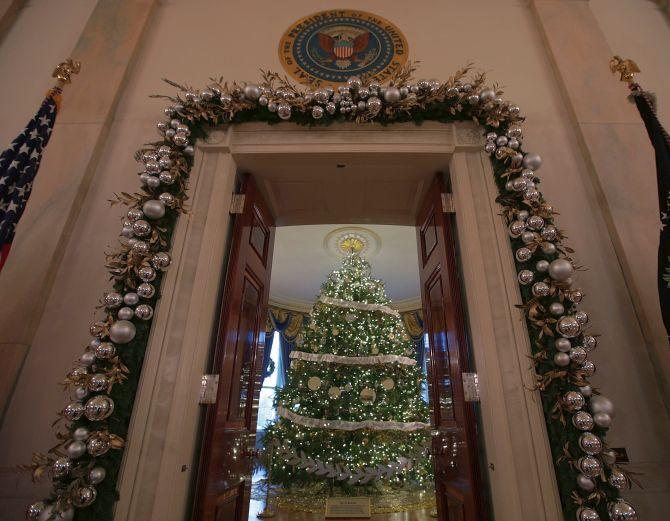 Christmas is around the corner and the White House is all ready to bring in the festival with lights and decorations.
December 01, 2016
Demonetisation war continues in Parliament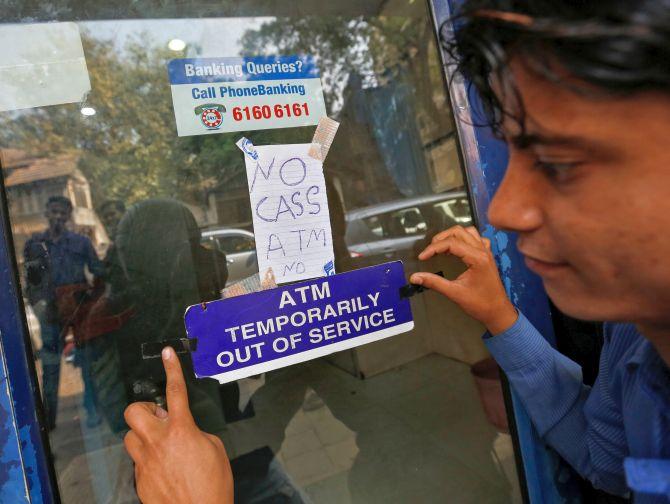 It's been 13 days that the Winter Session commenced, but no work has taken place as MPs continue to spar over the note ban.
In Pics: Navy rehearses for Beating Retreat ceremony in Mumbai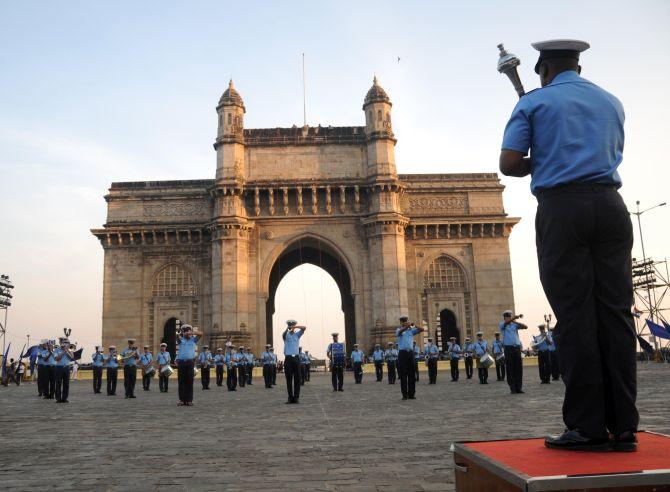 Here are glimpses of a full dress rehearsal.
November 30, 2016
'Long live the revolution': Cubans hold mass rally, remember Fidel Castro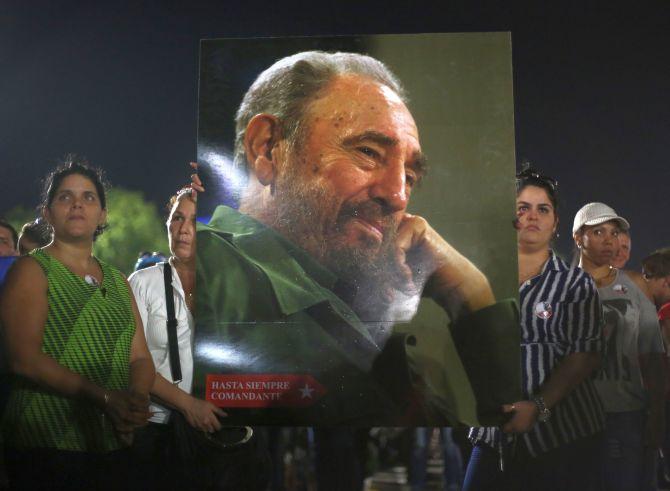 Hundreds of thousands of Cubans bid farewell to late communist leader Fidel Castro on Tuesday night
Dense fog cover shrouds Delhi; flights affected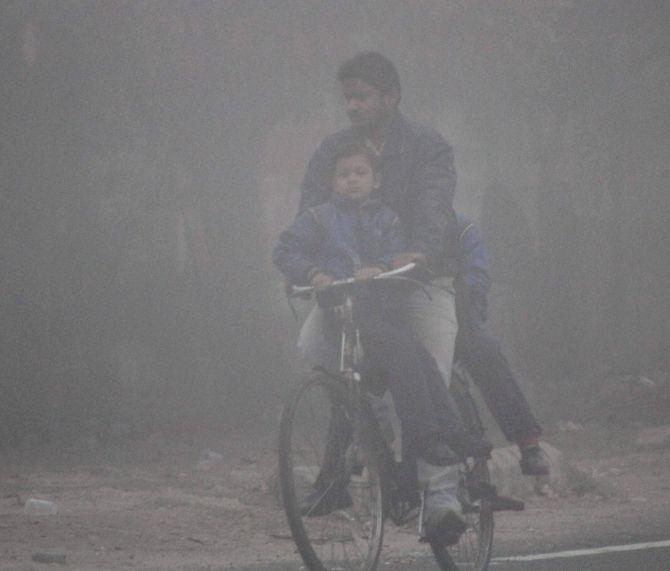 Heavy fog engulfed the national capital on Wednesday -- the first this season -- delaying 18 flights and 50 north-bound trains.
Modi 'Person of the Year' 2016? 'Time' will tell soon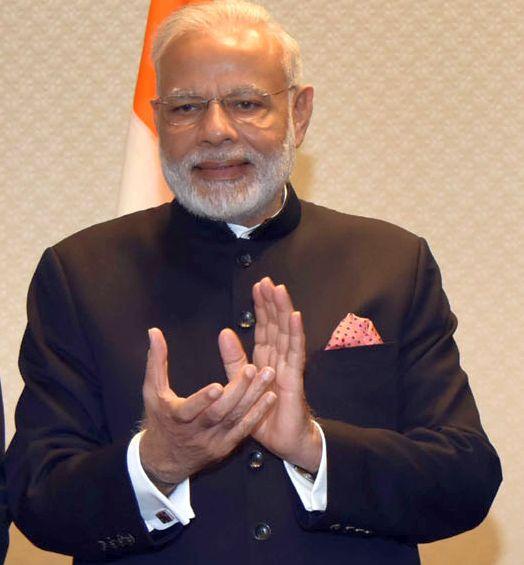 Here are the few candidates who are in contention for the readers' choice for Time magazine's 'Person of the Year' in 2016.
November 29, 2016
PHOTOS: The incredibly bizarre world we live in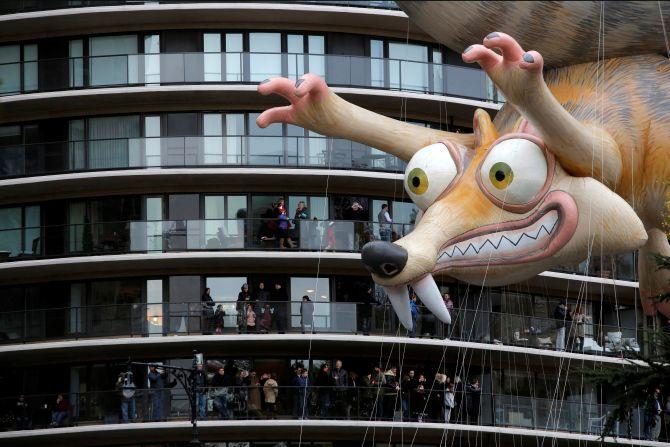 These images from across the globe tell us that we live in bizarre world
November 27, 2016
A life without fear: Hundreds join Queer Pride Parade in Delhi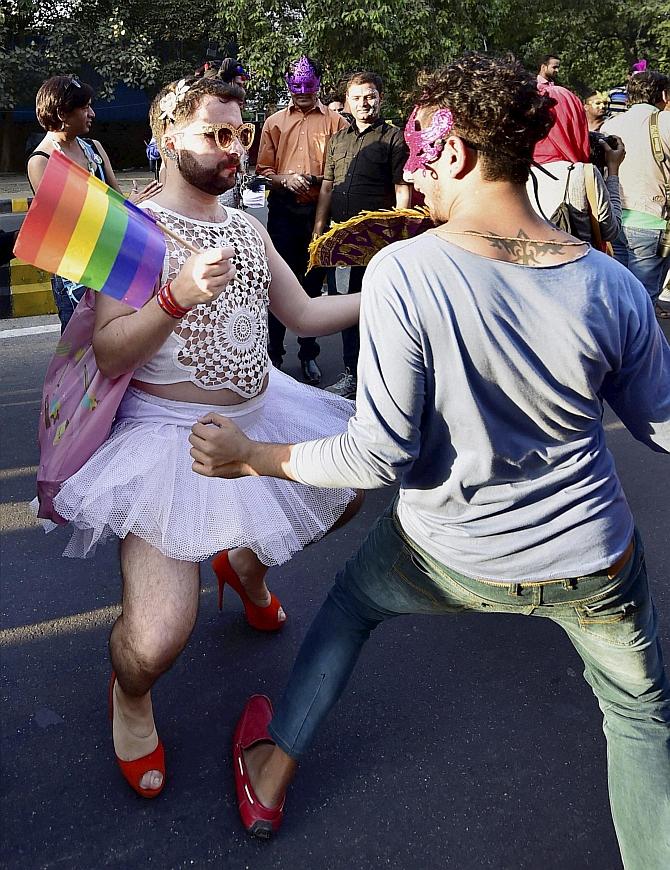 Draped in rainbow colours, hundreds of people on Sunday marched in the heart of the national capital for the 9th Queer Pride Parade to show solidarity with the LGBTQ community in making a united call for equality of gender and sexuality and seeking "a life without fear".
November 26, 2016
PHOTOS: Nation remembers 26/11 martyrs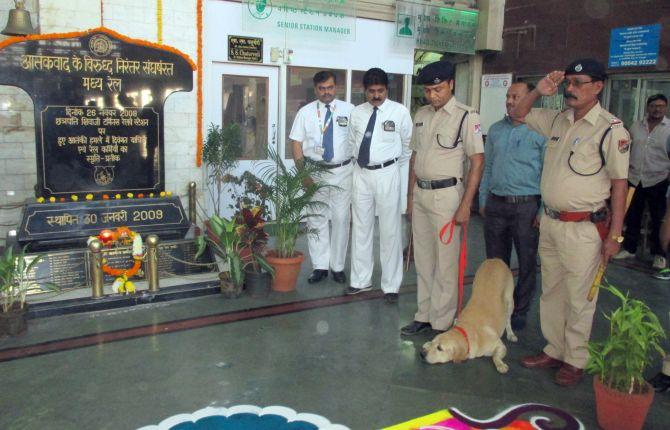 Family members of the martyred personnel and survivors of the daring strike recalled the harrowing moments and pledged support to efforts to root out terrorism.
November 25, 2016
Massive fire at furniture market in Mumbai's Oshiwara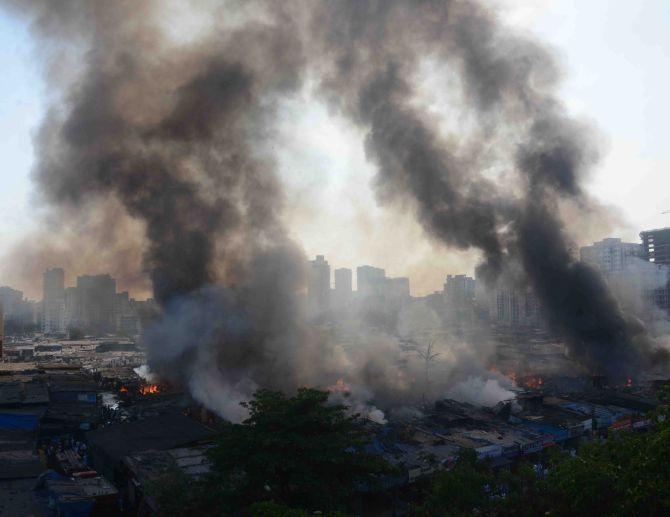 The blaze erupted at the furniture market situated on Relief Road in Jogeshwari, fire brigade sources said.
Prayers held at Kashmir's Jamia Masjid after 19 weeks of violence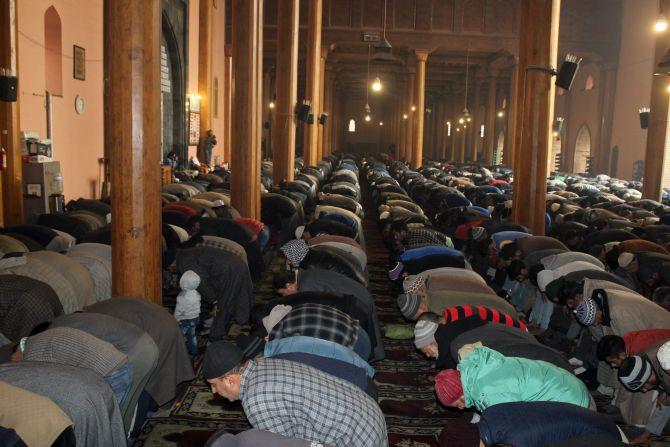 However, the attendance of devotees was thin as the people from adjoining localities only were not able to reach the grand mosque due to non-availability of public transport in view of the strike.
Ever heard of a 'hospital' at a museum?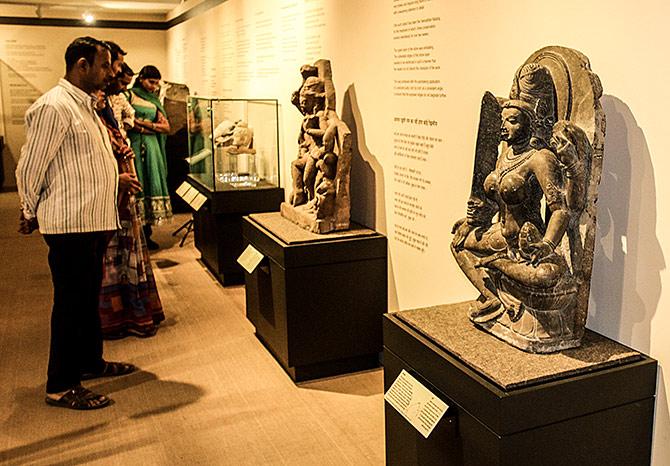 Mumbai's museum is no longer a mere showcase for objects of history, but an active agent in prolonging its life.
REWIND: Events that shaped India in the past week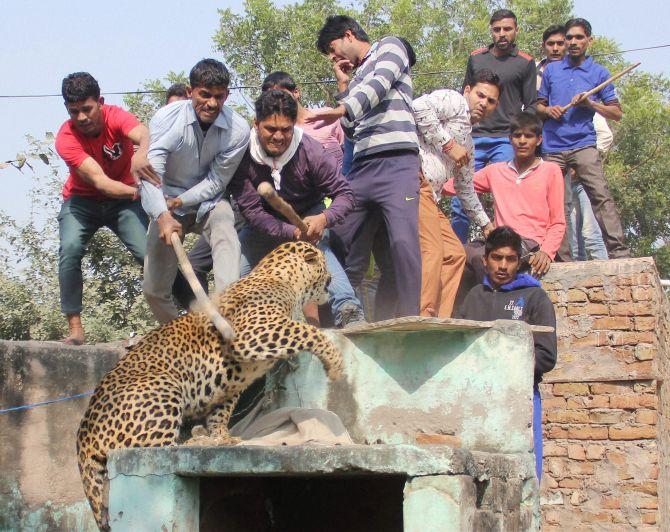 We bring you some of the best pictures from across the nation in the last one week.
China and India indulge in war games... in Pune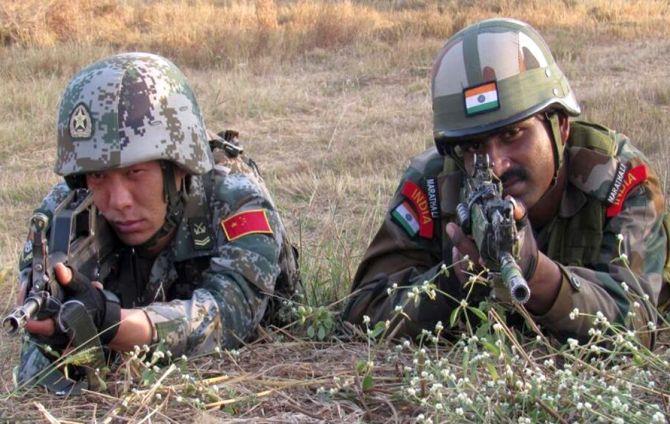 The sixth chapter of the Joint Military Training Exercise "Hand in Hand" between India and China are ongoing in Pune in Maharashtra with a focus on "transnational terrorism" and counter-terrorism operations in "semi-urban scenarios."
November 24, 2016
Obama pardons his last turkey... and has a pun-fest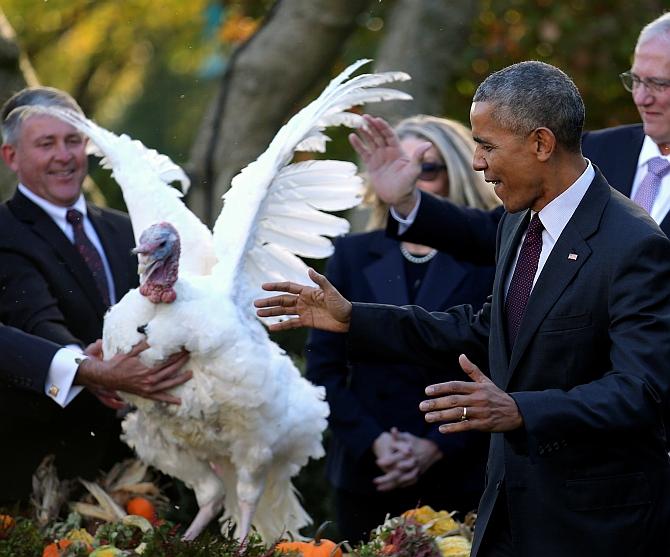 Puns flew high as President Obama cracked what he referred to as his "corny-copia of dad jokes about turkeys."
PHOTOS: 2 weeks on, anger spills out on the streets over the note ban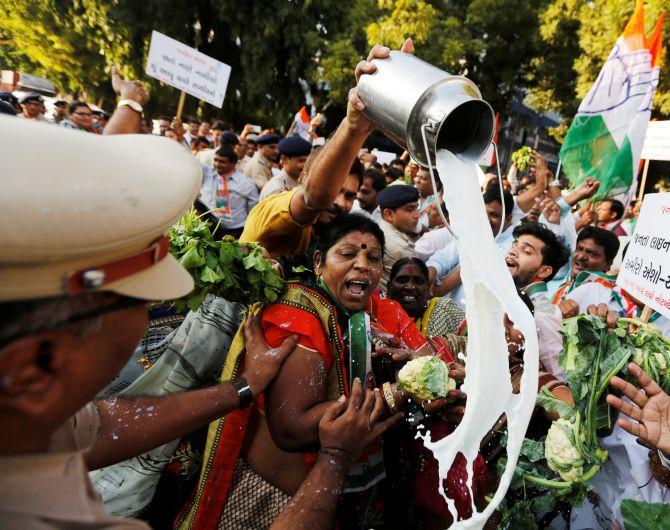 It's been 15 days since Prime Minister Narendra Modi sent ripples across the nation when he announced that Rs 500 and Rs 1000 notes would be demonetised immediately.
November 23, 2016
Opposition takes on Modi over note ban outside Parliament too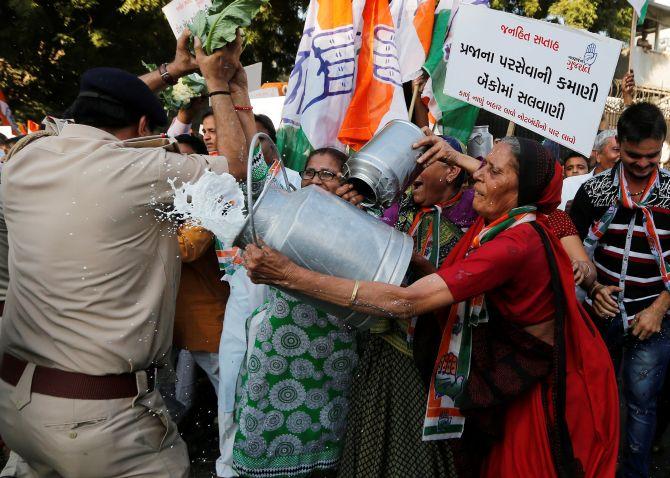 Protests by various parties could be seen as they demanded the Prime Minister Narendra Modi rolled back the demonetisation scheme.
November 21, 2016
She was like my mother: With kids by her side, Sonia salutes Indira Gandhi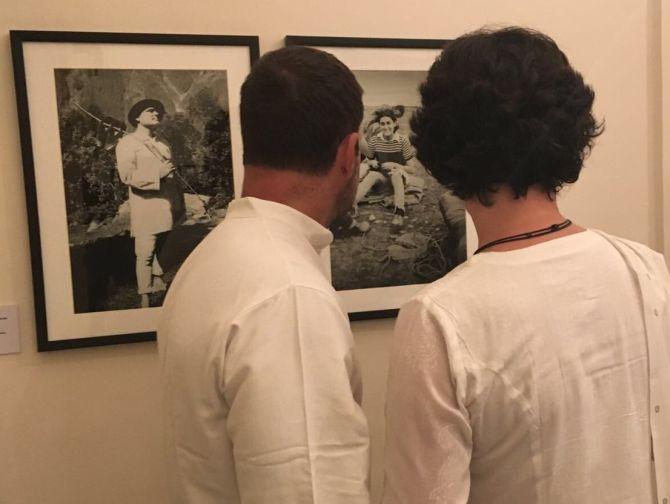 The Congress president inaugurated a photo exhibition commemorating the birth centenary of Indira Gandhi, with more than 200 pictures depicting various events from her life at the historic Swaraj Bhavan where the former prime minister was born.
28 killed as blast hits Shia mosque in Kabul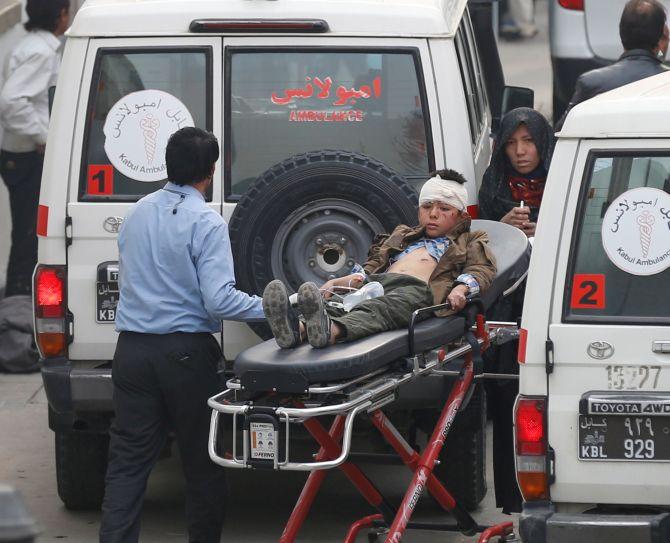 It is not yet clear who was behind the blast but Afghanistan's Shia have faced a series of sectarian attacks in recent months claimed by the Islamic State Sunni Muslim militant group.
Stealth destroyer INS Chennai commissioned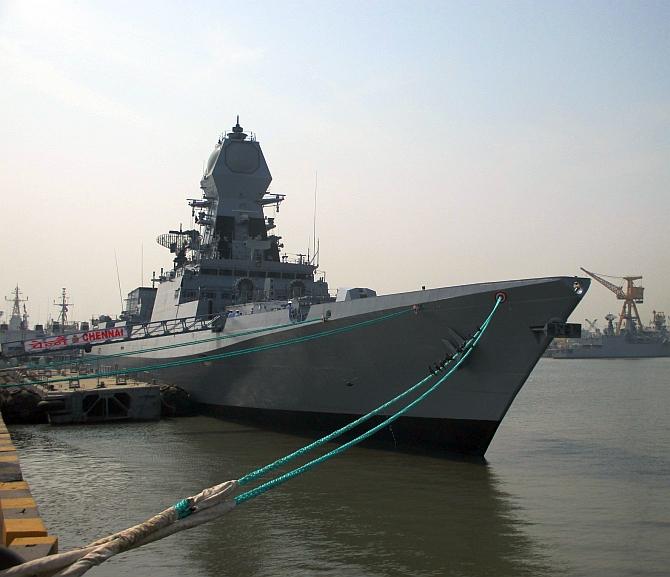 Built at the Mazagon Dock Shipbuilders Ltd in Mumbai, the ship's construction also marks the end of the Project 15A to build Kolkata-class guided missile destroyers.
Skydiving magic, bungee dunk! It's Guinness World Records Day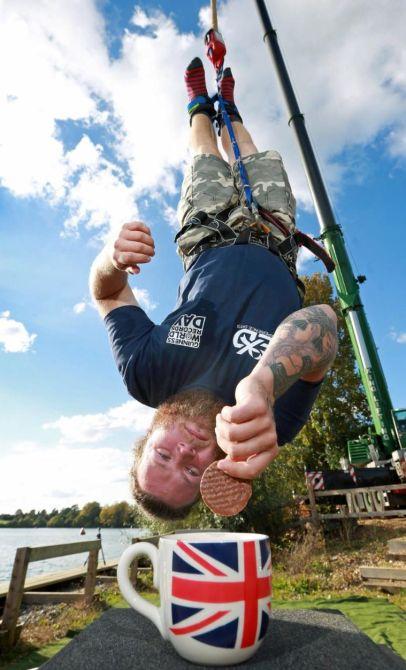 From the highest dunk of a biscuit into a cup of tea by a bungee jumper to the most magic tricks performed during a skydive, the adventurous and imaginative marked Guinness World Records Day on Thursday with all sorts of feats.
India is the 7th most terror affected country. Pakistan 4th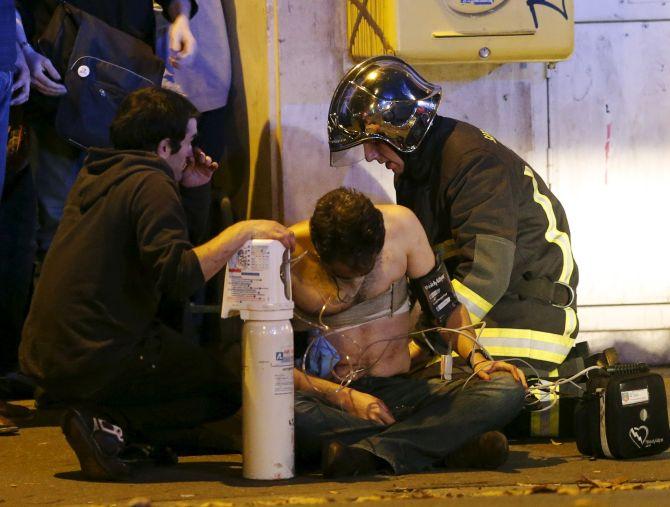 Here's a look at the 10 most dangerous countries in the world.
November 20, 2016
Over 100 killed as Indore-Patna Express derails near Kanpur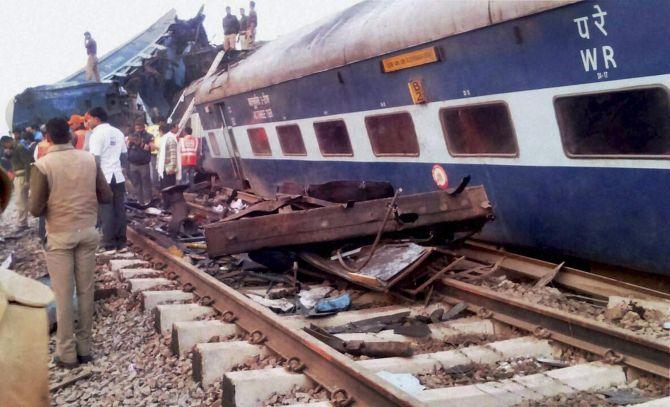 Railways Ministry spokesperson Anil Saxena said several people have been rushed to nearby hospitals with injuries, and the casualties may go up.
November 19, 2016
Kashmir bursts into life after four months of shutdown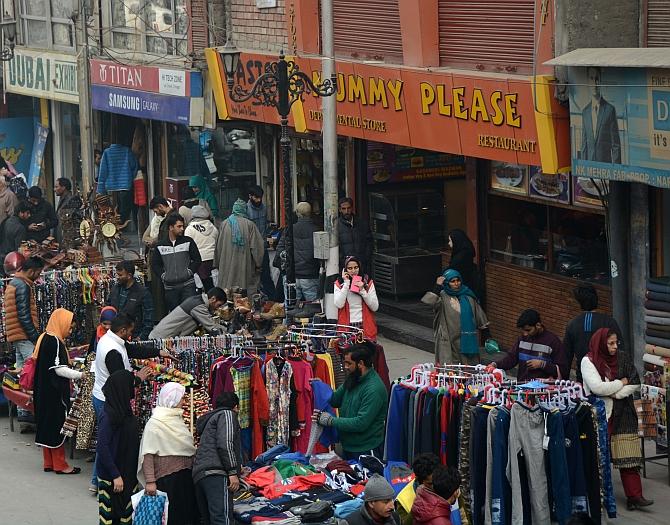 Srinagar city along with the rest of Kashmir was buzzing with activity on Saturday with offices, shops and other business establishments opening in the Valley which saw return of normalcy after 133 days of shutdown as separatists suspended their stir for the weekend.
By-elections in 6 states pass off peacefully; high voting in TN, WB, Tripura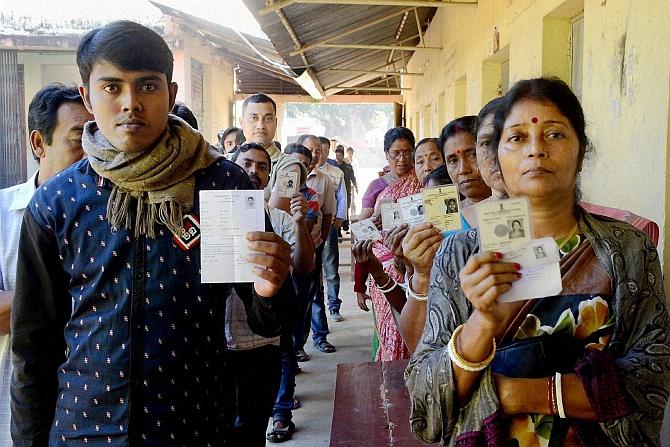 By-elections to Lok Sabha and assembly seats in the states of Assam, Tripura, Madhya Pradesh, Arunachal Pradesh, Tamil and West Bengal passed off peacefully on Saturday amidst tight security.
November 18, 2016
PHOTOS: The incredibly bizarre world we live in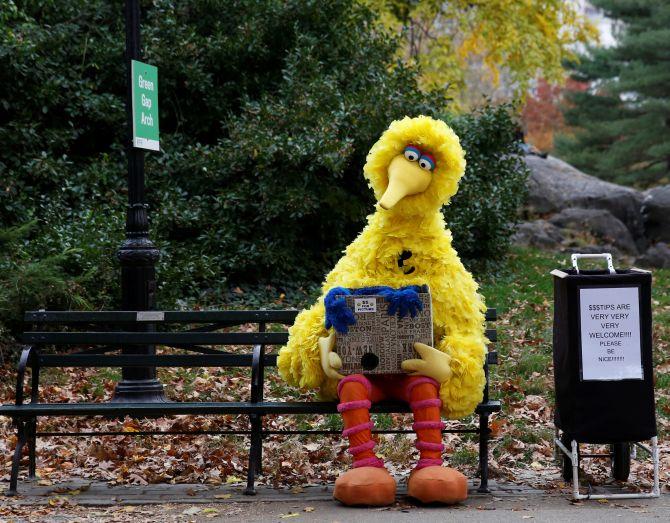 Here are eight images that prove we live in a mad, mad world.
November 16, 2016
Lalu's grandson makes his Parliament debut. He's only 2-months old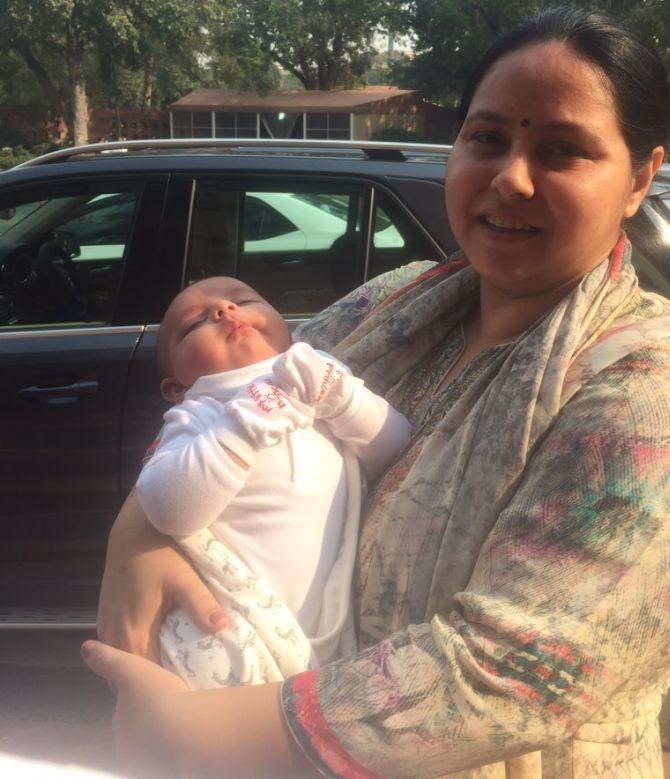 Misa Bharati, Rashtriya Janata Dal chief Lalu Yadav's daughter, brought her son to Parliament on the first day of the winter session, much to the delight of people there and the media.
PHOTOS: The big fat Rs 500 crore Reddy wedding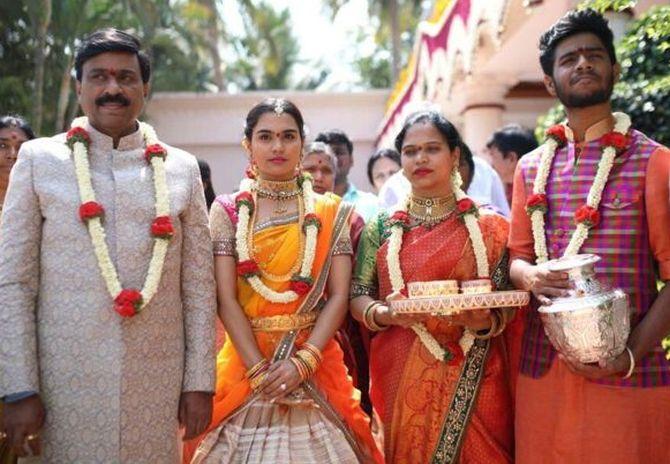 The mining baron and former Karnataka minister, Gali Janardhana Reddy, has spared no expense or effort to make sure that his daughter Brahmini's wedding is the biggest, fattest wedding that Bengaluru has ever witnessed.
WTF News! It's Weird, True and Funny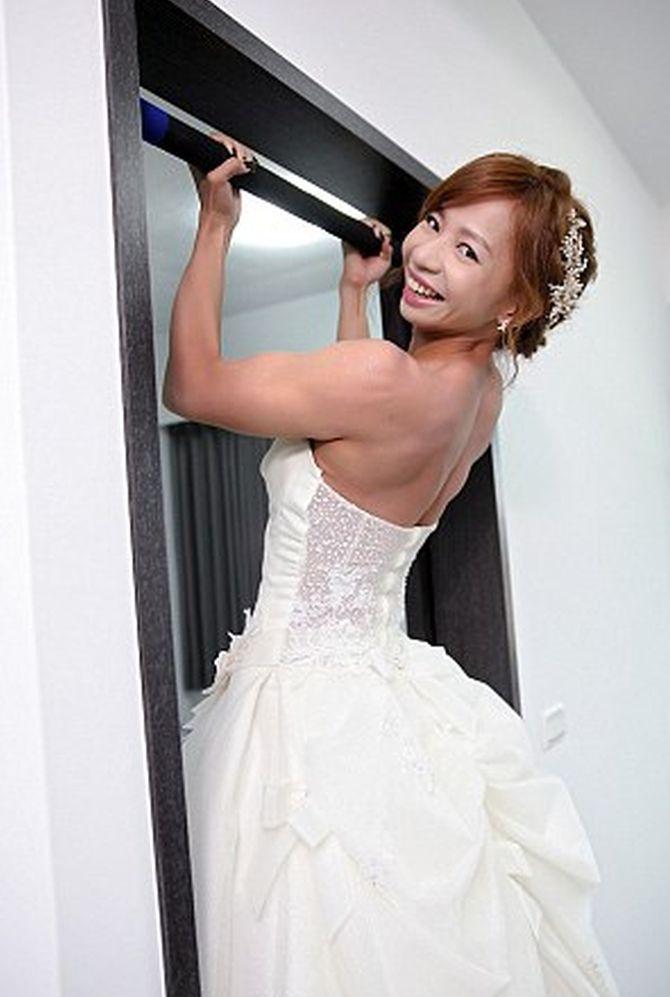 Here's your weekly digest of the craziest stories from around the world.
November 15, 2016
'Sometimes people want to try something to shake things up': Obama in Greece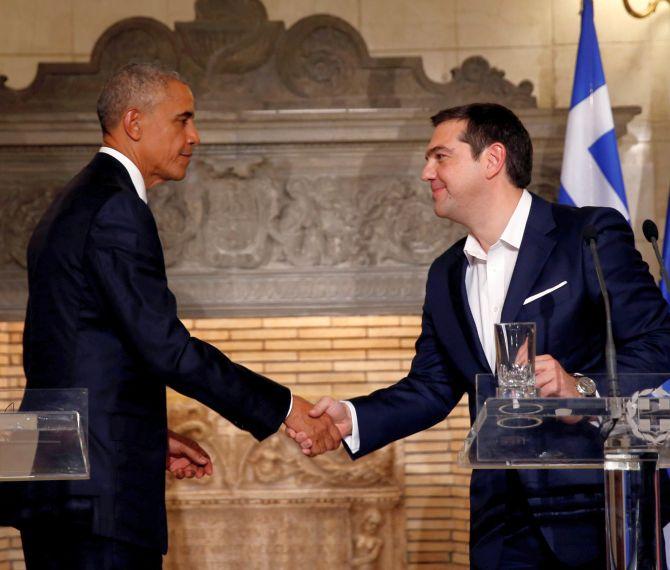 Obama spoke to Greek PM Alexis Tsipras in the capital, Athens, as part of a final tour that also takes in Germany and Peru.
November 14, 2016
Look up, the SUPERMOON is Here!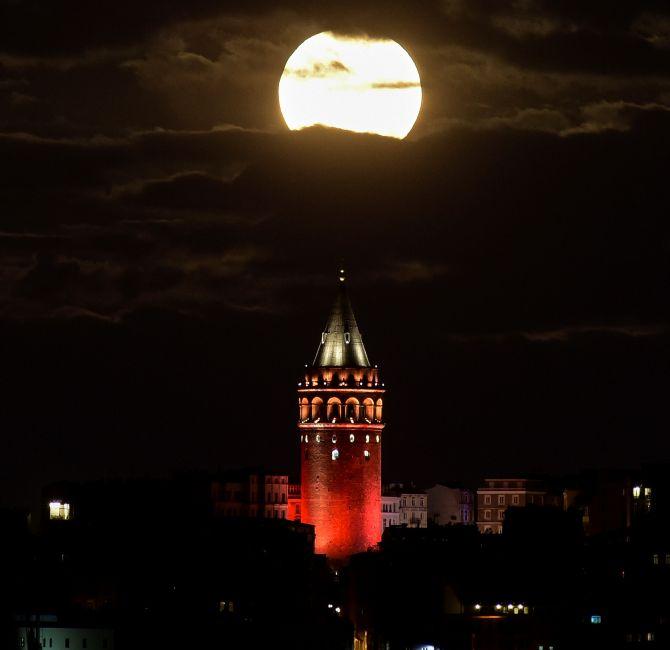 Monday's moon is the brightest moon in almost 69 years.
Sizzling! 2016 now looks dead set to become the hottest year on record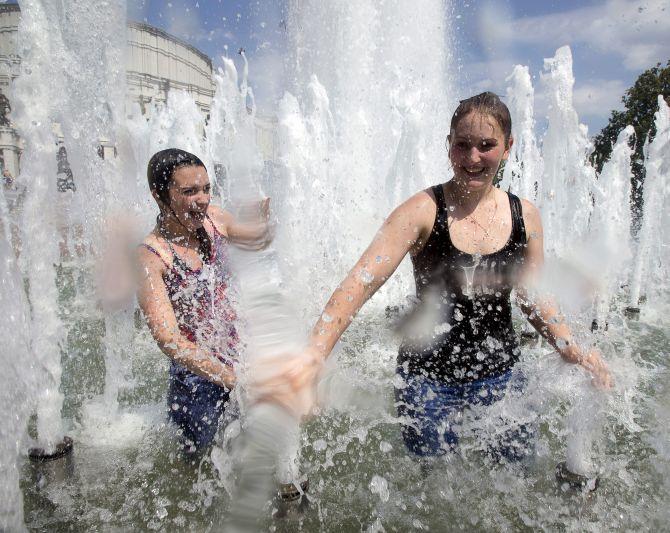 The World Meteorological Organisation assessment which was released on Monday in Marrakech, Morocco said that 2016's global temperatures are approximately 1.2 °C above pre-industrial levels.
Board exams begin in Kashmir under tight security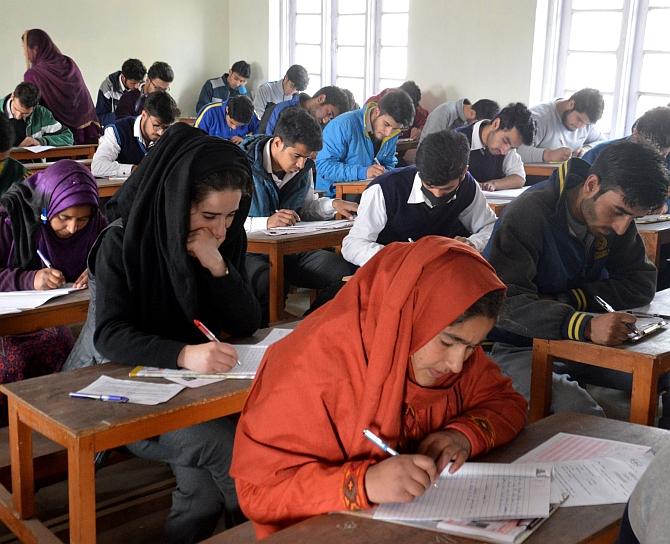 There was a significant increase in movement of people and transport across the Valley as the annual board examinations began, officials said in Srinagar.
'Not My President.... NEVER'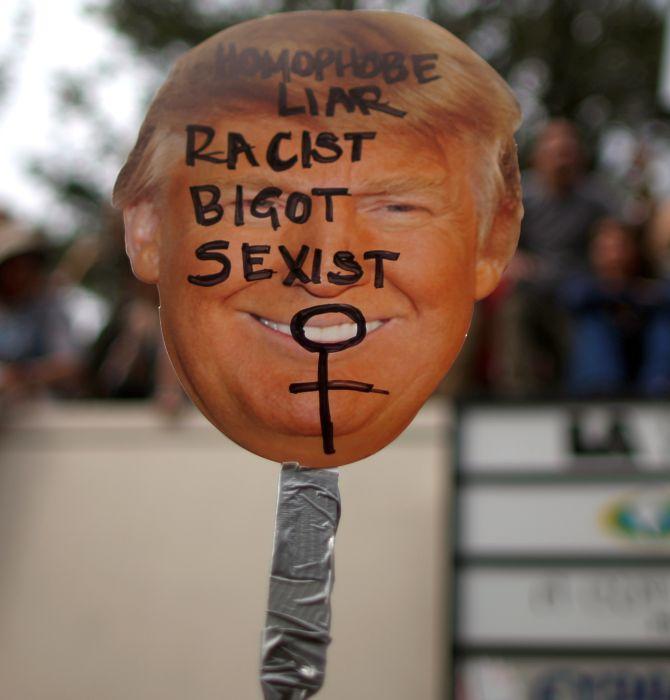 Here's a look at some of the protests which has unravelled in America post the elections.
November 12, 2016
Ready to work with CPI-M to save country: Mamata on note ban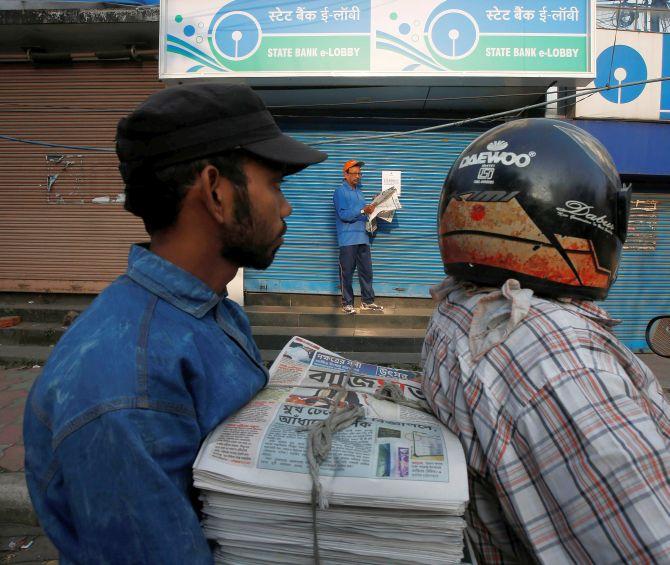 The WB CM visited three banks and several ATMs at Sarat Bose Road, Bhawanipore and Chowringhee and spoke to the people there.
'NOT MY PRESIDENT' protests rage on in US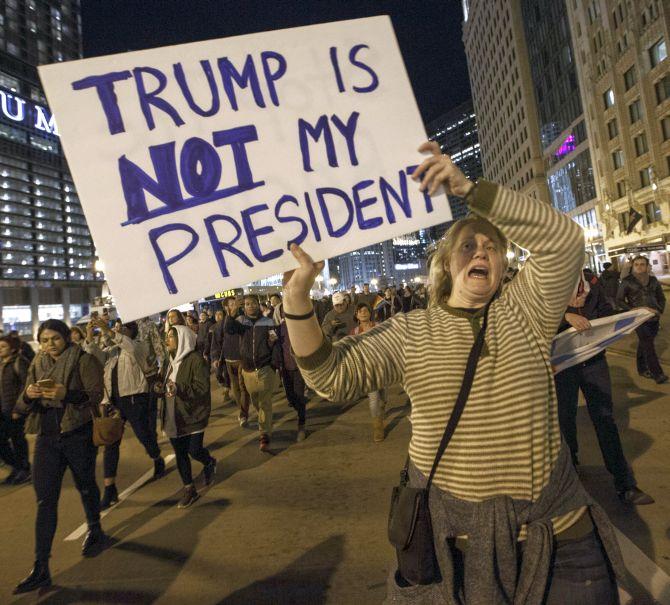 Since Donald Trump's unexpected victory in the US presidential election on Tuesday, protests had emerged in major cities across the country, as thousands of people poured onto the streets to rail against the ascension of a man who had, at various points, belittled women, immigrants and numerous other groups.
PIX: Modi takes the Shinkansen bullet train ride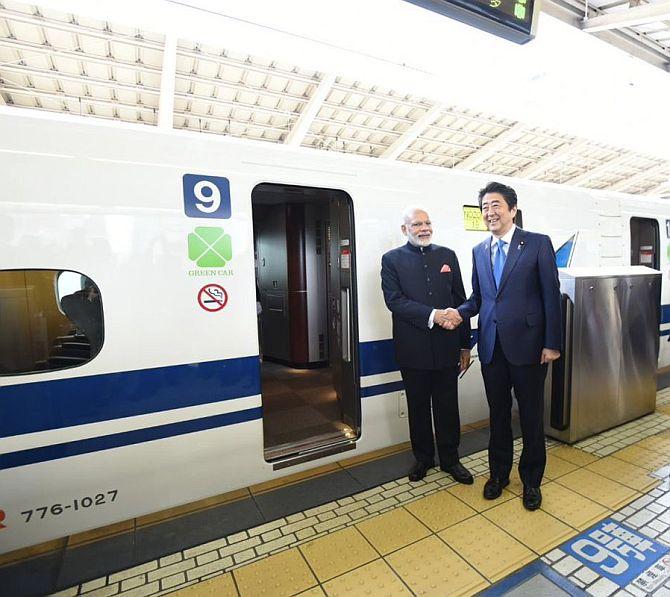 Modi and Abe travelled from Tokyo to Kobe, a city on Osaka Bay in Japan.
November 10, 2016
'NOT MY PRESIDENT' protests take over America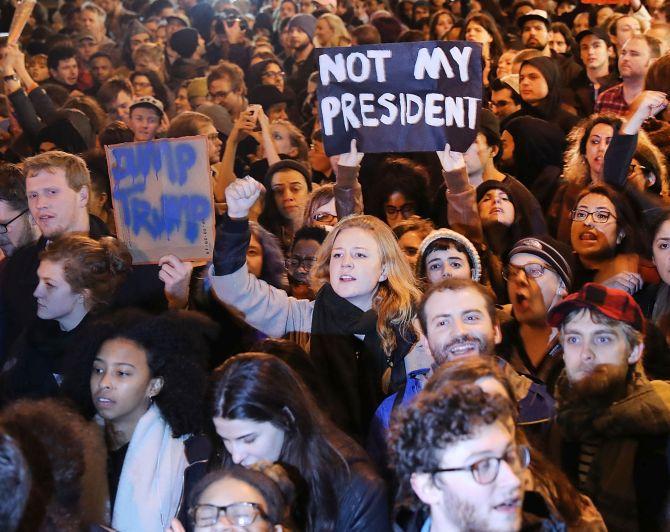 Trump's poll-defying win has sparked a wave of similar rallies across the country.
'Trumped': Political cartoonists react to Trump's victory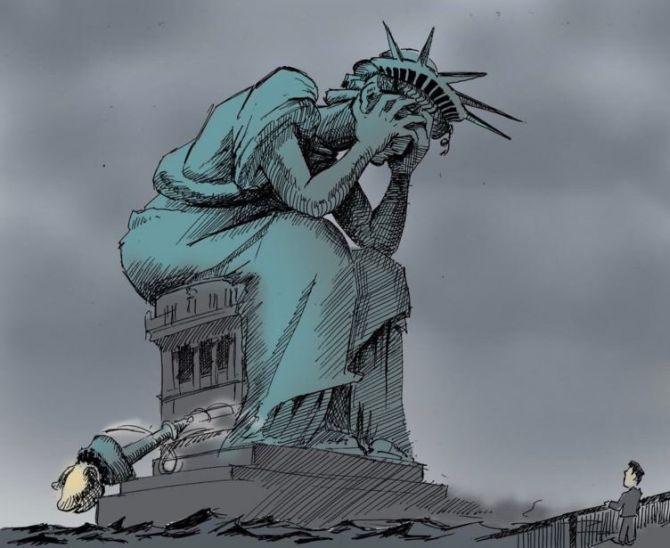 As the world wakes up to news that Republican Donald Trump will become the 45th president of the United States, political cartoonists have already been hard at work painting a satirical image of what America will look like under Trump's government.
November 09, 2016
PIX: Twitter goes berserk as Trump enters White House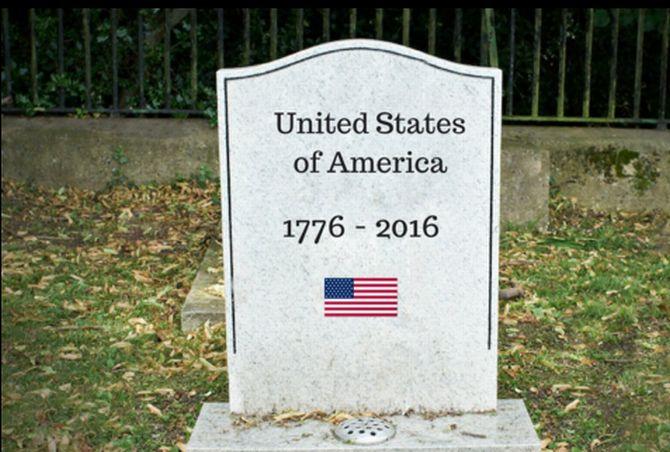 Here are some of the memes going viral on Twitter.
How newsapers reacted to historic American verdict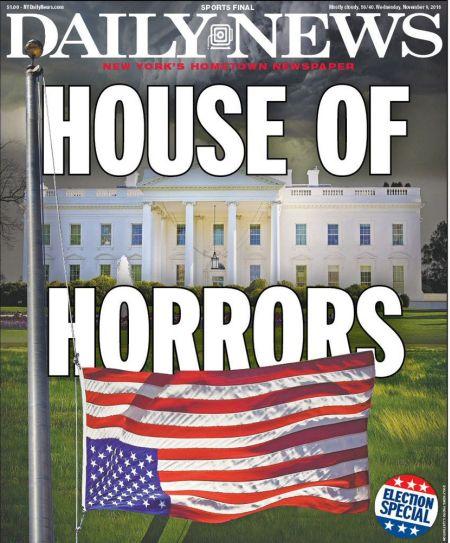 Here's how newspapers reacted to Donald Trump's stunning victory on Election Night with historic headlines.
She posed nude and speaks 5 languages: All you should know about First Lady to-be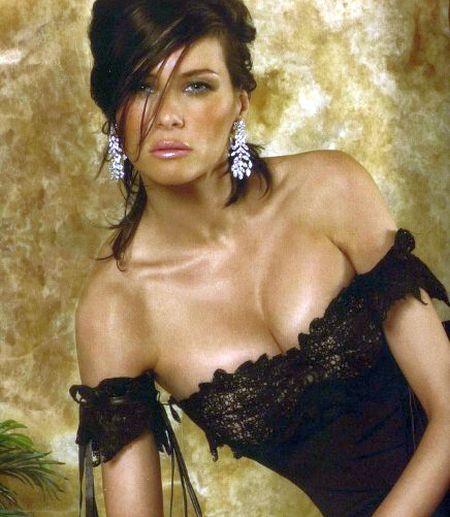 Here are some interesting facts about Melania Trump, wife of Donald Trump
Trump Triumphs!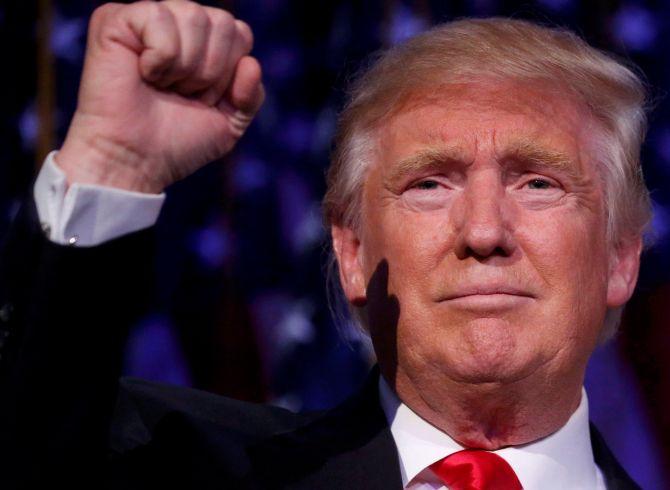 The billionaire businessman beat his Democratic rival Hillary Clinton to become the 45th president of the United States.
US decides its fate: And the faces say it all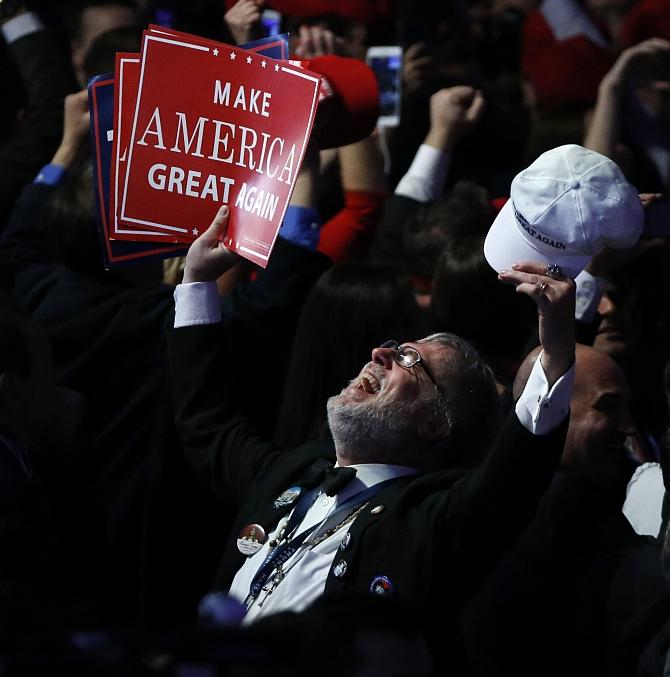 While Trump supporters celebrated the win with late night parties, deafening silence prevailed in Hillary Clinton camp.
'How to emigrate': Americans look for escape route as Trump wins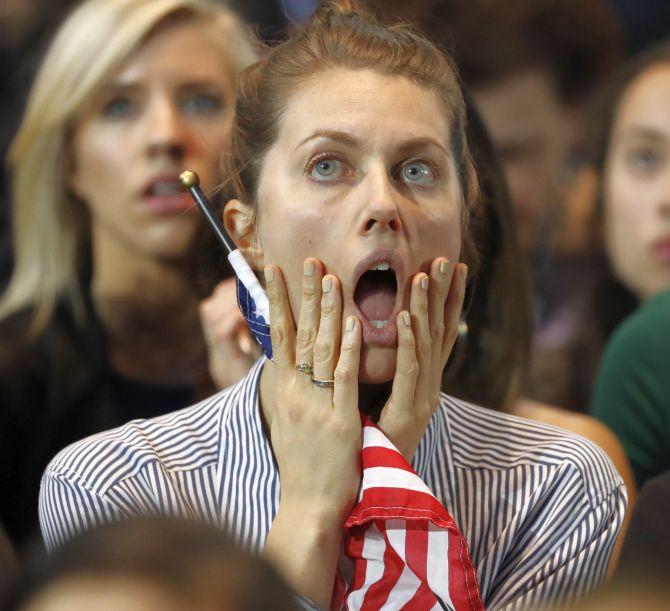 There was an explosion in search traffic on Google for terms such as 'emigrate' and 'how to emigrate to Canada' following the announcement of a series of victories in key swing states for the Republican nominee.
PHOTOS: How America is waiting for its election results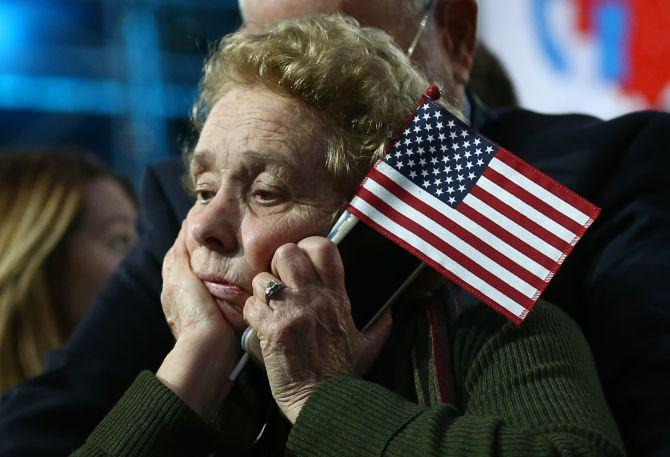 With US counting its votes, here's a look at how Americans are reacting to the news.
Taylor, Halle, Miley, Lady Gaga and more... Star power at polling booths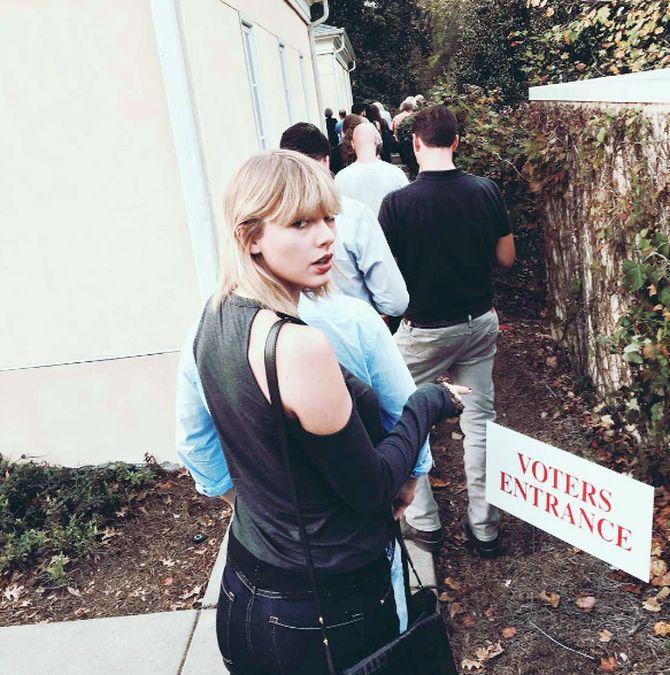 American celebrities turned out in force for the US presidential election -- not only to vote themselves, but also to encourage others to vote.
November 08, 2016
PHOTOS: Trump, Hillary cast their ballots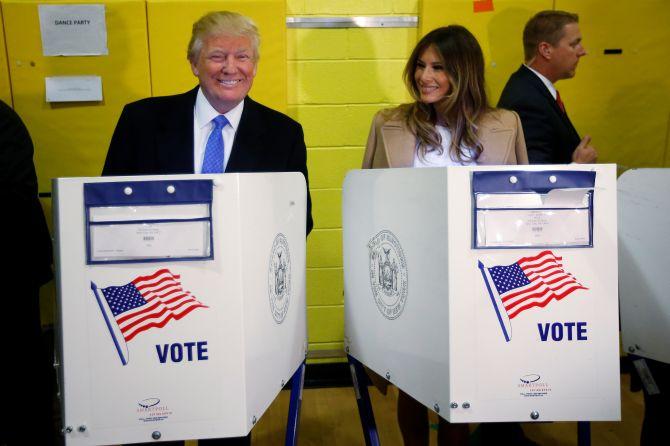 Trump quipped that it was a 'tough decision' to make his voting choice.
WTH! 15-metre deep sinkhole swallows Japanese street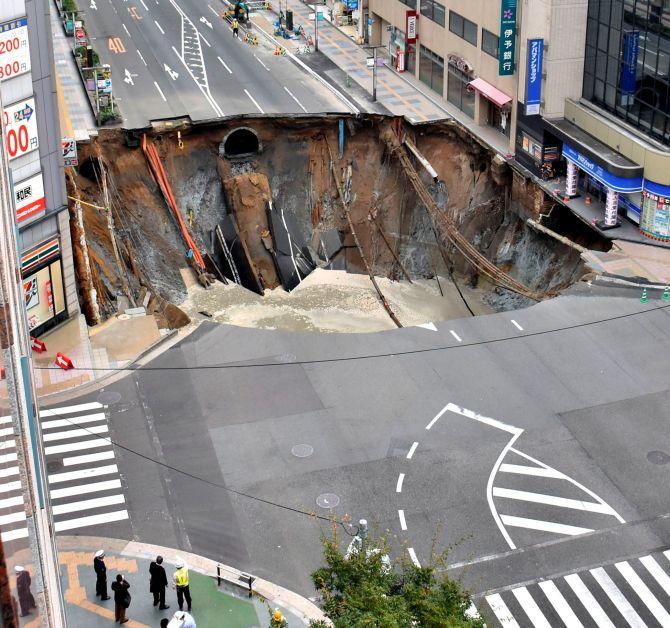 A giant sinkhole swallowed a five-lane street in the centre of Fukuoka, one of Japan's biggest cities on Tuesday morning.
PHOTOS: America votes to elect new President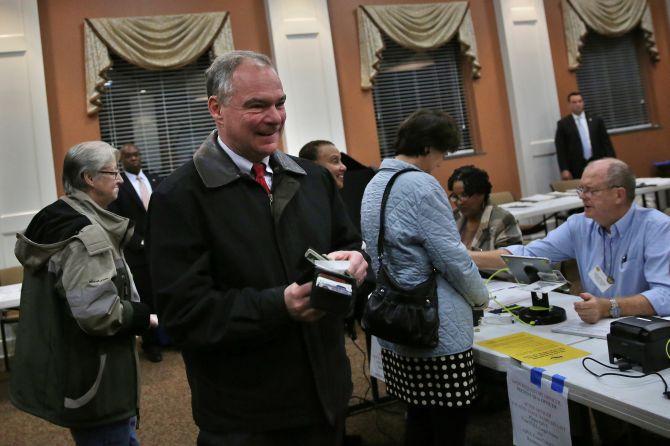 Democratic candidate Hillary Clinton registers her first 'win' by four votes to two against Trump.
PHOTOS: America readies for D-Day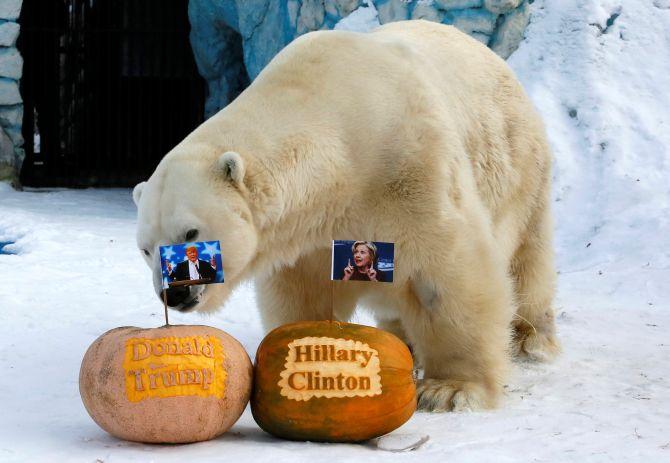 Hillary Clinton and Donald Trump scrambled to make their final pitch to voters in the high-stakes United States presidential polls.
November 07, 2016
PHOTOS: Sant Chatwal organises prayers for Hillary's victory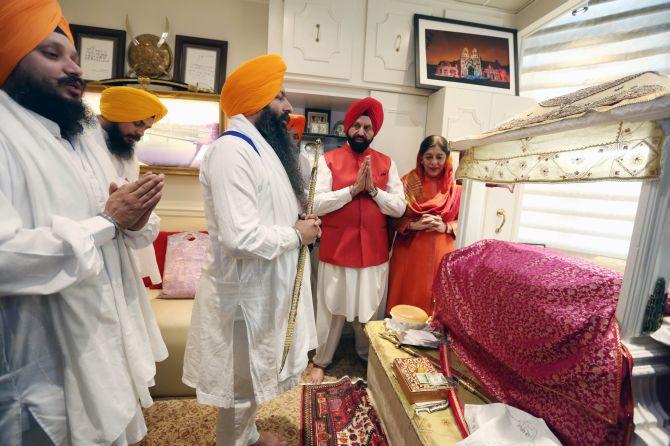 Chatwal said the prayer service aims to garner blessings for Clinton.
Can you see beyond 200 metres?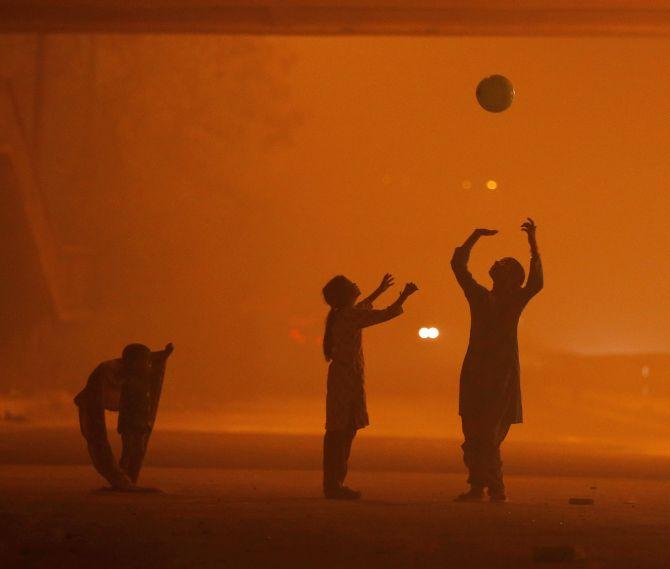 The dense cover of grey haze shrouding Delhi for almost a week, reminiscent of the 1952 Great Smog in London, plunged the city's air quality to the season's worst.
November 06, 2016
PHOTOS: Marathas' massive 'warm up' Mumbai bike rally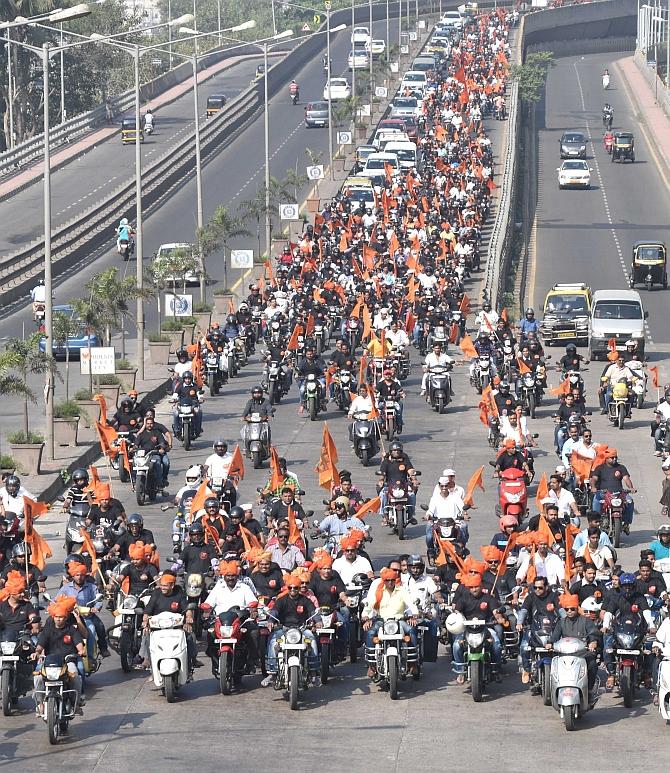 Taking their agitation to the Maharashtra capital, the Maratha community on Sunday held a "warm up" bike rally protest in Mumbai to press for their various demands, ahead of their December morcha planned in Nagpur during the winter session of the state Legislature.
Toxic Capital: Delhi shuts schools, bans construction work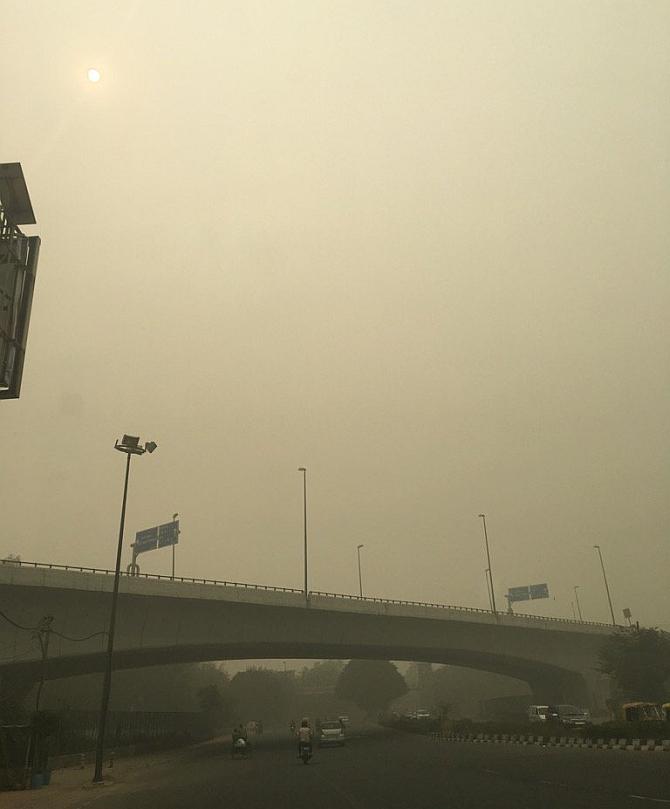 As pollution levels worsened in Delhi, Chief Minister Arvind Kejriwal on Sunday said schools in the city will remain closed till Wednesday and announced a raft of "emergency" measures to deal with the situation including ban on construction and demolition activities for next five days and temporary closure of Badarpur Power Plant.
November 05, 2016
It is an emergency situation: Centre on Delhi pollution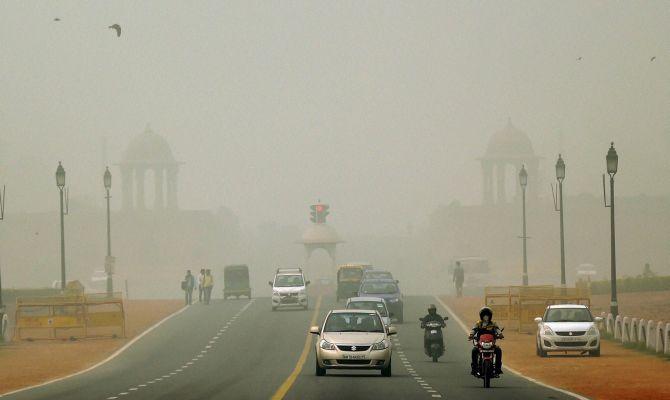 November 04, 2016
Lions vs Hyenas? Who do you think won?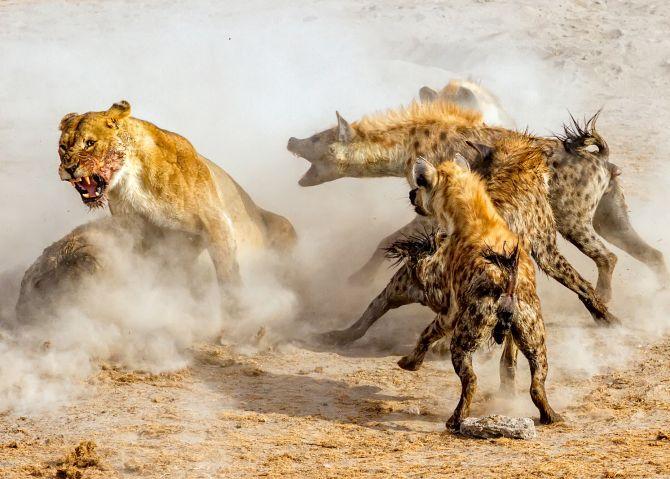 National Geographic has released a final selection of entries from the magazine's 2016 Nature Photographer of the Year contest and, as you might expect, they're breathtaking.
REWIND: India in the last 24 hours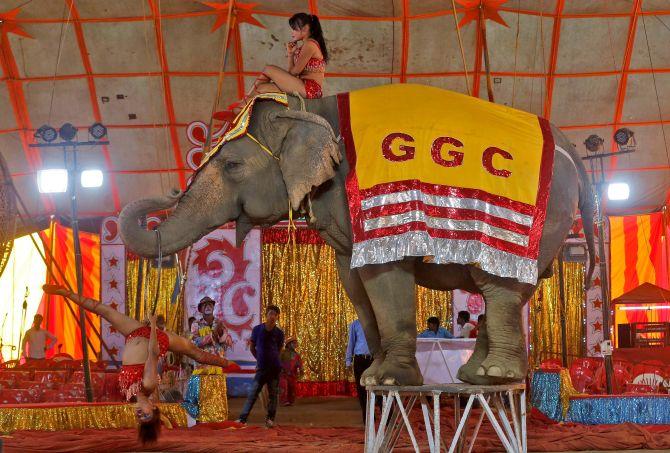 Here's a recap of events that occurred in India in the past 24 hours.
PHOTOS: A gas chamber called Delhi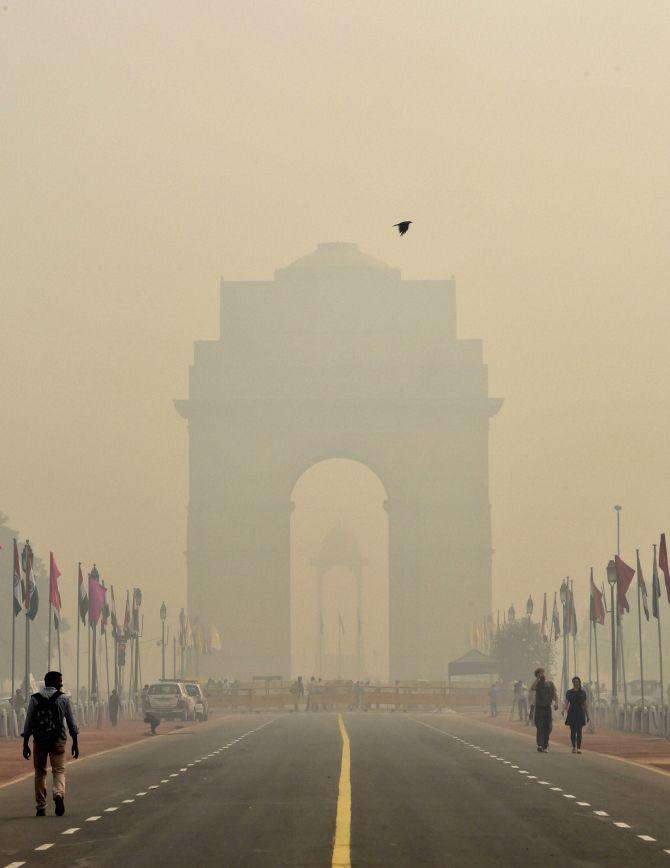 As visibility remained poor and the city choked due to a haze, the Centre for Science and Environment asked the Delhi govt to roll out stringent plans for controlling winter pollution.
November 03, 2016
This Nepali 'tarkariwali' is Internet's latest fad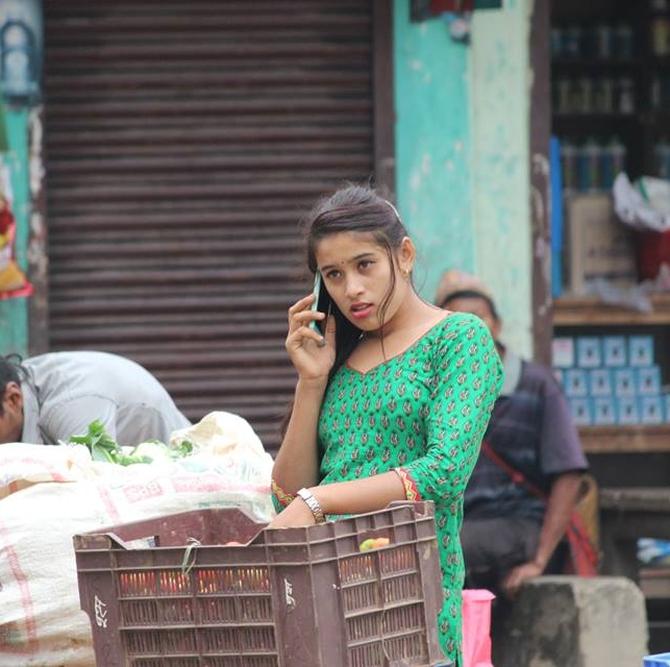 After blue-eyed Pakistani chaiwala Arshad Khan took the Internet by storm, social media users are now raving over photographs of a Nepali tarkariwali (a vegetable seller).
REWIND: India in the last 24 hours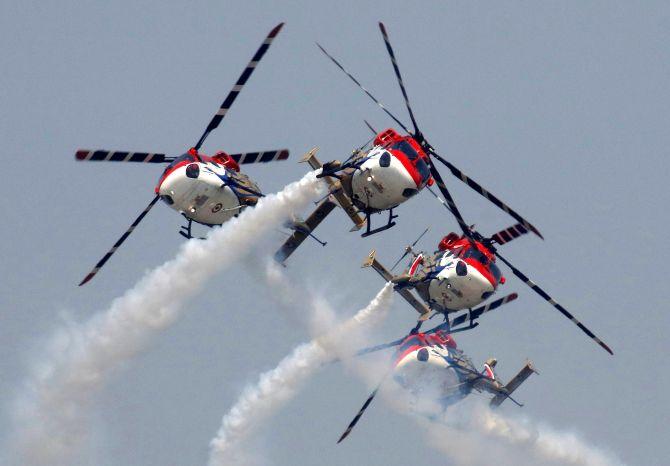 Here's a recap of events that occurred in India in the past 24 hours.
November 01, 2016
Unveiled: China's secretive stealth fighter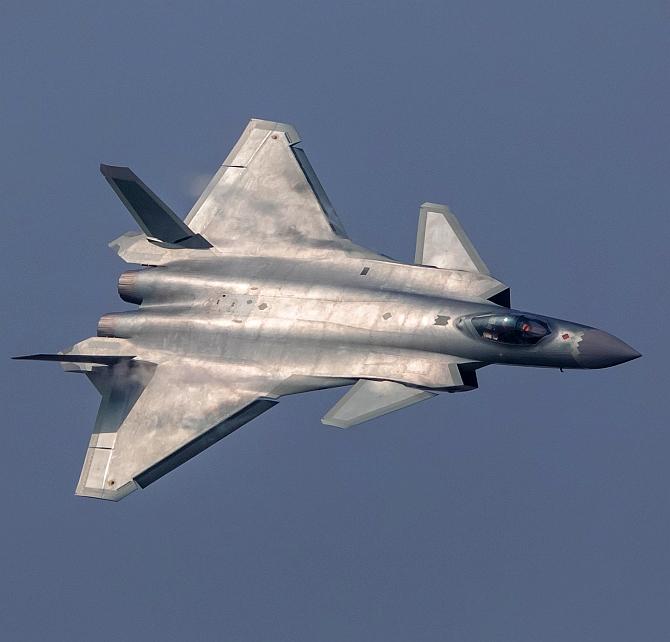 The J-20 fighter is called Beijing's answer to the US F-22 stealth fighter and the F-35 that will be soon deployed in the Pacific by the United States and Japan.
October 30, 2016
'I've come here amid my loved ones': PM celebrates Diwali with soldiers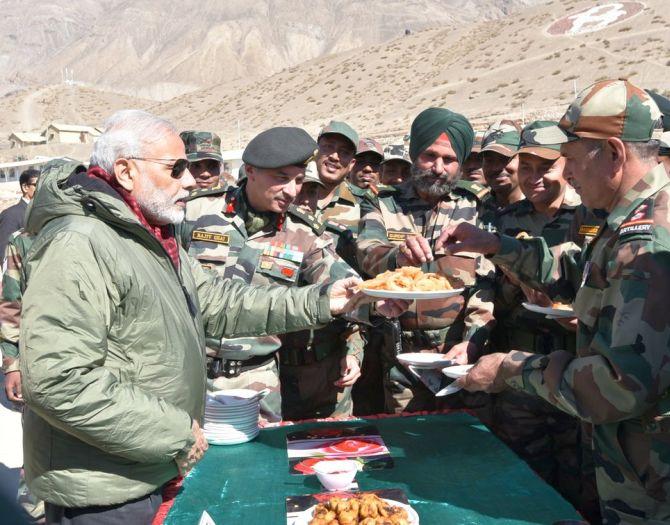 Showering his praise on the armed forces guarding the nation, Prime Minister Modi earlier on Sunday dedicated this year's Diwali to the jawans.
Italy once again rocked by 6.6 magnitude quake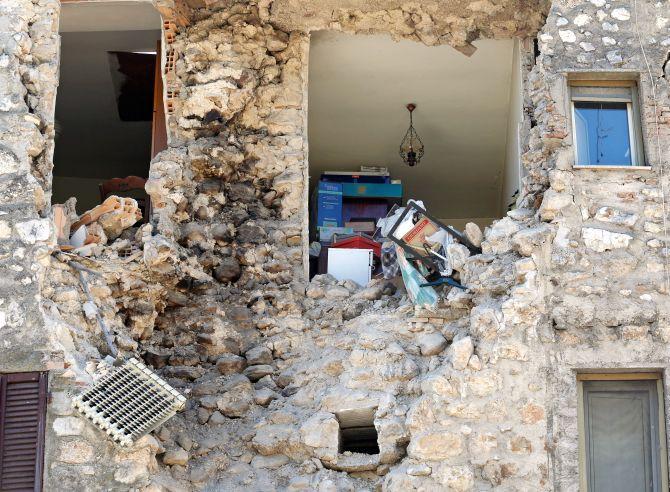 The world famous Basilica of St Benedict in Norcia and other buildings have been destroyed, with the streets of the town now covered in rubble from the tremor.
Gloom descends on village as martyred Mandeep Singh is laid to rest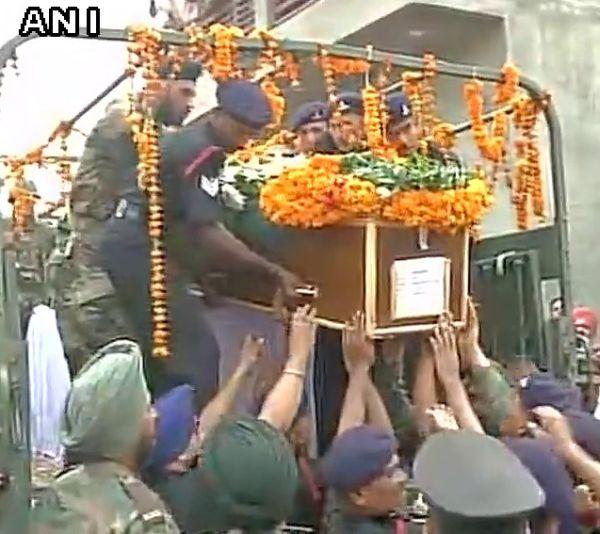 The residents of the village will not celebrate Diwali as a mark of tribute to the army soldier who was killed and mutilated by Pakistani terrorists.
PHOTOS: From India to UK, the world celebrates Diwali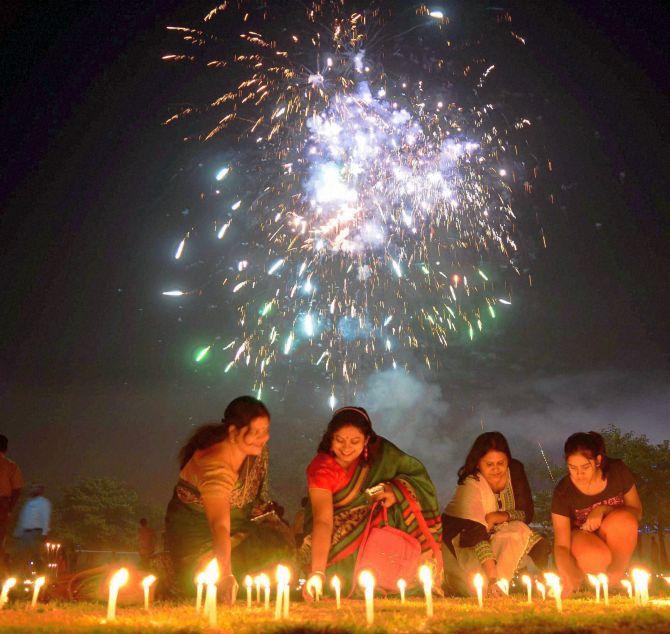 It's time for colours, lights and celebrations - Diwali is here!
UN lights up for Diwali for the 1st time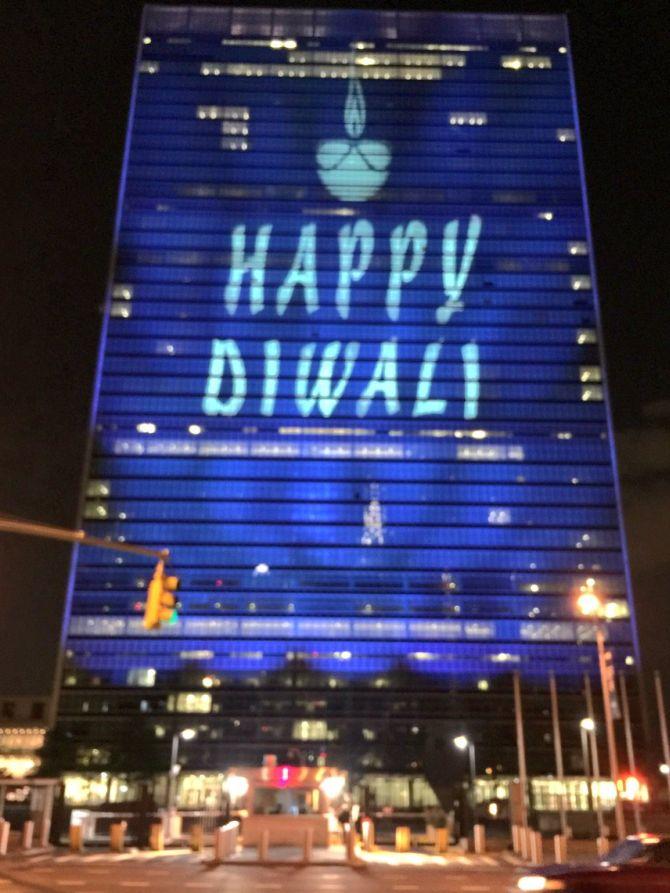 The facade of the UN headquarters was lit in bright hues and the words 'Happy Diwali', along with the image of a traditional 'diya', projected onto the building.
October 28, 2016
Michelle Obama campaigns with her 'girl' Hillary Clinton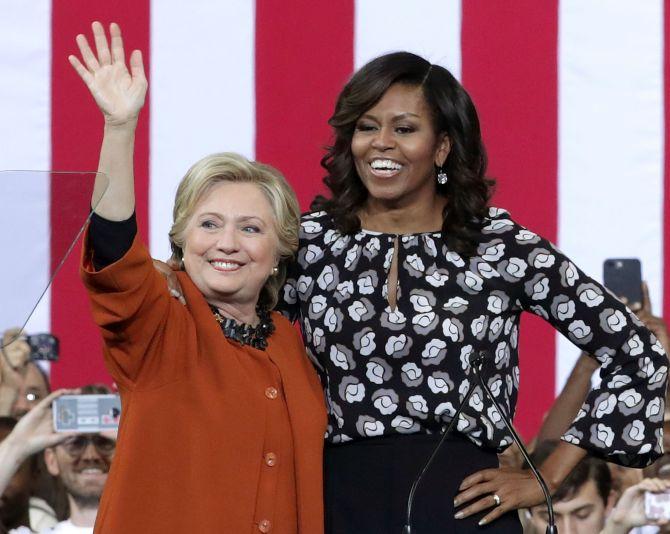 Michelle contrasted Clinton's vision of a "powerful, vibrant and strong" nation with Republican presidential candidate Donald Trump's vision of "hopelessness and despair".
India responding to LoC aggression; 15 Pak soldiers killed in a week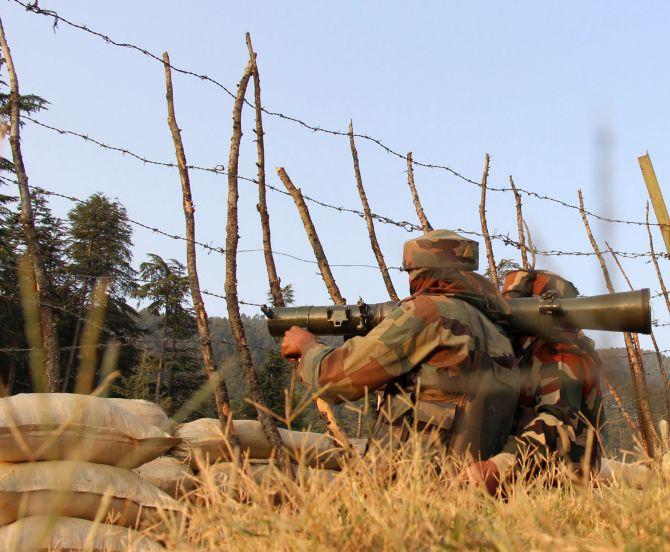 Firing mortar shells and using automatic weapons, Pakistani troops targeted civilian areas and forward security posts along the International Border and Line of Control in Jammu, Kathua, Poonch and Rajouri districts of Jammu and Kashmir.
REWIND: India in the last 24 hours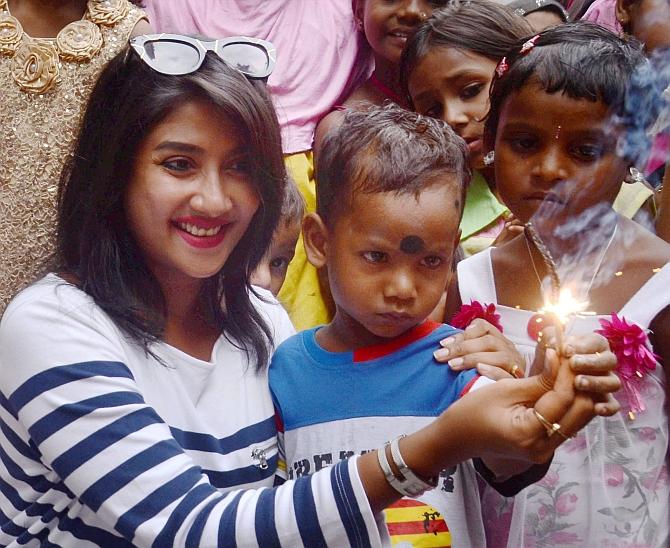 Here's a recap of events that occurred in India in the past 24 hours.
October 27, 2016
REWIND: India in the last 24 hours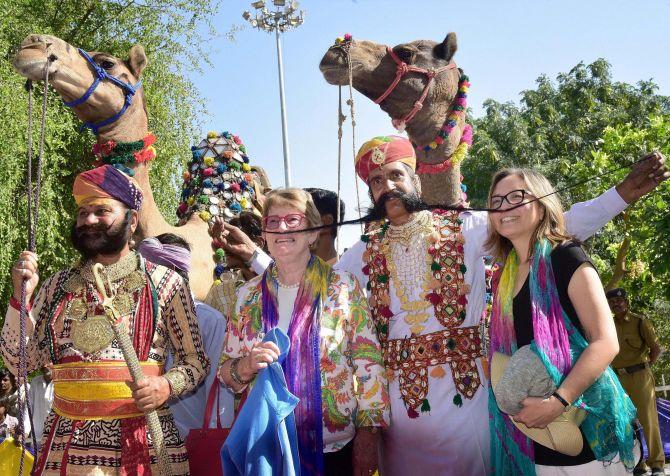 Here's a recap of events that occurred in India in the past 24 hours.
Food fight: Trump and Clinton burgers face off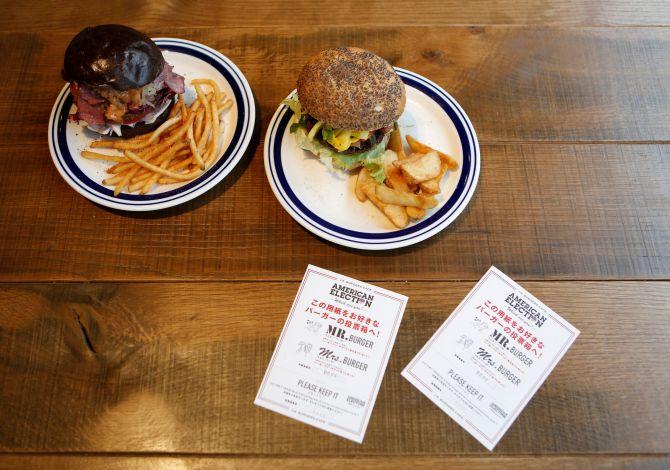 A burger joint in Tokyo is trying to cash-in on the big fight between Democratic Hilary Clinton and Republican Donald Trump.
PHOTOS: Trump no longer a shining star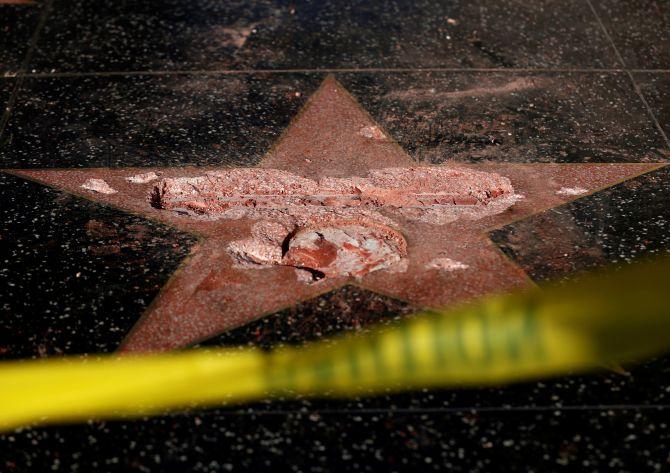 On Wednesday, a suspect used a pick axe and sledgehammer to carve the Republican presidential nominee's name out of the sidewalk.
Terror in Italy as 2 earthquakes strike within 2 hours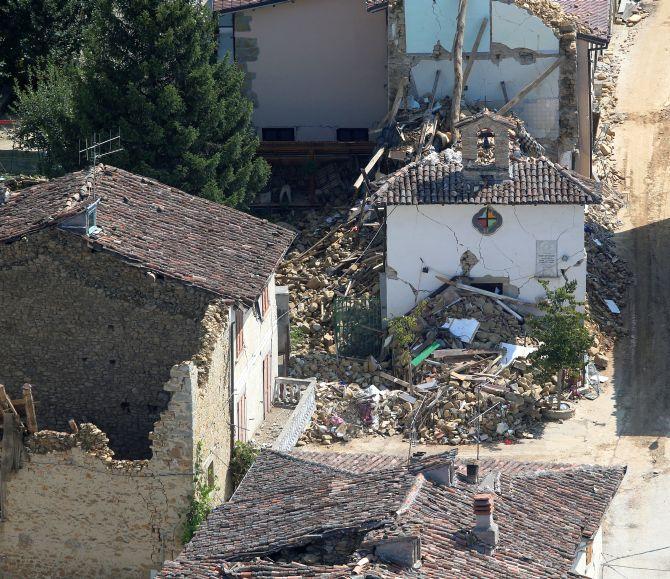 Two powerful earthquakes struck central Italy on Wednesday, two months after a quake in central Italy killed nearly 300 people.
October 26, 2016
After two nights of horror, border residents migrate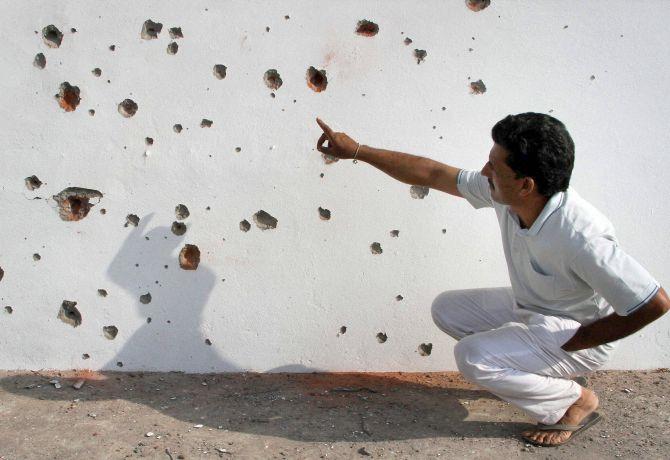 Most of the houses in this village have been abandoned as the residents have migrated to safer places to save themselves from the ceasefire violation from the Pakistani side.
'Defensive play has given way to aggressive batting': Modi on ties with NZ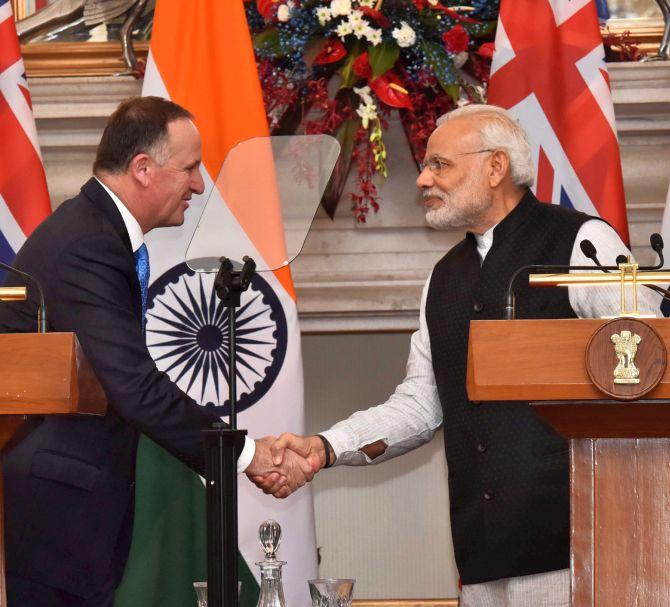 Key was not to be left behind and quipped that he is thankful to Modi for not raising his country's poor performance in the series so far. New Zealand were whitewashed 0-3 in the Test series and are trailing in the ongoing five-match ODI series as well.
200 priests, 3,000 workers pray for Amma's speedy recovery in Chennai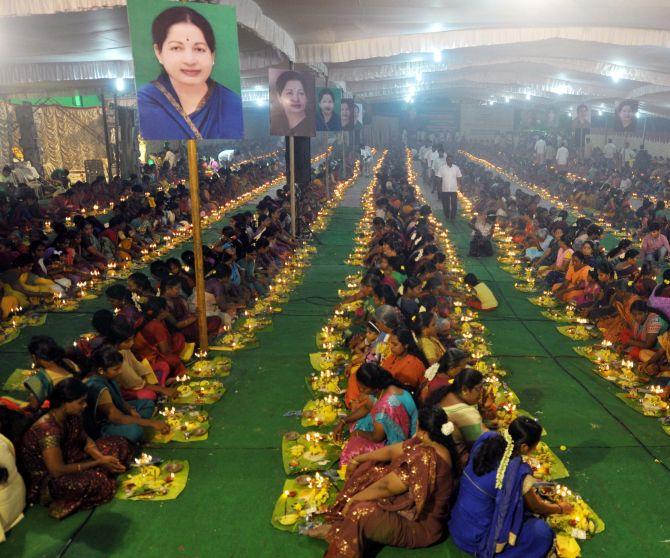 The yagna was organised by lawmaker R Vetrivel, a Jayalalithaa loyalist who has spent a fortune on prayers for his unwell leader.
The Yadav who doesn't want anything to do with Akhilesh-Mulayam spat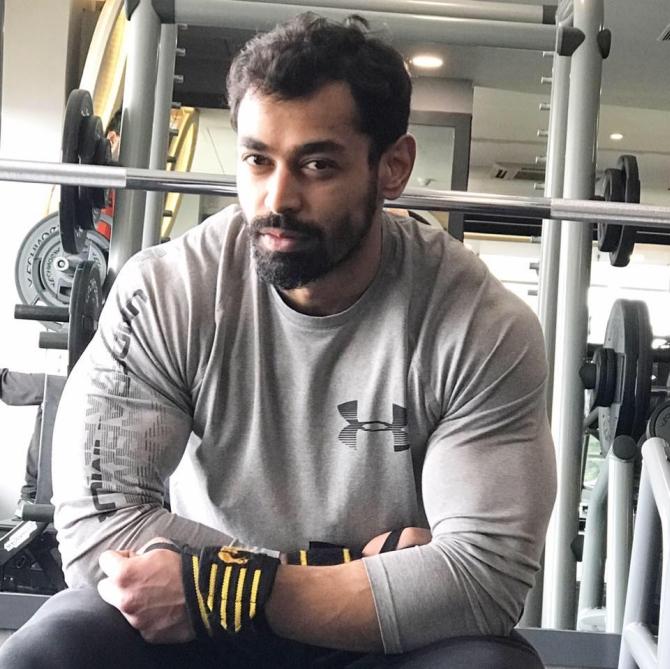 Even as Uttar Pradesh Chief Minister Akhilesh Yadav has been busy fighting his father and Samajwadi Party supremo Mulayam Singh Yadav to take control of the party, his step-brother Prateek Yadav has kept himself away from the hullaballoo and has been busy building his biceps.
PHOTOS: 'Trump' takes Times Square with a band of bikini-clad babes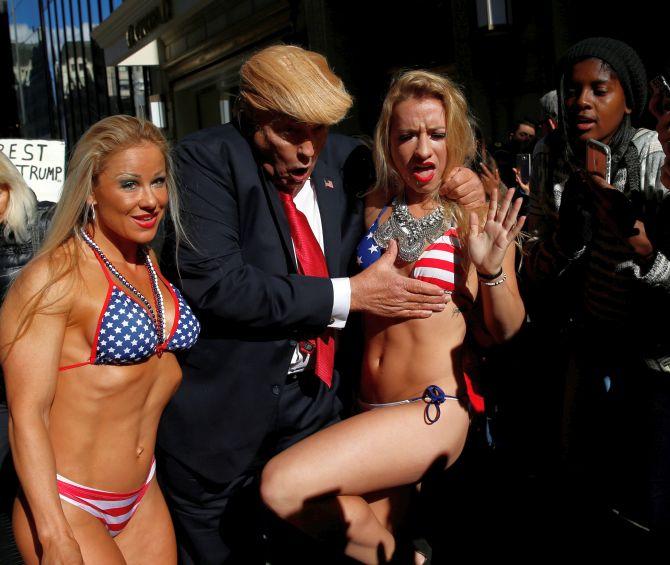 'Donald Trump' took Times Square by storm on Tuesday along with a group of scantily-dressed women as part of a project by spoof photographer Alison Jackson.
Paul Beatty becomes first American to win Booker Prize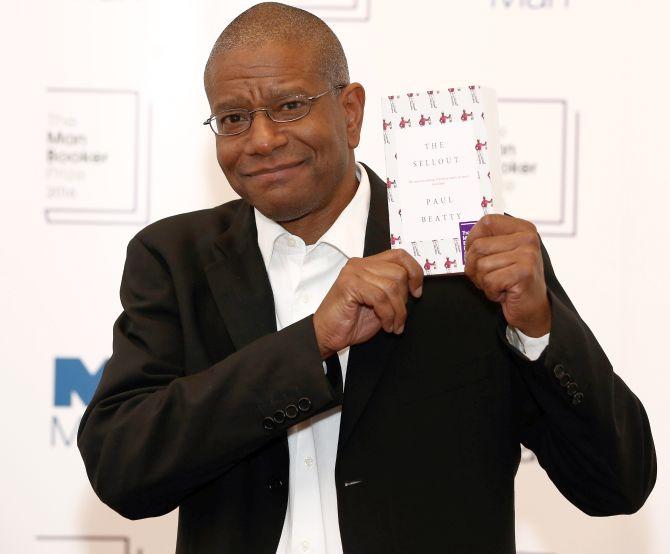 The author wins for The Sellout, a satire of US racial politics.
October 25, 2016
PHOTOS: The odd, crazy world we live in!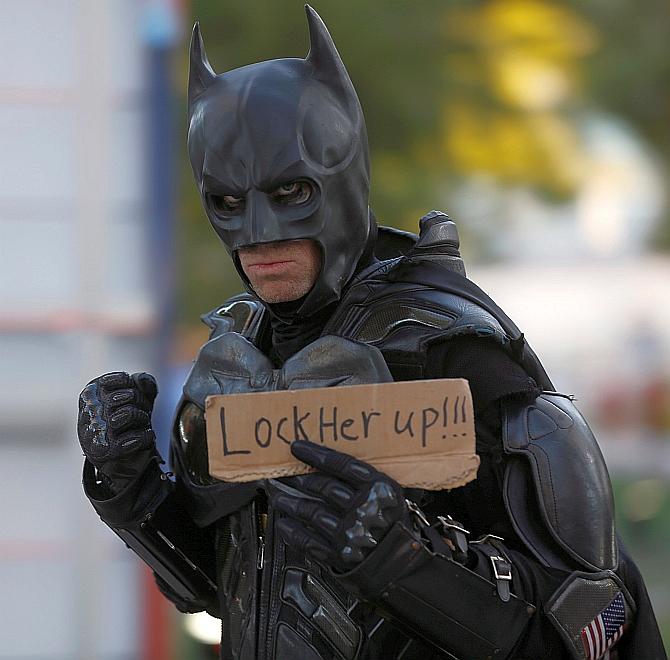 Moments that show it's an odd, odd world we live in.
The 2017 Vladimir Putin calendar is out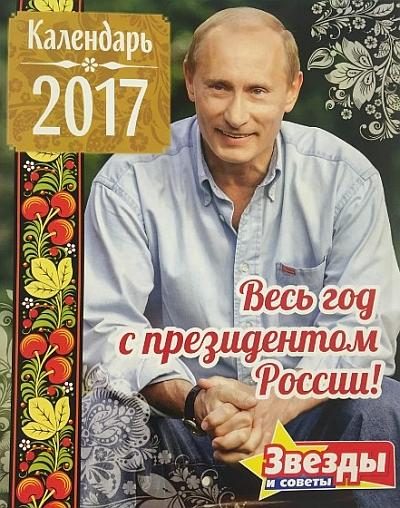 The 2017 calendar -- published by Russian publication Zvezdi I Soveti -- shows the Russian president lounging in a tree, in a flight gear, in a wet suit, in a ski gear and, of course, on horseback.
61 killed in terror attack on Pakistan police training college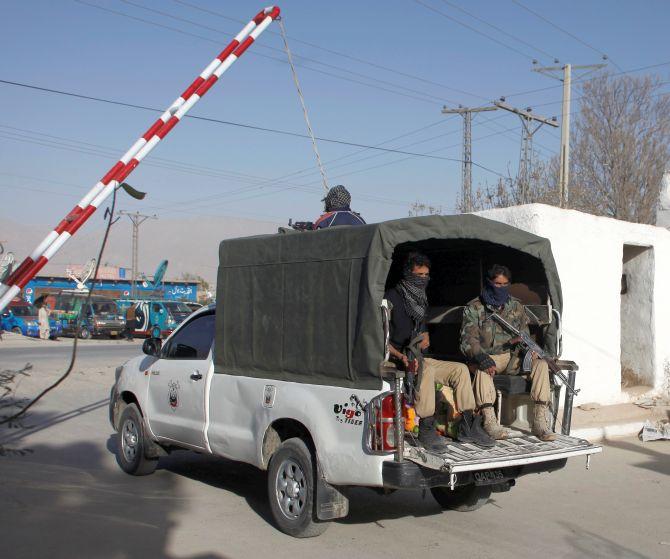 The attack on the Balochistan Police College, 20 km from Quetta city began around 11:10 pm on Monday night, triggering an operation by Pakistani security forces who rescued hundreds of cadets from the academy.
October 23, 2016
Manmohan, not Modi in Obama's top moments with world leaders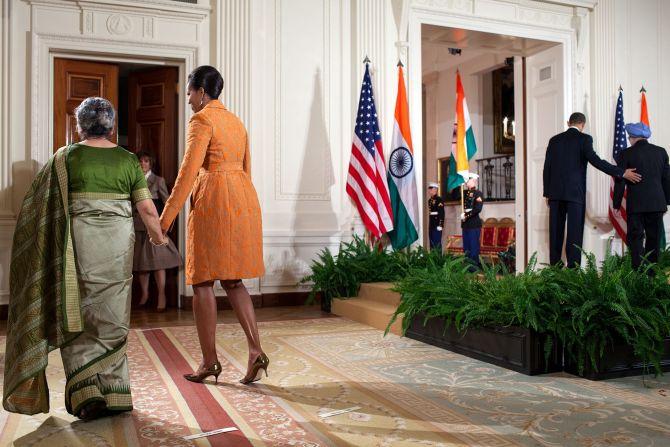 United States President Barack Obama hosted the 14th and final formal State Arrival Ceremony and State Dinner on October 18. Italian Prime Minister Matteo Renzi and his wife Agnese Landini were welcomed to the White House with a grand reception.
October 22, 2016
400 border residents evacuated after Pak pounds IB with mortar bombs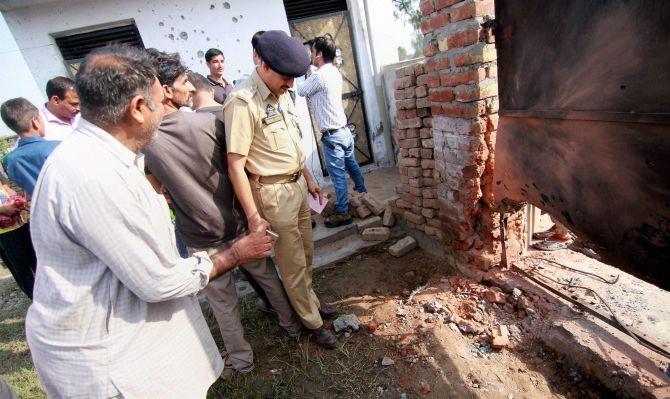 Border dwellers in Bobiya and adjoining hamlets in Hiranagar sector in Kathua district have been experiencing sleepless nights due to the intensified shelling and firing by Pakistan.
With 'bit of bittersweetness', Obama hosts final musical event at White House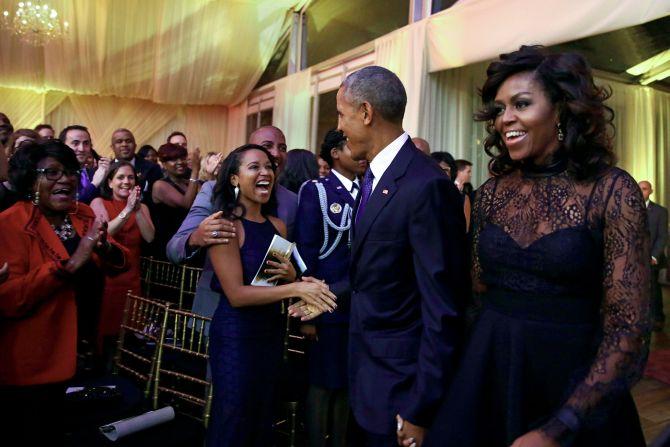 Obama and his wife Michelle began the annual event eight years ago to celebrate music that has helped shape the US.
October 21, 2016
'Have stood next to Trump longer than any of his managers'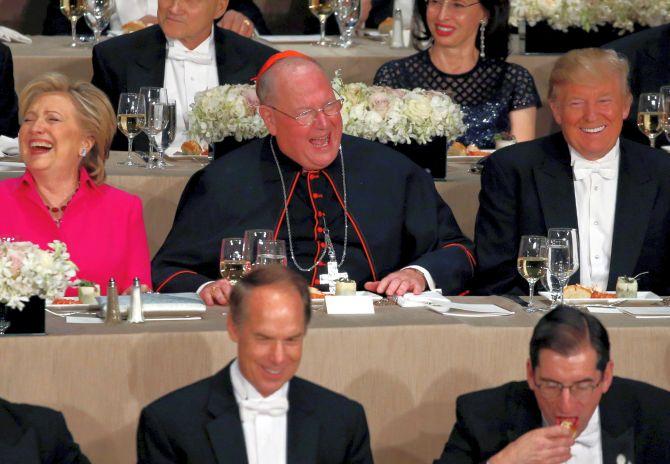 Clinton and Trump came face-to-face at a white-tie charity dinner at the Waldorf Astoria, barely 24 hours after they clashed with each other at the third and final vitriolic presidential debate in Las Vegas.
REWIND: India in the last 24 hours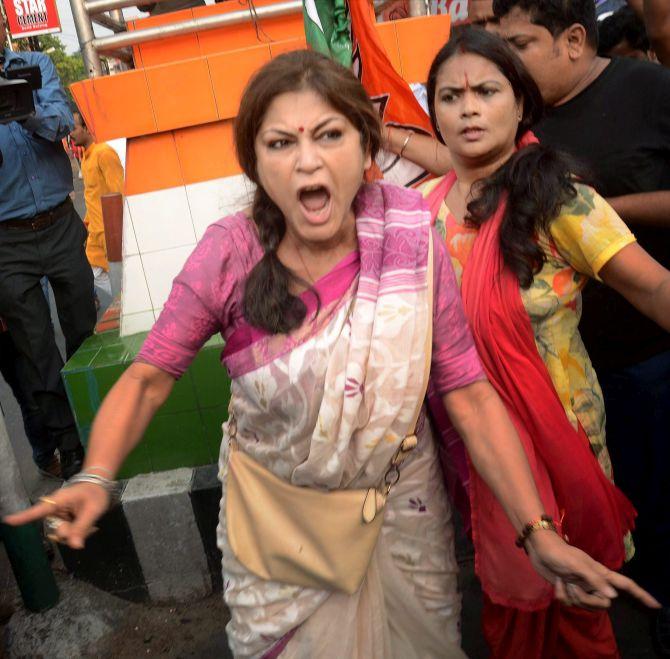 Here's a recap of events that occurred in India in the past 24 hours.
October 20, 2016
Trump refuses to commit whether he will accept poll results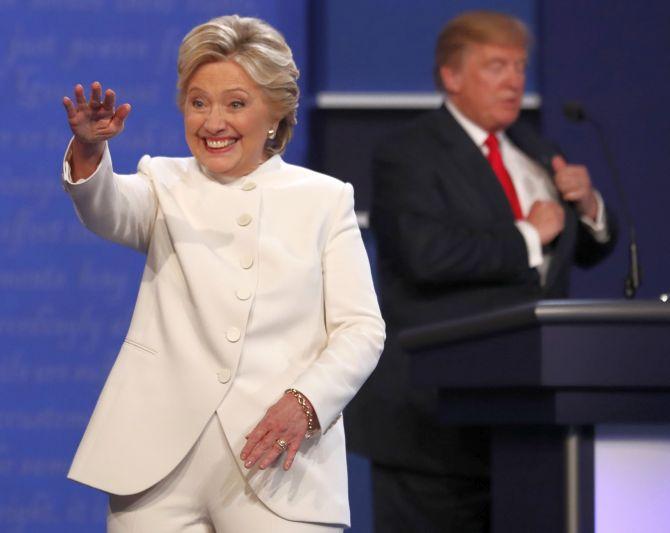 "I will keep you in suspense," said the Republican as he refused to commit to accepting the election result if he loses, in the third debate against Hillary Clinton.
The numbers are in...Clinton knocks out Trump in final debate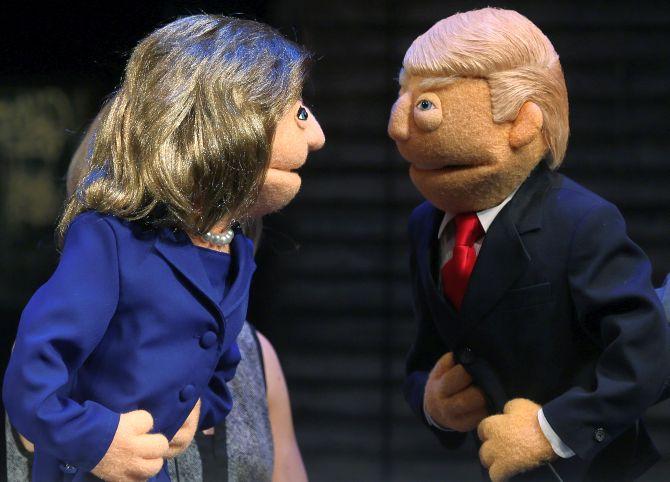 Snap polls conducted following the conclusion of the third US presidential debate revealed that Democrat Hillary Clinton was the winner.
REWIND: India in the last 24 hours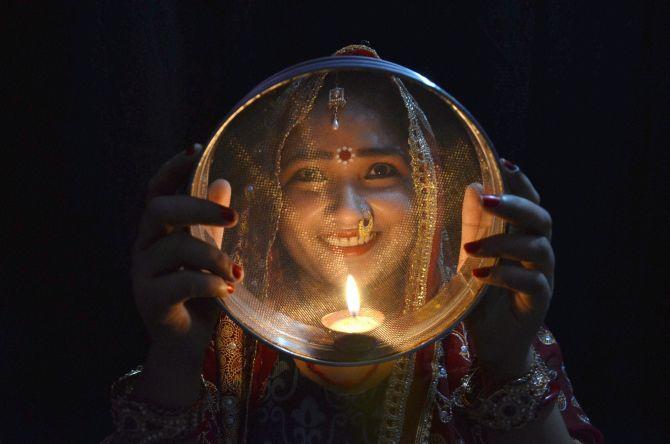 Here's a recap of events that occurred in India in the past 24 hours.
In a first, India, China hold joint army exercise in Jammu-Kashmir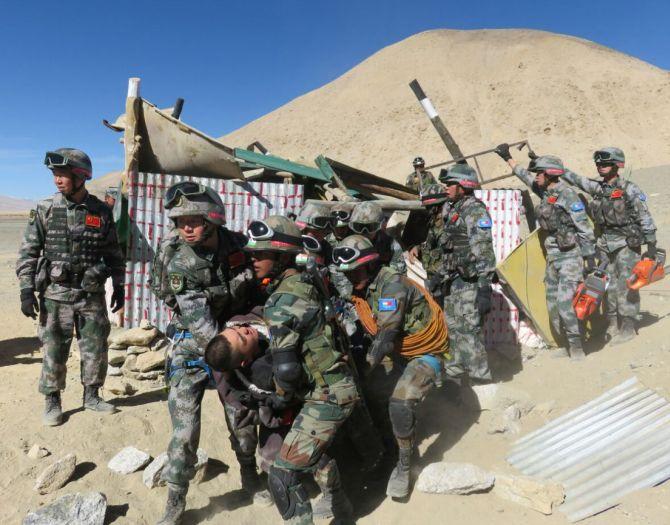 The move comes amid hectic diplomatic manoeuvring between the two countries over a host of issues like Nuclear Suppliers Group and designation of Masood Azhar as a terrorist by the United Nations.
HIGHLIGHTS: Trump, Clinton go all out in third and final debate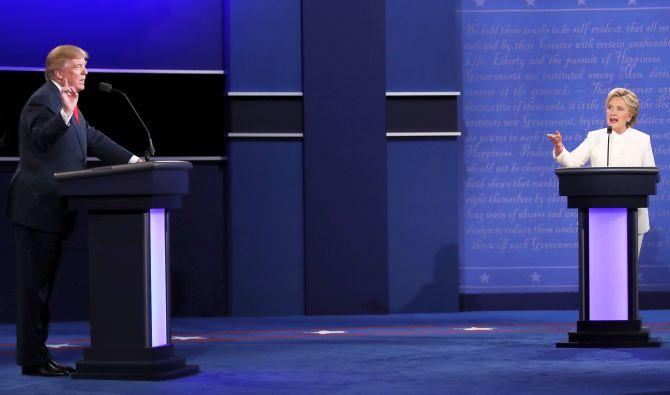 Here are the big takeaways from the debate.
This blue-eyed Pakistani chaiwalla is giving us major feels!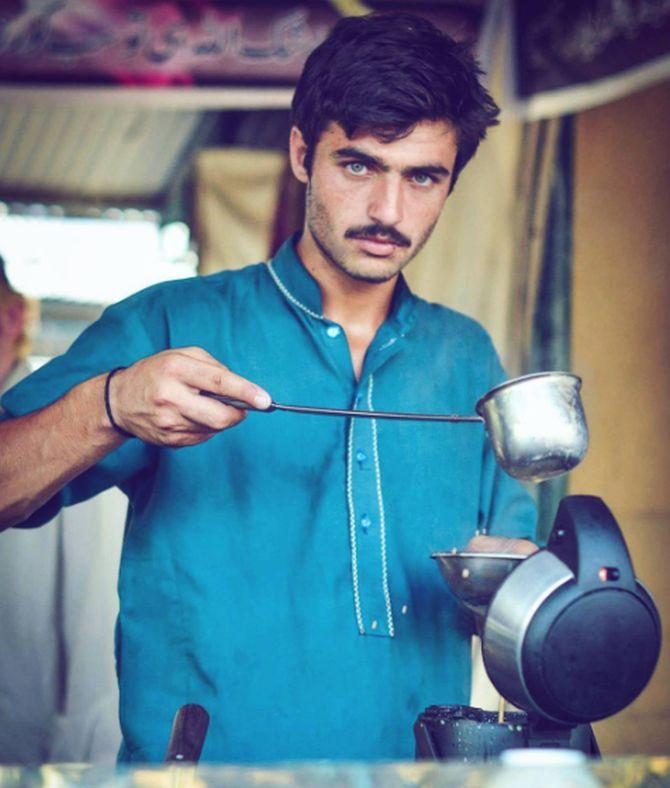 Meet Arshad Khan, a teenager from Kohat district, who had been making tea at the Itwar Bazaar for three months. A random Instagram snap by photographer Jiah Ali thrusted Khan into the limelight and ever since that moment, he's become every girl's dream boy and by looking at him, we agree.
October 19, 2016
'Welcome back to your second home!' Modi to Aung Sung Suu Kyi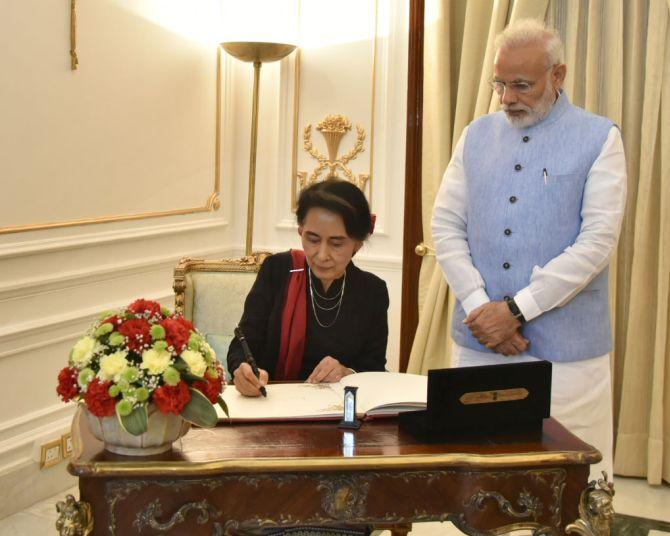 The two sides signed three agreements to boost cooperation in power, banking and insurance sectors besides deciding to step up ties in areas of oil and gas, agriculture, renewable energy and health care.
Keeping the best for last! Michelle sizzles and shines at final state dinner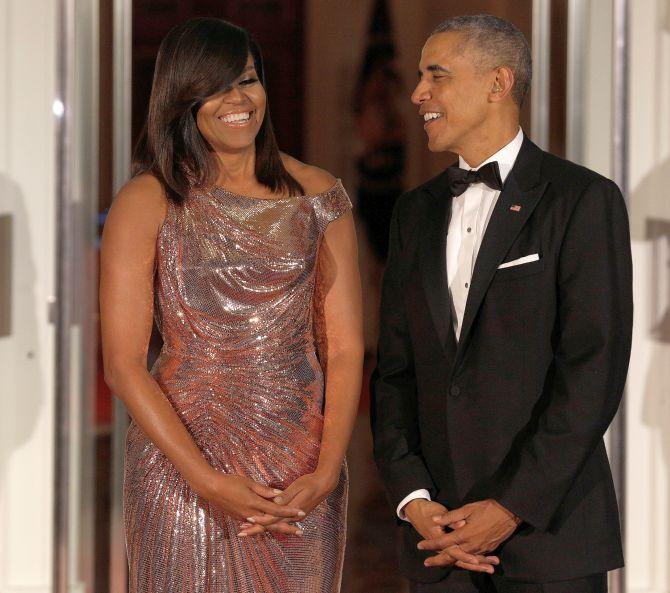 This is why she is the First Lady of Fashion!
After naked 'Trump', New York awakens to naked 'Hillary'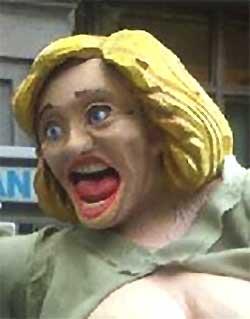 The 'art' created by Anthony Scioli depicts Clinton with hooves stomping on deleted emails with what appears to be a Wall Street banker wrapping his arms around her naked body.
Get up, get out! The wilderness is calling out to you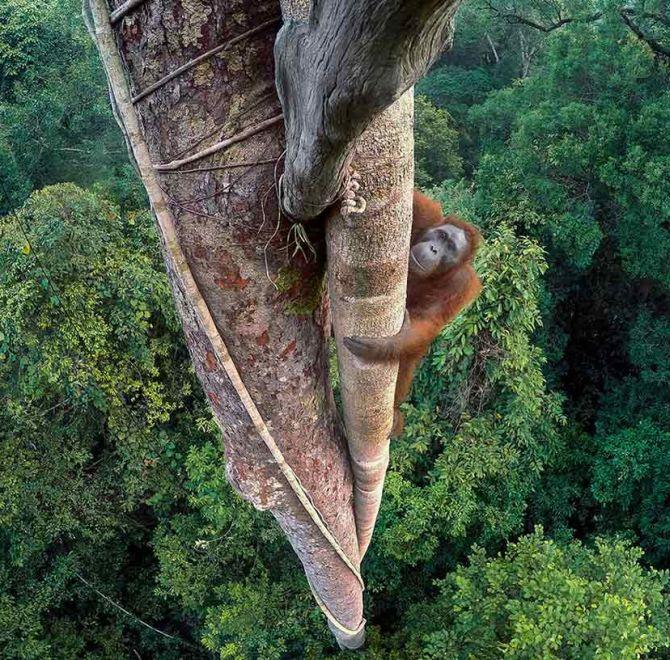 The Wildlife Photographer of the Year, developed and produced by the Natural History Museum, London, announced its winners for 2016 and we guarantee you that these images will blow your mind.
REWIND: India in the last 24 hours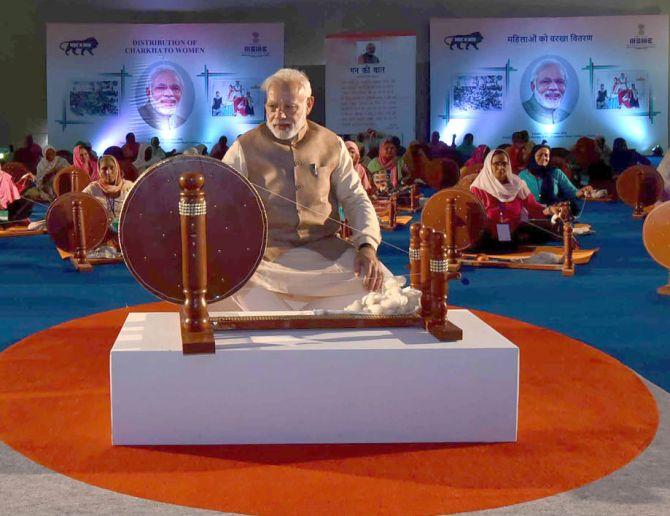 Here's a recap of events that occurred in India in the past 24 hours.
October 18, 2016
Every time I come to India I realise how close we are: Aung San Suu Kyi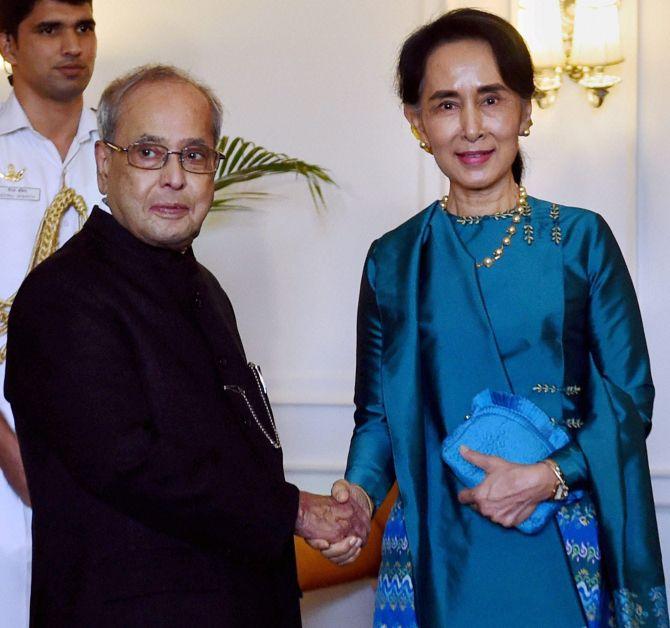 After participating in the BRICS-BIMSTEC Outreach Summit in Goa, Myanmarese leader Daw Aung San Suu Kyi arrived in Delhi for an official three-day trip to India.
PHOTOS: The odd, crazy world we live in!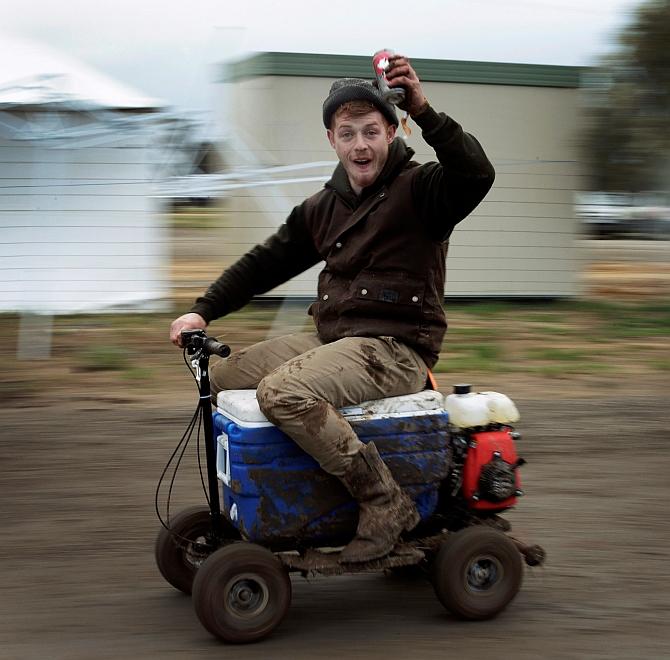 Moments that show it's an odd, odd world we live in
REWIND: India in the last 24 hours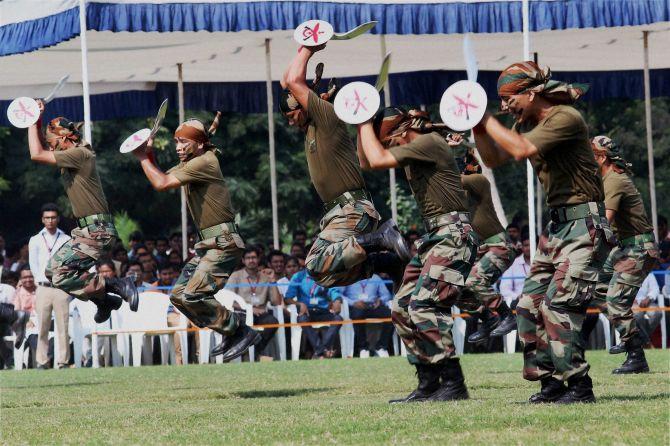 Here's a recap of events that occurred in India in the past 24 hours.
2 killed in major fire at Maker Tower in south Mumbai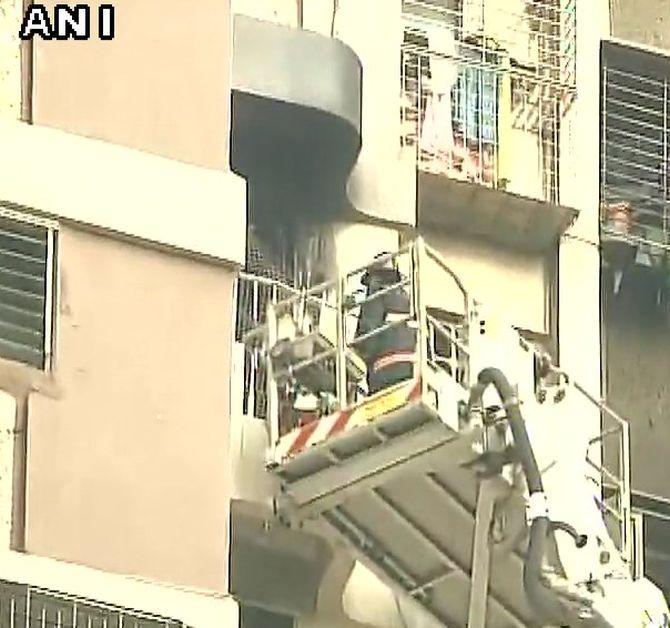 The fire broke out in a flat on the 20th floor.
October 17, 2016
Armed men snatch 5 rifles from security guards in Anantnag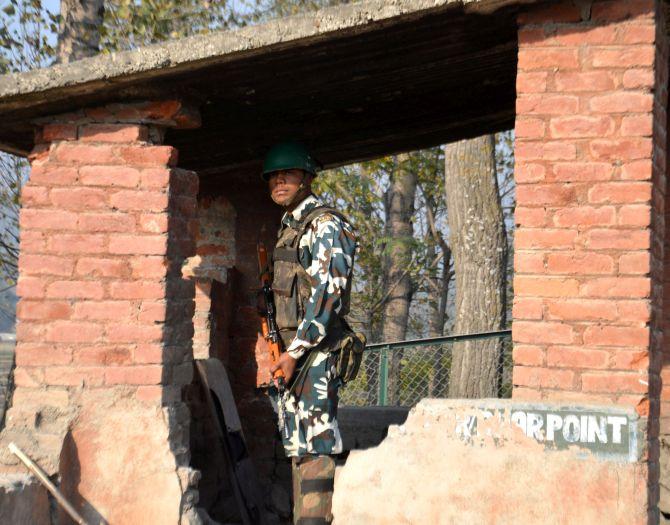 "Militants in combat uniform barged into the guard room of TV tower at Dalvash in Dooru area of Anantnag district around 12.30 am and overpowered the cops guarding the installation," the police official said.
Cauvery issue: Rail roko protests rock Tamil Nadu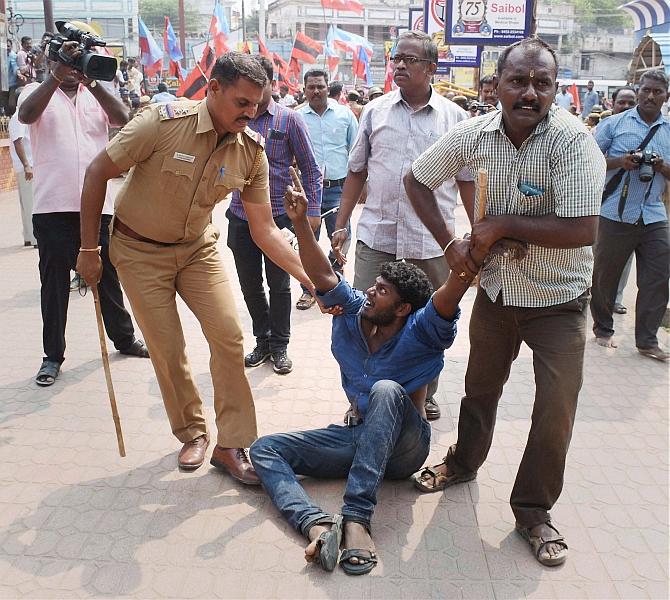 Farmers and opposition parties in Tamil Nadu on Monday staged rail roko agitation at various places in the state demanding the Centre to constitute the Cauvery Management Board immediately.
PHOTOS: Battle to seize Mosul from Islamic State begins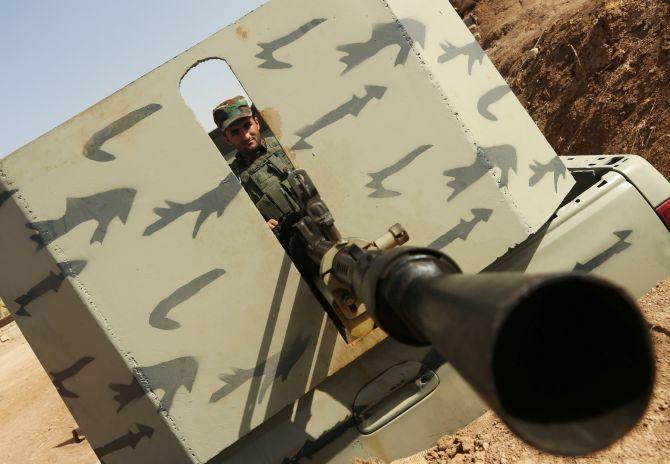 After a month-long buildup, the last urban stronghold of Islamic State in Iraq has for several days been almost completely surrounded by a 30,000-strong force.
October 15, 2016
Beijing issues yellow alert after smog envelops city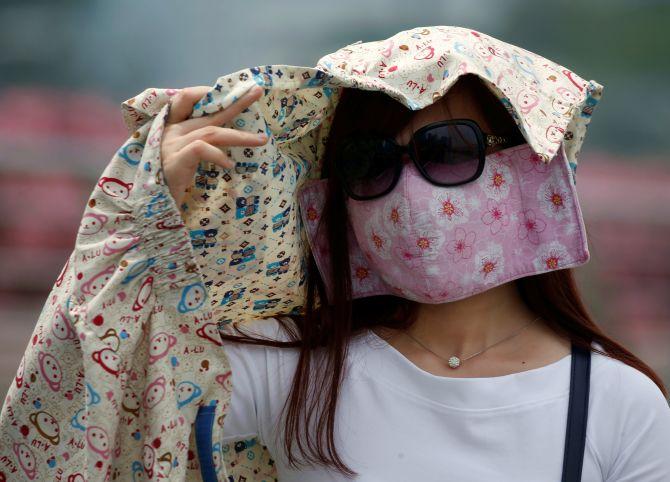 The fine particulate matter PM2.5 touched 304 micrograms per cubic metre on Saturday, which is regarded very unhealthy specially for people with heart and lung problems.
'Old friend is better than 2 new friends': India, Russia sign 16 key pacts in Goa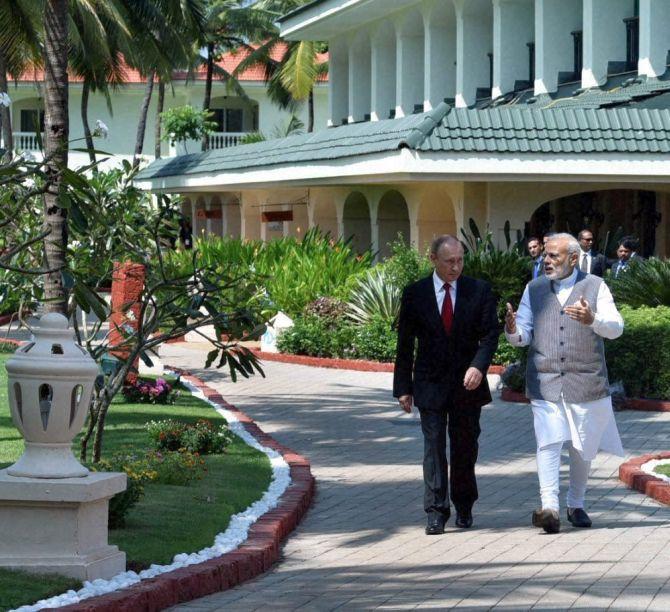 Big ticket defence deals including purchase of missile systems, frigates and joint production of helicopters were sealed on Saturday.
PHOTOS: BRICS leaders gather in Goa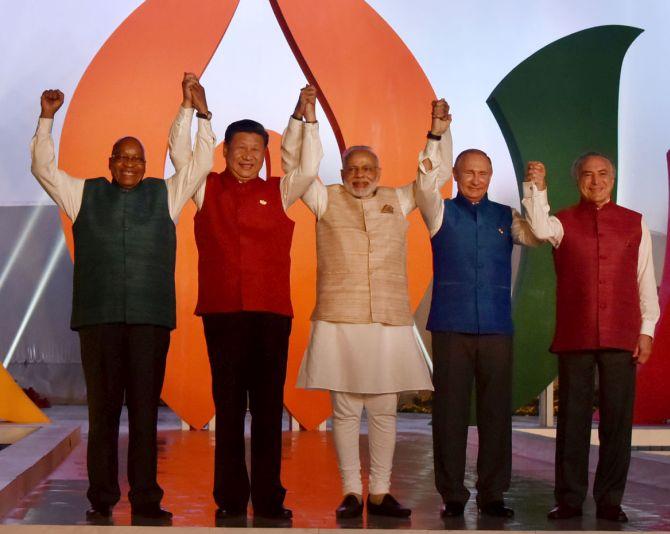 A summit of the world's top five emerging economies - Brazil, Russia, India, China and South Africa -- begins on Saturday in Goa.
October 12, 2016
PHOTOS: 50 hours on, no sign of end to Pampore attack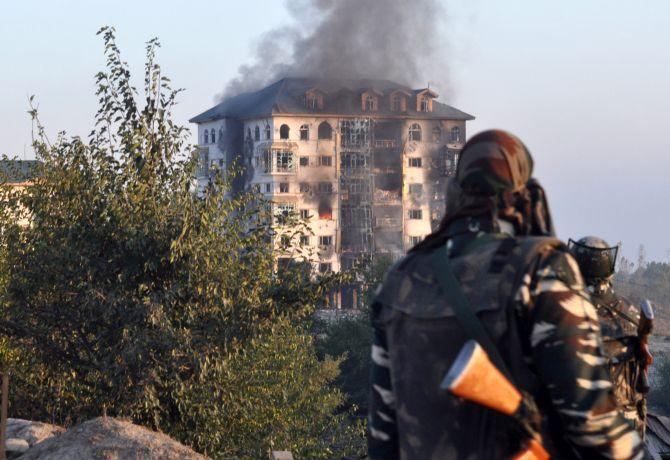 An encounter with a group of terrorists who are hiding inside a government institute in Pampore, 15 kilometre from Srinagar, has stretched for well over the 50 hour mark.
REWIND: India in the last 48 hours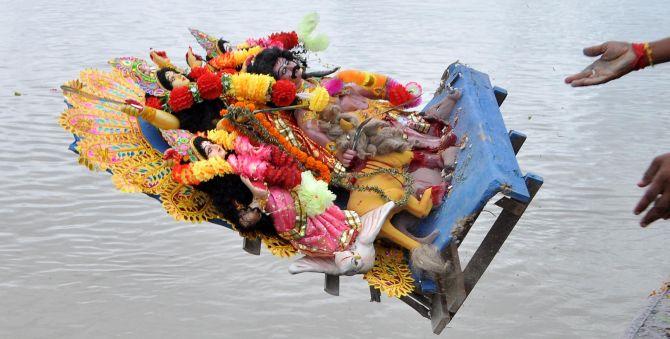 Here's a recap of events that occurred in India in the past 24 hours.
400 dead, 300 injured: Haiti faces 'crisis' after deadly hurricane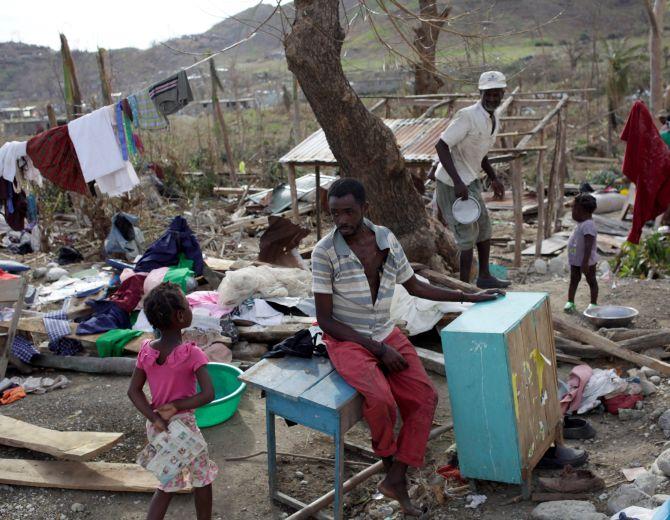 The storm that struck on October 3 has already claimed 473 lives, injured more than 300 people and 75 others are missing, according to the nation's civil protection agency.
PHOTOS: This is Mother Nature at her best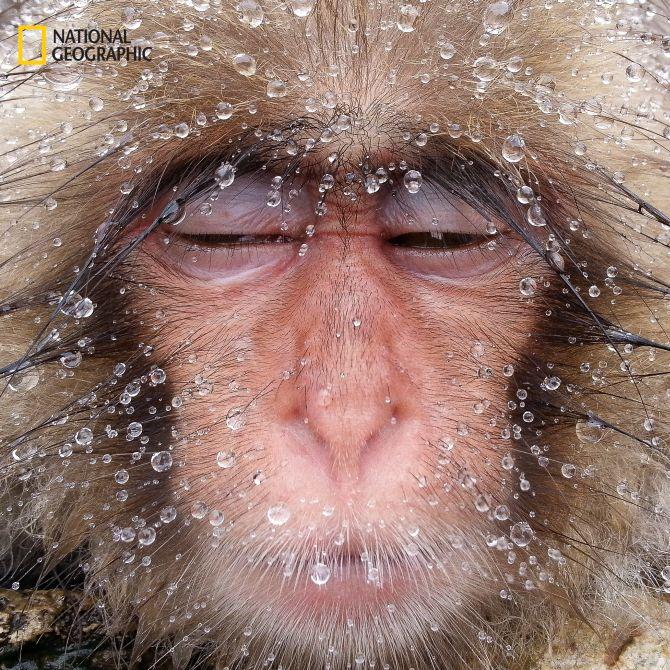 The annual competition, whose deadline ends on November 4, celebrates the best in wildlife photography.
Stomach this: 15.2 per cent of Indians are undernourished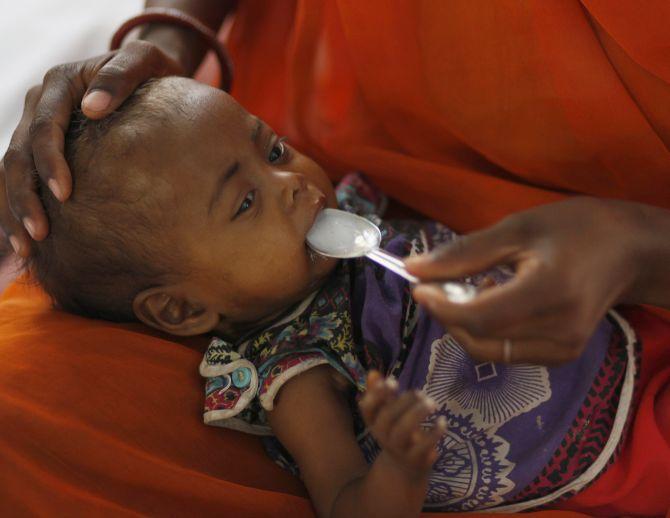 According to the Global Hunger Index, India ranks a dismal 97 of 118 countries.
Gunman attacks Shiite worshipers in Kabul, at least 14 dead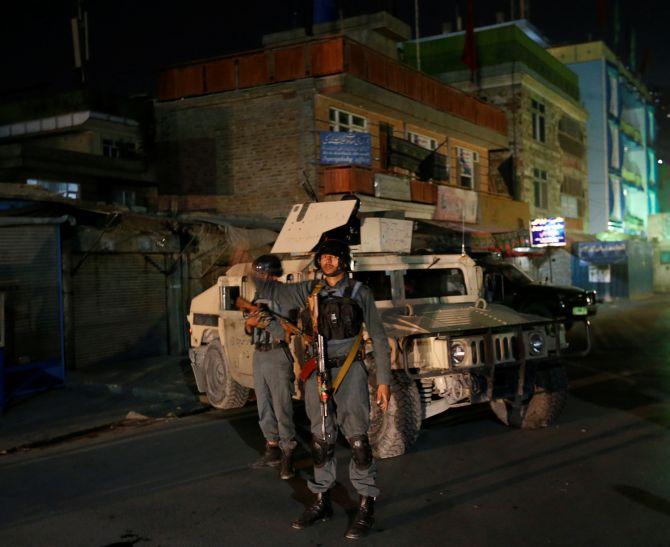 The attack took place as Shiites gathered at the Karte Sakhi shrine for Ashura, a commemoration of the martyrdom of Hussein, a grandson of the Prophet Muhammad.
Pampore attack ends 56 hours later, 2 terrorists killed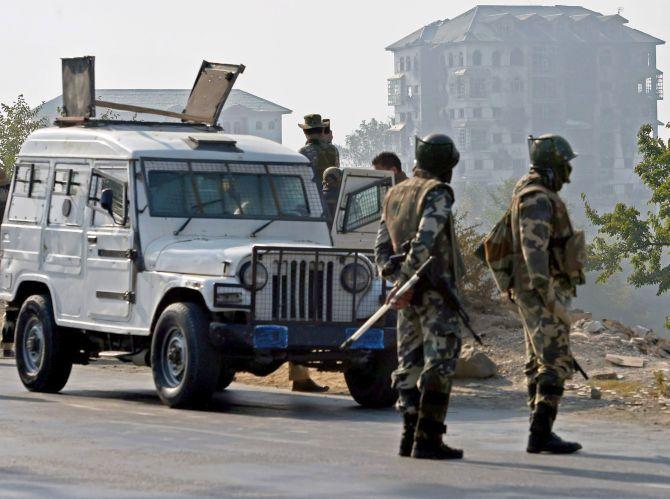 Security forces pounded the building of Entrepreneurship Development Institute since Monday after three militants barged inside the complex with the aim of engaging the law enforcing agencies.
October 11, 2016
PHOTOS: Terrorism, Pak take Ravan's form this Dussehra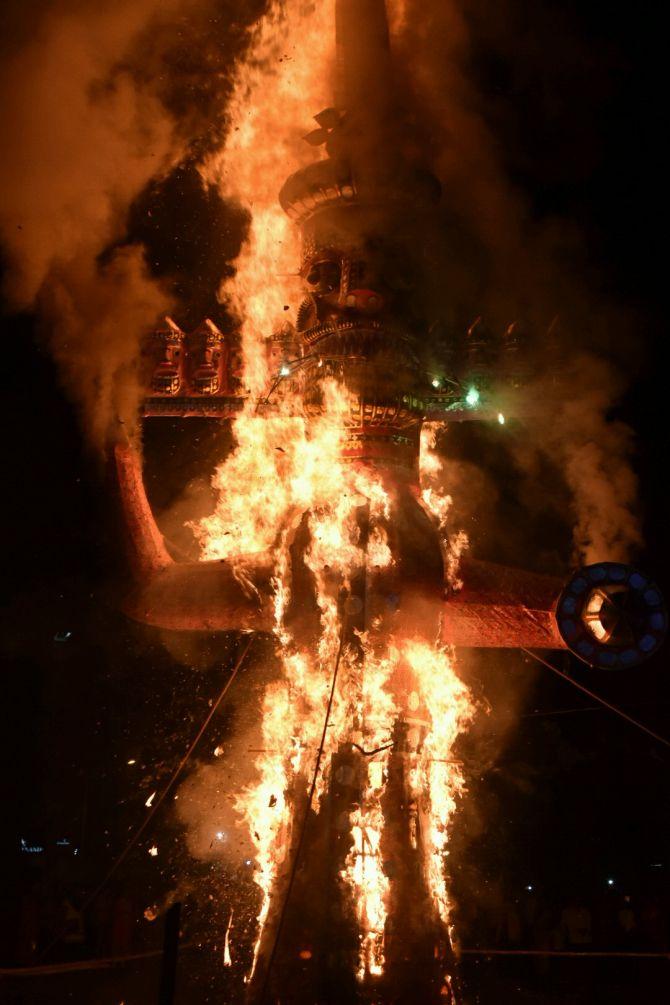 At many places, particularly in Punjab's Amritsar and Ludhiana, effigies symbolising 'terrorism' and 'Pakistan' were also burnt along side those of Hafiz Saeed.
Let's burn the evil of terrorism: PM in Dussehra address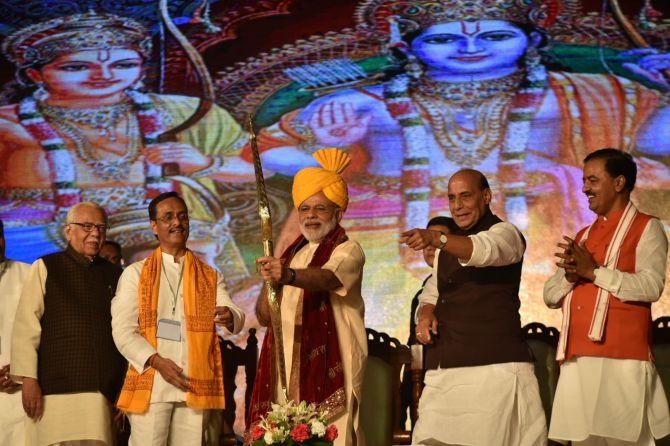 The prime minister further said from the times of Lord Ram our nation has been fighting terrorism as it was Jatayu (a demi-god who had the form of a vulture), who fought the first fight against terrorism by trying to save Sita when she was being abducted by Ravana.
PHOTOS: RSS workers don new uniform on foundation day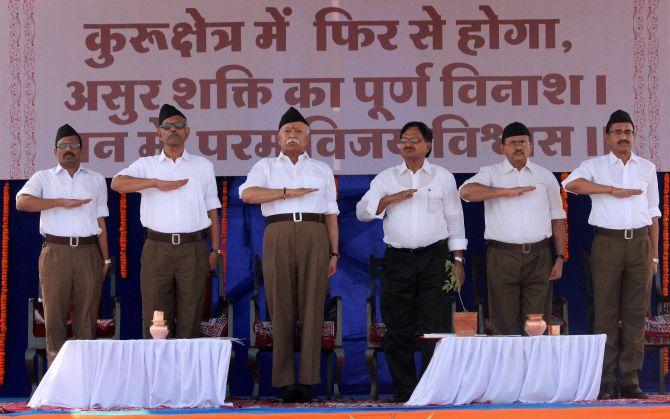 Smart dark brown trousers donned by Rashtriya Swayamsevak Sangh functionaries instead of khaki shorts they had worn for the last 90 years, stood out at the Sangh's foundation day ceremony on Tuesday.
October 10, 2016
Soldier injured in encounter with terrorists holed up in J-K government building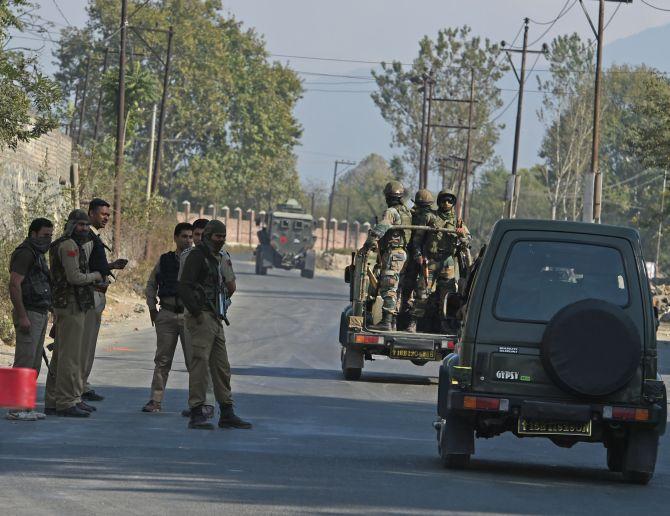 Two to three terrorists are suspected to be holed up in the building, as intermittent gunshots can be heard from inside the building.
October 09, 2016
2 killed, 12 injured in stampede after Mayawati's rally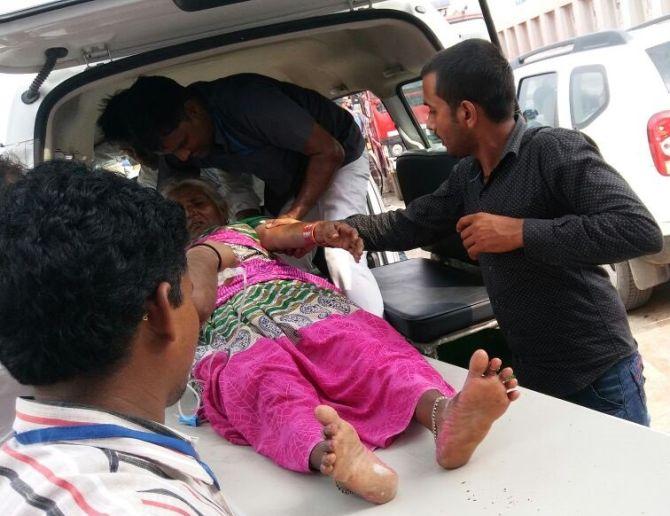 Rumours of a live power line having snapped triggered the stampede. The injured have been rushed to a local hospital, a BSP spokesperson said.
Republicans abandon Trump, call for him to drop out over lewd video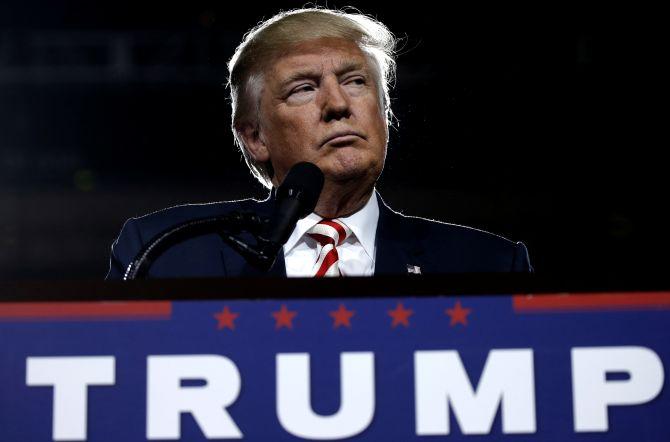 A growing wave of lawmakers have called on the defiant US presidential nominee Donald Trump to drop out of the race in the wake of a video showing him make crude sexual remarks.
October 08, 2016
PHOTOS: 84th IAF Day celebrations showcase Tejas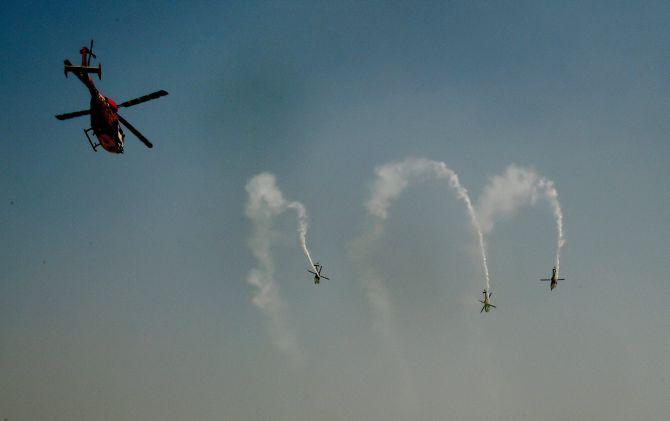 For the first time, India's indigenous Light Combat Aircraft performed stunts at the air show, amid loud cheers from the audience.
October 07, 2016
REWIND: India in the last 24 hours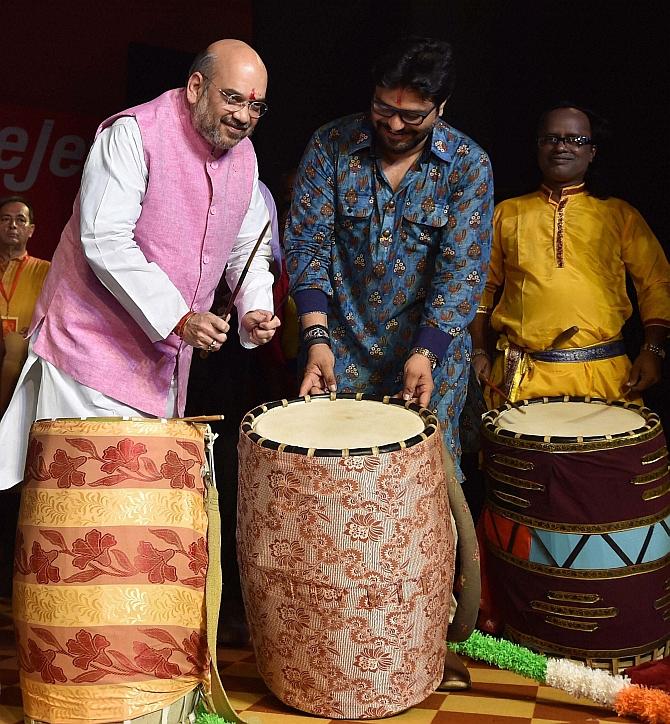 Here's a recap of events that occurred in India in the past 24 hours.
Instagram's 'It Girl' with a dark secret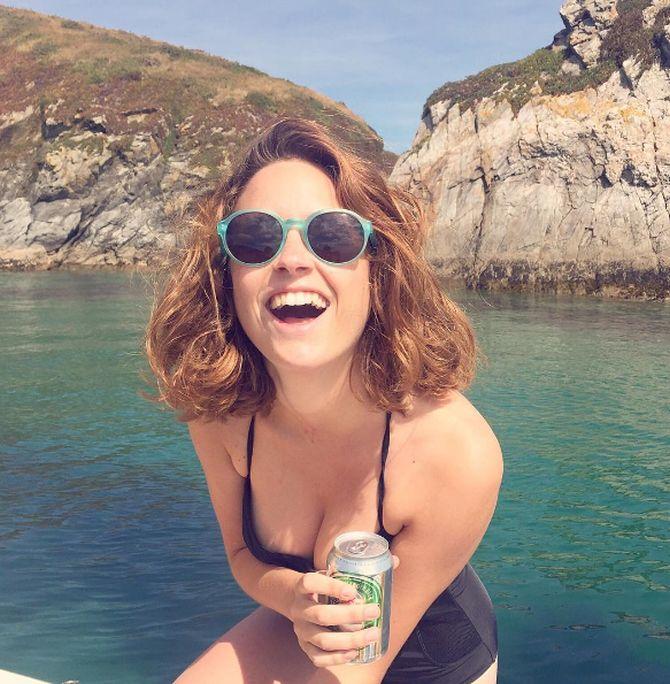 A Parisian model, who attracted thousands of Instagram followers with her glamorous bikini pics, is not who you think she is.
October 06, 2016
WTF News! It's Weird, True and Funny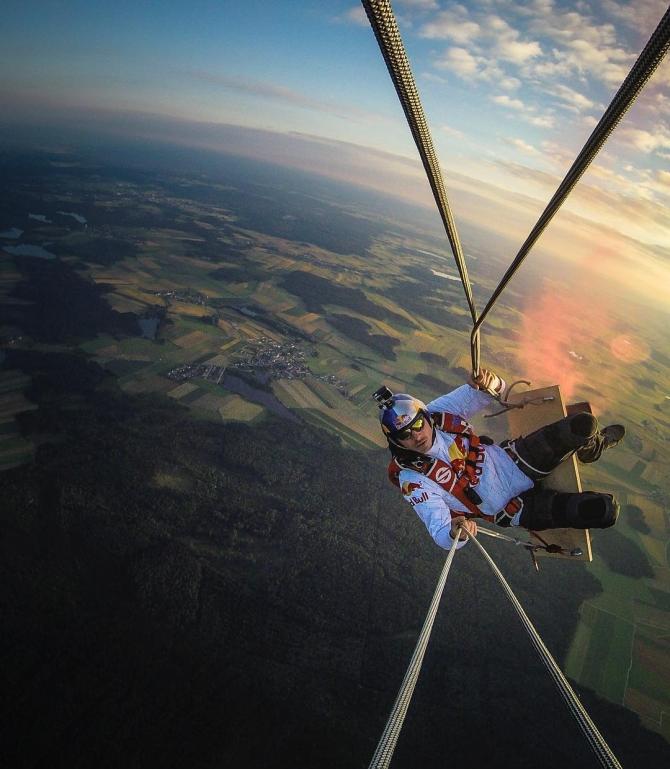 Here's your weekly digest of the craziest stories from around the world.
REWIND: India in the last 24 hours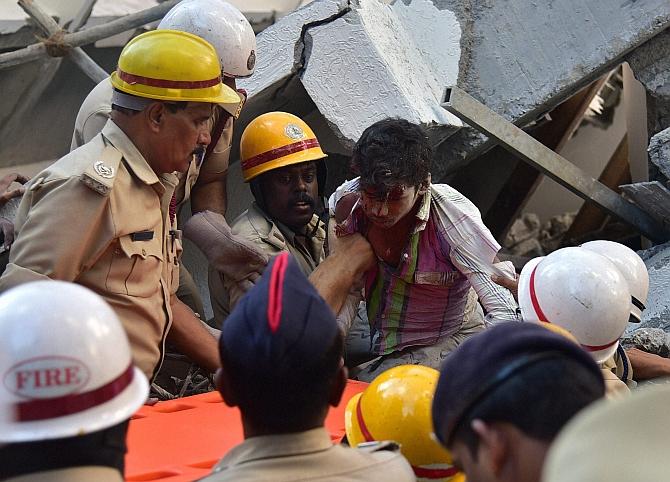 Here's a recap of events that occurred in India in the past 24 hours.
October 04, 2016
Excellency Lee, you're a friend of India: Modi meets Singapore PM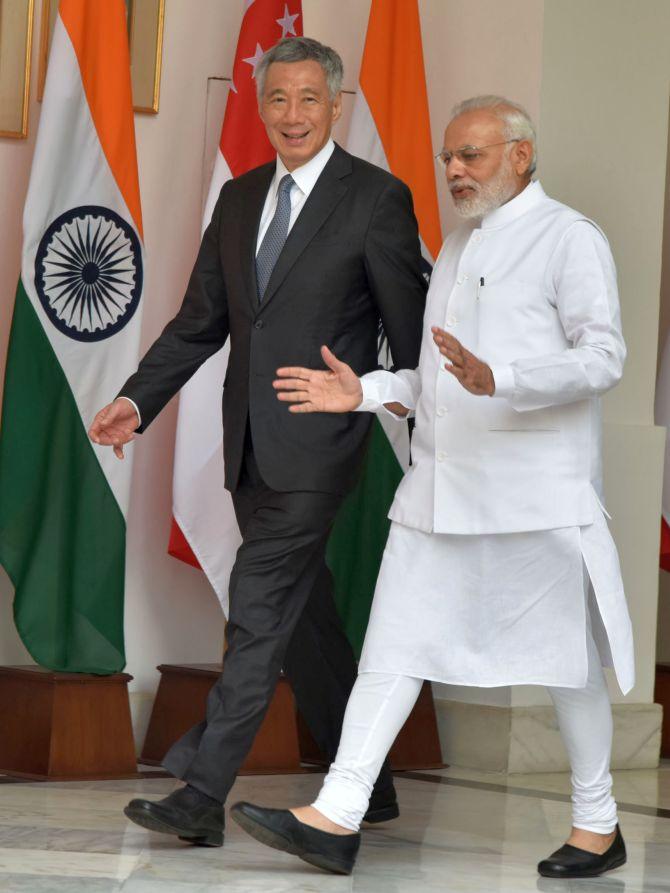 Modi held comprehensive talks with Singapore Prime Minister Lee Hsien Loong on ways to enhance cooperation in key sectors including trade and investment.
US president wished Michelle on their anniversary and it's just too cute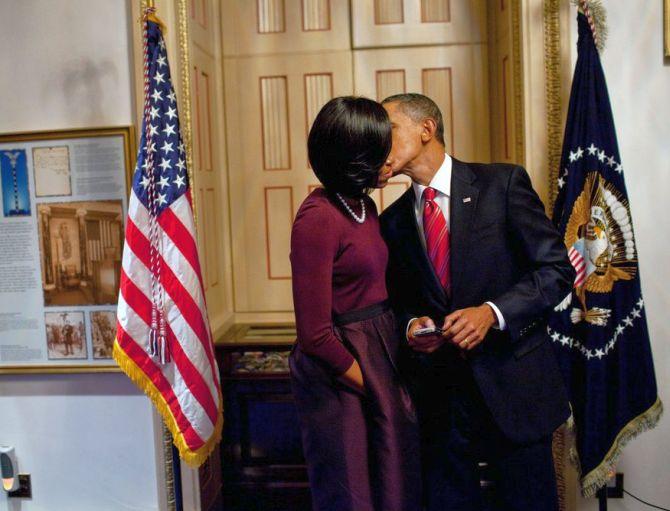 On Monday, the US president and his wife celebrated their 24th wedding anniversary and the US president celebrated the special milestone by giving his lovely wife not one, but three sweet shout-outs on social media.
REWIND: India in the last 24 hours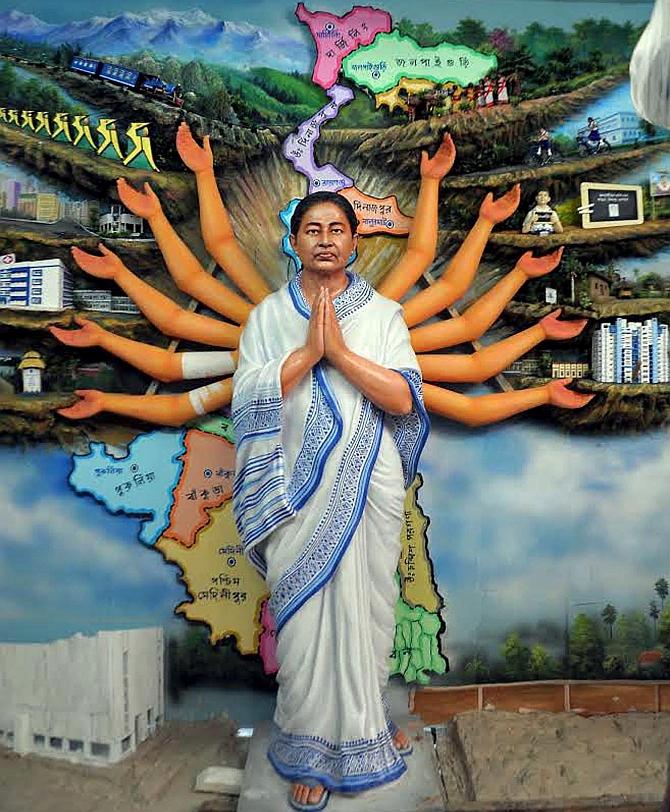 Here's a recap of events that occurred in India in the past 24 hours.
PHOTOS: Smashing fun at the world's largest beer party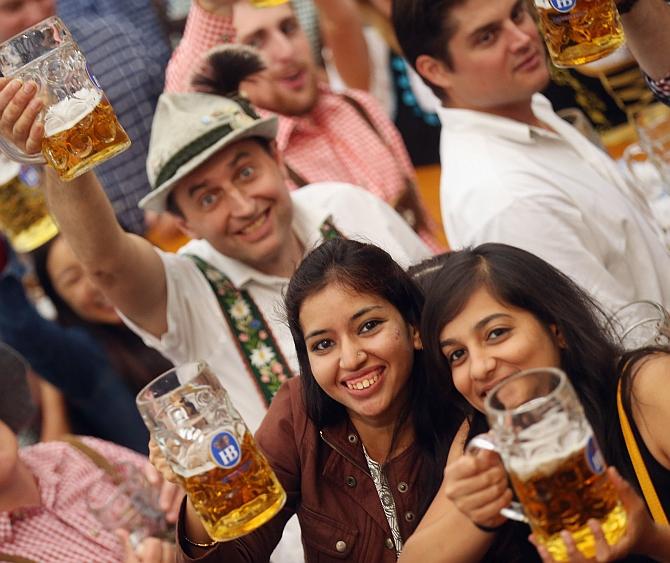 Oktoberfest, the world's largest beer festival, came to end on October 3.
October 03, 2016
Amazing PHOTOS of the month: September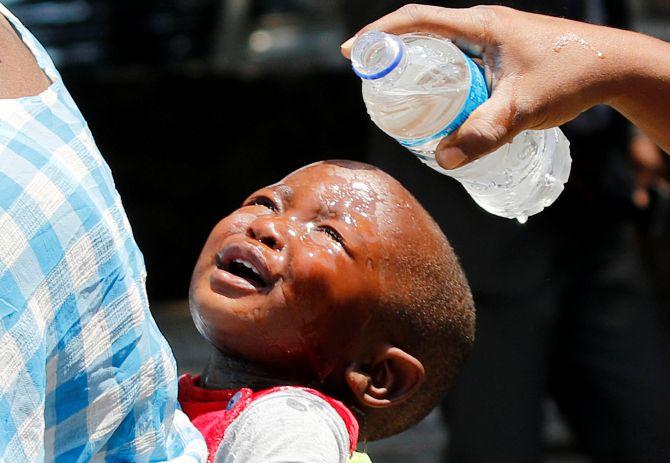 Here's a glimpse of all that happened around the world last month.
October 01, 2016
Praying for peace, ready for war: Security forces on high alert at borders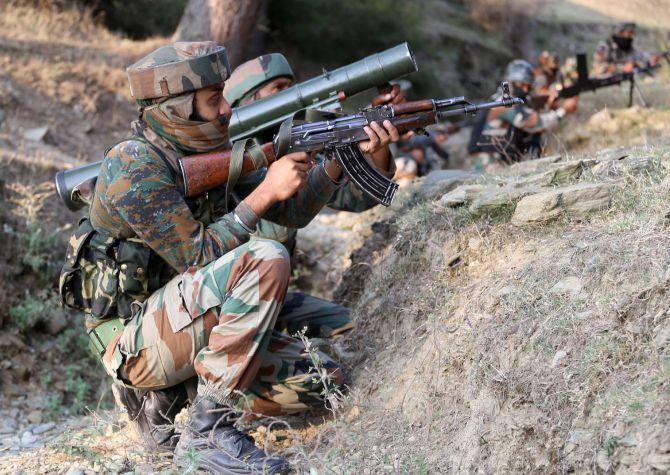 After India carried out a daring surgical strike and took out terrorists in Pakistan-occupied Kashmir in response to the Uri attack in which 19 soldiers were killed, Border Security Force and army personnel are on full alert all along the 198-kilometre long international border and 744-km long Line of Control, to thwart any 'mischief' by Islamabad.
September 30, 2016
'Peres was a great man of Israel, great man of the world'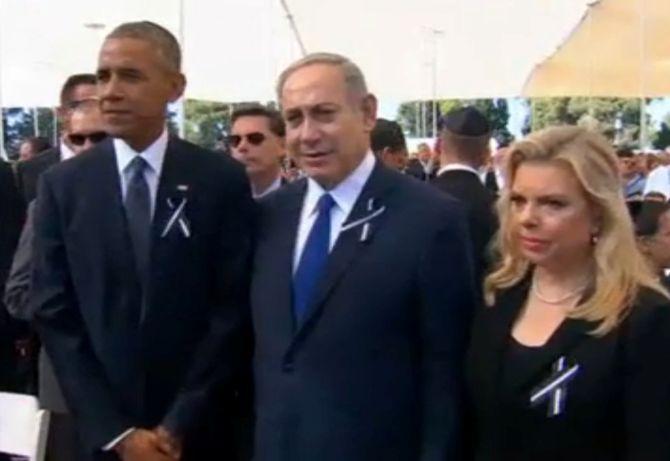 Leaders from 70 countries, including United States President Barack Obama and Arab politicians, gathered in Jerusalem on Friday to bid farewell to one of the last leaders of Israel's founding generation and Nobel Peace Prize winner Shimon Peres as his funeral began amid unprecedented security.
'Pop': Britain's Princess Charlotte utters her first word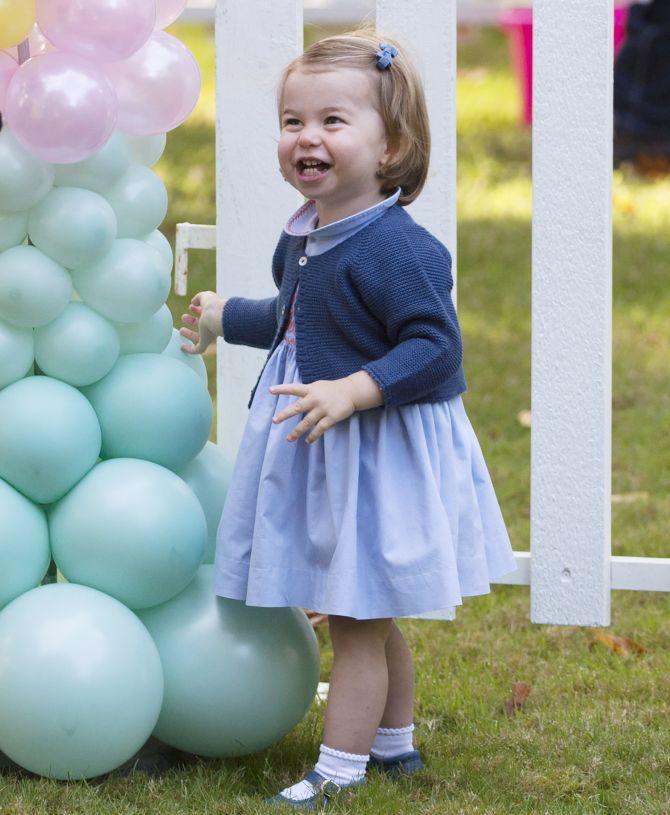 -month-old Princess Charlotte uttered her first word in public and also performed her first walkabout.
REWIND: India in the last 24 hours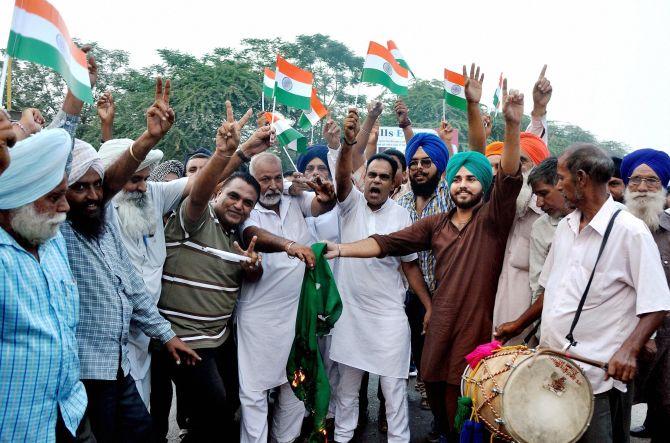 Here's a recap of the events from the past 24 hours.
September 29, 2016
REWIND: India in the last 24 hours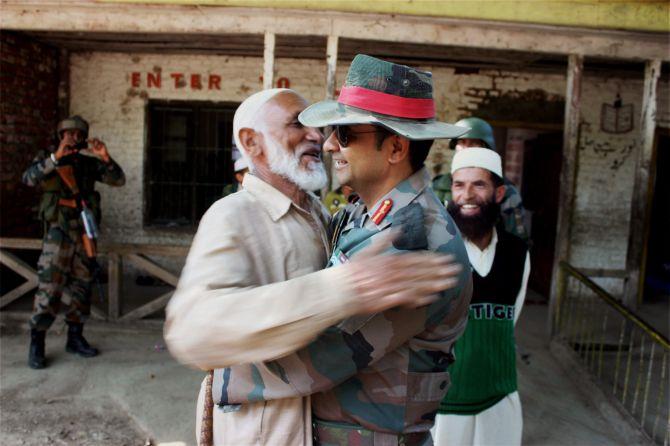 Here's a recap of the events from the past 24 hours.
September 27, 2016
Clinton's jabs put Trump on the mat in first debate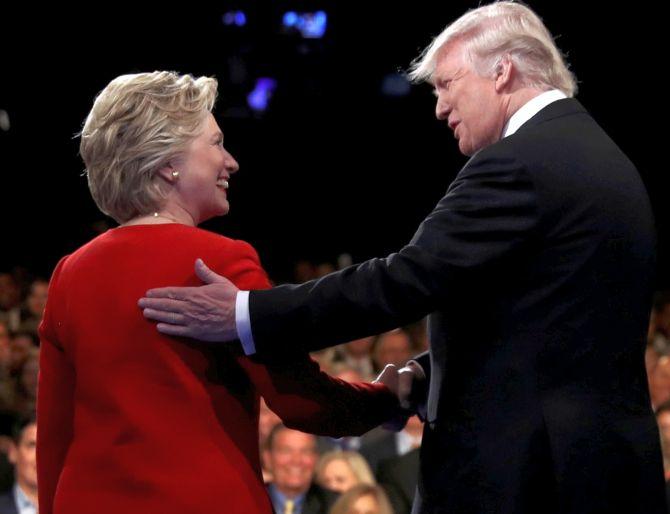 The Republican aggressively blamed the nation's problems on Clinton yet found himself mostly on the defensive in their first debate as she accused him of racist behaviour and hiding his income.
REWIND: India in the last 24 hours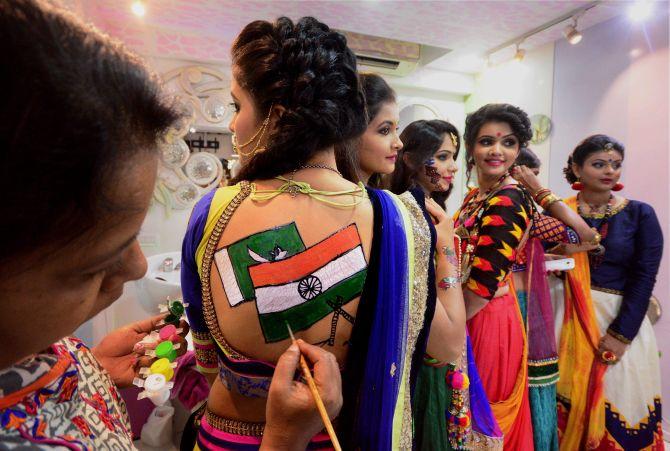 Here's a recap of the events from the past 24 hours.
Taxes, email scandal and more. What happened when Clinton and Trump sparred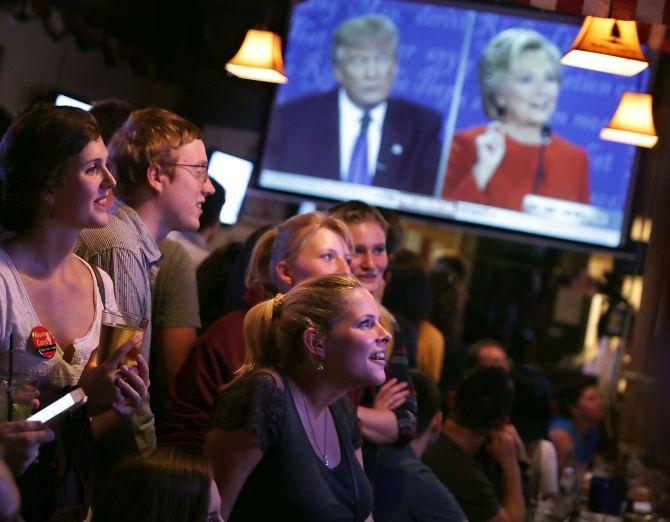 The highly anticipated matchup between Hillary Clinton and Donald Trump finally happened, and it didn't disappoint.
PHOTOS: The many emotions at the first US Presidential Debate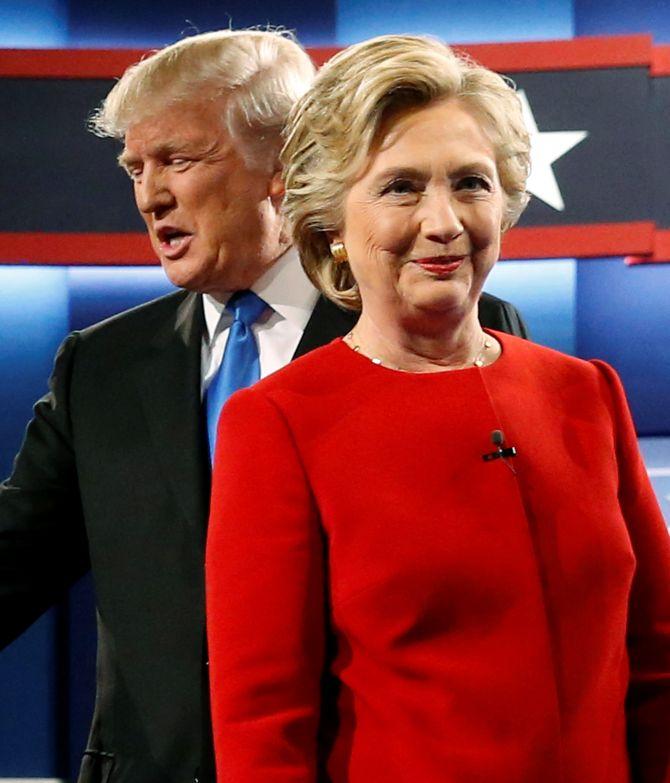 So, the first United States presidential debate is over. The event held at Hofstra University saw Republican nominee Donald Trump going up against Democratic nominee Hillary Clinton in a 90-minute debate where both candidates packed in quite a few punches.
September 26, 2016
Modi and Sharif: From gifting shawls to trading barbs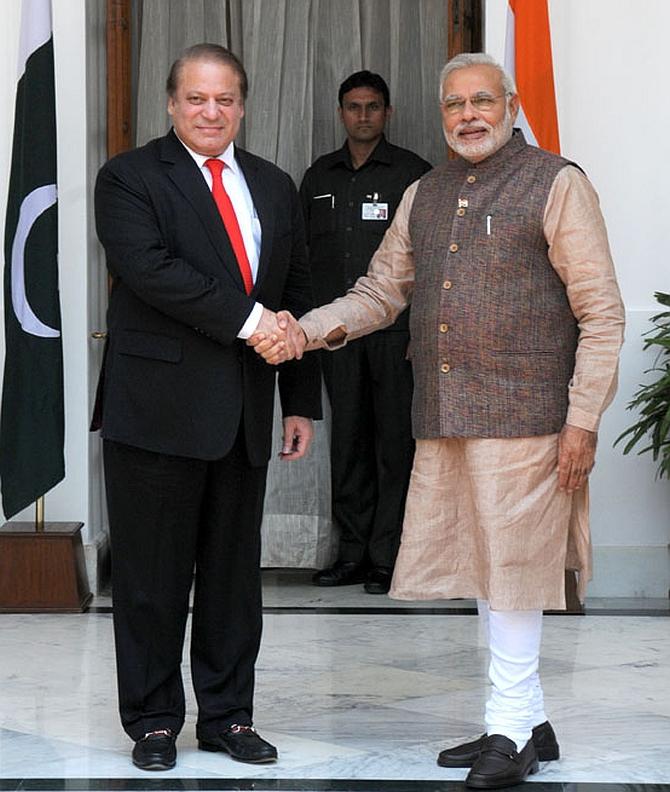 The bonhomie between Prime Minister Narendra Modi and Pakistan Prime Minister Nawaz Sharif seems to have also finally met its demise.
REWIND: India over the weekend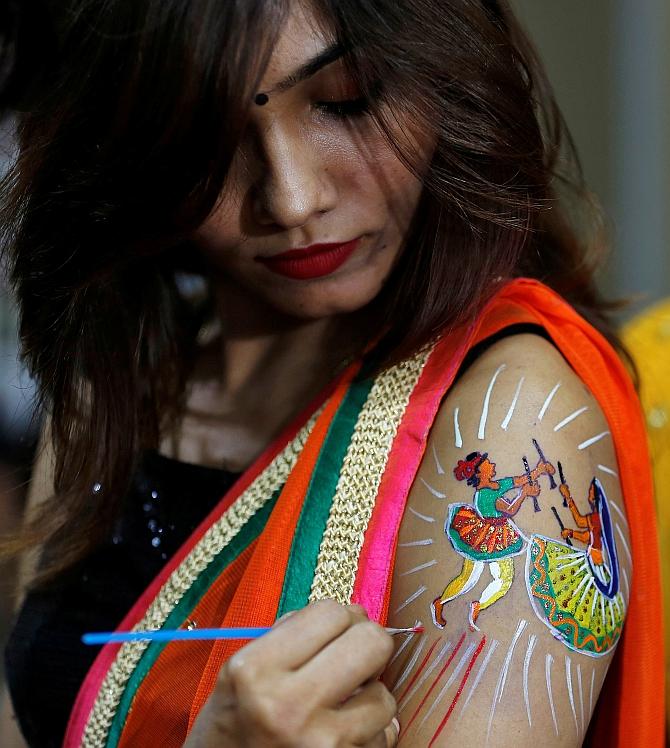 Here's a recap of the events from the past 48 hours.
PHOTOS: 'Yudh Abhyas' in times of terror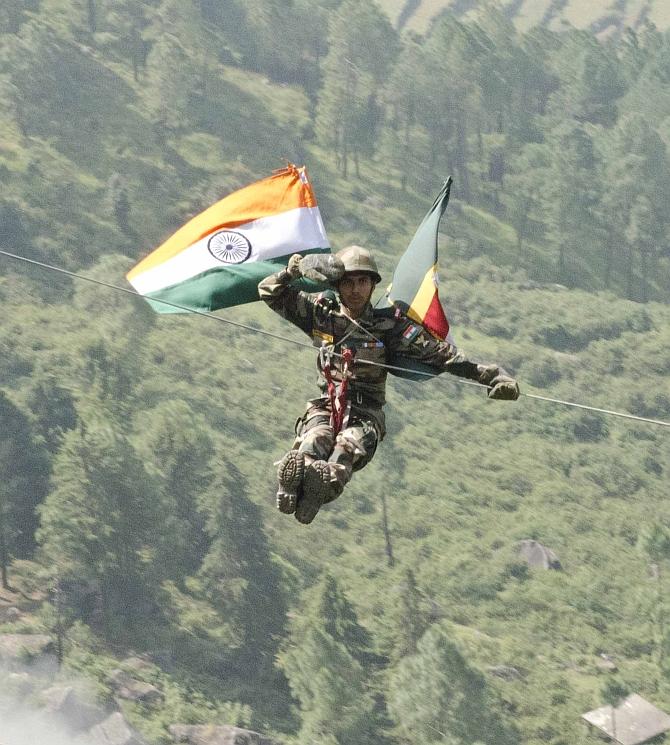 The 12th edition of Yudh Abhyas, an annual bilateral exercise between the Indian Army and the US Army Pacific, is on at the Chaubattia Military Station in Ranikhet, Uttarakhand.
September 24, 2016
Andhra Pradesh reels from heavy rains, 7 killed in deluge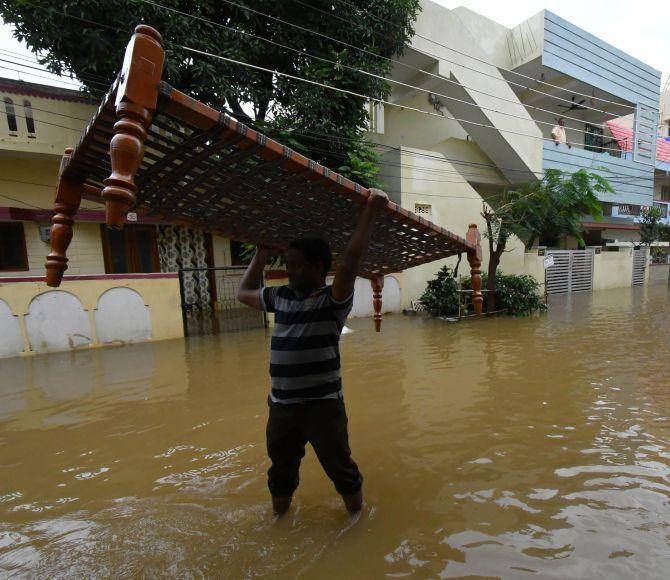 The district is badly hit by heavy showers as around four thousand people were shifted to 30 shelters by the district administration from flood affected areas.
September 23, 2016
6 days and counting: Rain-drenched Mumbai braces for more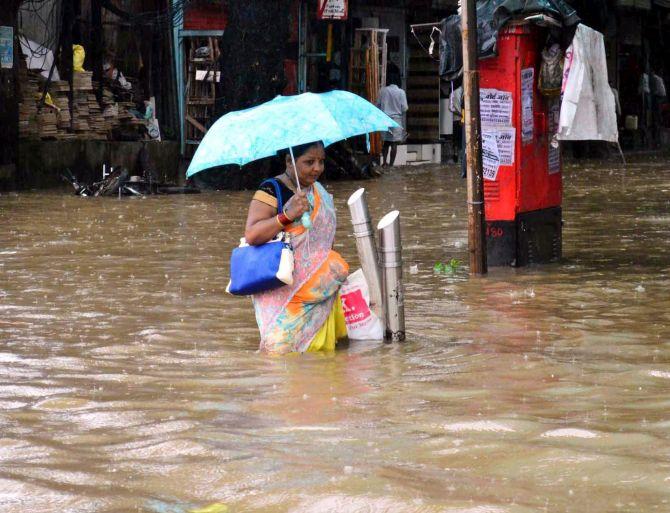 According to disaster management control room of the civic body, no injury or casualty has been reported so far.
Hyderabad: Rains force schools, colleges to shut; army called in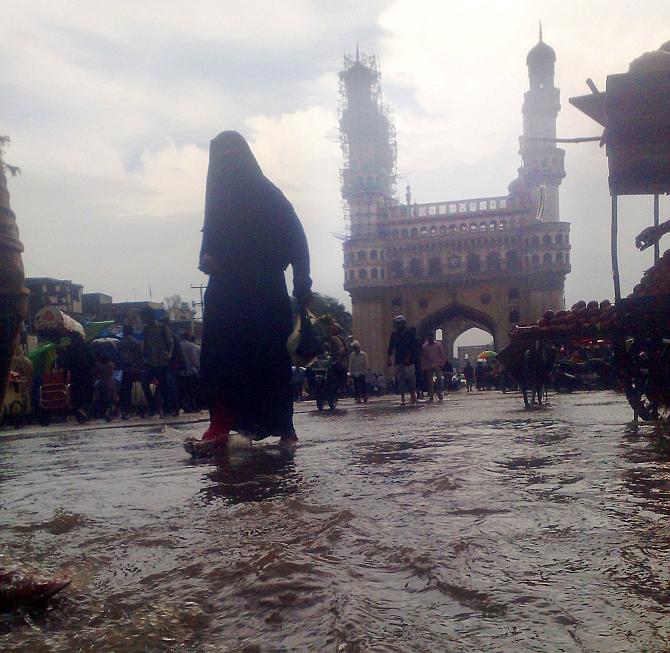 Following the heavy downpour which crippled normal life, the state government has declared a holiday for educational institutions in Hyderabad on Friday and Saturday.
REWIND: India in the last 24 hours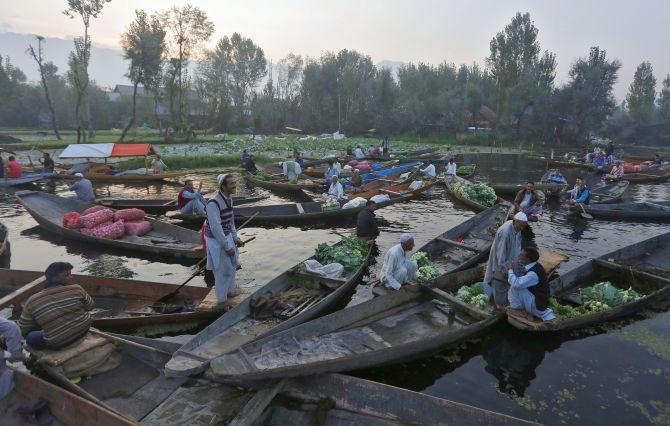 Here's a recap of moments captured in India in the past 24 hours.
September 22, 2016
PHOTOS: Mumbai on high-alert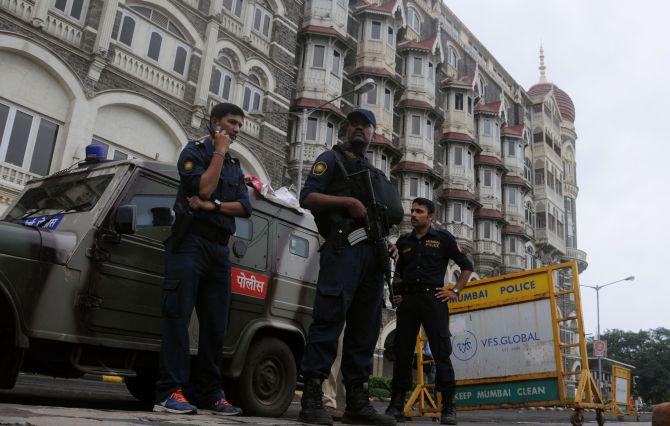 A group of men were spotted moving suspiciously near a naval base at Uran in Raigad district.
'Down Down Pakistan', 'Free Balochistan' chants for Sharif outside UNGA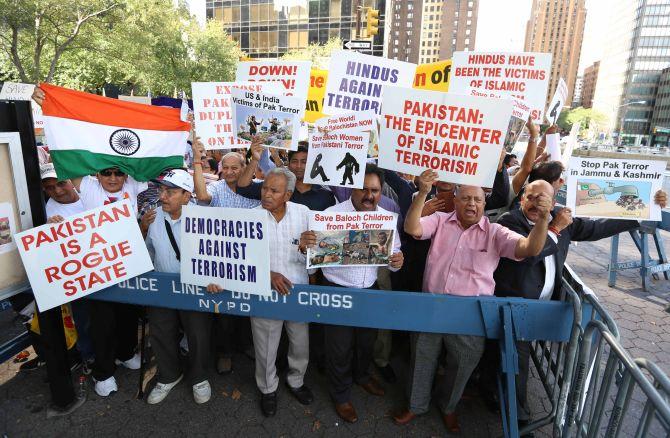 The protestors converged across the street from the world body's headquarters to condemn atrocities and human rights violations by Pakistan just as Sharif was addressing the General Debate of the General Assembly.
Heavy rains lash Mumbai and there's more to come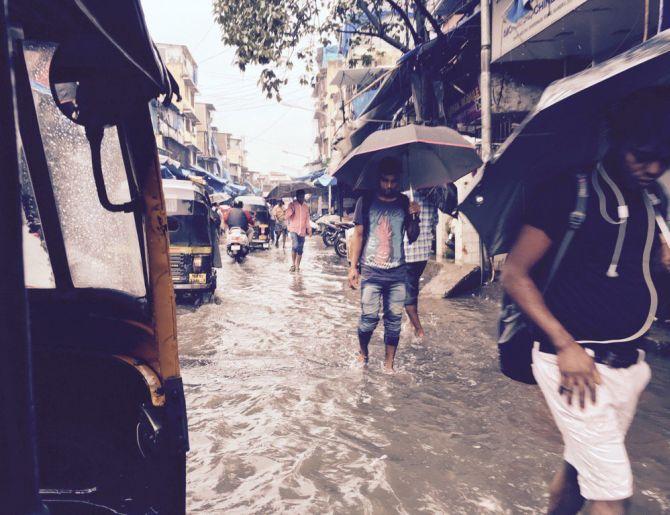 On Wednesday, while Colaba received 94.6 mm of rainfall, the weather station at Santacruz recorded a rainfall of 44.4 mm.
US Black Lives Matter protest turns violent, state of emergency declared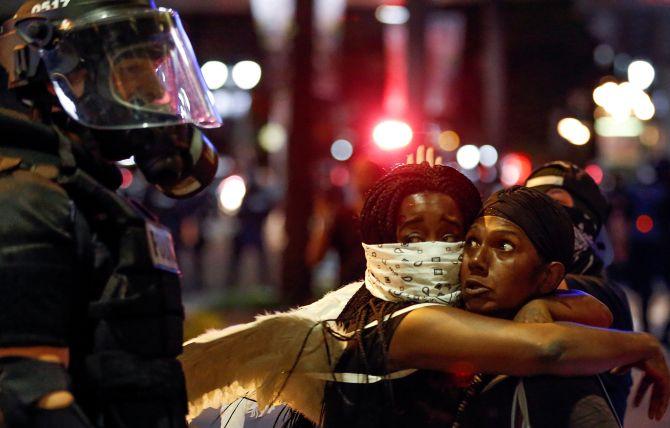 After the shooting, protesters began throwing bottles, dirt clods and fireworks at the officers. The police fired flash grenades and then tear gas back, dispersing the crowd of several hundred.
REWIND: India in the last 24 hours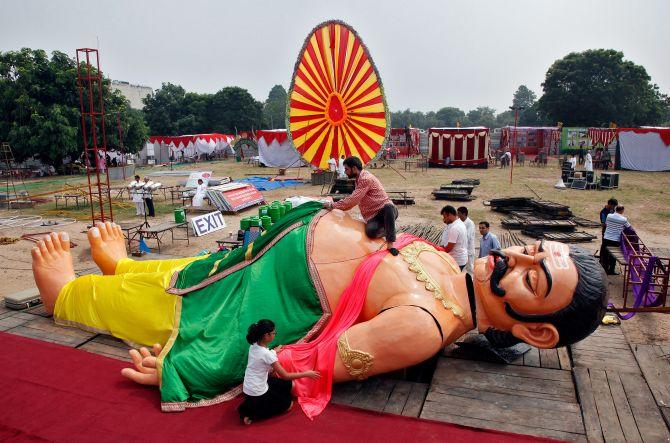 Here's a recap of moments captured in India in the past 24 hours.
PHOTOS: J&K youths defy Geelani's diktat, line up for police jobs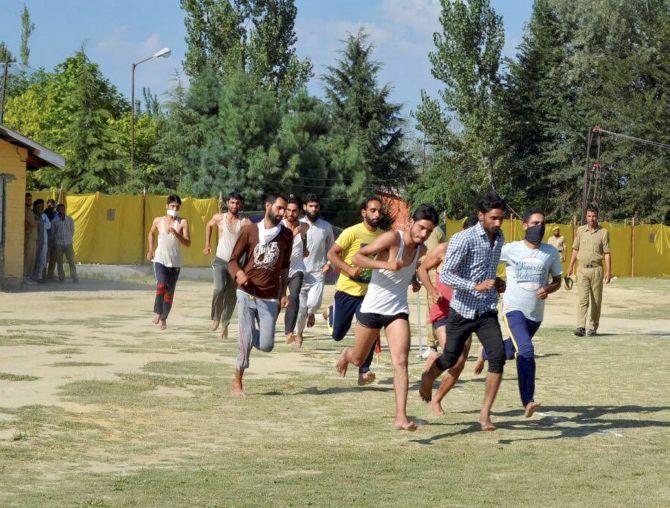 Defying Hurriyat hardliner Syed Ali Shah Geelani's diktat to Kashmiris against joining police service in the Valley, thousands of youths have opted for the job of special police officer.
September 21, 2016
10 unbelievably odd images from across the world!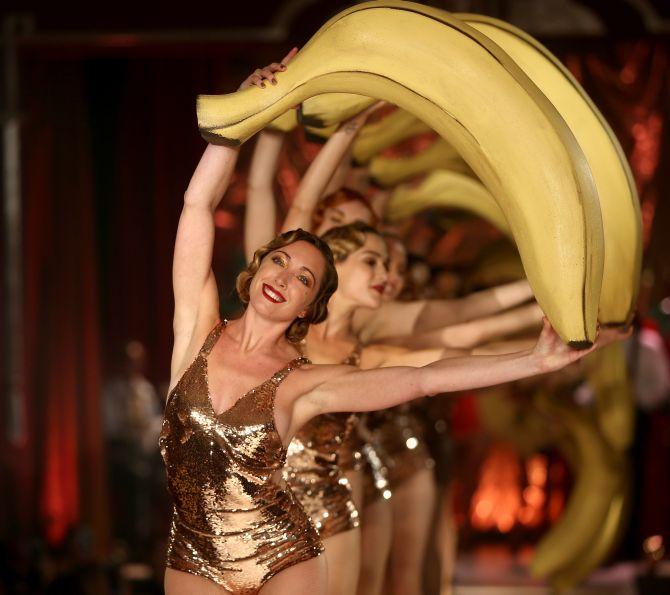 Here's a look at some of the weirdest photos from out there!
REWIND: India in the last 48 hours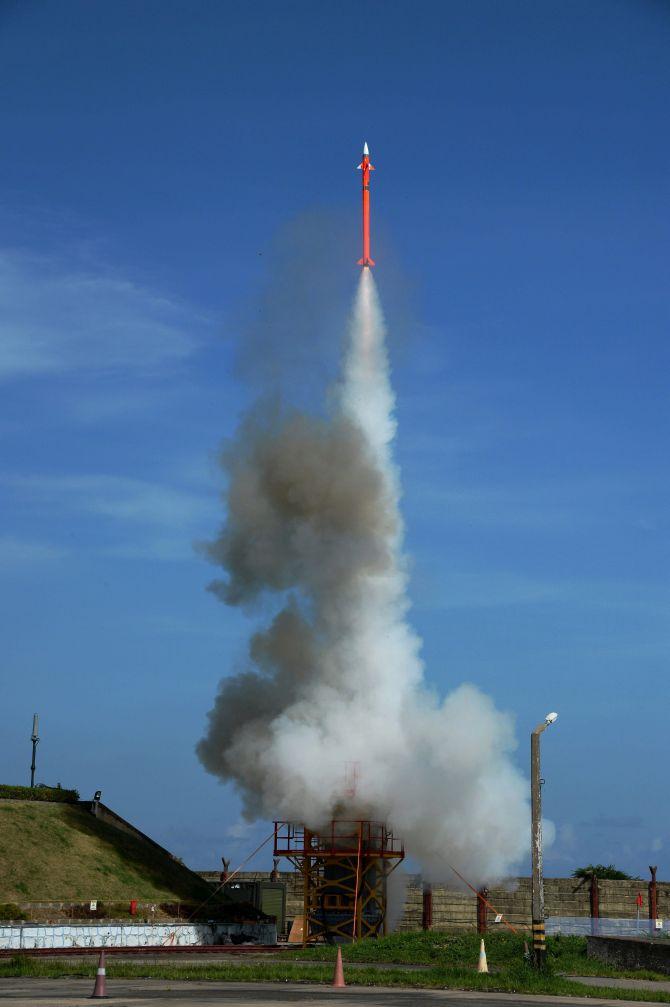 Here's a recap of moments captured in India in the past 48 hours.
September 20, 2016
PHOTOS: Nation bids tearful adieu to its fallen heroes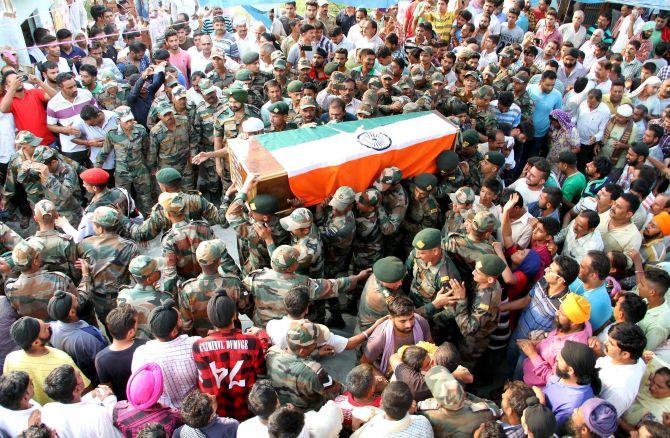 An emotional farewell was given to the valiant army jawans who lost their lives in the Uri attack, as their last rites were performed in their respective native villages with full military and state honours.
These photos are completely out of this World!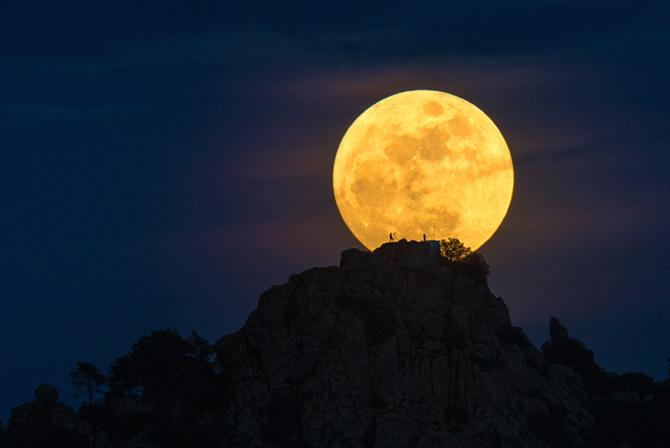 From captivating photos of Northern Lights, sparkling galaxies, the 'man on the moon' and more, photos taken by the winners of the Insight Astronomy Photographer of the Year 2016 competition are an absolute treat.
September 15, 2016
PHOTOS: Ganpati Bappa Morya!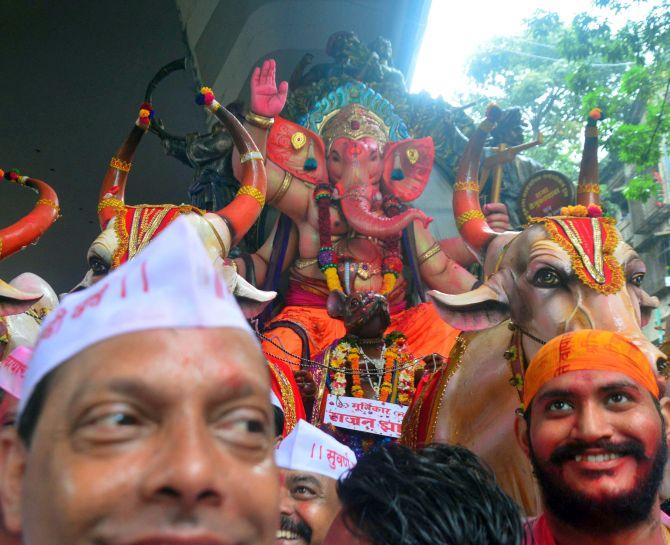 After spending 10 days with his devotees, Lord Ganesha returns to his abode on Thursday marking the last day of Ganesha visarjan.
Ganpati@Home: From Behrampur to Borivali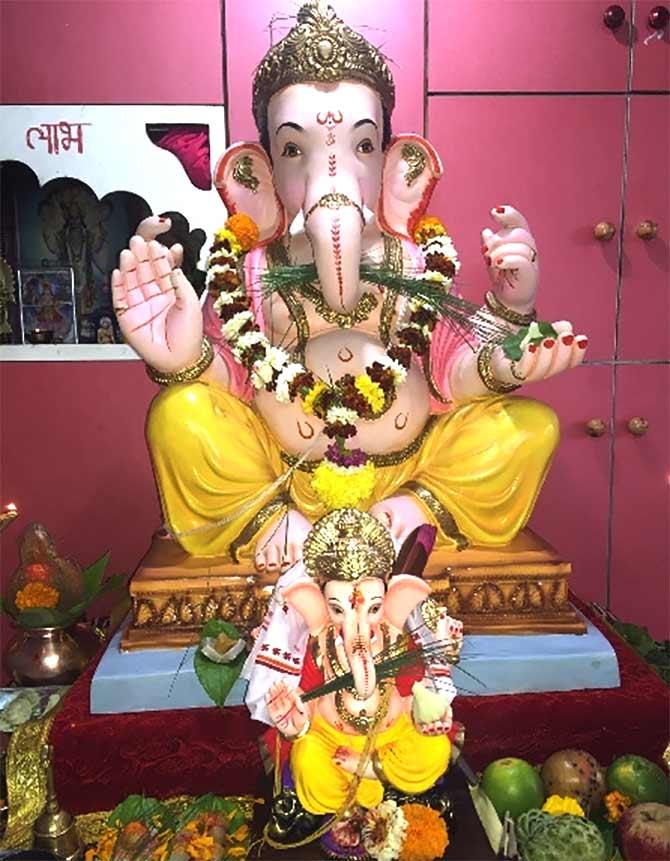 We showcase some of our readers' photos of Lord Ganesha.
REWIND: India in the last 24 hours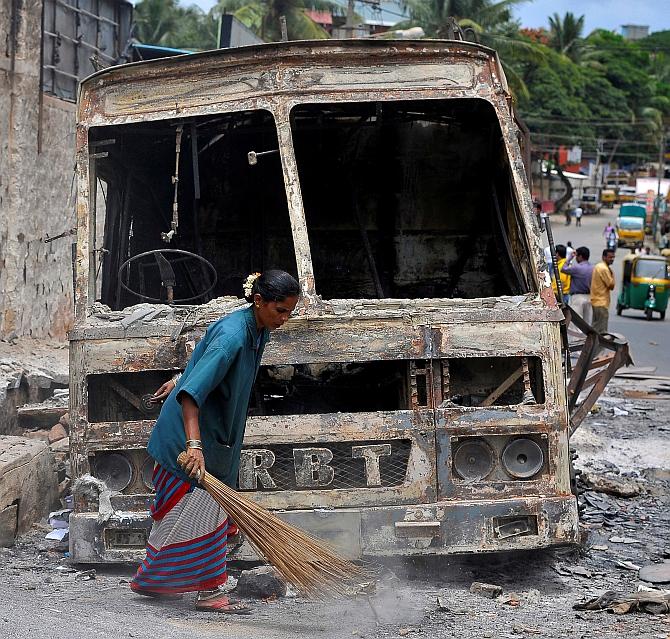 Here's a recap of moments captured in India in the past 24 hours.
September 13, 2016
PHOTOS: Eid in curfewed Kashmir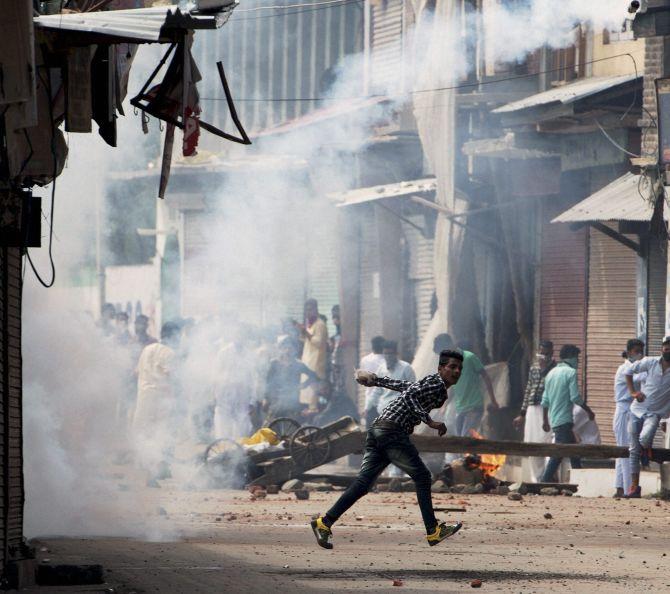 While the world marks Eid-al-Adha, the Kashmir Valley remains silent and there are no signs of celebrations.
September 11, 2016
10 PHOTOS of 9/11 that no American will ever forget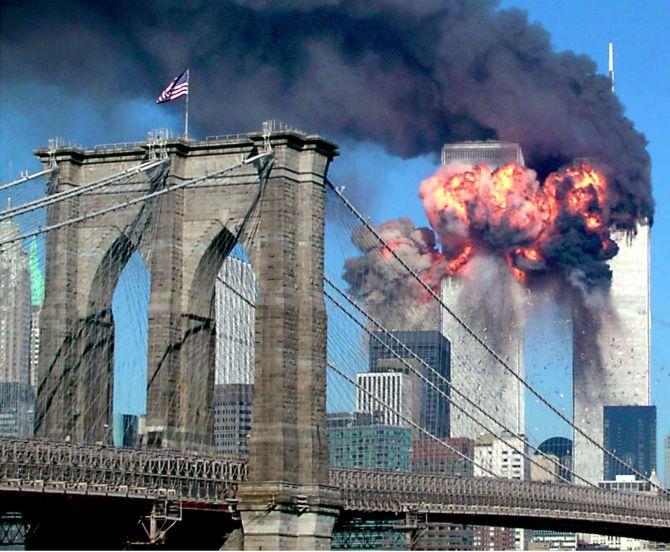 Here are a few of the photos that best tell the story of that terrible day.
September 10, 2016
26 killed, 70 injured in Bangladesh factory fire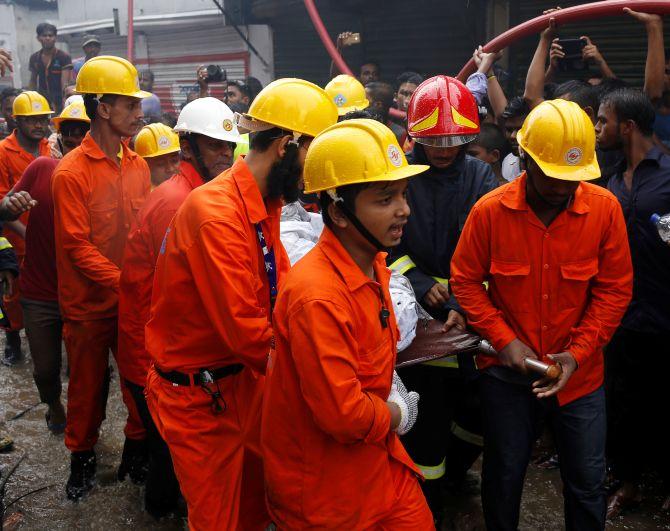 Twenty units of fire fighters were trying to douse the fire but they could not manage to douse the blaze till noon.
MiG-21 aircraft crashes in Rajasthan, pilot ejects safely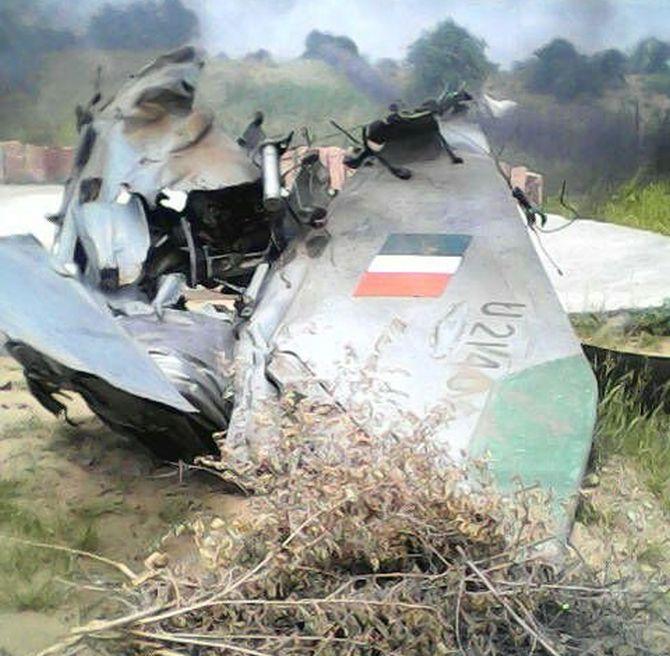 "The aircraft crashed near Uttarlai airforce station in Barmer," a defence spokesperson said, adding further details are awaited.
Hopes fading for woman UN Secretary-General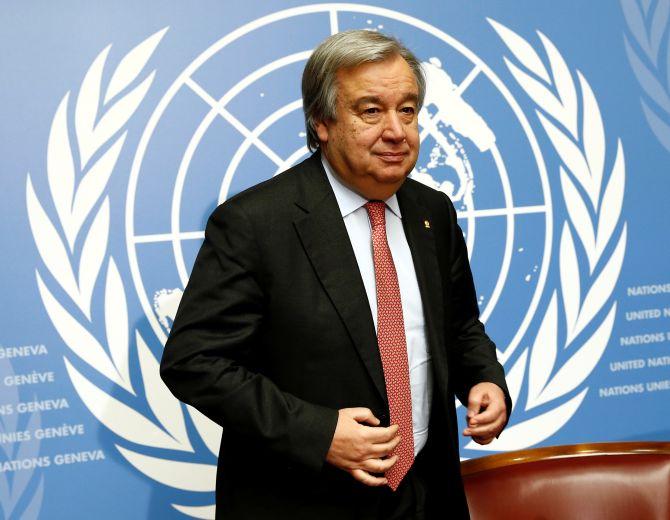 Antonio Guterres, who had served as UN High Commissioner for Refugees for 10 years, has emerged as the front-runner in the first two rounds of informal voting.
September 09, 2016
Rahul visits Ayodhya, first Gandhi visit since Babri demolition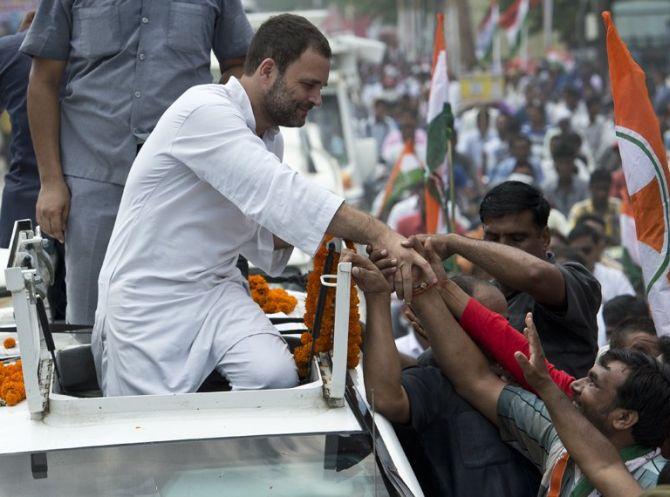 No member of the Congress' first family has visited Ayodhya since the demolition of the Babri Masjid 24 years ago, in December 1992.
PHOTOS: Cauvery bandh brings Bengaluru to halt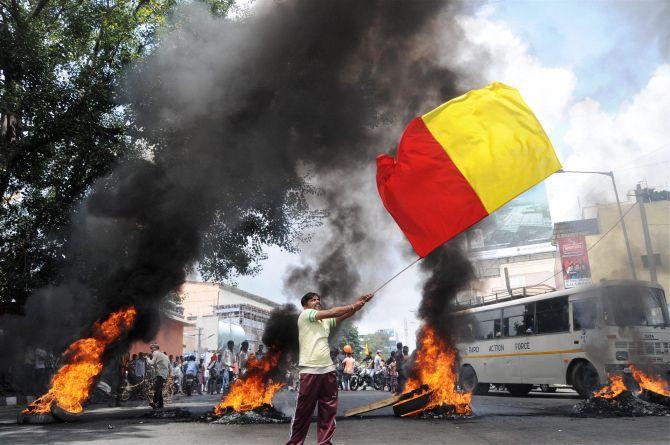 A bandh to protest against the release of Cauvery waters to Tamil Nadu has brought Karnataka to a standstill on Friday
REWIND: India in the last 24 hours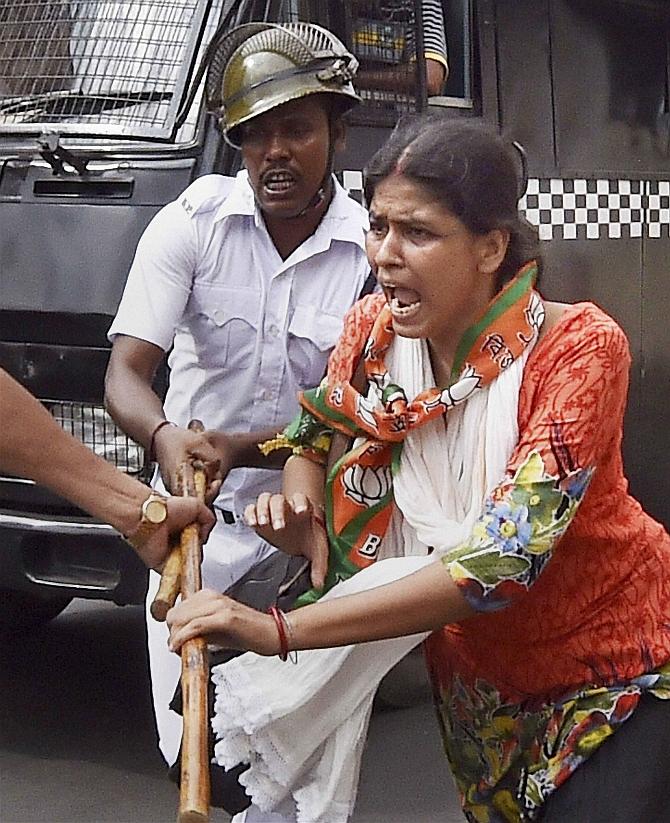 A recap of events that occurred in India in the past 24 hours.
Ganpati@home: From Bhayandar to Belgaum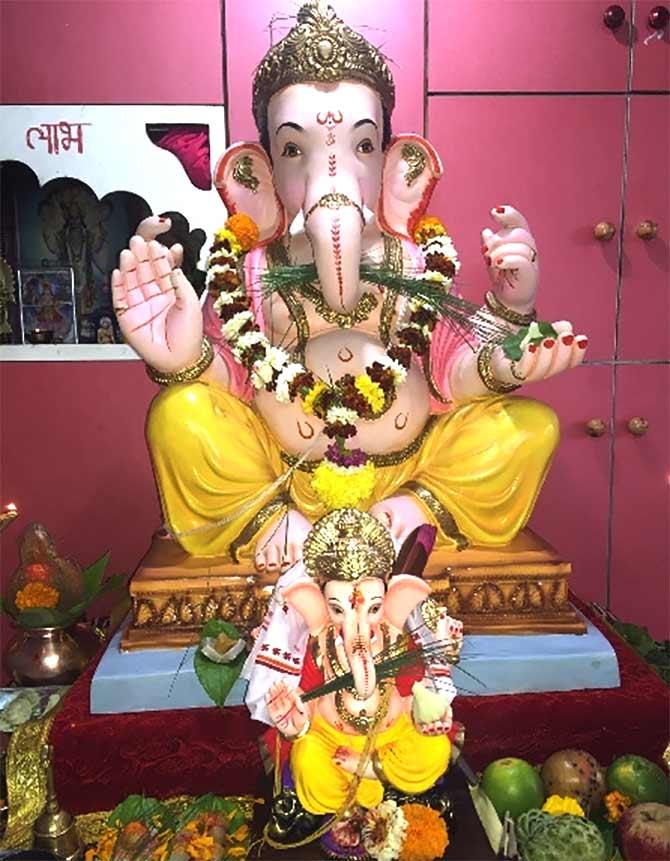 Rediff readers share photos of their beloved Ganpati.
PHOTOS: The world just got bolder, wackier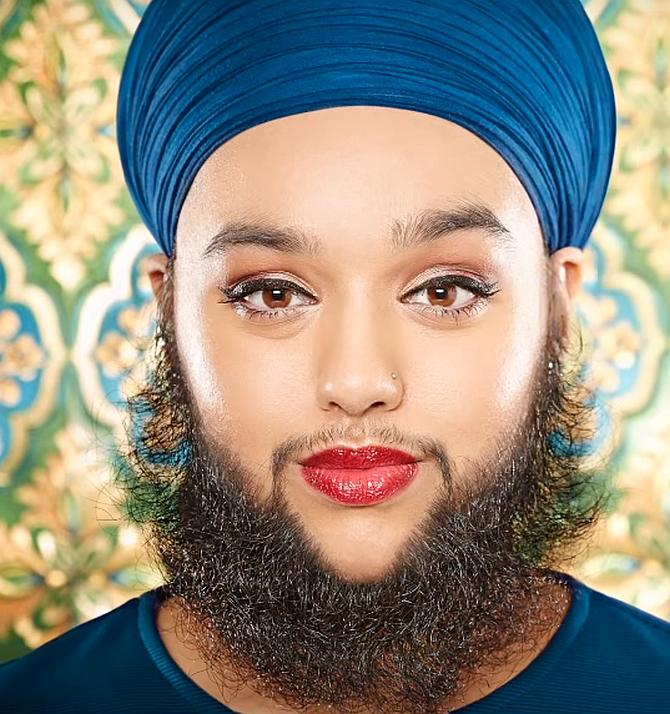 The 2017 edition of the Guinness World Records reveals a selection of the most jaw-dropping records and record holders.
September 08, 2016
Michelle and I are still to see the Taj Mahal, Obama tells Modi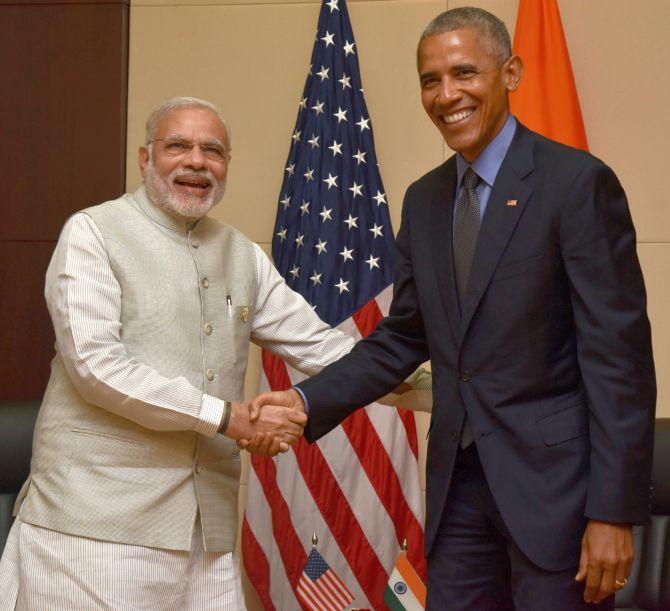 This could be their last meeting as leaders of the two countries with Obama's second term as US President coming to an end in November.
REWIND: India in the last 24 hours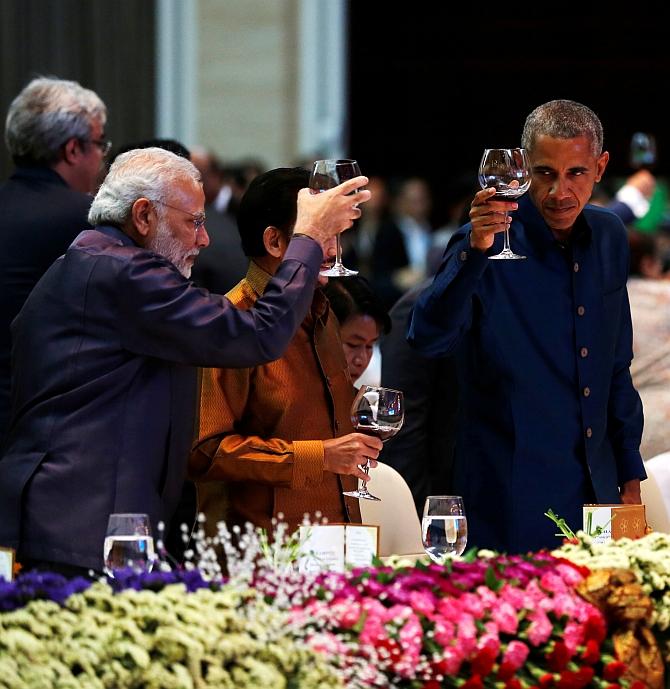 A recap of events that occurred in India in the past 24 hours.
Kejriwal faces protests from Delhi to Punjab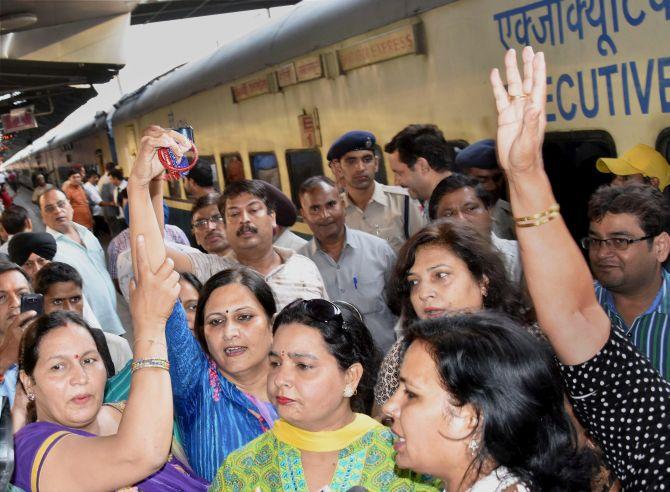 The Aam Aadmi Party alleged that the chief minister was manhandled during the "pre-planned" protest.
Ganpati@Home: From Chinchpokli to Chandigarh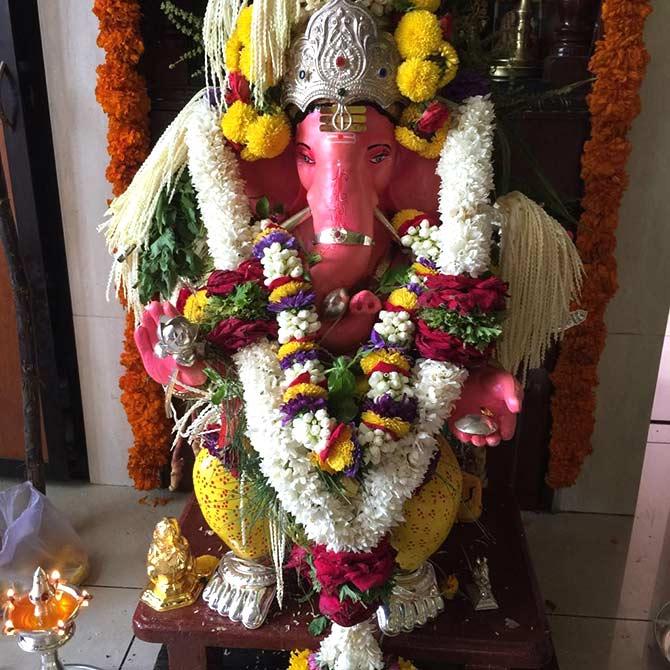 Rediff readers share photos of their beloved Ganpati.
Burning Man: It's the freakiest festival EVER!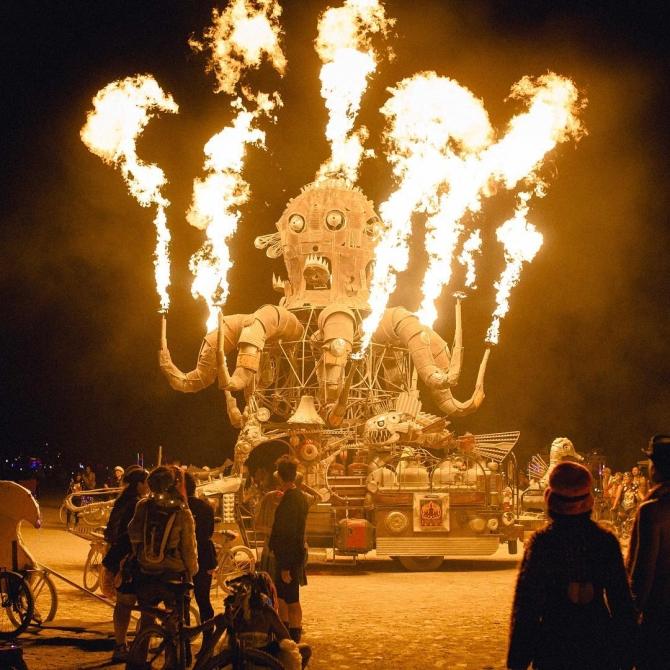 The Burning Man isn't your usual festival; it's a bustling makeshift metropolis dedicated to art and community wherein almost everything that happens is created entirely by its citizens, who are active participants in the experience.
September 06, 2016
Rahul's 'Kisan Yatra' turns into fight over 'khats'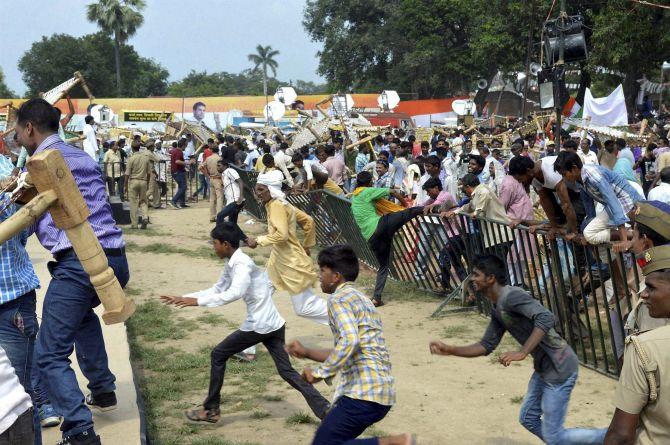 The farmers, who attended the sabha, were seen decamping with the 'khaats'.
Rahul Gandhi begins UP campaign with khat sabhas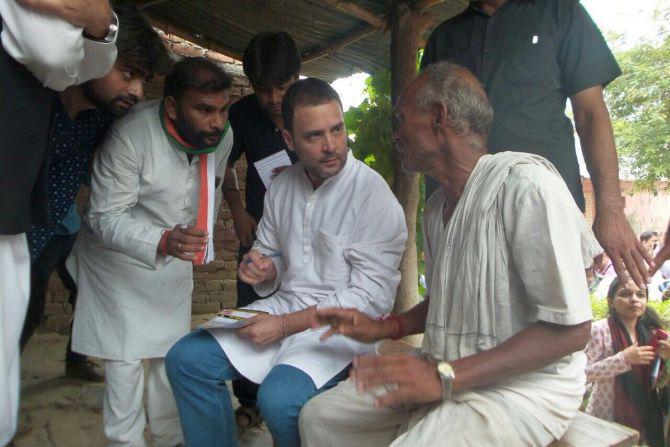 The Congress leader is trying his best to end his party's 27-year exile from power in UP.
Buses burnt, roads blocked in Karnataka over order to release Cauvery water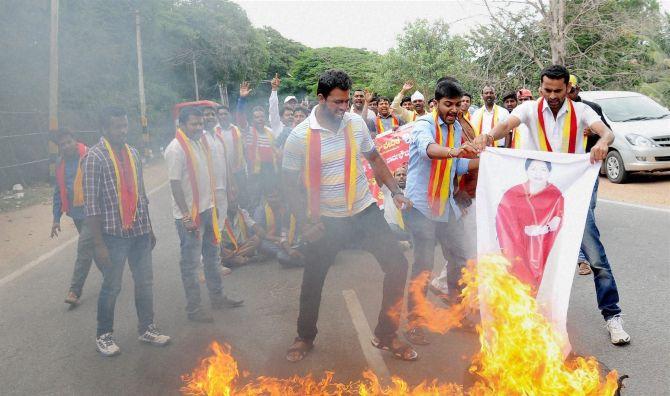 Farmers and pro-Kannada outfit activists protested in various parts of Karnataka against the Supreme Court direction to release Cauvery water to Tamil Nadu.
What did the fox say?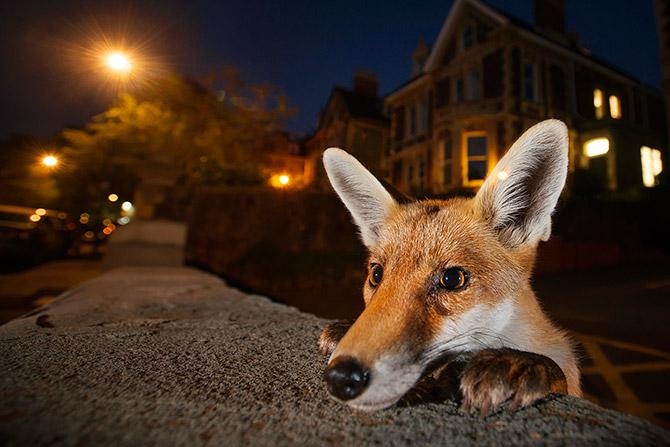 A curious fox cub, an inquisitive orca all play starring roles in images from the finalists of Wildlife Photographer of the Year's fifty-second competition.
September 04, 2016
PHOTOS: In China, Modi reunited with 'bestie' Obama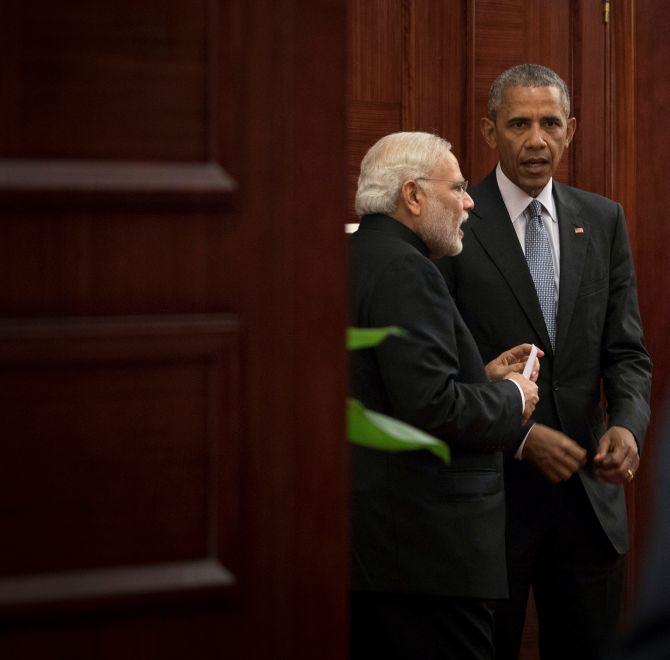 The two heads of state, who are known to be close, came together again in Huangzhou, China during the G20 summit.
Selfies, posters and songs: India celebrates Saint Teresa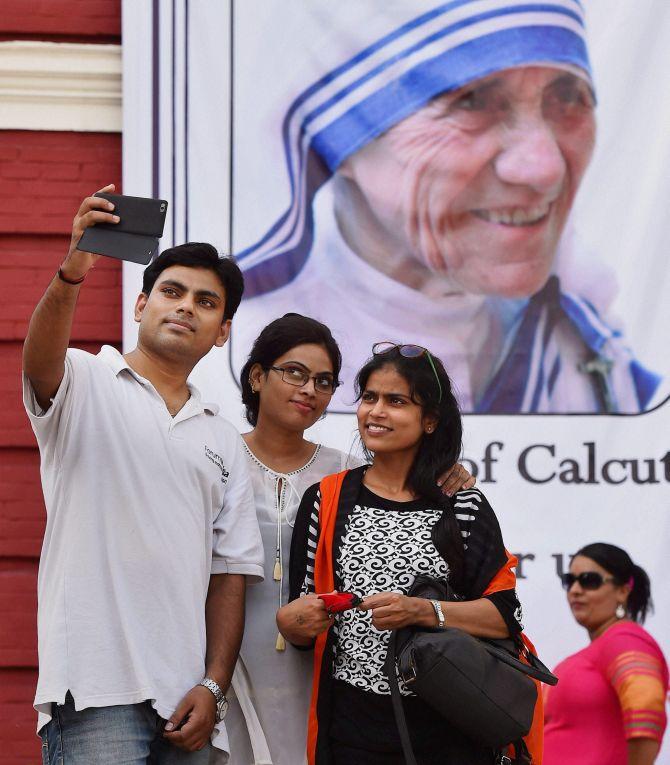 Euphoric scenes were witnessed when Pope Francis declared Mother Teresa a saint.
From sister to saint: Mother Teresa's life in photos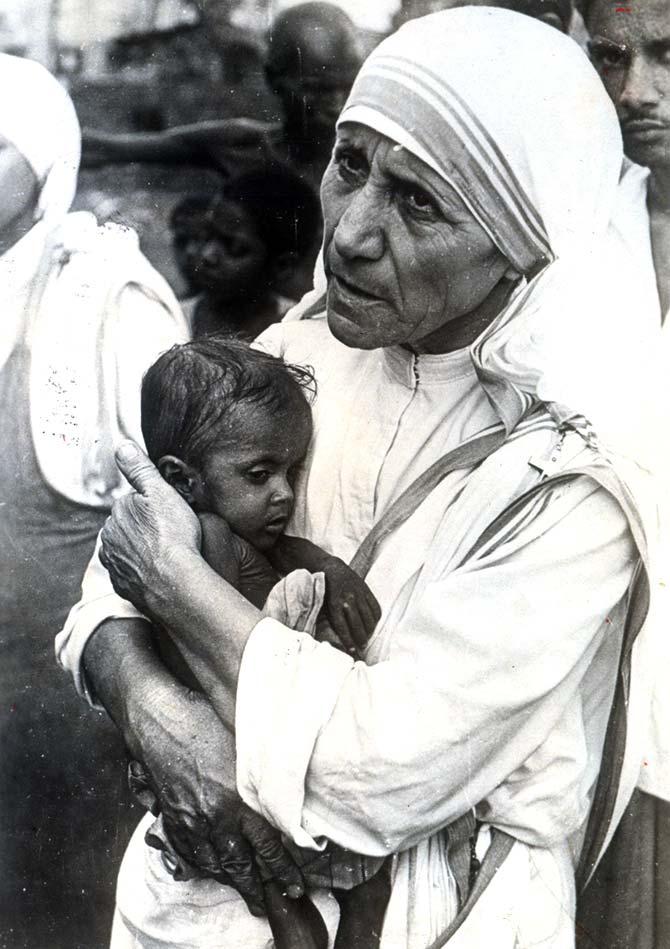 Here are some of the best photos of Mother Teresa's illustrious life.
September 03, 2016
Modi in Vietnam: From feeding fish to praying at Pagoda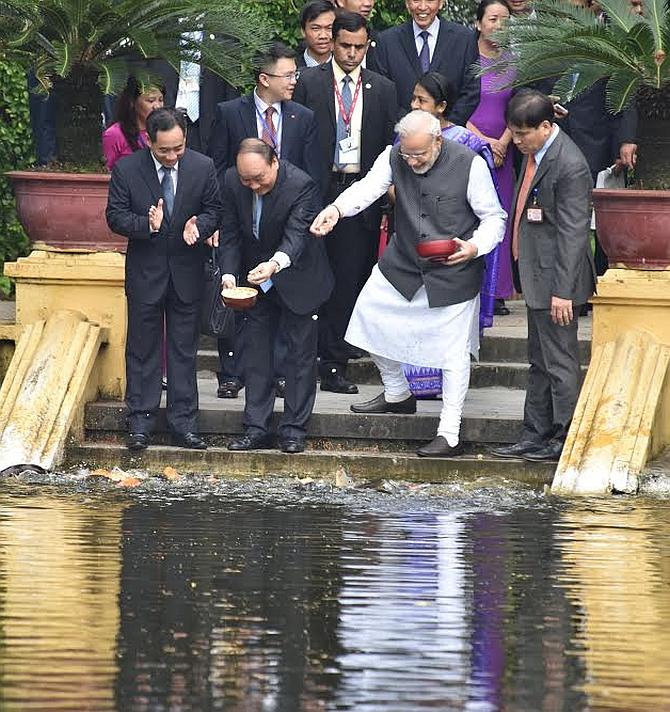 Prime Minister Narendra Modi on Saturday visited the historic Pagoda temple in Hanoi and the stilt house where revered Vietnamese leader Ho Chi Minh lived, apart from enjoying fishing with his Vietnamese counterpart Nguyen Xuan Phuc.
September 02, 2016
PHOTOS: The incredibly bizarre world around us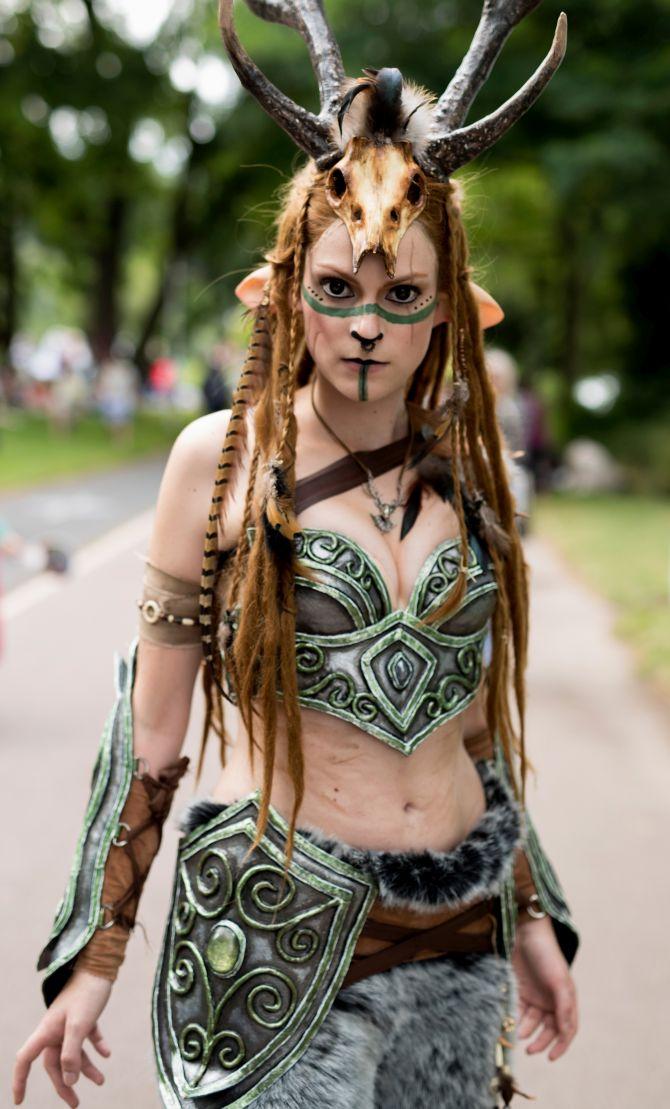 Here's a collection of images that show we live in a crazy, crazy world.
REWIND: India in the last 48 hours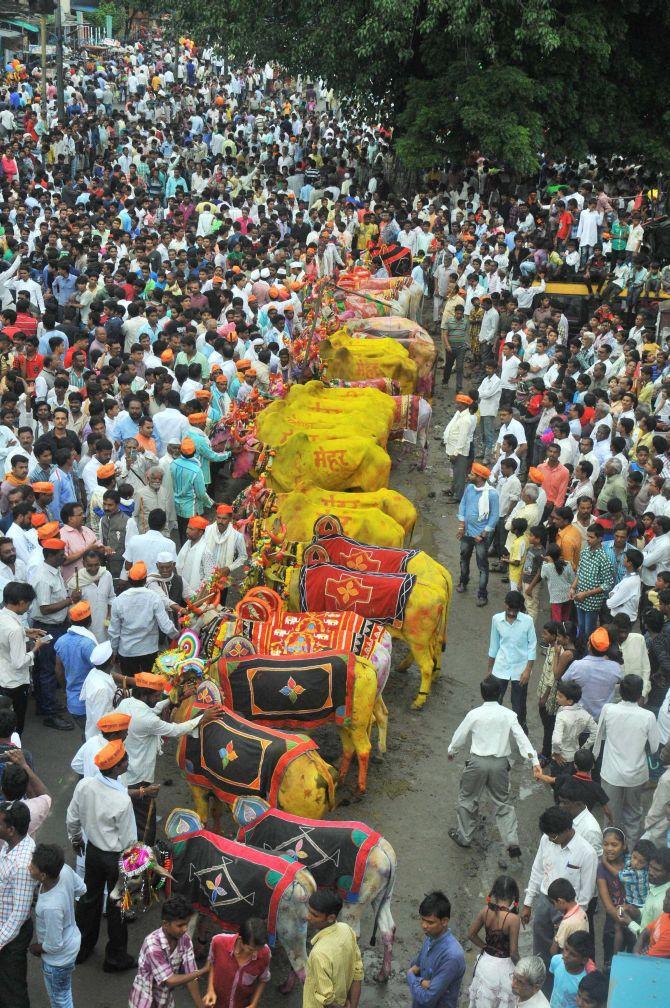 Here's a recap of the events from the past 48 hours.
First Look: Lalbaugcha Raja arrives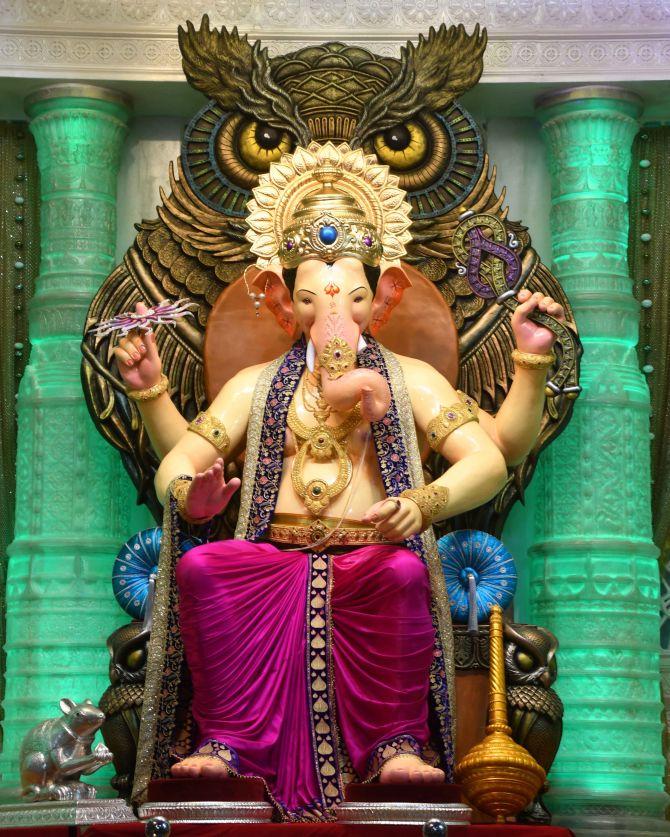 One of the oldest and most revered idol of Lord Ganesh, the Lalbaugcha Raja, was unveiled by the Lalbaug Sarvajanik Ganeshostav mandal in Mumbai on Thursday evening, three days before the Ganesh Chaturthi festival start.
September 01, 2016
PHOTOS: It's another day, but Delhi continues to crawl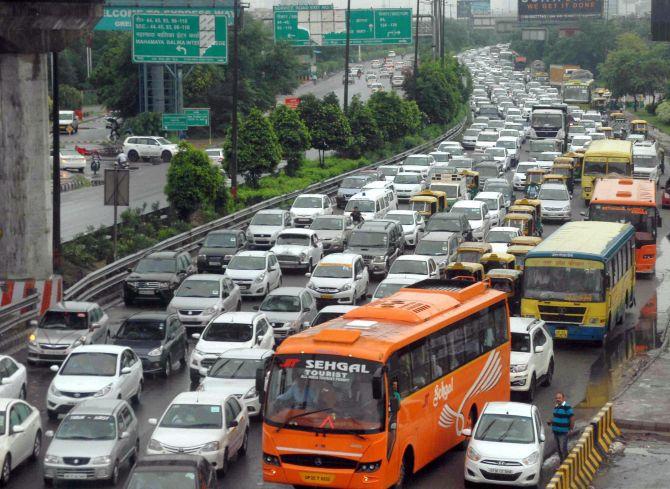 The national capital has received the season's highest rainfall at 63.1 mm.
Food fight! World's biggest tomato festival is here...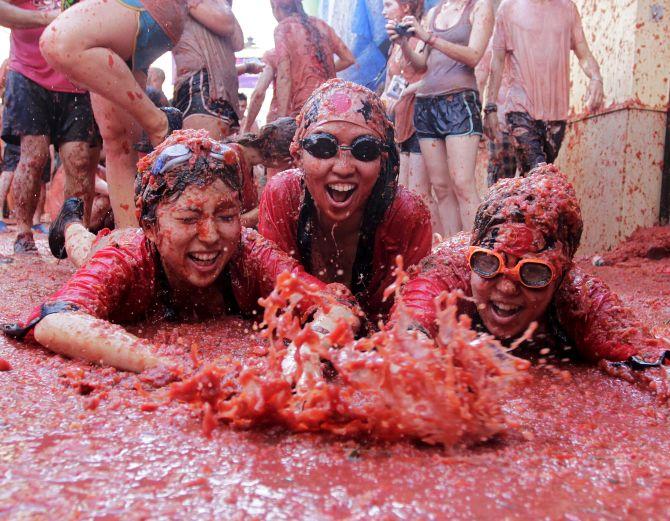 The annual Tomatina festival in Bunol, Spain was held on Wednesday.
August 31, 2016
Heavy downpour pounds Hyderabad; 7 killed in rain-related incidents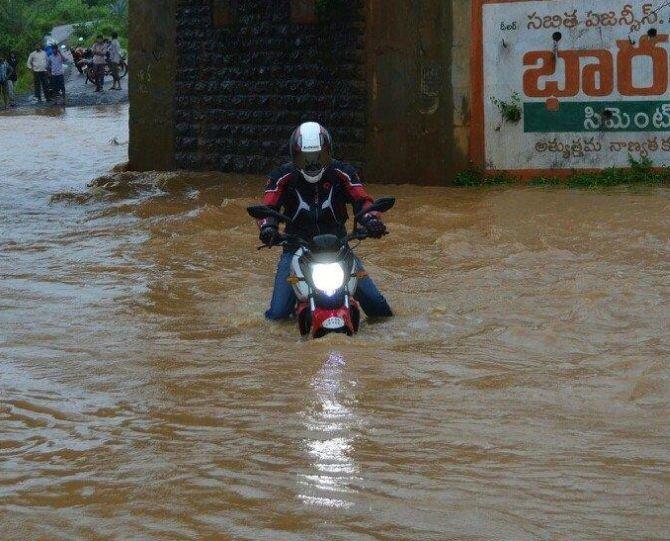 Heavy rains on Wednesday morning caused water-logging in many areas and massive traffic jams in Hyderabad, leading to people stuck on the roads.
PIX: Delhi, Gurugram drown yet again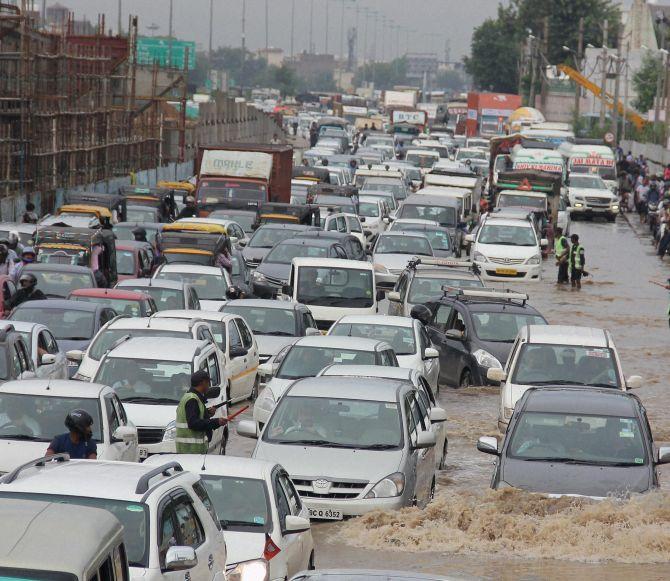 Traffic in national capital Delhi and adjoining Gurugram went haywire on Wednesday after heavy rains resulted in waterlogging in many parts of the city.
PHOTOS: When all you could see in London was feathers and colour!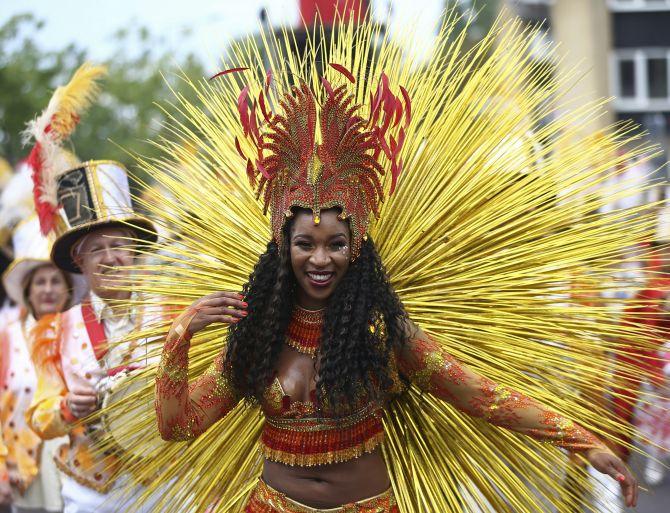 Scroll below to check out all the colour and madness from the carnival.
REWIND: India in the last 24 hours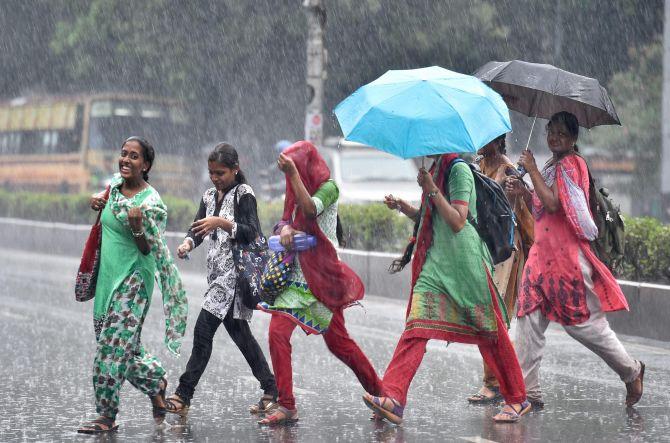 Here's a recap of the events from the past 24 hours.
August 30, 2016
Mark Zuckerberg meets Pope, gifts him Facebook drone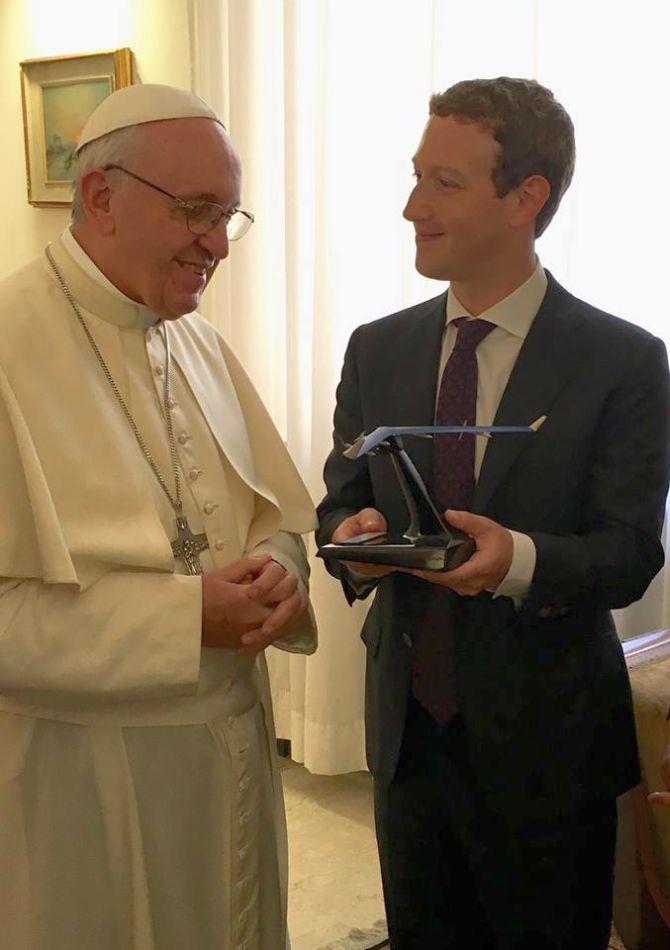 Pope Francis on Monday met Facebook founder Mark Zuckerberg wife, Priscilla Chan at the Vatican.
August 29, 2016
PHOTOS: Water-logged Delhi battles with slow traffic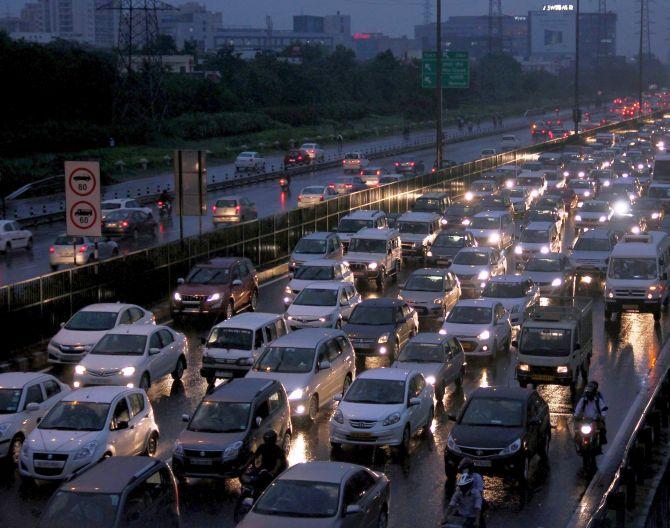 People were seen wading through knee-deep water in several areas. Commuters, too, had a hard time as vehicular traffic crawled on the roads clogged with long tailbacks.
2 external fuel tanks of navy's MiG-29K plane fall off, no casualty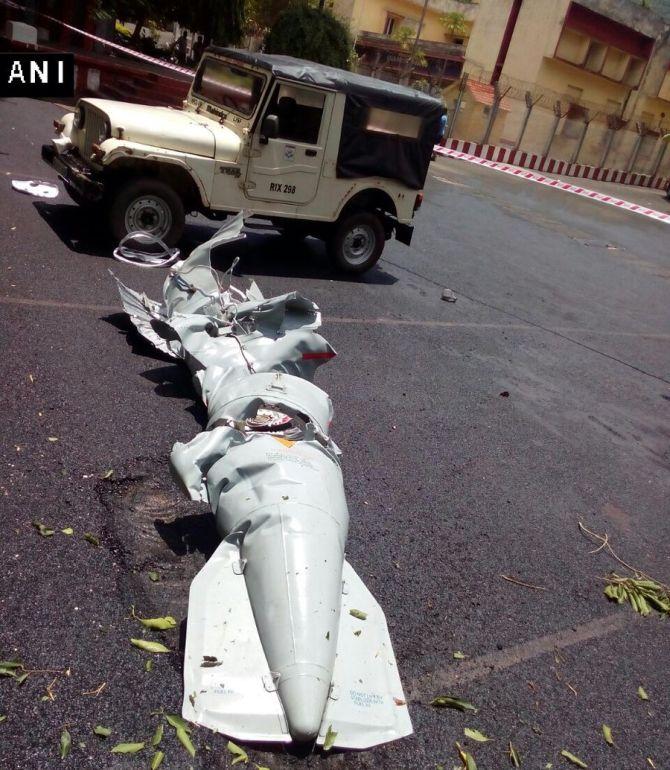 Ground support staff quickly doused the flames and no one was injured in the fire. There was also no damage to the aircraft or the runway.
Please, don't try this!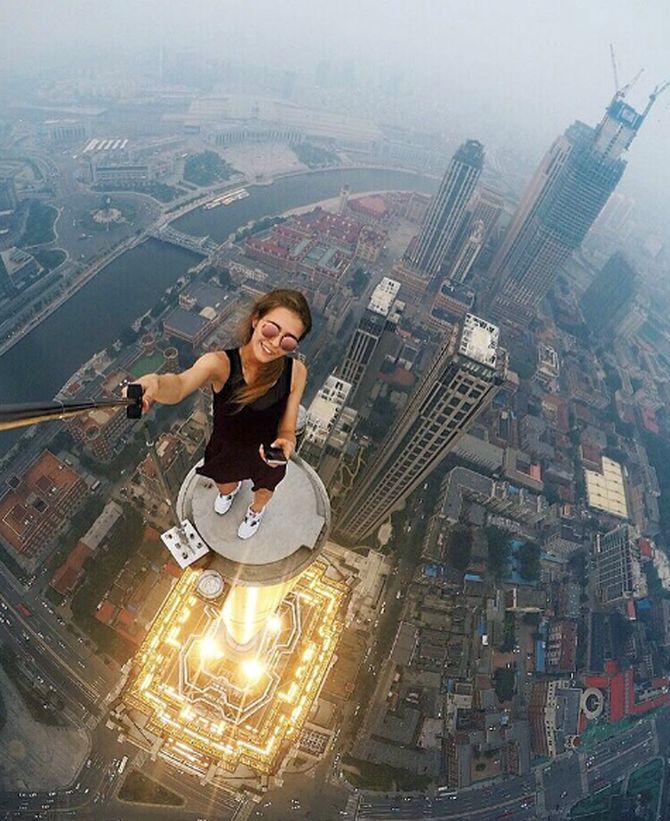 Angela Nikolau, 23, scales horrifying heights in her bid to get the world's great cities as her backdrop.
August 27, 2016
WB: 2 dead, 7 injured in stampede after fire in Murshidabad hospital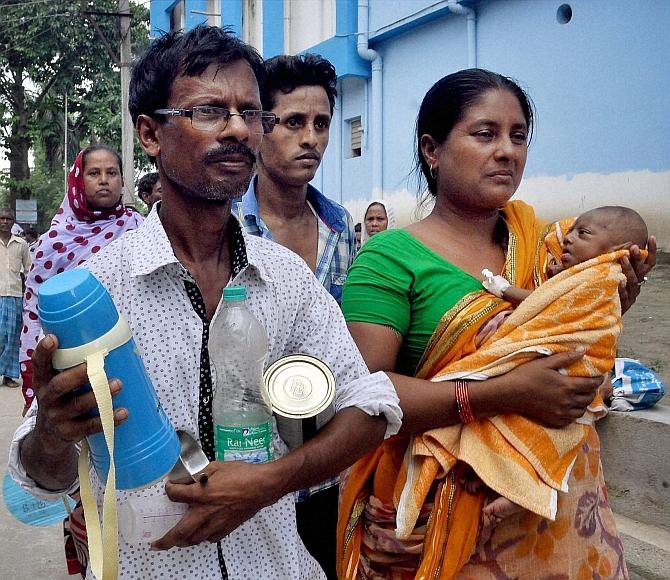 Two persons died and seven others were injured in a stampede after a fire broke out in Murshidabad Medical College Hospital in Berhampore district of West Bengal triggering panic among patients and their relatives.
PHOTOS: Faith in ruins after Italy's quake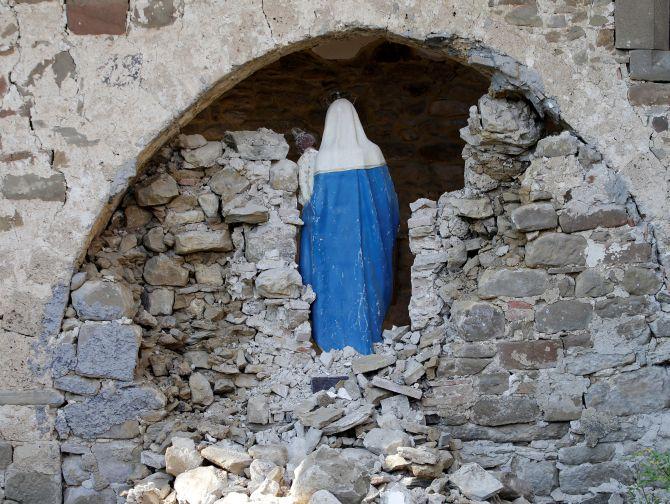 The earthquake has also damaged culturally important sites such as churches and cemeteries, leaving Virgin Mary statues and coffins in the rubble.
August 26, 2016
PHOTOS: Celebrating Mother Teresa's life and work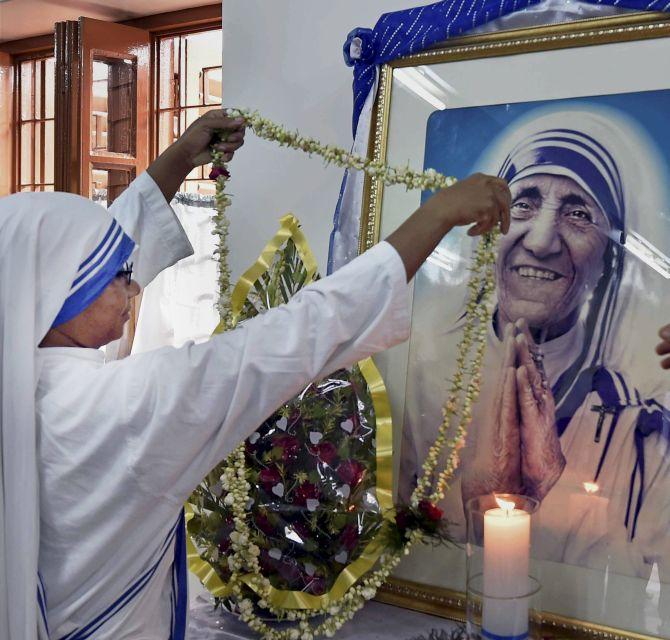 Prayers were held across the Missionaries of Charity centres and churches all over the state to mark the late Roman Catholic nun's birth anniversary and to also commemorate her journey to sainthood on September 4.
REWIND: India in the last 24 hours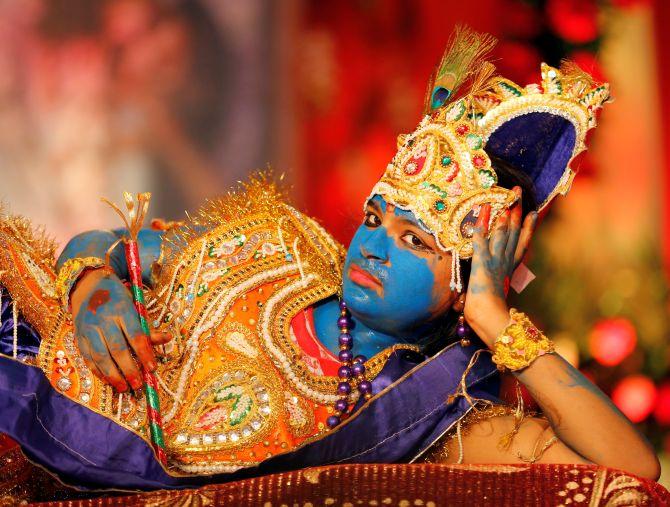 Here's a recap of the events from the past 24 hours.
August 25, 2016
PIX: When Mehbooba lost her cool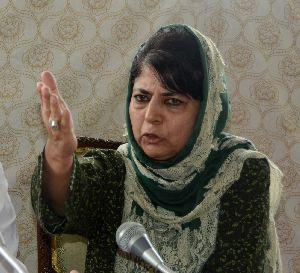 Jammu and Kashmir Chief Minister Mehbooba Mufti Sayed was at her volatile best during a joint press conference in Srinagar with Union Home Minister Rajnath Singh.
IMAGES: Govindas protest SC Dahi Handi rule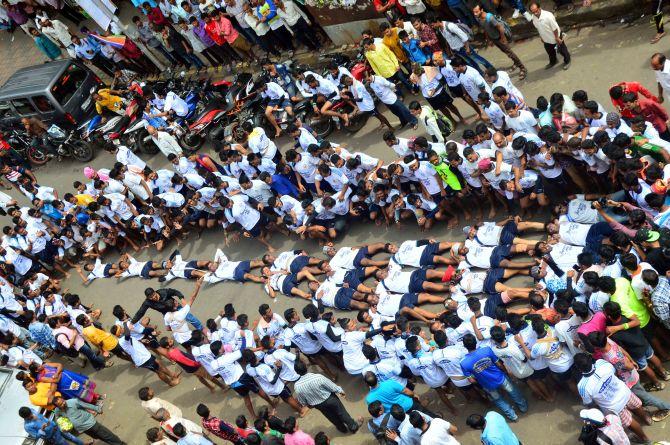 The 'govindas' showed black flags, formed a pyramid on the road and used a ladder to break the Dahi Handi as a sign of protest.
Italy quake: Death toll rises to 247 as search for survivors continues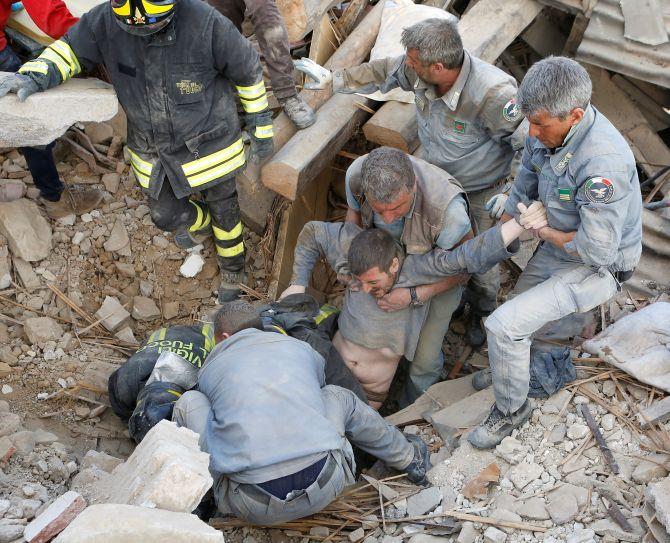 Rescuers were working through the night to pull survivors from the rubble and "won't slow down".
REWIND: India in the last 24 hours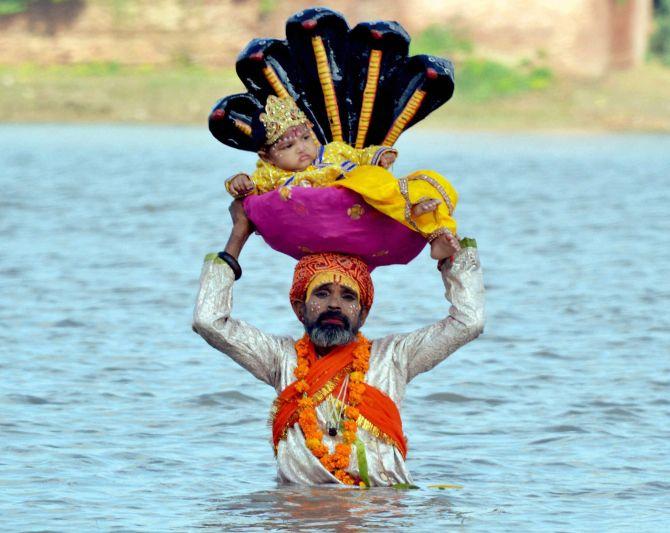 Here's a recap of the events from the past 24 hours.
August 23, 2016
Raging Ganga, Yamuna flood UP; Varanasi, Allahabad worst hit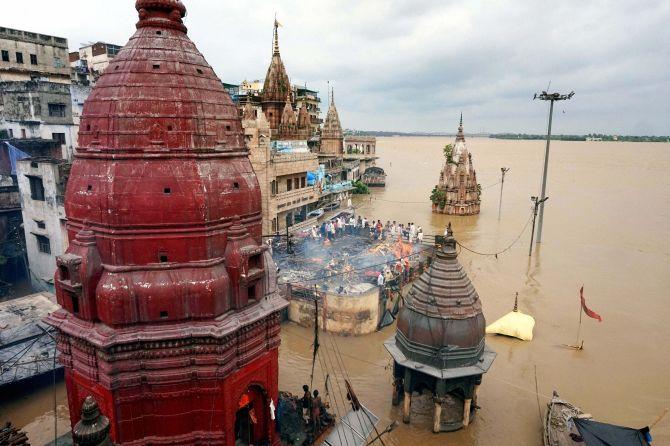 The water level of major rivers, including the Ganga and the Yamuna, in Uttar Pradesh has crossed the danger mark at several places.
REWIND: India in the last 24 hours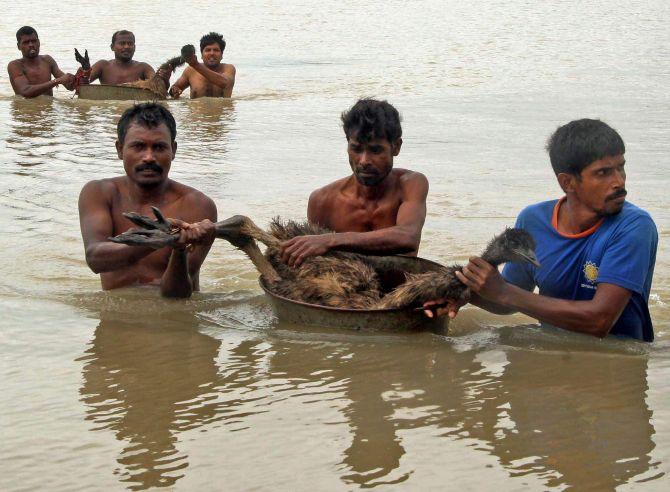 Here's a recap of the events from the past 24 hours.
'Is his heart beating?'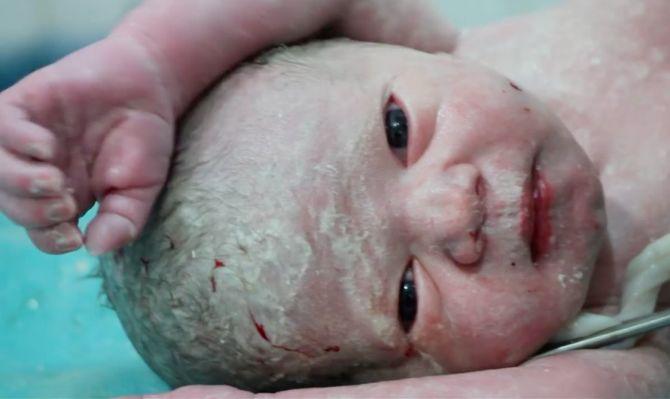 The emotional moment when doctors delivered the baby of a Syrian woman injured by an airstrike.
PHOTOS: The odd, crazy world we live in!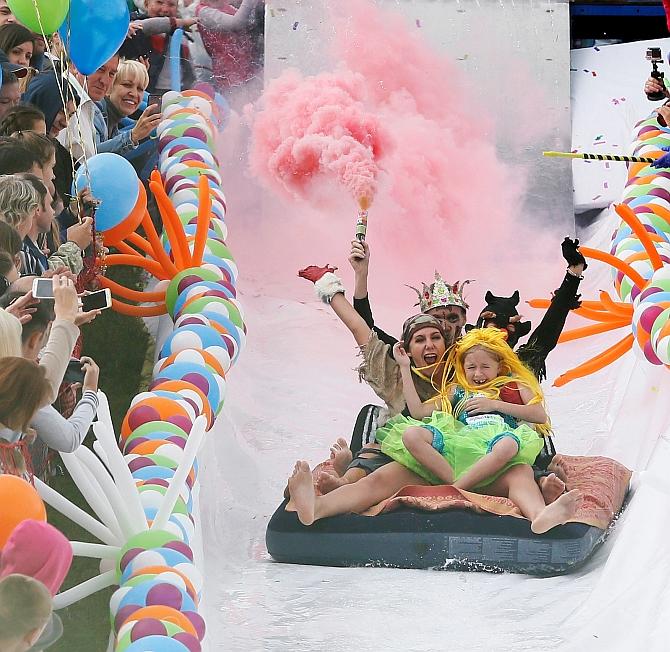 This week's collection of unbelievably unusual images that show it's an odd, crazy world we live in.
August 22, 2016
Band, bajaa and masti: Indians celebrate I-Day in New York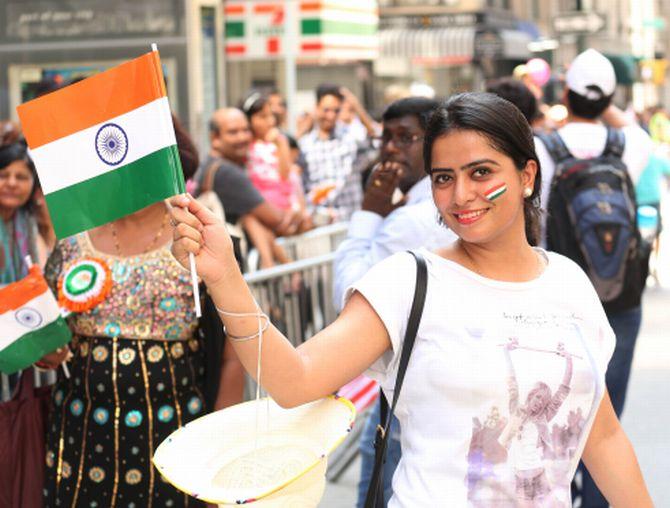 The 36th India Day Parade ran through about 13 streets in Madison avenue in Manhattan.
Does the world care about these children?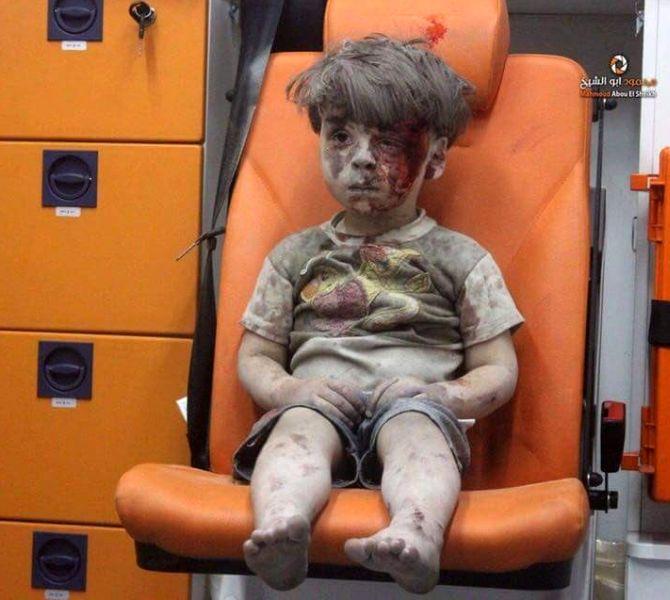 How much longer will we see such tragic images of children ravaged by war?
On visit to flood-hit areas, Madhya Pradesh CM gets a 'lift' by cops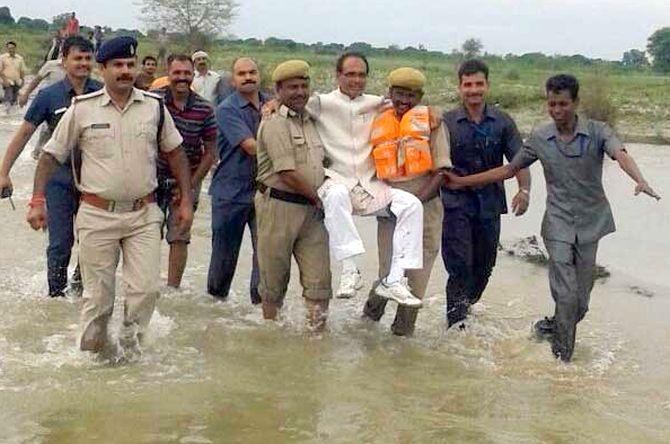 images of Shivraj Singh Chouhan being carried by cops on his visit to Panna to take stock of the situation went viral.
REWIND: India in the last 48 hours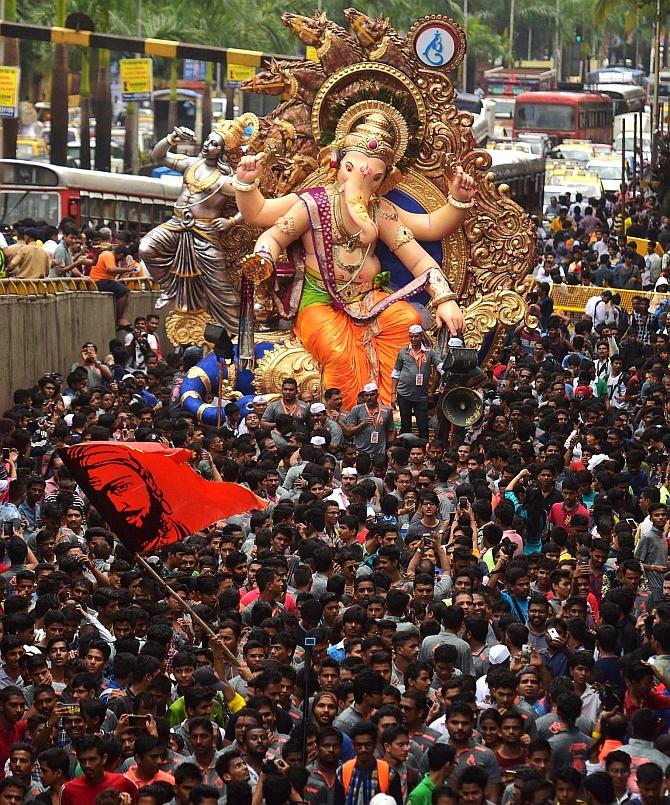 Here's a recap of the events from the past 48 hours.
August 21, 2016
Rivers in spate, flood situation grim in Bihar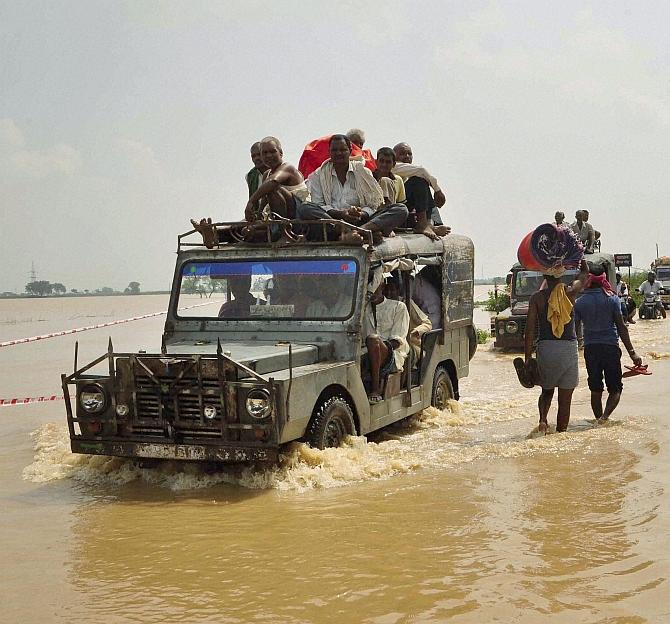 With the rise in level of the Ganga, Bihar Chief Minister Nitish Kumar has expressed apprehension of further rise in water level by Monday in view of release of water from Bansagar dam as flood-like situation prevailed in the state.
August 19, 2016
Naked Trump becomes the butt of jokes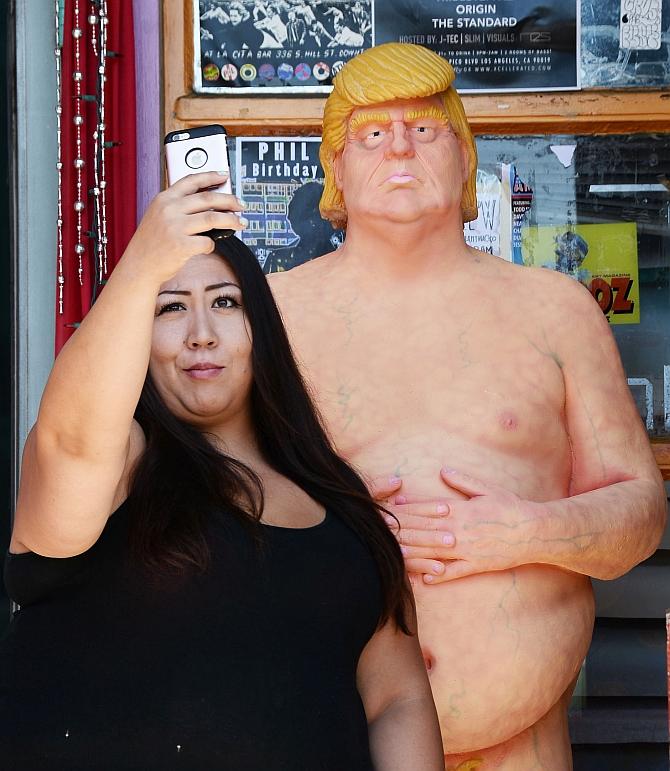 It's Donald Trump like he's never been seen before.
REWIND: India in the last 24 hours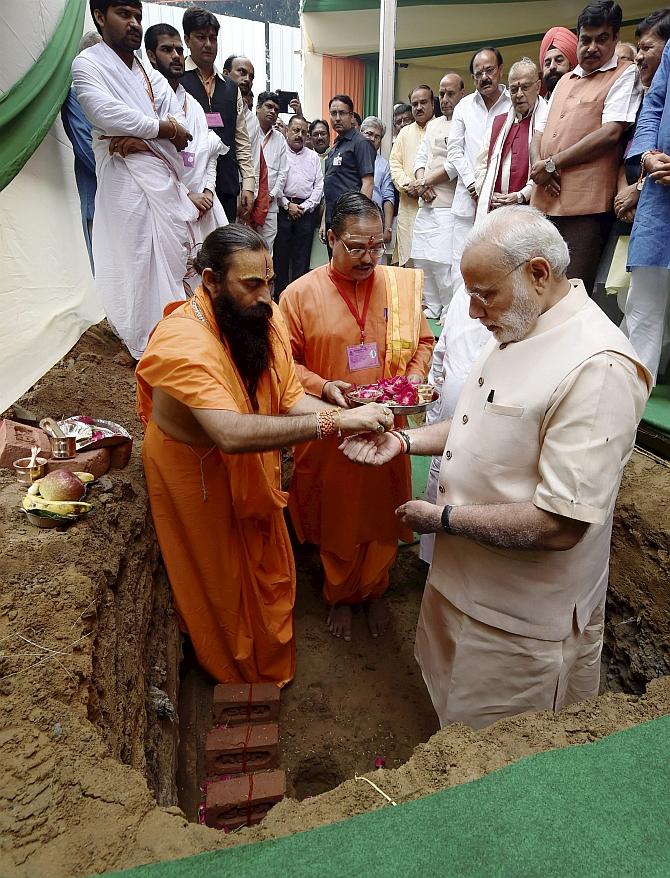 Here's a recap of the events from the past 24 hours.
August 18, 2016
REWIND: India in the last 24 hours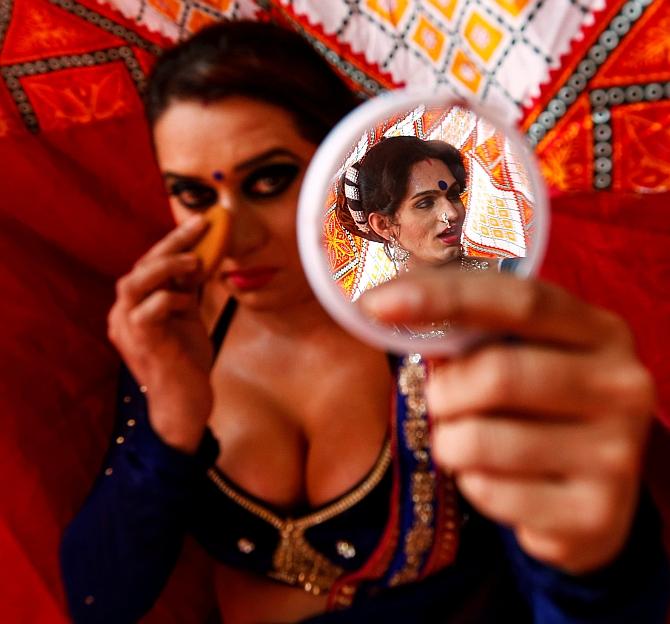 Here's a recap of the events from the past 24 hours.
August 17, 2016
PHOTOS: When the Rio Olympics inspired art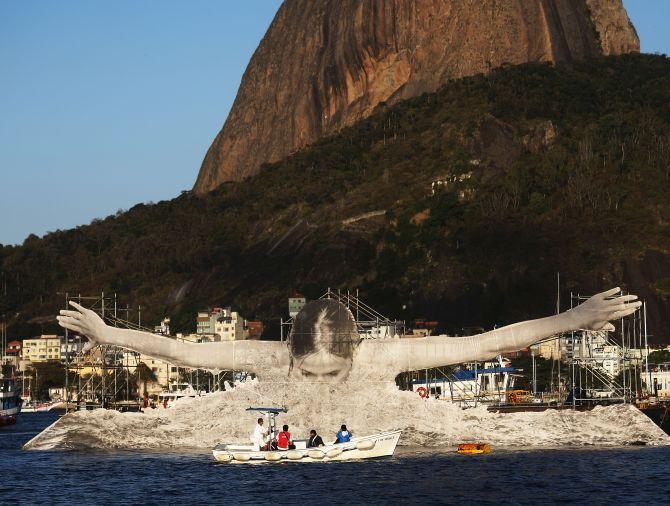 JR through his art is paying a playful tribute to the Olympians who have trained day and night to achieve success and are nothing short of superheroes!
REWIND: India in the last 24 hours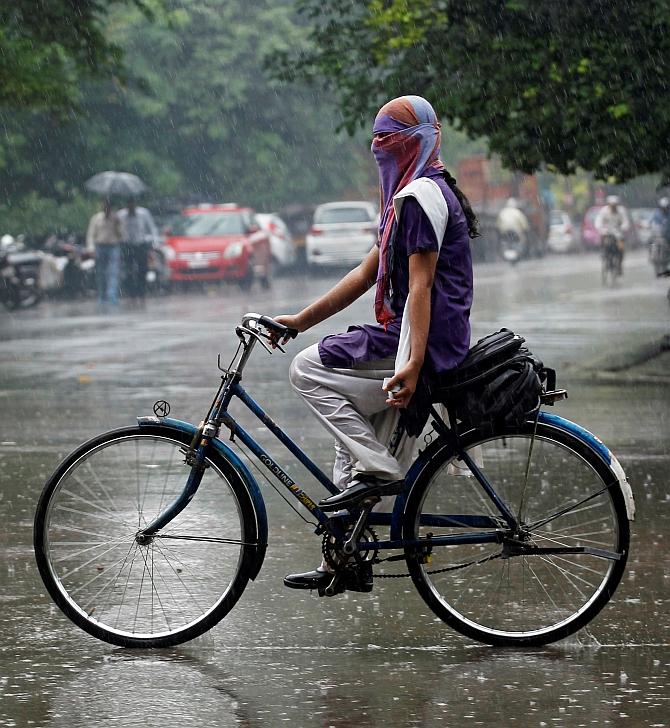 Here's a recap of the events from the past 24 hours.
REVEALED: British-era bunker under Maharashtra governor's residence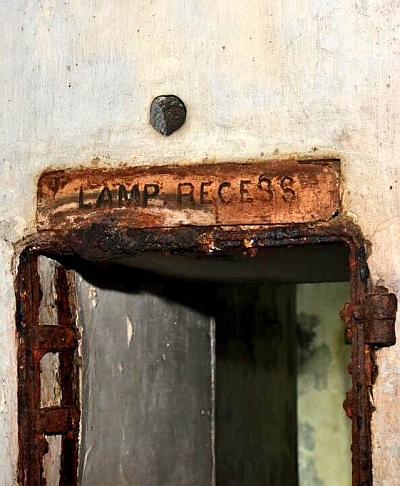 The bunker opens with a 20-ft tall gate and a ramp on the western side. There are long passages and small to medium rooms on either side.
August 16, 2016
REWIND: India in the last 24 hours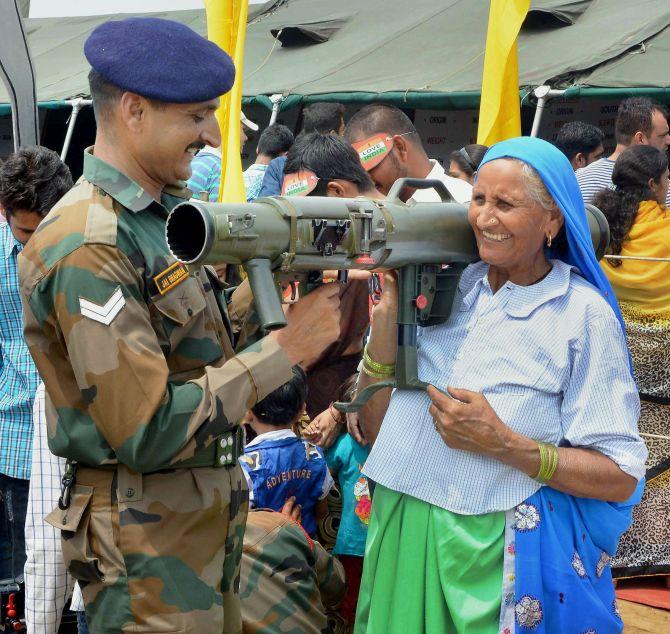 Here's a recap of the events from the past 24 hours.
August 15, 2016
PHOTOS: States celebrate Independence Day with fervour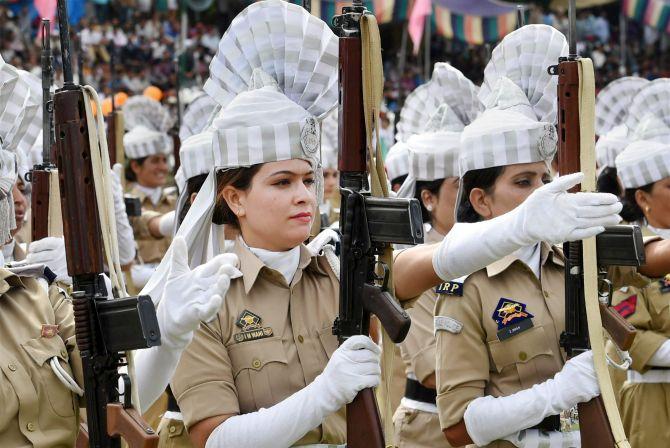 Glimpses of I-Day celebrations across India.
PHOTOS: When PM hailed free India @ Red Fort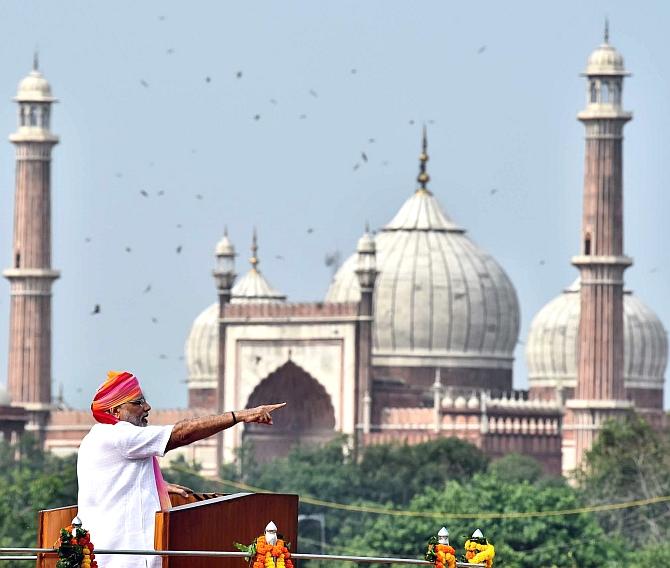 Some glimpses of the Independence Day celebrations at the Red Fort
August 14, 2016
Red Fort comes under security blanket for August 15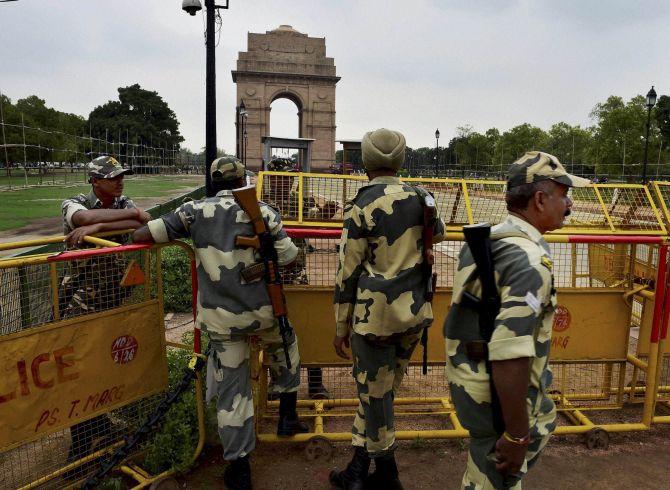 Thousands of security personnel, 200 CCTVs and two high-mast, high-resolution cameras and 60 sniffer dogs of paramilitary forces and Delhi Police will also be part of the extensive security arrangement.
PHOTOS: When the stars came falling down!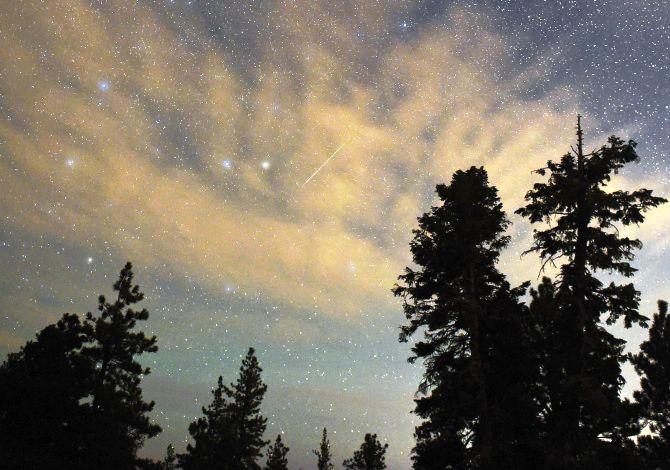 Stunning photographs have captured the Perseid meteor shower that has delighted stargazers across the world.
August 13, 2016
India@70: Reliving the struggle for freedom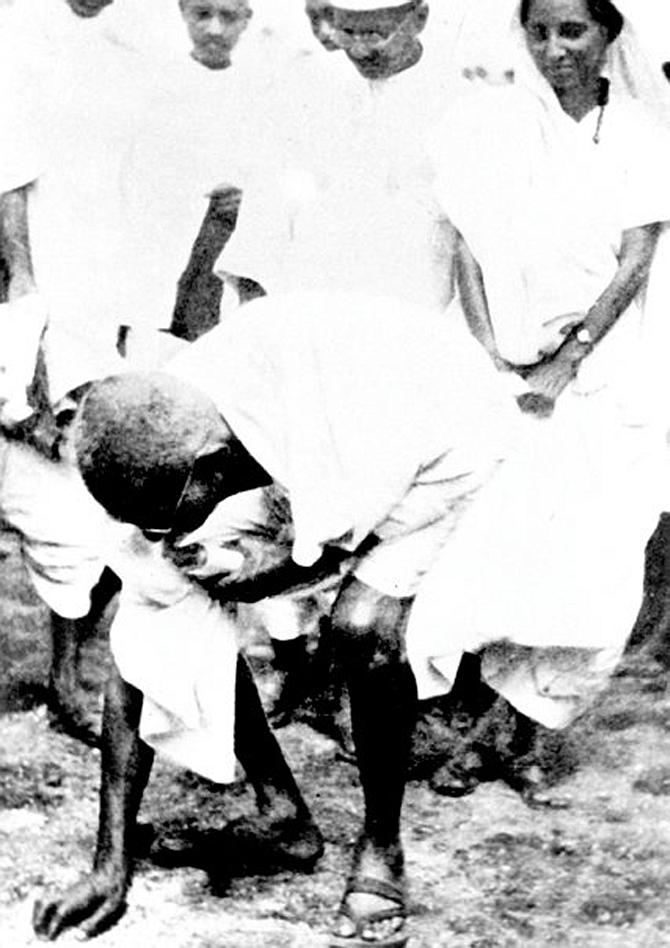 As India celebrates its 70th Independence day, Rediff.com pays homage to millions who laid their lives for the country's freedom.
August 12, 2016
REWIND: India in the last 24 hours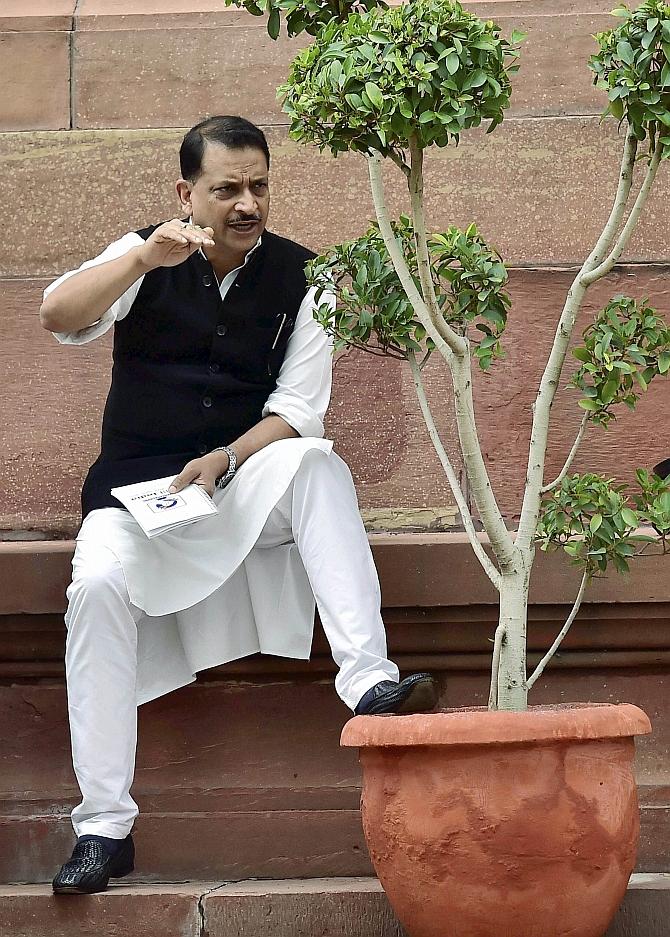 Here's a recap of events that occurred in India in the past 24 hours.
August 11, 2016
Suction-cup daredevil scales Trump Tower to meet him!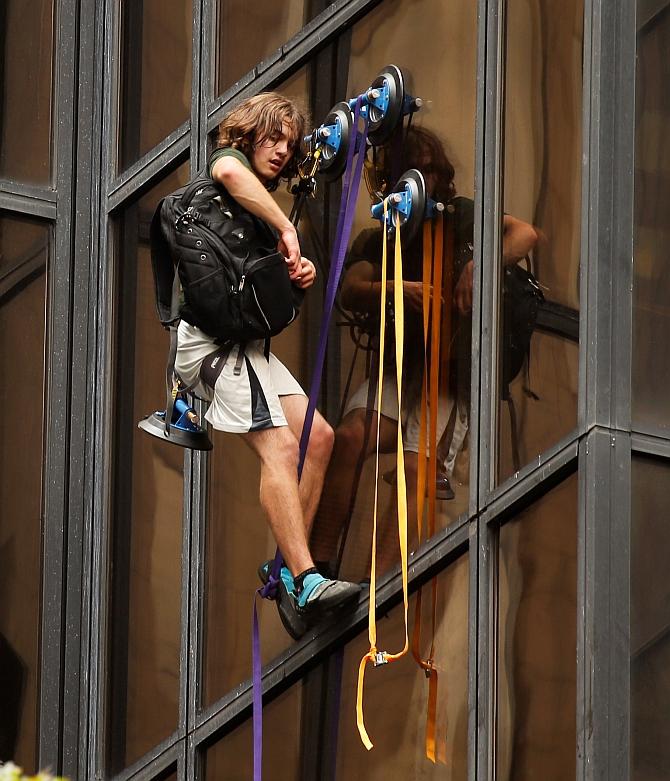 He just wanted to meet Donald Trump.
REWIND: India in the last 24 hours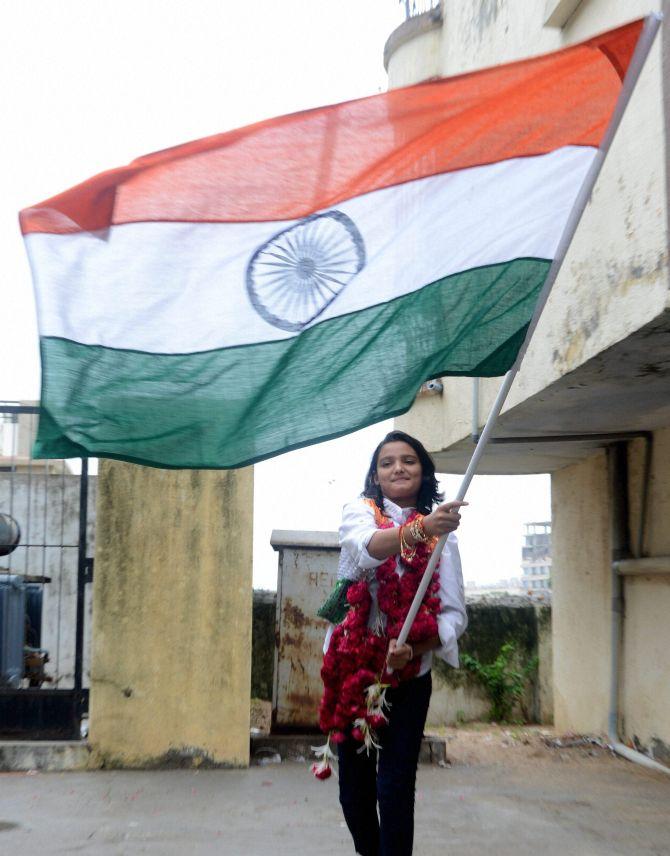 Here's a recap of events that occurred in India in the past 24 hours.
August 10, 2016
REWIND: India in the last 24 hours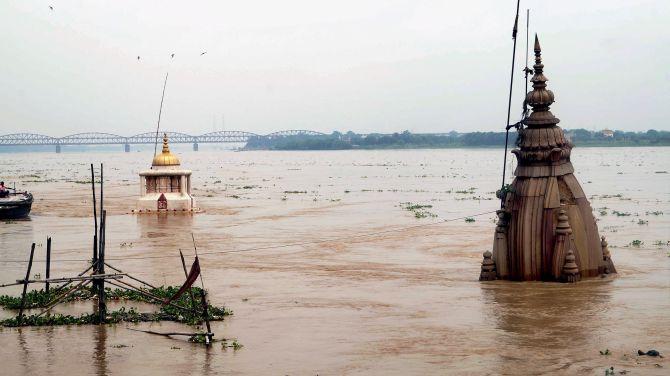 Here's a recap of events that occurred in India in the past 24 hours.
PHOTOS: Union minister Babul Supriyo gets hitched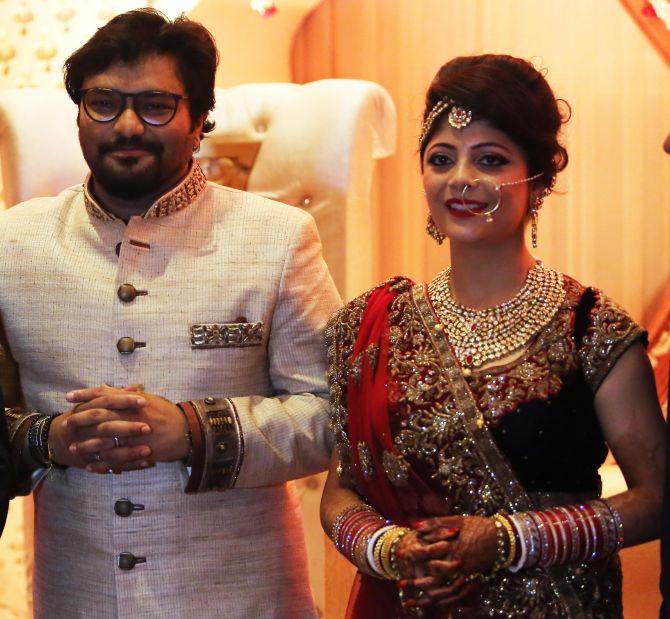 Union minister Babul Supriyo on Tuesday tied the knot with his girlfriend Rachna Sharma.
August 09, 2016
REWIND: India in the last 24 hours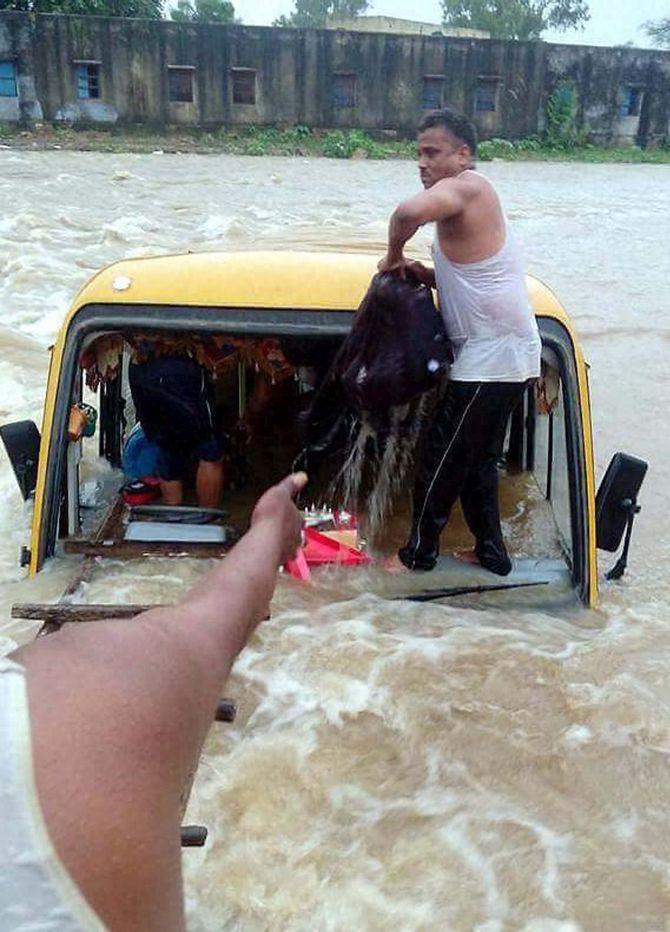 Here's a recap of events that occurred in India in the past 24 hours.
August 08, 2016
REWIND: India in the last 24 hours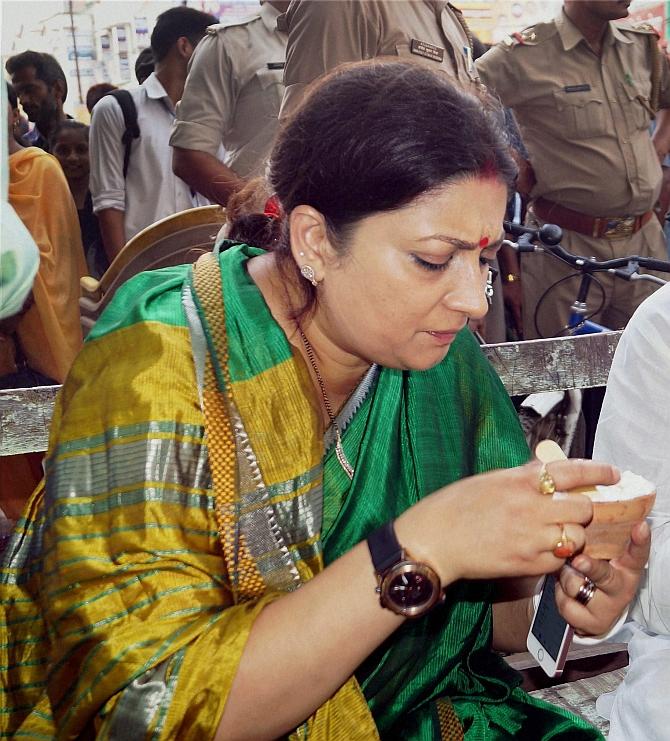 Here's a recap of events that occurred in India in the past 24 hours.
August 05, 2016
Rain wreaks havoc in Mumbai: Flights, trains delayed; roads flooded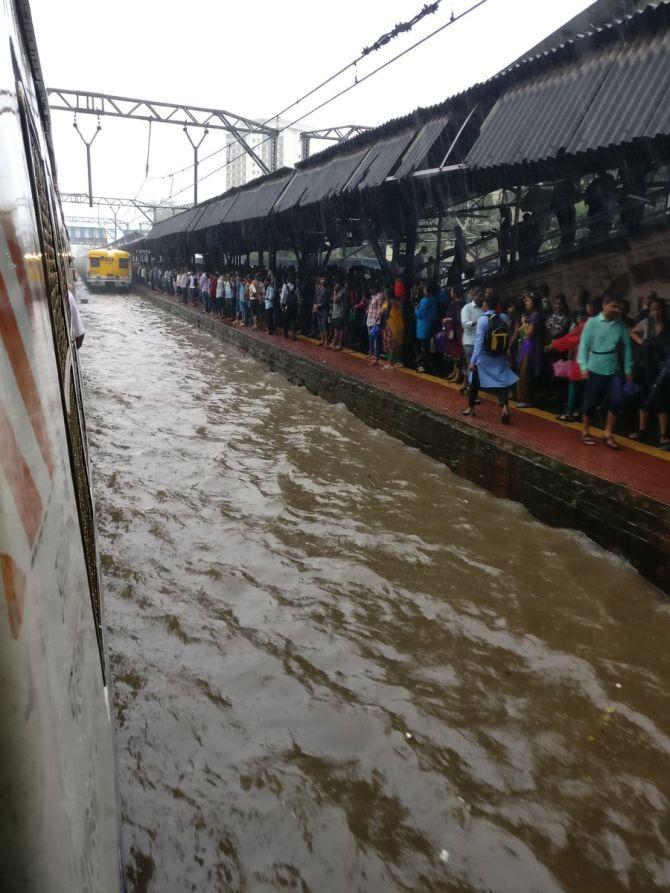 Incessant rains since the wee hours of Friday threw normal life out of gear in Mumbai
REWIND: India in the last 24 hours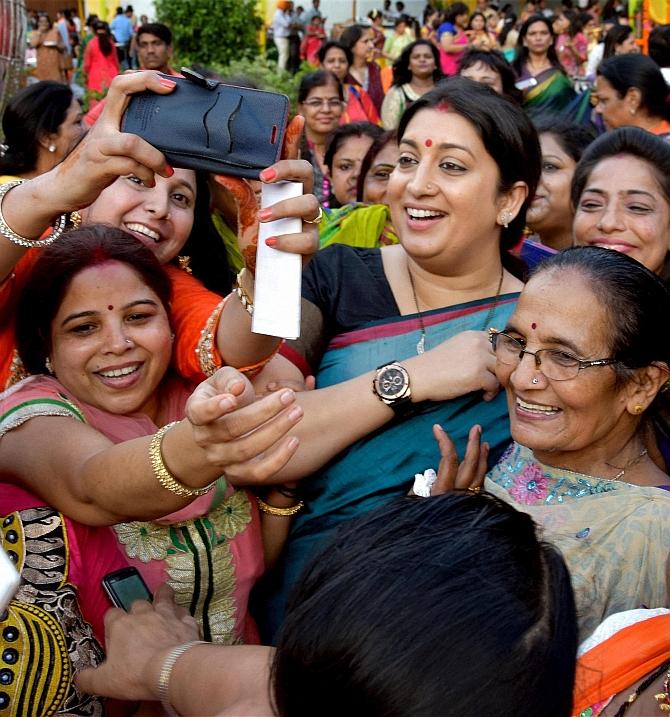 Here's a recap of events that occurred in India in the past 24 hours.
August 04, 2016
REWIND: India in the last 24 hours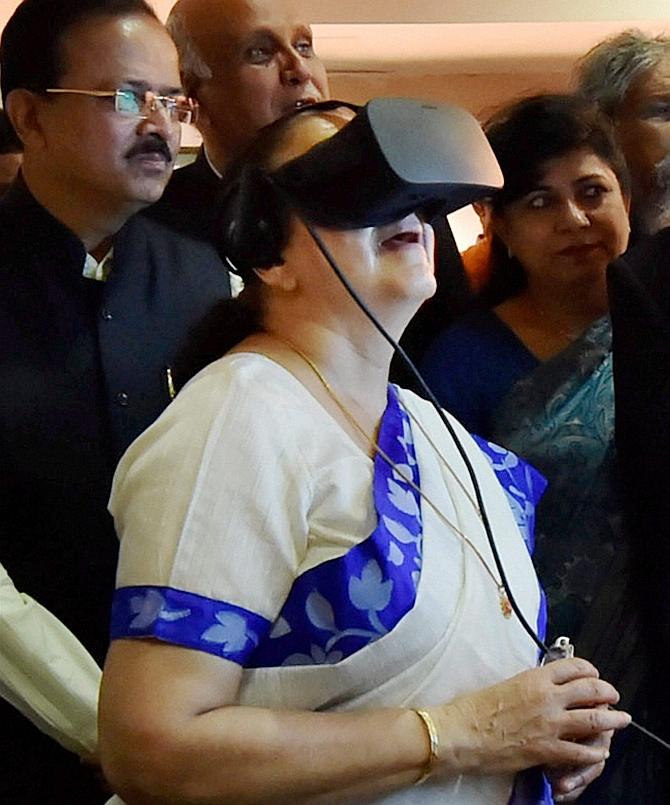 A recap of events that occurred in India in the past 24 hours.
Mahad bridge collapse: Government orders judicial probe; 9 bodies found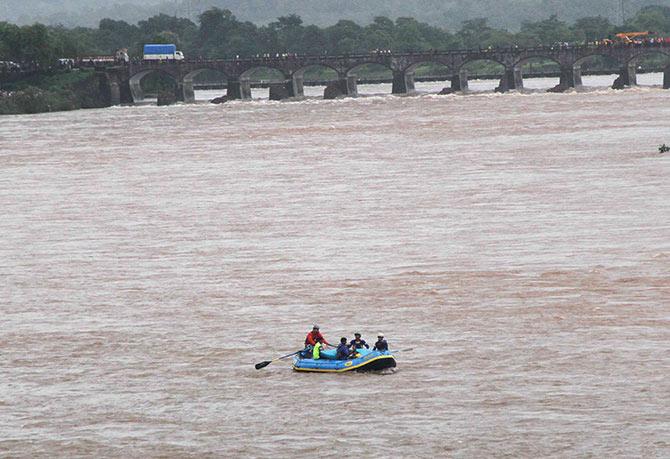 Earlier on Thursday morning, a 300 kg magnet was lowered with the help of a crane in the river to trace the missing buses.
PHOTOS: The tank wars have begun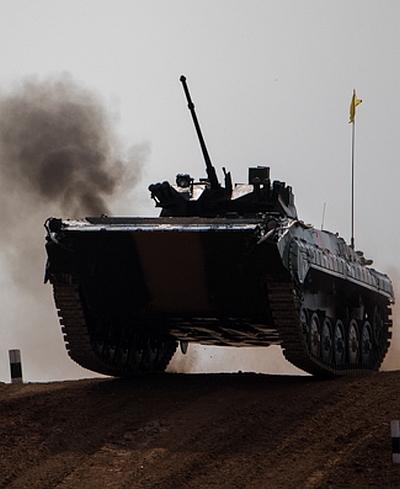 This year's competition with 23 contests is taking place in two countries -- Russia and Kazakhstan.
London knife attack leaves 1 dead, 5 hurt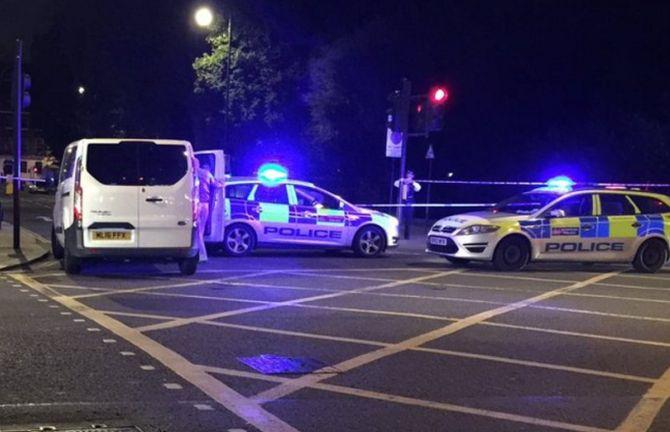 Scotland Yard said the incident is being treated as possible terror offence.
August 03, 2016
PIX: World navies unite @ Rim of the Pacific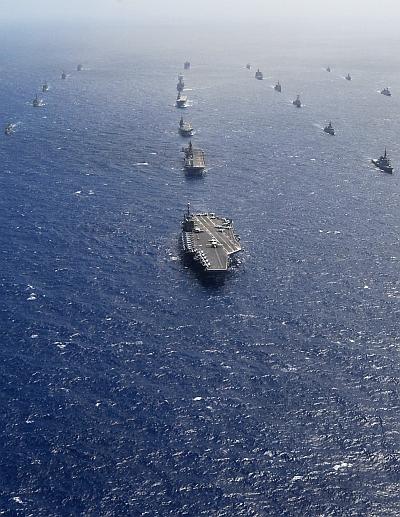 Curtains will fall on the Rim of the Pacific 2016, the world's largest international maritime exercise, on August 4.
August 02, 2016
Sonia Gandhi complains of high fever, Varanasi road show halted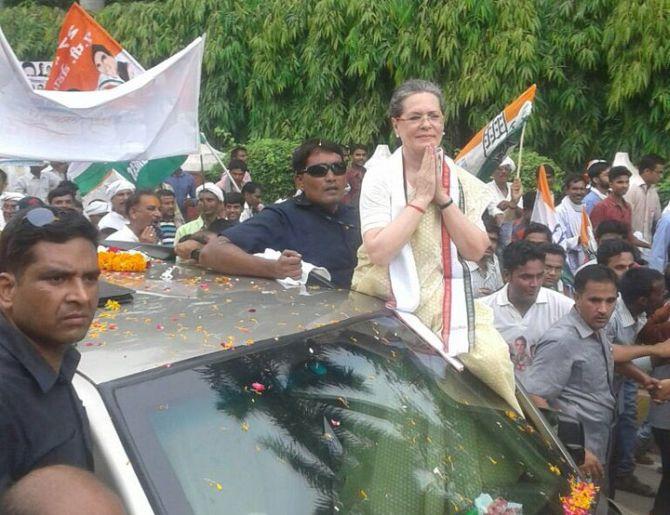 This is Gandhi's first visit to Varanasi after Modi became prime minister.
With #IWearHandloom, Smriti Irani weaves magic on social media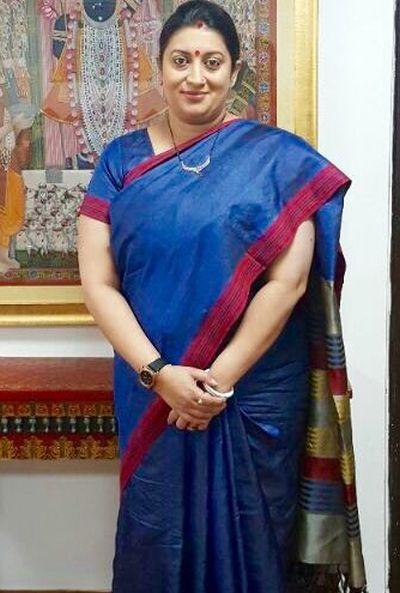 Starting a social media campaign, Irani has urged people to follow suit and share pictures of themselves in handloom textiles, tagging five others.
This museum is way too sweet to miss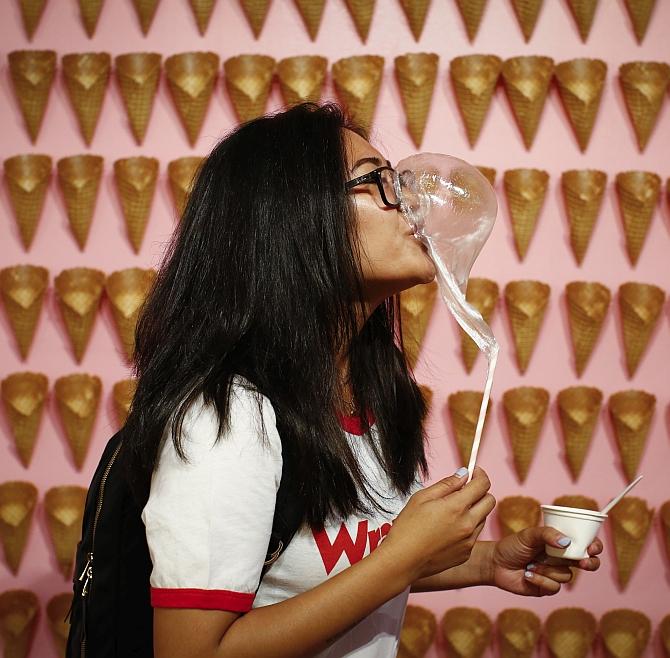 A temporary museum dedicated to all things ice cream has opened up in New York.
Assam flood: Over 200 animals drown at Kaziranga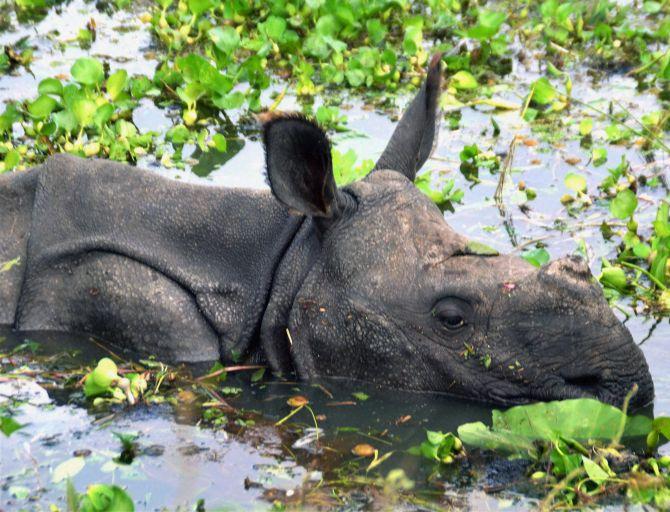 The National Park is facing the worst floods in the past 10 years.
REWIND: India in the last 24 hours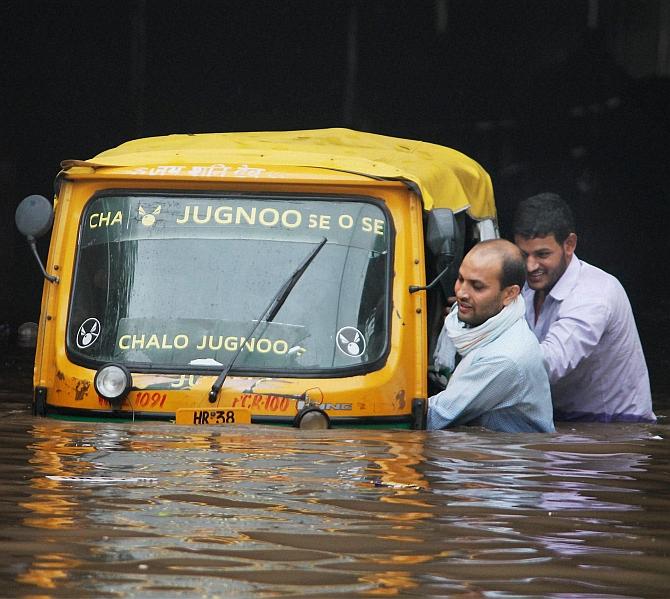 Here's a recap of events that occurred in India in the past 24 hours.
August 01, 2016
Tanks and missiles enter Parliament complex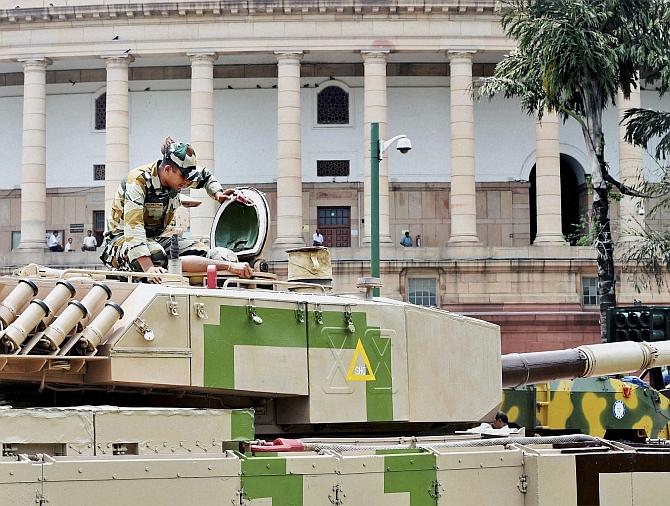 The Defence Reasearch and Development Organsiation has, in an attempt to give India's lawmakers 'a first-hand account of huge work undertaken by the agency', begun rolling in weapon systems manufactured by it outside the Parliament.
No let up in Assam, Bihar floods; 55 people dead and counting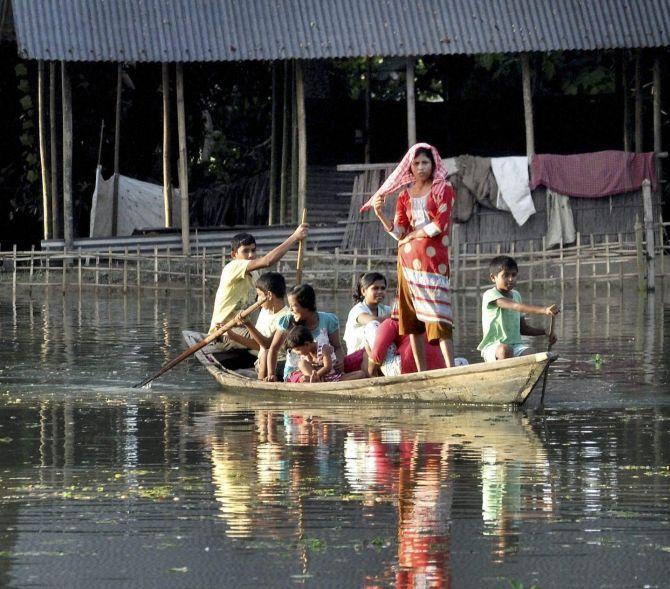 Till Sunday evening, floods in Assam had claimed 29 lives while in Bihar the flood toll stood at 26.
PHOTOS: Following in a dinosaur`s footsteps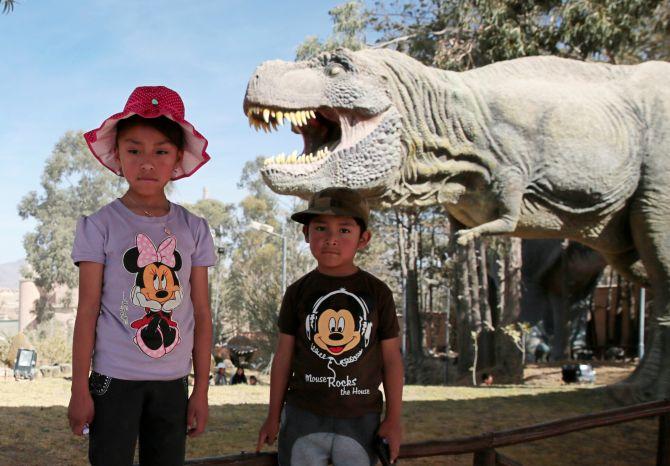 Rediff.com presents the terrifying T-Rex footprints and the massive titanosaurs that stun visitors from around the world.
July 29, 2016
In drenched Bengaluru, boats are out on the streets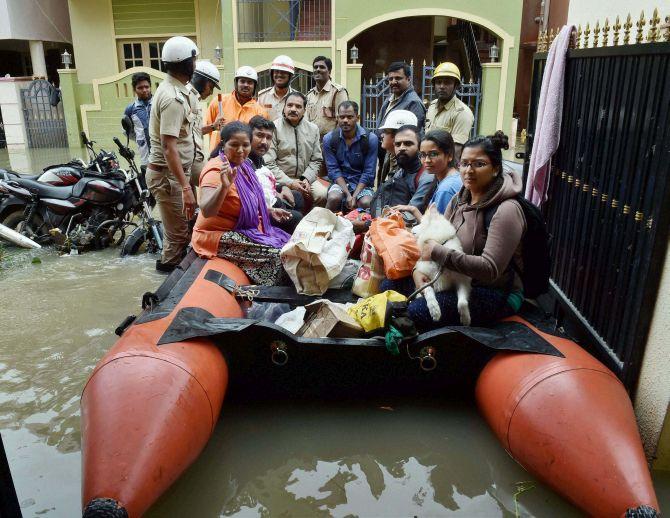 A couple of days of rainfall and the Bengaluru residents are struggling to stay afloat.
Rains, traffic snarls bring Gurugram to a grinding halt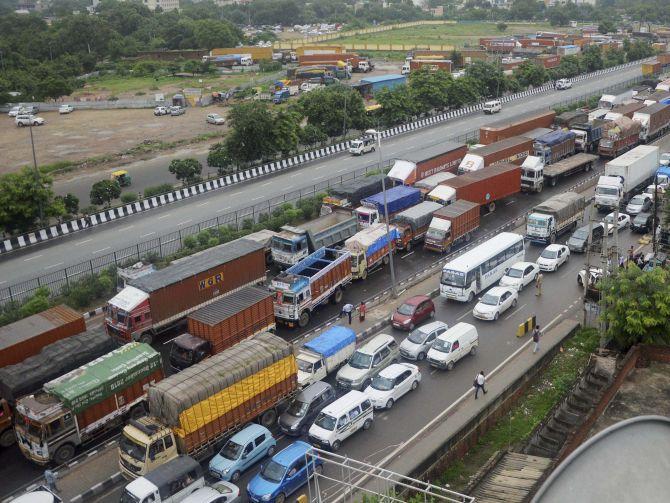 Repeated spells of rain pushed traffic out of gear, leading to snarls that would give anyone a nightmare.
REWIND: India in the last 24 hours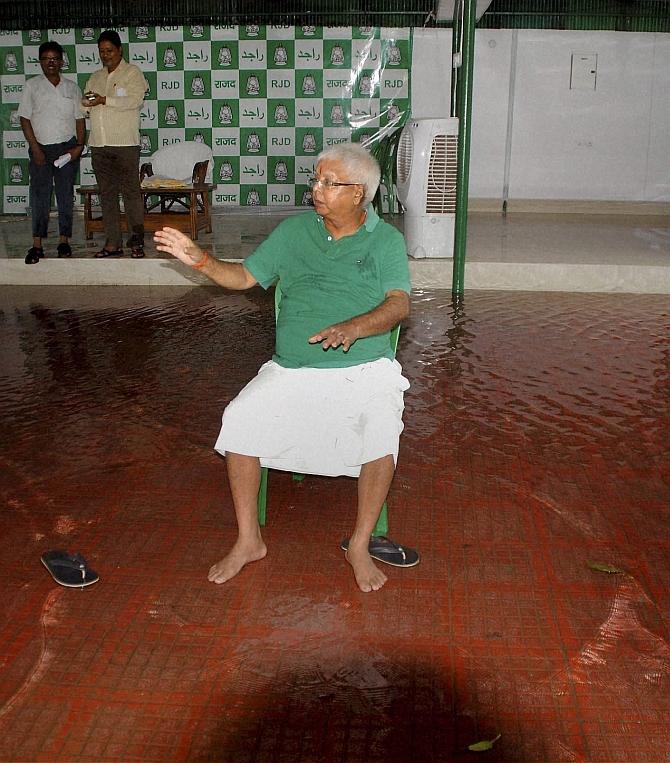 Here's a recap of events that occurred in India in the past 24 hours.
July 28, 2016
From 'likable enough' to lovefest: Obama and Clinton through the years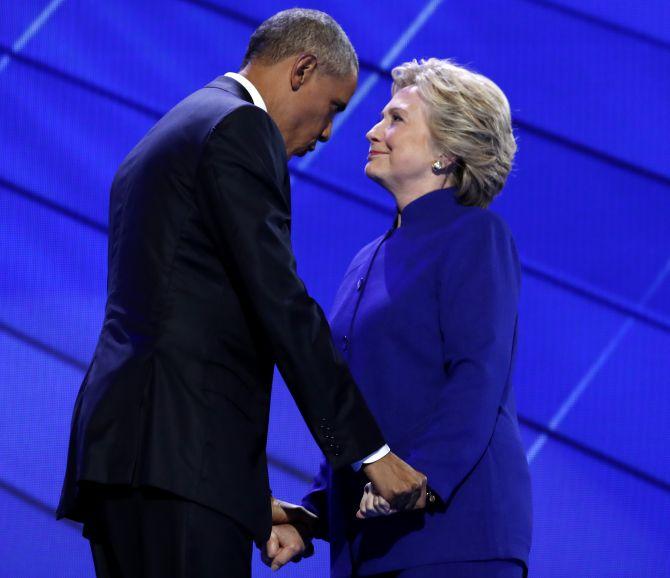 Take a look back at the two politicos over the years.
REWIND: India in the last 24 hours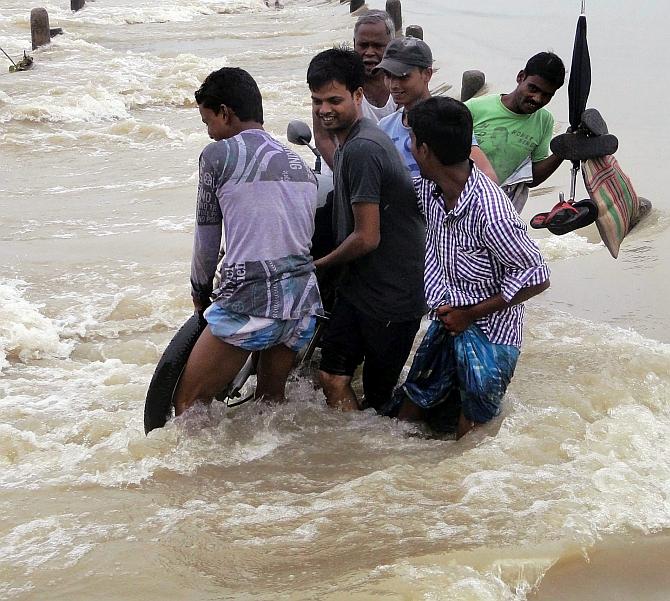 Here's a recap of events that occurred in India in the past 24 hours.
These 15 amazing photos will leave you starry-eyed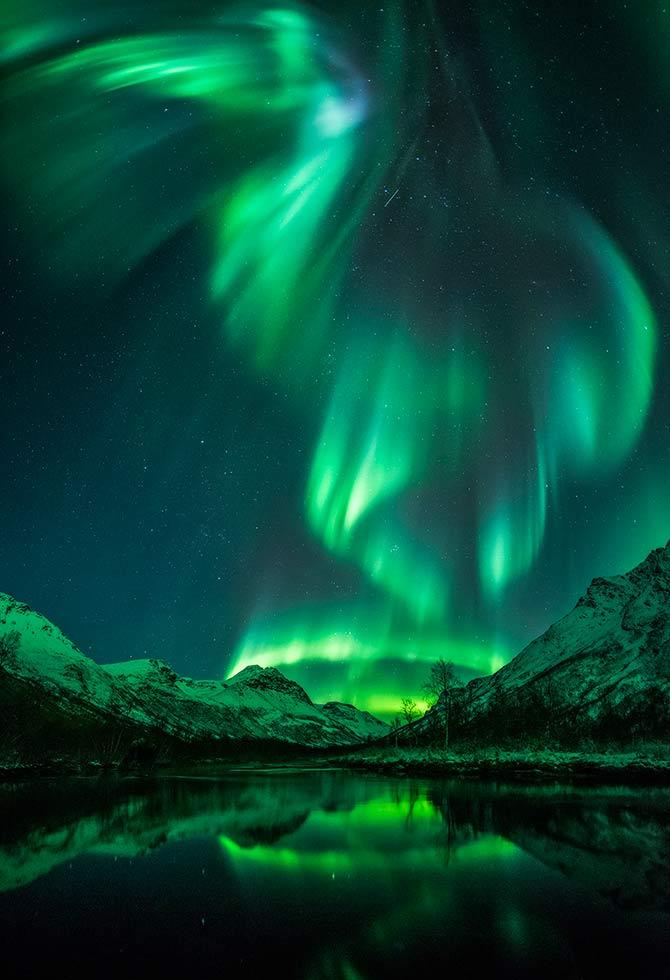 Gorgeous galaxies and stunning stars make up this selection of pictures from the shortlisted entries for this year's Insight Astronomy Photographer of the Year competition.
July 27, 2016
Assam floods: 16 lakh affected, death toll rises to 12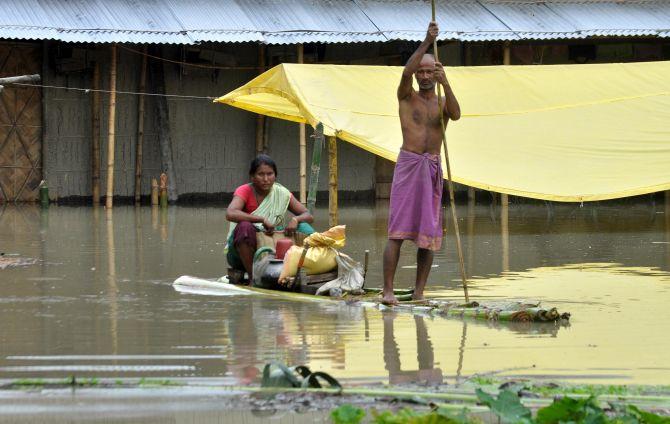 The current wave of flood has claimed 12 lives and affected nearly 16 lakh people across Assam, the state assembly was informed on Wednesday.
PHOTOS: A day in the life of a 'gau rakshak'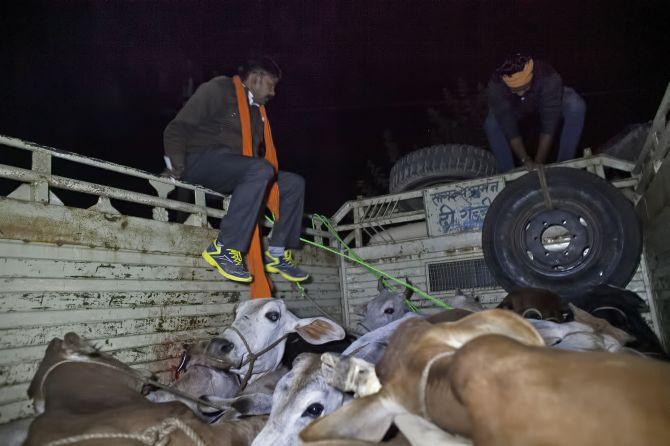 Getty's Allison Joyce went out with a cow vigilante group in Rajasthan to get a sense of their working style.
PHOTOS: Remembering India's 'Missile Man'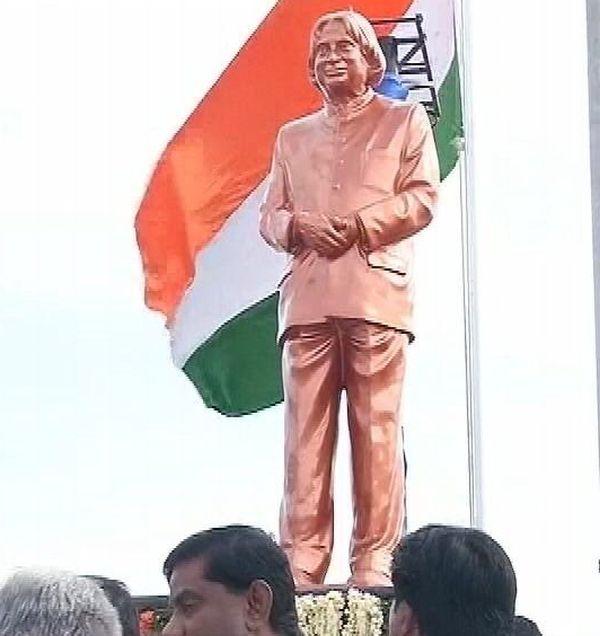 Union Ministers Venkaiah Naidu and Manohar Parrikar on Wednesday laid the foundation stone for a national memorial dedicated to country's former President APJ Abdul Kalam in Rameswaram in Tamil Nadu, marking the first death anniversary of the 'missile man'.
Superheroes descend on San Diego!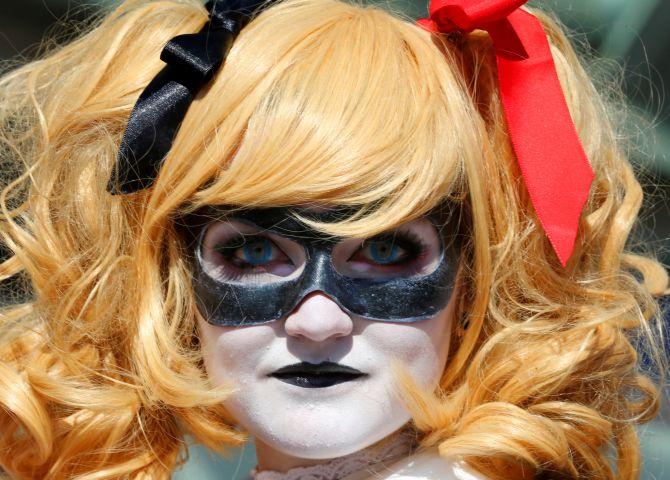 Rediff.com takes a peek at this fanboy magnet that brings in geeks from around the world.
Hillary is the best change-maker: Bill Clinton killed it with his speech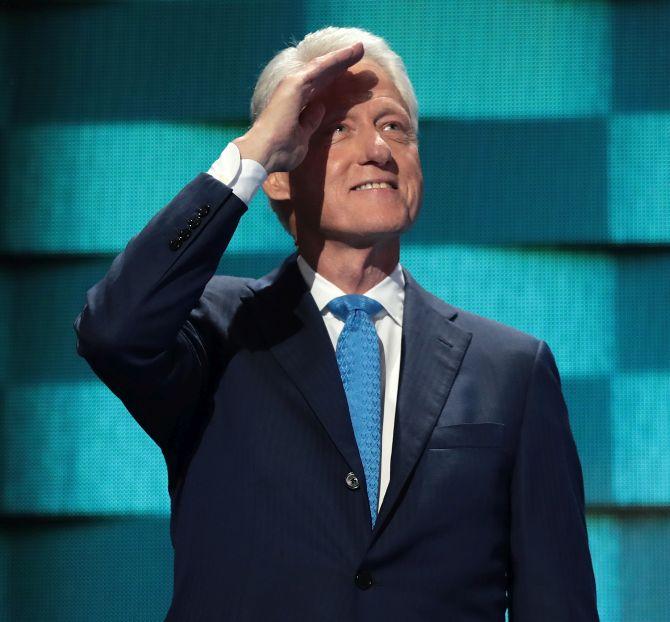 Bill Clinton was the first husband to give a speech on behalf of his wife as the nominee of a major party.
REWIND: India in the last 24 hours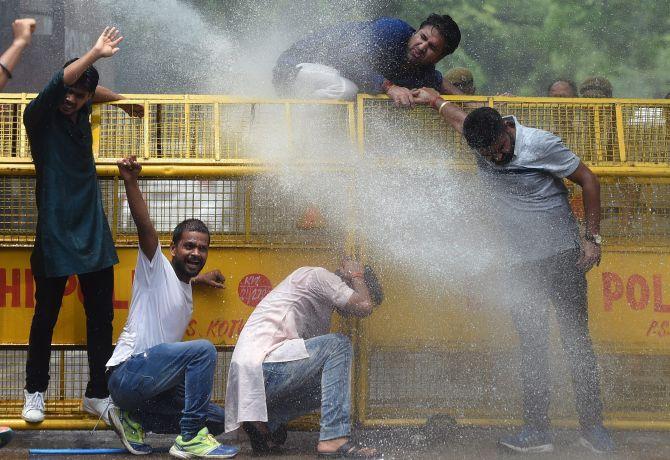 A recap of events that occurred in India in the past 24 hours.
July 26, 2016
PHOTOS: India remembers Kargil war heroes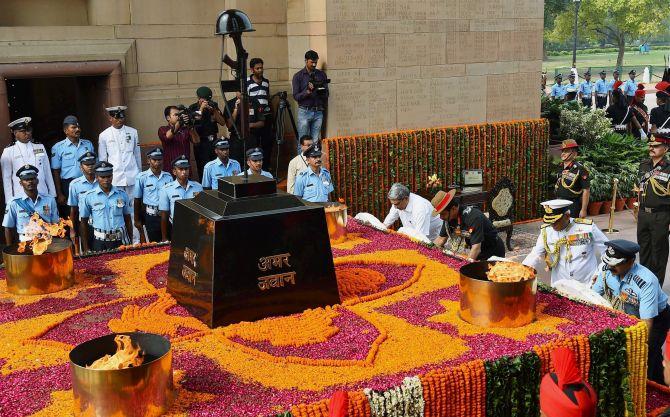 India celebrates 17th Kargil Vijay Diwas on Tuesday, pays homage to martyrs of 1999 war.
3,500 homes destroyed and counting: Flood situation in Arunachal worsens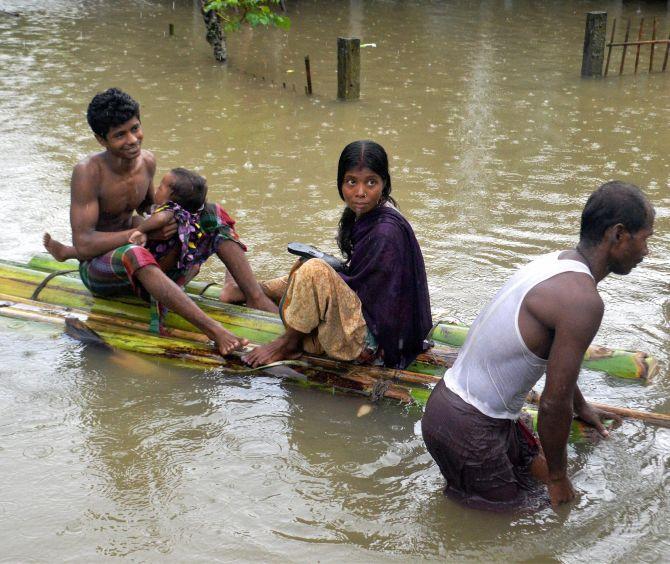 The district administration, with the help of National Disaster Response Force and Central Reserve Police Force, has intensified relief operation and rescued around 260 people.
Big boos and big cheers: A mixed bag at the Democrat convention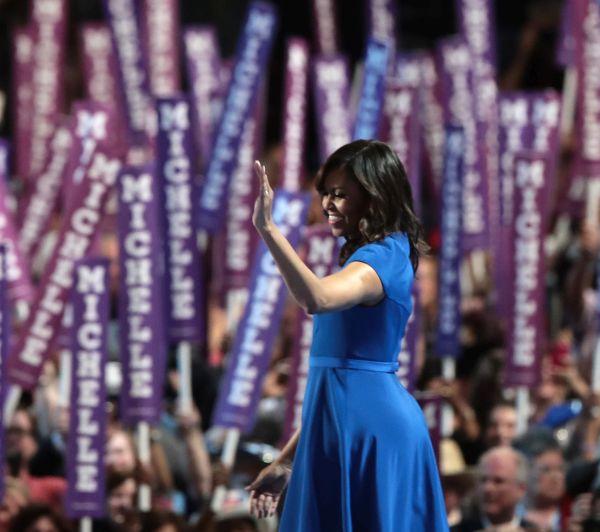 Here are the highlights from Day 1 of the convention.
REWIND: India in the last 24 hours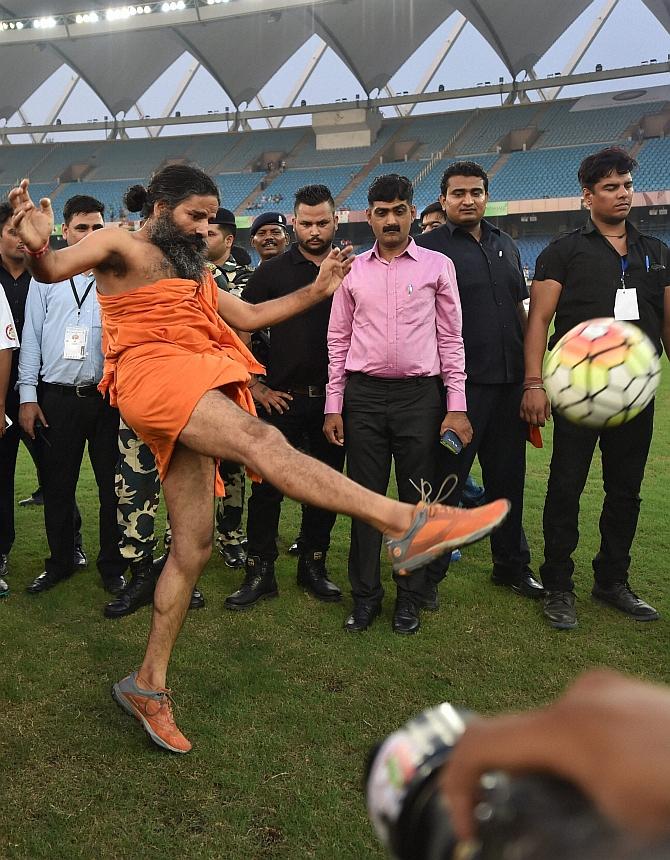 A recap of events that occurred in India in the past 24 hours.
PM Modi inaugurates museum at Rashtrapati Bhavan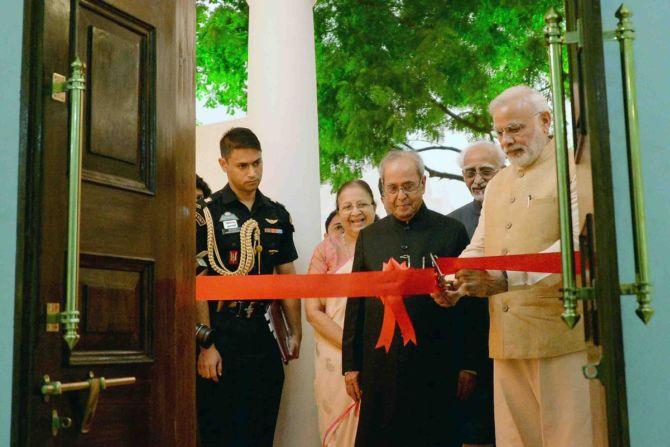 PM Modi inaugurates the second phase of Rashtrapati Bhavan museum.
July 25, 2016
A wedding proposal, protests and scandal: Democratic Convention begins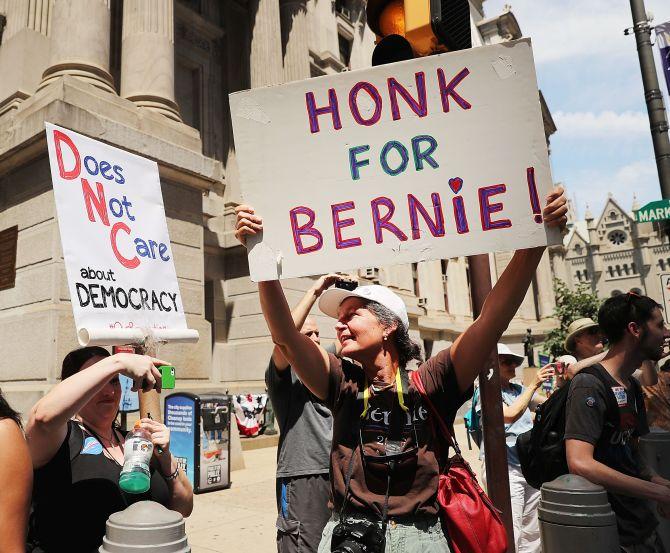 The Democratic convention to anoint Hillary Clinton as the presidential nominee and make her the first woman flagbearer of any major American political party began on Monday.
WTF News: It's Weird, True and Funny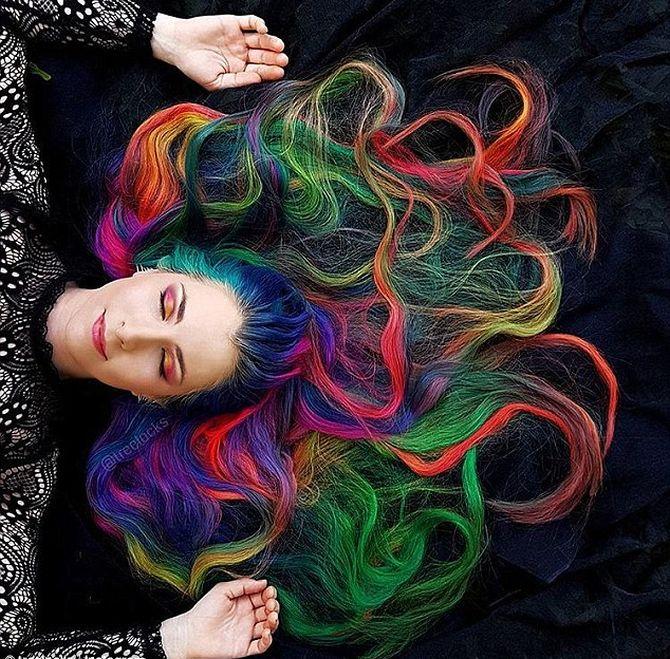 This week's collection of stories that prove we live in a truly mad, mad world.
July 24, 2016
Are India's tiger numbers inflated?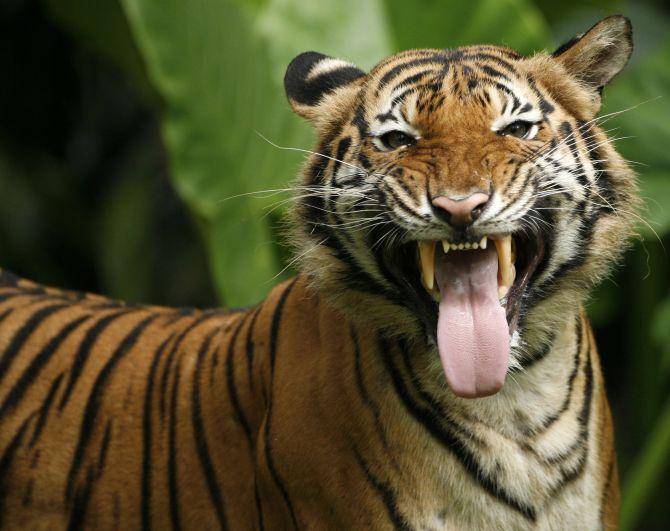 How many tigers are there in India?
'Floods submerged my bed': 250 killed or missing in China rains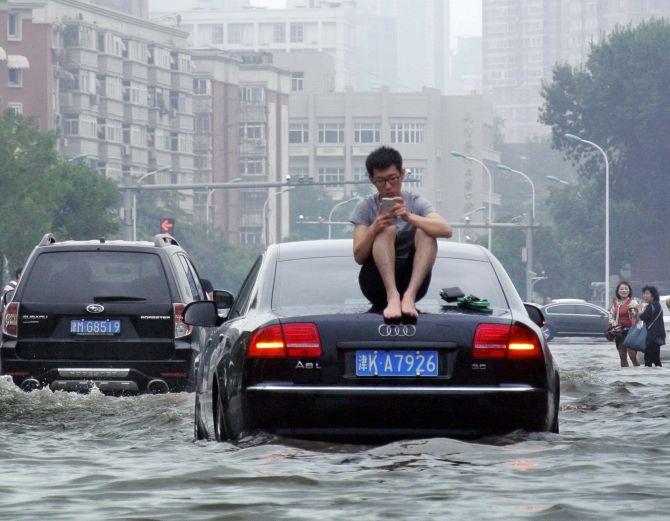 Over 500 soldiers, 1,000 people and 62 speedboats have been sent for rescue work while more than 10,000 people have been sent to ensure the safety of river banks.
July 23, 2016
Rajnath begins Kashmir visit, curfew lifted in parts of Valley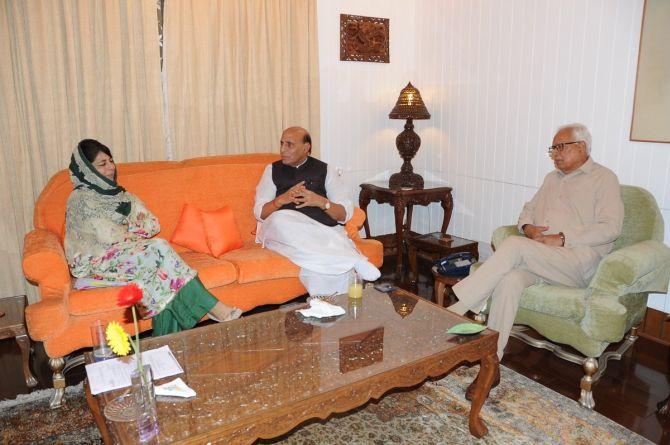 Union Home Minister Rajnath Singh is scheduled to arrive in Srinagar on a two-day visit later in the day, official sources said.
July 22, 2016
45 dead in 14 days: Curfew continues to paralyse Kashmir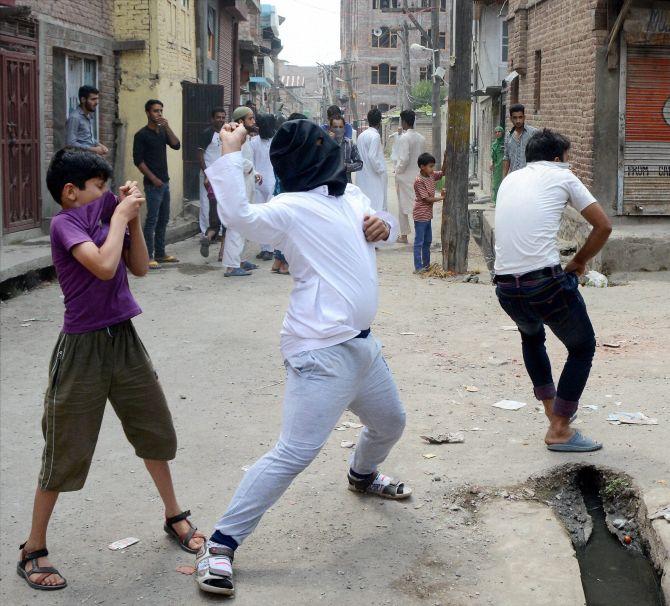 Fresh clashes broke out between protesters and security forces in Kashmir, even as Union Home Minister Rajnath Singh is set to visit the Valley on Saturday.
By George, he's grown!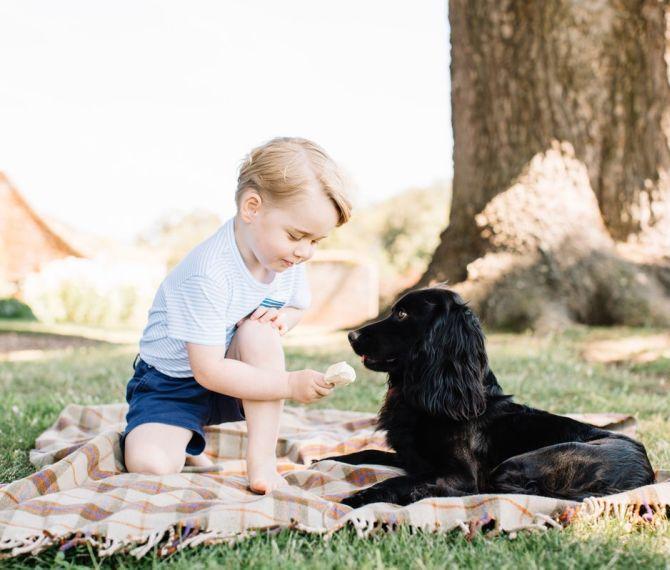 New photographs of Britain's Prince George have been released to mark the third birthday of the third in line to the throne.
REWIND: India in the last 24 hours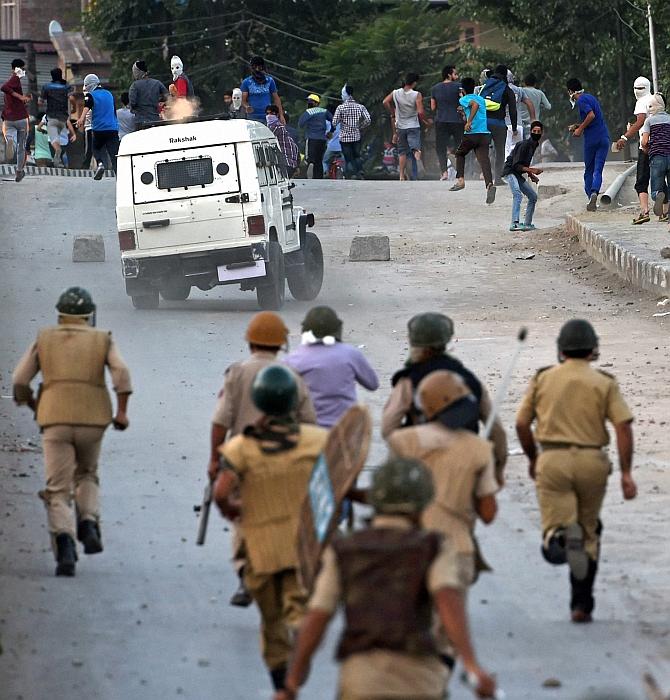 Here's a recap of moments captured in India in the past 24 hours.
July 21, 2016
REWIND: India in the last 24 hours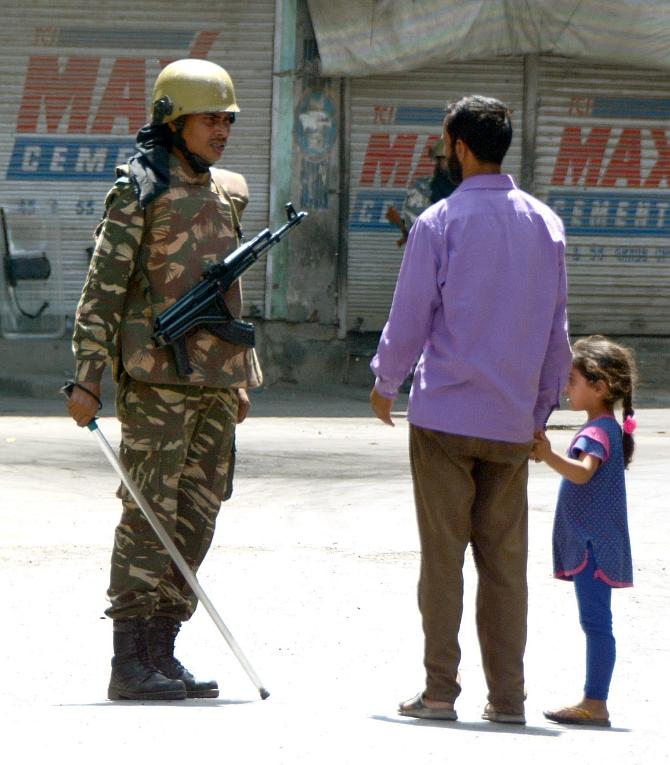 A recap of moments captured in India in the past 24 hours.
July 20, 2016
Gujarat tensed after state-wide bandh over Dalit thrashing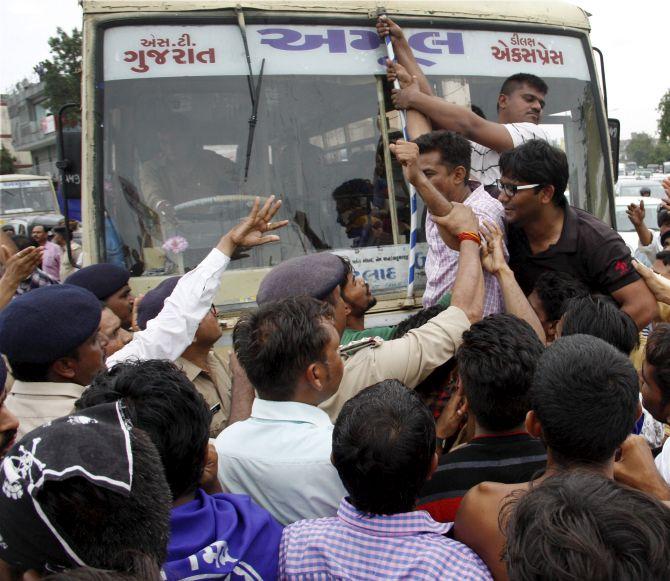 Enraged community members took out rallies in towns and cities, blocking roads, damaging buses.
PHOTOS: When a man lay in front of a tank in Turkey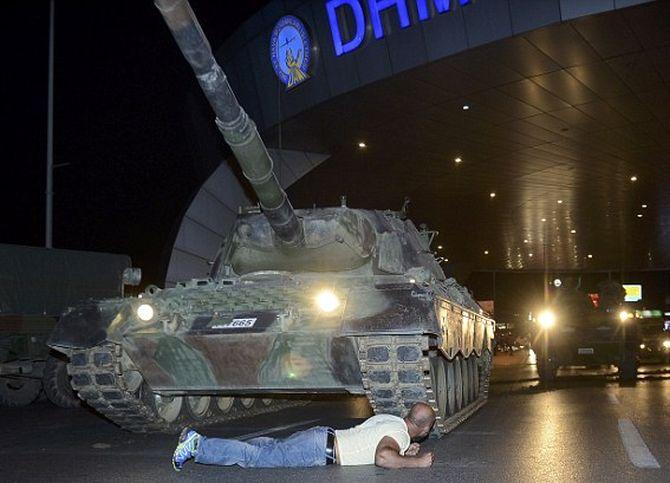 The shirtless protester made a spine-tingling show of defiance to the army soldiers who launched a failed coup attempt on Friday night.
Shutdown in Kashmir by separatists extended to July 25, curfew continues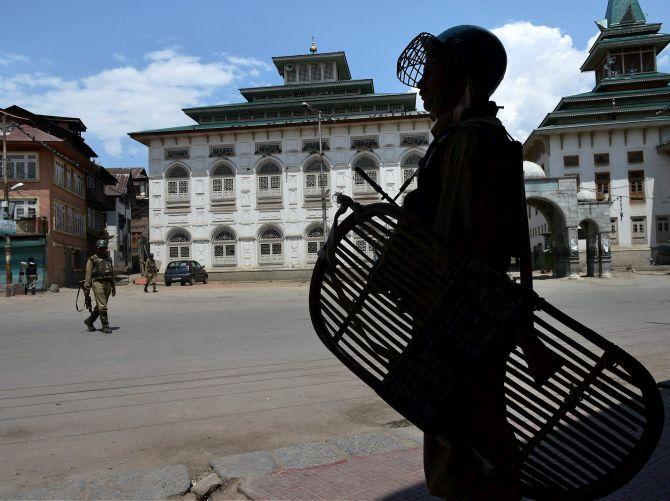 Police and paramilitary personnel have been deployed in strength across the Valley for strict implementation of the prohibitory orders.
REWIND: India in the last 24 hours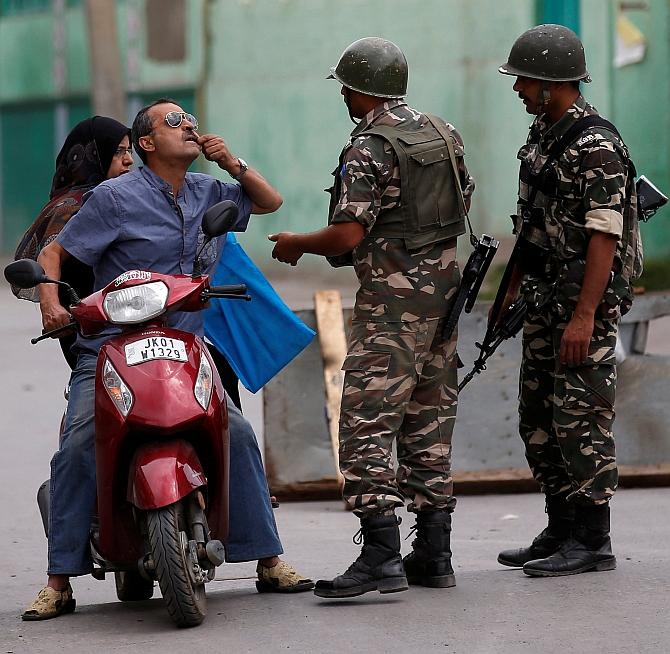 A recap of events that occurred in India in the past 24 hours
July 19, 2016
Take a look around Rashtrapati Bhavan. Courtesy, Amitav Ghosh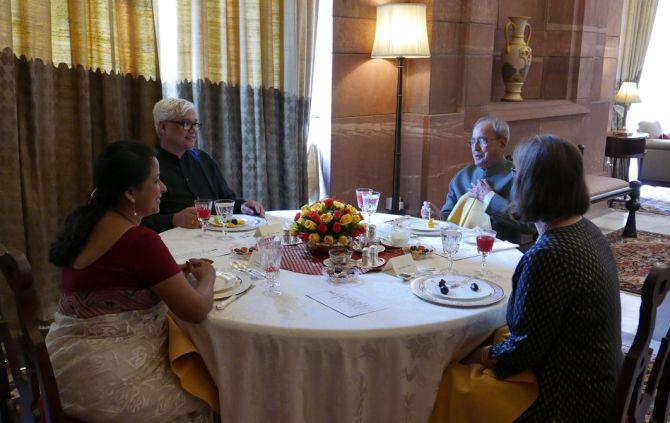 Author Amitav Ghosh is giving a rare glimpse of what it's like inside Rashtrapati Bhavan.
July 18, 2016
Kashmir unrest: 10 days, 39 dead, 3,400 injured and counting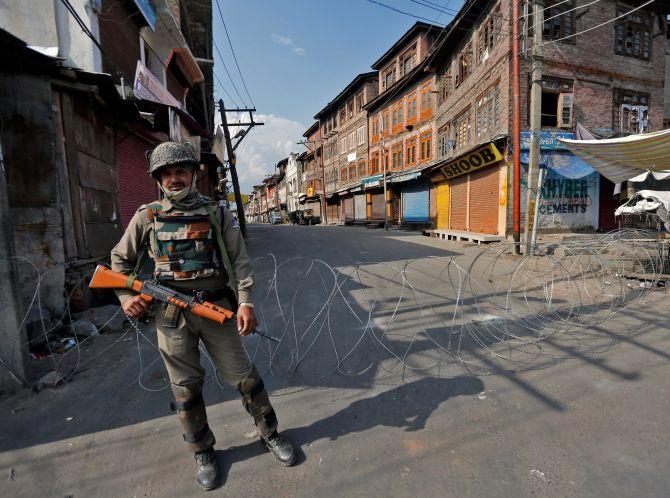 Curfew continued to cripple the Valley for the tenth day.
PHOTOS: France falls silent to mourn for Nice victims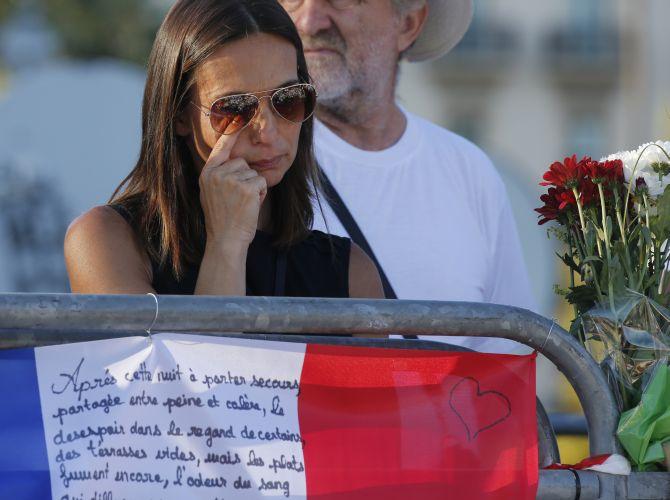 People mourn the tragic loss of life in Nice, France when a truck mowed down a crowd of revellers attending the Bastille Day fireworks.
You can't miss the BEST images of 2016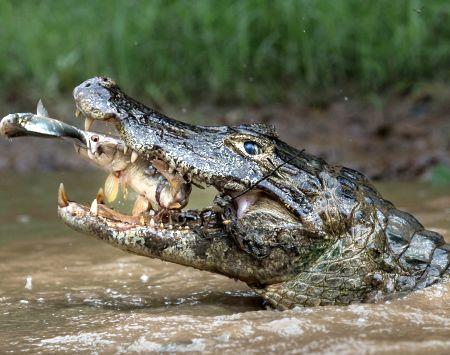 Here are the winners of this year's National Geographic Travel Photographer Of The Year.
Meet today's women world leaders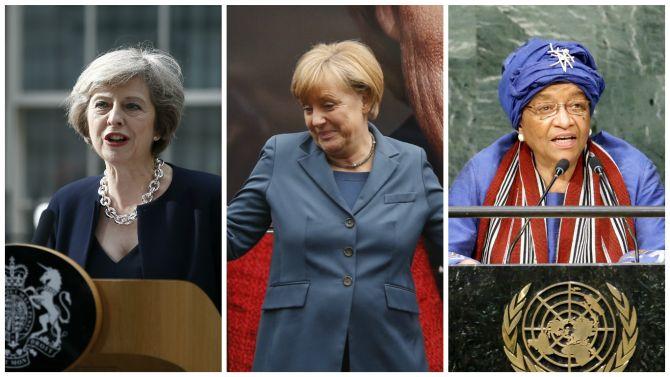 After taking over as Britain's prime minister, Theresa May has joined a small but growing band of female world leaders.
July 17, 2016
'The coup is a gift from god'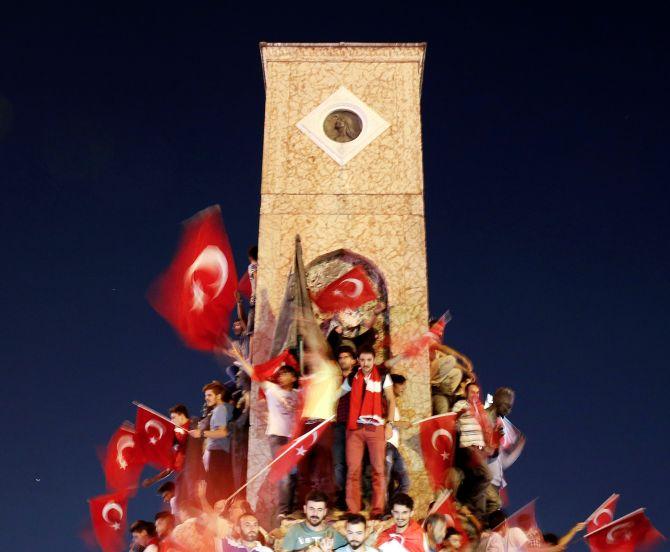 Following an attempt to overthrow his government, Turkish President Recep Erdogan has ordered the arrest of over 2,000 people.
July 15, 2016
#PrayforNice: World weeps for France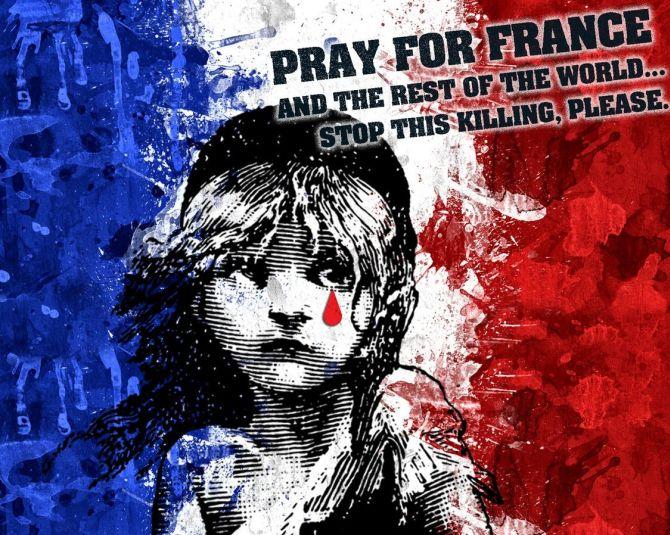 Thousands of people from across the world took to social media to remember those killed and injured in Thursday night's terror attack.
7th terror attack in 18 months: Timeline of horror in France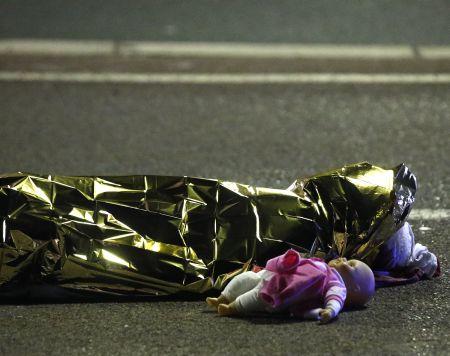 Here's a look back at some of the deadly attacks on French targets.
L'horreur: How newspapers reacted to Nice attack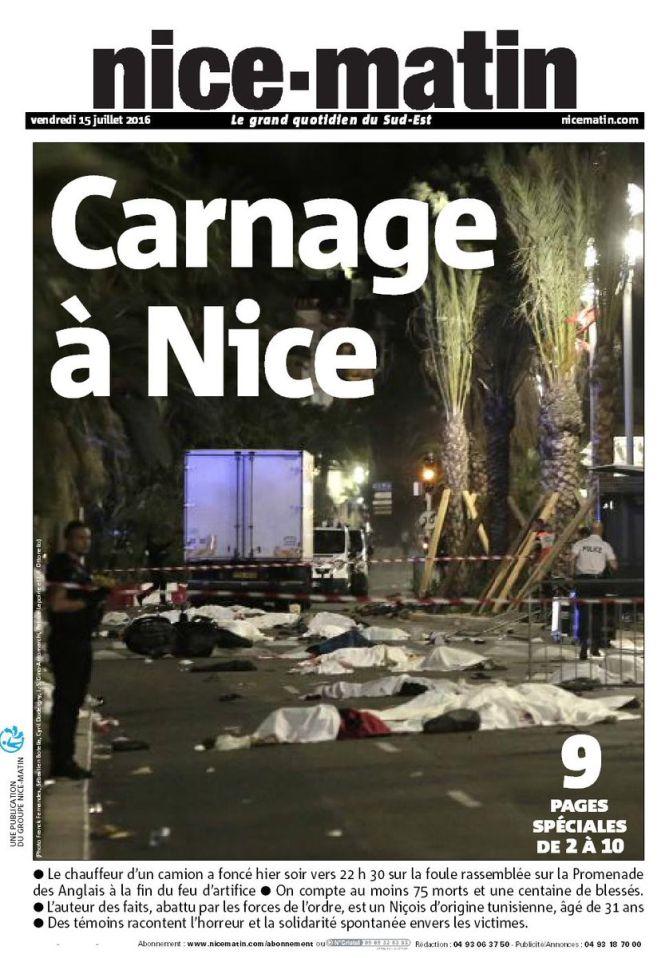 Here is how newspapers in France, Britain and around the world reacted to the horror of another terror attack.
July 14, 2016
After violence, uneasy calm prevails in Kashmir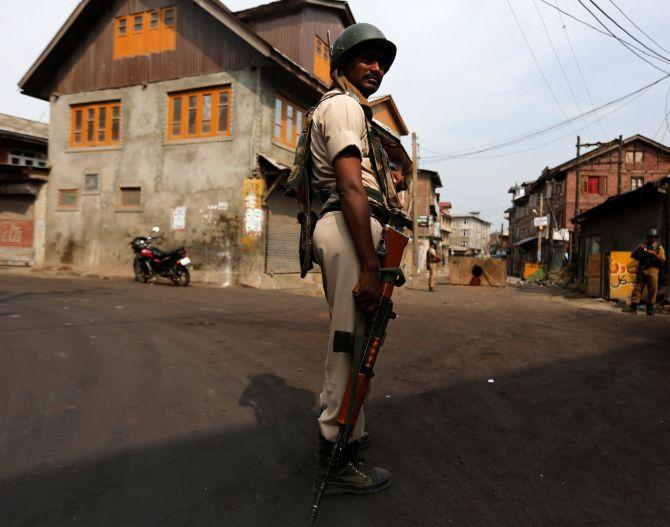 No major clash was reported on Thursday from anywhere in Kashmir.
She went on honeymoon without her groom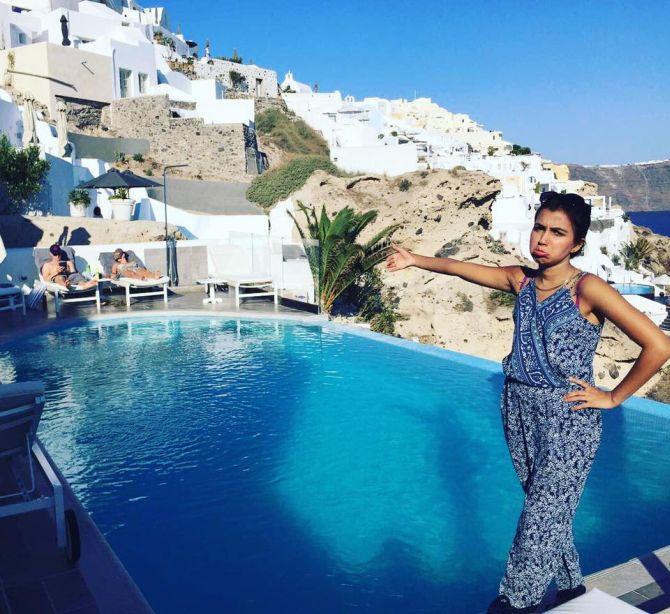 A newly-wed woman shares forlorn pictures of herself holidaying solo after her husband was denied a visa for their dream honeymoon.
July 13, 2016
Postcard from Jupiter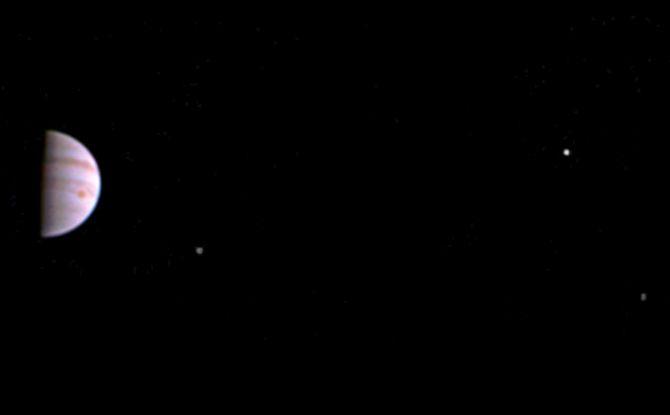 The colour image shows atmospheric features on Jupiter, including the famous Great Red Spot, and three of the massive planet's four largest moons.
PHOTOS: The incredibly bizarre world we live in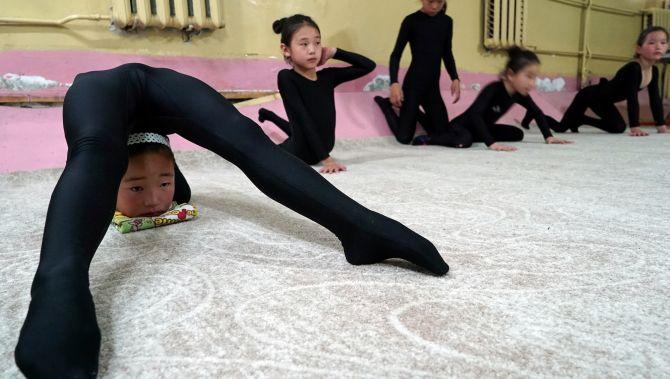 Here's this week of photos that prove we live in a mad world.
Keep calm and read 12 facts about Britain's new woman PM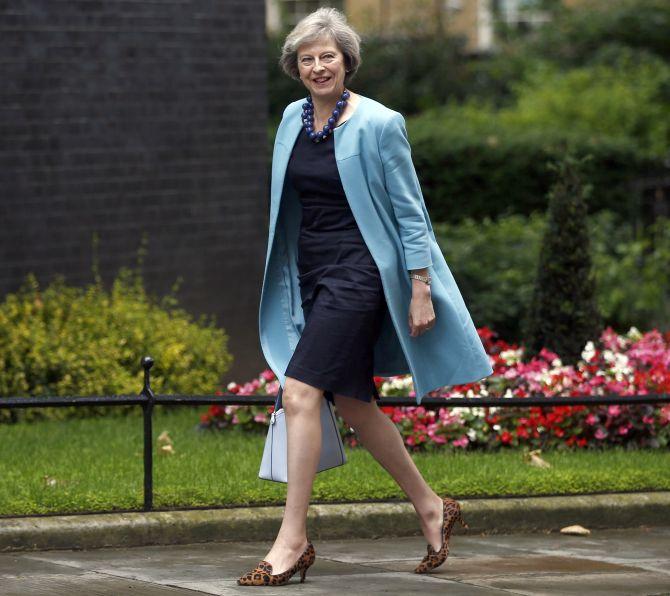 Here is a look at May's background, career and personal life.
Violence continues to sweep Kashmir; several separatist leaders held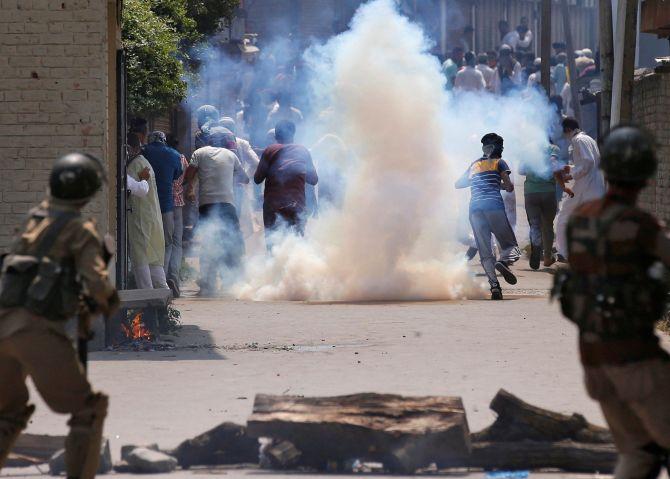 Violence continues to scorch south Kashmir following the killing of 'poster-boy' militant Burhan Wani with the death toll going up to 34.
July 12, 2016
At least 20 killed, dozens injured as 2 trains collide in Italy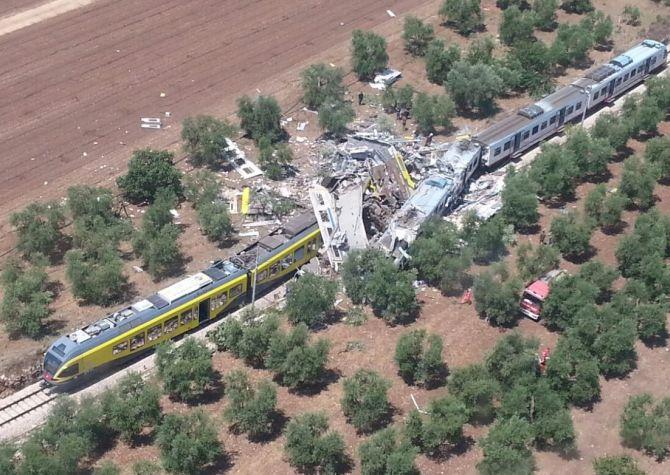 It is thought the crash was due to either a signalling error or a mistake by one of the drivers.
PHOTOS: Dallas weeps for its 'boys in blue'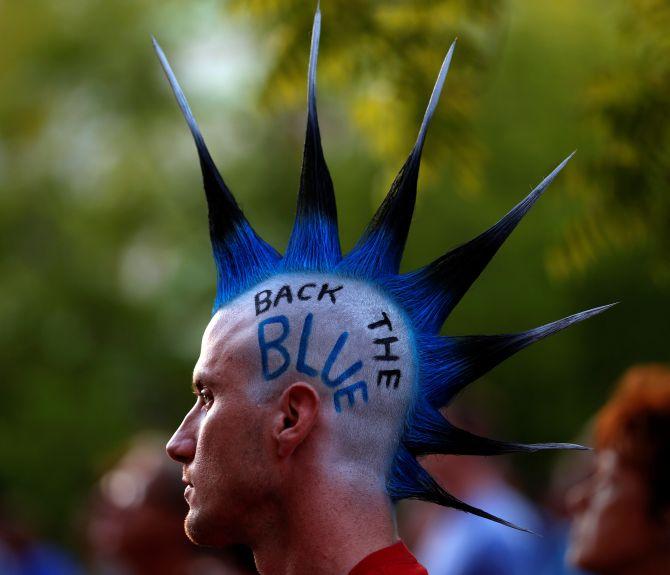 A broken-hearted city attended a candlelight vigil to share in its sorrow for the cops killed in a sniper attack.
Tour Album: When Modi embraced Africa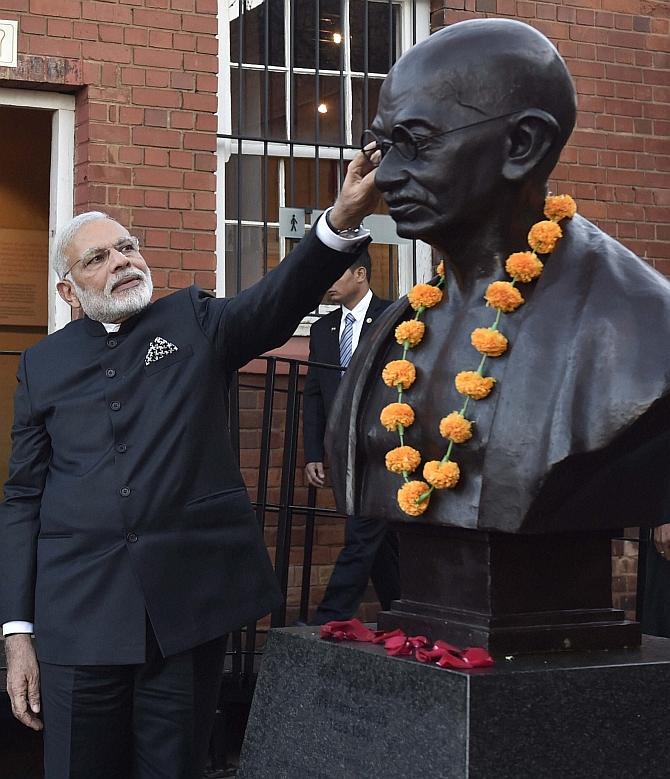 From displaying his skills as a drummer in Dar-es-Salaam with Tanzanian President John Pombe Joseph Magufuli to pensively retracing Mahatma Gandhi's train journey in South Africa, Prime Minister Modi's tour albums are one of their kind.
The world's best show up here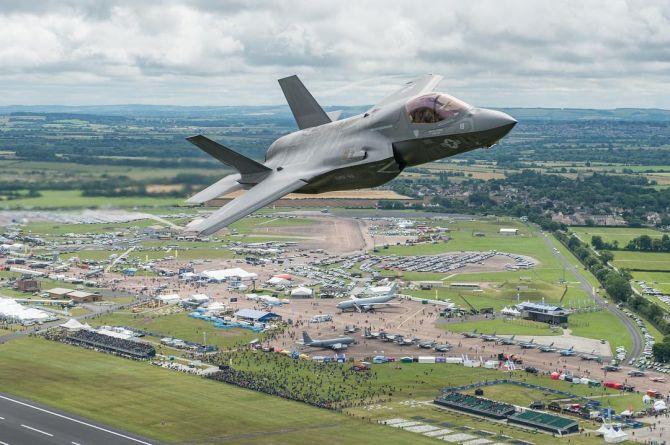 A look at the world's biggest military airshow at RAF Fairford in United Kingdom.
July 10, 2016
'Black Lives Matter': Thousands protest in US cities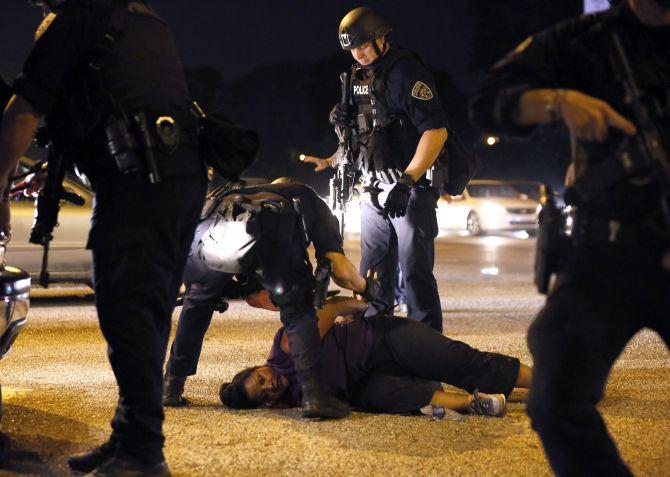 At least five officers were injured. One policeman was hit with a glass bottle and another by fireworks, according to St Paul police.
No peace in sight as Kashmir continues to be on boil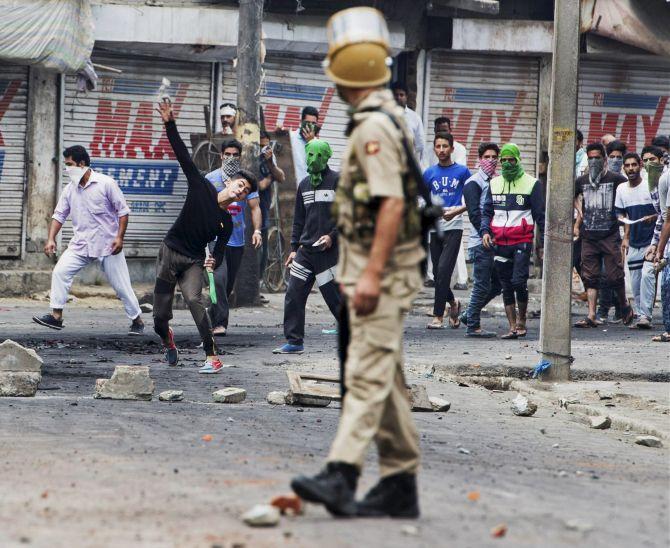 Kashmir remained on the edge with six more persons, including a cop getting killed in violence on Sunday.
PM Modi inks 5 deals with 'crucial partner' Tanzania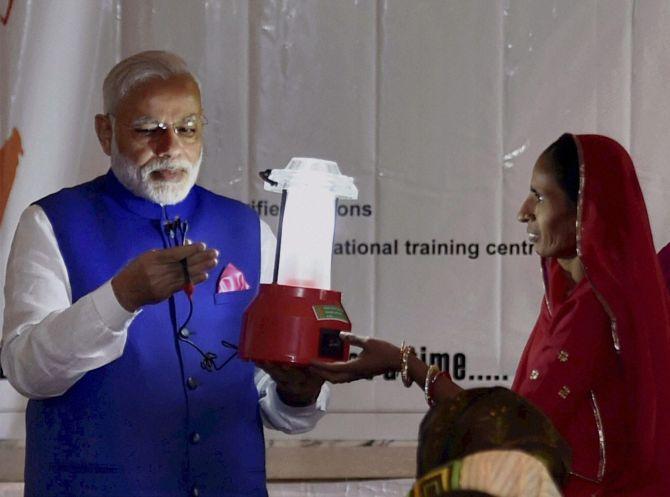 Prime Minister Narendra Modi is in Tanzania where he held talks with Tanzanian President John Pombe Joseph Magufuli.
15 killed in Madhya Pradesh deluge; more rain in store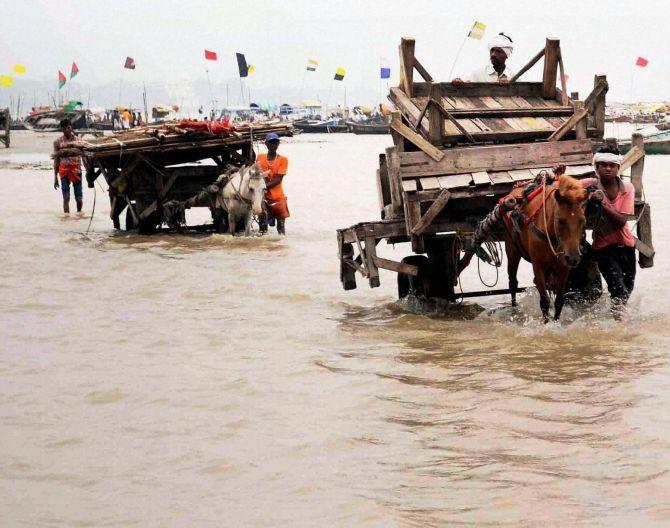 The CM has asked all the 51 district collectors to be alert and agile to deal with the flood situation and extend immediate help to the people in distress.
Australian PM Turnbull claims victory in tight election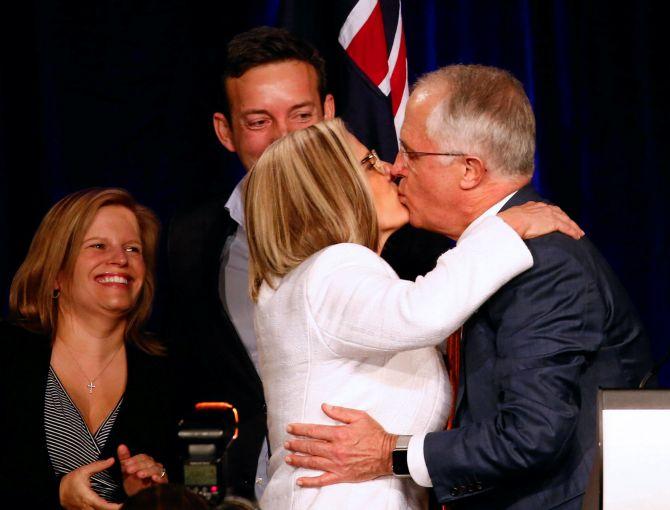 The most important people to thank are the Australian people because we have resolved this election," Turnbull said.
July 09, 2016
PIX: Assam reels under flood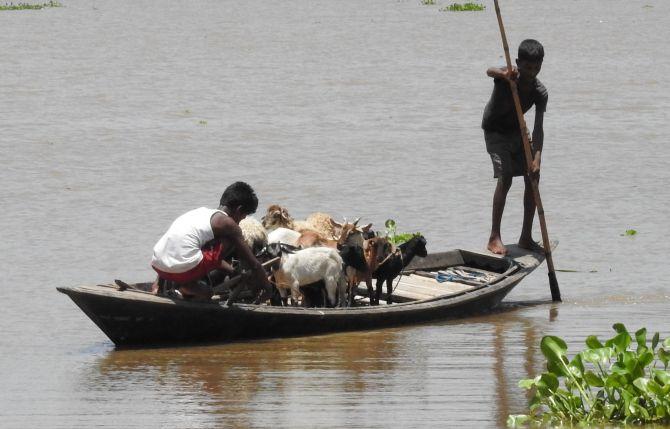 Rediff.com takes a look at the watery devastation that has beset the state of Assam.
July 08, 2016
PM Modi feels 'at home' in Rainbow Nation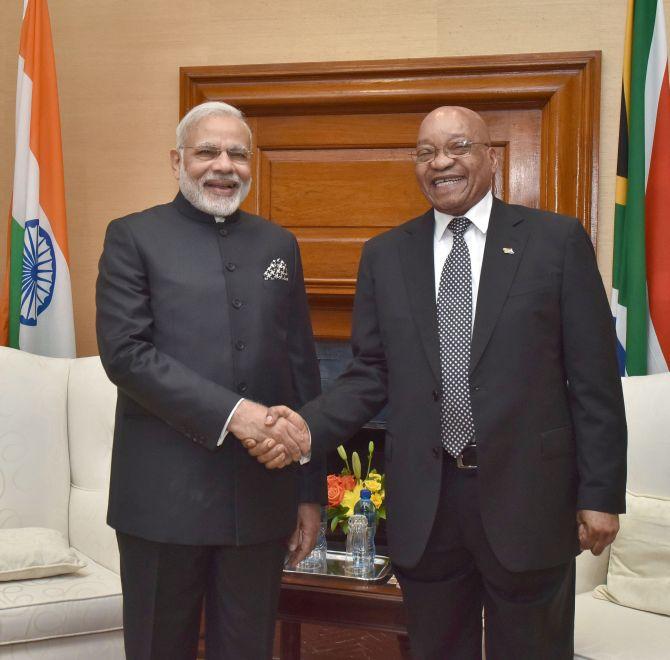 India and South Africa on Friday agreed to deepen engagement in key areas of defence production, manufacturing, mining and minerals and combating terrorism.
PIX: No one dares take these bulls by the horns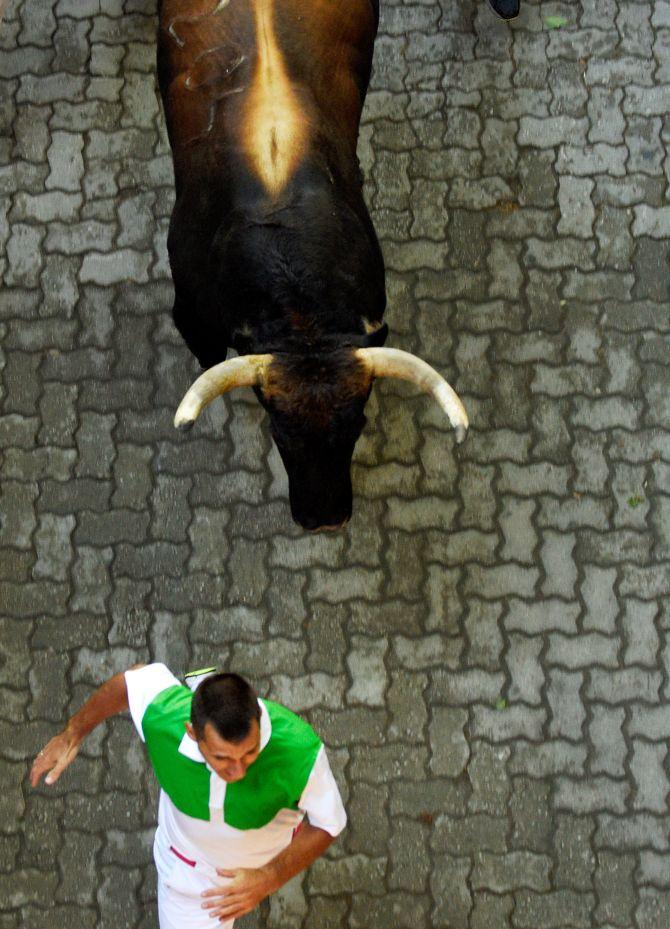 Rediff.com takes you into the one part terrifying, one part thrilling heart of the annual Pamplona bull run.
PHOTOS: When colours come alive!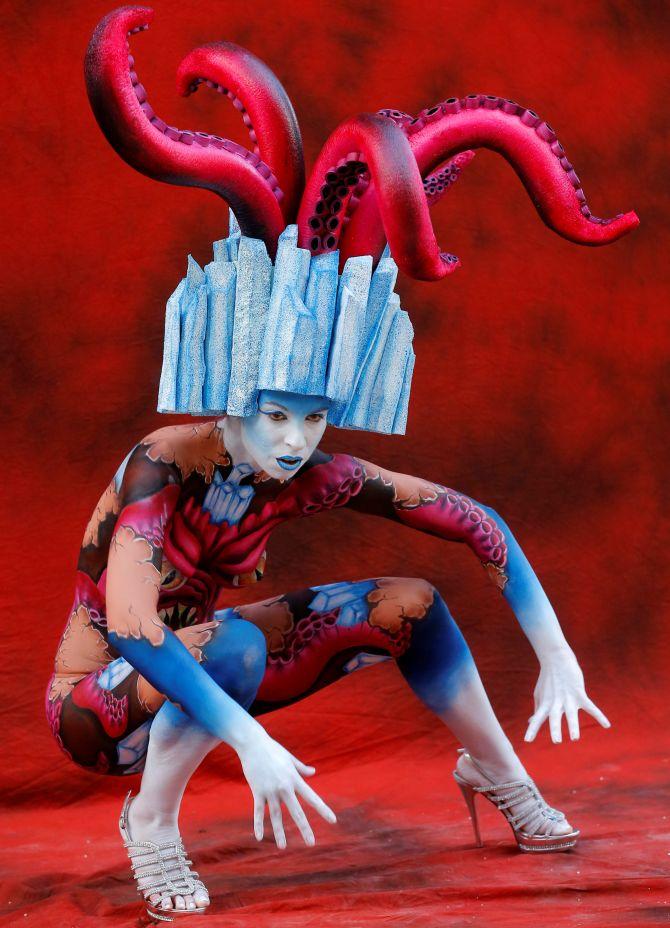 Designs which are bright, bold and sometimes utterly bizarre are on display at the World Bodypainting Festival.
July 05, 2016
These ministers cycled to Rashtrapati Bhavan for swearing-in ceremony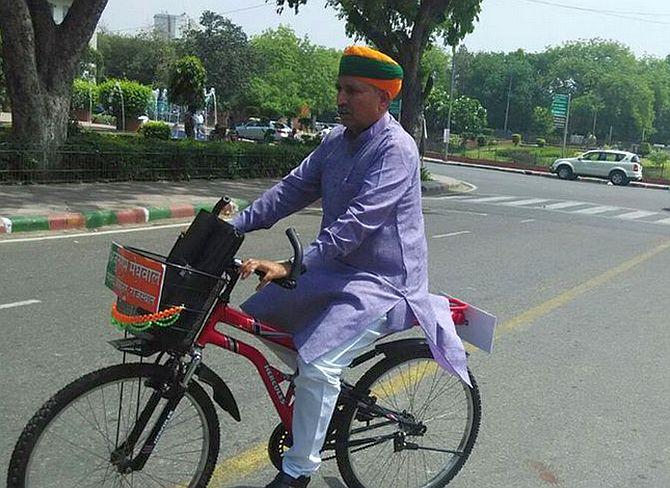 Arjun Ram Meghwal, Mansukhbhai Mandavia and Anil Dave opted to cycle to Rashtrapati Bhavan.
19 new faces inducted into Modi sarkar, 5 dropped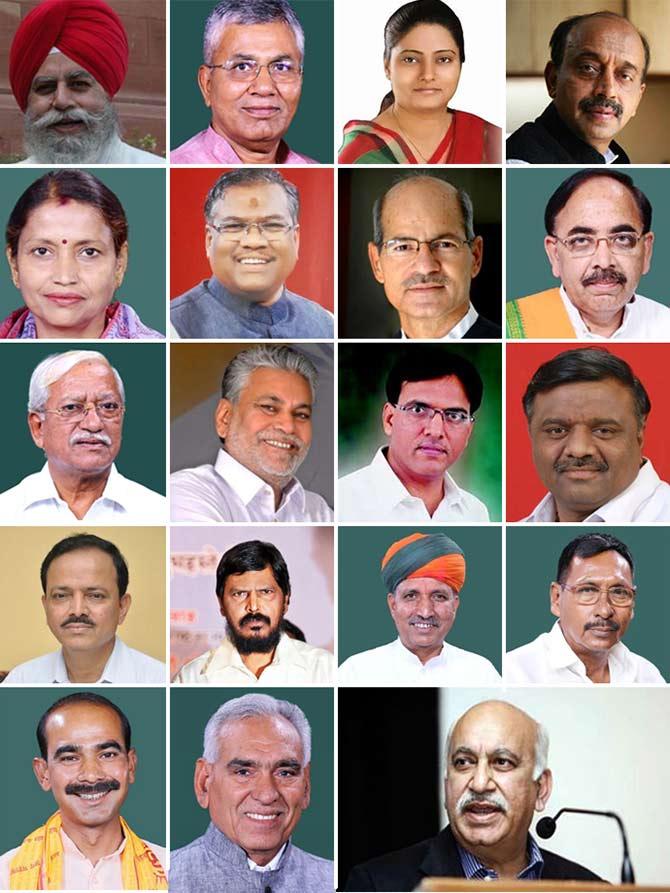 Tuesday's exercise underlines Bharatiya Janata Party's attempts at wooing Dalits and OBCs, whose votes would be crucial to its fortunes in key states like UP and Gujarat.
"Juno, welcome to Jupiter"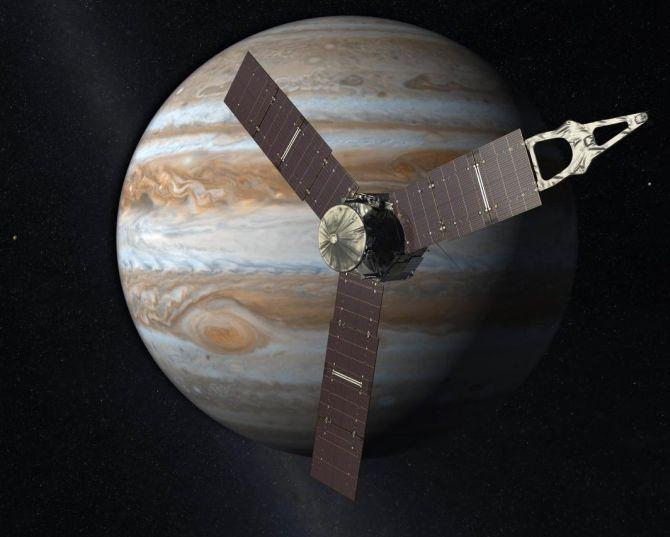 The solar-powered spacecraft which left Earth five years ago finally reached its destination and entered into Jupiter's orbit.
Meet the new faces in Modi's council of ministers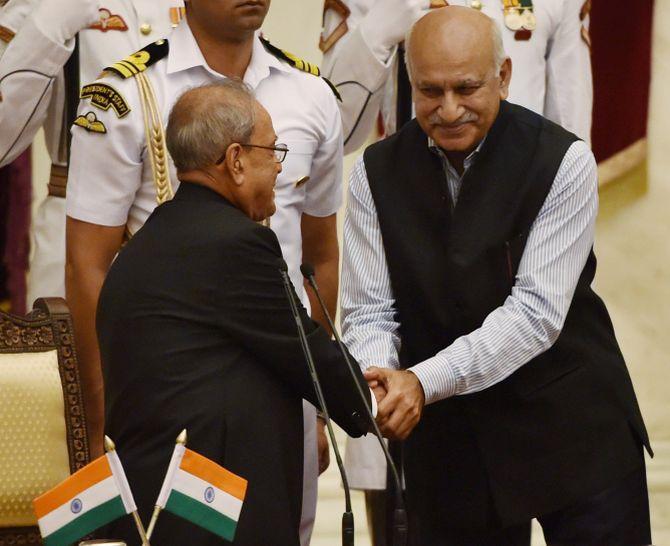 Rediff.com gives you a look at newbies in the Council of Ministers
July 04, 2016
PHOTOS: Canada's PM marches into history with Pride parade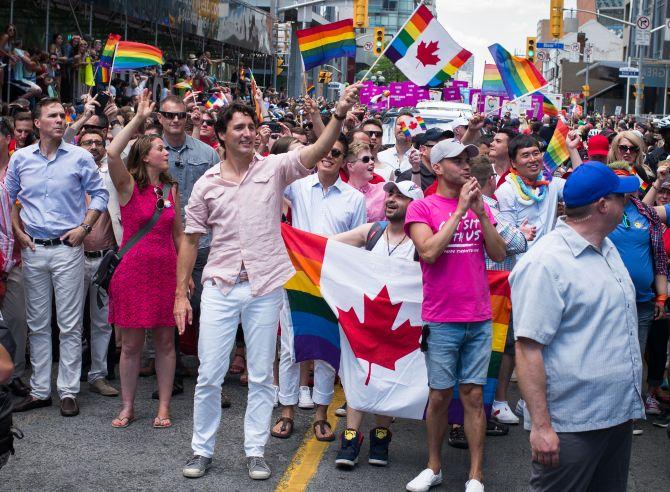 Canadian Prime Minister Justin Trudeau has made history as the country's first sitting leader to march in a pride parade.
REVEALED: The faces behind the Dhaka terror attack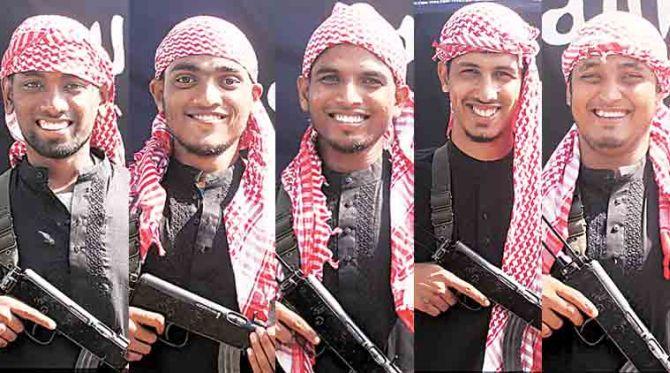 The attackers were from well-known schools with Western curriculum for the children of the well-to-do in the city, not from any of the madrassas that are often termed as breeding grounds for militants.
July 02, 2016
Sorry Mumbaikars, there's more rain coming your way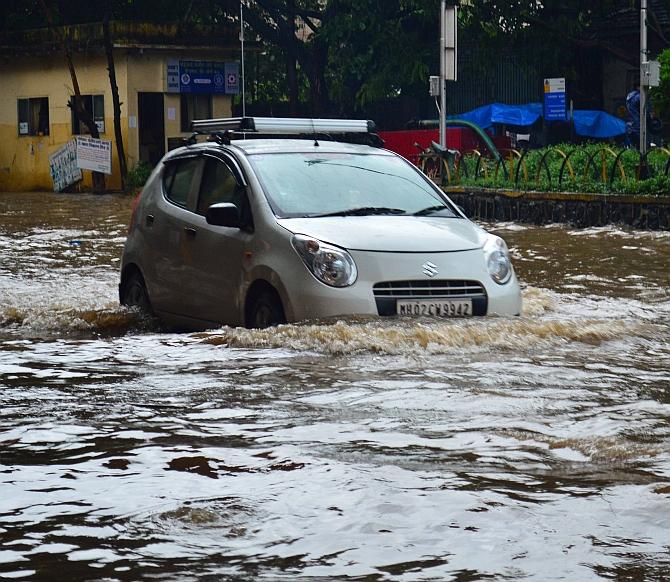 Weathermen have also predicted heavy to very heavy rainfall in the next 24 hours in the entire Konkan region, including Mumbai.
Monsoon mayhem: Cloudbursts, landslides claim almost 25 lives in Uttarakhand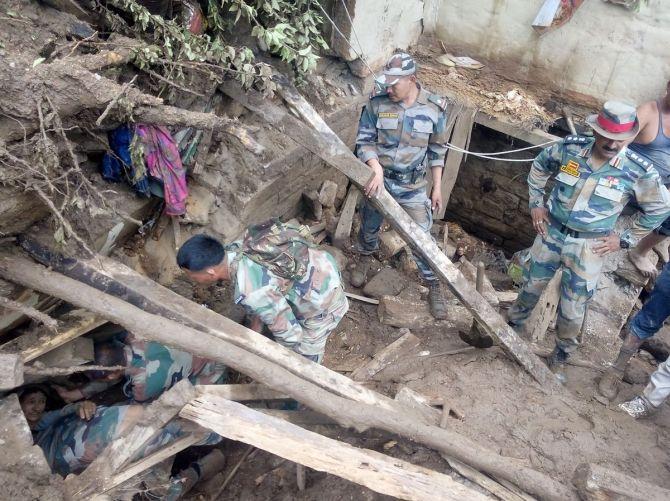 National Disaster Response Force teams were rushed from Delhi to the affected areas in both Pithoragarh and Chamoli districts to help in the rescue operations along with along with State Disaster Response Force, Sashastra Seema Bal and Indo-Tibetan Border Police and local agencies, officials said.
July 01, 2016
12 killed, 25 missing in torrential rains in Uttarakhand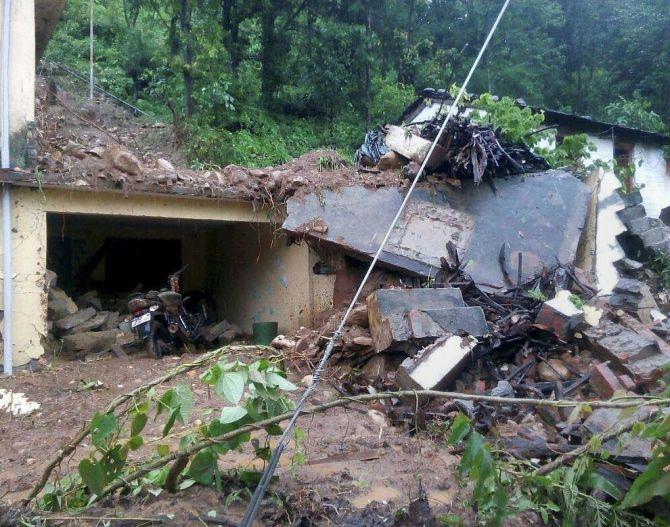 Uttarakhand Chief Minister Harish Rawat, who is in Delhi, expressed grief at the loss of lives and announced a compensation of Rs two lakh each to the families of the victims.
Amazing PHOTOS of the month: June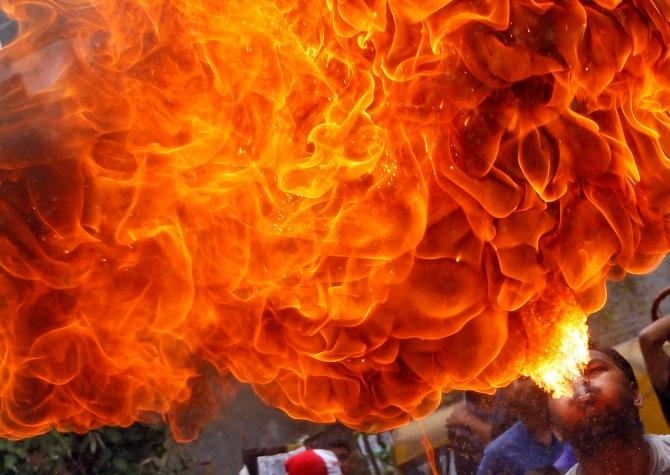 Here's a glimpse of all that happened around the world last month, in 10 images
June 30, 2016
These babas have Z-category security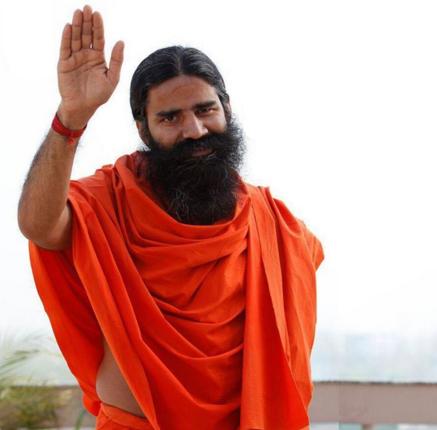 Here are other controversial 'babas' who were given the Z-category security, though later, it was withdrawn from some.
June 29, 2016
#PrayforTurkey: World mourns together for Turkey on Twitter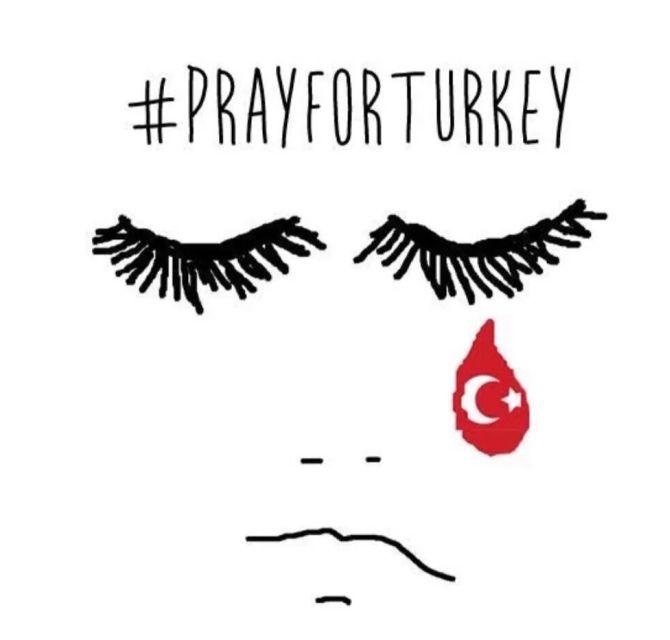 Mere hours after the blast rocked Europe's third-busiest airport, the hashtag #PrayForTurkey skyrocketed, as people added moving photos to accompany the hashtag.
PHOTOS: 12 deadliest terror attacks at airports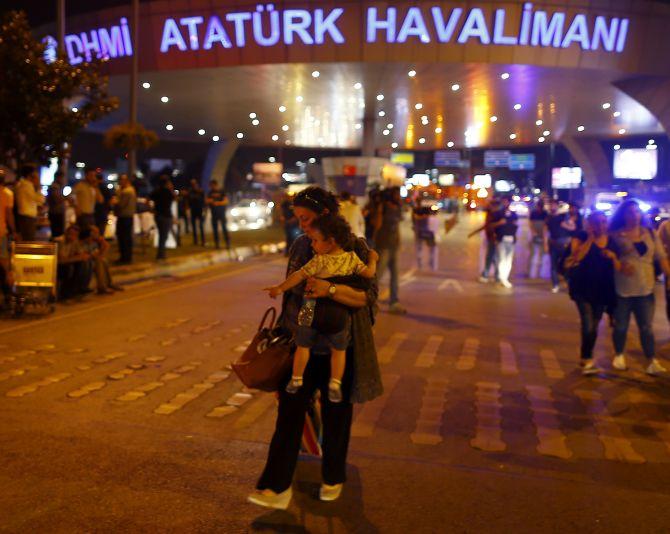 Hours after three suspected Islamic State group suicide bombers targeted the international terminal of Istanbul's Ataturk airport, killing at least 36 people and wounding many others, Rediff.com brings you some of the deadliest attacks at airports, which have left several dead and hundreds injured.
June 28, 2016
Kejriwal wore flowers on his head and Twitter went mad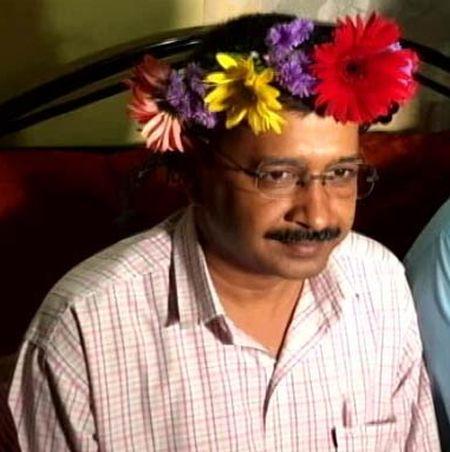 Delhi Chief Minister Arvind Kejriwal on Tuesday arrived in Goa for a two-day visit as part of his three states tour. The Aam Aadmi Party chief met members of the fishermen community who accorded him with a flowery headgear in Panaji.
#PMSpeaksToArnab: How Twitter reacted to Modi's Arnab interview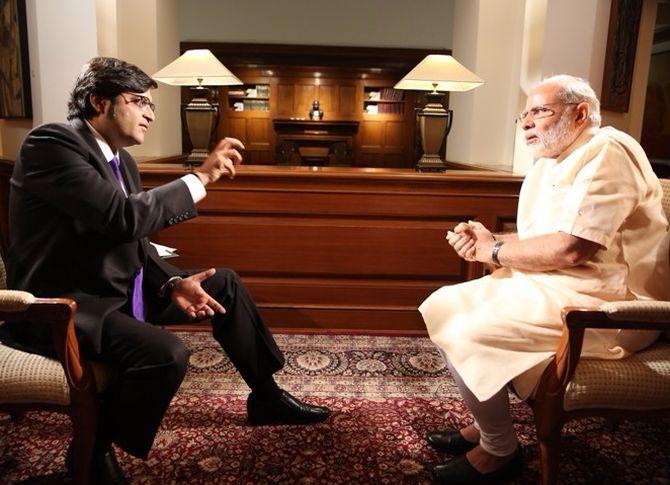 Soon after, the interview was the top trend on Twitter on Monday with #PMSpeakstoArnab and #ArnabGoswami both trending as several people slammed the sit-down as nothing more than a PR activity.
PHOTOS: Life inside an aircraft carrier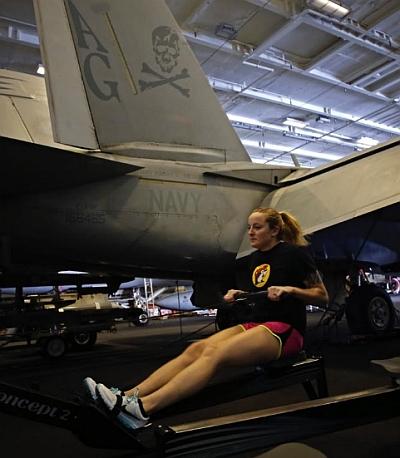 Here are the glimpses of life aboard USS Harry S Truman aircraft carrier.
Meet Sweepee Rambo -- the world's ugliest dog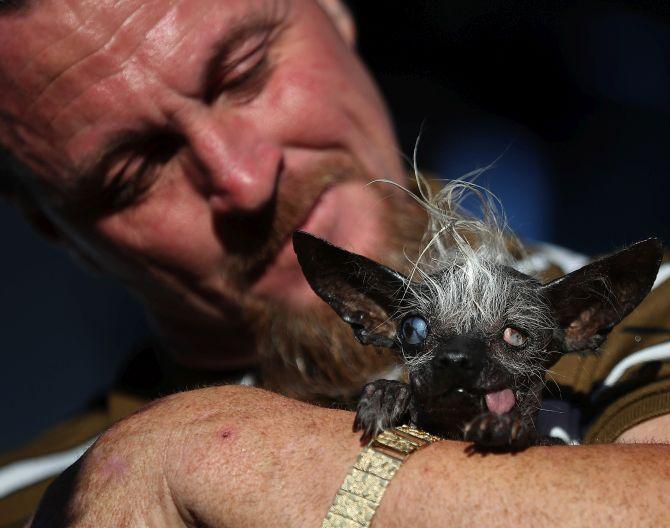 The 17-year-old Chinese Crested Chihuahua with bowed legs, an oozing sore and wearing doggie diapers took home the $1,500 (Rs 1.01 lakh) prize.
June 27, 2016
The big fat Mysuru royal wedding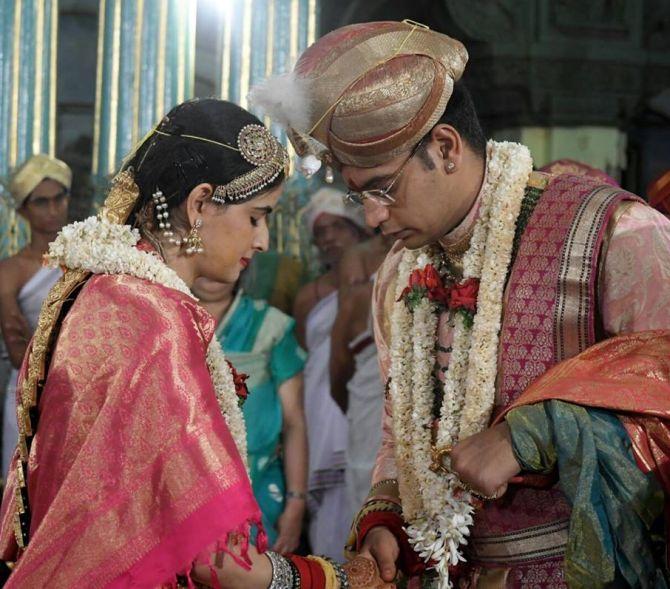 The iconic Amba Vilas Palace in Mysuru on Monday witnessed the royal wedding of Wodeyar family scion Yaduveer Krishnadatta Chamaraja Wodeyar.
Meet the family who sold everything to travel the world... Jealous yet?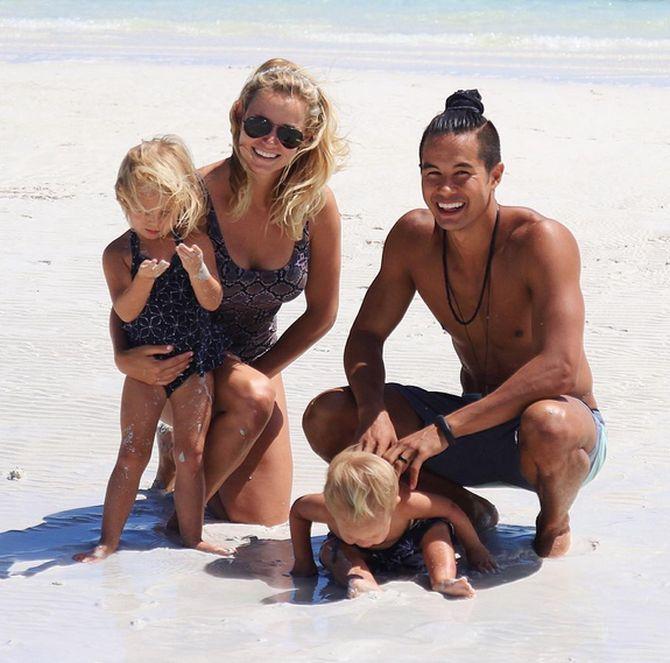 Known as the Bucket List Family on Instagram, they have visited Tonga, Fiji, Hawaii, Australia, New Zealand, Thailand and many more.
June 24, 2016
Mumbai, brace yourselves... There's more rain to come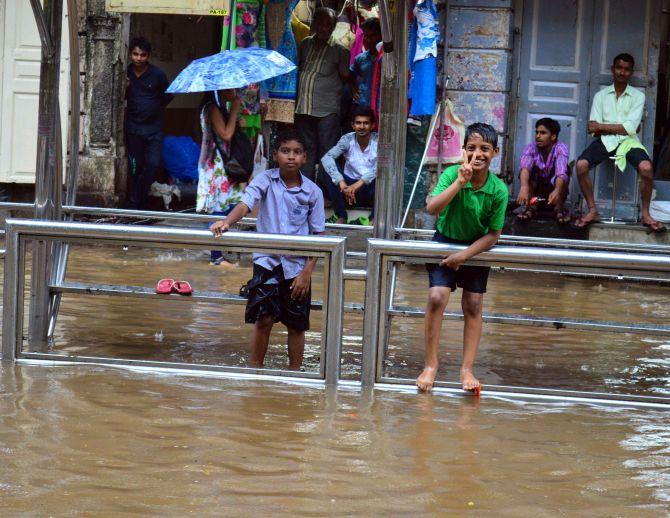 The Indian Meteorological Department has said that that there has been a forecast for 'heavy to very heavy' rainfall across Konkan and Goa and it includes Mumbai as well.
PHOTOS: How Twitter reacted to Brexit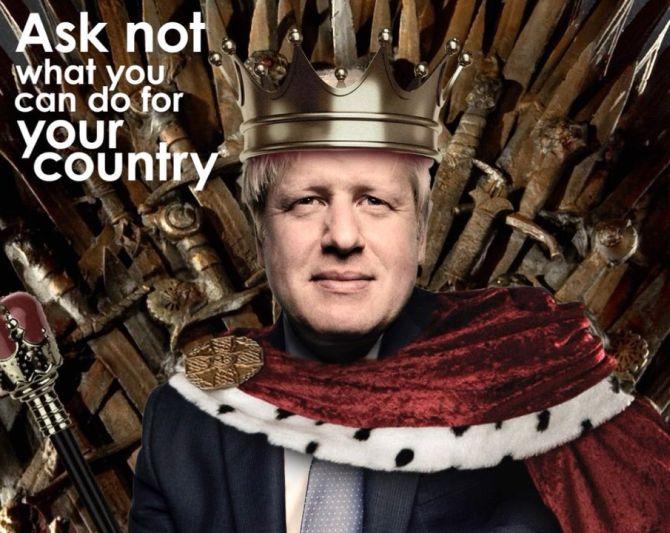 As Britain woke up to the news of the historic Brexit vote, many users opted to use Twitter to express their feelings.
Shock, bewilderment, awe: Britain reacts to Brexit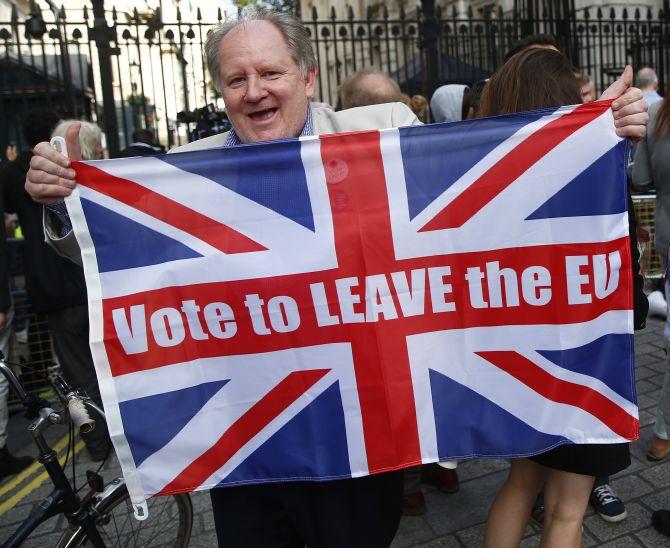 As United Kingdom voted to leave the European Union in a historic referendum, scenes of celebration and gloom could be seen across the nation.
After Brexit, what next?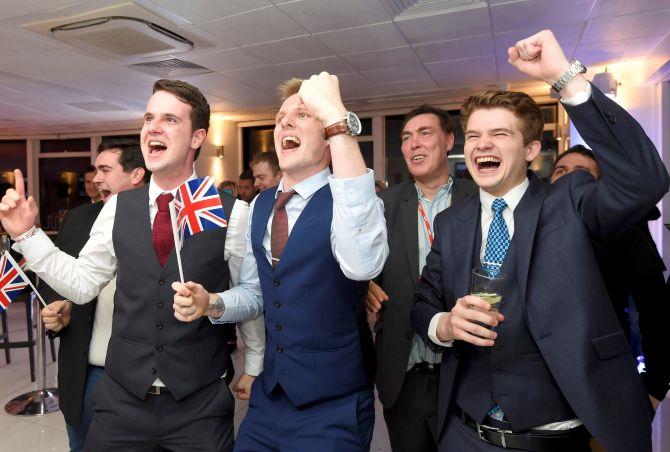 Where does Britain go from here? What happens to the European Union?
'Independence Day': Britain parts ways with EU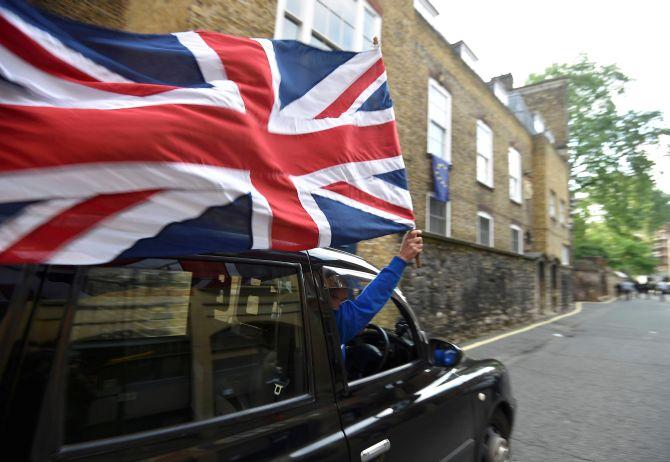 The United Kingdom has voted by 51.9 per cent to 48.1 per cent to leave the European Union after 43 years in an historic referendum.
June 23, 2016
Take fair, objective decision on India's NSG bid: Modi to Xi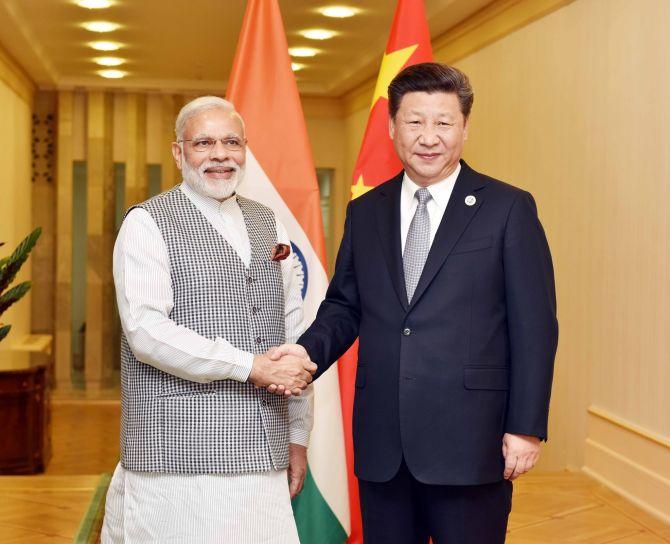 The meeting, which lasted for nearly 50-minutes, comes in the backdrop of stiff Chinese opposition to India's entry into the NSG, which looks after critical issues relating to nuclear sector, including trade and export of nuclear technology.
Brexit or Bremain? Britain votes in historic EU referendum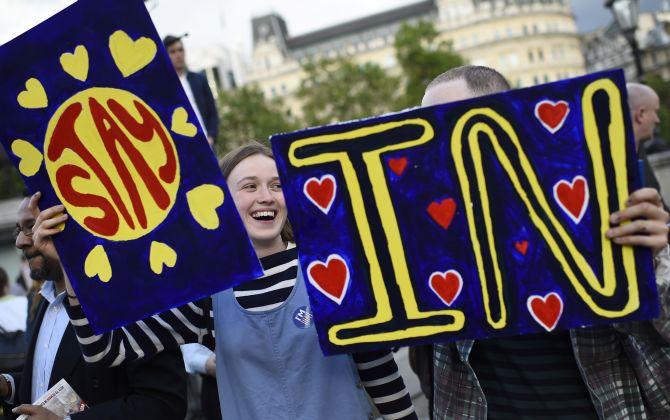 Polling stations across the United Kingdom opened on Thursday morning to decide the historic referendum on whether the country should remain a member of the European Union or leave the politico-economic union of 28 member states.
June 22, 2016
PHOTOS: The odd, odd world we live in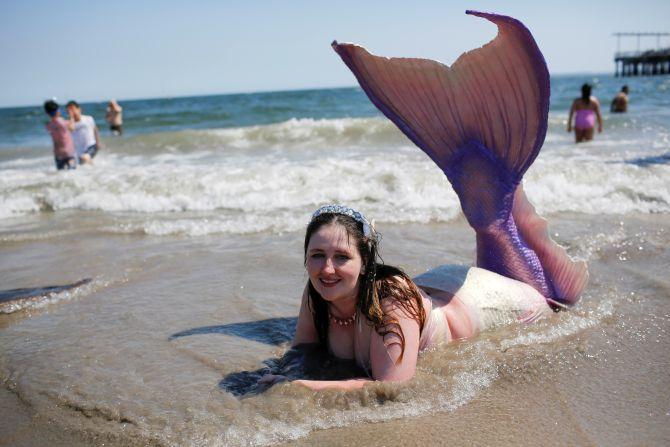 Ten images that show it's an odd, odd world we live in.
June 21, 2016
PIX: Yoga on high seas and difficult terrain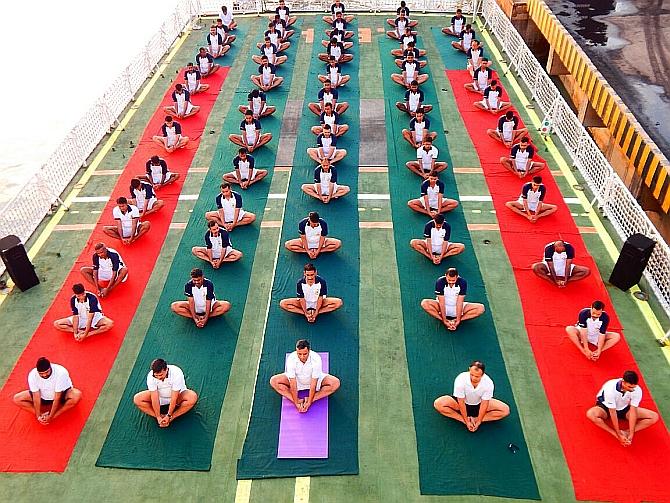 From ice-capped Siachen, the highest battlefield in the world, to the warships off South Korea, Indian armed forces on Tuesday joined the International Yoga Day celebrations.
PHOTOS: Welcome to PM Modi's yoga class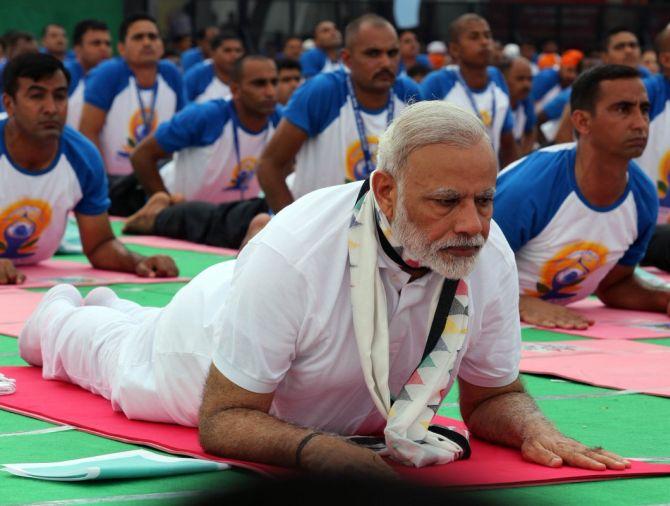 Modi, dressed in a white-coloured T-shirt and trousers along with a scarf, did the yoga asanas with ease, as he is a regular practitioner of the ancient form of exercise.
From London to Japan, everyone's doing yoga!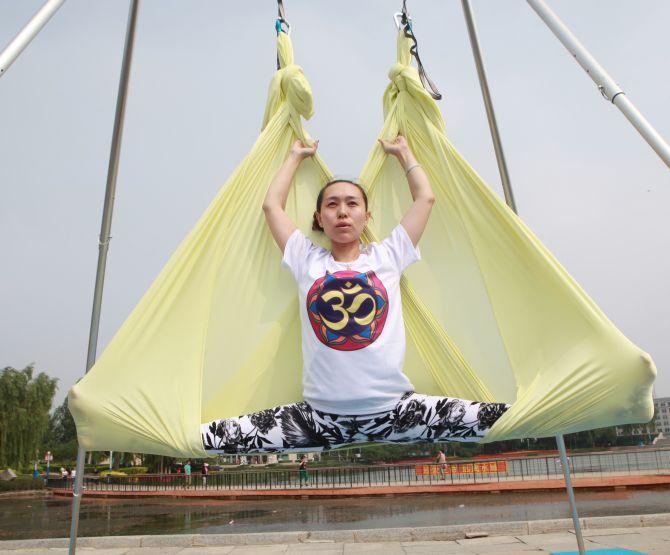 People across the world woke up to an early-morning call to celebrate the second International Yoga Day on Tuesday with much enthusiasm.
Yoga Day: Look who's leading by example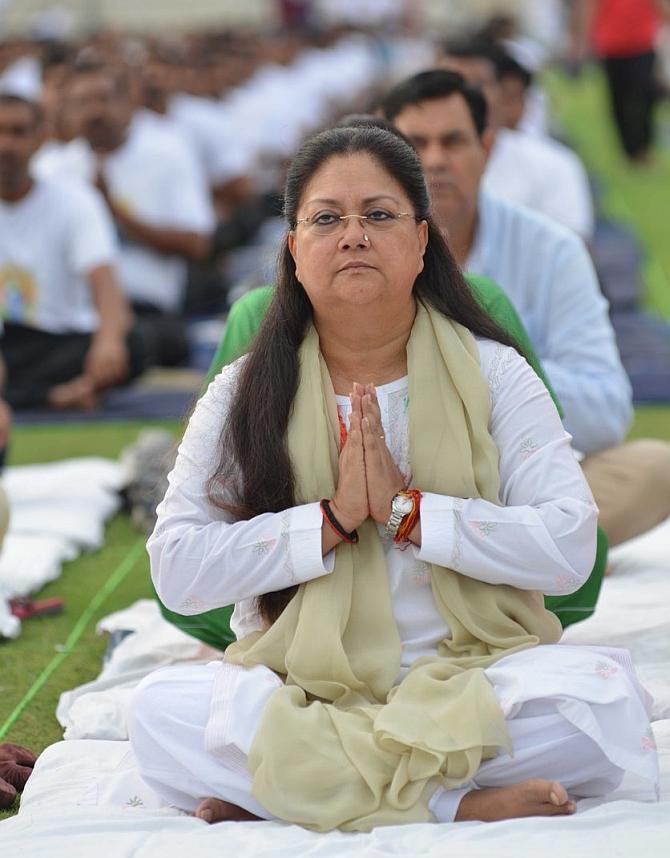 Some of the big names who decided to roll out the yoga mat
Yoga is not a religious activity, embrace it: PM Modi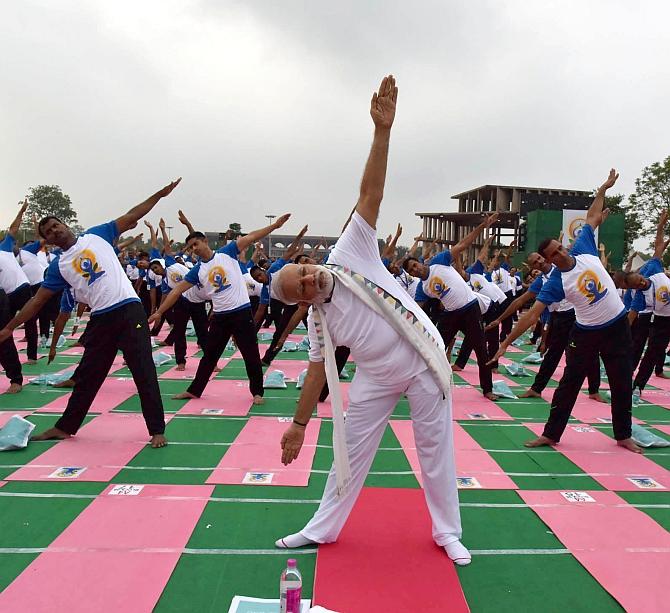 Calling on the world to embrace Yoga as a discipline in everyday life, Prime Minister Narendra Modi, on the occasion of the International Yoga Day today, asserted that the ancient Indian art was the most selfless of its kind, as it did not discriminate, did not ask for much, but simply functioned for the betterment of mankind and brought every society together.
PIX: Amit Shah, Smriti, Rajnath roll out yoga mats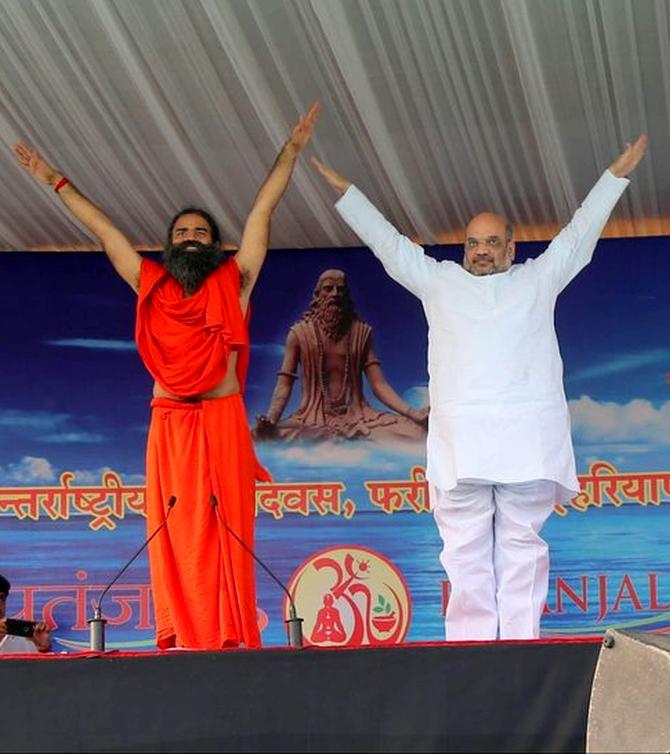 Prime Minister Narendra Modi's Cabinet colleagues celebrated the second International Day of Yoga on Tuesday at different parts of the country.
June 20, 2016
The young guns scripting poll victories in India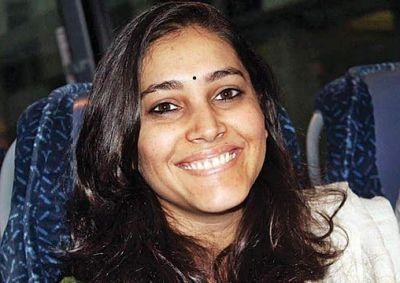 From Narendra Modi's victory in 2014 to the Nitish-Lalu triumph in 2015 and delivering Assam to the BJP in 2016, young and very professional strategists have startled politicians and the media.
PHOTOS: India warms up for Yoga Day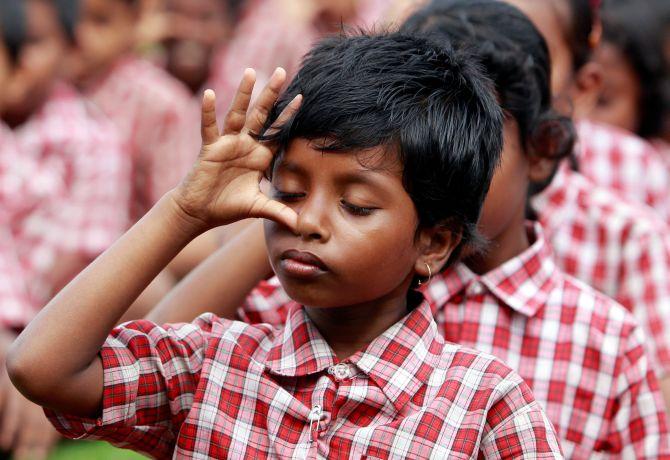 Here are glimpses of people practising yoga across the country.
June 19, 2016
PHOTOS: Obamas take a long hike at Yosemite National Park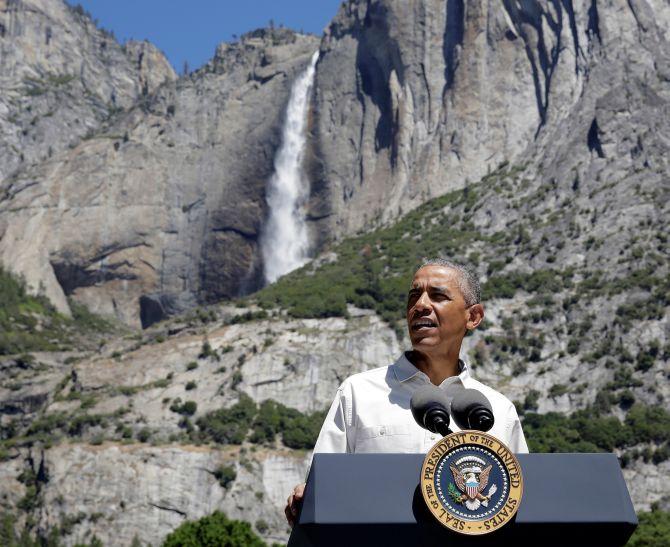 The family vacation comes a week after the oldest daughter, Malia, graduated from the private Sidwell Friends School at an outdoor ceremony that the family attended.
PHOTOS: World rolls out its mats for Yoga Day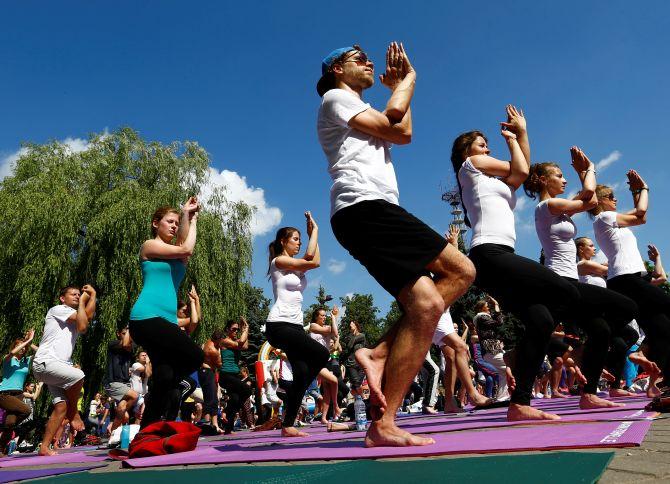 Modi said the support and participation of the people last year and once again now "redeems the commitment to nurture and promote this ancient discipline and reaffirms yoga as an exemplary manifestation of 'Vasudhaiva Kutumbakam' (the world as one family)."
June 17, 2016
WTF News: It's Weird, True and Funny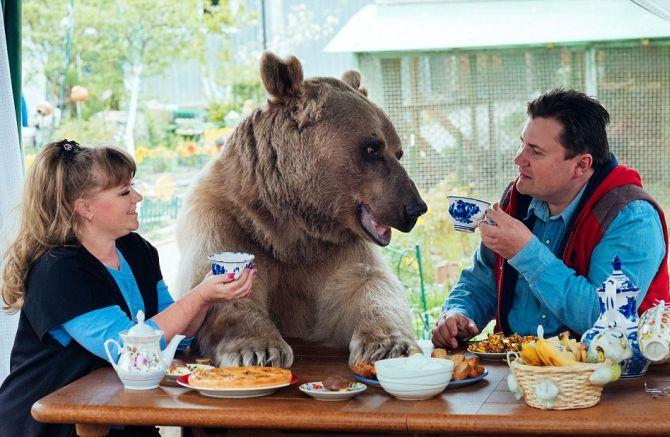 This week's collection of stories that prove we live in a truly mad, mad world.
June 16, 2016
Age no bar: Meet Nepal's 68-year-old student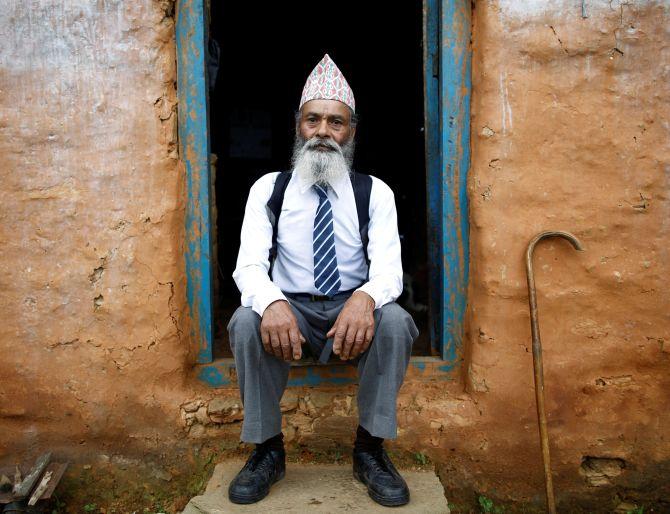 Poverty prevented Kami finishing his studies as a child. At 68, he goes to school six days a week to complete his studies and escape a lonely home life.
June 14, 2016
Hindu Sena celebrates 'messiah against Islamic terror' Trump's birthday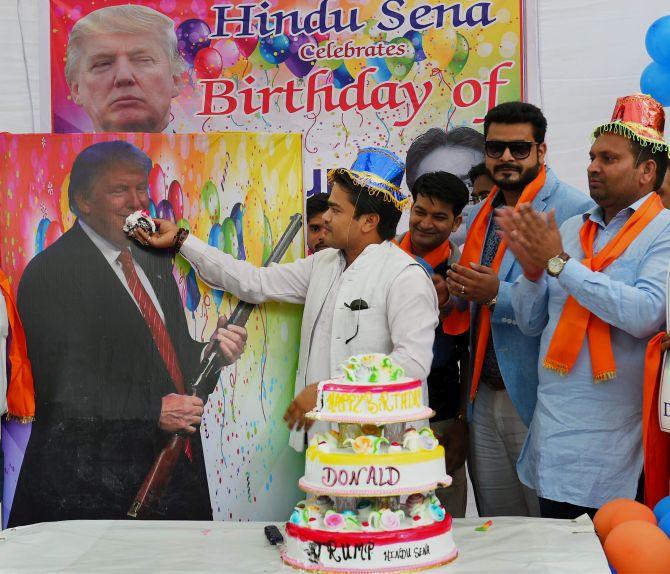 The Sena workers a cut seven kilogram cake and also played music on the occasion. The Hindu Sena called Trump the 'saviour of humanity' and the 'messiah against Islamic terror'. They also observed a minute's silence for Orlando victims.
He 'played dead' among bodies to escape Orlando nightclub killer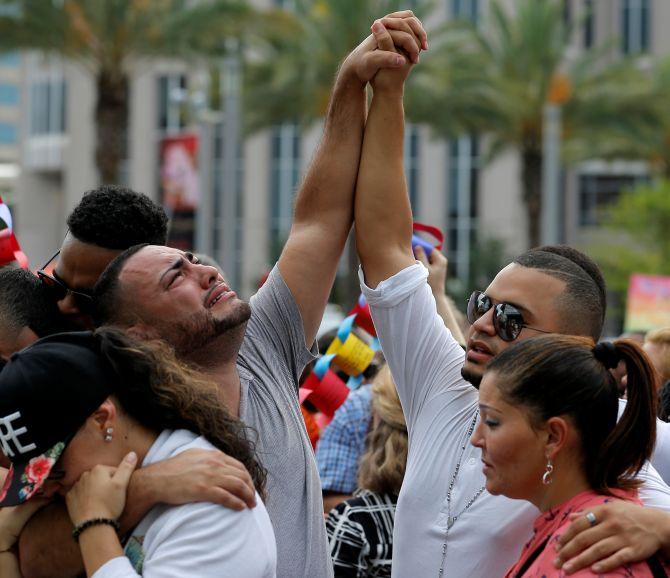 Even as the community and the country struggle to come to terms with this attack, stories of survival emerge.
Pakistan has more nukes than India!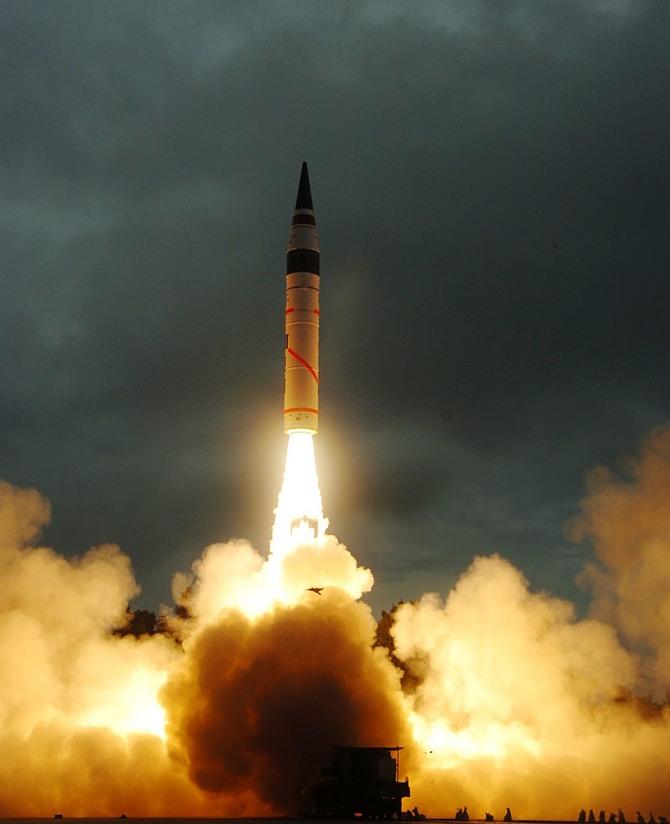 Rediff.com present a comprehensive listing of the nuclear nations and their collective and active stockpile.
June 13, 2016
IAF's MiG-27 crashes into Jodhpur building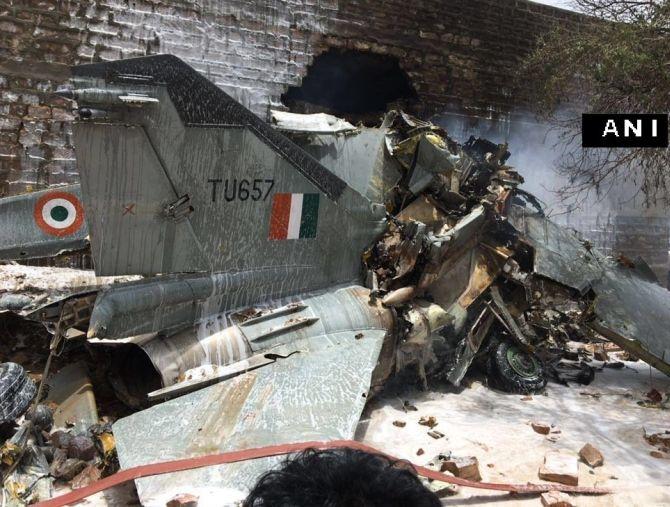 A MiG-27 aircraft of the Indian Air Force on Monday crashed in a residential area of the city, with the pilot ejecting safely.
'The gunfire could have lasted a whole song'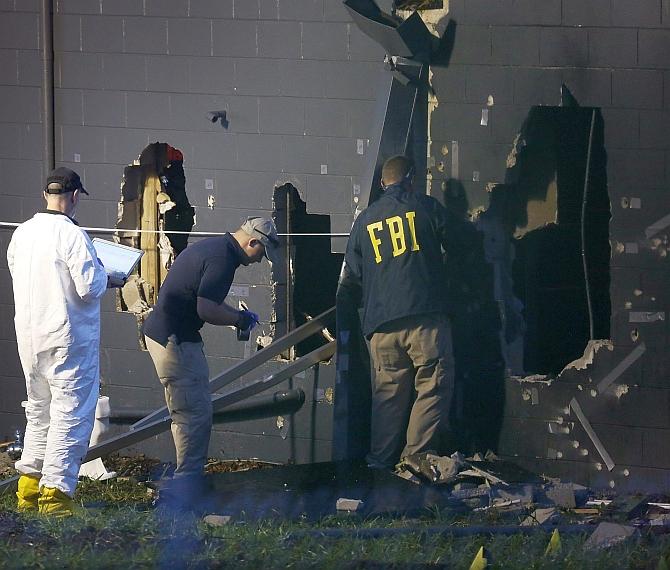 Tales of horror continue to emerge from the patrons at the gay nightclub Pulse in Orlando, the site of the deadliest mass shooting in the United States and the nation's worst terror attack since 9/11.
June 10, 2016
Not allowed to speak, BJP MLA stands on Delhi assembly bench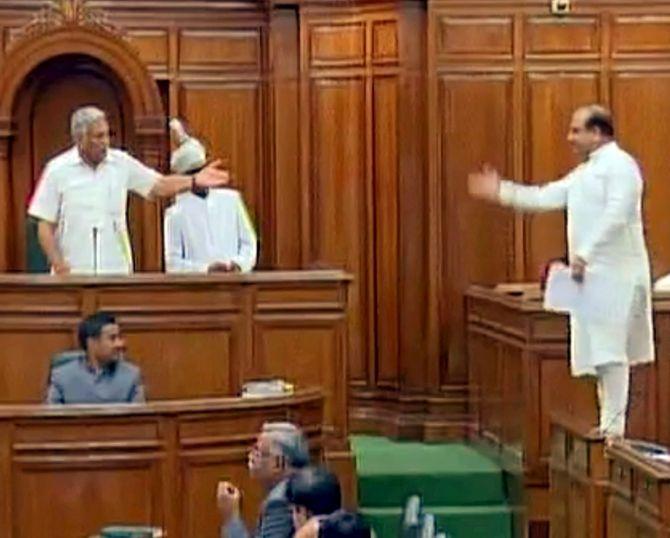 Gupta was demanding that a fact-finding committee report on an alleged water tanker scam during Sheila Dikshit's tenure be made public and a calling attention motion on the matter. Speaker Ram Niwas Goel rejected the demand.
June 09, 2016
PIX: Modi bonds with Nieto over bean tacos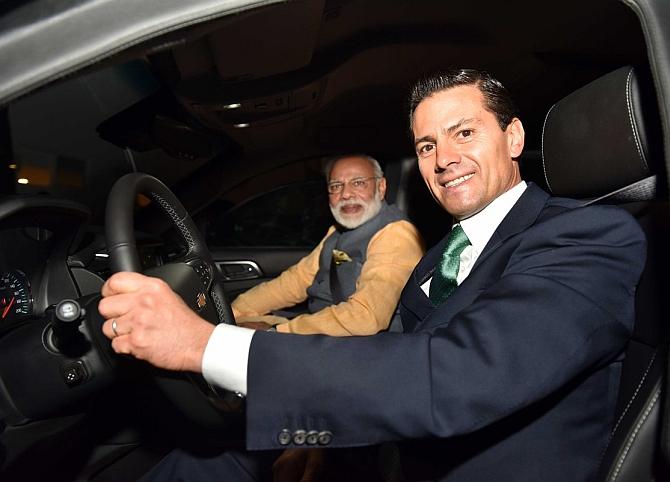 The dinner was part of the working visit of Prime Minister Modi which was originally scheduled to be held at the Mexican President's official residence.
Mexico embraces Modi amid chants of 'Bharat Mata Ki Jai'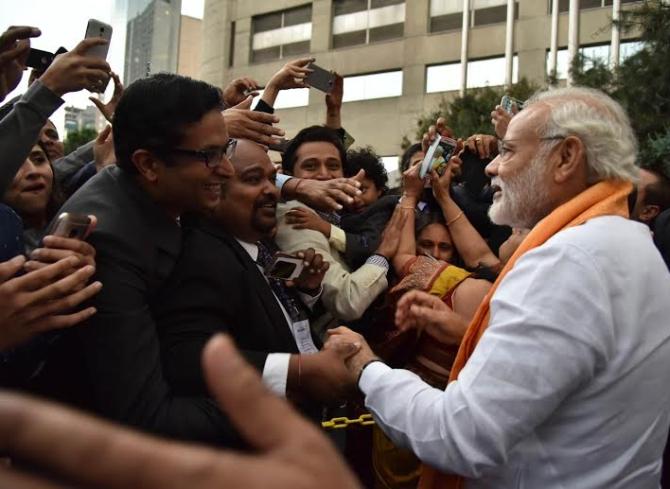 Modi, who is in Mexico on the final leg of his five-nation tour during which he will hold talks with Mexican President Enrique Pena Nieto on key bilateral issues including India's NSG membership bid, was greeted by the Indian community amid chants of 'Bharat Mata Ki Jai'.
June 07, 2016
From US First Lady to possible first female president, Hillary's done it all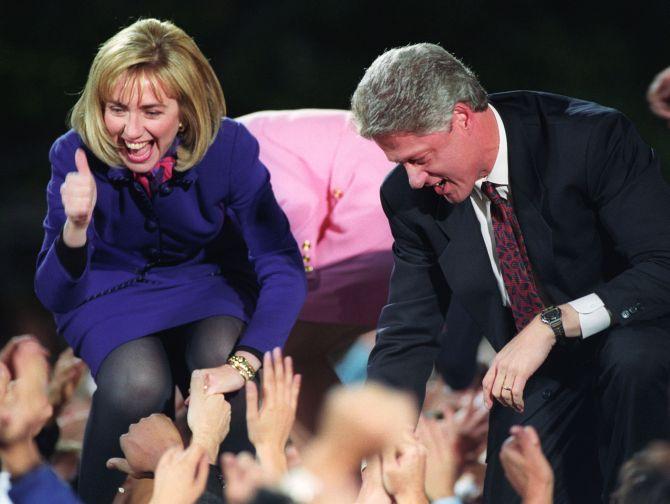 Ninety-six years after women won the right to vote in the United States of America, a woman stands a chance of winning the US presidential race.
Here, the heroes rest in peace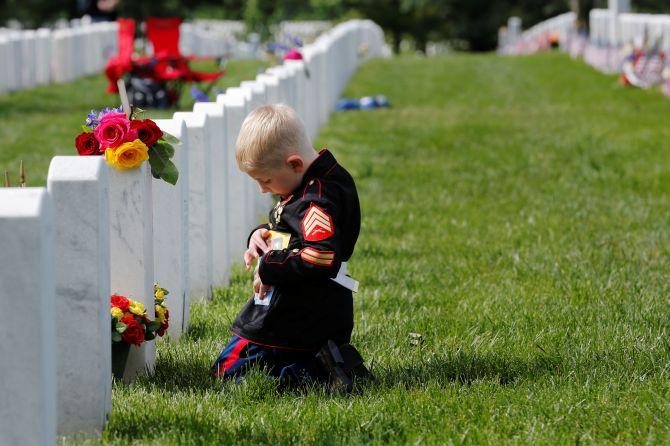 Here are a few interesting facts about the 152-year-old cemetery in whose 624 acres the dead of the nation's conflicts are buried.
June 06, 2016
Switzerland backs India's NSG bid; to help tackle blackmoney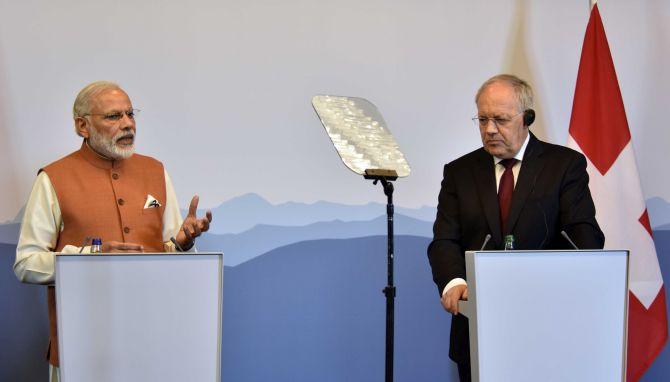 India on Monday got the backing of Switzerland in its bid to become a member of the Nuclear Suppliers Group.
PHOTOS: This Gaza boy twists and turns his body like no other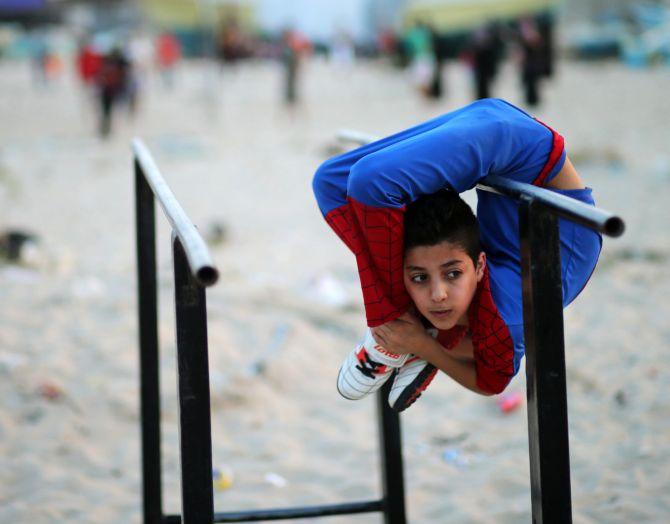 He's not bitten by a spider nor is he auditioning for the next Spiderman movie but 12-year-old Mohamad al-Sheikh who is nicknamed 'Spiderman', hopes to break the Guinness world records with his bizarre feats of contortion.
June 04, 2016
Modi, Ghani inaugurate landmark Afghan-India Friendship Dam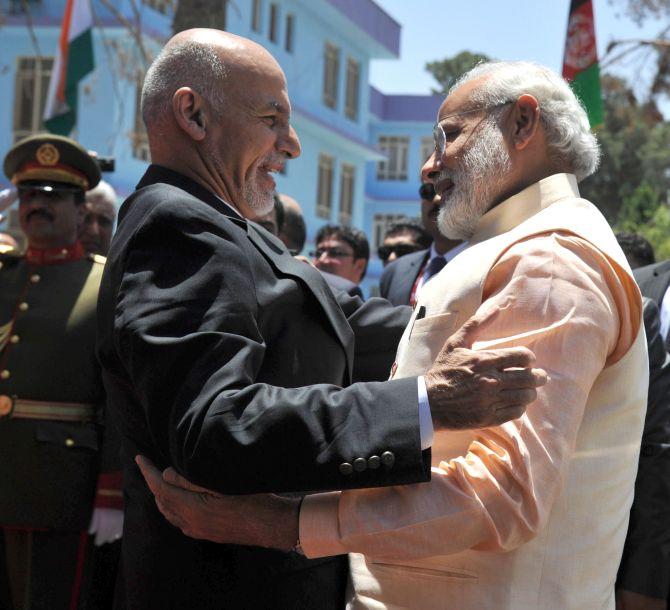 The Afghan-India Friendship Dam, earlier known as Salma Dam, on river Chist-e-Sharif in western Herat neighbouring Iran, will irrigate 75,000 hectares of land and generate 42 MW of power.
PHOTOS: Paris is drowning in epic floods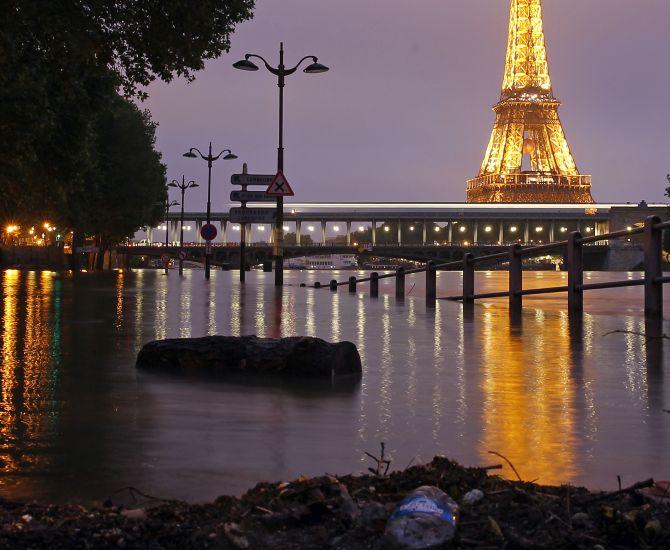 Paris is suffering the worst flooding in more than 100 years on Saturday forcing the Louvre to evacuate 250,000 pieces of art to safety from its basements.
June 03, 2016
He's a survivor! Japanese boy left in forest found alive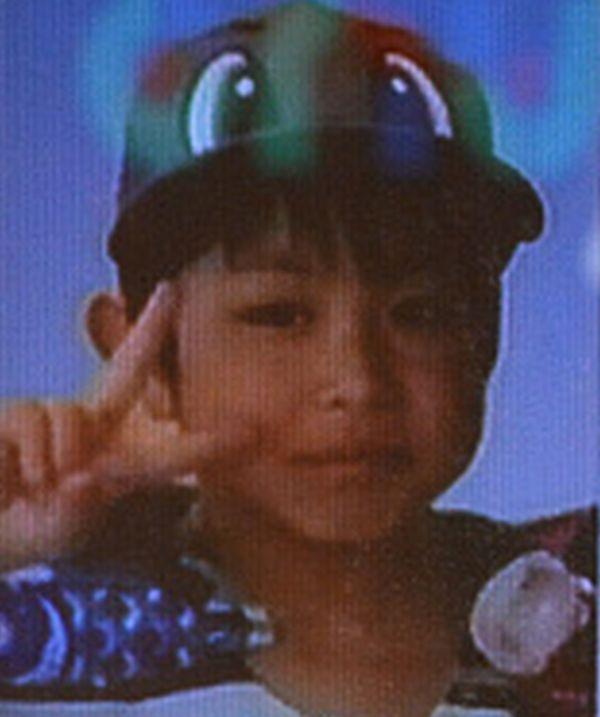 His father has apologised to his son and rescuers, saying, "we went too far".
Louvre shut, thousands evacuated as France declares flood emergency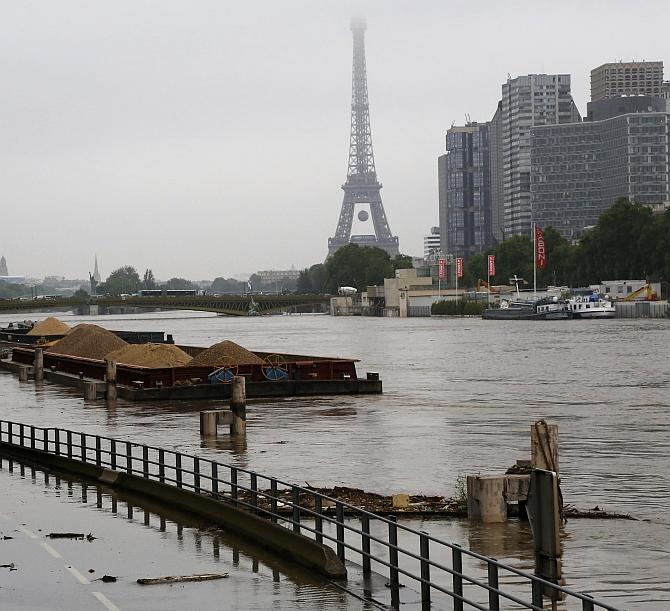 The world's most visited museum, the Louvre in Paris, will remain closed on Friday as the River Seine surged to its highest level for over 30 years in the French capital following torrential rainfall.
June 02, 2016
PHOTOS: Massive fire breaks out at Colaba Causeway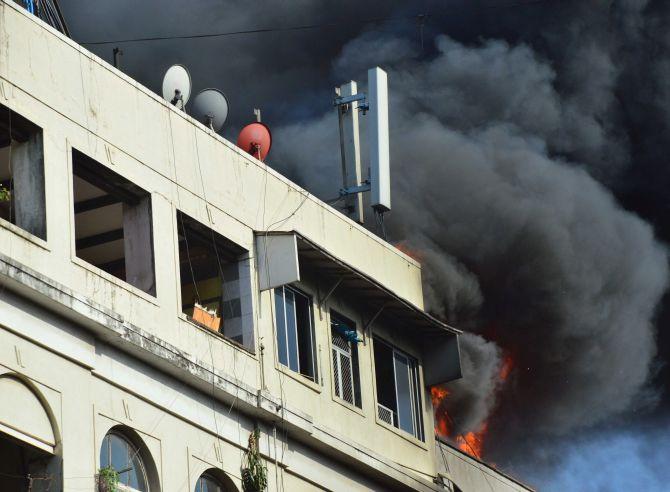 A major fire broke out on Thursday in a five-storeyed commercial-cum-residential building in Mumbai but there were no casualties.
Just #TryBeatingMeLightly, say defiant Pakistani women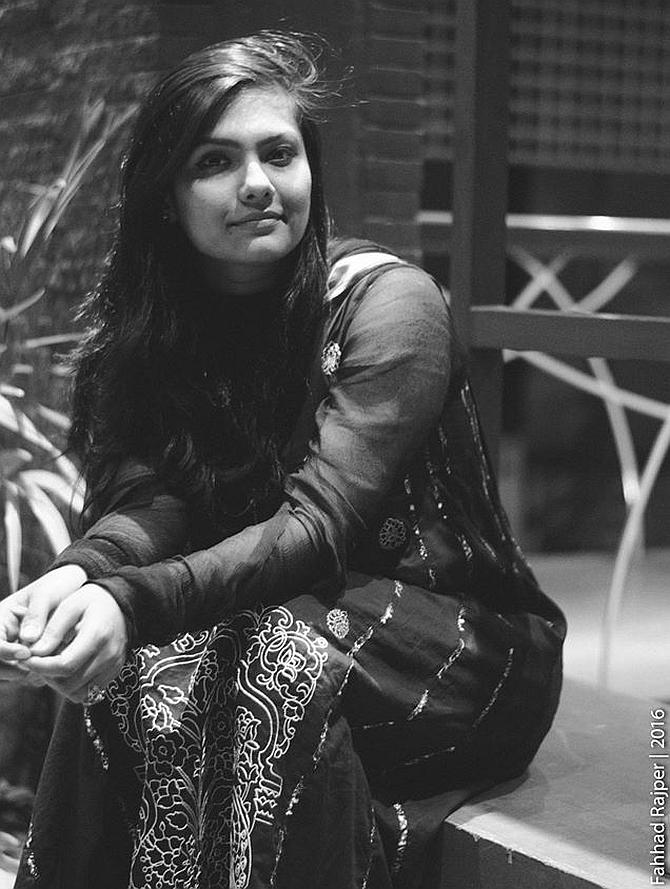 photographer Fahhad Rajper made a series of powerful photographs of women called #TryBeatingMeLightly featuring Pakistani women of all ages reacting to the Council of Islamic Ideology's ridiculous bill about 'beating wives lightly'.
May 31, 2016
Chidambaram, MJ Akbar, Prabhu in the fray for RS nominations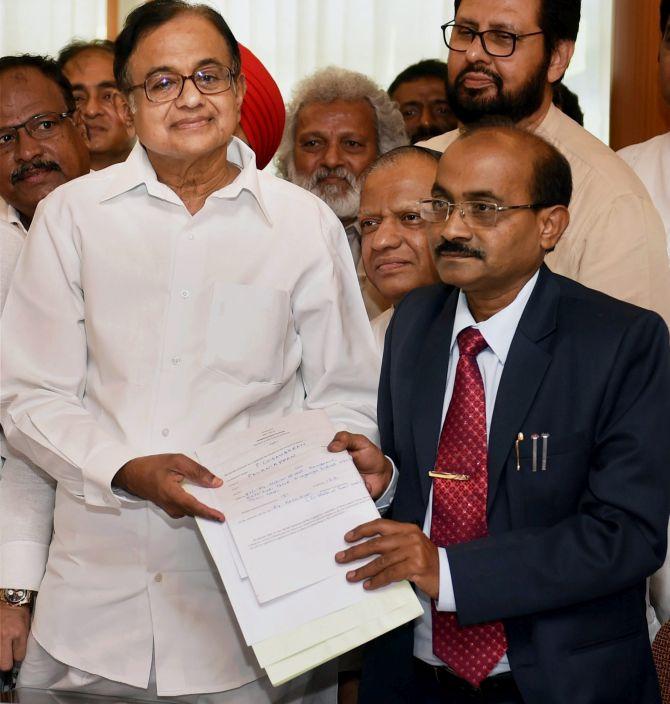 As nominations for Rajya Sabha biennial polls closed on Tuesday, a contest is on the cards in Uttar Pradesh and Haryana even as Union Power Minister Piyush Goyal and senior Congress leader P Chidambaram are among those set to be elected to the Upper House.
RIP Harambe: Outrage grows over gorilla's death at US zoo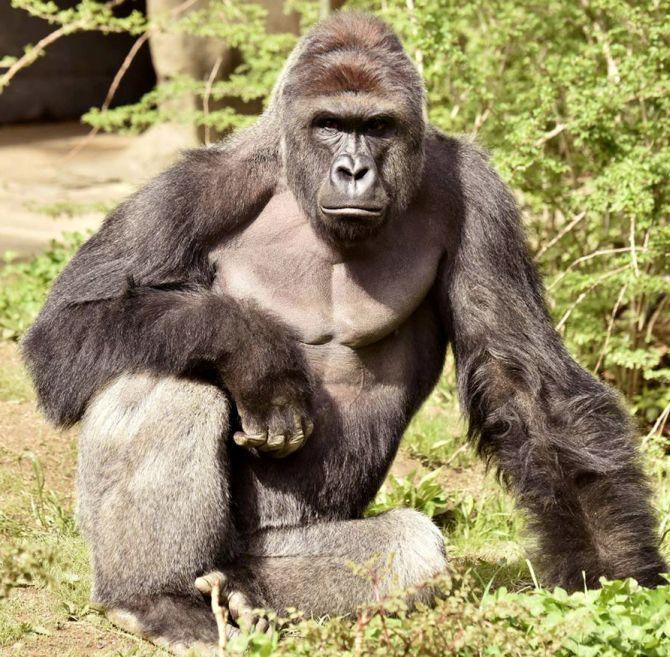 A 17-year-old endangered gorilla was shot dead by the authorities after a four-year-old entered the enclosure, sparking a furious debate on animal rights.
Lights, camera, action! Sydney like you have never seen before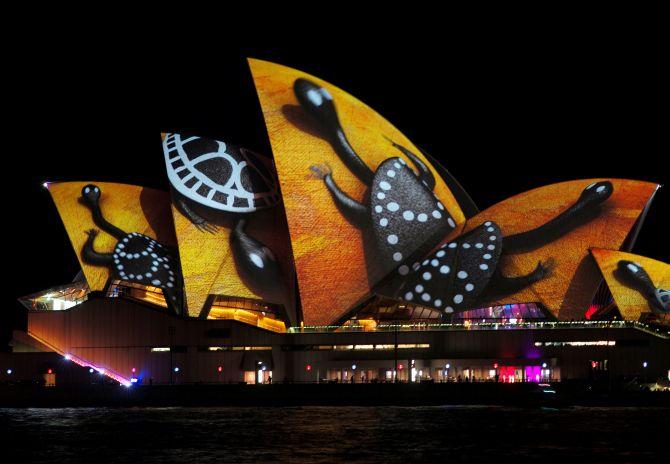 Sydney's skyline has exploded with light and colour as Vivid Sydney -- a three-week "festival of light, music and ideas" -- brings public art installations, lighting sculptures to the Australian capital this year from May 27 to June 18.
May 30, 2016
Mediterranean shipwrecks kill 700 migrants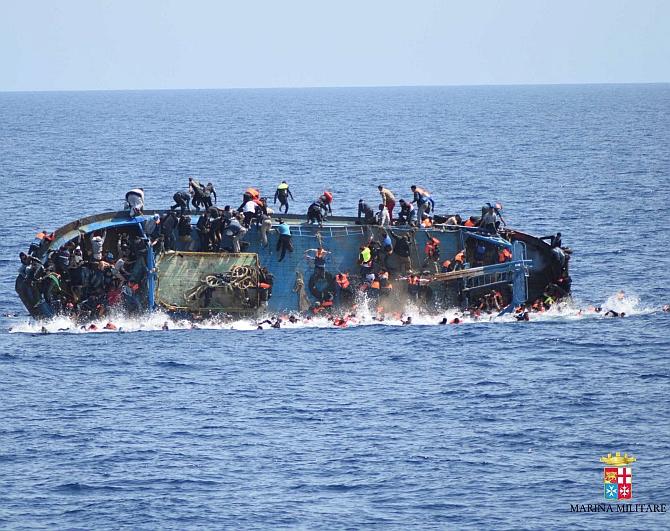 Up to 700 migrants, including 40 children, are feared to have died this week while crossing the Mediterranean, based on the accounts that survivors told aid workers once they reached safety.
May 28, 2016
India Gate witnesses a starry event for Modi@2 bash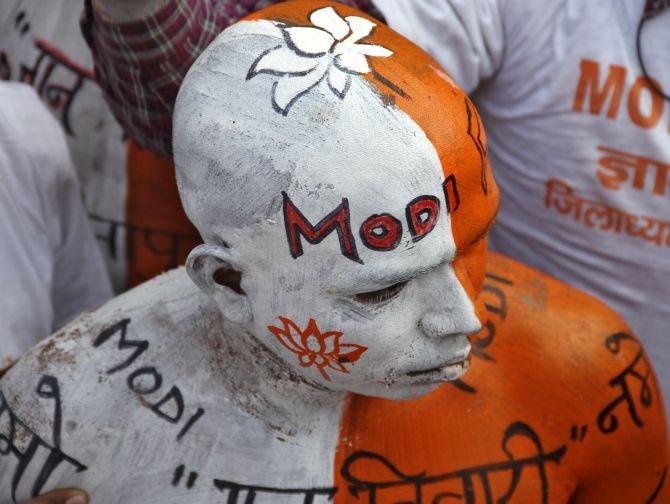 Top Union ministers on Saturday joined a gala event, which had a smattering of Bollywood actors, including megastar Amitabh Bachchan, aimed at publicising the "achievements" of the Narendra Modi government on completion of two years in office.
May 27, 2016
PHOTOS: A new house for the Obamas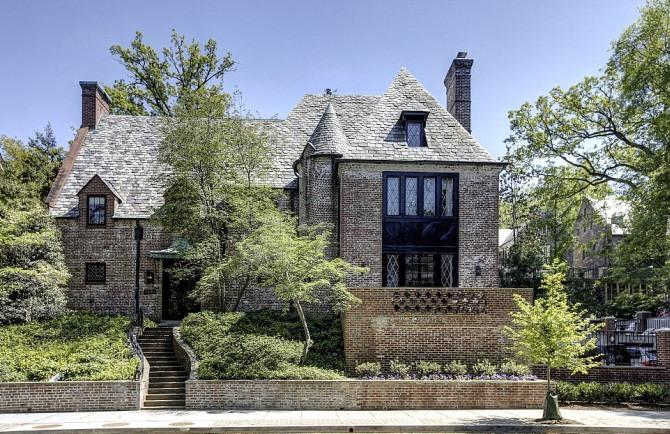 The Obama family would be moving to an 8,200-square-foot mansion in the Kalorama neighborhood in Washington, D C after the president leaves office in January 2017.
May 26, 2016
PHOTOS: Nilgai strays into North Block area, rescued after 4 hours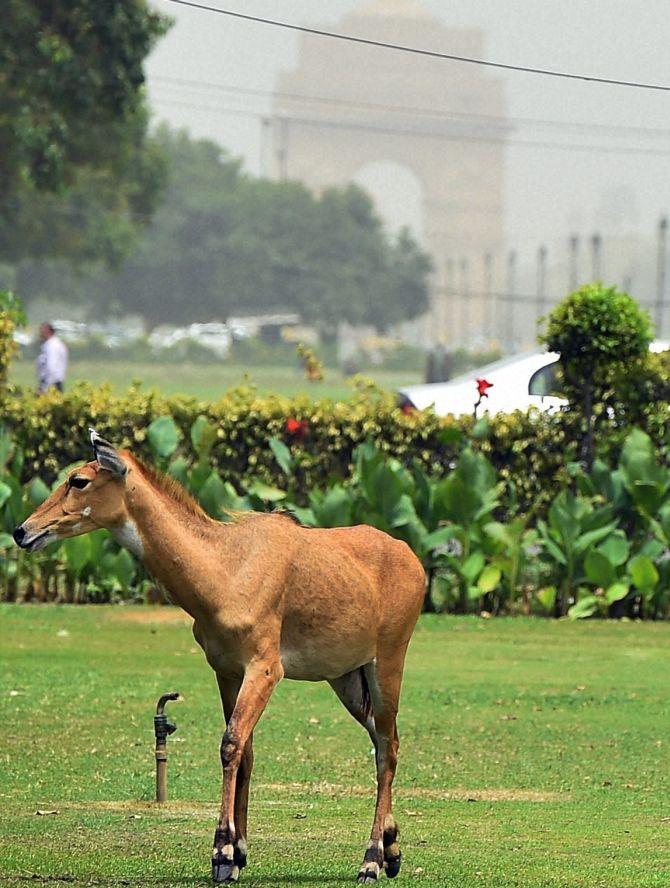 The wildlife officials said the female adult blue bull has sustained injuries on her legs and the wounds are being treated by the department.
Modi@2: Janata ki Awaaz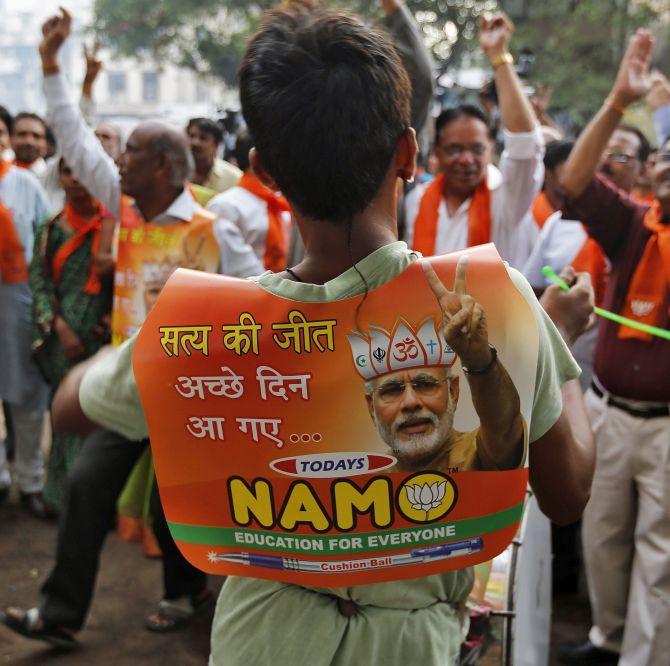 As Prime Minister Narendra Modi completes two years in office, Rediff.com's video journalists hit the streets to gauge the public sentiment about him.
Modi@2: The outstanding moments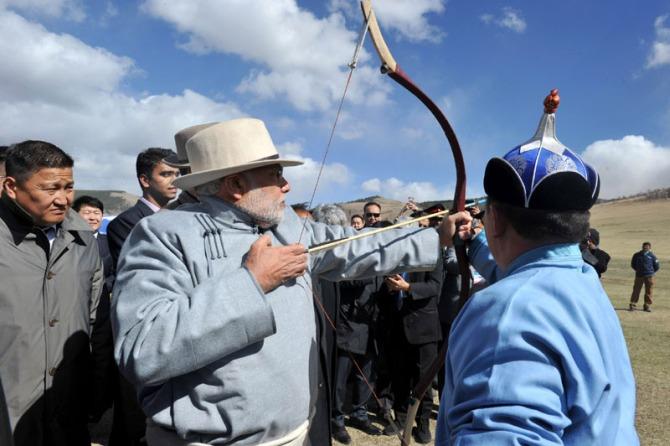 From twisting ears to poking into strange claymen from China, Prime Minister Narendra Modi has proven time and again that he is an awkward-moment magnet. The camera loves him, and he responds in kind, always.
May 25, 2016
REWIND: TOP photos of the week that was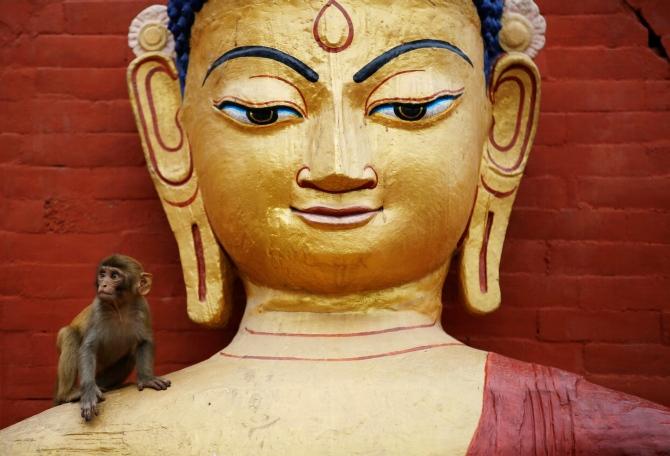 Here's a collection of some of the best photos from around the world shot in the last 24 hours.
May 24, 2016
BJP's show of strength at Sonowal's swearing-in ceremony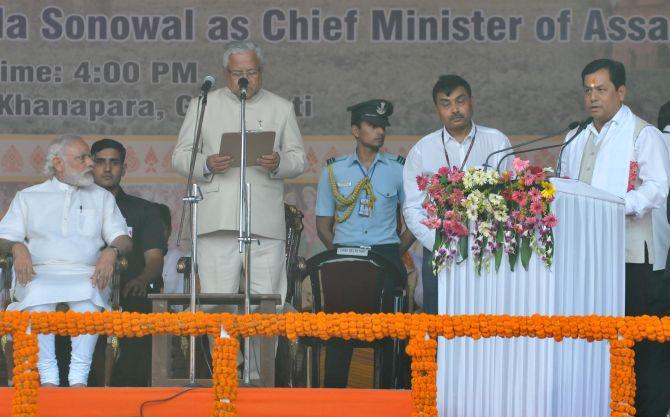 Sarbananda Sonowal was on Tuesday sworn in as the 14th chief minister of Assam in the presence of Prime Minister Narendra Modi, Bharatiya Janata Party president Amit Shah and other dignitaries at a huge public function at Khanapara field.
May 23, 2016
PHOTOS: Here, you can be a part of the painting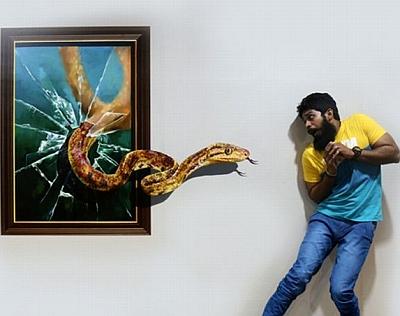 India's first 3D interactive 'trick art' museum has been inaugurated in Chennai.
May 20, 2016
Ahmedabad sizzles at 48 degree, breaks 100-year record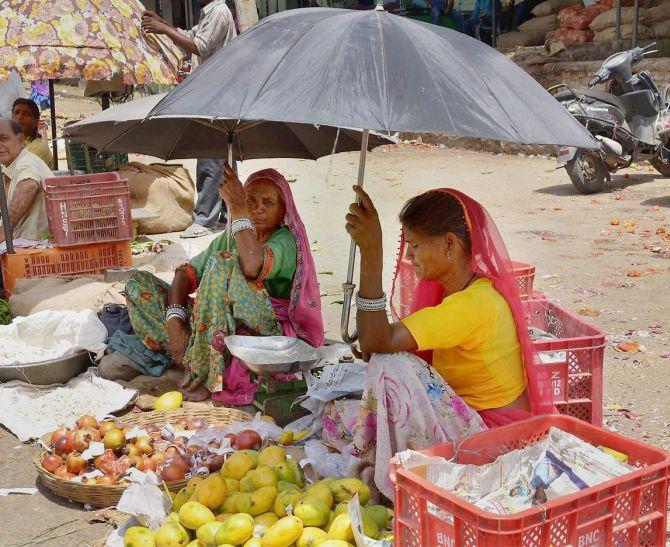 Palodhi in Rajasthan simmered at 51 degree Celsius and the maximum in Ahmedabad shattered a century-old record.
May 19, 2016
Mamata's TMC sweeps aside opposition in West Bengal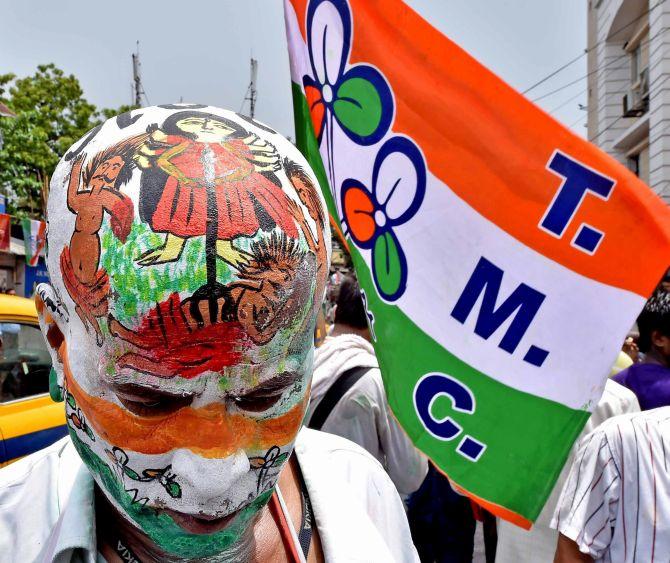 The Trinamool Congress won 211 seats.
PHOTOS: Celebrations outside Amma's, Didi's residences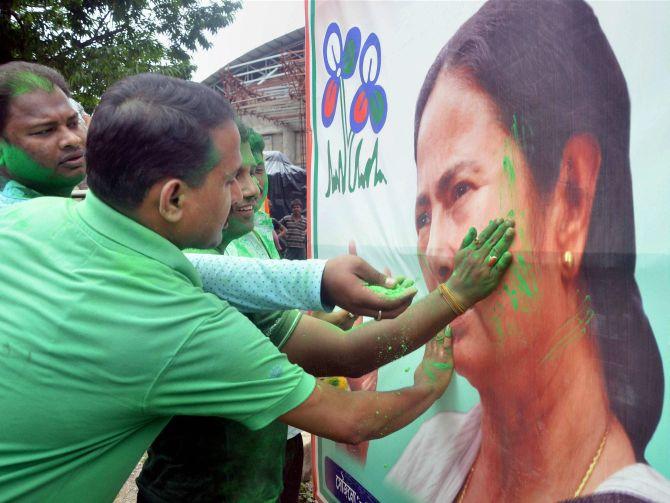 Even before the trends started coming, eager party workers were seen glued to their smart phones viewing the counting progress online.
Mamata and Jaya hold on to power; Kerala and Assam vote for change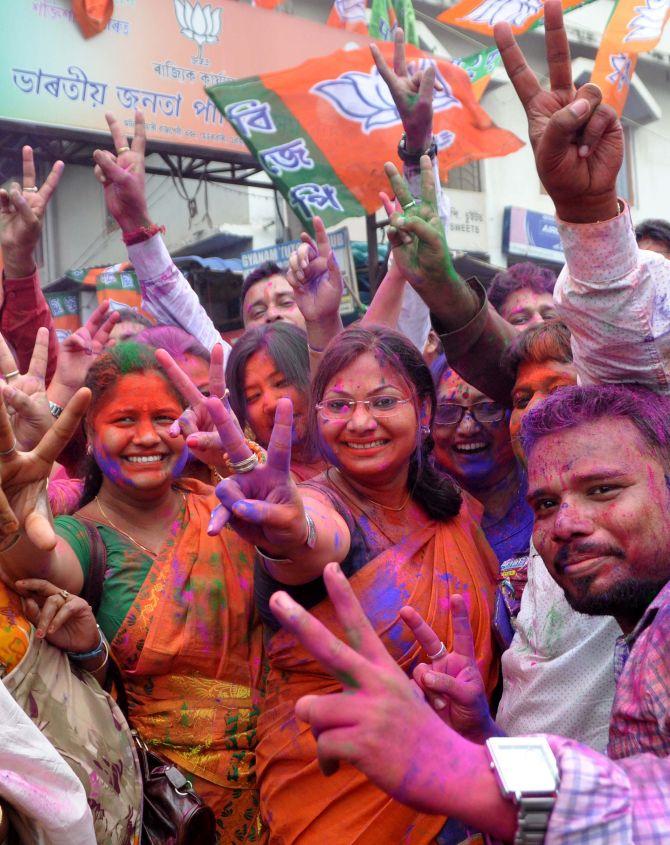 Scripting history, the Bharatiya Janata Party on Thursday stormed to power in Assam bagging a government in the north east for the first time dethroning the Congress which also lost Kerala while Jayalalithaa and Mamata Banerjee retained power in Tamil Nadu and West Bengal with spectacular victories.
Battle for 5 states: Biggest WINNERS and LOSERS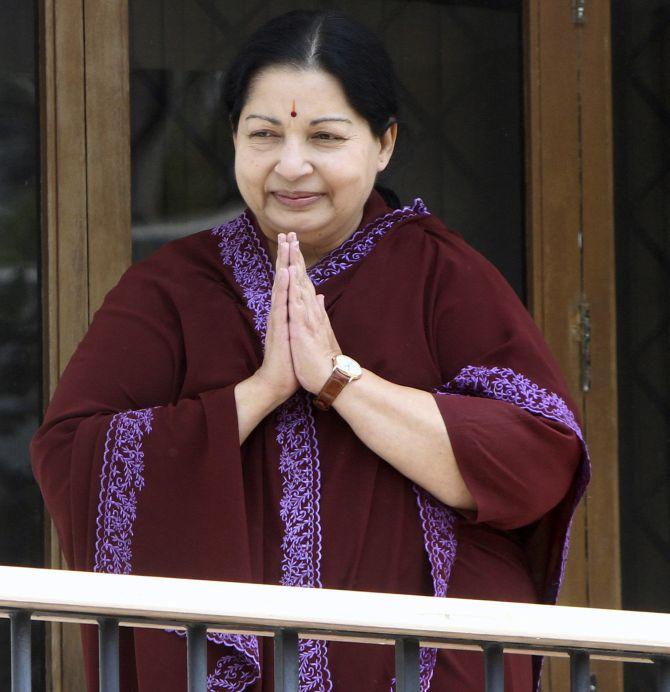 As counting is on in the five states - Kerala, Tamil Nadu, Puducherry, Assam and West Bengal -- here's a look at where the heavyweights stand.
May 18, 2016
Cyclone bypasses Indian coastline; heavy rains expected in Tamil Nadu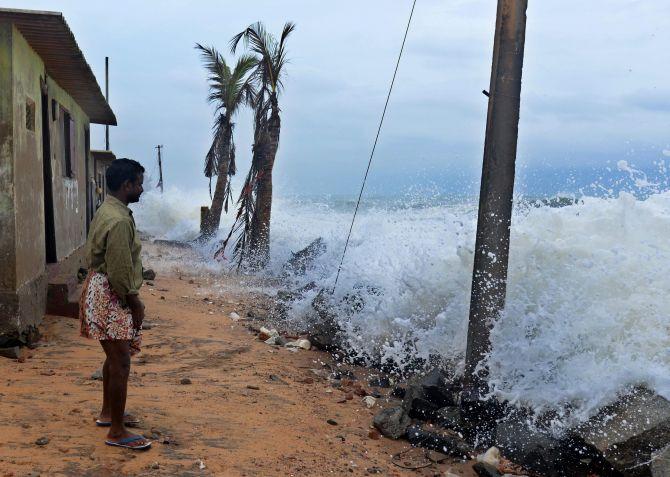 Heavy to very heavy rainfall was expected over north Coastal Tamil Nadu and Puducherry in the next 24 hours.
PHOTOS: 15-month-old is tied to a rock while parents work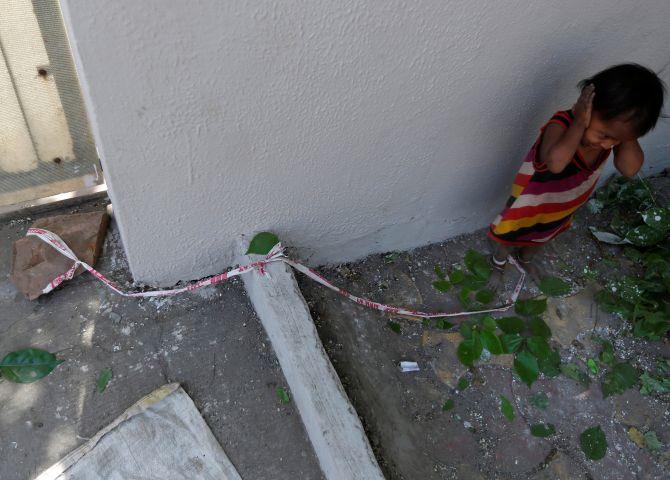 The parents tie the toddler for her own safety so that she doesnt run into the traffic.
PHOTOS: The odd, odd world we live in!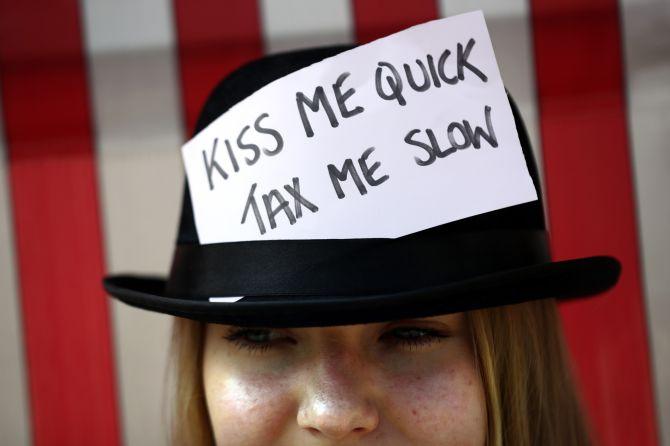 This week's collection of unbelievably unusual images from across the world.
May 17, 2016
11 die in Sri Lanka floods, thousands left homeless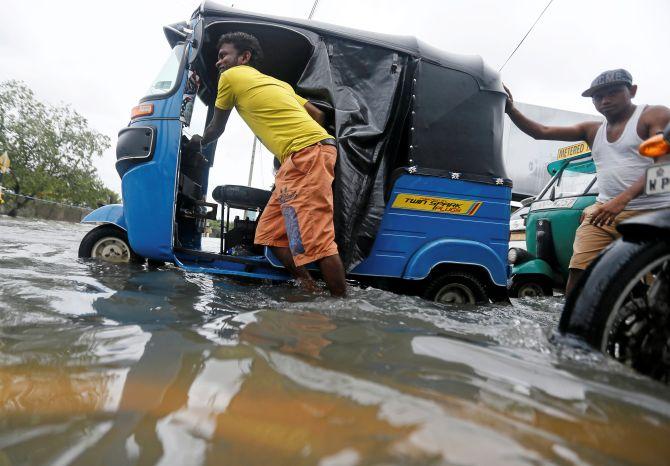 Sixty-eight homes have been destroyed. Sri Lankan capital Colombo was the worst hit with many roads submerged.
IAF chief Raha makes history, takes to the skies in a Tejas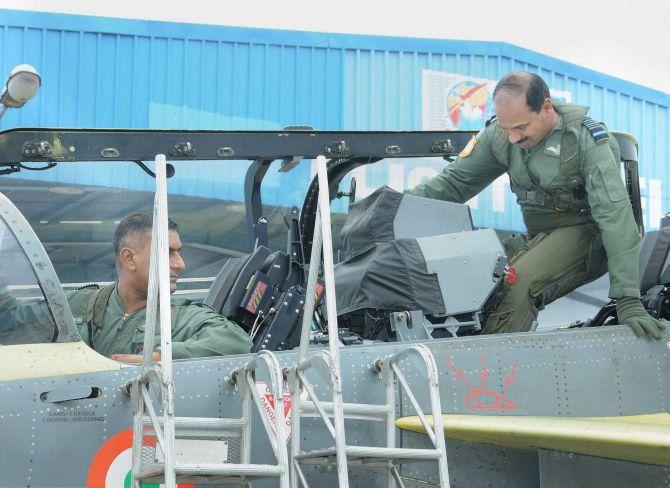 "It is my first sortie in Tejas, it is a good aircraft for induction into IAF operations," Raha was quoted as saying by the aircraft maker Hindustan Aeronautics Limited.
May 16, 2016
PHOTOS: When the 'stars' came out to vote in TN, Kerala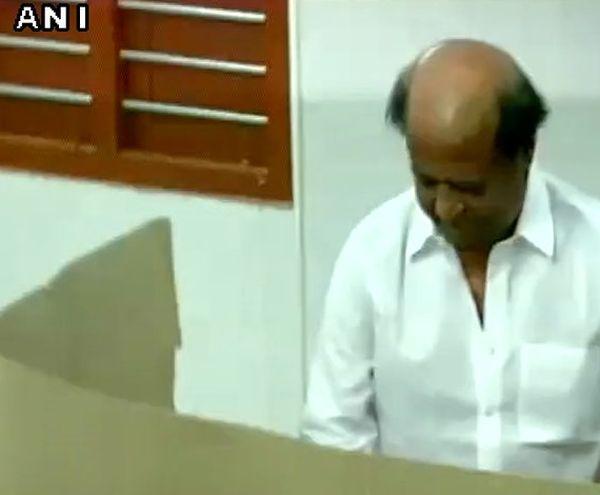 Celebrities and politicians made a beeline for polling stations in Tamil Nadu and Kerala, as both the states go to the polls on Monday.
PHOTOS: Finding art on a pencil tip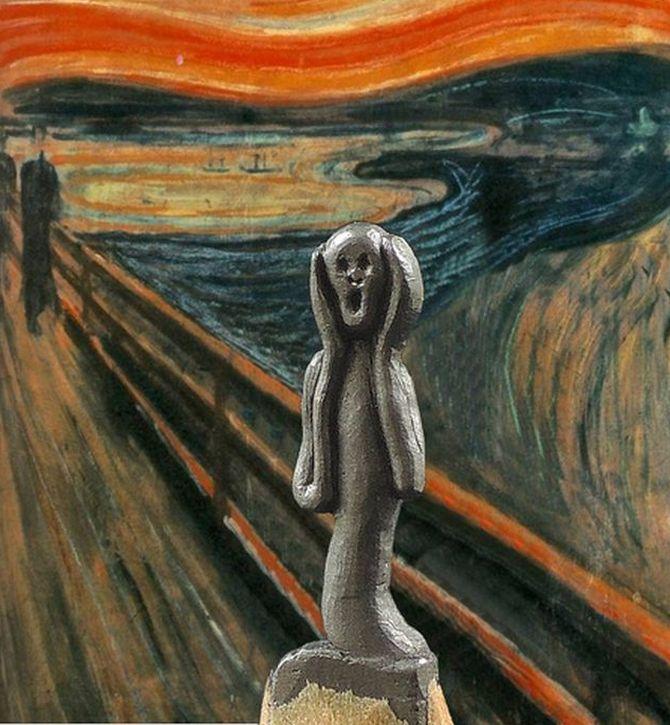 Many artists have used pencils to create works of art - but Jasenko Djordjevic creates miniature masterpieces on the tips of pencils.
May 15, 2016
London mayor Sadiq Khan's Hindu temple visit a hit online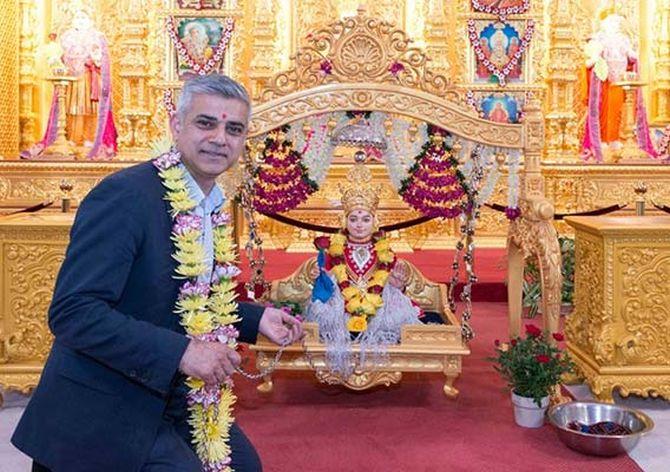 Pictures from the temple visit emerged on social media this week as Khan described the Shri Swaminarayan Mandir in north London's Neasden as one of his favourites.
PHOTOS: When PM Modi's mom visited him at 7 RCR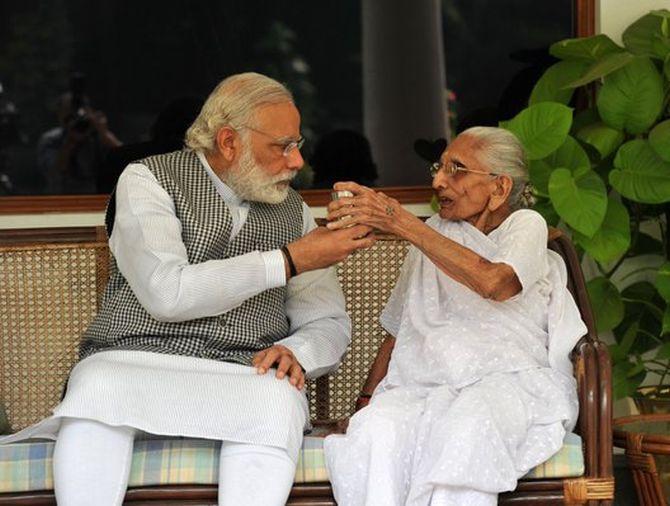 Prime Minister Narendra Modi shared some images of him spending some quality time with his mother Hiraben Modi. This is Modi's mother's first visit to 7 RCR, in New Delhi.
Will it be Amma or Karunanidhi? Fates to be decided on Monday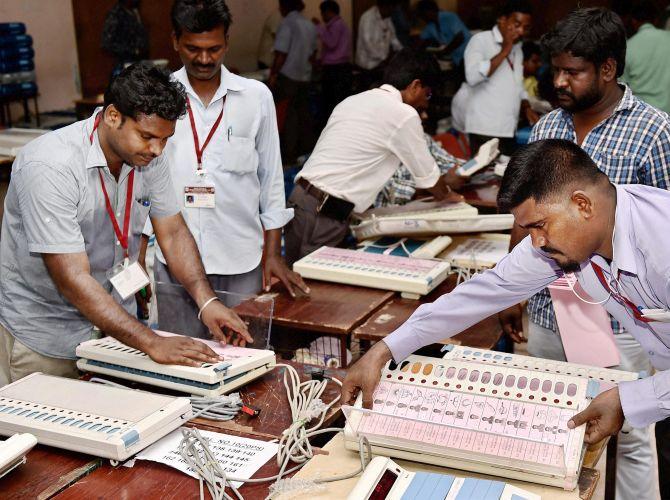 More than 5.79 crore voters will seal the fate of 3,740 aspirants including arch rivals Chief Minister Jayalalithaa and Dravida Munnetra Kazagham president M Karunanidhi, as the stage is set for polling in 233 assembly seats in Tamil Nadu under tight vigil on Monday.
Nearly 46 per cent turnout in MCD bypolls billed as litmus test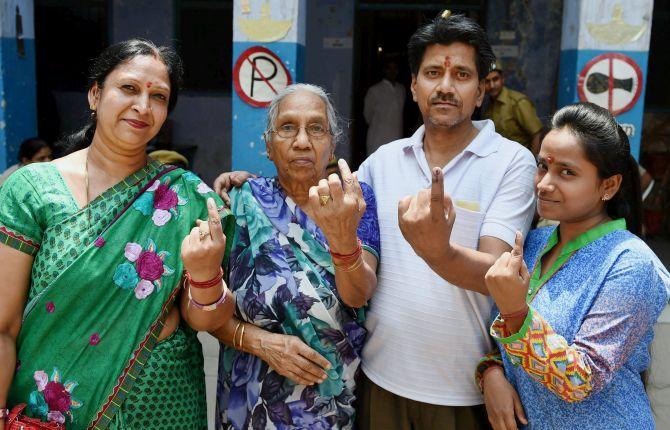 Braving scorching sun, voters queued up since early morning in the wards falling under three corporations - South Delhi Municipal Corporation (7), North Delhi Municipal Corporation (4) and East Delhi Municipal Corporation (2).
7 construction workers killed in wall collapse in Guntur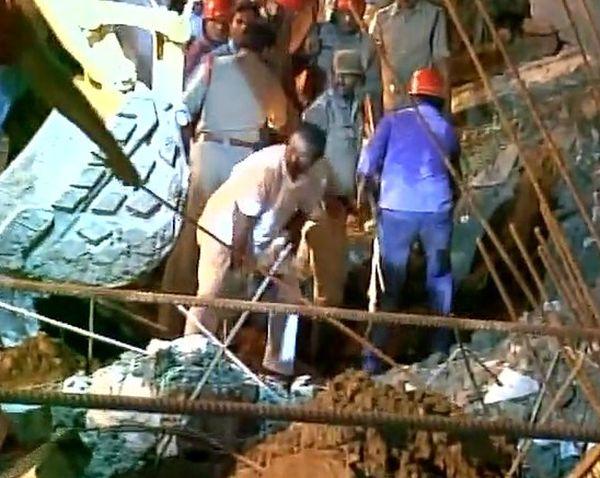 The state government announced a compensation of Rs 20 lakh each to the victims' families, Guntur district Collector Kantilal Dande said.
May 12, 2016
Will re-enact law to prevent NEET: Amma's promise in Tirunelveli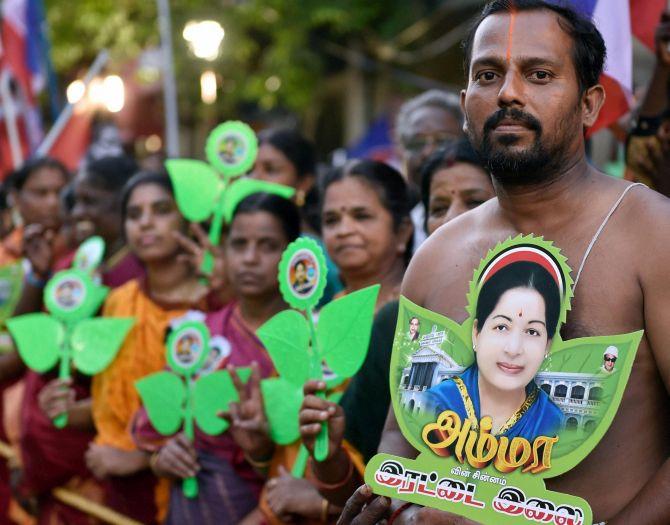 Amidst the blazing heat, women line up the streets offering 'mor' (buttermilk), water, local snacks while supporters wait for a glimpse of their 'mother' AIADMK chief at an election rally in Tirunelveli.
Keralites stranded in strife-torn Libya finally return home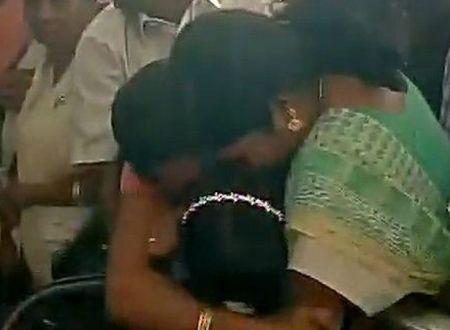 It was an emotional homecoming for the people who hugged their loved ones amid tears as they emerged from Nedumbassery airport at 10.30 am.
PIX: Unseen photos reveal George W Bush's response to 9/11 attacks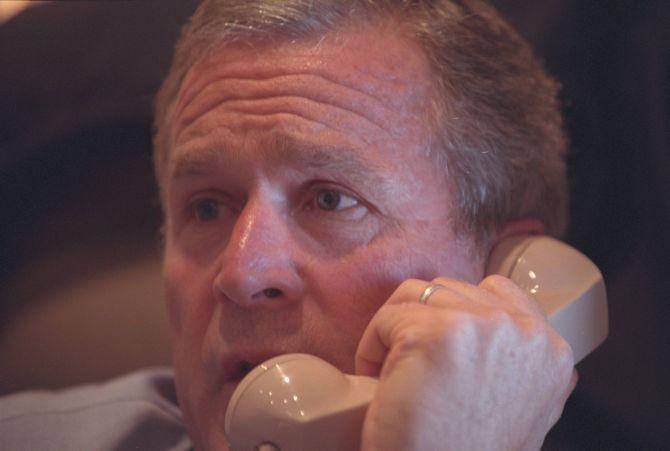 Previously unseen photographs of then-US President George W. Bush during 9/11 have been released.
May 11, 2016
PHOTOS: Rocky Yadav's Facebook posts show his love of guns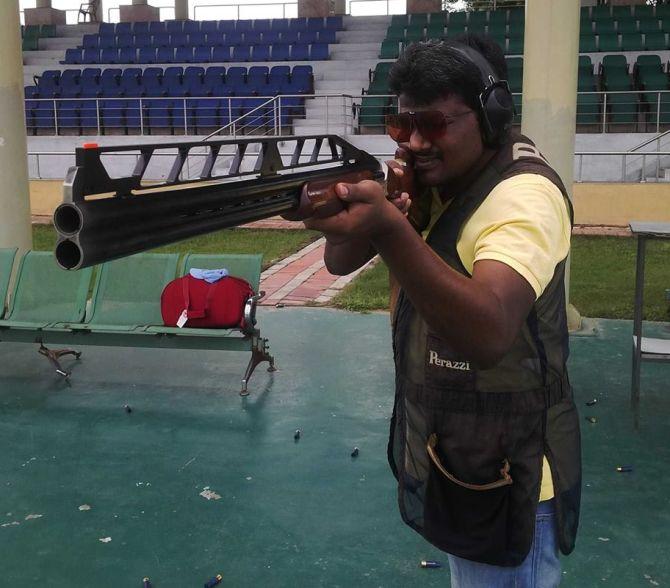 Rocky Yadav, son of Bihar legislator Manorama Devi, arrested for the murder of a teenager in Bodh Gaya last week, was fond of guns.
IAF's top guns brave extreme Alaska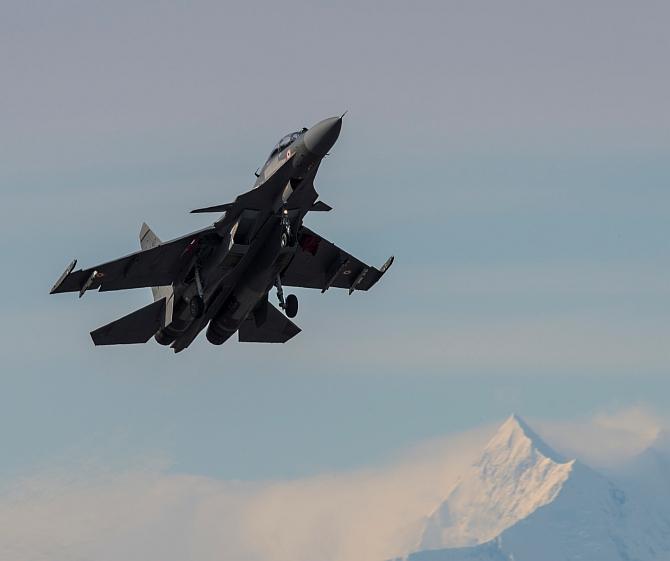 Codenamed Red Flag Alaska 16-1, the exercises are being conducted in the Joint Pacific Alaska Range Complex, the largest instrumented air, ground and electronic combat training range in the world at more than 65,000 square miles.
May 09, 2016
PHOTOS: Russia displays its military might on 'Victory Day'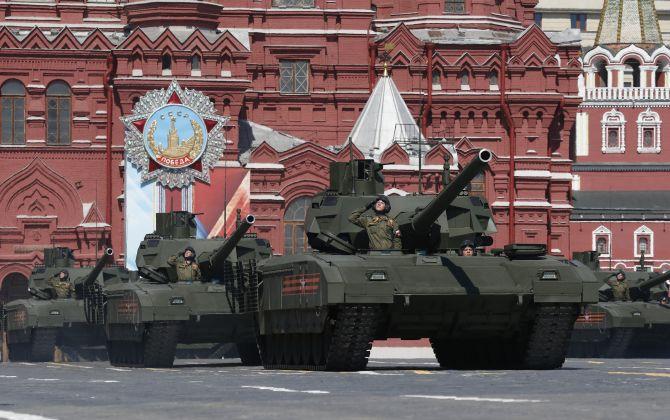 Here are glimpses of Russia's Victory Day parade which mark the 71st anniversary of the victory over Nazi Germany in World War II.
May 08, 2016
Canada's 'out of control' fire doubles in size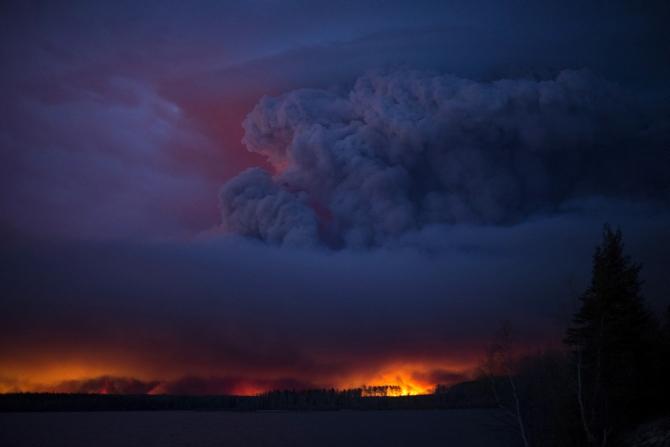 A wildfire that is raging across the province of Alberta is due to become Canada's costliest natural disaster later on Sunday, after reaching the size of Warwickshire, about 488,000 acres.
May 07, 2016
Pakistani bus driver's son Sadiq Khan is new mayor of London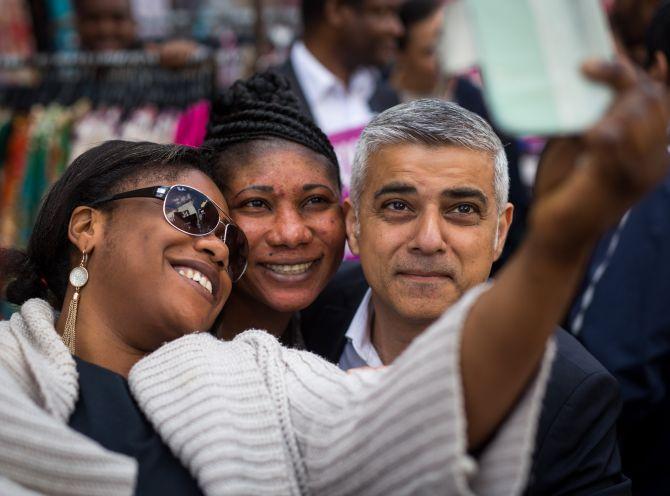 The 45-year-old former human rights lawyer also becomes the first Muslim Mayor of London.
Clashes break out in Jadavpur University over screening film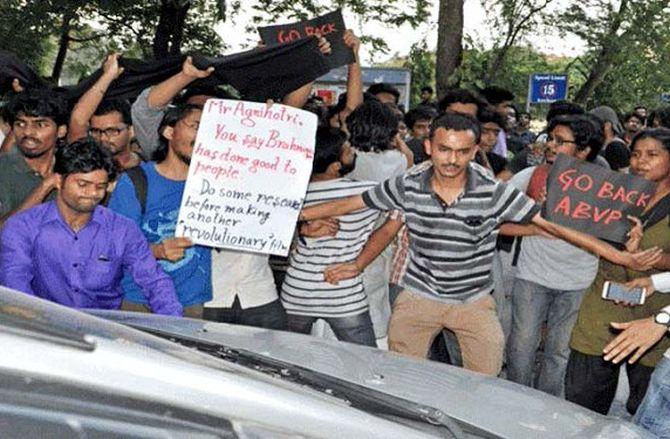 The fracas began after the film's screening ended late in the evening, and students from Akhil Bharatiya Vidyarthi Parishad fought with activists of Left-backed student unions in which a few of them received minor injuries, officials said.
May 06, 2016
Sonia leads Congress attack on Modi sarkar, top leaders court arrest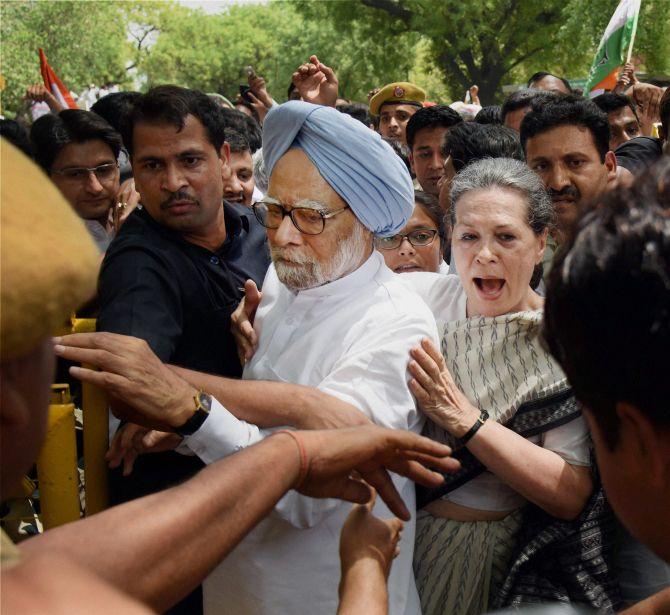 A combative Congress president also hit out at the Centre saying it should not try to frighten them and that they 'would not allow democratic institutions to be weakened or destroyed'
Canadian wildfires grow tenfold; rescuers pray for rain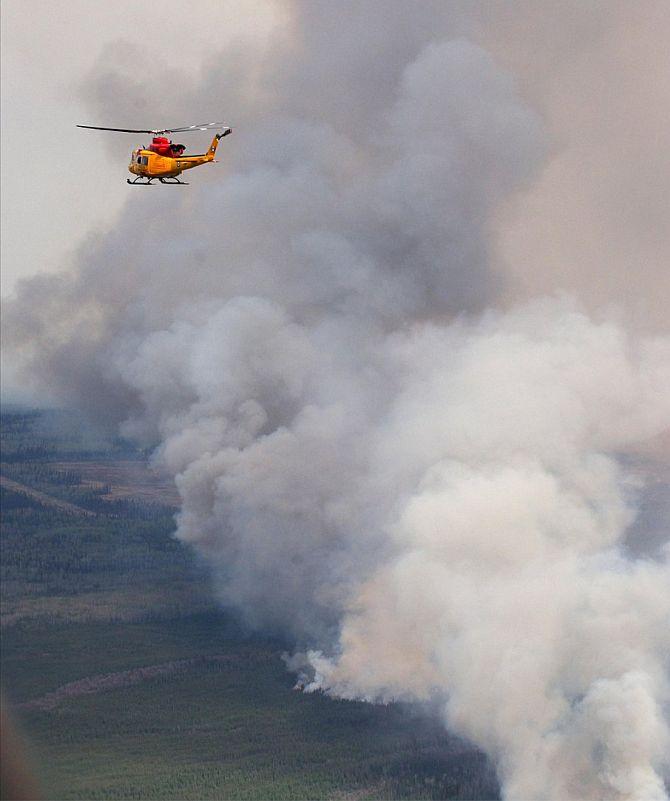 In little over 24 hours, the wildfires, which erupted on Sunday and forced the evacuation of about 80,000 people from Fort McMurray in the Canadian province of Alberta, have grown tenfold.
WTF News: It's Weird, True and Funny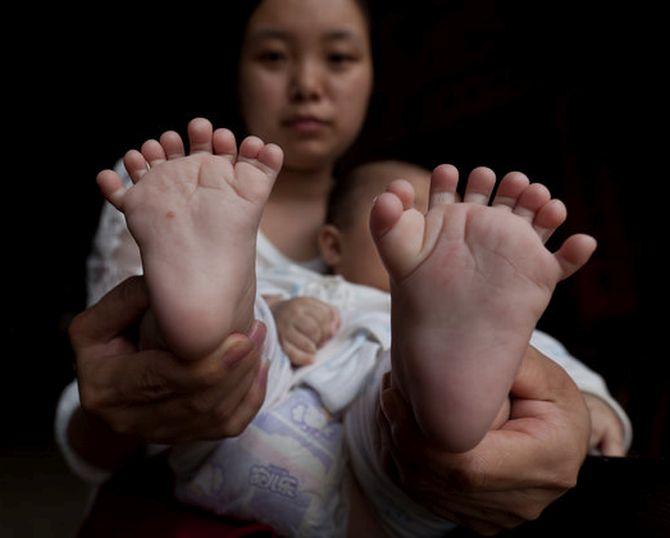 This week's collection of stories that prove we live in a truly mad, mad world.
PHOTOS: North Korea readies for the 'Kim show'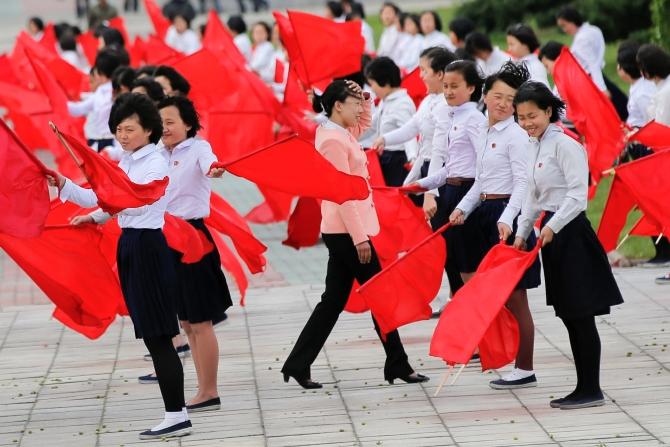 These pictures offer a glimpse in the life of ordinary North Koreans as they prepare for the event.
May 05, 2016
Over 80,000 evacuated as 'nasty' Canadian wildfire consumes entire city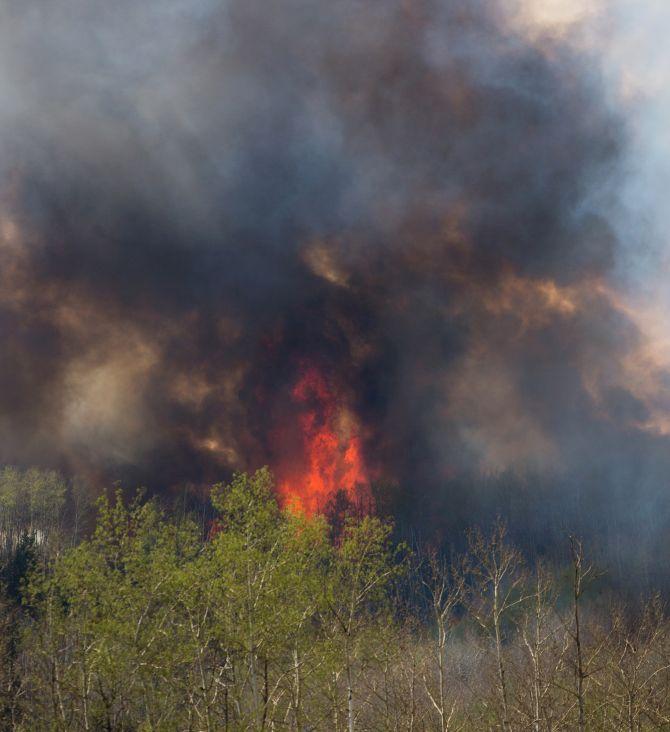 A rapidly moving wildfire forced the evacuation of about 80,000 people from a Canadian city on Tuesday and Wednesday.
WB polls: 84.24 per cent turnout in sixth and final phase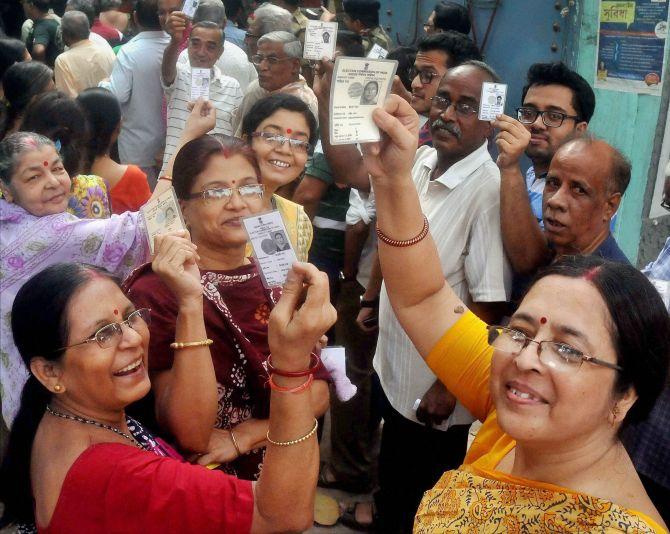 The overall average till 5 pm was 84.24 per cent.
May 03, 2016
PHOTOS: Birds like you have never seen before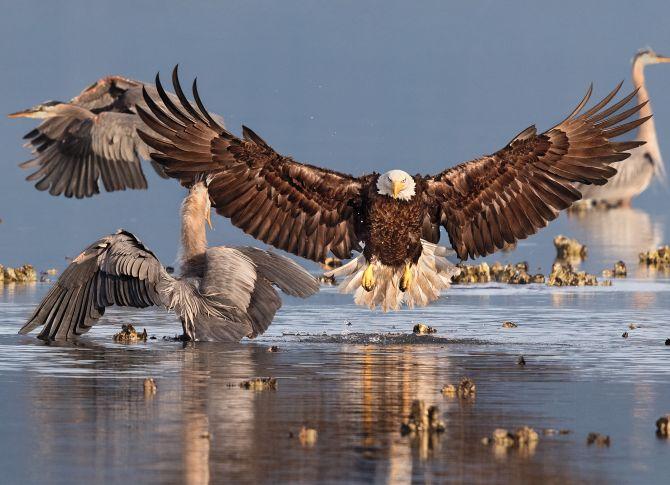 Have a look at the best bird photos of the 2016 Audubon Photography Awards.
May 02, 2016
Traffic chaos in Delhi as protesting cabbies block major roads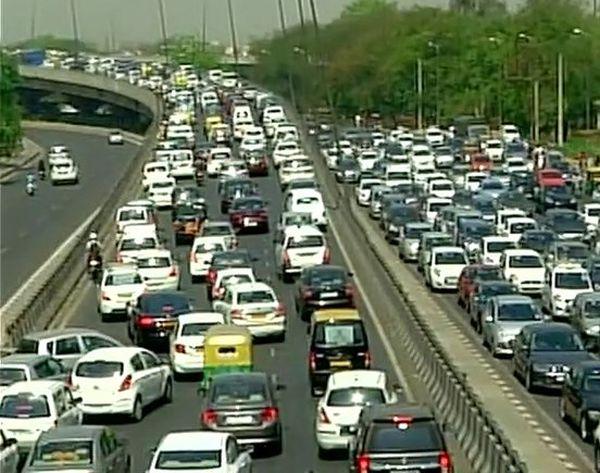 The cab owners began their protest a day after the Supreme Court ban on diesel taxis in New Delhi came into effect. The cab drivers blocked traffic on NH-8 at the Rajokri border between Delhi and Gurgaon.
'Rot in Hell': How the world reacted to Osama's death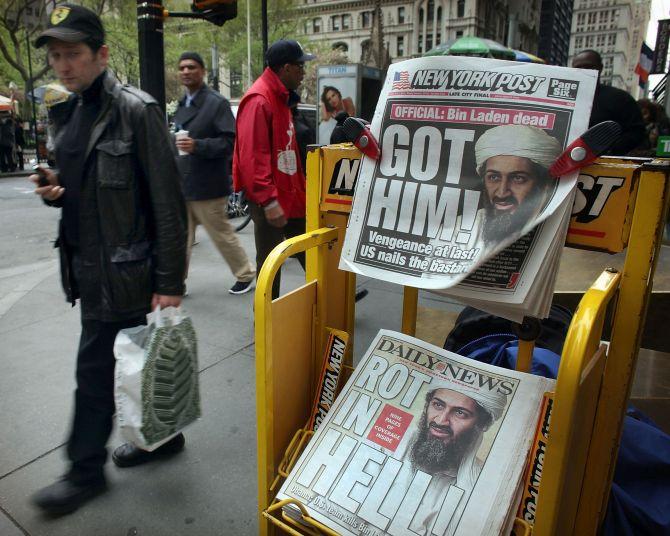 Newspapers across North and South America ripped up their front pages and splashed huge stories.
My, how you've grown! Britain's Princess Charlotte turns 1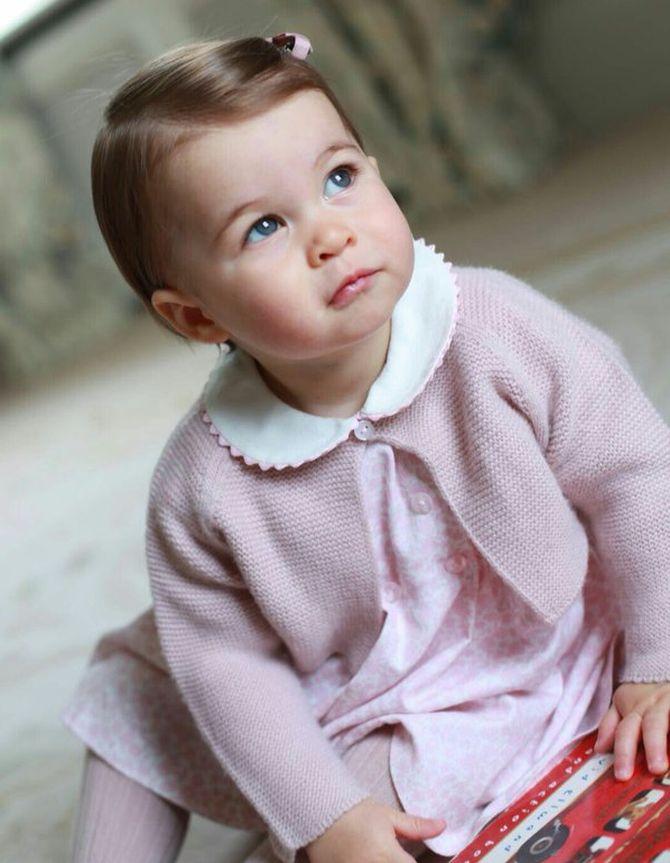 Kensington Palace has released four new pictures of the youngest member of the royal family.
Revisiting Geronimo: The op that killed Osama bin Laden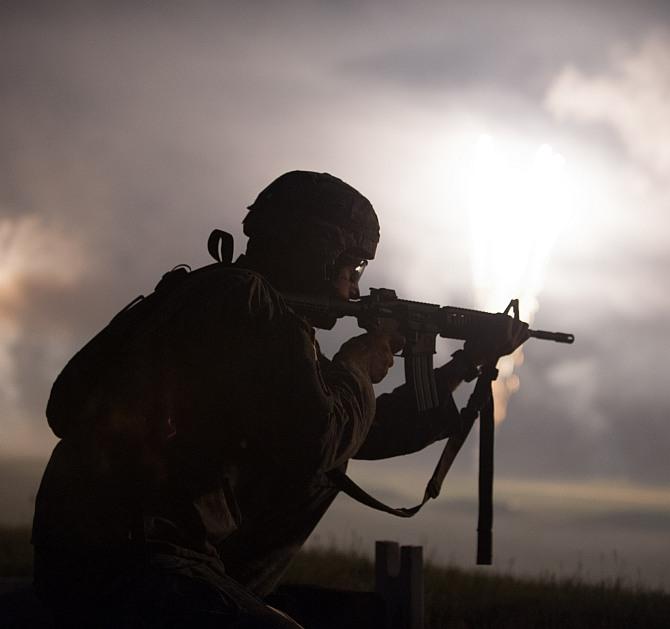 We present to you a blow-by-blow account on what happened on the night of May 1, 2011, when the terror mastermind was killed
India's Kalvari stealth submarine starts sea trials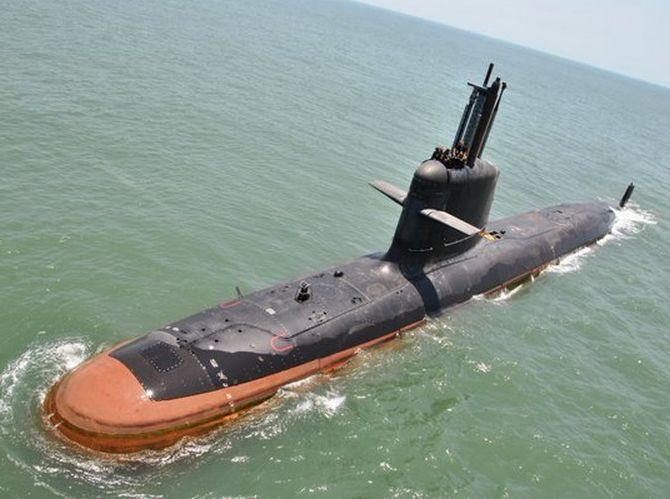 Kalvari is expected to enter service by September end.
Fire out in 70 per cent of affected areas in Uttarakhand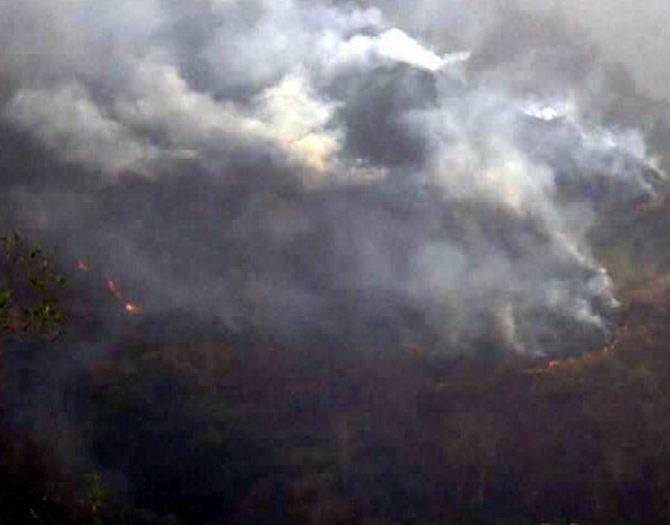 Fresh images from satellite has shown that the effective area under fire in Uttarakhand has come down to 110-115 locations from the earlier about 427
April 29, 2016
Why Kenya is burning 100 tonnes of ivory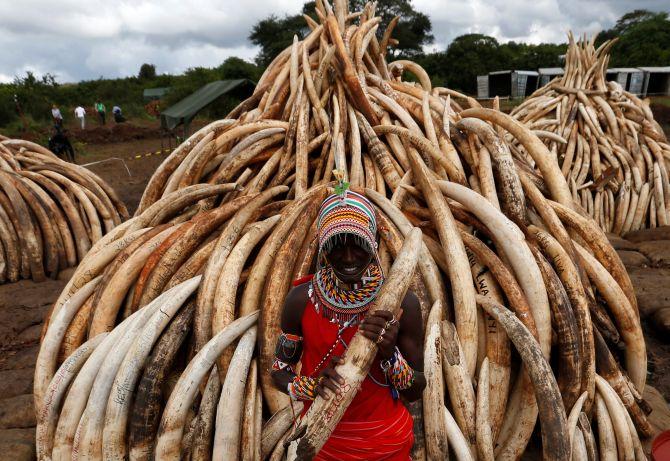 Conservationists are going to light up 5 per cent of the world's ivory in an attempt to deter poachers.
Surprise! Obama crashes White House briefing for college students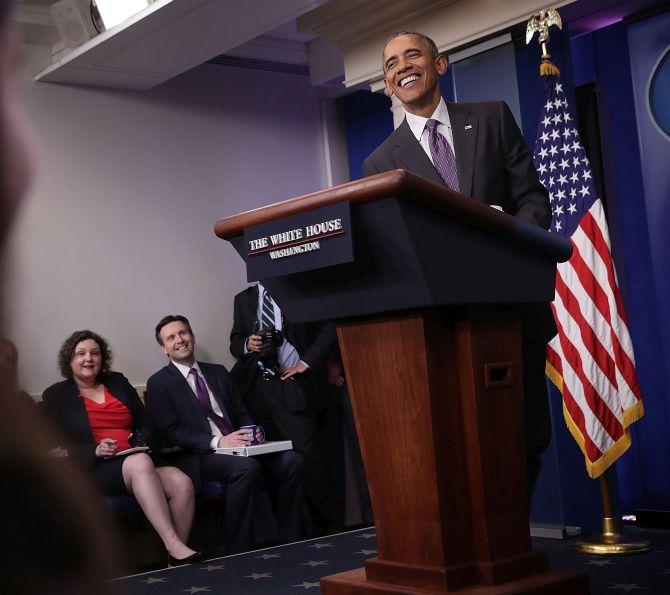 US President Barack Obama dropped in on a briefing for college journalists on Thursday at the White House.
PHOTOS: The odd, odd world we live in!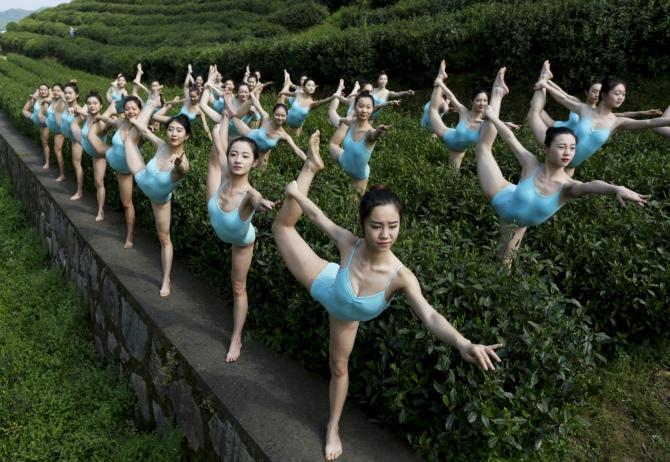 This week's collection of unbelievably unusual images from across the world
April 28, 2016
PM Modi takes his place at Madame Tussauds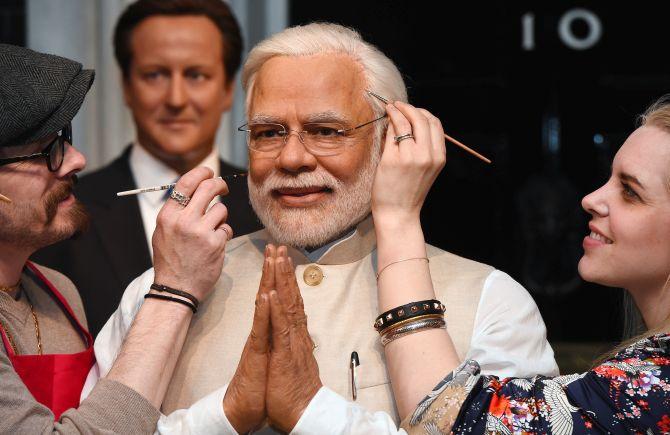 The Indian leader's new wax figure arrived at the Baker Street attraction fresh from Delhi, where Modi had a private viewing with his likeness last week.
India successfully launches 7th navigation satellite, gets its own GPS system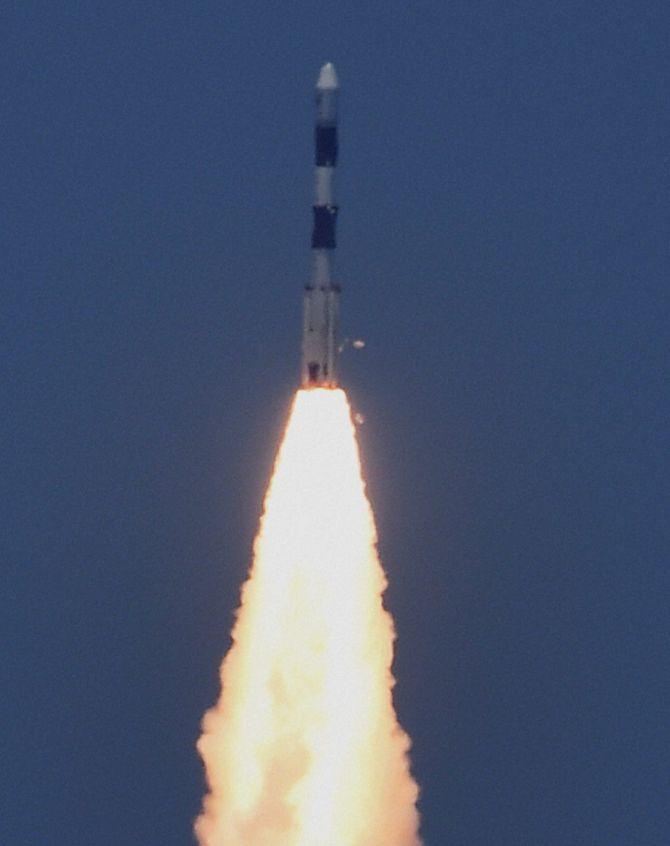 Prime Minister Narendra Modi lauded the scientists saying, "with this successful launch, we will determine our own paths powered by our technology".
PHOTOS: Indians finding it too hot to handle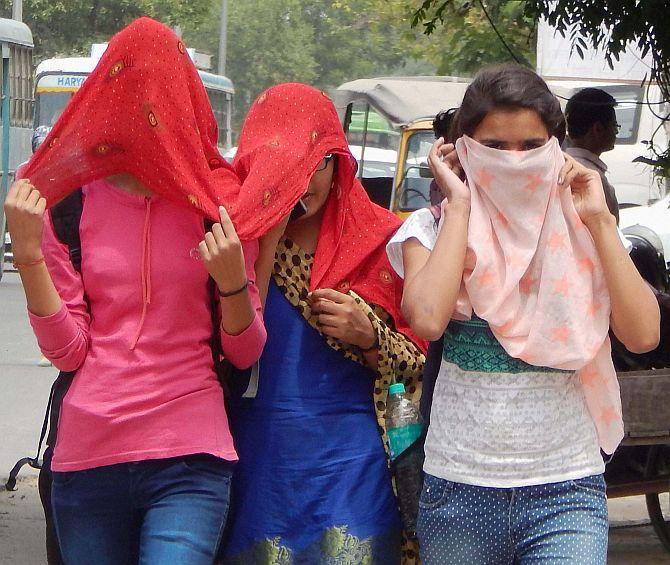 Over hundred dead, hundreds more being treated for sun strokes. Almost 30 crore people across India are facing the brunt of the summer heat and shortage of drinking water.
PHOTOS: MPs who arrived at Parliament in style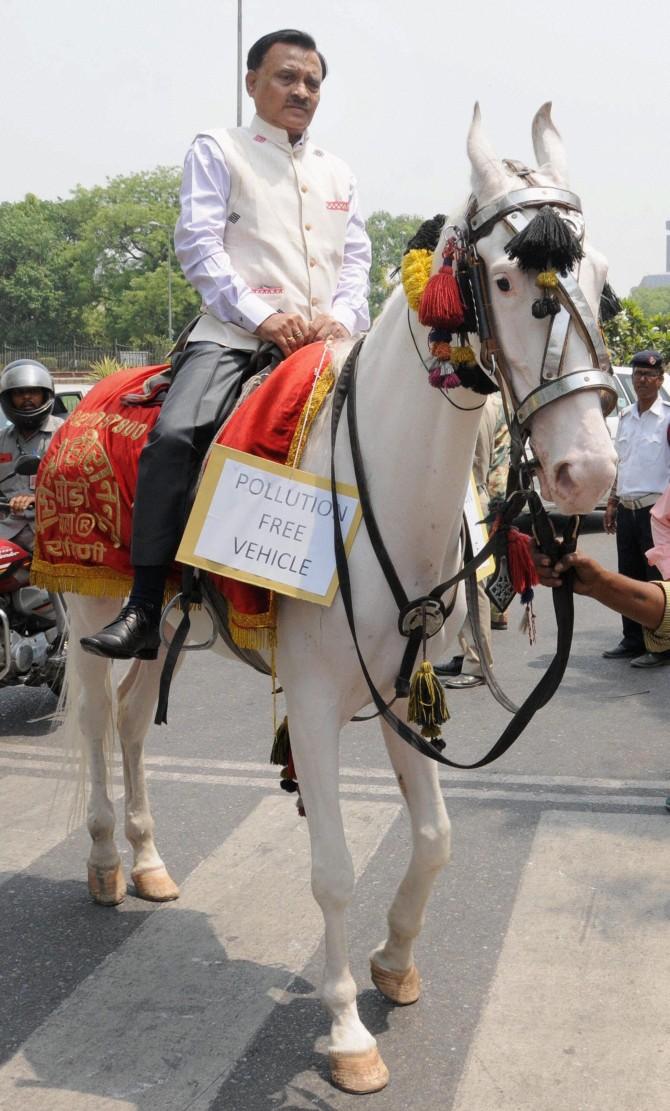 Let's see which other lawmakers chose funky ways to get to Parliament:
April 27, 2016
So what are IAF's best fighters doing in Alaska?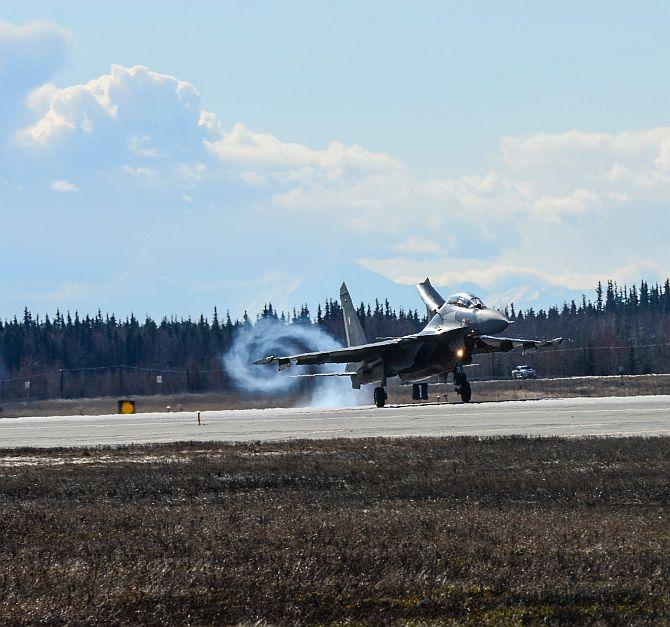 The IAF's mainstream fighter aircraft, the Sukhoi-30MKI and Jaguar, are set to square off with their American counterparts to execute some of the most realistic manoeuvres of its kind during Exercise Red Flag over Alaska starting April 28. Here's what you need to know.
Sight to behold: 30 million tulips blossom in Istanbul!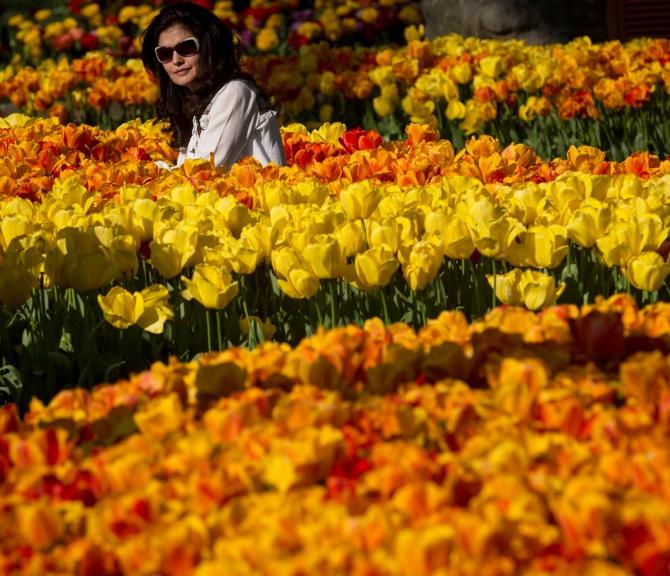 The result is a glorious spring flower festival with brilliant splashes of color everywhere the eye can see.
PHOTOS: Raging inferno envelops bio-diesel unit at Vizag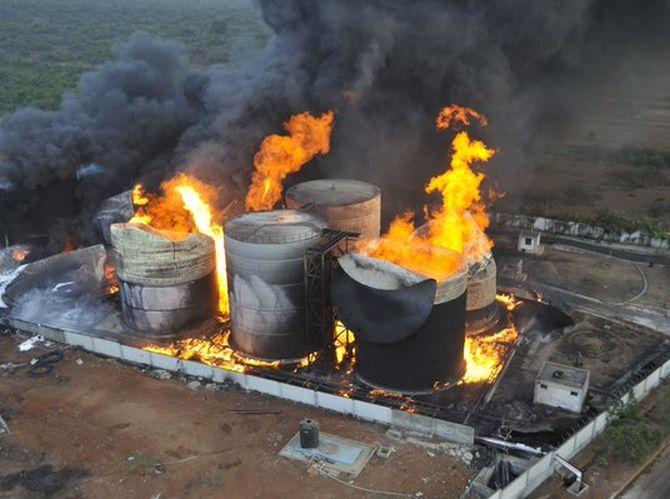 The fire broke out around 12 am at Biomax Fuels Limited, a bio-diesel manufacturing unit in the Visakhapatnam Special Economic Zone, Duvvada area.
April 26, 2016
30 years on, time stands still at world's worst nuclear disaster site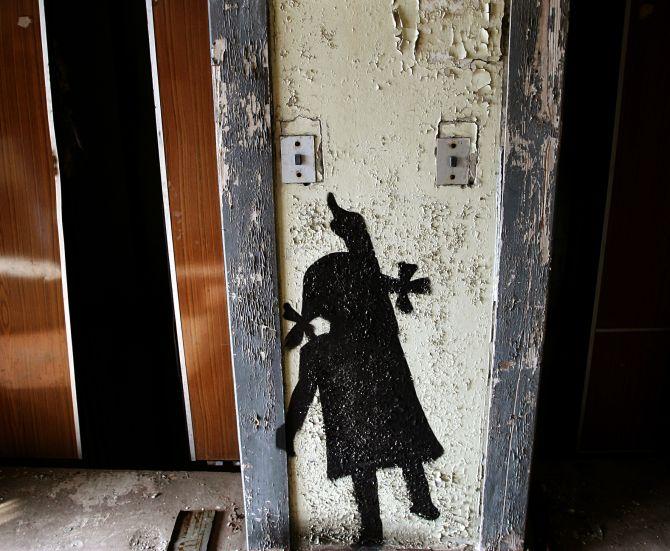 The infamous nuclear accident devastated the lives of millions of people in Western Russia, Belarus and the Ukraine. The radioactive fallout spread over tens of thousands of square miles, driving more than a quarter of a million people permanently from their homes. It remains the world's worst nuclear disaster to date.
Sony World Photography Awards: Images that leave you speechless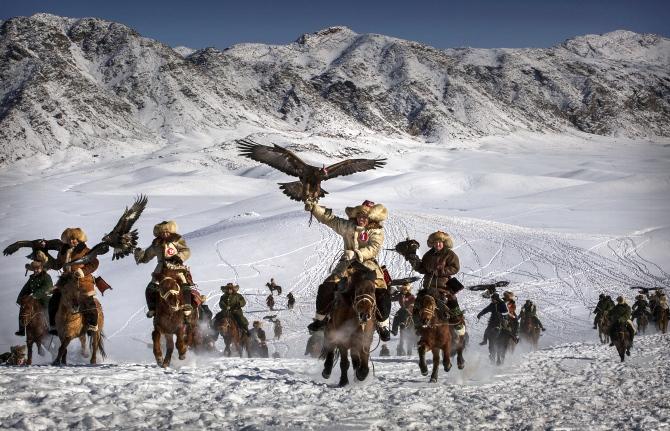 The honorary judging committee has selected Iranian photojournalist Asghar Khamseh as the recipient of the most coveted prize, the L'Iris d'Or Professional Photographer of the Year.
Delhi museum blaze: Safety systems failed, priceless 'treasures' lost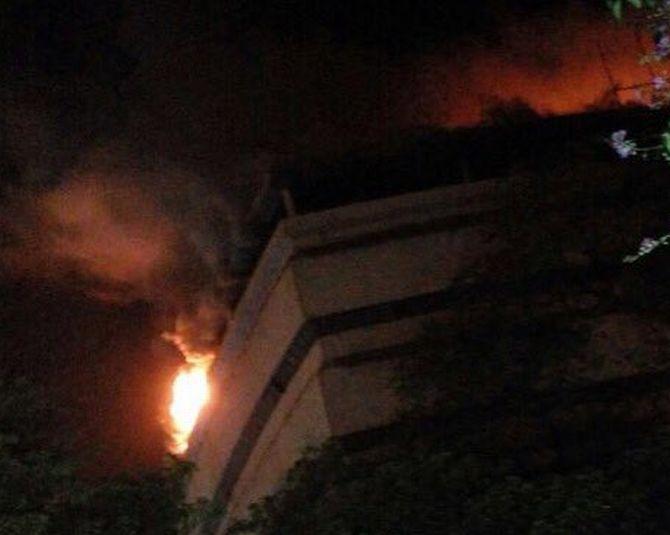 Two fire officials were seriously injured while trying to contain the blaze which broke out around 1.45 am.
April 25, 2016
PHOTO: What being in prison has done to Chhagan Bhujbal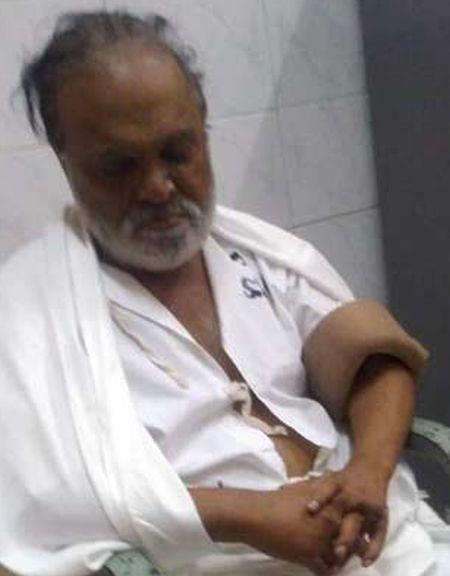 Bhujbal has reportedly lost 10 kilograms since his arrest in March. He is seen with a full grown white beard and a very frail look in the picture.
PHOTOS: Nepal still in rubble a year after devastating quake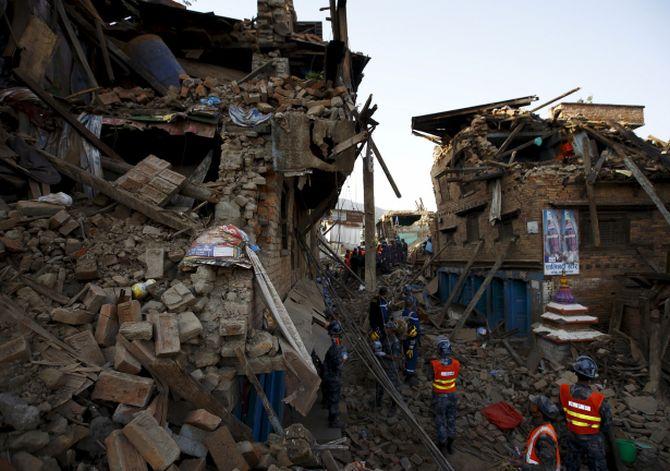 Thousands died when a 7.8-magnitude quake hit Nepal on April 25, 2015. A year later, victims still huddle in tents across the country accusing the government of failing them.
Phase 4 of West Bengal polls records 78.05 per cent votes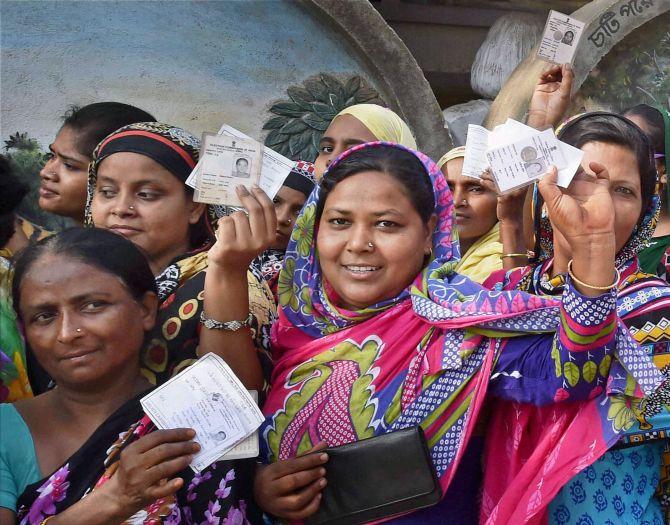 The phase is crucial as it will decide the fate of several ministers -- Finance Minister Amit Mitra, Agriculture Minister Purnendu Basu, Law Minister Chandrima Bhattacharya, Tourism Minister Bratya Basu, Food and Supplies Minister Jyotipriyo Mullick and Agriculture Marketing Minister Aroop Roy.
April 23, 2016
Obamas join Wills, Kate for dinner... and Prince George didn't want to miss out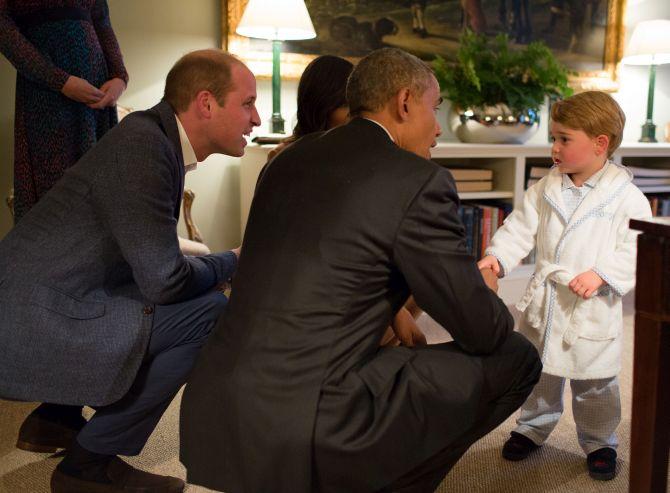 Prince George became the star of the Kensington Palace party after greeting Michelle and Barack Obama in his dressing gown and slippers.
April 22, 2016
At least 14 dead in Arunachal landslide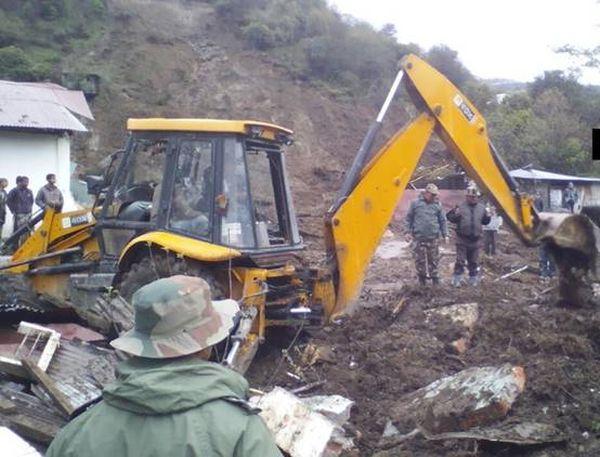 The incident occurred at 3 am when 17 labourers engaged in construction works were inside the camp.
These moving pictures on the refugee crisis won the Pulitzer award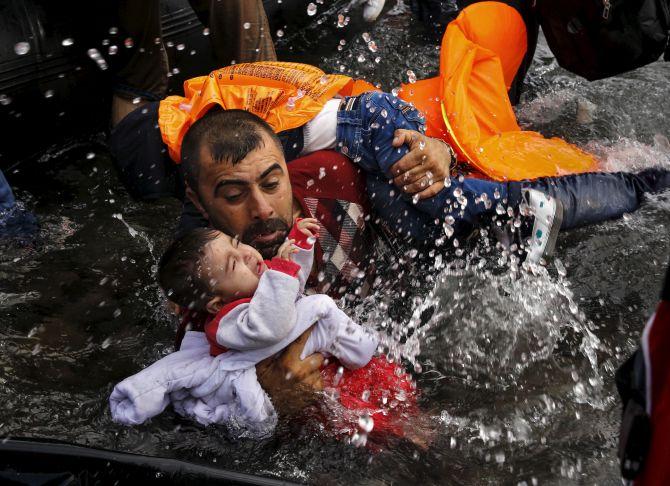 Rediff.com presents a selection of the Pultizer Prize winning images that unveil Europe's massive refugee crisis.
A 'high' holiday: Stoners celebrate National Weed Day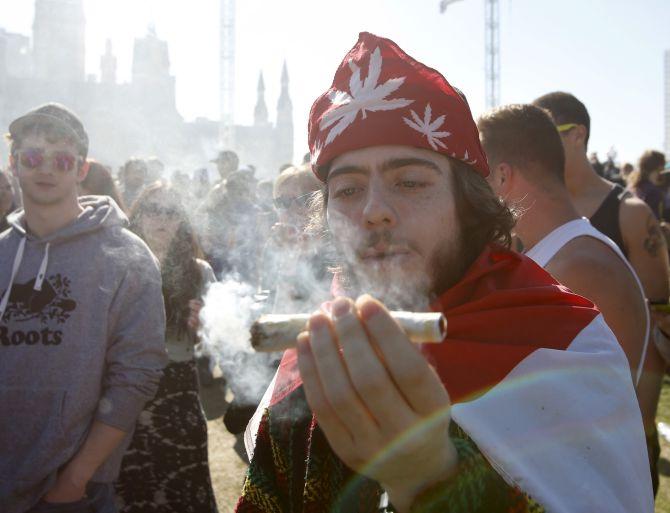 Rediff.com takes a look at this epicentre of reefer madness that is the 4/20 celebration.
PHOTOS: Canadian PM goes for the knockout in New York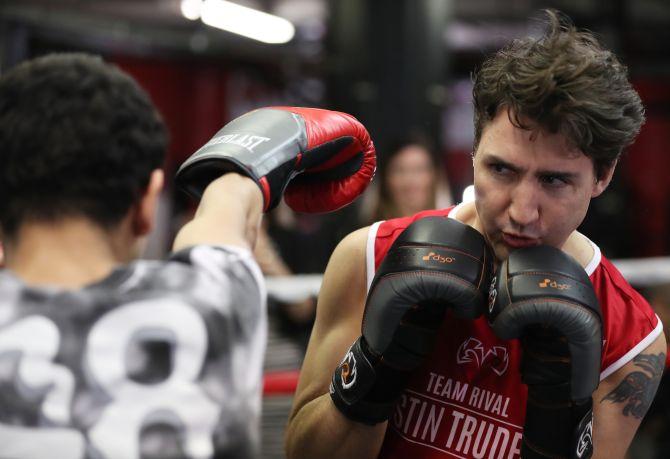 Canadian Prime Minister Justin Trudeau stopped at Gleasons, and sparred with former WBA super welterweight champion Yuri Foreman.
April 21, 2016
This summer's really hurting: Heat wave in India kills at least 160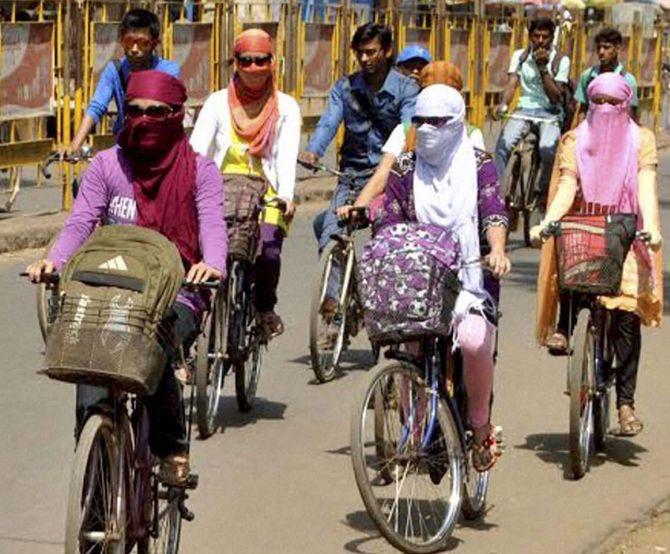 Police have reported 55 heat-related deaths in Orissa and at least 45 in Andhra Pradesh. Sixty-six were reported in Telangana.
PHOTOS: The life and times of Queen Elizabeth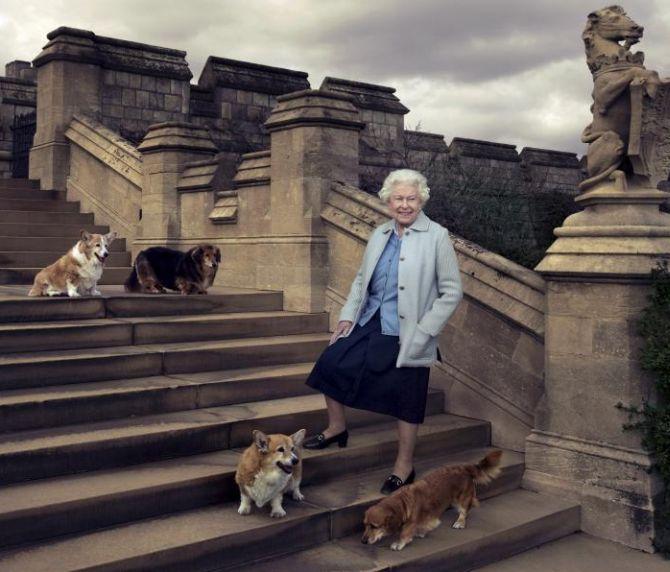 Rediff.com has chosen the highlights of Queen Elizabeth reign so far -- from her Coronation right up to the present day.
REWIND: Best images in the past 24 hours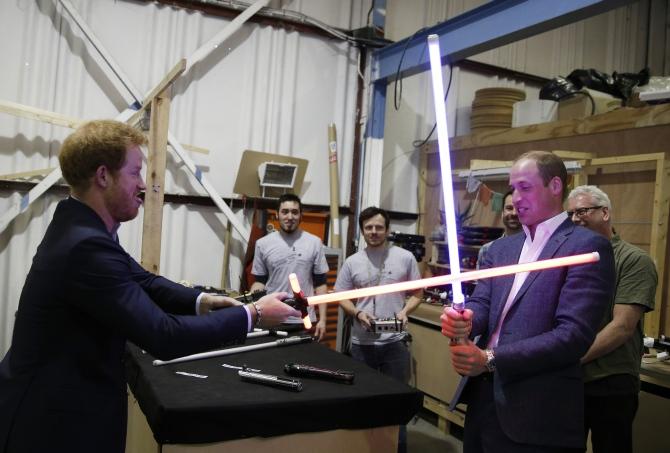 Here's a collection of some of the best photos from around the world shot in the last 24 hours.
Violence marks 3rd phase of polling in WB; 79.22% voting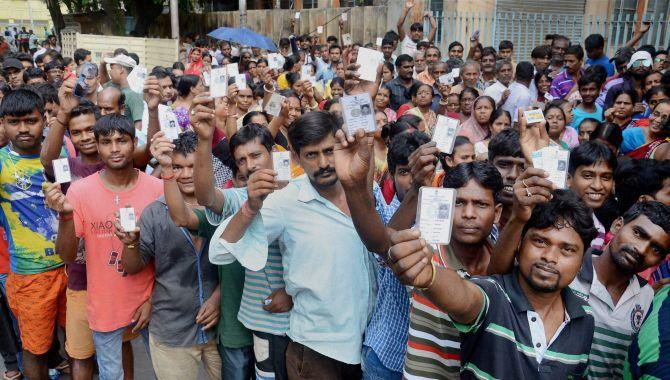 Phase III of assembly polls in 62 constituencies of West Bengal on Thursday witnessed a series of clashes between political rivals during which bombs were exploded but the violence failed to deter the electors who came out in large numbers, recording a 79.22 per cent voter turnout.
Portraits, gun salutes as Britain's Queen Elizabeth turns 90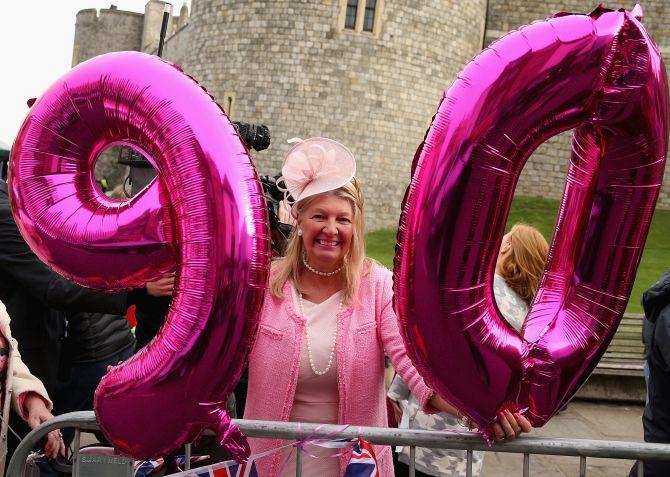 Britain's Prime Minister David Cameron led the tributes by referring to the Queen as a "rock of strength.
April 19, 2016
PHOTOS: This is the world's biggest water fight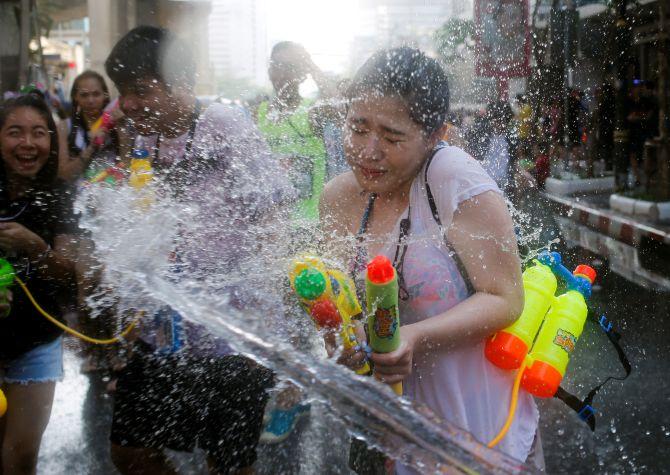 Over the years though the ritual has evolved into the massive water fight that dominates streets all over the country.
April 18, 2016
Pankaja Munde faces flak over 'drought selfies'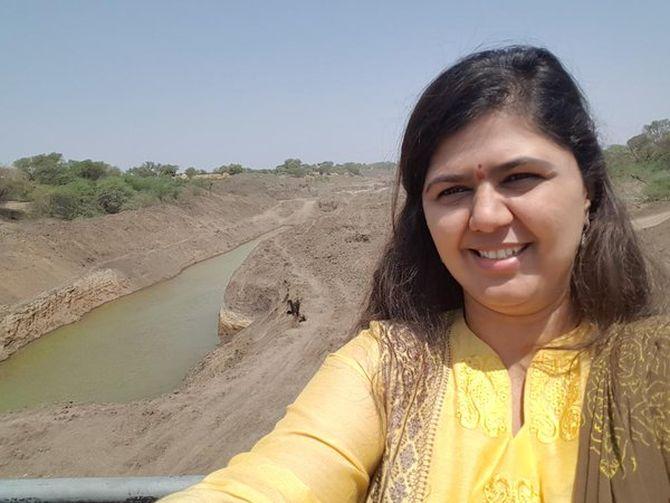 Munde took the selfies with the dried-up Manjara river as the backdrop, while on a visit to the parched region to review desilting work on the riverbed.
'It's the end of the world': Ecuador earthquake claims 262 lives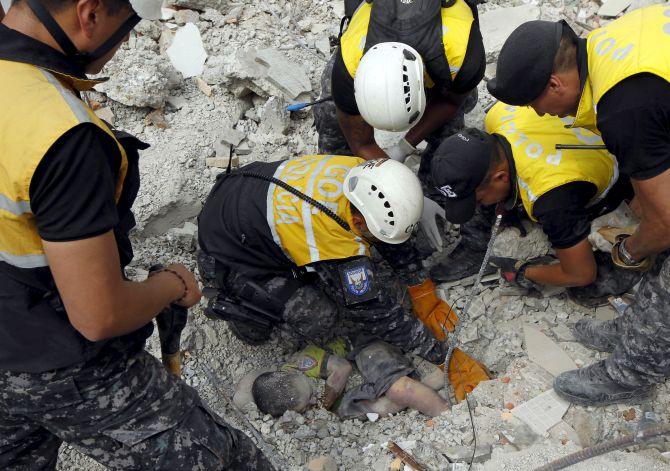 At least 2,527 people were injured after the quake hit Saturday night.
April 16, 2016
'You are not alone': Pope brings 3 refugee families from Greece to Rome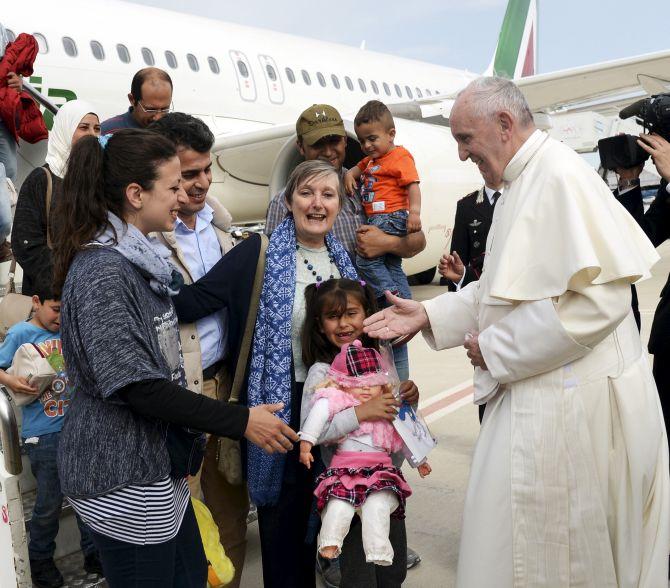 Pope Francis transformed the lives of a dozen Syrian refugees on Saturday when he plucked three families from a crowded camp on the Greek island of Lesbos and took them back to Rome.
At 44 degree Celsius, mercury rises to season's highest in Delhi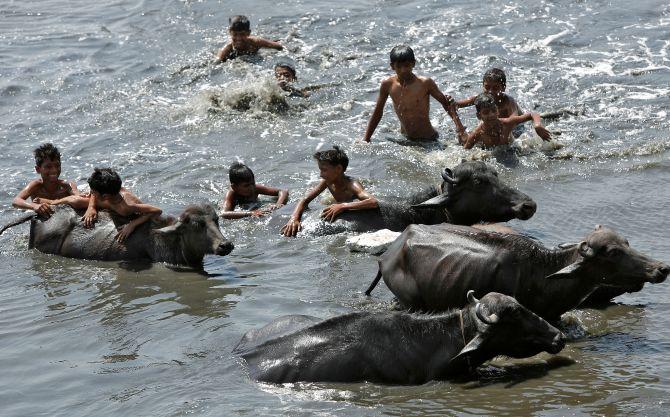 In the national capital, the maximum temperature was recorded at the season's highest at 44 degree Celsius.
PHOTOS: William and Kate keep their date with the Taj Mahal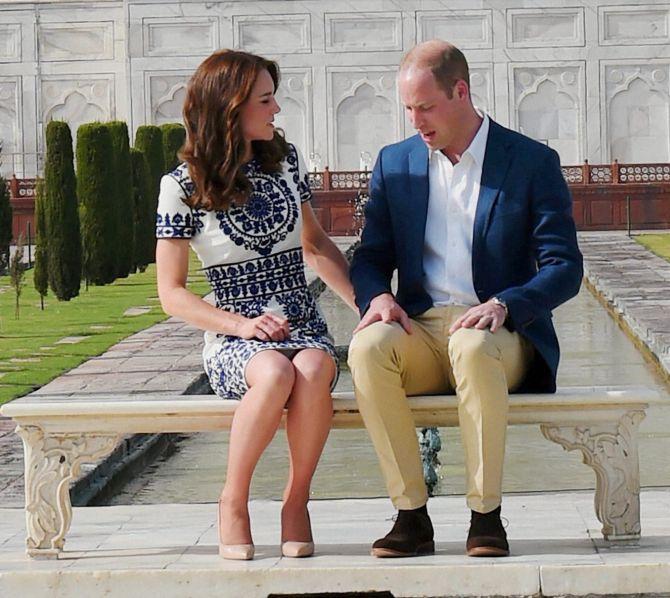 Almost 24 years after Diana, Princess of Wales visited the Taj Mahal -- one of the most famous symbols of India -- Prince William and the Duchess of Cambridge, Kate Middleton, followed in the Princess's footsteps.
April 14, 2016
PHOTOS: Kate, Prince William hit the mark during Bhutan visit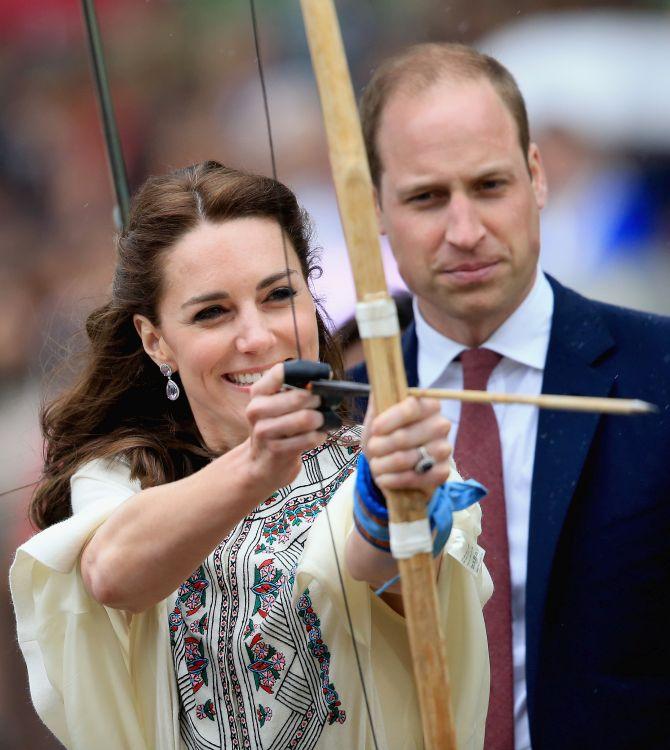 Prince William and Duchess of Cambridge Kate Middleton, have arrived in Bhutan for the start of a two day visit to the remote mountain kingdom. The couple touched down at Paro International Airport on Thursday morning.
Mobile internet blocked in Kashmir amid tension over Handwara deaths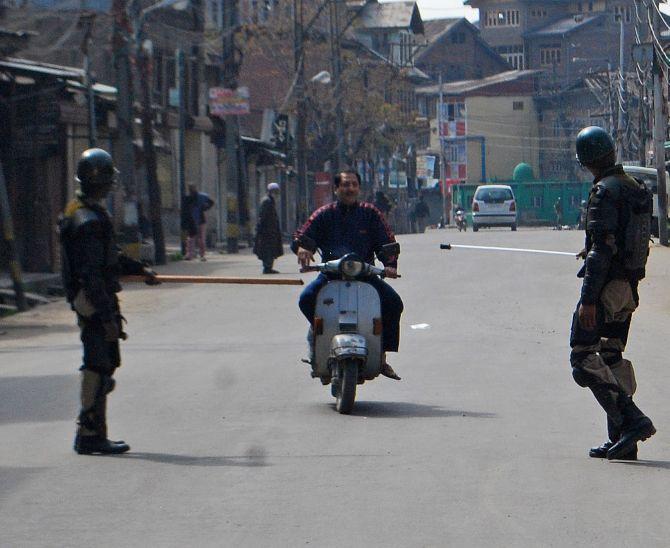 Strict restrictions have been imposed in Kupwara town, Kralgund, Handwara, Magam and Langate areas in north Kashmir to maintain law and order.
April 13, 2016
PHOTOS: Royals in the jungle: Will and Kate@Kaziranga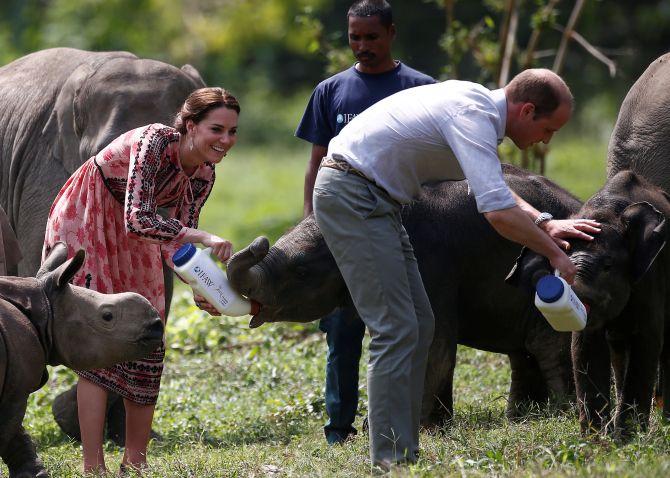 British royal couple Prince William and Princess Kate Middleton on Thursday visited the Kaziranga National Park in a jeep safari.
April 12, 2016
Padma Awards 2016: Rajinikanth, Sania, Priyanka honoured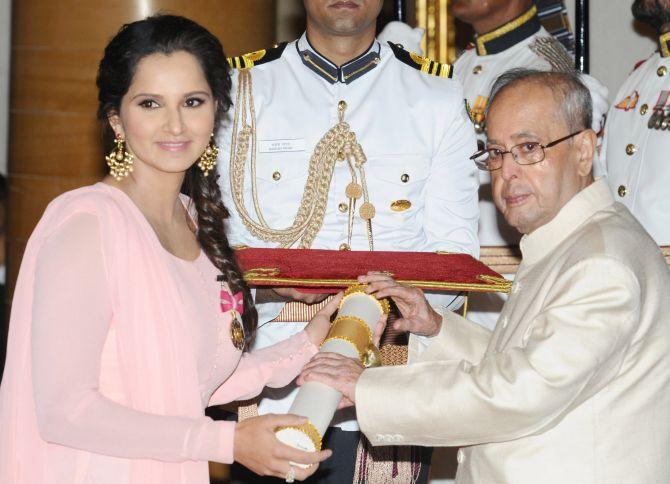 Superstar Rajinikanth, tennis icon Sania Mirza and actress Priyanka Chopra were among the 56 eminent persons who were honoured with Padma awards on Tuesday.
PHOTOS: Wills-Kate join in games with street kids in Delhi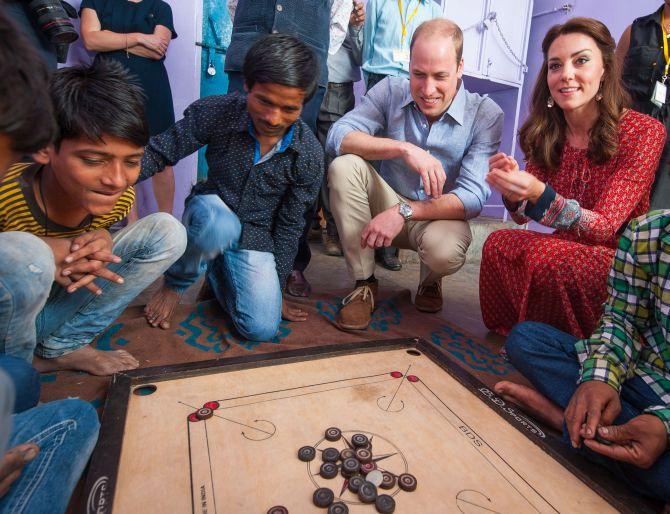 The royals visited a drop-in centre for charity Salaam Baalak at a Delhi train station - where around 6,600 children travel to each year, during their third day of their India tour.
Massive fire engulfs 4-storey building in Bhiwandi, 170 residents rescued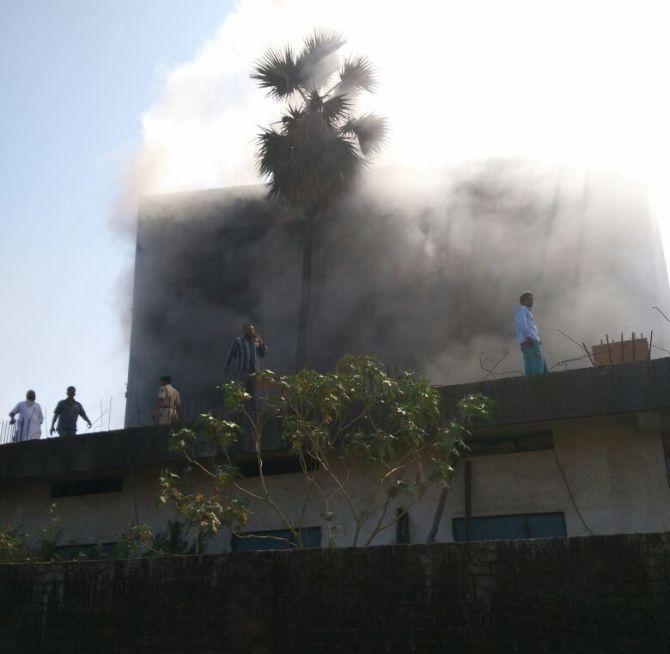 The fire broke out at around 7.30 am in the godown and spread in other rooms on the ground floor, he said.
Tiger numbers roar back for first time in 100 years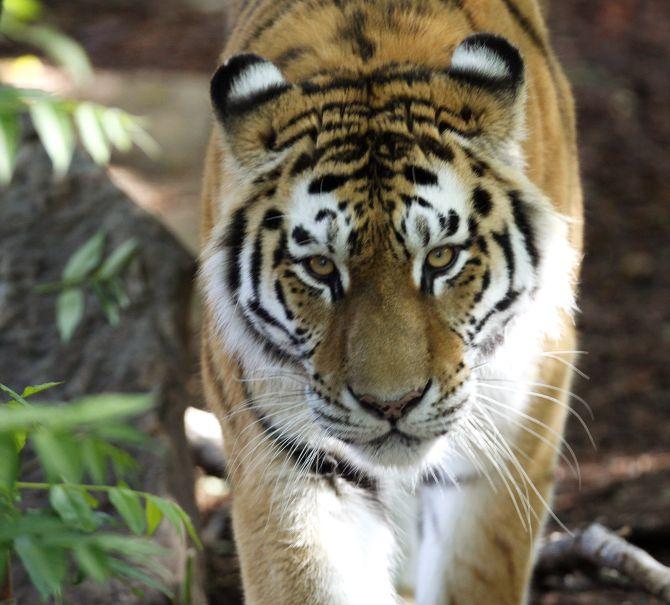 According to the new data, India accounts for the most with 2,226.
'Water Express' trundles into drought-hit Latur, bringing relief and hope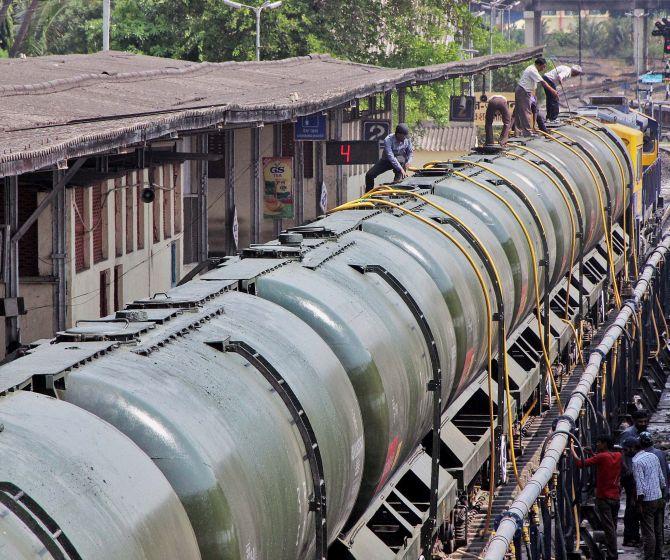 The train carrying five lakh litres reached the parched area after a journey of 18 hours.
April 11, 2016
PHOTOS: After Mumbai, Wills-Kate weave their magic in Delhi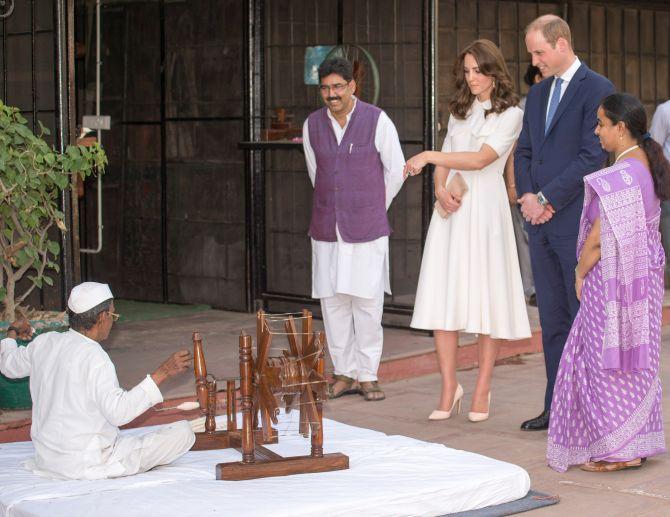 After wrapping up the Mumbai leg of the tour with a tech entrepreneurs showcase, the Royal couple headed to New Delhi where they first paid tribute at the Amar Jawan Jyoti.
Learning Braille, making a dosa... All in a day's work for William and Kate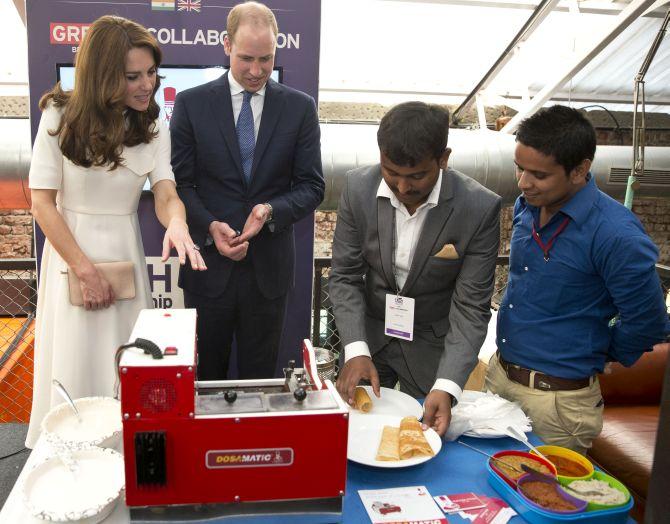 This is the royal couple's last event in Mumbai before they head off to Delhi where they will pay tribute to Mahatma Gandhi and later celebrate the Queen's 90th birthday.
PHOTOS: 5 worst major temple tragedies in past 10 years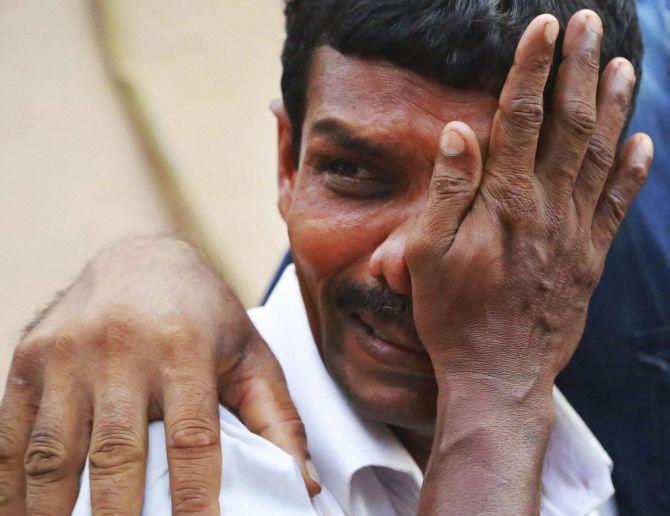 Here's a list of the top five major temple tragedies in the past 10 years.
April 10, 2016
PHOTOS: Crane carrying aircraft crashes into wall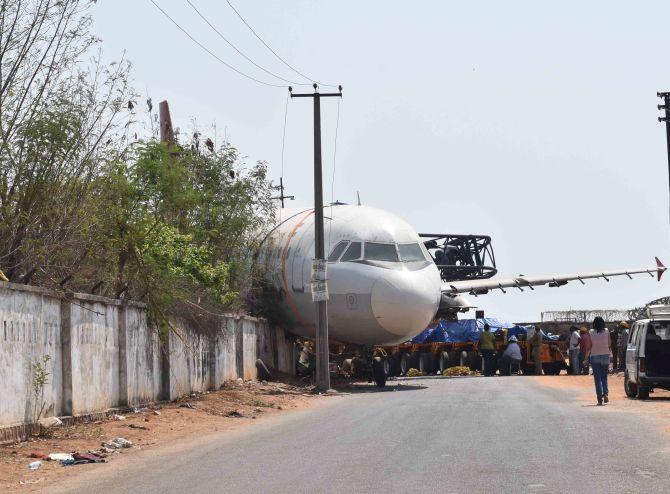 The aircraft (Airbus A-320 model) belonging to Air India was being transported by road from Begumpet airport to Central Training Establishment at Ferozguda in Balanagar when the crane bars got bent down and the aircraft suddenly fell on a nearby compound wall.
PHOTOS: When Kate 'bowled' Sachin with her batting skills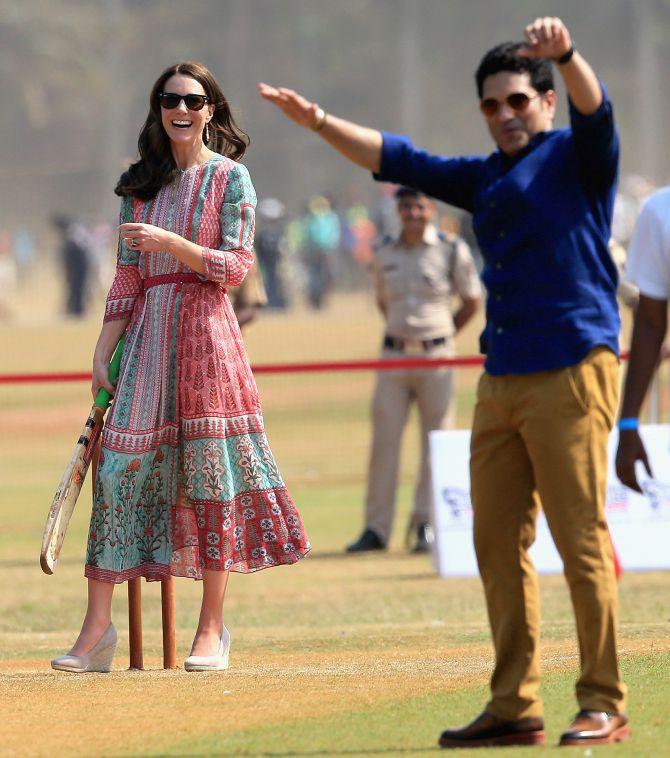 Britain's Prince William and Kate Middleton enjoyed a game of cricket with Sachin Tendulkar.
Was Kollam temple granted permission for fireworks?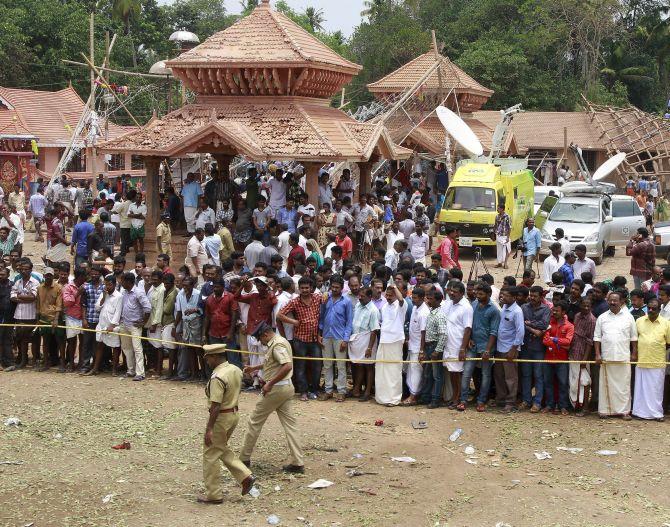 Conflicting versions are emerging on permission being granted for conduct of fireworks display at the 100-year-old Puttingal Devi temple complex where at least 102 lives were lost in a major fire on Sunday.
'Sight of dead bodies is haunting me', says eyewitness at temple site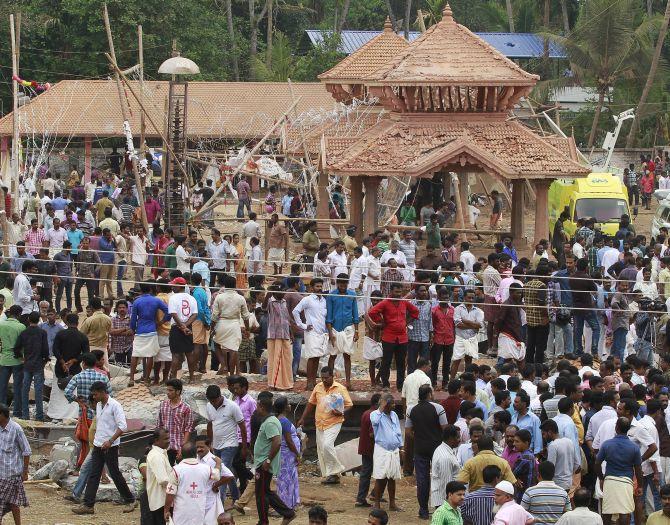 There was a massive explosion followed by tremors which were felt even a kilometre away from the 100-year-old Puttingal Devi temple.
PHOTOS: The Royals have a 'Slumdog' moment in Mumbai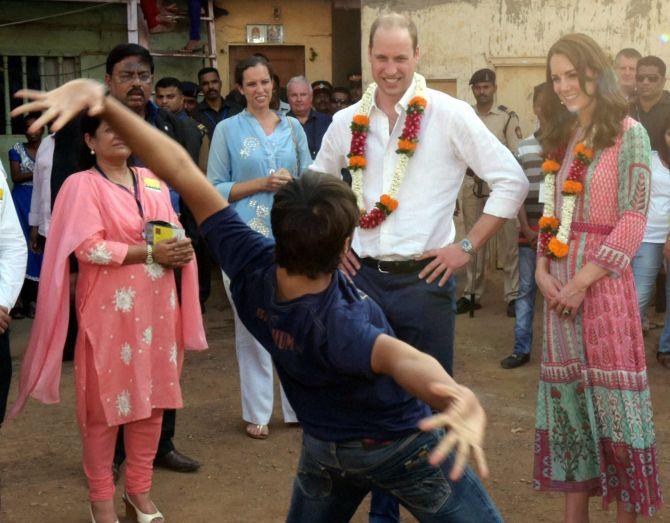 The Duke and Duchess of Cambridge Prince William and Kate Middleton arrived in Mumbai on Sunday as part of their seven-day tour of India and Bhutan, aimed at building up strong bonds with the two countries.
Gutted! Country mourns Kerala temple tragedy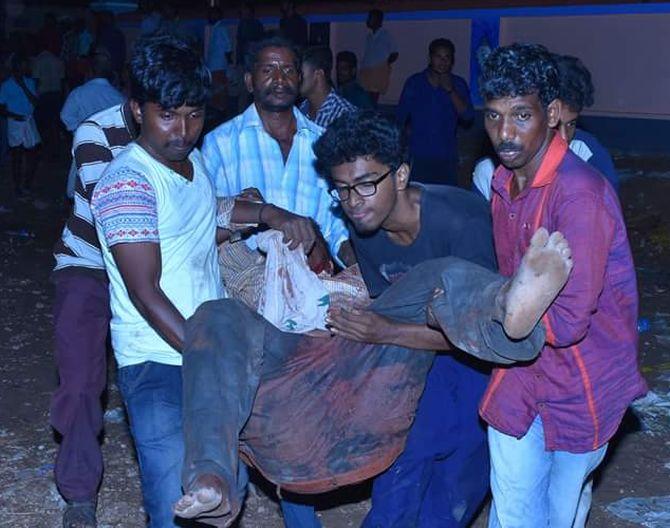 Reactions on the tragic incident have been pouring in since morning. Leaders cutting across various political parties and celebrities have expressed solidarity over the loss of life in the incident and prayed for the speedy recovery of injured.
April 07, 2016
Monster 360 kg alligator trapped in Florida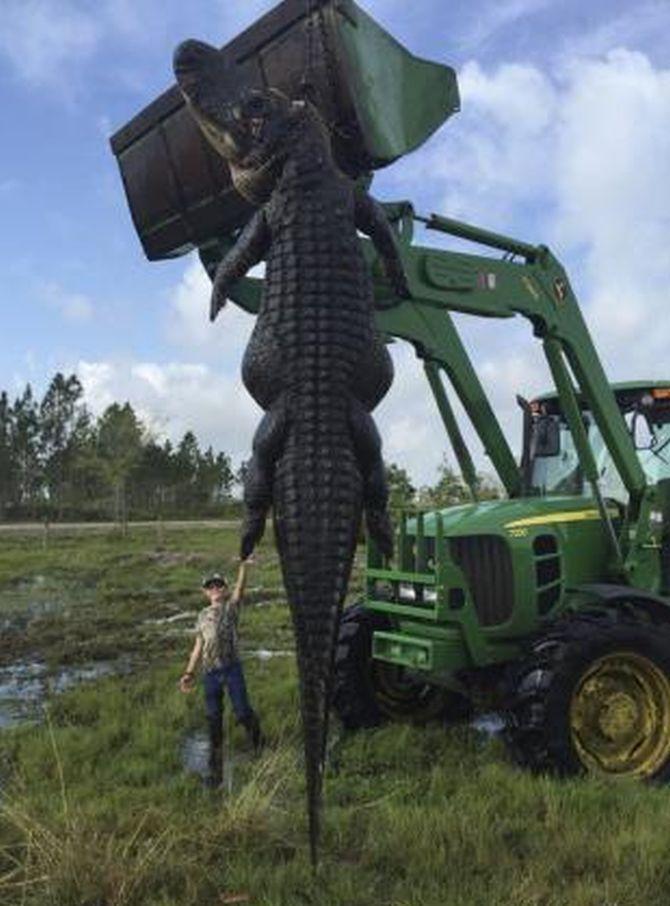 The large reptile was shot by Lee Lightsey who runs hunts for alligators, wild boar and turkey on his farm near Okeechobee in south east Florida.
Telangana: It's only April, but the heat has already killed over 65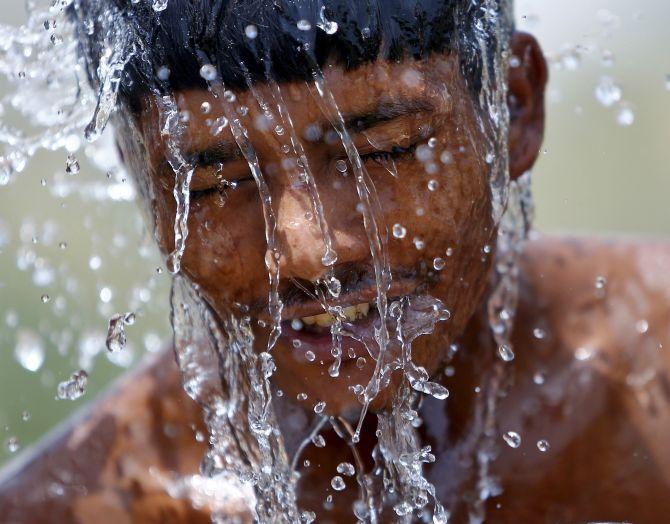 Telangana has been witnessing high temperatures for several days now and the highest maximum temperature of 43 degree Celsius was recorded.
Call for Jammu bandh over unrest at NIT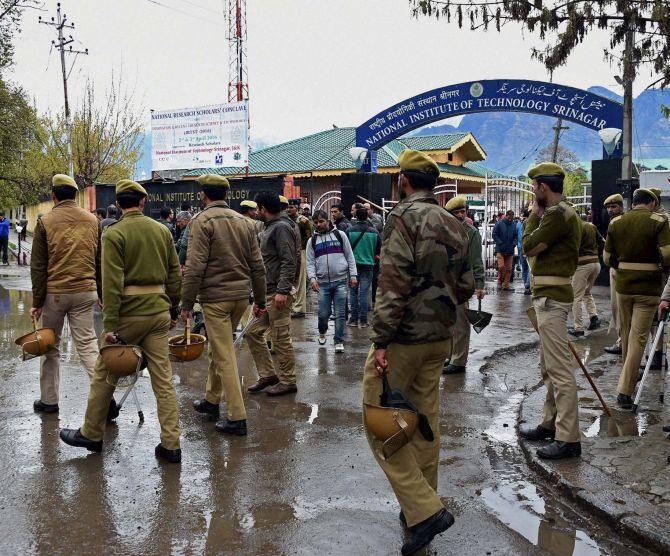 "We unanimously decided to observe complete bandh in Jammu on April 7," JPPF working president M S Katoch said.
April 05, 2016
PHOTOS: Meet Delhi Police's cutest new recruits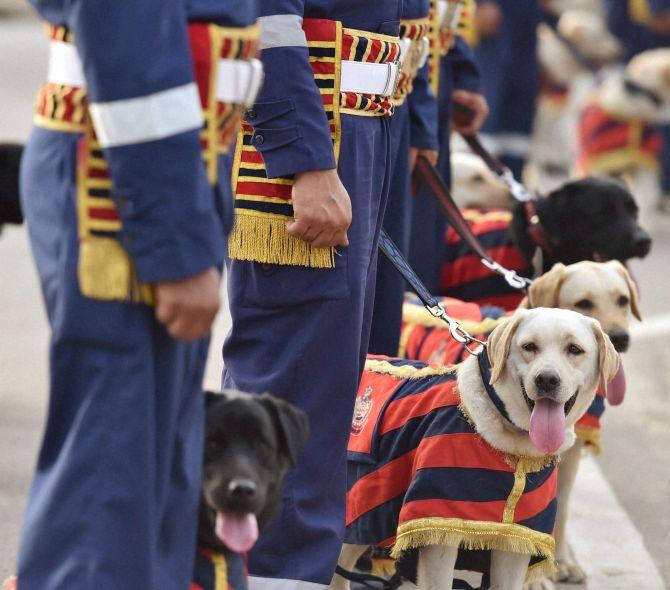 A new batch of 30 dogs, all specially trained Labrador retrievers, were inducted into the Delhi Police on Monday
PHOTOS: Flash floods bring destruction and sorrow to Pakistan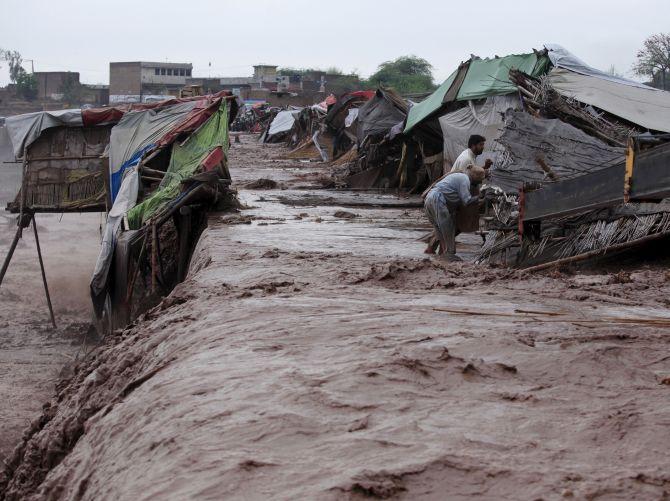 The flooding in the northwest Khyber Pakhtunwa province was prompted by torrential rain that began Saturday night, disaster-management official Latif ur Rehman was quoted as saying.
PHOTOS: Follow them through India and be blown away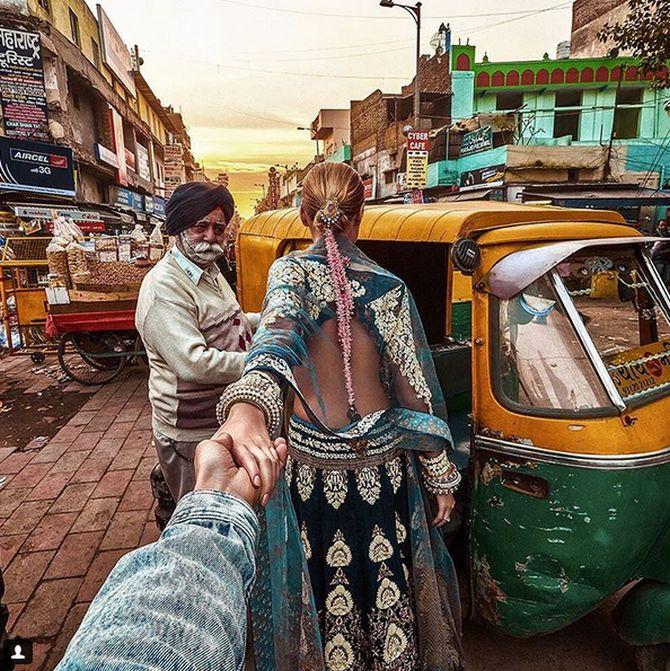 Murad Osmann and wife Nataly Zakharova, who are responsible for the stunning #followmeto Instagram trend, have landed in India and taken photos which are breathtakingly beautiful.
PHOTOS: Feathers fly on world Pillow Fight Day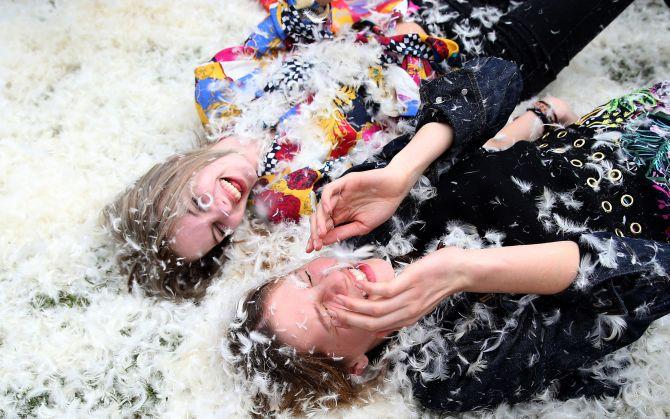 Hundreds of pillow fighters battle it out around the world to celebrate World Pillow Fight Day.
April 03, 2016
Stage set for Assam first phase assembly polls on Monday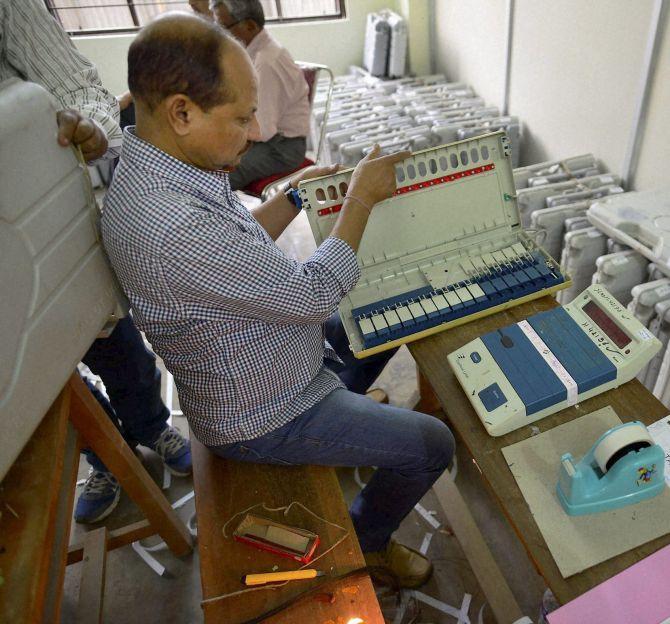 Over 95 lakh voters will decide the fate of 539 candidates, including 43 females, in 65 constituencies spread across the state.
PHOTOS: PM Modi snacks with workers in Saudi and much, much more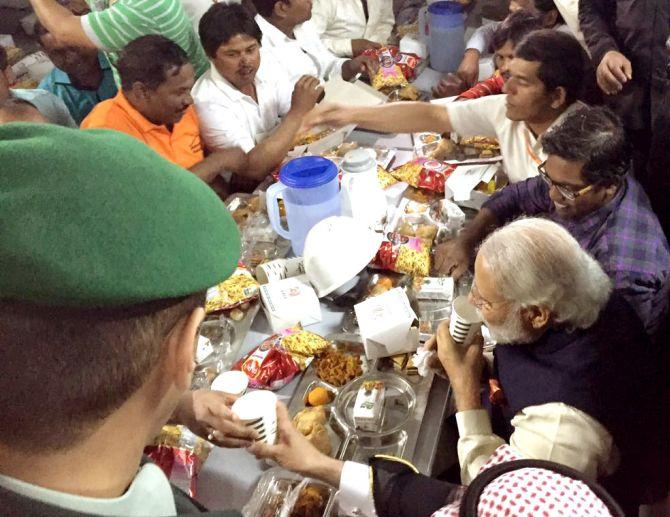 Prime Minister Narendra Modi is on a two-day bilateral visit to Saudi Arabia, the third and final leg of his three-nation tour that began on March 30 with a visit to Brussels
April 01, 2016
The bizarre reasons why Kolkata flyover collapsed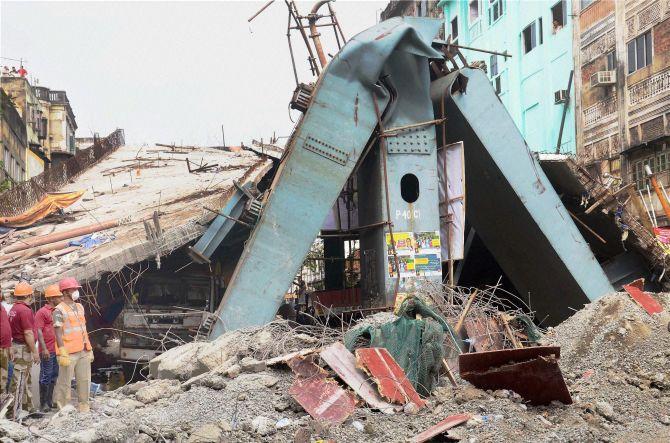 Here's a list of a few remarks which added to the anguish of people in the aftermath of the tragedy.
'Whole sky came down': Witnesses recount moment Kolkata flyover collapsed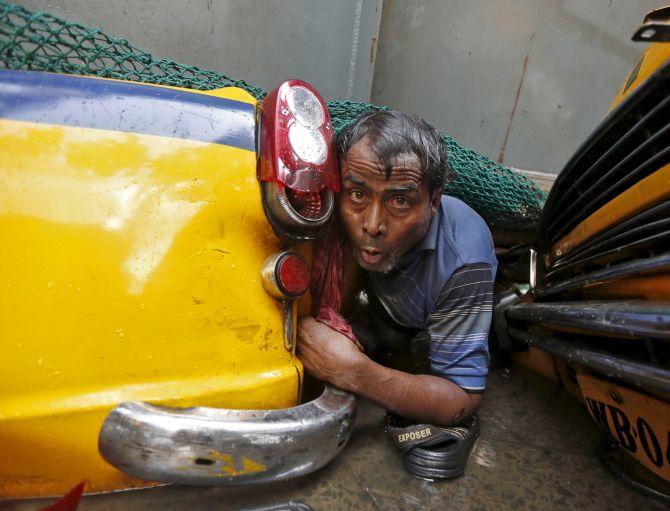 As rescue operations are underway, witnesses recount the horror the structure come crashing down.
Kolkata flyover collapse: 3 officials held on murder charges, 24 dead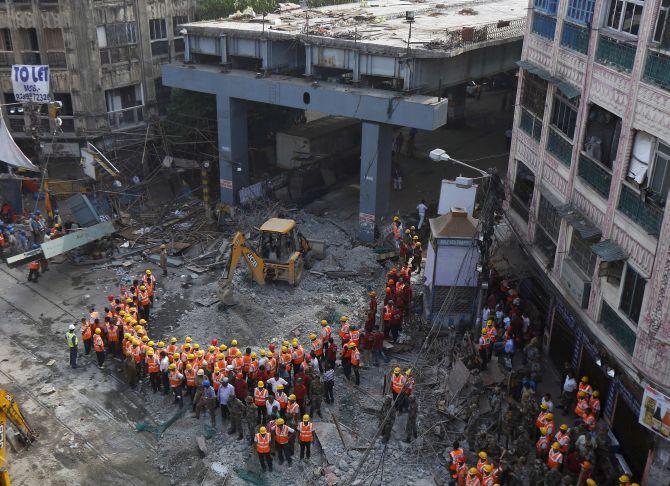 A day after an under-construction flyover collapsed in the city leaving at least 24 dead, the police on Friday night arrested three top officials of a Hyderabad based company which was building the flyover and slapped murder charges on them.
Pakistan has 130 nuclear warheads. How many does India have?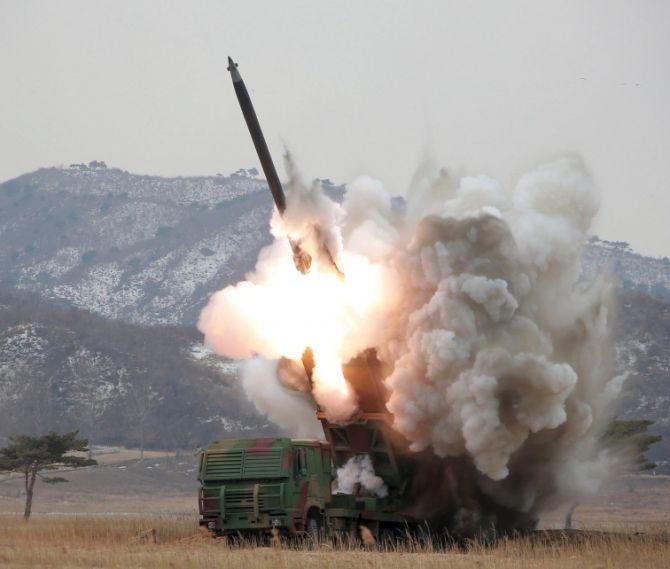 We bring forth to our readers the list of nations sitting on a nuclear stockpile, based on the study findings:
Drop notion that 'his' terrorist is not 'my terrorist': Modi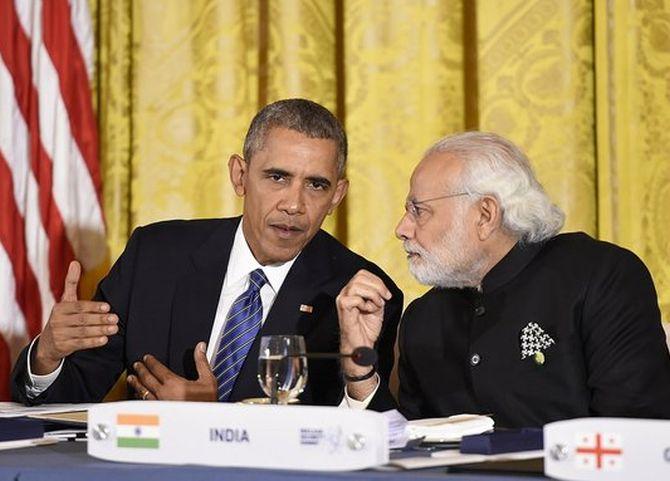 The PM said that while terrorists are using 21st century technology, our responses are rooted in the past.
March 31, 2016
22 killed, several trapped after under-construction flyover collapses in Kolkata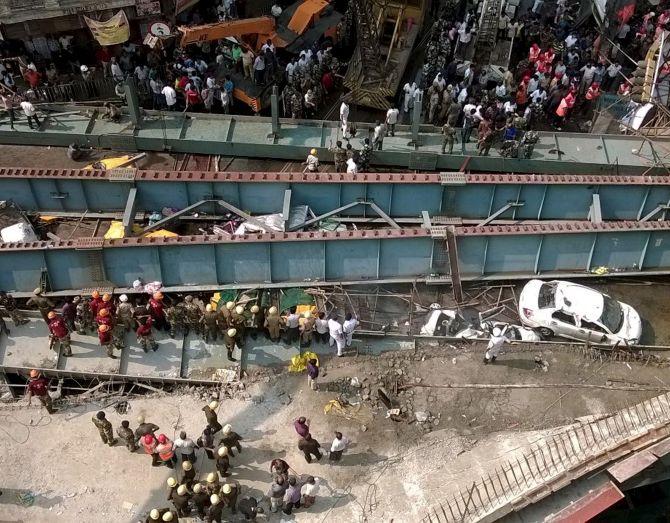 Many others are feared to have been trapped under the debris. Rescue work is on, as per last reports.
PM Modi arrives in US to attend Nuclear Security Summit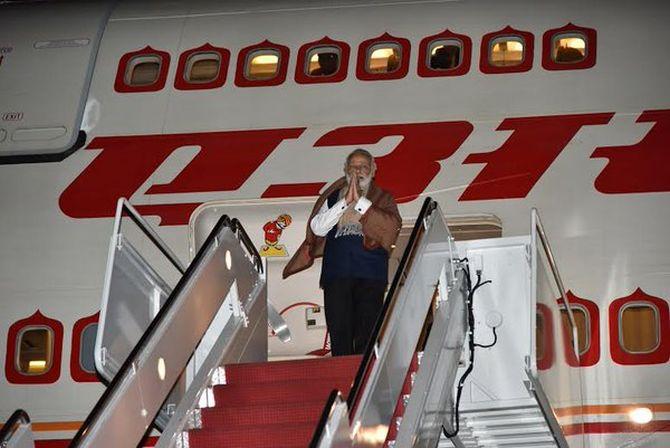 Attending the Nuclear Security Summit for the first time, Modi is expected to lay out his vision of securing nuclear weapons.
Would you dare sleep with sharks in this bedroom?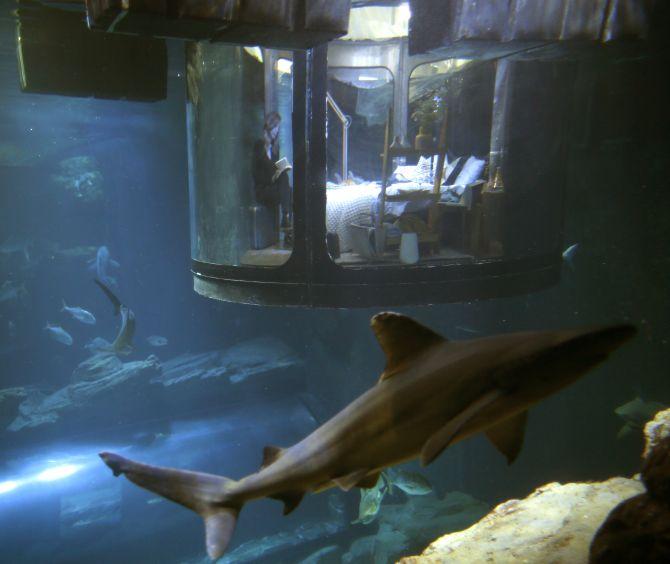 The Aquarium De Paris has built a bedroom in their shark tank so visitors can spend the night sleeping with the deadly predators.
Canada's Trudeau shows why he is the coolest PM ever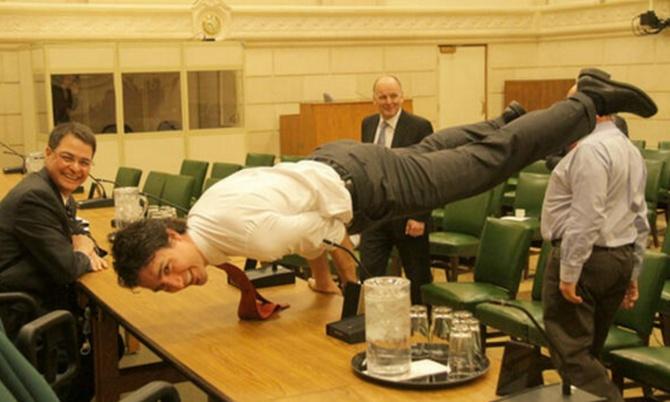 Since then, the 43-year-old has been busy showing the world why he's the best Justin out of Canada since Bieber. A former teacher, boxing enthusiast and politician, Trudeau is Canada's second-youngest prime minister ever.
March 29, 2016
EgyptAir hijacker arrested, all hostages safe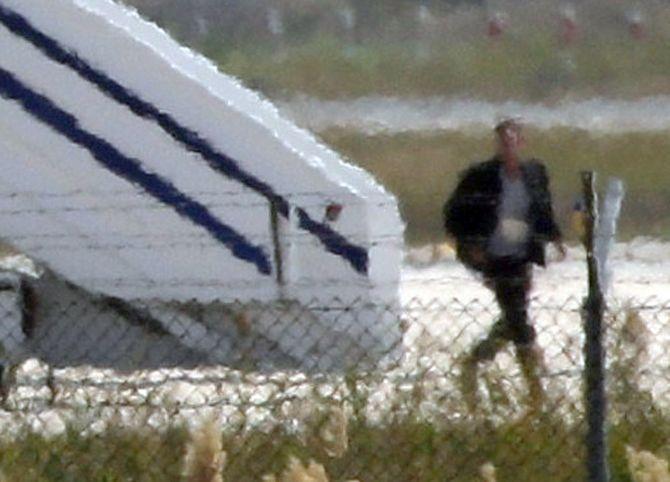 At least one man on the plane, carrying 62 people, is believed to be armed, and explosives have been found onboard, Cypriot officials said.
PHOTOS: What's left of Palmyra after Islamic State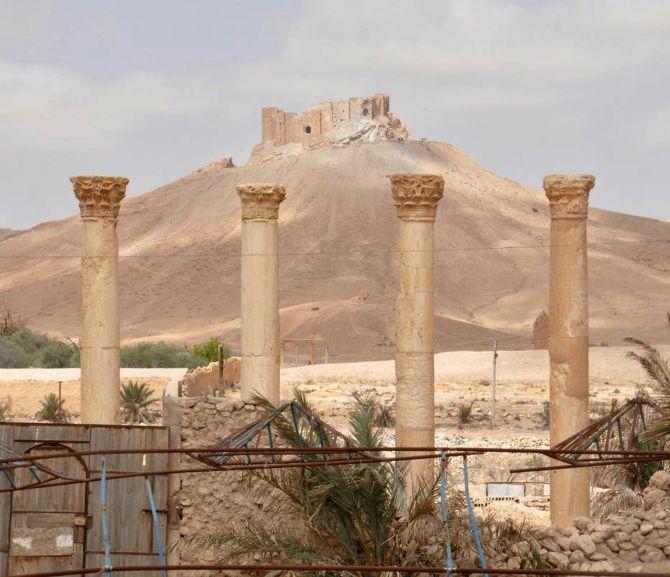 Hours after the Syrian troops recaptured Palmyra from the clutches of Islamic State, photographs emerged showing the damage the terrorist group has inflicted on the ancient city.
PHOTOS: Towering inferno rips through skyscraper in UAE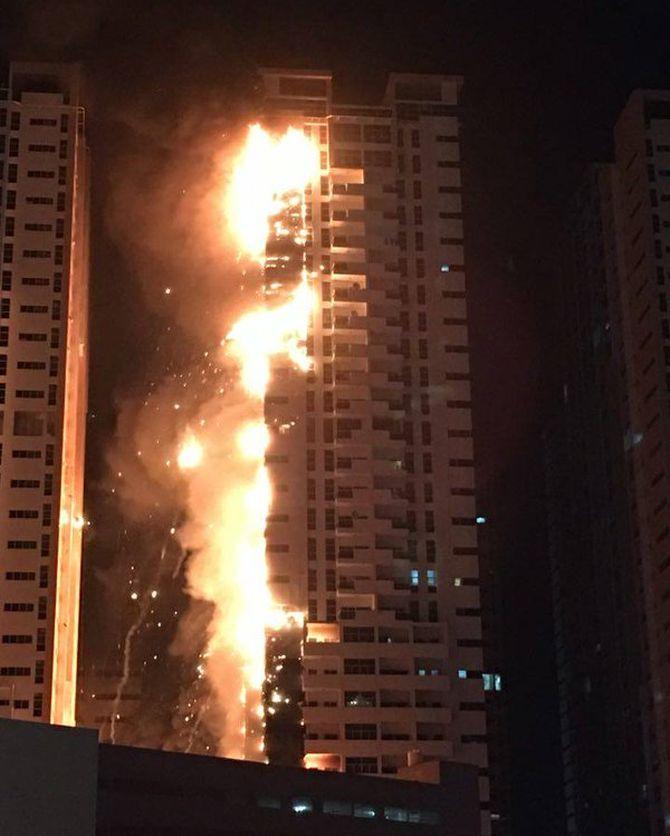 A towering inferno has ripped through a residential skyscraper in the United Arab Emirates -- the third such incident in just over a year.
What's happening at the beach?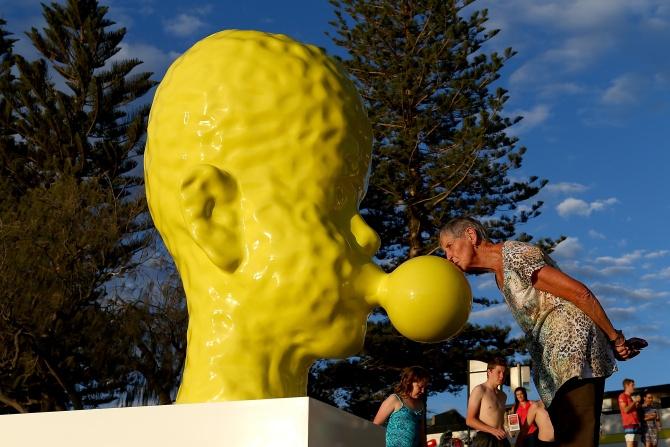 Sculpture by the Sea is an annual event, extremely popular and a much loved exhibition, attracting visitors in the hundreds of thousands to the shores of Cottesloe, in Perth, Australia.
Lahore blast: Pakistan in mourning, Sharif vows to avenge attack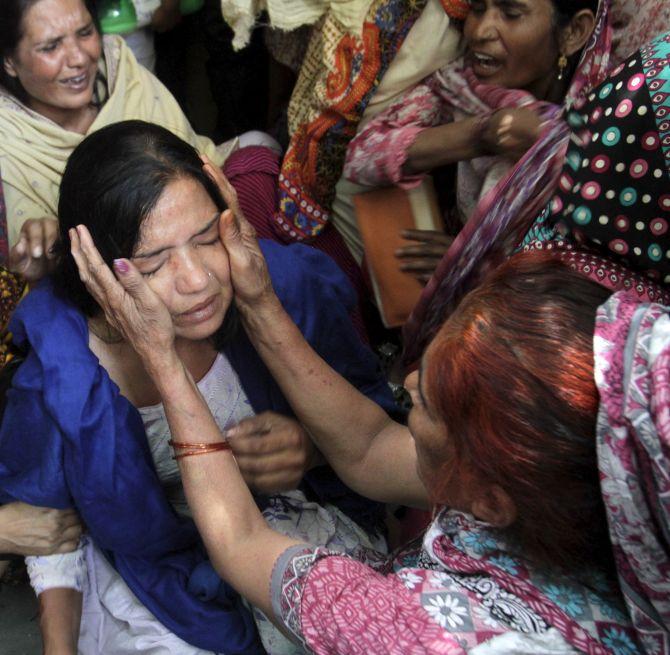 Sadness and fear prevailed as Pakistan is mourning the loss of precious human lives in Gulshan-e-Iqbal suicide attack on Sunday in Lahore.
March 28, 2016
'Saw bodies flying in the air': Witnesses recount Lahore's Easter horror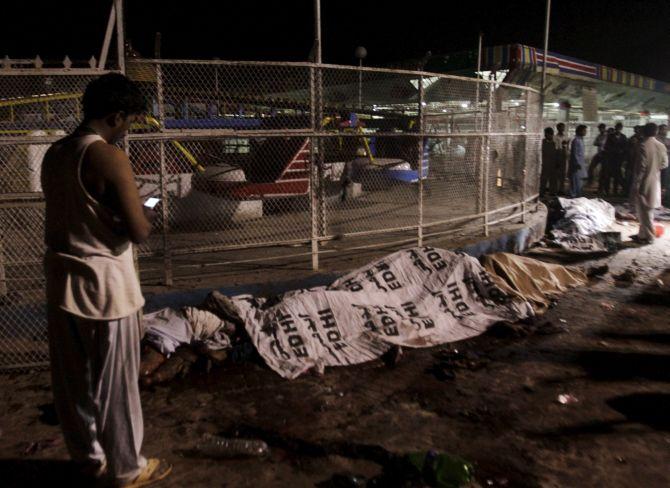 Terror shook the world for the second time in less than a week on Sunday, with a suicide bombing that killed at least 65 at a park in Lahore.
March 25, 2016
From Rahul to Amit Shah, how politicians celebrated Holi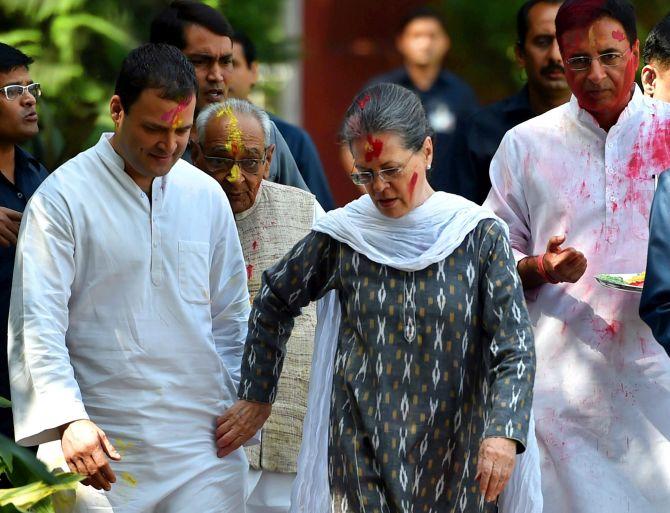 Even politicians got into festive mood and celebrated Holi with colours and joy.
PHOTOS: Obama dances the Tango in Argentina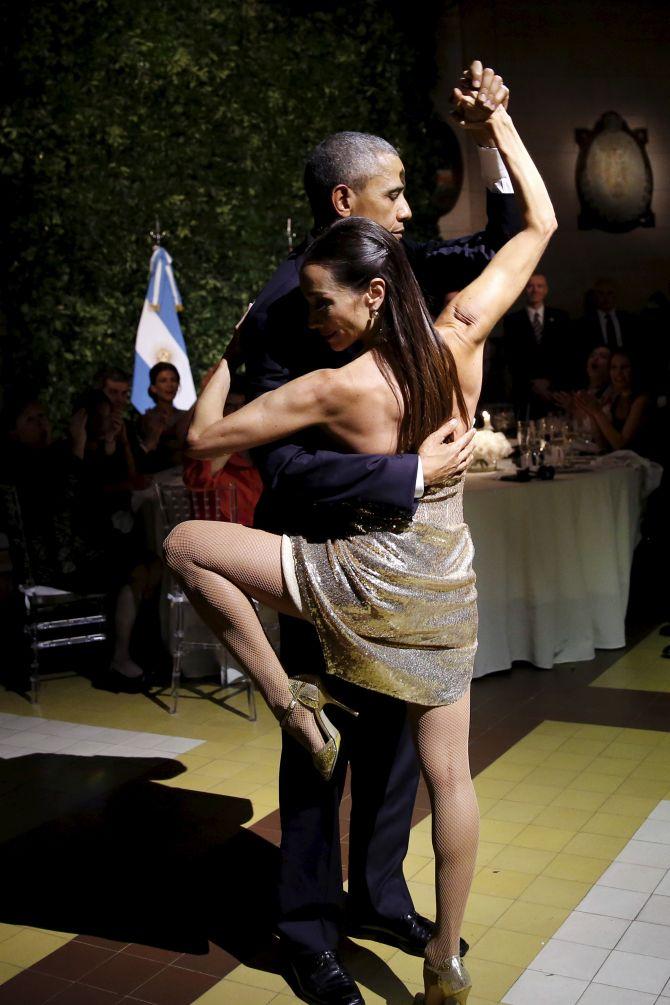 Barack Obama and Michelle showed off their moves at the end of a state dinner in Argentina.
6 arrested in Brussels bombing probe; France foils terror plot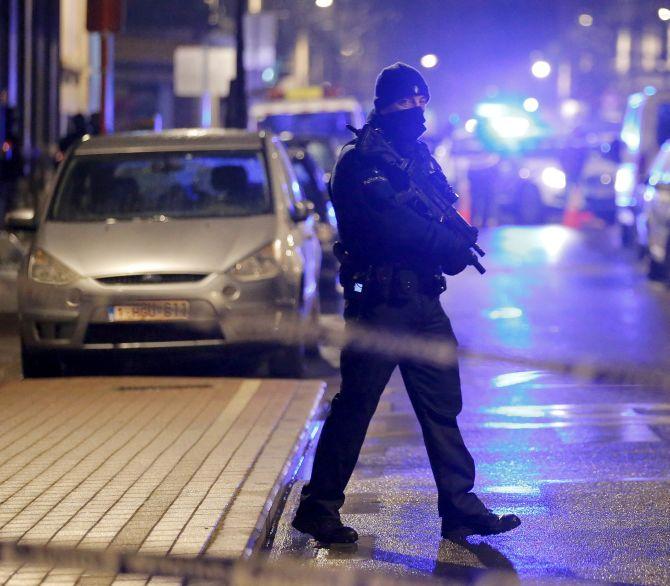 The arrests were made during raids in central Brussels, Jette and the Schaerbeek neighbourhood -- where police found a large stash of explosives and other bomb-making material.
Relief for 242 Indians stuck In Brussels as they return home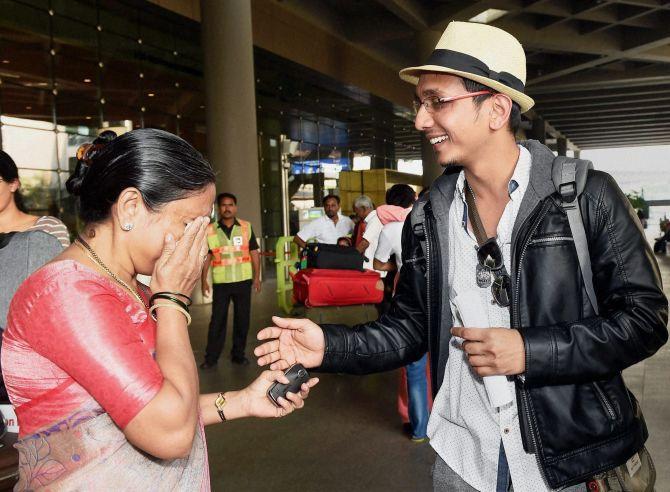 The airline had earlier taken all its stranded passengers in Brussels to the Dutch capital by road.
March 23, 2016
PHOTOS: Belgium weeps for its dead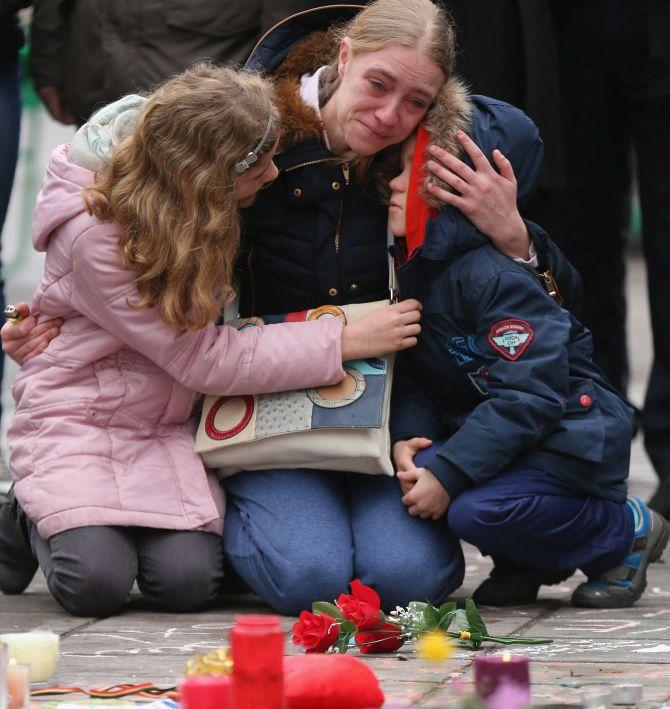 Tears spilled as friends, family and strangers gathered in solidarity at Brussels' main square to hold vigils for loved ones lost in Tuesday's terror attacks.
PHOTOS: Britain's Prince Harry sees red during Holi in Nepal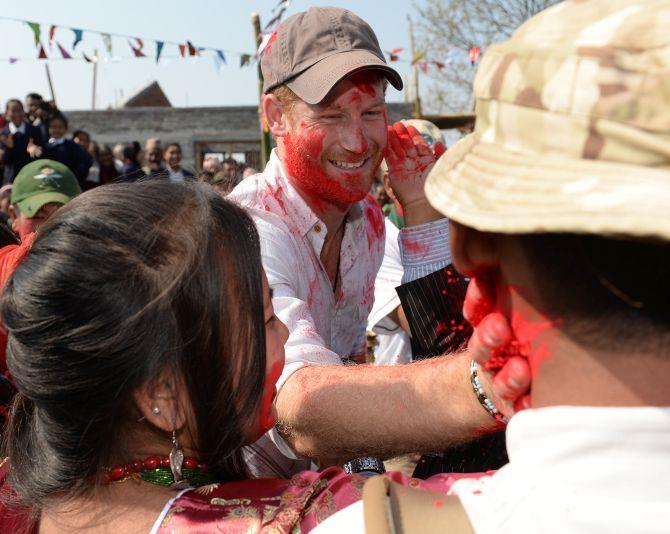 Prince Harry on Tuesday played Holi with Nepalese villagers and had his face smeared with red powder paint by them to celebrate the arrival of spring.
March 22, 2016
People open up their homes and hearts after Brussels attack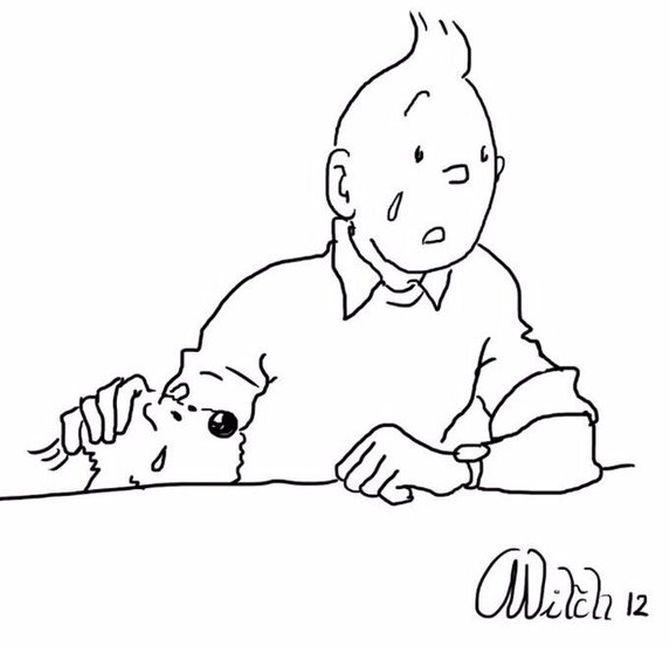 People used hashtags to offer help while many opted to use artworks to pay their tributes.
Terror in Brussels: 35 dead as explosions hit airport and metro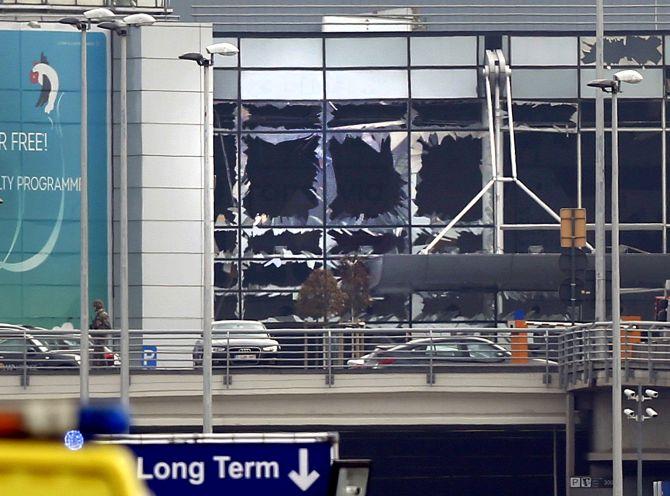 At least 35 people have been killed and dozens injured in Brussels after a series of terror attacks struck the city's airport and a metro station near the European Union headquarters.
March 18, 2016
PHOTOS: It's an odd, crazy world out there!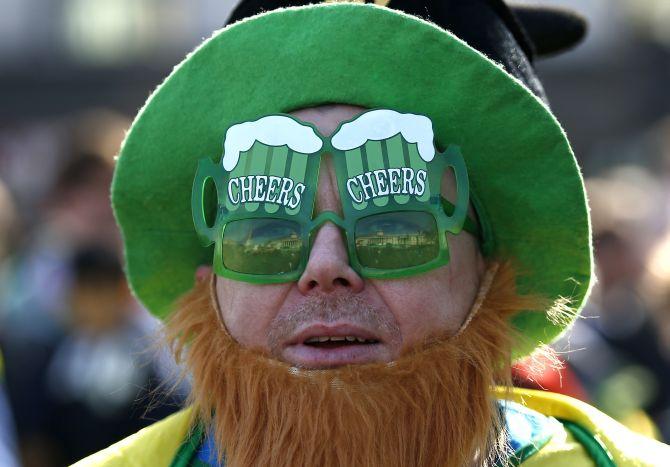 Here's your weekly digest of photographs that prove that it's a odd, crazy world out there!
What do PM Modi and Kim Kardashian have in common?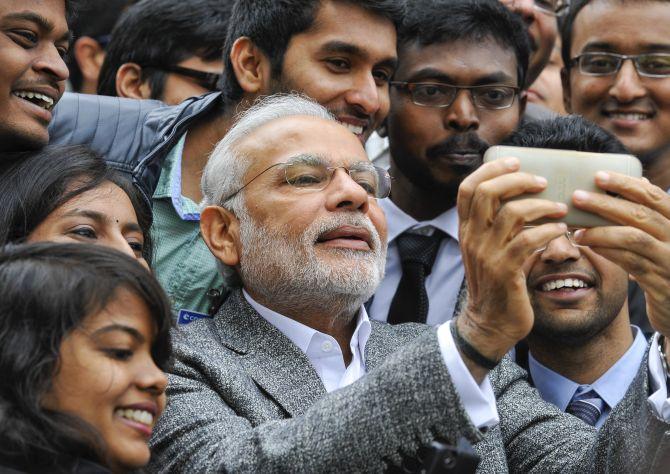 The magazine cited Modi's unconventional announcement on Twitter of his visit to Pakistan last year
March 17, 2016
Look who Modi will share a room with!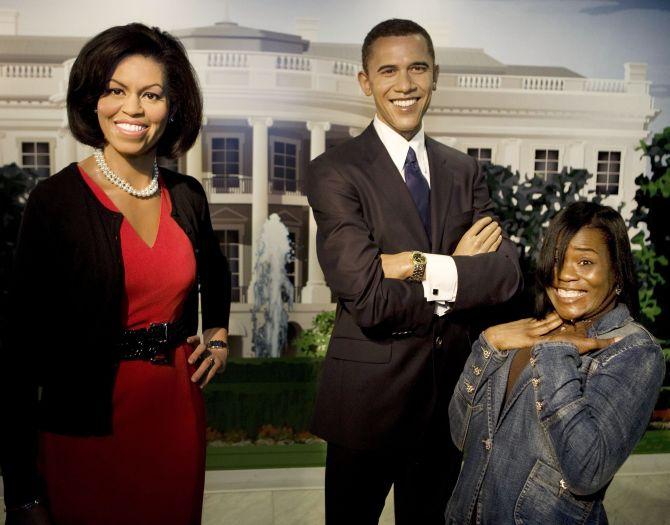 Rediff.com takes a look at the other famous housemates at the museum.
March 16, 2016
COMING SOON: PM Modi at Madame Tussauds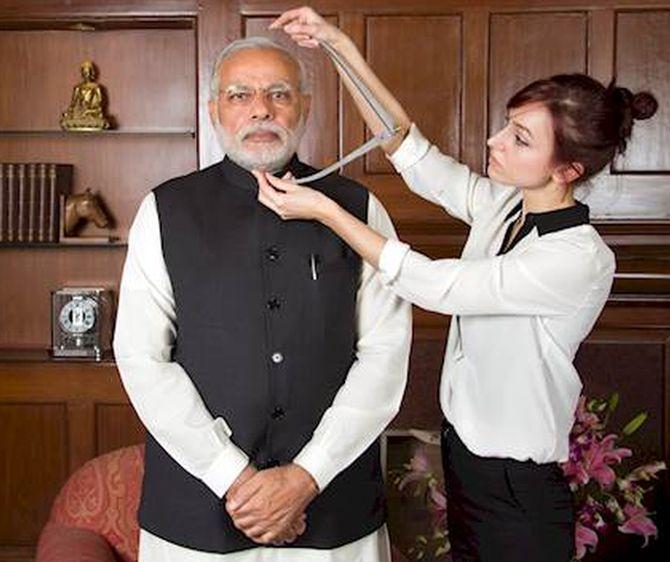 The wax figures will be dressed in the PM's signature kurta and will be making the 'namaste' gesture.
PHOTOS: Welcome to the Valley of Tulips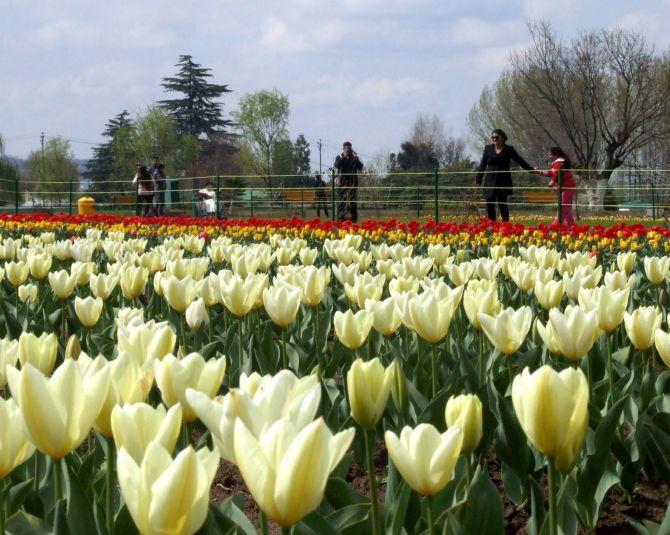 You may be mistaken if you think this is Holland! This is Srinagar's beautiful tulip garden, the largest in Asia.
March 15, 2016
REWIND: Stunning PHOTOS of the week that was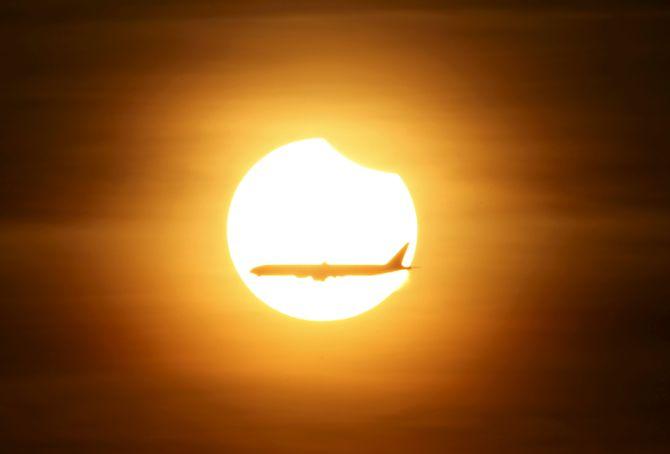 Here's a glimpse of all that happened around the world last week, in 9 images.
March 14, 2016
India's Light Combat Helicopter fires first rocket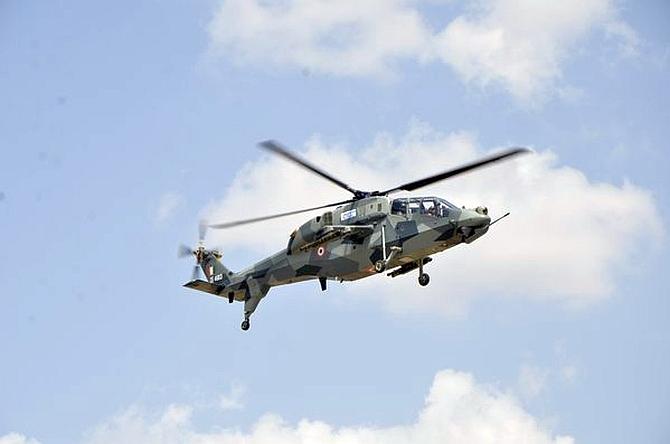 This comes after successful completion of basic performance flight testing and outstation trials for cold weather, hot weather and hot and high altitude testing in 2015, HAL said.
March 11, 2016
PHOTOS: This is 'Kumbh Mela of culture', says Modi at Sri Sri event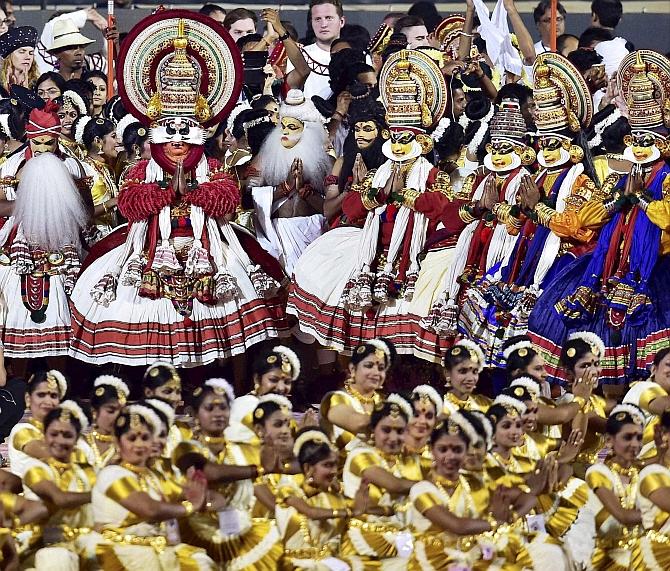 Seen as one-of-its-kind event, the festival offers a platform for spiritual and religious leaders, politicians, business leaders, peacemakers and artists to spread the message of global peace and harmony in diversity.
March 10, 2016
It poured in Dubai and here are the photos to prove it!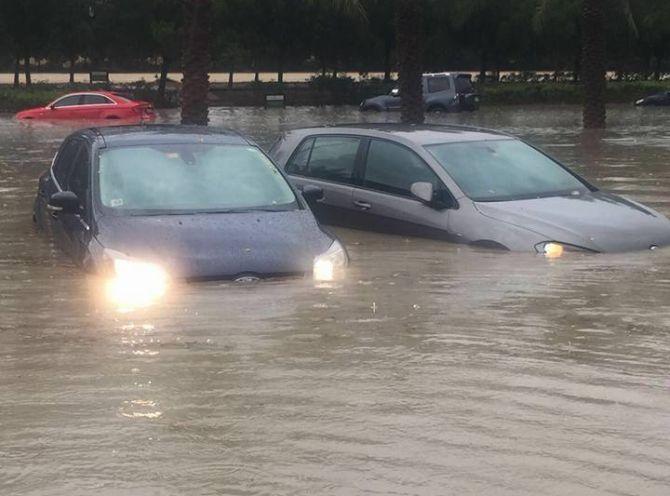 Schools were ordered shut, flights suspended and the stock market was closed down in the United Arab Emirates as rare heavy rain hit the desert Gulf state.
March 09, 2016
Trump expands lead, Sanders upsets Clinton in Michigan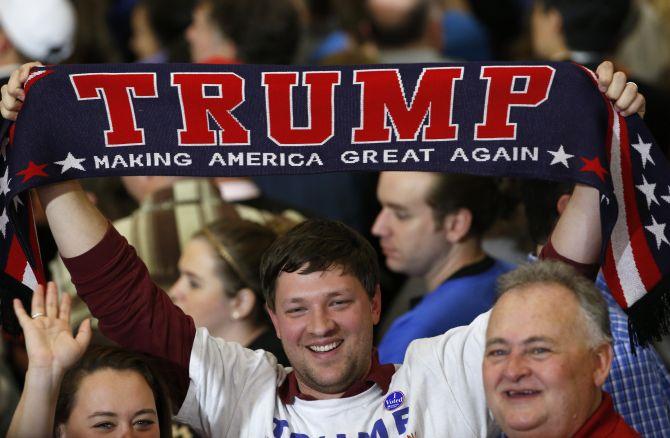 Clinton's defeat in Michigan is an indication of the challenges she might face in the rest of her presidential campaign.
PHOTOS: This is the last time you'll see this till 2017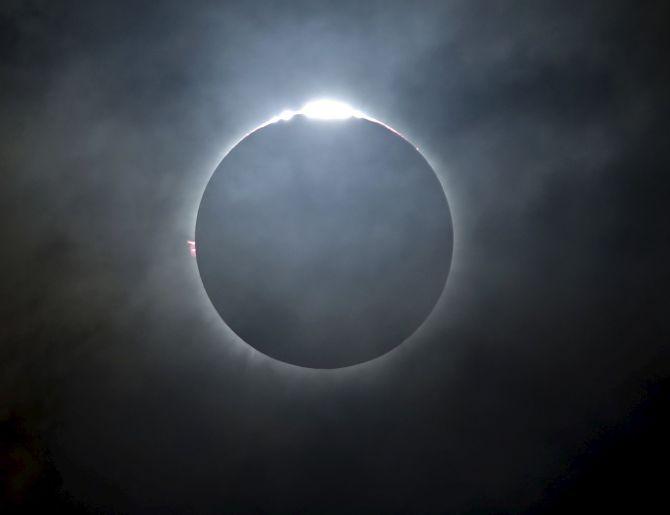 The moon blacked out the sun in totality over Indonesia's main western island of Sumatra, providing crowds with stunning views of a total solar eclipse.
March 08, 2016
Guess which female MP rode into Parliament on a Harley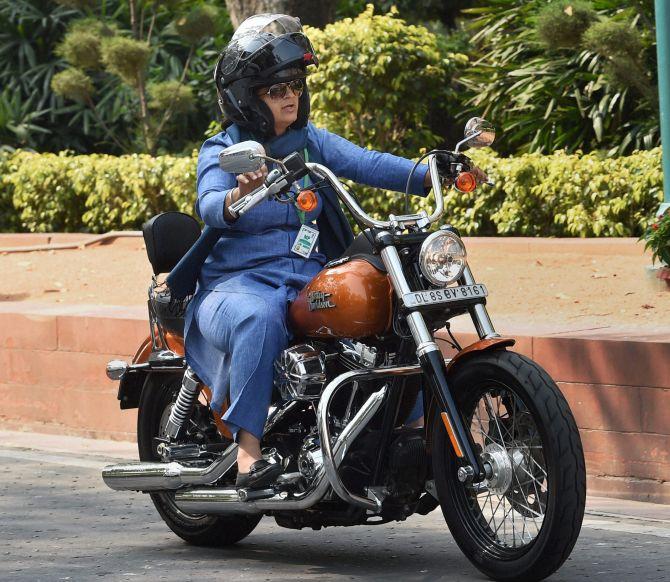 The 39-year-old Congress lawmaker from Bihar's Supaul rode in in a blue salwar kameez and dark sunglasses with a white helmet strapped on.
March 07, 2016
These photos of William, Kate and family will just melt your hearts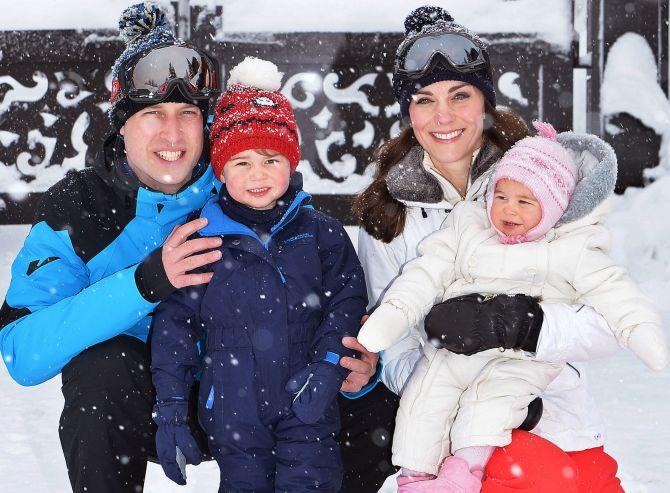 William and Kate found themselves battling in the snowy setting of the French Alps when they took their children Prince George and Princess Charlotte on a short skiing break.
March 06, 2016
After Gujarat, Delhi on high alert; terrorists 'infiltrate' national capital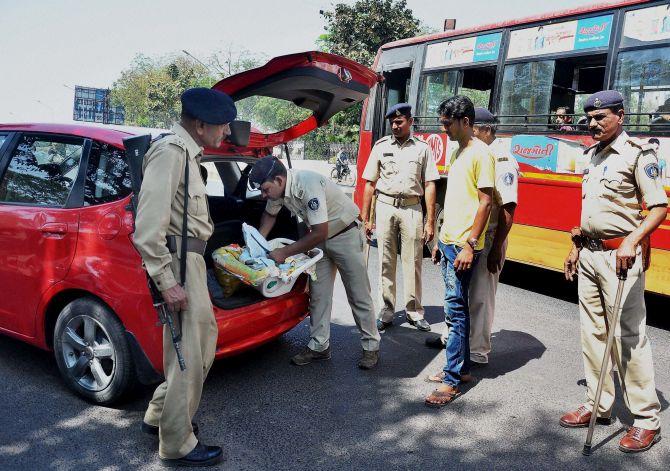 Security was beefed up following a terror alert that said some terrorist have entered the state through Kutch. NSG teams have been sent to Gujarat from Delhi following intelligence inputs, police sources said.
March 04, 2016
PHOTOS: Astronaut grew 2 inches taller and 8.6 milliseconds younger in space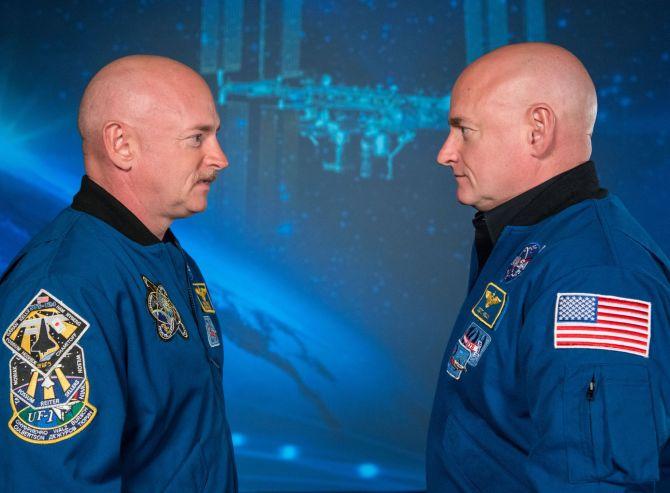 We take a look at the amazing things that Scott Kelly experienced as he hovered 400 kilometres above the earth zipping around it at 17 thousand miles per hour for nearly an year.
March 03, 2016
WOW! 14 images that steal the show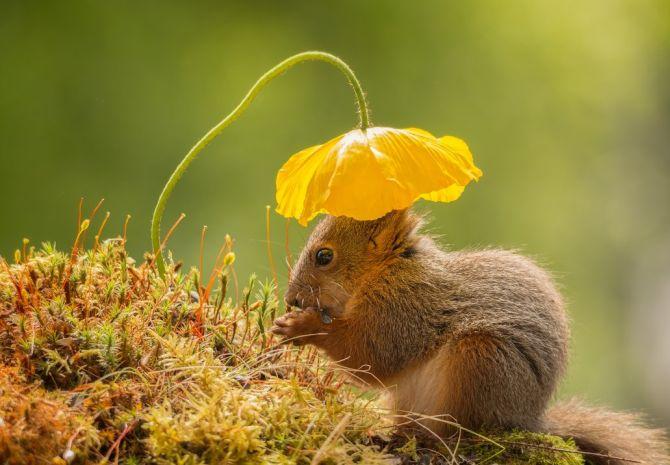 Take a look at some of the most striking images from the contest, and see a full gallery on Smithsonian's website.
March 02, 2016
He's home! US astronaut returns to Earth after 340 days in space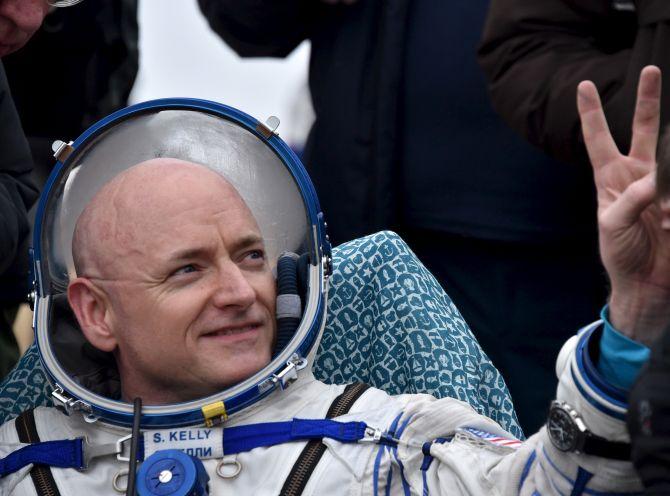 The 52-year-old and two Russian cosmonauts touched down in Kazakhstan after a three-hour flight from the ISS.
These 16 STUNNING images show what lies beneath the deep, blue sea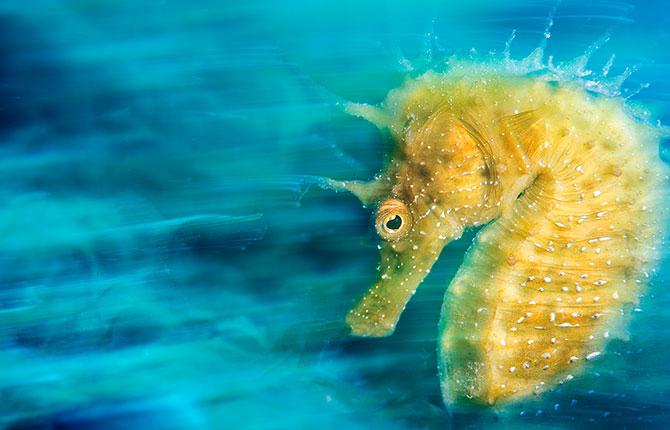 These are some of Rediff.com's favourites from all 80 award-winning photos.
Trump vs Clinton likely after big wins on 'Super Tuesday'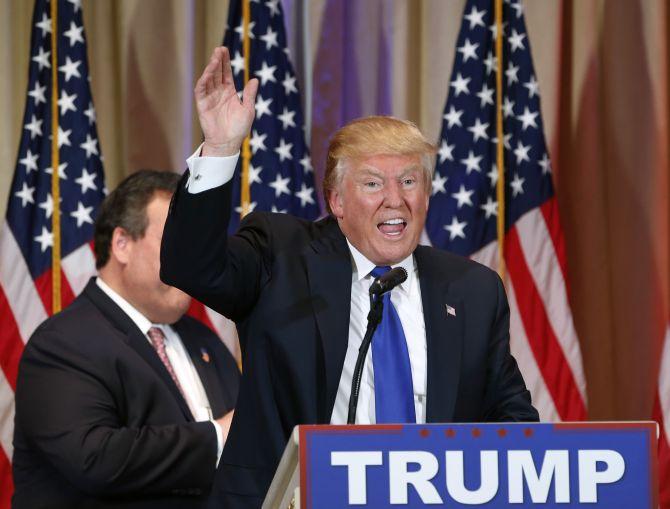 Democrat Hillary Clinton and Republican Donald Trump have both won the most states in the biggest day of the race for the US presidential nomination.
PHOTOS: It's an odd, odd world out there!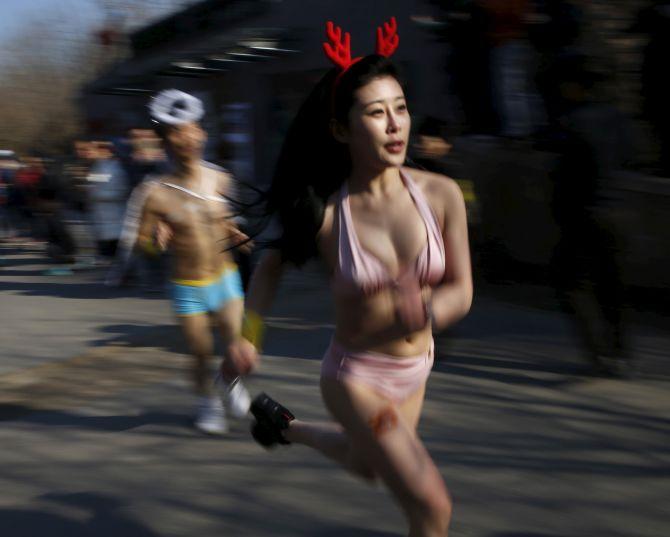 These photos prove we live in a truly bizarre world.
February 27, 2016
'Smriti Irani jhooth ki rani' slogans raised outside HRD minister's house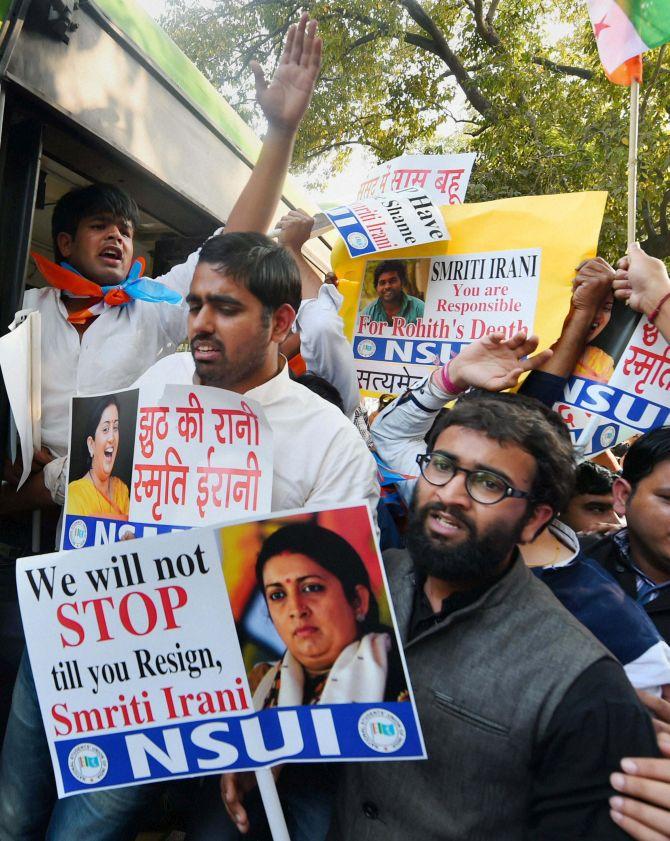 The activists also held up banners and placards with messages such as "Stop insulting Rohith" and vowed to continue with protests until Irani "resigns".
February 26, 2016
WTF News: It's Weird, True and Funny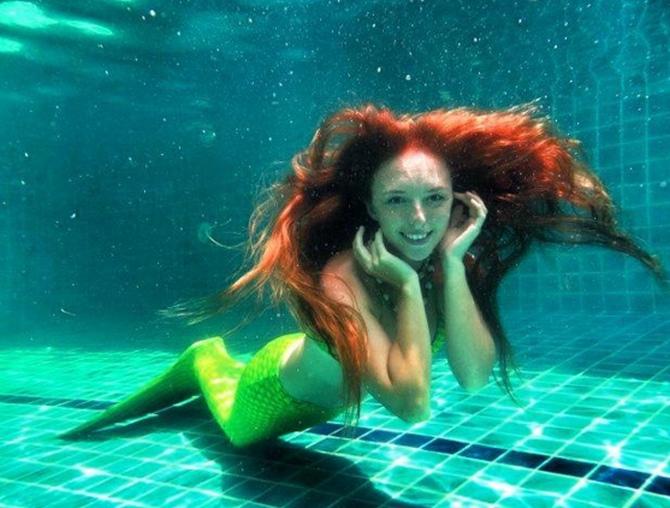 This week's collection of stories that prove we live in a truly mad, mad world
February 24, 2016
PHOTOS: The odd, odd world we live in!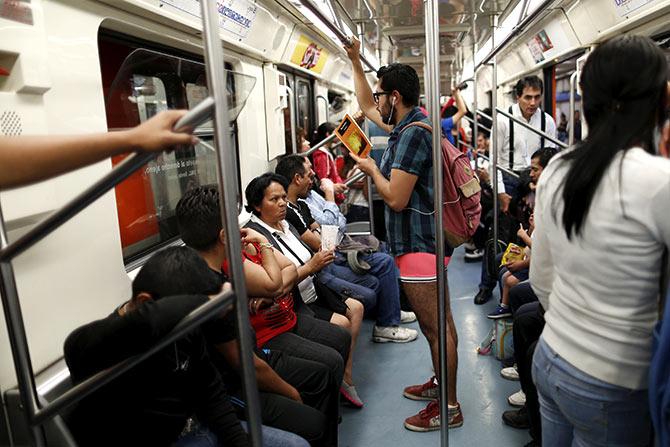 Here's this week of photos that prove we live in a mad world.
Sony World Photography Awards 2016: 16 images that will blow your mind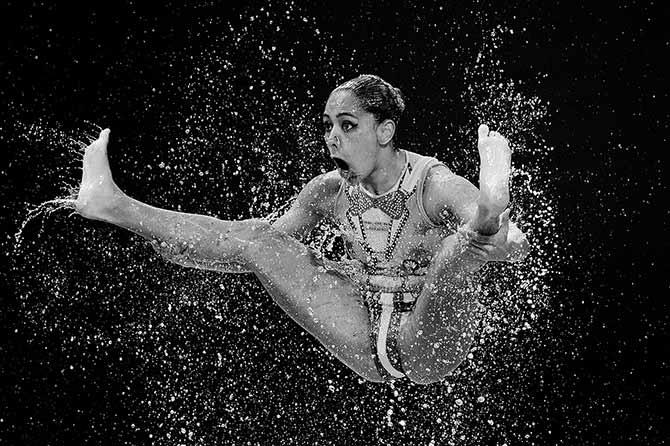 The 2016 edition of the Sony World Photography Awards, the world's biggest photography competition, organised by the World Photography Organisation, announces the shortlists for its Professional, Open and Youth competitions.
February 23, 2016
PHOTOS: Students march for Rohith, JNU; Rahul, Kejriwal join them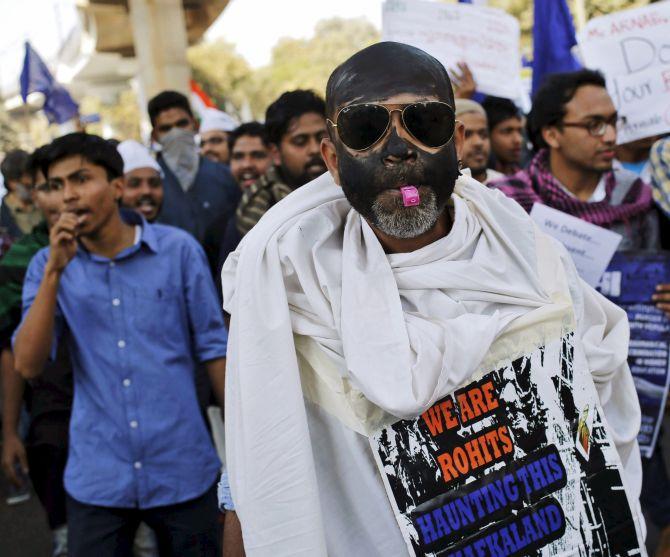 Thousands of students took to the streets demanding justice for Dalit scholar Rohith Vemula and protesting the Jawaharlal Nehru University crisis.
February 22, 2016
19 dead in Haryana as Jat stir enters 9th day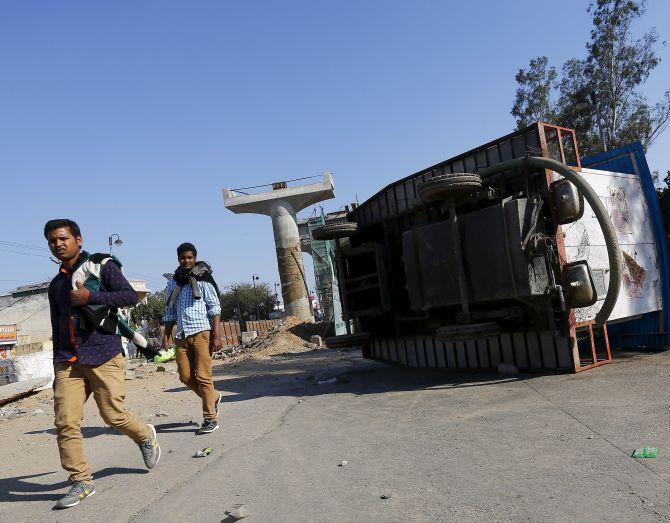 The Centre directed security forces to use force to clear blockades.
48-hour long Pampore encounter ends, 3 terrorists killed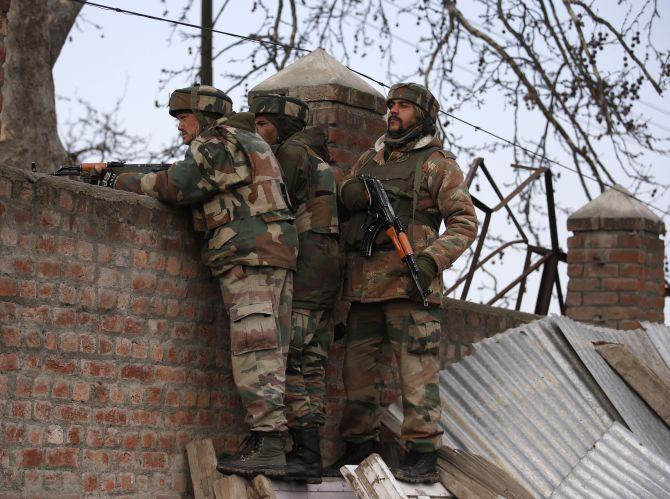 The Pampore attack in Jammu and Kashmir "appeared to be" the handiwork of Lashkar-e-Tayiba terror outfit, Central Reserve Police Force Director General Prakash Mishra said.
To join the army and kill militants was Captain Tushar's childhood dream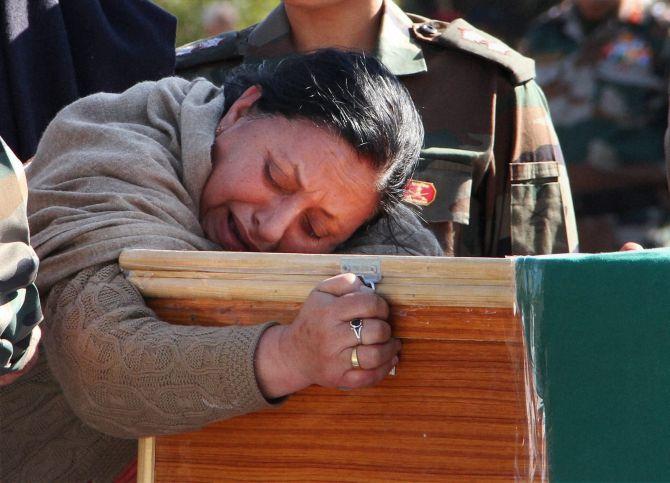 Family, friends and the army pay their respects to Captain Tushar Mahajan who laid down his life during the encounter in Pampore.
Student roughed up at PM Modi's Banaras Hindu University event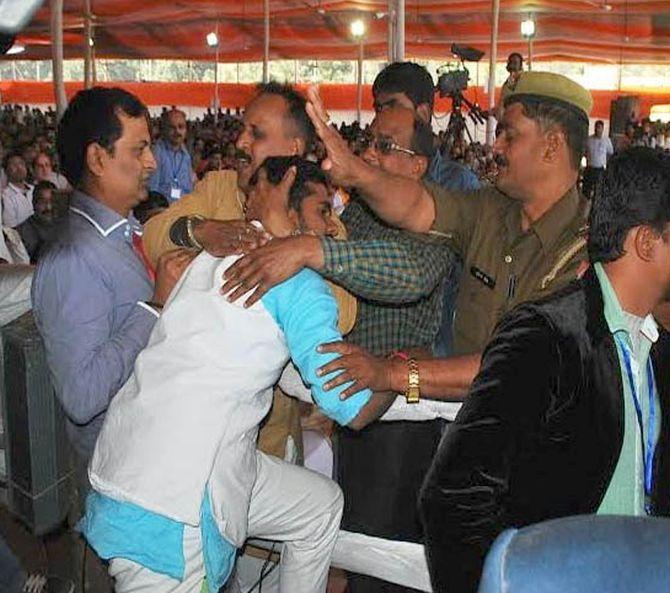 The student, identified as Ashutosh Singh, demanded that the students union elections be held in the varsity just as Prime Minister Narendra Modi ended his speech at BHU.
February 21, 2016
Mumbaikars 'grin and bear' 72-hour megablock on Harbour line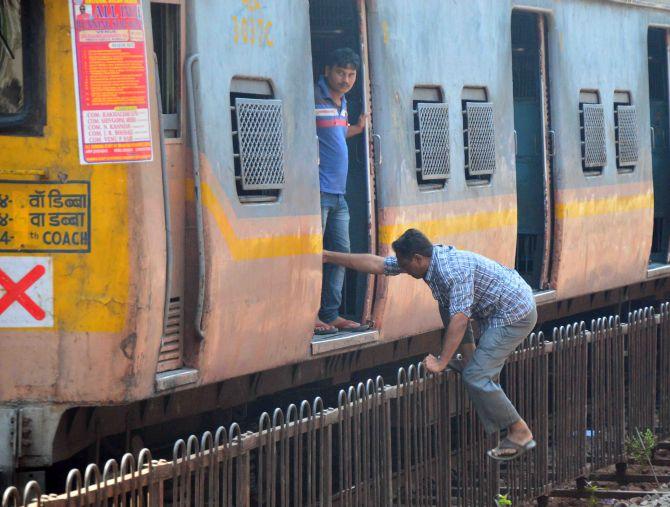 The three-day shutdown was imposed to extend platforms on the line to accommodate 12-car rakes.
California, Yale students stand up for Kanhaiya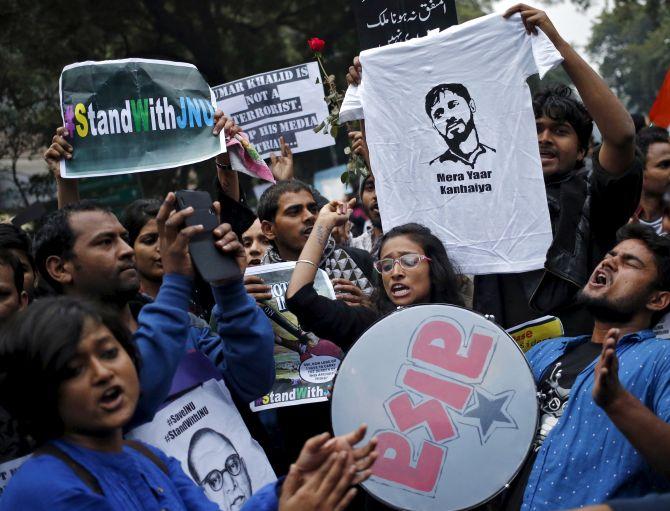 Students and teachers of several international universities, including those from University of California and Yale, are narrating his "seditious" speech in English and uploading their videos online.
Haryana turns into battleground: Jat stir turns violent, 12 dead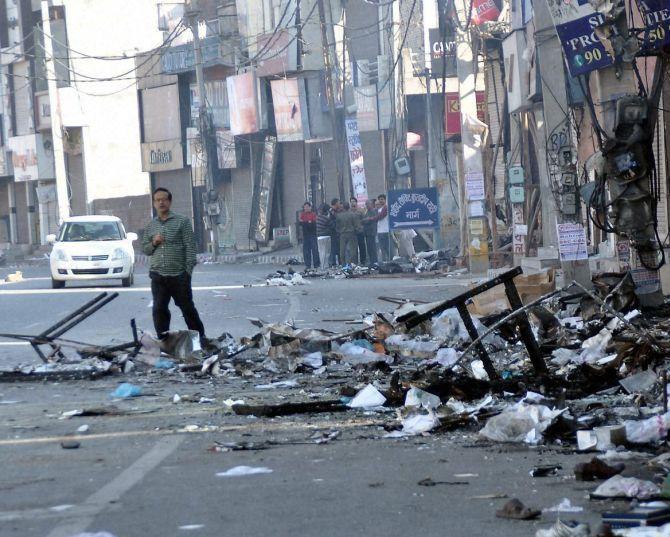 Despite various political leaders, including Haryana Chief Minister Manohar Lal Khattar appealing protesting Jats to maintain calm and peace, the incidents of violence and arson continued during the night in various parts of the state, crippling the normal life in worst affected places like Rohtak, Jind, Bhiwani, Jhajjar, Sonipat, Hisar.
February 20, 2016
PHOTOS: India, Nepal armies train hard at Pithoragarh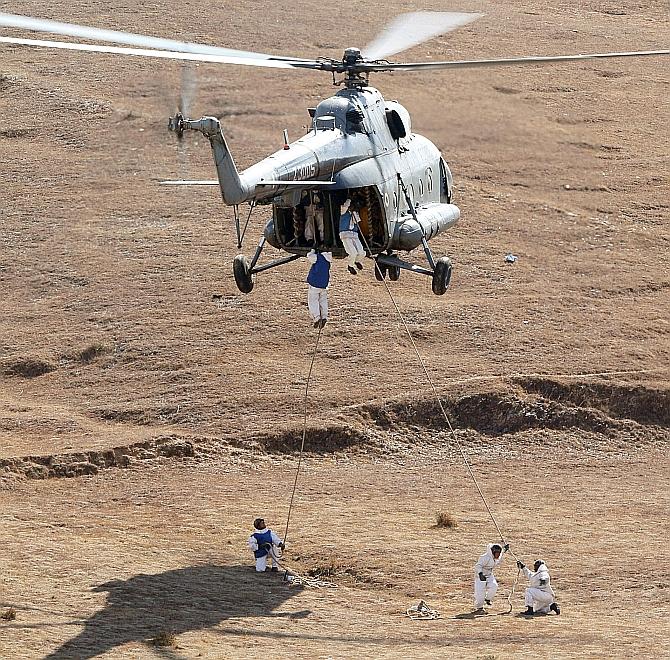 On till February 21, the 'Surya Kiran' series of exercises are aimed at enhancing inter-operability between the Indian and the Nepalese Army units in jungle warfare and counter terrorism operations in the mountainous terrain. The training also focuses on humanitarian aid and disaster relief, including medical and aviation support.
February 18, 2016
PHOTOS: Wearing 'Kanhaiya' T-shirts, students march for JNU leader's release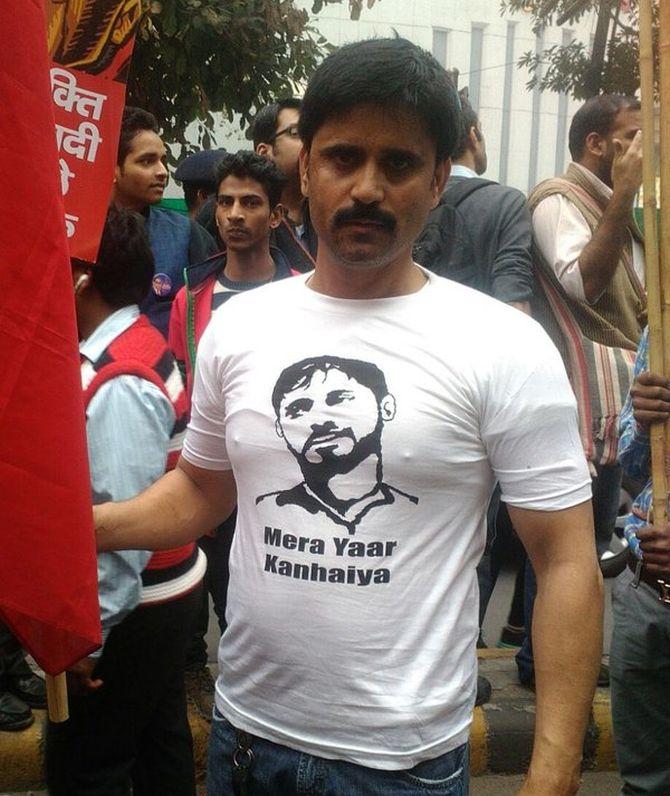 Thousands of students from universities and colleges across Delhi staged a massive protest in New Delhi on Thursday.
RSS imposing dead ideology on students: Rahul on JNU row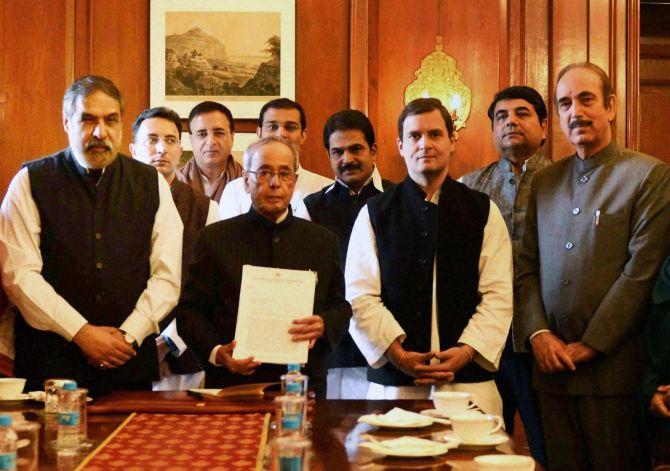 Party sources said Gandhi will be accompanied by Leader of Opposition in the Rajya Sabha Ghulam Nabi Azad, Leader of the party in Lok Sabha Mallikarjun Kharge and several other party leaders and MPs.
PIX: Jaw-dropping display @ Singapore Airshow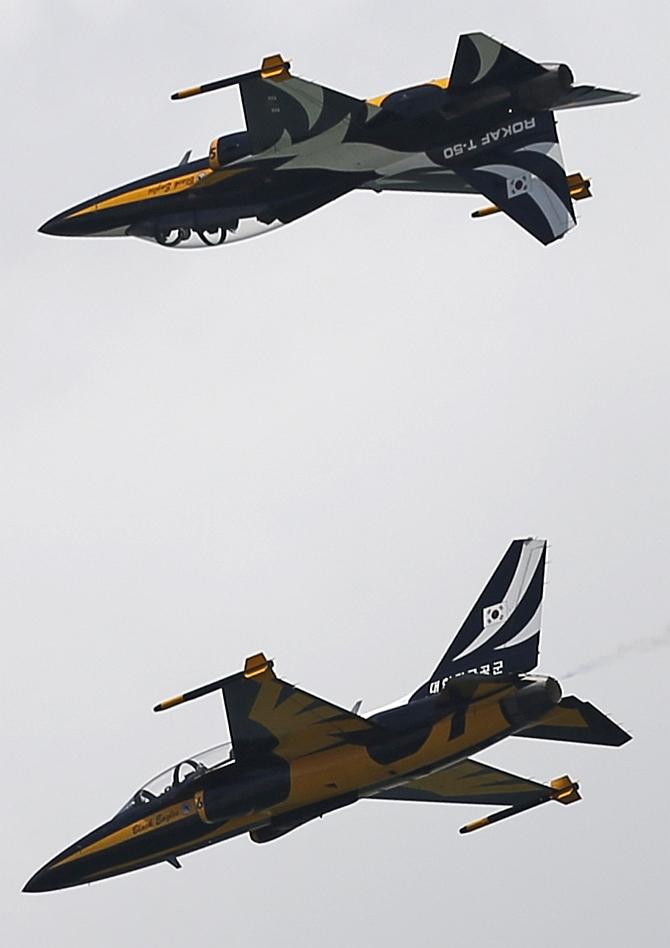 Singapore Airshow, Asia's largest and one of the top three aerospace and defence shows in the world, is underway.
Up to 28 killed by Turkey car bomb targeting military personnel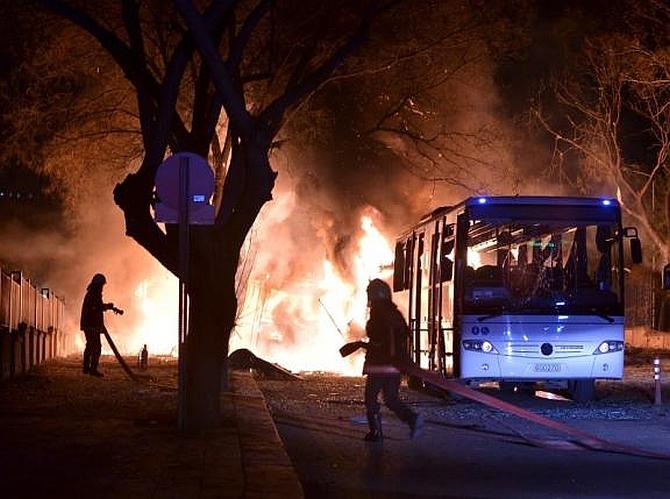 The explosion hit three military vehicles and a private vehicle in central Ankara, near Turkish parliament buildings, Turkey's semiofficial Anadolu news agency reported, citing Ankara Governor Mehmet Kiliclar. The vehicles were stopped for a traffic light at the time, the military said.
February 17, 2016
Patiala House turns battleground: Kanhaiya Kumar roughed up by lawyers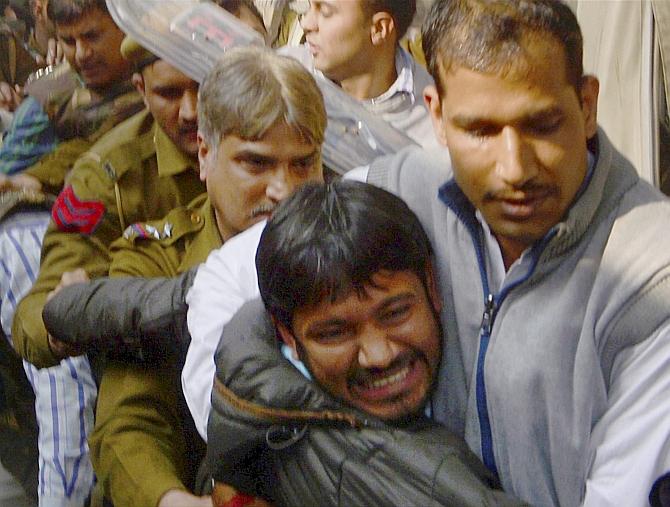 The journalist, identified as Anwar of news channel CNN IBN, said despite heavy police deployment, clashes erupted in the court complex and the cops' presence did not deter the lawyers from shouting slogans and fighting with journalists and students.
PHOTOS: The crazy, odd world we live in!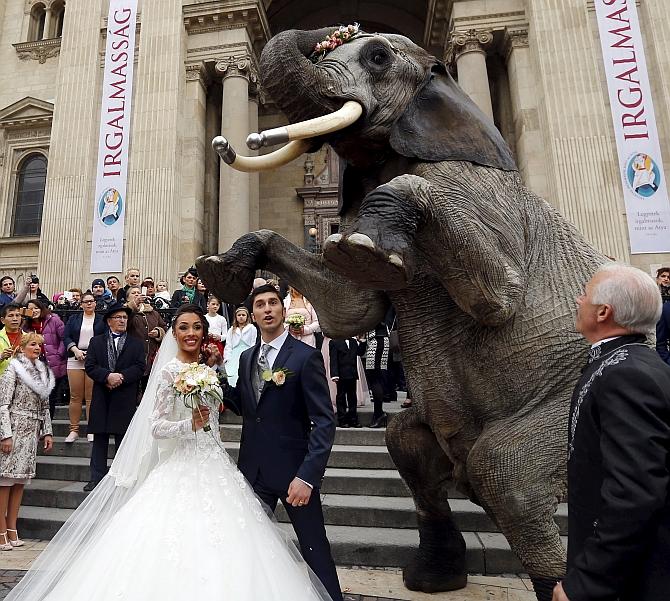 Here's your weekly digest of odd, crazy moments from around the world.
Caption This: 'Pappu' can dance...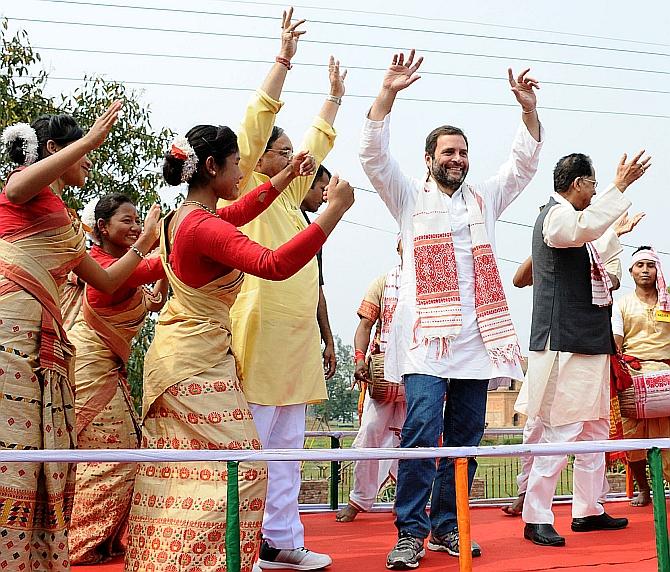 Can you think of a quirky caption for this photograph?
February 16, 2016
Hundreds bid emotional farewell to Siachen bravehearts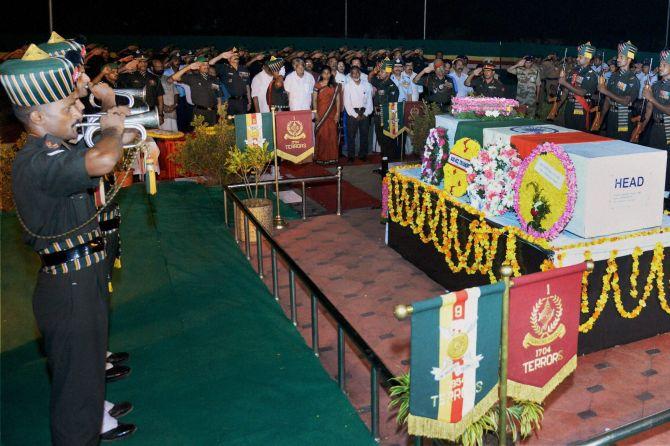 The atmosphere at the funeral was highly emotional with friends, relatives and locals bidding tearful farewell.
Journalists stage protest over attack at Patiala House court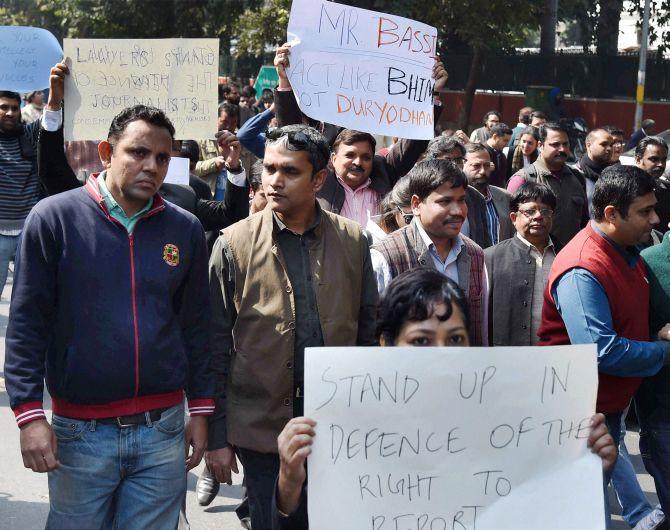 A delegation of journalists also met Home Minister Rajnath Singh and sought a thorough probe into the incident and strict action against those involved in the assault at the Patiala House Court Complex.
WTF News! It's Weird, True and Funny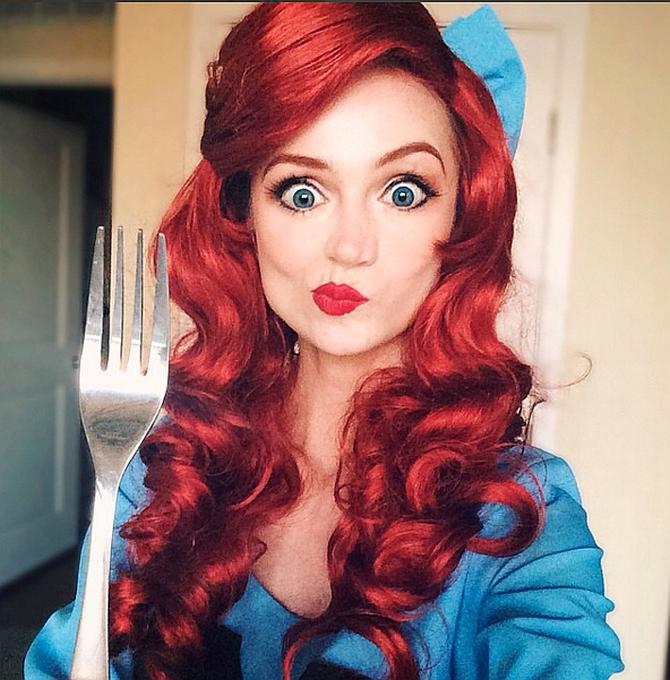 Here's your weekly digest of the most weird, true and funny news from the across the world.
February 15, 2016
JNU students boycott classes, demand union president's release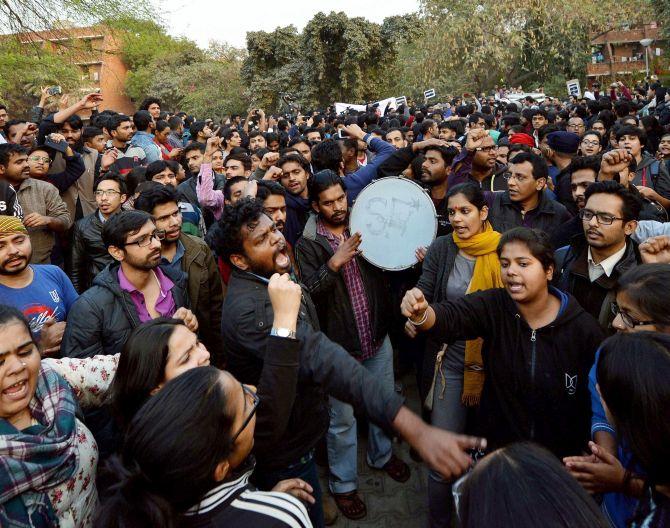 Teachers bodies of 40 central universities and Pune-based Film and Television Institute of India had also come out in support of the agitating students saying it is an issue of "indiscipline" and not "sedition".
Mumbaikars in for a rough ride as autos on strike on Monday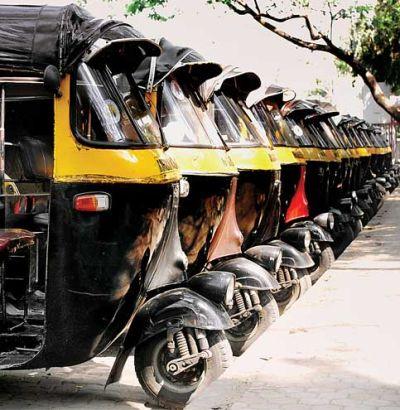 State transport commissioner Shyam Wardhane has issued directives allowing private cars, buses and other vehicles to operate as "public transport" on Monday
Tiniest traveller in the world: 10-week-old goes globetrotting with parents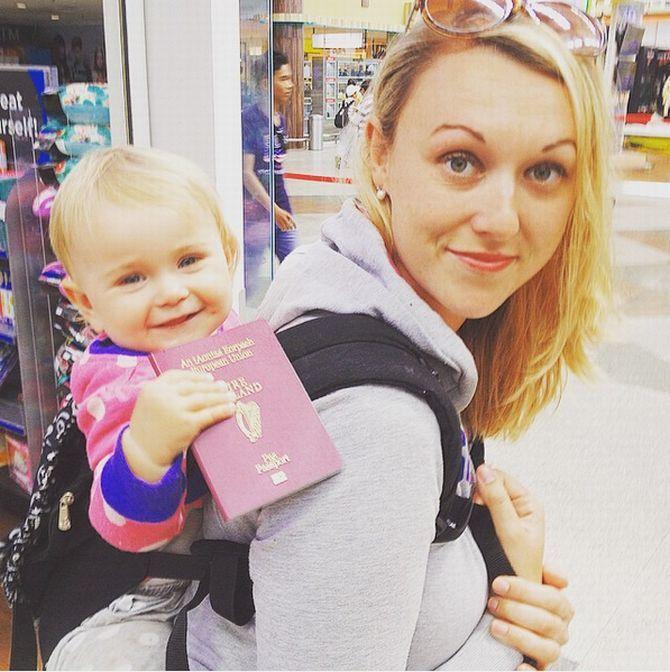 Karen Edwards and her partner Shaun Bayes, both experienced backpackers, took their baby girl Esme on a cross continent trip when she was a mere 10 weeks old.
February 12, 2016
Race to White House: Clinton, Sanders spar over Obama, immigration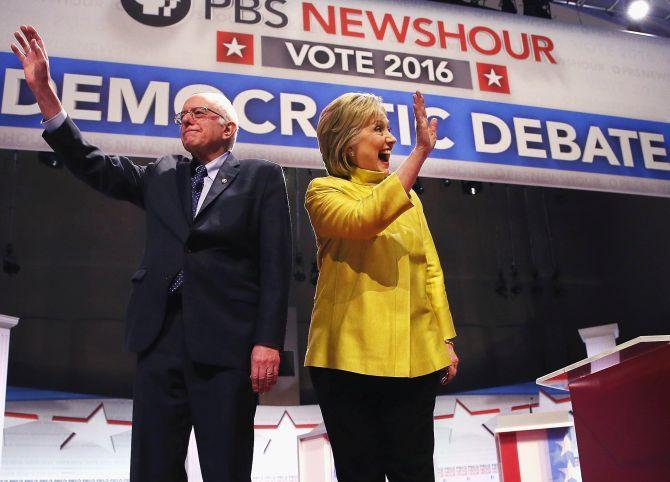 US presidential aspirants Hillary Clinton and Bernie Sanders on Friday tried to woo minority Latino and African American voters as they sparred over issues like race and their records on immigration during a Democratic debate.
And the best hashtags of 2015 were...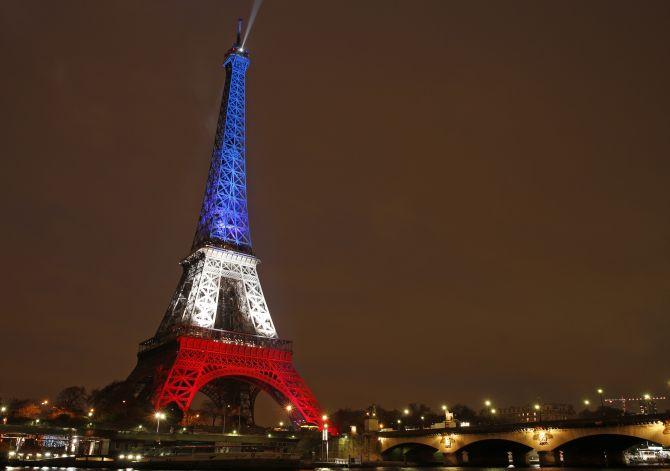 Rediff.com takes a look at the great moments on Twitter in 2015, from single Tweets that captured our imagination to hashtags that sparked global conversations.
PHOTOS: Welcome to the President's majestic Mughal Garden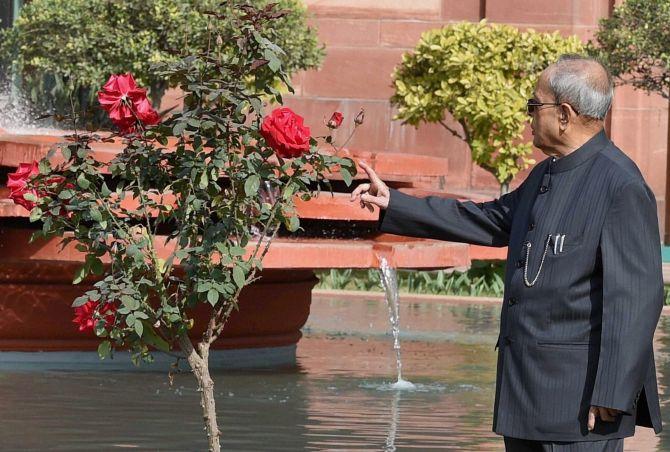 The world famous Mughal Gardens in Rashtrapati Bhavan will be open for public from Friday.
February 11, 2016
PHOTOS: Step into Mumbai's wonderland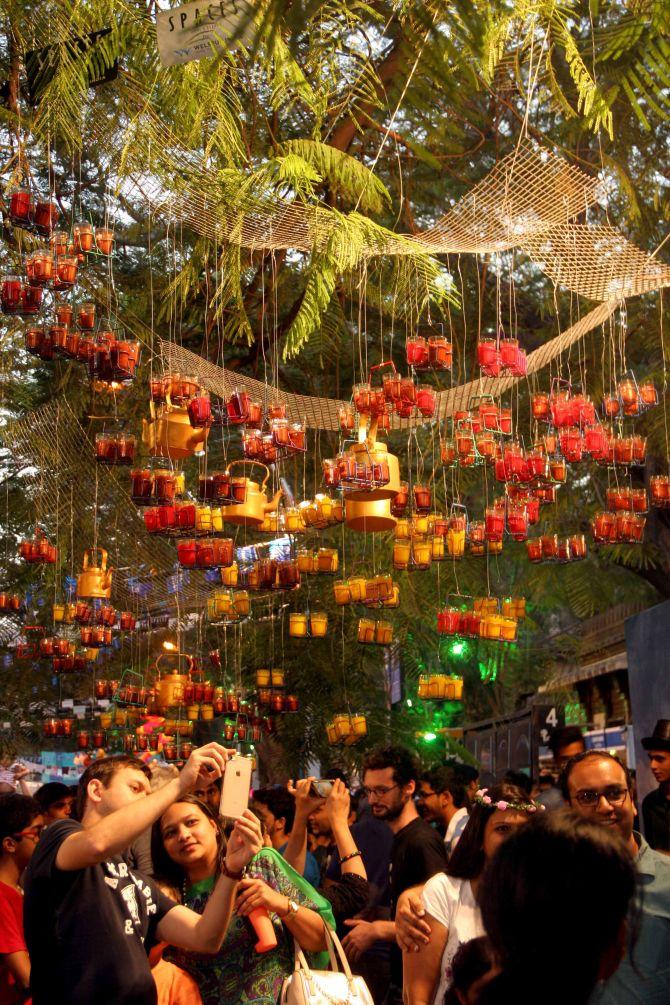 Mumbai's famous Kala Ghoda art festival has begun.
PHOTOS: The wonderfully weird world around us!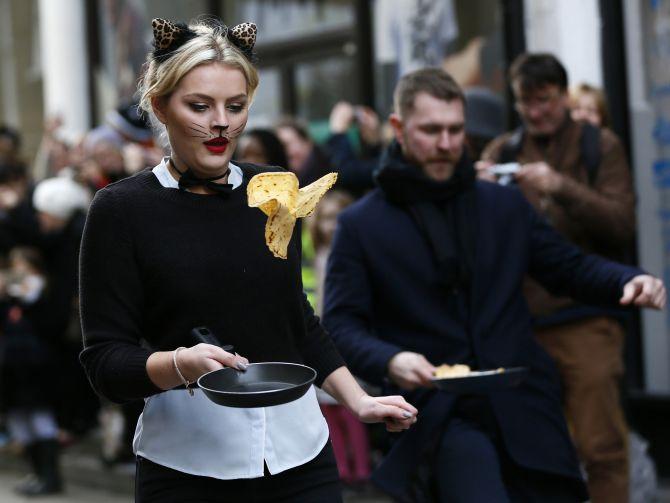 Ten images that show it's an odd, odd world we live in.
February 10, 2016
PHOTOS: India prays for miracle Siachen soldier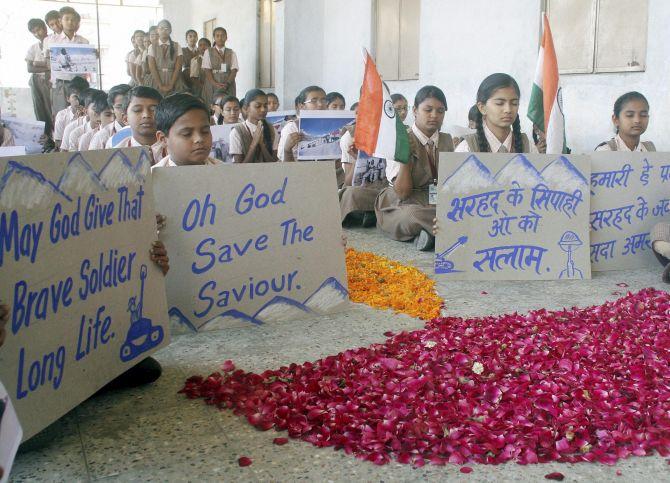 Indians have joined hands in praying for Lance Naik Hanamanthappa Koppad, who has been in a coma since his rescue on Tuesday.
PHOTOS: 30-car pile-up on Haryana highway due to fog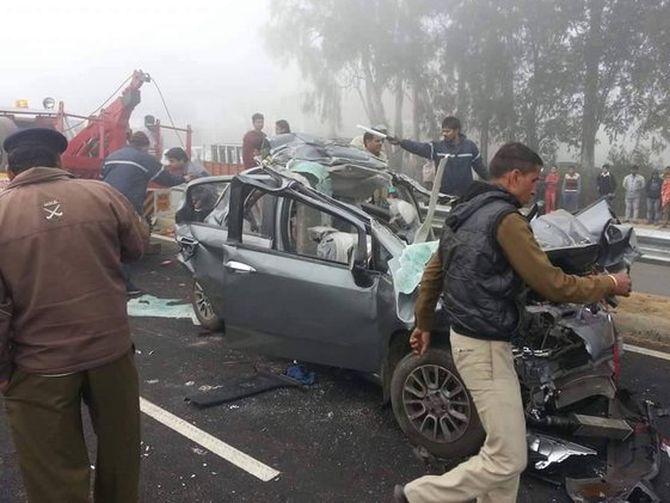 Officials say the mishap occurred due to poor visibility owing to fog.
Elephant goes on a rampage in West Bengal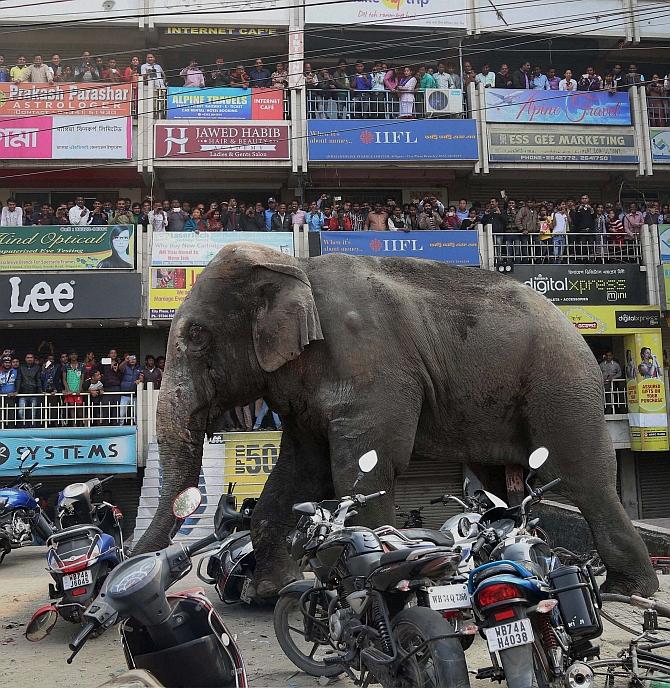 An elephant which had strayed from nearby Baikunthapur forest to Siliguri town went on a rampage for around seven hours damaging over 40 houses and some vehicles before it was tranquilised.
February 09, 2016
PHOTOS: Samba on streets as Brazil carnival kickstarts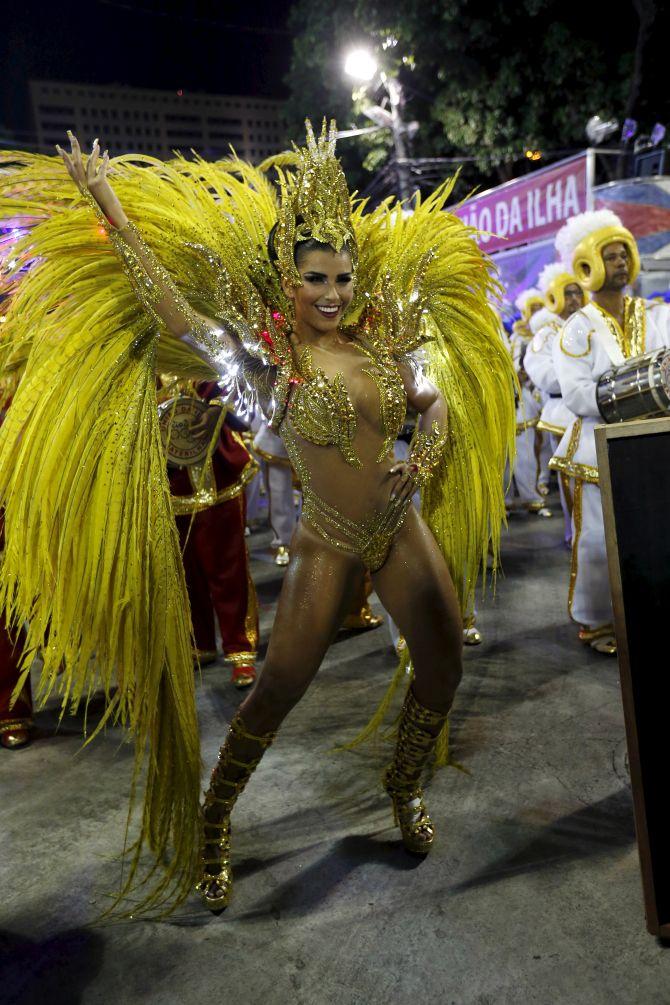 Despite the massive outbreak of the Zika virus in Brazil, the country's annual carnival roared ahead with ravellers jumping, dancing and singing on the streets of Rio de Janeiro, Sao Paulo and other cities. Here are some vibrant scenes from the event.
February 08, 2016
REWIND: Stunning PHOTOS of the week that was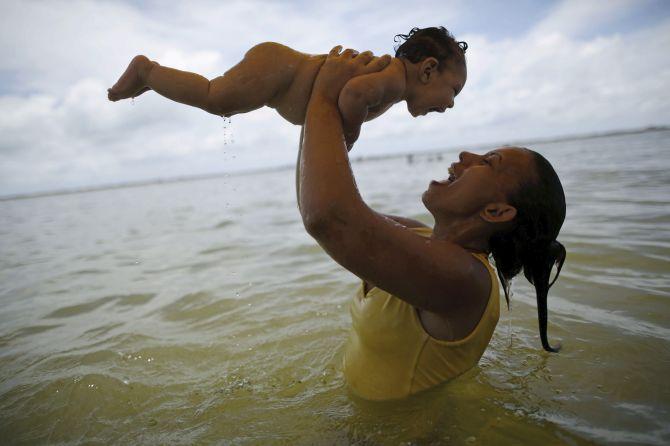 Here's a glimpse of all that happened around the world last week, in 10 images.
India, China hold first joint tactical exercise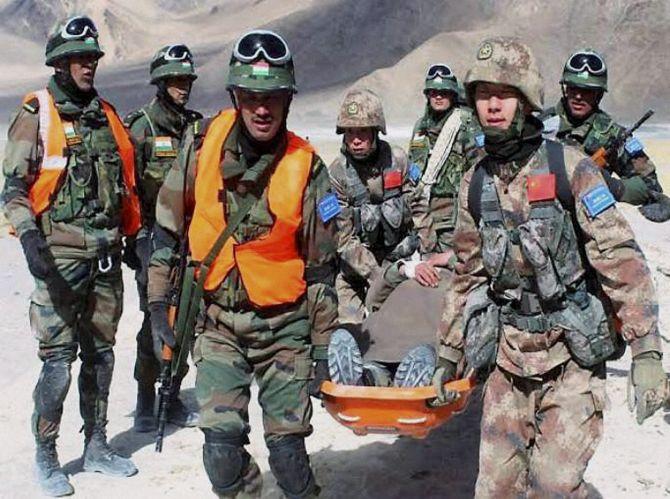 The day-long exercise held "is part of the ongoing initiatives being taken by India and China to ensure greater interaction between troops stationed along the Line of Actual Control.
PHOTOS: This museum is sure to make a splash!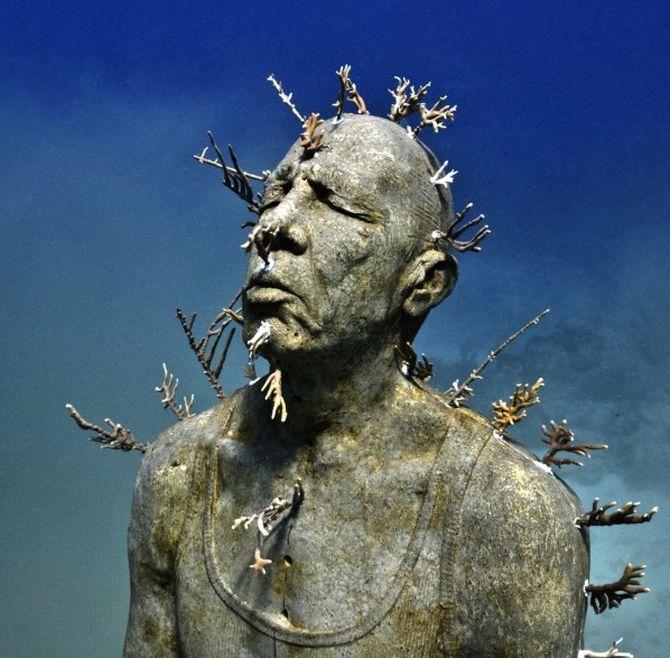 Here is a glimpse of what to expect at Europe's first underwater museum.
PHOTOS: Shimla turns snow white!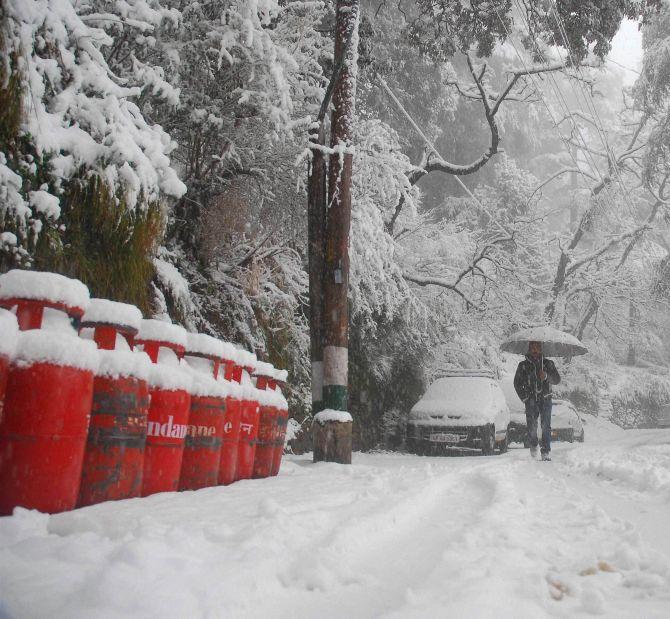 Shimla on Sunday experienced this winter's first impressive snowfall, bringing cheer to the tourism industry.
February 06, 2016
PHOTOS: India shows off its naval might @ International Fleet Review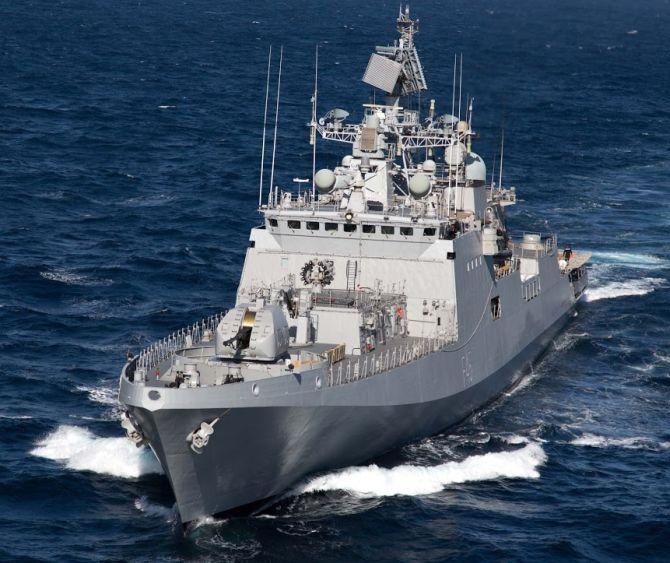 Close to 75 Indian warships and 24 from Navies across the globe are participating in the event.
We are 'United through Oceans': President Pranab@IFR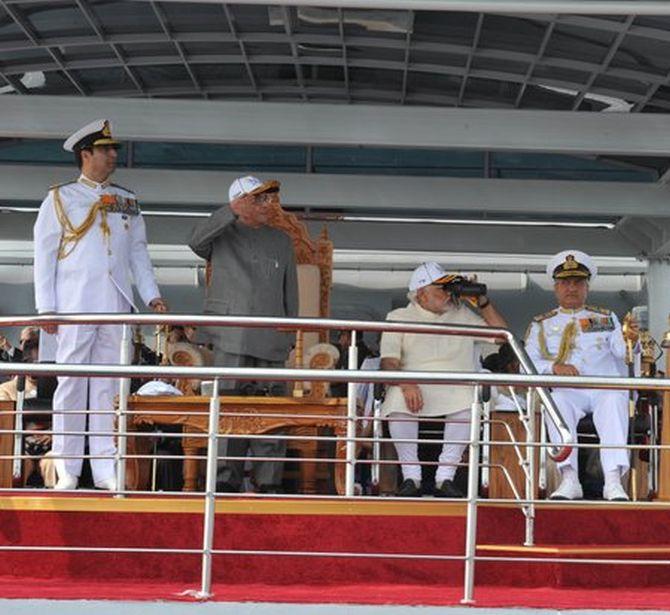 Pranab Mukherjee inspected the fleet along with Prime Minister Narendra Modi from aboard the INS Sumitra.
PHOTOS: The 'big guys' participating in International Fleet Review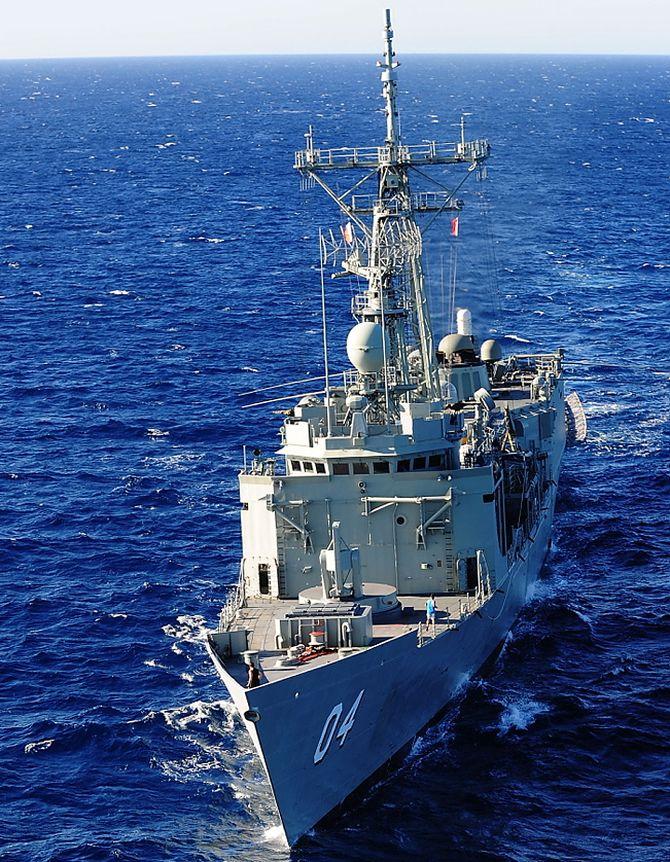 Rediff.com tells you all you need to know of some of the major ships from different countries that will participate in what is being described as 'Indian Navy's biggest event'.
PHOTOS: 3 dead, 220 injured after Taiwan quake topples buildings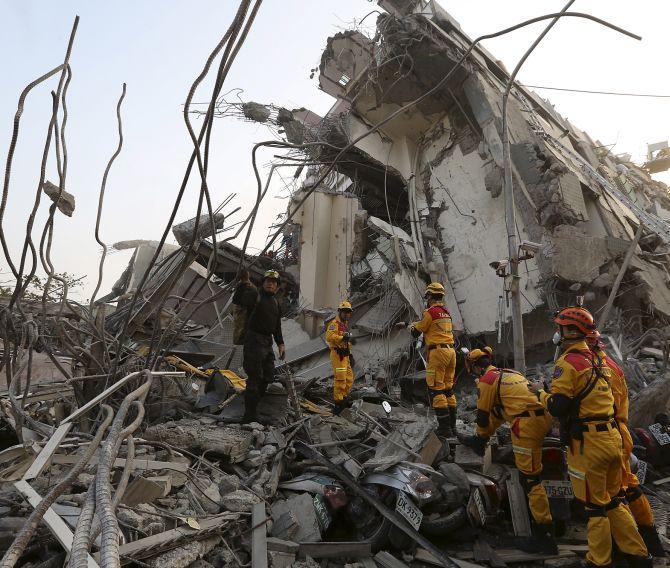 At least four people were killed Saturday morning when a magnitude-6.4 earthquake hit Taiwan.
February 05, 2016
MUST SEE: Sakurajima volcano in Japan erupts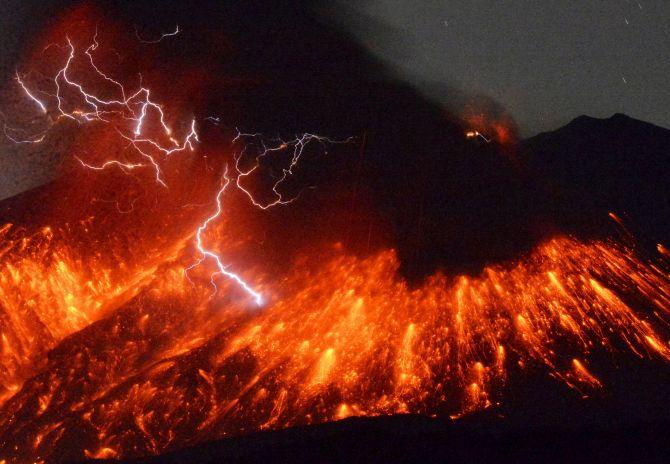 The volcano is located about 50 kilometres from the Sendai nuclear plant that began operations last year after it was shut down along with other nuclear plants in Japan following the 2011 earthquake and Fukushima nuclear disaster.
February 04, 2016
A whale of a rescue: Officials take 12 hours to save giant mammal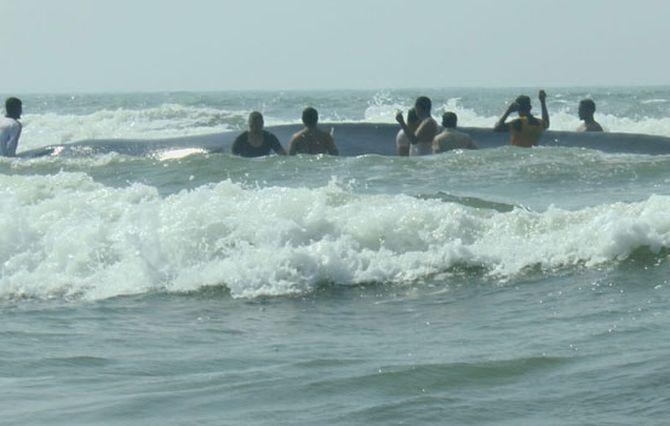 A senior forest official said the mammal was stranded in three-feet shallow waters along the beach at Kolthare village in Dapoli tehsil of Ratnagiri district on February 1 and was rescued same day by the locals and marine experts.
Motorcycle diary: First Pakistani girl who dared to ride solo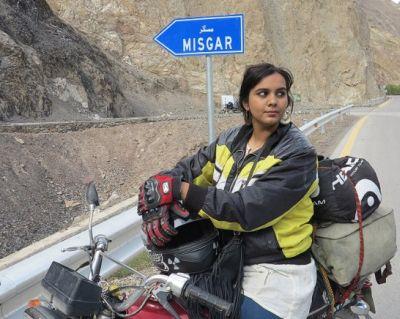 Inspired by the dream of her father, now deceased, who 'wanted to travel the world on a bike', this girl travelled through Kashmir (on the Pakistani side), riding through regions of the country where it is considered taboo for women to venture out alone.
February 03, 2016
PHOTOS: Tihar staffers thrash each other in drunken brawl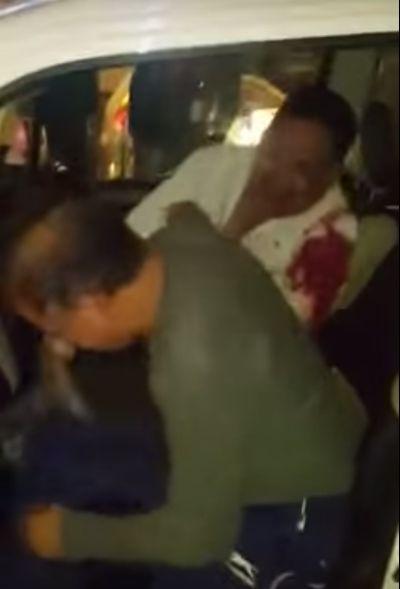 The two staffers have been suspended after the video went viral.
Sanitation workers block roads in Delhi, throw traffic out of gear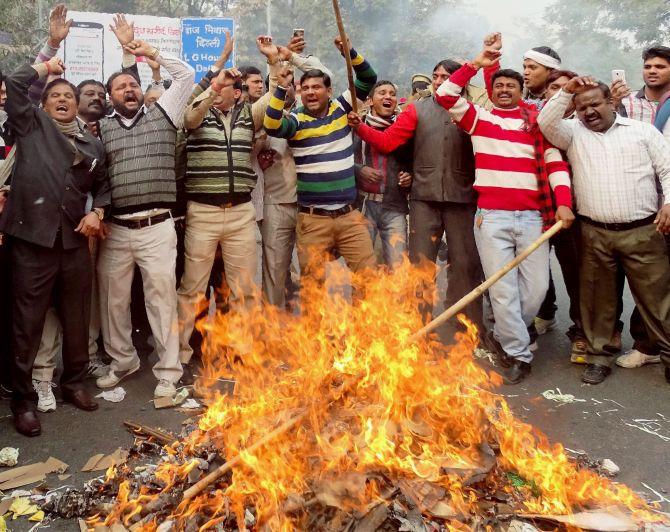 Commuters had a harrowing time as traffic came to a standstill in various parts of the city as sanitation workers blocked major thoroughfares such as NH 24 and Vikas Marg.
Who's the toughest of them all?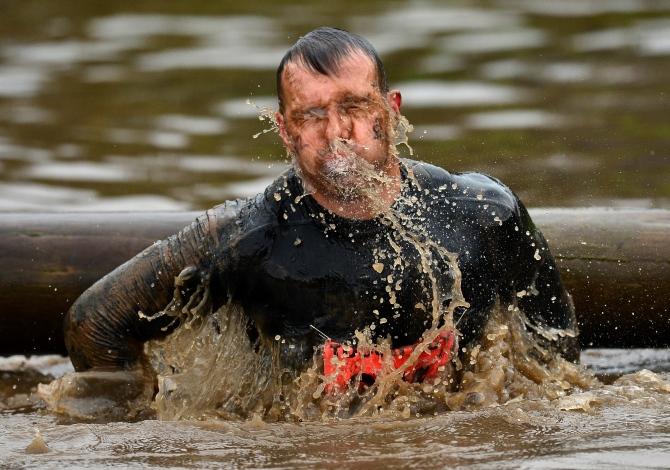 Here are some glimpses of the wacky event, held every year
PHOTOS: The odd, odd world we live in!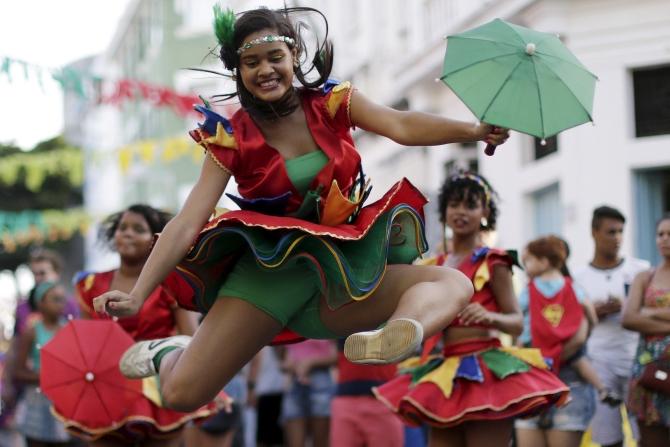 This week's collection of unbelievably unusual images from across the world
February 01, 2016
Delhi police slammed for thrashing protestors; RSS denies involvement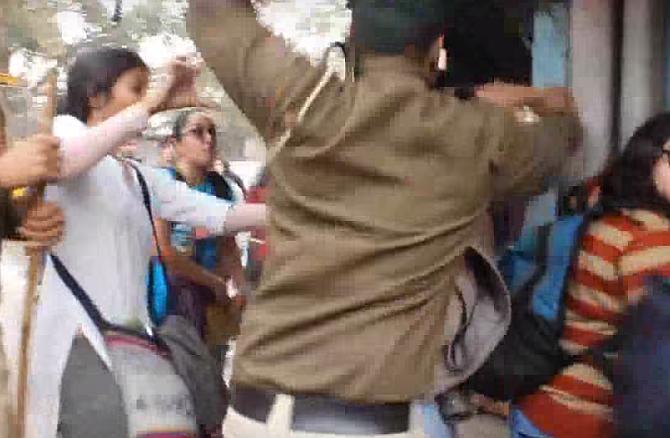 Delhi Police on Monday drew flak as a video emerged in which male police constables can be seen purportedly assaulting protesters, including women, demonstrating over the suicide of Dalit scholar Rohith Vemula near the RSS head office in New Delhi.
PIX: Navy's action-packed prep ahead of fleet review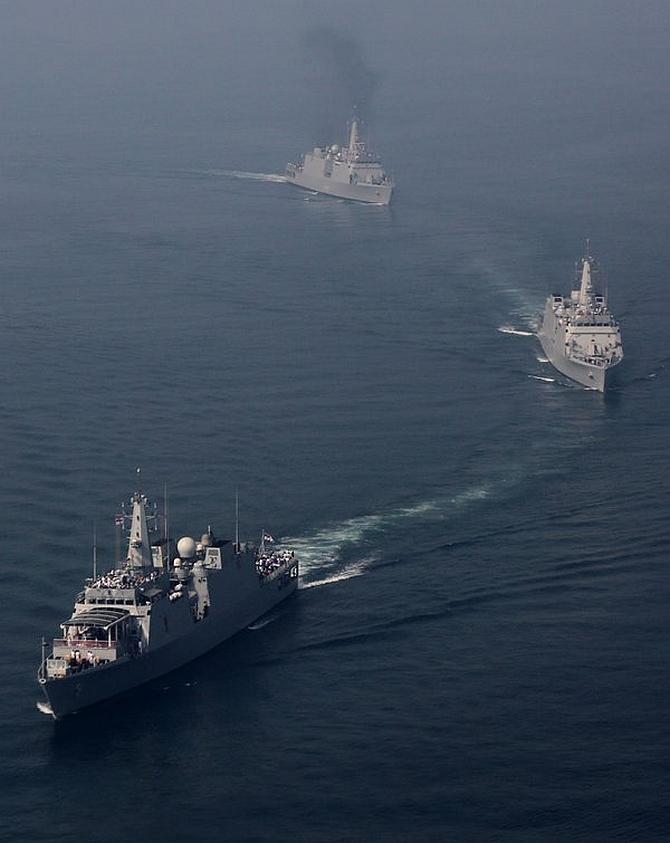 Visakhapatnam is buzzing with excitement as residents have been thronging every available vantage point, parks and footpaths to witness the ongoing rehearsals for the international fleet review.
January 31, 2016
Vice Admiral Lanba takes charge as Western Naval Command chief
Vice Admiral Sunil Lanba on Sunday took charge as the Flag Officer Commanding-in-Chief of the Western Naval Command from Vice Admiral S P S Cheema at a ceremonial parade held in Mumbai.
Former Army Chief General Krishna Rao cremated with full military honours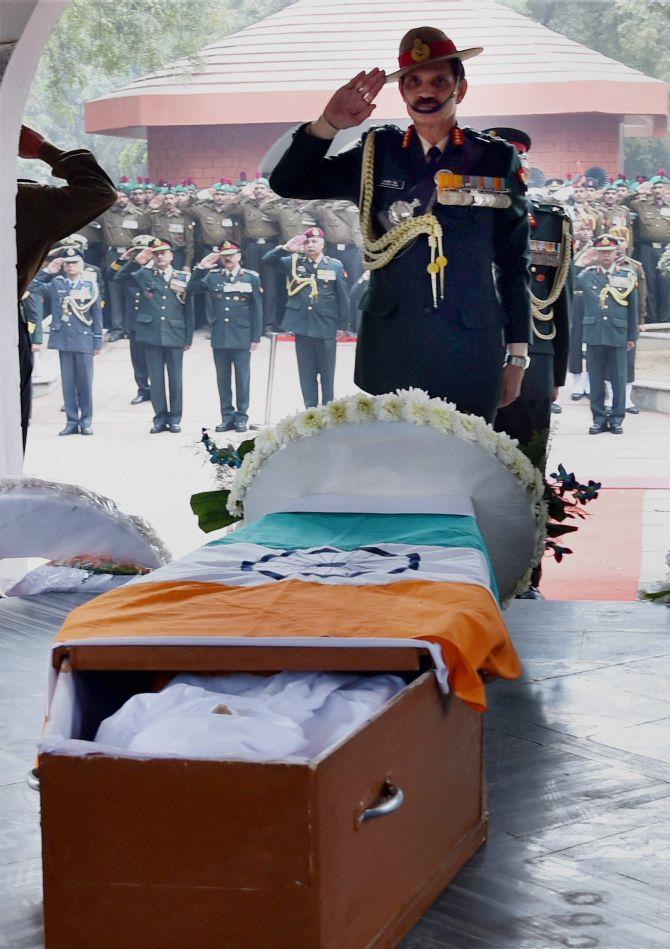 Former Army Chief General K V Krishna Rao was on Sunday cremated with full military honours in New Delhi.
January 29, 2016
PIX: Republic Day celebrations end on a high note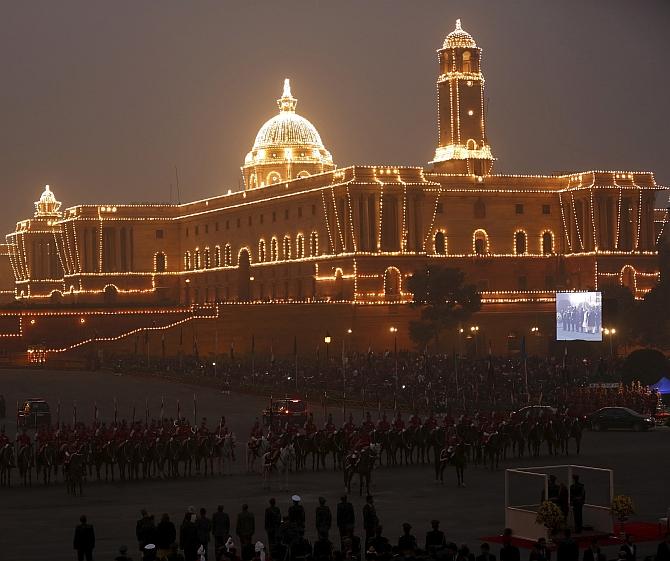 Marking the culmination of the 67th Republic Day celebrations, the military on Friday held the beating retreat ceremony at Vijay Chowk in Delhi with patriotic fervour.
PHOTOS: Mumbai turns hazy under blanket of smog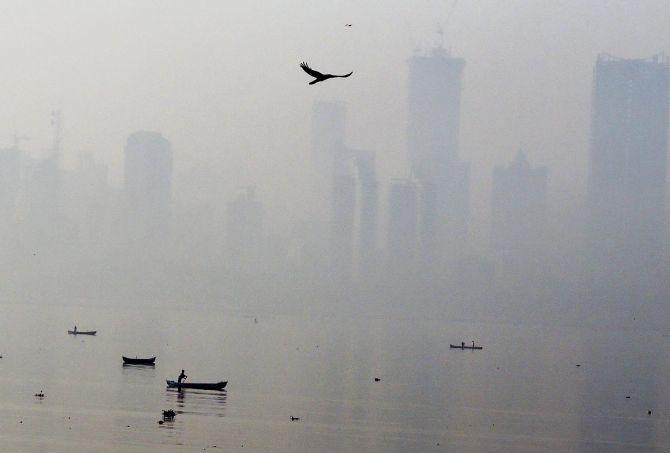 On Friday, for the second day in a row, residents across Mumbai woke up to unusually thick smog in the air.
PHOTOS: 6 reasons why you shouldn't miss Beating Retreat ceremony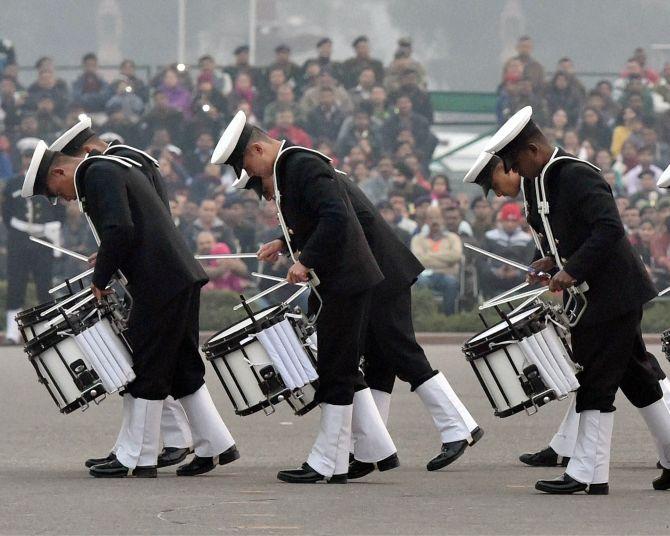 Marking the culmination of the four-day-long Republic Day celebrations, the beating the retreat ceremony will be held on Friday evening at the Vijay Chowk in New Delhi.
January 28, 2016
Pix: It's an odd, crazy world out there... Here's proof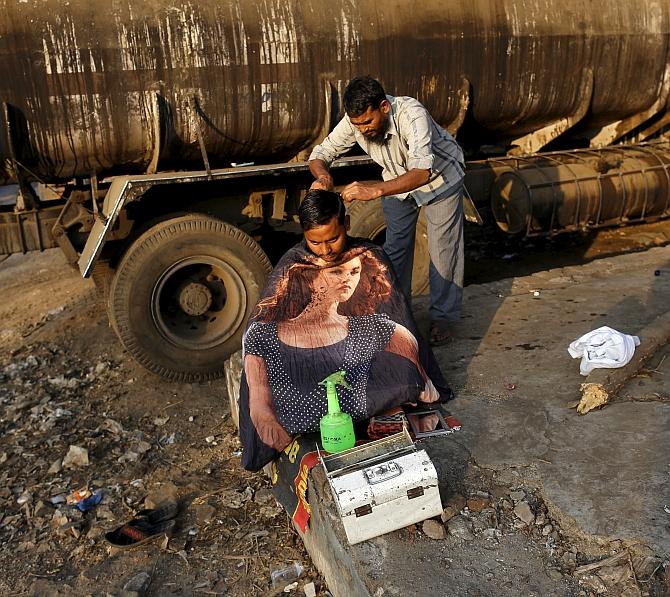 Here's your weekly digest of unusual moments from around the world.
January 25, 2016
PHOTOS: Hollande's 'metro pe charcha' with PM Modi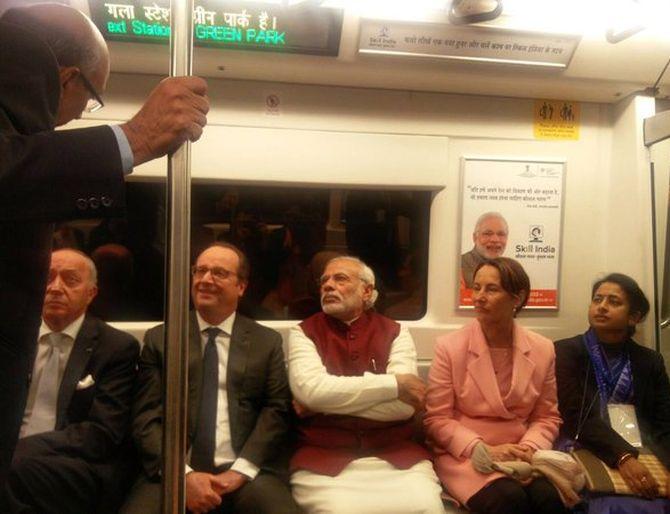 Here are some best moments from Hollande's visit.
PHOTOS: When 40 inches of snowfall gets dumped at your doorstep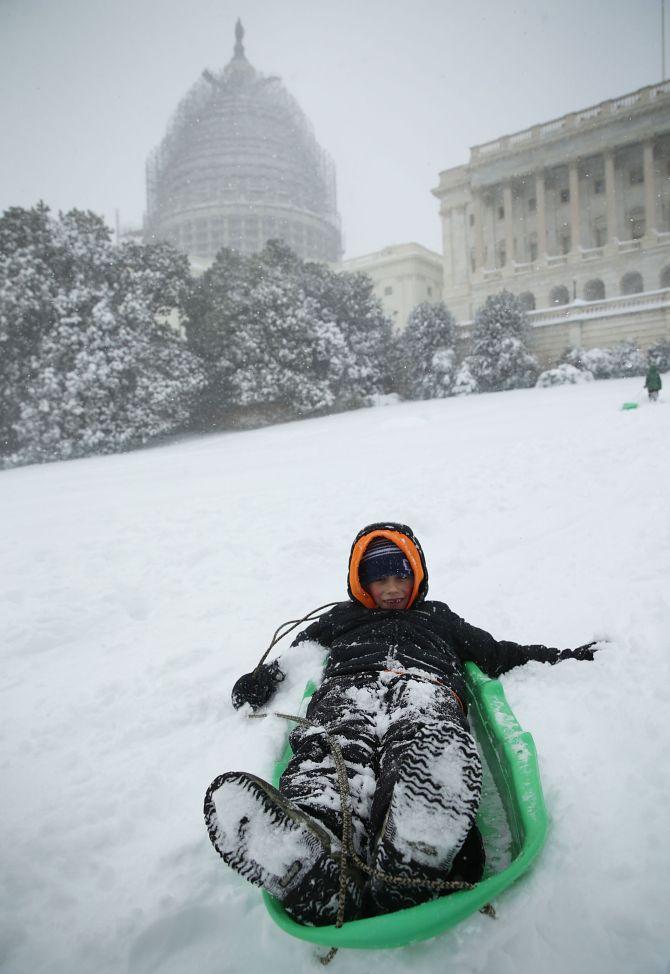 States across America are beginning the process of digging their way out of record-breaking snowfall on Monday after Winter Storm Jonas battered the nation's East Coast, wreaking havoc on millions and turning major cities into ghost towns.
PHOTOS: Why Mumbai sleeps easy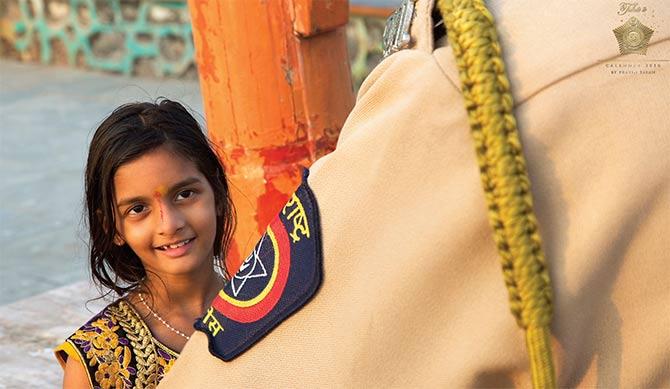 Ace photographer Pravin Talan through a series of evocative photographs pays tribute to what he calls as one of the finest police forces in the world.
PHOTOS: What to expect at this R-Day parade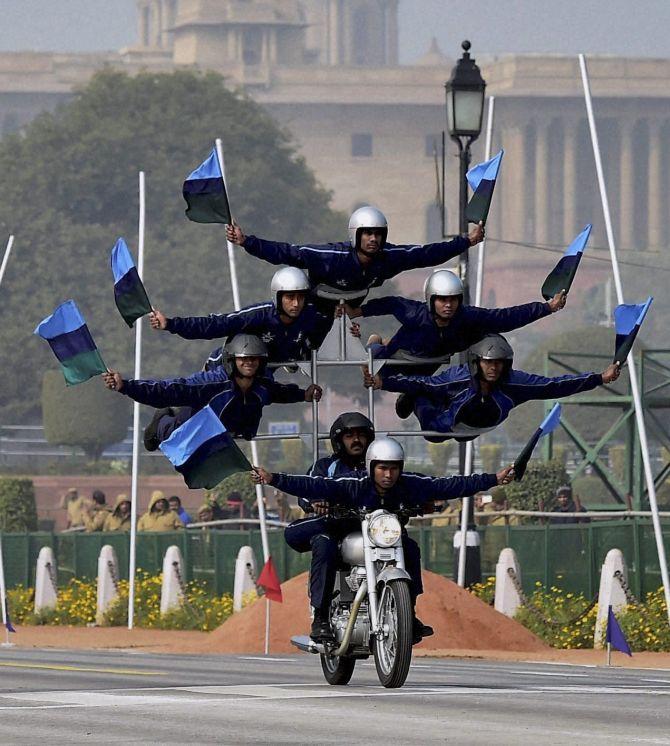 Prep has been on in full swing and there has been a lot of effort and practise to ensure that the parade goes off without a hitch.
January 23, 2016
PHOTOS: India's Tejas flexes its muscles at Bahrain air show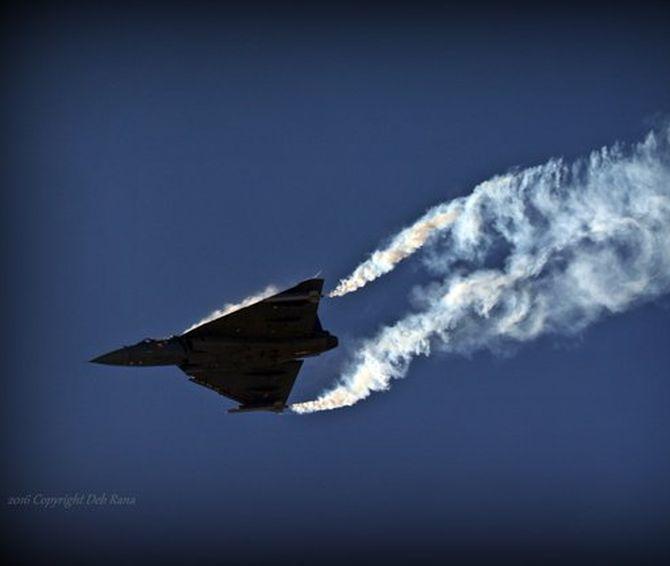 The event witnessed by External Affairs Minister Sushma Swaraj in the Bahraini capital.
PHOTOS: It's so cold in China that your eyebrows could freeze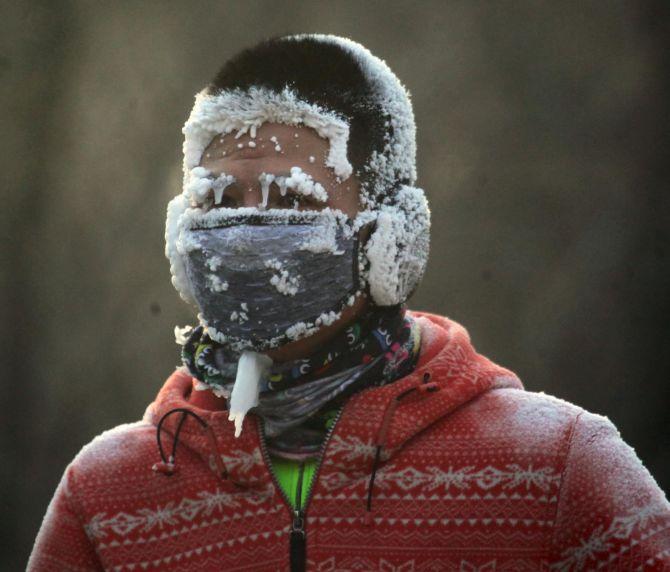 Beijing braces for a 30-year low of minus 16 degrees Celsius from Saturday through Sunday, the Beijing meteorological station said.
Deadly blizzard hits US east coast, 9 killed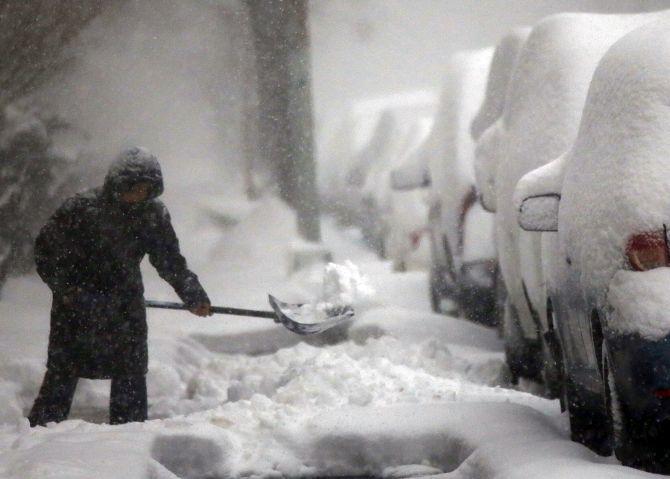 A life-threatening blizzard which is expected to pound a record 30 inches of snow has hit most part of the US' east coast.
January 22, 2016
PHOTOS: When PM Modi was heckled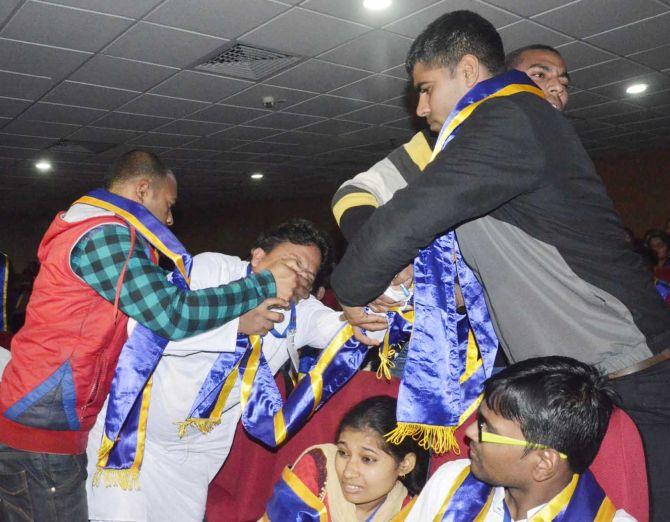 Protesters raised slogans whilst attempting to disrupt the prime minister's address at the Babasaheb Bhimrao Ambedkar University in Lucknow.
PHOTOS: America prepares for 'Snowmageddon'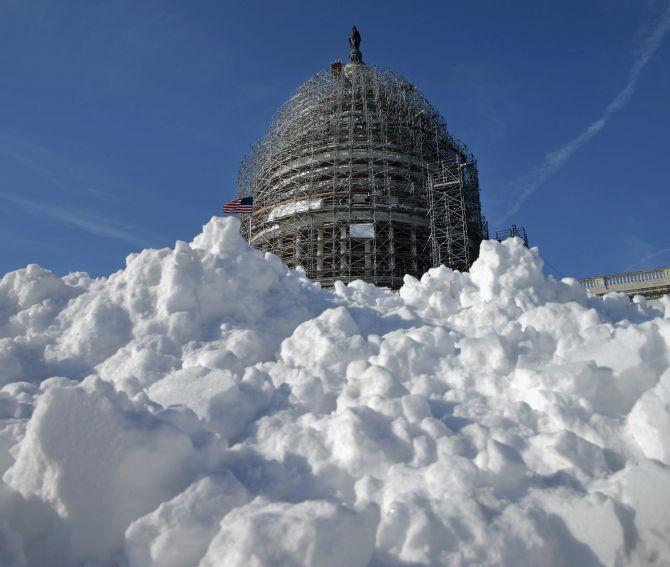 A state of emergency has been declared in Washington, DC and five states as 30 inches of snow and high winds may shut down up to a third of the country.
January 21, 2016
PIX: Jaipur Literature Festival kicks off at Diggi Palace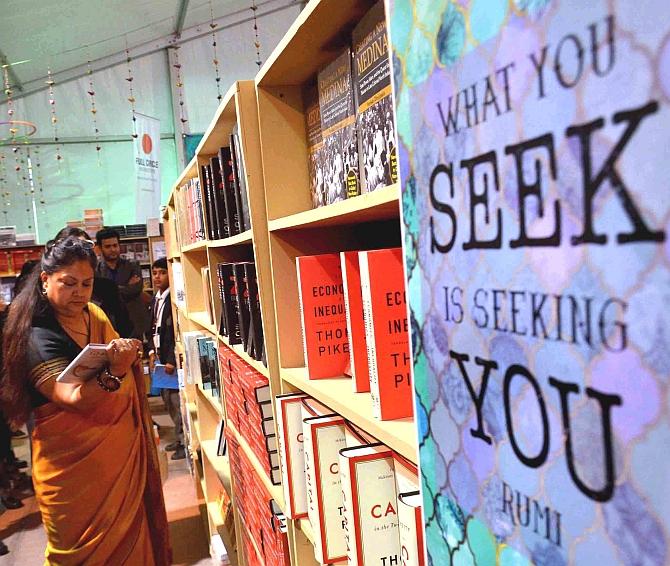 Soulful strains of classical music wafted through the chilly air as the ninth edition of the Zee Jaipur Literature Festival kicked off in Jaipur on Thursday at its usual venue, the sun-kissed Diggi Palace grounds, amid elaborate security arrangements.
January 20, 2016
25 killed as Taliban terrorists storm university in Pakistan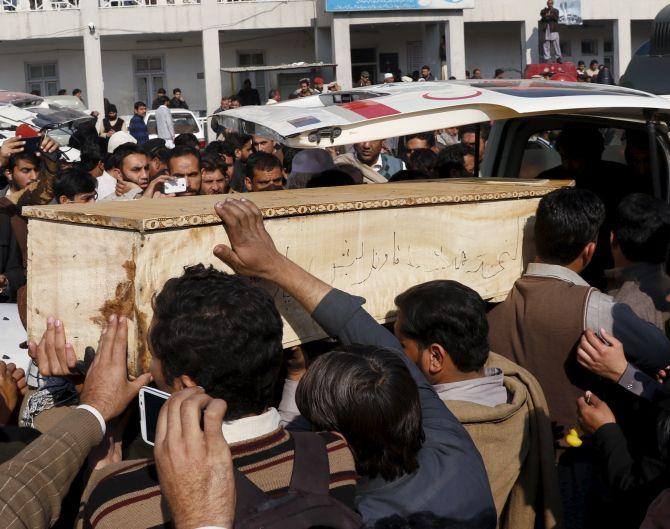 Extensive firing continues in the area and heavy contingents of elite force have been deployed.
Dalit student's death gains political heat, campus protests on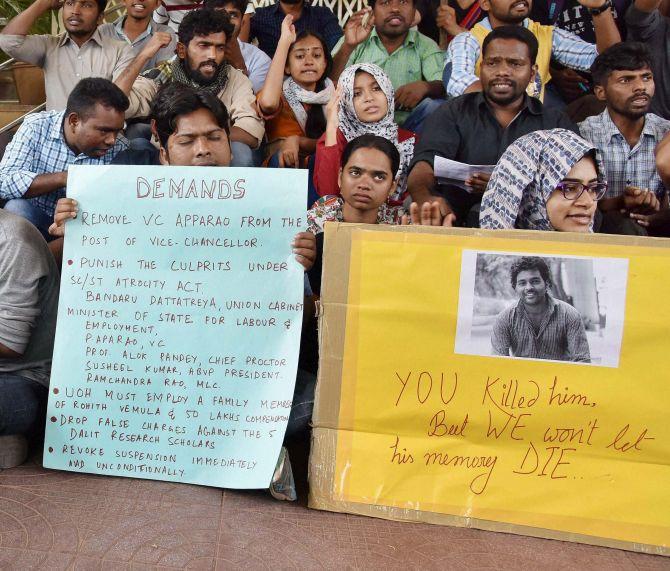 A group of students carrying placards and raising slogans protested in the tense University campus on Wednesday morning.
Sarah Palin jumps into 2016 race, endorses Donald Trump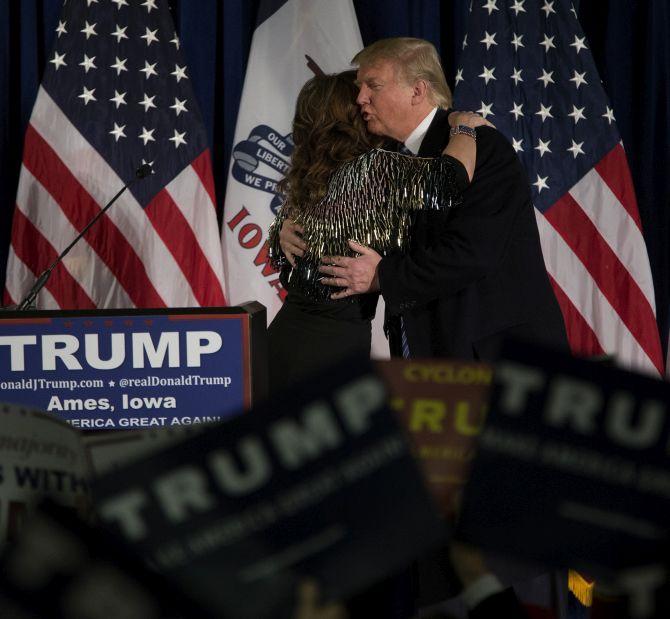 The former Alaskan governor said, "I'm proud to endorse Donald J Trump for president."
PHOTOS: Ever been to such bizarre structures?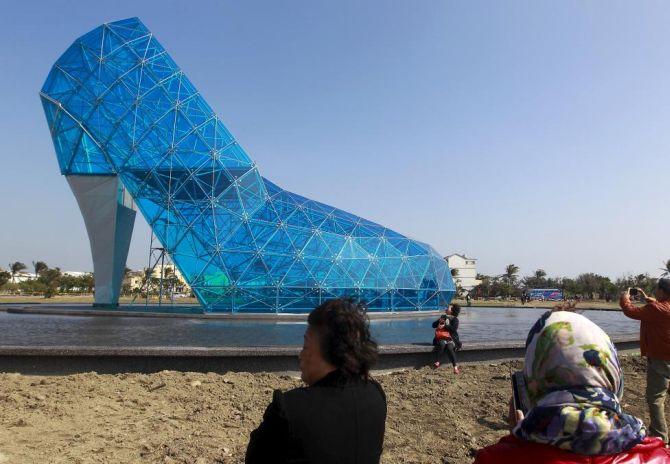 20 shades of unusual buildings and homes around the world.
January 18, 2016
REWIND: TOP photos of the week that was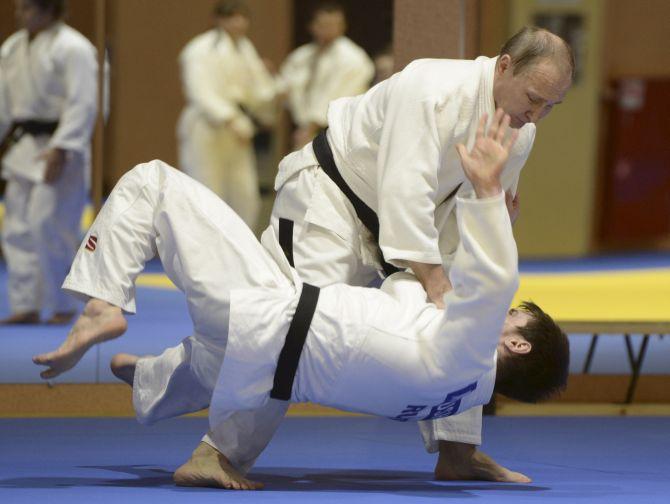 A round-up of our favourite photographs from the week gone by.
January 17, 2016
PHOTOS: Check out the first flower grown in space!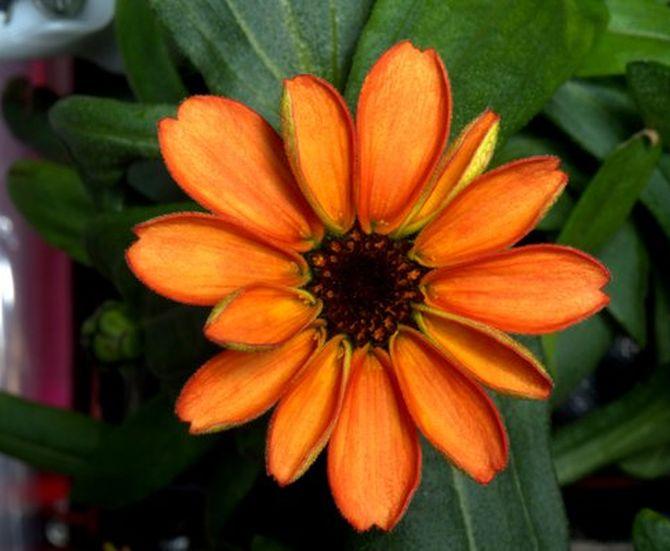 The first ever flower grown in space has bloomed.
January 15, 2016
On founding day, Army shows its colours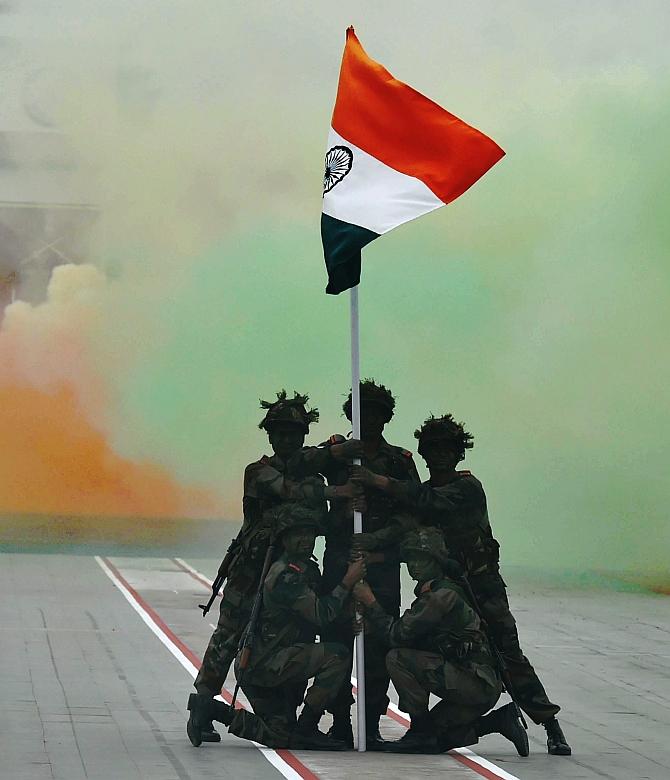 The Indian Army on Friday celebrated the Army Day in recognition of Lieutenant General (later Field Marshal) K M Cariappa's taking over as the first Commander-in-Chief of the force from General Sir Francis Butcher -- the last British Commander-in-Chief of India, on January 15, 1949.
PHOTOS: 122-foot long Titanosaur 'invades' New York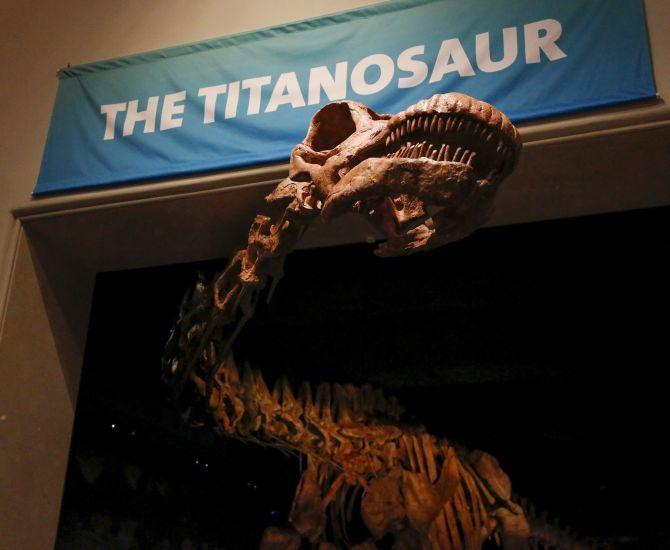 There's a new top dinosaur in town: The 122-foot-long Titanosaur.
January 14, 2016
Hindu Sena vandals target Pakistan airlines office in Delhi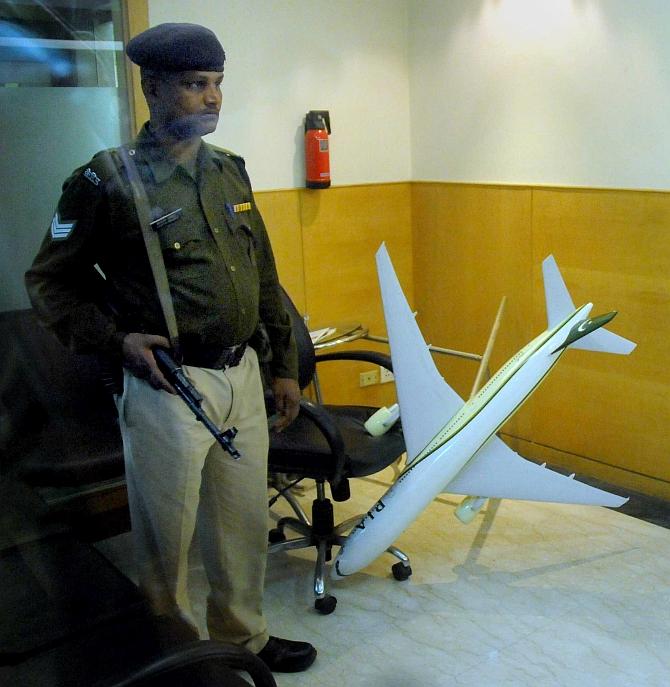 A right-wing group on Thursday vandalised the office of Pakistan International Airlines in New Delhi prompting Islamabad to take up the issue with the ministry of external affairs.
Lt Gen JFR Jacob, 1971 Indo-Pak war hero, laid to rest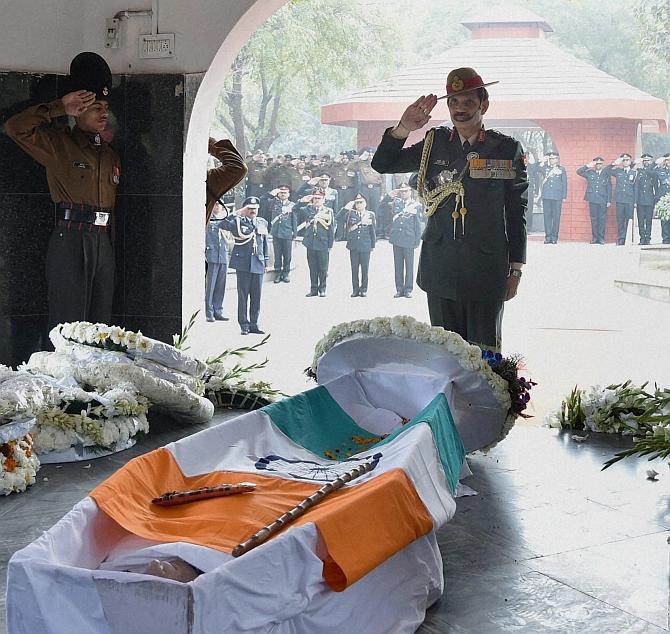 Lieutenant General (retired) Jacob Farj Rafael Jacob Jacob, who played a key role in the 1971 war which liberated Bangladesh from Pakistan, was laid to rest in New Delhi on Thursday.
Makar Sankranti draws lakhs to banks of Ganga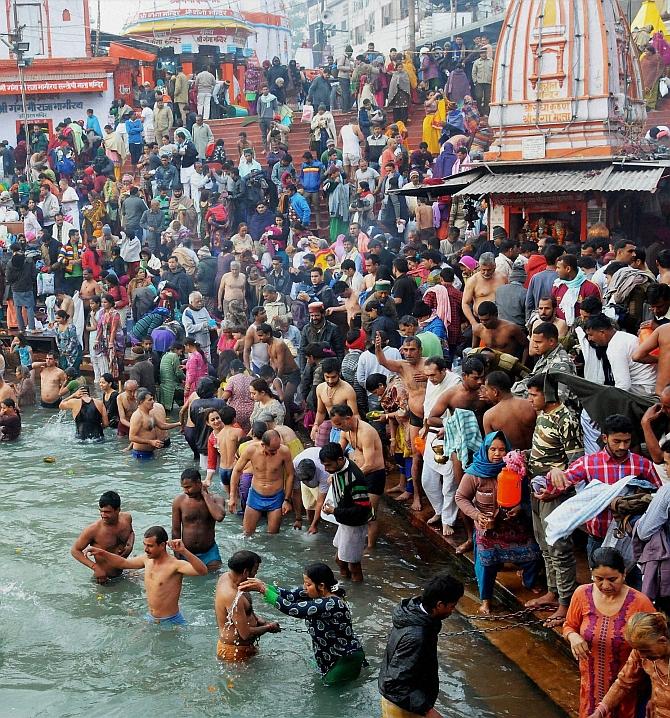 Lakhs of devotees on Thursday thronged the Ganga banks in Haridwar, including Har Ki Pauri, to take a dip in the sacred river on the occasion of Makar Sankranti which also marks the first major bath of the ongoing Ardhakumbh mela in Uttarakhand.
January 13, 2016
PHOTO: Now, that's what you call an ICEMOBILE!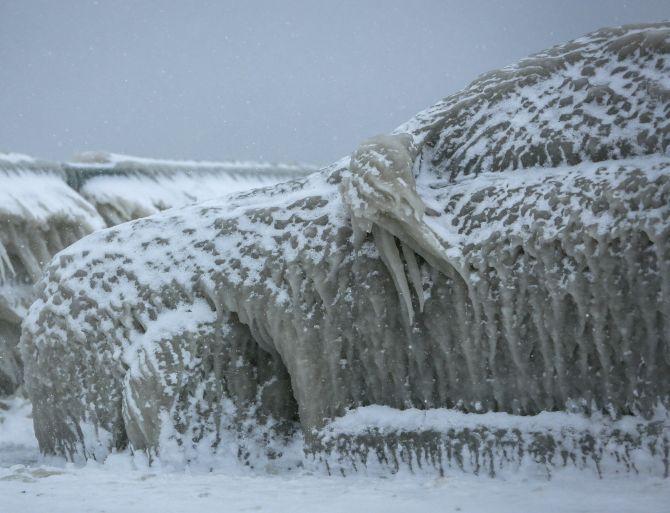 Thanks to freezing temperatures, strong winds and water, 24-year-old Justin Yelen's Mitsubishi is now an ice sculpture.
PHOTOS: Check out the world's COOLEST festival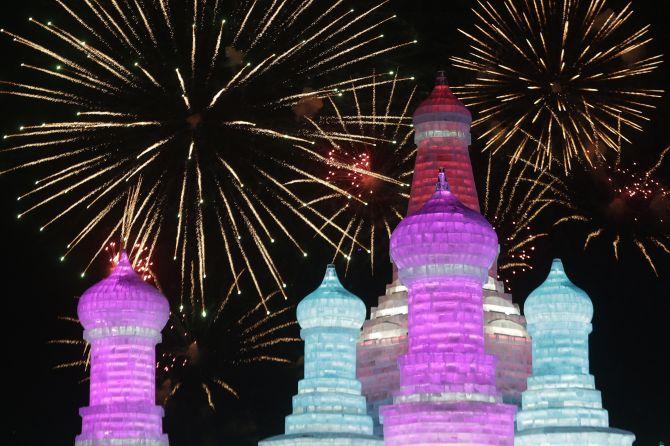 The sculptures are created from compacted snow or from blocks of ice which are hauled from across the nearby Songhua River.
PHOTOS: Best moments from Obama's State of Union speech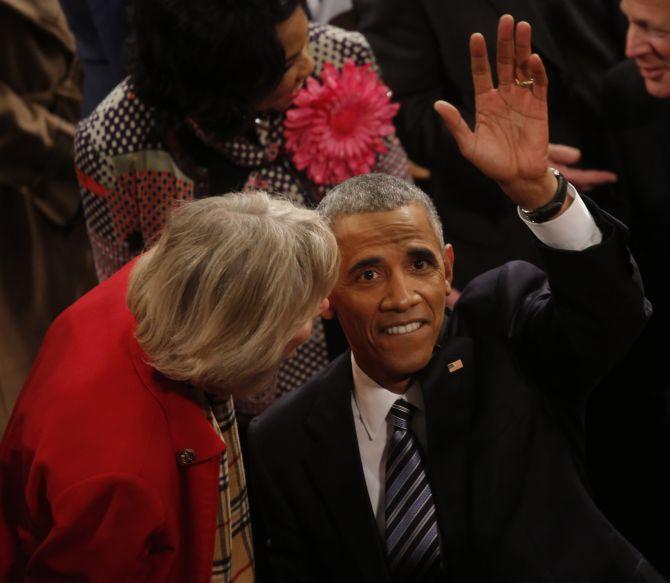 nited States of America President Barack Obama sold optimism to the nation as he delivered his final State of the Union speech on Tuesday. Among the hundreds attending the event, there were some special guests, including a Syrian refugee, heroes and Microsoft CEO Satya Nadella.
WOW! India through the eyes of its women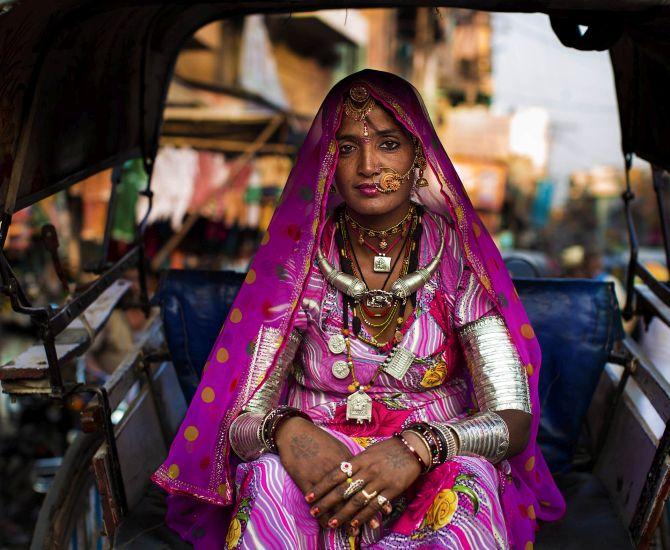 As part of her project -- The Atlas of Beauty -- Noroc visited more than 30 countries in over 15 months.
January 12, 2016
PHOTOS: Inside world's most wanted drug lord El Chapo's safehouse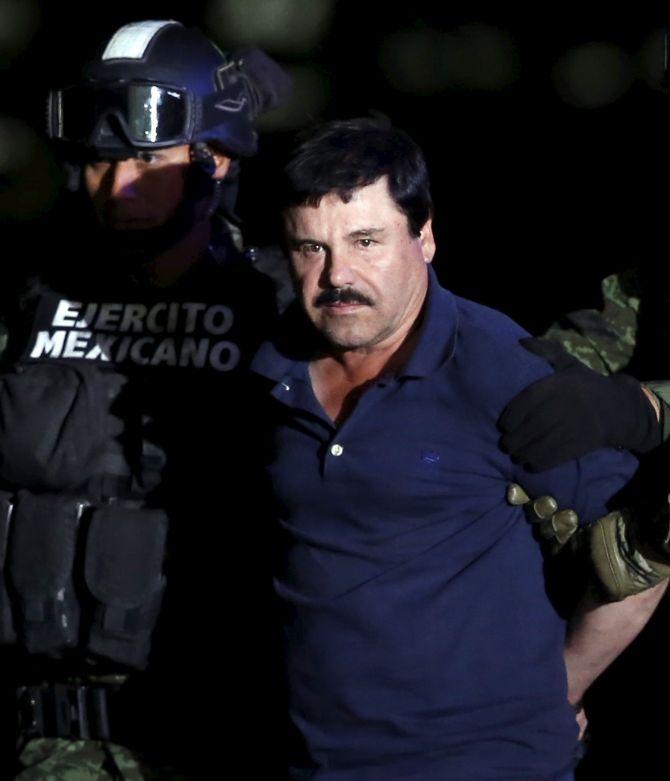 Mexican officials allowed cameras to glimpse inside the safe house where Joaquin 'El Chapo' Guzman was hiding prior to his arrest on January 8. The home was badly damaged in the raid that captured the fugitive.
January 08, 2016
Dense fog blankets Delhi; disrupts road and air traffic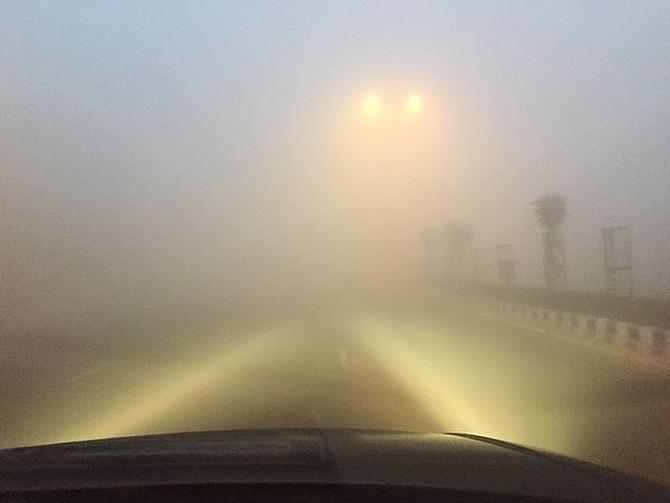 The residents of Delhi on Friday woke up to dense fog with minimum temperature settling at 12 degrees Celsius, five notches above normal.
January 07, 2016
FAQ: N Korea has the H-bomb. Be VERY afraid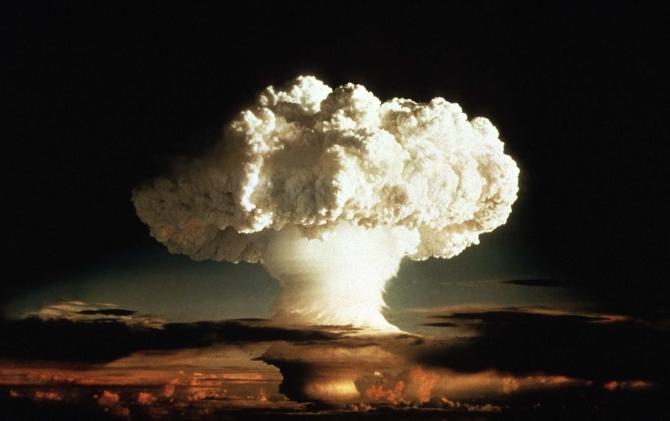 If these reports are true, it means that it possesses something much more powerful than it has tested in the past. North Korea has run nuclear tests in the pasts, but this announcement has sent panic waves internationally.
January 05, 2016
Nation bids adieu to Pathankot martyr as he's laid to rest in Kerala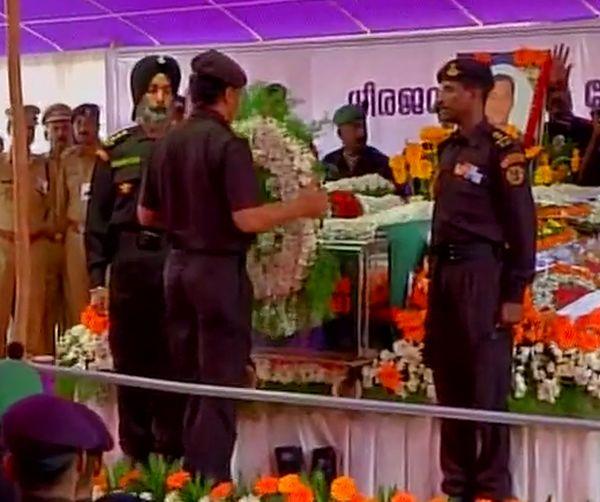 Lt Col EK Niranjan's was laid to rest with full military honours at his ancestral home near Palakkad.
On day 4, guns fall silent at Pathankot base; search ops still on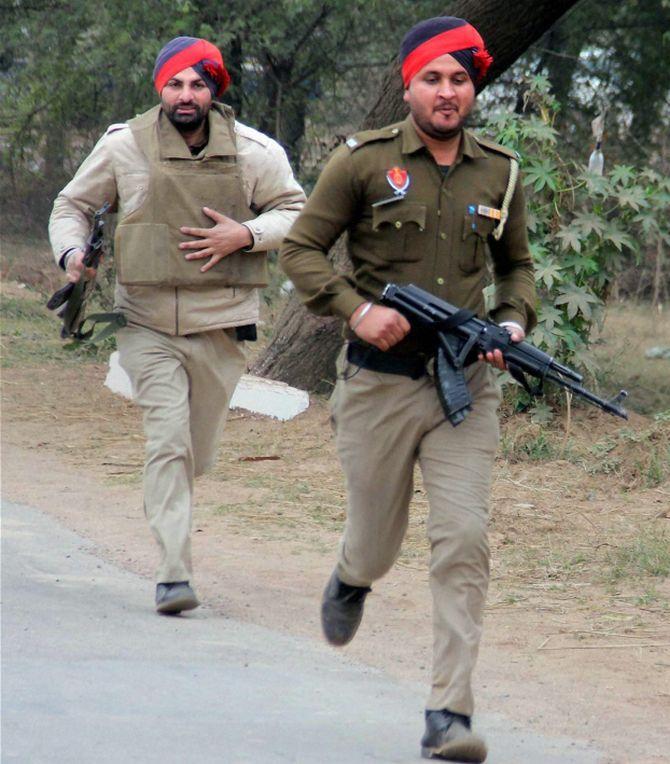 Defence sources said that the firing at the air force base in Punjab ceased on Tuesday morning after the attack that began in the wee hours on Saturday.
Goodbye 2015! Top moments from the White House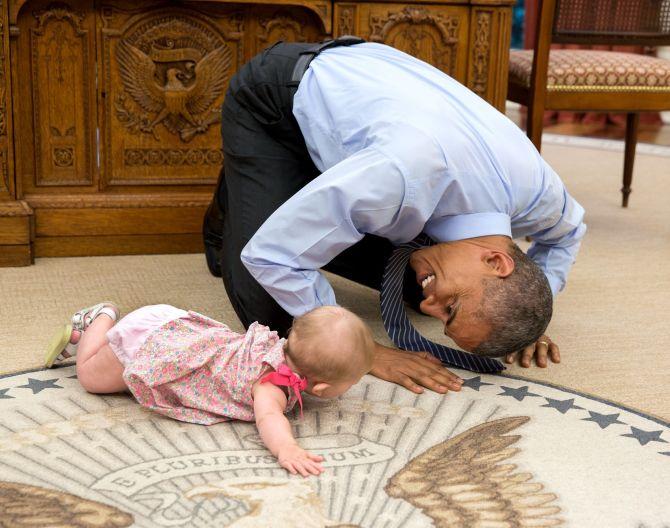 As we head into the final year of US President Barack Obama's term, here's a look back at the great images taken by the official White House photographers in 2015.
The best of WTF! Top weirdest stories of 2015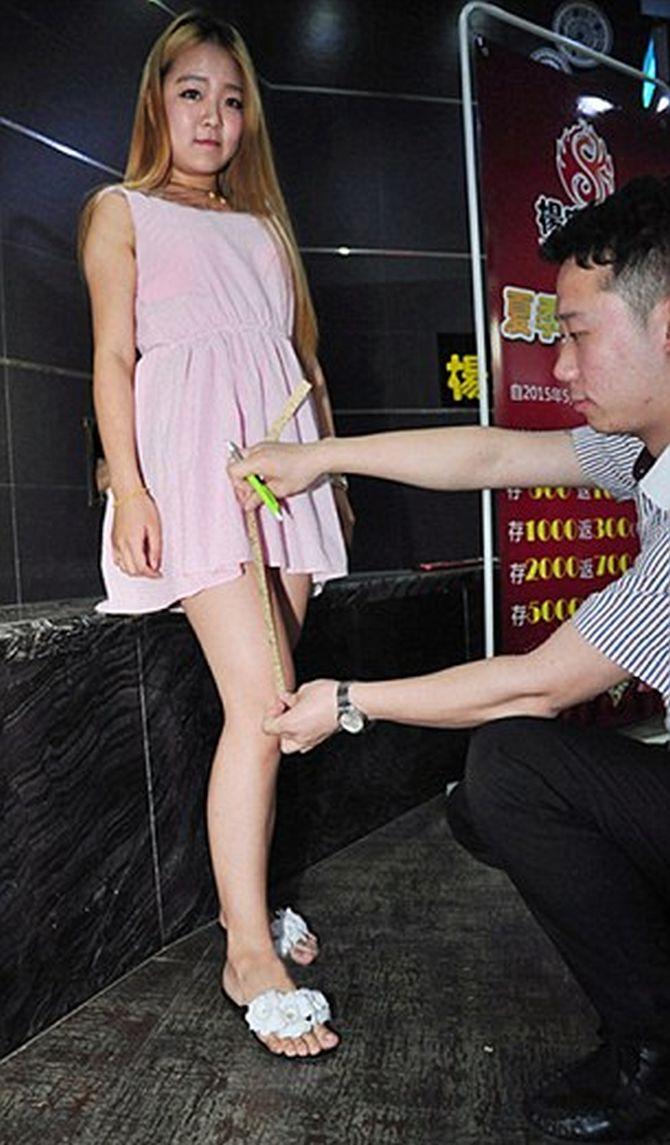 We present you 15 of the weirdest stories that were too funny to be true.
January 04, 2016
PHOTOS: No one was injured in this Mumbai blaze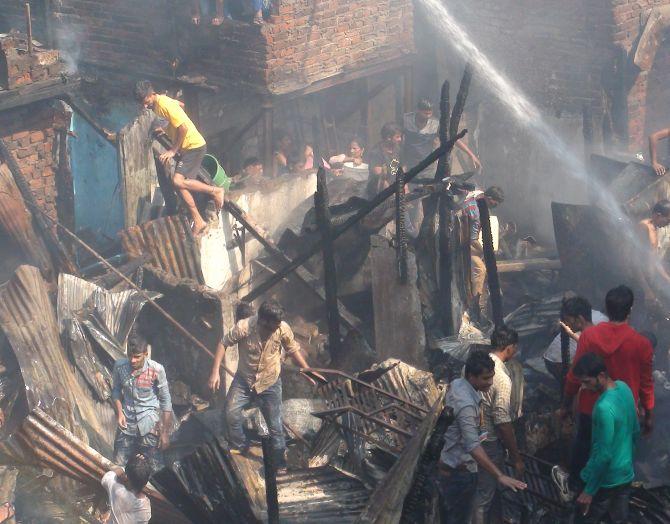 No one was reported hurt or killed in the mishap, officials said.
Teary final farewell to martyrs of Pathankot attack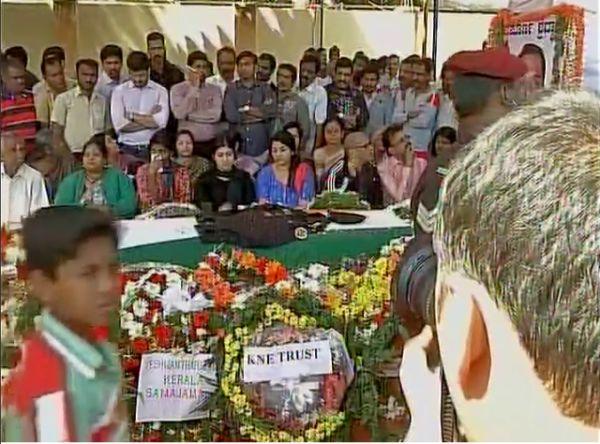 A day after National Security Guard Lt Col Niranjan Kumar and Garud Commando Gursewak Singh were slain in the Pathankot air base attack, their remains were brought home for the last rites.
Pathankot: NSG martyr's mortal remains brought to Bengaluru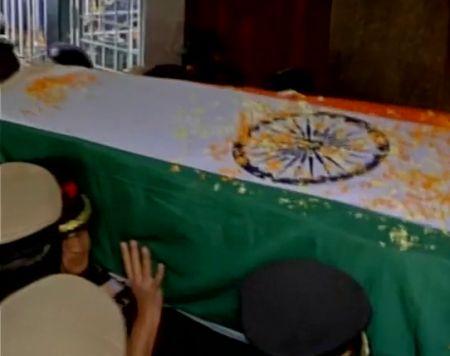 His body will be taken to his native village in Kerala's Palakkad district later in the day for cremation.
9 killed, over 100 injured as 6.8 magnitude quake hits North-East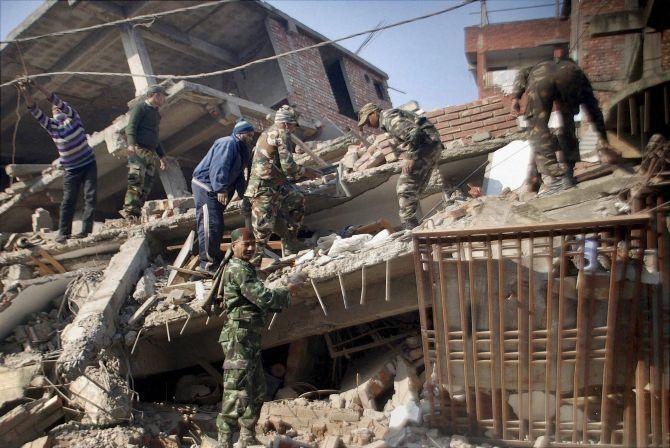 The Seismological department said that the quake measured 6.8 on the Richter scale and lasted for about two minutes.
January 02, 2016
Is this the most inappropriate selfie of all time?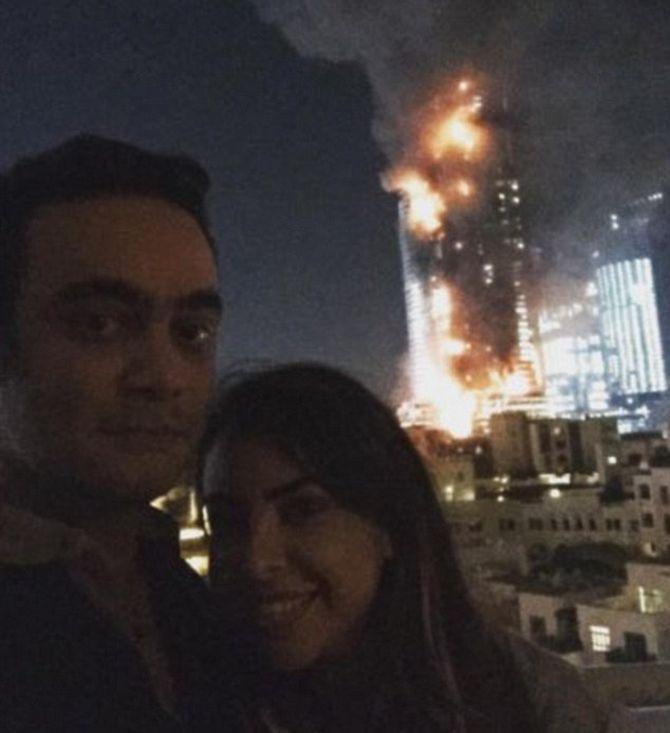 A grinning couple uploaded this selfie on New Year's Eve with the burning Address Downtown hotel in the backdrop.
PHOTOS: Terrorists attack Air Force Base in Punjab's Pathankot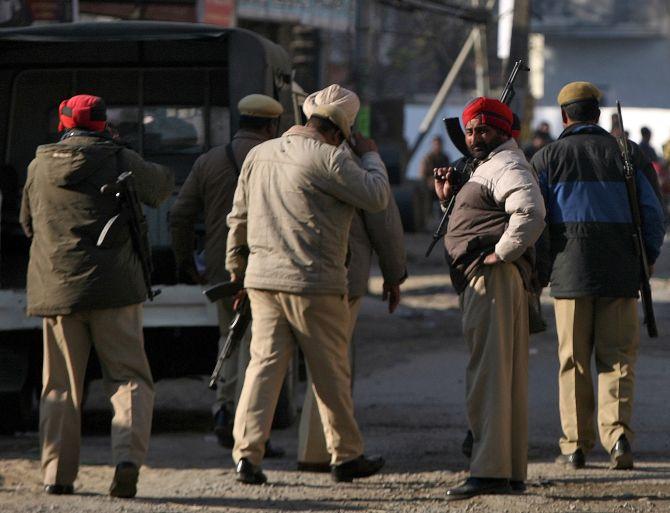 The terrorists launched an attack on the Indian Air Force base in Punjab's Pathankot.
SPOTTED! Delhi Deputy CM cycling during odd-even plan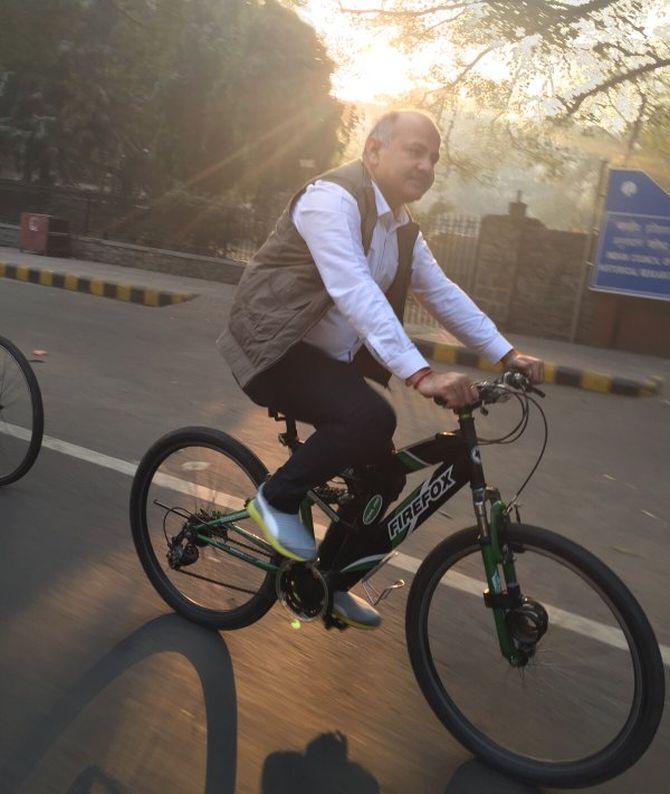 Delhi Deputy Chief Minister Manish Sisodia on Saturday was spotted riding on his bicycle while heading to the AIR office in New Delhi.
Archives
March 2015 - December 2015
|
August 2014 - February 2015
|
January - July 2014
|
April 2013 - December 2013
|
January 2013 - March 2013
|
November 2012 - December 2012
|
September 2012 - October 2012
|
August 2012
|
July 2012
|
June 2012
|
May 2012
|
April 2012
|
March 2012
|
February 2012
|
January 2012
|
December 2011
|
November 2011
|
October 2011
|
September 2011
|
August 2011
|
July 2011
|
June 2011
|
May 2011
|
April 2011
|
March 2011
|
February 2011
|
January 2011
|
December 2010
|
November 2010
|
October 2010
|
Sepetember 2010
|
August 2010
|
July 2010
|
Jun 2010
|
May 2010
|
April 2010
|
March 2010
|
February 2010