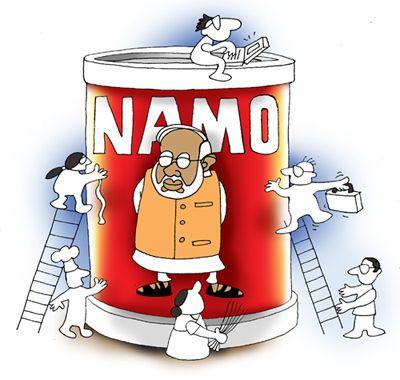 B S Prakash talked to a number of professionals, some already a part of the PM's team and others outside, as to what Narendra Modi's success and stature means for their careers or their dhanda. Illustration: Uttam Ghosh/Rediff.com
Har Har Modi' was frowned upon even before the results, but 'Ghar Ghar Modi' is already a reality.
In tune with the new outlook, where everyone is encouraged to take their own initiative and advance their interests -- apart from the larger interest of the nation, of course -- PM NAMO's persona is being looked at by each to suit his agenda.
We talked to a number of professionals, some already a part of his team and others outside, as to what Modi's success and stature means for their careers or their dhanda. Here is what they revealed:
CEO of Bharat-Brand Consultants: Modi's ascent is the best case study ever in brand creation and marketing. It will one day be taught not only in IIMs, but at Harvard and Wharton, as well. Just look at how the image was transformed in the space of one year.
Granted, there was no problem with name recognition, but there was a negative association with 2002. But see, how 'Development' or Vikaas, a word that was guaranteed to produce a yawn, came to be energised and was used to alter the Brand positioning. Lessons for my profession: a high-intensity saturation campaign across print, visual and social media, and constant and consistent messaging.
Senior bureaucrat: To be honest, I am a bit confused. On the one hand, we are being respected and trusted with promises of no ministerial interference. On the other hand, we are being asked to deliver and show results. Most confusing, though, is that I am not expected to say "on the one hand and on the other hand", a practice of a lifetime. I am trying to forget the process and focus on the result, but it will not be easy.
Again, on the one hand, I am expected to arrive in the office at 9 am, to make sure that all the data are at my finger tips. On the other hand, I cannot leave at 5 in the evening and am to get rid of all the files. What are we, INFOSYS employees with equity options?
These are challenging times, but thank God at least that I escaped all this till now, by being in the UP and not Gujarat cadre. Also, not every Mantri can be like PM, and let us see what time my boss will start turning up in our Bhawan.
Fashion designer: In many ways this is an arrivista moment for us fashionistas, as the highest in the land recognises the importance of our craft. Imagination and innovation, combining ethnic chic with modern functionality, that has been our motto. I do admit that the now iconic Modi-kurta was done by a modest tailor from Ahmadabad, and not by Rohit Bahl or Manish Malhotra, but we have always believed that the darji is no less important than a Couture.
Back in 1985, some of our fraternity had believed that such a moment had come with Rajiv Gandhi, but he preferred to stay with bandgalas. What colours can one introduce in that formal attire, unless it is for a Punjabi wedding?
But look at what Modiji has done. The matching of colours between the kurtas and waist-coats; subtle earthen hues; and the teasing out of the lengths of sleeves depending on the occasion. He has inspired our profession by his authentic, rooted and yet nouveau sartorial style. Have you noted that the New York Times, no less, has already done a column on the Modi style?
Chef: There is a debate in RCR complex on whether I should be called Maharaj instead of Chef, which I believe is not even an English word. A lot is being said about Saheb's energy and vitality, but everyone knows that a vegetarian diet combined with yoga produces that glow and confidence.
People in Delhi are only talking about Dhokla and Khandvi, as if these are the only dishes that will be made at 7 RCR. That may have been true when Modiji was CM. But as PM's Maharaj, I have expanded my repertoire: idlis and upma, especially when Venkayya or Naidu come visiting, Halwa instead of Shrikhand when Rajnath Singhji is around, and am even learning Chole-Bhatura instead of Kakhra for Jaitleyji.
For state banquets, we will go by the advice of those fancy cooks with funny hats from big hotels, but I have asked Veer Sanghvi to suggest a Guajarati non-veg dish. Is there one?
Cultural entrepreneur: A revolution has happened and the old order should yield place to the new. I am preparing myself for the real change when culture, sorry, our glorious sanskriti, brings new opportunities. I must admit: not many signs as yet, as Smriti Iraniji is yet to settle down.
I am reading the tea leaves at the India International centre in Delhi: ten vice-chancellors are to be appointed, 13 heads of academies -- Sahitya, Sangeet, Lalit-Kala etc. Just to play safe, I have proposed bringing out a 10-volume biography on Shyama Prasad Mookerjee. Production of a musical reinterpreting Shivaji is another idea.
Cyber chintak: The old folks in the party are attributing the success in UP to Amit Shahji. Yes, he was crucial, no doubt, but who did all the analytics, who designed the algorithms for 60 constituencies, who created the network for the outreach to the last mile?
UP may not have high internet penetration, but we brought the 3D hologram, created a Twitter feed for Modiji that was better than Tharoor's, and worked with skills, speed and scale. This is our moment.
The biggest challenge for India is to get fully digitalised by 2018 and my personal target is for 500 million people to get 3G connectivity by 2017. However, my hands are already full as all ministers are taking private tutorials for PowerPoint presentations.
Secretary, Safai Karamchari Sanghatan (union of cleaners): The country may be rejoicing but we are shocked. I never thought that we will be the first to be affected when a PM changes. We had been celebrating one of our main implements, the jhadu, becoming a major political symbol. Kejriwalji had given it its due status, but Modiji is taking it too literally.
Though our union was affiliated to the BJP, we never thought that the first act of PMO was to ask us to come to duty at 6 am for cleaning the offices. What next? They will ask us to wipe off all the paan stains that have been embedded in the walls of the urinals for the last 60 years of Congress rule?
Economic consultant: I have to get new visiting cards as the old one says 'Development economist'. I have wasted a lot of time in specialising on the 'subsidies and entitlements' and NREGA and such like, but that seminar circuit is drying out. What to do?
I vaguely remember that a student of mine, a Miss Patel, had done a paper on the Gujarat model of development. Should I plagiarise some sections for the next lecture?
Ambassador B S Prakash retired from the Indian Foreign Service recently.
You can read Ambassador Prakash's earlier columns here.