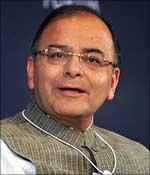 Leader of Opposition in Rajya Sabha Arun Jaitley shares his thoughts on the hanging of Parliament attack convict Afzal Guru
On December 13, 2001, the Indian Parliament was attacked by terrorists. A number of security staffers of the Parliament and police personnel sacrificed their own lives in order to protect Parliament and the people who were inside.
India spoke in one voice expressing its anguish over the attack. We all expressed our determination not to allow anybody to think that India is a soft state and vowed that the culprits will be held accountable for their attack. Our brave security personnel liquidated the attackers on the spot.
The other conspirators were investigated, prosecuted and some of them were convicted. But for the timely intervention of the security personnel, no terrorist could enter the building of Parliament. The game plan of the attackers to liquidate a large section of India's political leadership was foiled.
We have witnessed a large number of terrorist attacks. Most of them were planned across the border to be executed in India. Some of the targets were carefully chosen. The Indian Parliament, Jammu and Kashmir assembly, the Akshardham temple and Mumbai city were amongst them.
These targets were symbols of India's Parliamentary democracy, sovereignty, cultural heritage and economy. An attack on Indian Parliament was an attack on India. India therefore rightly spoke in one voice to condemn the attack.
India is a society governed by the rule of law. The investigation by our police agencies is strictly scrutinised by the courts. A prolonged trial, an appeal to the high court and finally an appeal to the Supreme Court enabled our judicial system to carefully scrutinise the evidence.
In the case of Afzal Guru, all judicial authorities have affirmed his guilt and upheld the death sentence. His clemency petition has been rejected by the President. For reasons which the government has been unable to explain, the execution was delayed. But finally the law has taken its own course.
Public opinion has compelled the government to act and enforce the law. India must today speak in one voice -- as it did on December 13, 2001 -- and give a clear message to the world that India is not a soft state and those who attack India, its sovereignty and its institutions will be held accountable. Though belated, justice has been done.