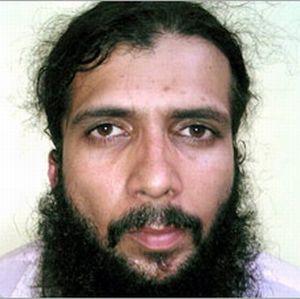 Yasin Bhatkal is a prized catch, no doubt. What he tells is going to shape the understanding of how the Indian Mujahideen operated, and how far and well its network was spread. But, perhaps the cat was let out of the bag too soon, says Mahesh Vijapurkar.
Is it possible that if the law enforcers, including and especially the Intelligence Bureau had gone about the probe into terror activities more quietly after Yasin Bhatkal was gotten hold of, the net would have caught more fish than mere information?
Common sense says yes, it was. If his sleeper cells had not known about him being in custody, it was possible that someone somewhere would have got into panic and made a wrong move? Even got worried, fidgety because even such people lose their nerve one time or another?
Probably, opportunities have been missed, but none may be willing to say so.
Take for instance a recent newspaper report that when the sleuths visited an apartment in Mangalore on the strength of what Bhatkal may have told them, they found as many as 90 improvised explosive devises almost ready for use, only the circuitry remaining to be connected to the triggers.
That was a big success. An officer was quoted as saying, "These bombs were ready to be used." So far, so good -- a further step in the probe in the diabolical terror outfit.
However, within it is a bigger loss.
The occupants of that particular apartment, identified as Zephyr Flats, had fled. If they had not known that Bhatkal was caught and had started to sing -- leaks so far suggested that he was competing with a canary -- they may have perhaps been there to be picked up and hauled away.
Now, the crime-busters would have to work that much harder to locate the members of the Indian Mujahidden who may have just blended into another crowd somewhere. They had, after all, had remained hidden until recently and neutralising terror outfits is, on its own, a difficult task.
Imagine, if Yasin and his another aide being taken in had not been revealed, including such details as the arrest had been either in Nepal or on the Indo-Nepal border, speculation on whether on the IB's own or being handed over to them, the subsequent efforts would have provided far more spectacular and much more useful results.
But no, it had to share everything. Even if, perhaps, spiced up versions.
If India, for instance, was indeed in talks with US to take out Dawood Ibrahim, where was the need for our good Sushilkumar Shinde, the home minister to have gleefully shared it on TV? Or, if IM was not an independent, indigenous outfit but an arm of the ISI, where was the call to let the world know about now?
Bhatkal is no ordinary criminal involved in any ordinary crimes. Bhatkal is said to be elusive kingpin and mastermind of an entire terror network which had so far operated with phenomenal success. It was big enough to be tried as a case of waging a war against India. Couldn't a magistrate have been asked to cooperate to the extent keep his arrest secret? And in unravelling the case, involved only those who needed to know?
That he was taken to Darbhanga had to be revealed, in itself an excessive revelation. That Bihar government did not act and seek his custody and that it, as a political party said, "Treated him like a damad (son-in-law). There was politics in this. The accusers of Bihar action -- or inaction, for that matter -- were partner in a government till only weeks before it. Had the BJP been partners with Nitish Kumar, would it have been otherwise? We don't know. Politics was allowed to touch the case."
Perhaps Bihar thought in its wisdom that the case was better left to the central agencies because of the wider geography of Bhatkal operations and did not want to claim its right to a shoddy local investigation, but here, I am only guessing. Thereafter, day in and day out, the intelligence, quite unintelligently, began to leak like a sieve. In the bargain, the entire terror module that could have been nabbed from Zephyr is now missing. A new chase would have to commence for them.
Several cases of needless leaks emerge from the so called sources in the intelligence which, in alliance with other agencies, owes it to the country to get the terrorists and then get them convicted. They are so detailed as to even appear to be quite nicely embroidered and most of which may or may not even be part of the later charge sheet.
All segments of law enforcement in India have this propensity to liberally provide details, even if on occasions garnished to make the news reports appear rich in content is sometimes dangerous, and has its own pitfalls. While the media will do -- and it is its job to in ordinary circumstances -- to make public information, the IB and others are not obligated to obliged.
Yasin Bhatkal is a prized catch, no doubt. What he tells is going to shape the understanding of how the Indian Mujahideen operated, and how far and well its network was spread. But, perhaps the cat was let out of the bag too soon. Who knows what else we have missed or would miss because too many crucial details which ought to have come up in the charge-sheets and during prosecution have been made public.
This, however, is not a case for the law enforcers to pick and illegally detain people, but far from it. This only means there has to be some discretion.