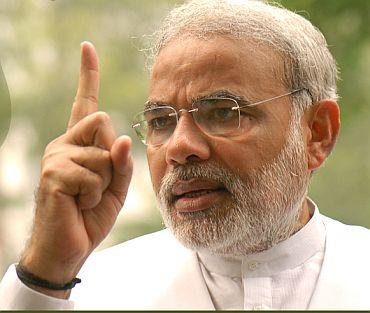 Even with Narendra Modi as its PM candidate, the BJP is expected to get between 170 and 190 seats in 2014. That means some 100-odd seats will have to come from allies. That also means the present NDA allies are not enough, it has to be NDA+, says Sajid Bhombal
As the United Progressive Alliance goes into the fifth and last year of its term, political parties are heading full steam into election mode. The Congress-led UPA is struggling with a vast credibility crisis with the prime minister not seeming to be in control of his government. The dual leadership model of the Congress is, obviously, a failed idea.
As the country moves into election mode, what is the likely outcome in 2014? Election results in India, specially to the Lok Sabha, are difficult to predict, but considering the state of affairs and the people's loss of faith in the UPA it should have been clear by now that we will see a change of ruling coalition in 2014.
If it is not clear yet, it is because the alternative, the Bharatiya Janata Party-led National Democratic Alliance doesn't seem to have a clear strategy. The NDA has a problem, and the problem is Narendra Modi. I am not talking here of the problem Bihar Chief Minister Nitish Kumar has with Modi; the bigger one is the BJP's Modi problem.
There is no doubt that Modi is a popular leader. He has been one for years now. Since the post-Godhra riots many political pundits have been predicting that he will be the BJP's face in national politics.
Not even his detractors can deny that Modi is a fantastic administrator. Though his politics on 2002 riots is questionable, to be fair to Modi, he, in spite of being some sort of Hindutva hero, did a commendable job in converting his image from a hardcore Hindutva face to one of development. This couldn't have been achieved through just PR. Though Gujarat may have been one of the most progressive states of India even before Modi took charge, no one can deny that Modi made the Gujarat success story his central theme and worked for it.
I am not a Modi fan. But as I had said in my last column, Modi's change of strategy has been good for India and secularism.
Modi's continuous success in Gujarat has now made him a natural contender for a bigger national role more than ever before. From corporate bigwigs to media pundits there is no dearth of people pushing Modi as the best option to be the BJP's prime ministerial candidate.
Post the Gujarat assembly elections Modi himself is acting in a manner where one can assume that he wants to be the BJP's PM candidate. Almost single-handedly he is pushing his case. It is Modi all over the media, his many speeches get covered by national television channels, and he is the talk of the town every single day on the social media, especially on Twitter.
Every poll taken to measure the popularity of leaders gives only one result. Modi leads and quite impressively at that.
So what is holding back Modi's rise in national politics? Why is BJP not taking the plunge?
One of the reasons is the reluctance by the existing national leadership to give Modi a backdoor entry. In one of his columns, Indian Express editor Shekhar Gupta narrated an interesting anecdote in 2002: 'On the eve of the 2002 Gujarat elections, I had stuck my neck out to predict, somewhat audaciously, that if Modi wins, it would alter the character of national politics and that the next general election could be a Sonia versus Modi contest'.
He got a call from Pramod Mahajan when that column was published. Mahajan said to Gupta: 'What's this, boss, what kind of nonsense are you writing?'
Shekhar Gupta then informs that Mahajan met him over lunch and this is what he said: 'What do you mean by saying Sonia versus Modi in the next general elections? Have we all disappeared? Do we all wear bangles? You think we have spent decades in politics to now hand it all over to somebody who walks in through the backdoor?'
This was 11 years ago. What has changed? Modi, for sure. In 2002 the speculation over Modi's rise in national politics was just that. Speculation.
Since then Modi has come a long way. He has successfully led his party for two terms, and won a handsome victory for the third time. It is only fair that he expects a bigger role for himself.
But the BJP in Delhi has not changed. No one should be surprised if in Delhi's cocktail circuit the same things are spoken of him as what Mahajan had told Gupta in 2002.
It is quite natural in politics or even in other fields that no one offers you the job on a platter. But how come a smart politician like Modi didn't factor this into his strategy? Modi is working hard, but in my humble view his strategy looks very weak now. He needs to win his party first.
And at this stage, this doesn't seem to be happening.
On the other hand, it amazes me that a party like the BJP has no clue how to handle the Modi phenomenon. Whether one likes him or not, as far the BJP is concerned Modi is an asset, he will win votes for them.
That Modi will stake his claim for a national role has been pretty obvious to the BJP for a decade now. How did it so happen that the party didn't find a way to accommodate Modi in its national leadership structure all these years?
When the nation is looking for an alternative to the Congress-led UPA, the BJP looks like it is completely ill-prepared to take up the challenge. Even at the height of the UPA's unpopularity, most polls give the BJP 140-150 seats without Modi being projected as the PM candidate. Modi adds some 40-odd seats, according to one poll.
So, even with Modi as its PM candidate, the BJP will reach somewhere between 170 and 190 seats. That means some 100-odd seats will have to come from allies. That also means the present NDA allies are not enough, it has to be NDA+.
The BJP should work on that. And there is absolutely no doubt that they will have to factor Modi in their equation.
Modi also needs to realise that there is no palkhi arriving to take him to the throne. He needs to work within the party and the NDA structure.
If Modi goes on pushing himself from below and the BJP keeps on resisting his 'backdoor entry' from above, the nation will be deprived of a credible alternative in 2014.
More knowledgeable political analysts than me have said that for the BJP there is no alternative to Modi. I will stick my neck out and say, for the BJP there is no alternative but to strengthen the NDA, with or without Modi as its PM candidate.
Sajid Bhombal writes an occasional political column for Rediff.com. He can be contacted at sajidbhombal@hotmail.com