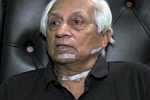 It is unfair to abandon national heroes like Lt General Kuldip Singh Brar when they travel aboard on personal visits. The government should step up and provide them with security cover, says Anil Chowdhry


We have all read with concern the incident of attempt on the life of Lt General Kuldip Singh Brar, who led Operation Blue Star at the Golden Temple in 1984, by kirpan-wielding young men in London
.
There are lessons to be drawn from this unfortunate but serious incident for those dealing with VIP security.
Having been in the forefront in this area for a number of years, the incident does not come as a surprise to me. There was an incident of physical assault on former Punjab Director General of Police KPS Gill, another highly threatened retired Z+ category official in London, many years back.
The presence of radical Sikh groups in and around London is also well known. But, there is no system of extending security cover to such persons when they travel abroad on private visits. Several questions, therefore, arise which need to be addressed and the norms followed so far need to be recast.
I recall that while serving as a minister in our embassy in Washington DC, I got a call from KPS Gill's personal security officer, a Central Reserve Police Force personnel, that he was visiting DC on an invitation from the United States national security advisor to seek his advice on dealing with terrorism, post 9/11.
But being a private visit, the government of India was not allowing his PSOs to accompany him nor did they seek help of the US security and law enforcement agencies. Being conscious of the real and extremely high threat that Gill faced from Sikh militant groups, also active in the US, I explained to our then ambassador to the US that it was imperative for the mission to arrange for his protection during the visit, notwithstanding the myopic view of the ministry of home affairs that security cover cannot be provided even to Z+ category of protected persons abroad, if the visit was private in nature.
God forbid, if anything happened to him during the visit, the people of India would not spare the mission, I argued. Many patriotic Indians do look upon him as a hero who saved the Punjab from falling into the lap of Khalistanis and perhaps Pakistan.
The ambassador agreed with my view and asked me to liaise with the US authorities to arrange his security. The response from the US State Department's security agency was positive and
they sensitised the police station in DC having jurisdiction over the hotel in which Gill was to stay. But while agreeing to provide the outer perimeter security to him, they regretted the inability to provide PSOs for proximate security.
They recommended that the mission should hire private security (armed) guards for this. They even named an agency we could approach. The ambassador gave me a go ahead on my assurance that I would get the requisite funds released from Delhi to enable the embassy to foot the bill for hiring private security. I also personally supervised the arrangements and Gill returned home unharmed.
That the bill of the private security agency, which provided the PSOs remained unpaid for long, is another story. It was forwarded by the ministry of external affairs to the MHA and was rejected. I had to speak with a 'powerful friend' in the Prime Minister's Office to step in, and the bill was finally paid. This was during the National Democratic Alliance regime.
The core issue here, in my (an ex-VIP security expert) view is whether the brave soldiers and officers who fought terrorists at the risk of their lives like Lt Gen K S Brar and KPS Gill should be left to their own prowess to defend themselves from such attacks on visits abroad. Most of them are well past their prime.
It is very unfair, to say the least, to abandon such heroes during their foreign trips.  'Theirs not to reason why, theirs but to do and die' are the famous lines from the poem 'The Charge of the Light Brigade' by Alfred, Lord Tennyson. 
All our brave service and policemen face threats to their lives from terrorists, who do not know how to forget and forgive, not due to acts done in their personal capacity but in the line of duty. Should we ask them all not to travel abroad and do so at their own risk? Where is the right of an Indian citizen to travel?
If it is financial constraints of the government, which puts them in a corner in this matter, then why are lakhs and crores of rupees being spent on providing security and even Black Cat commandos to politicians who face vendetta and in many instances, public ire which adds to their threat perception, may I ask? 
It would be extremely demoralising for the men in uniform if this situation is allowed to rest as it is, without applying correctives. Is anyone responsible for laying down the parameters of our policies in this area listening, or even interested?
Anil Chowdhry (retd), IPS, was a former secretary (internal security), ministry of home affairs


Image:
Lt General Kuldip Singh Brar