'The muscularity of the last three years didn't bring any dividends and if anything, Chinese attitudes only hardened,' says Ambassador M K Bhadrakumar.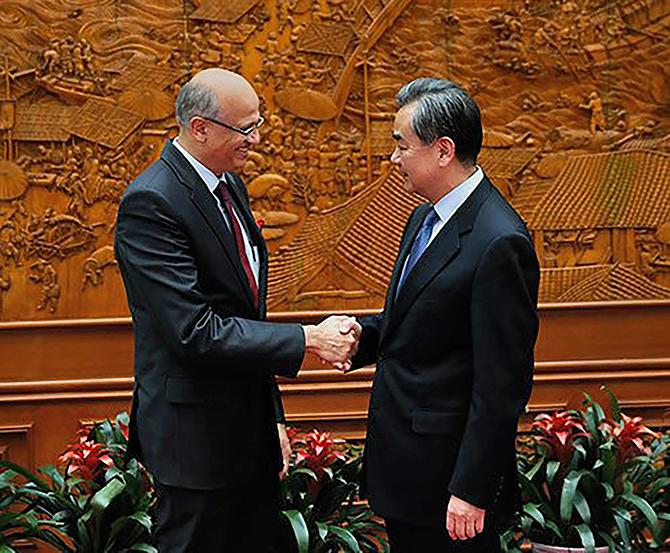 IMAGE: Foreign Secretary Vijay Gokhale's meeting with Chinese Foreign Minister Wang Yi in Beijing, February 23, 2018, is believed to have propelled India-China relations away from the direction of recent confrontation. Photograph: PTI Photo
The government's advisory to senior officials to stay away from the functions commemorating the Dalai Lama's 60th year in exile has generated much excitement.
The trend of opinion is that there has been a shift in India's China policy. But the GoI adopted a similar stance 10 years ago when the 50th anniversary of the Dalai Lama's exile was observed.
South Block has very good institutional memory -- and it had better be, since Foreign Secretary Vijay Gokhale used to be the head of the East Asia Division in the MEA 10 years ago.
That the GOI decision is the correct one is not in doubt.
India stands to gain nothing by annoying China on an issue that falls squarely within the domain of its domestic affairs.
Indeed, China has taken note of the GOI advisory. The Global Times commented that it signified 'a subtle hint that India wanted to improve ties with Beijing' and is a 'welcome step by New Delhi.' The commentary underscored:
'The year 2018 is important for China and India after their relations were severely strained last year by multiple disputes including more than two months of standoff at Doklam. Neither of the two Asian powers wants to see this happen again. They need to enhance communication and properly manage their disputes, a situation in which Tibet is a critical issue.'
Sadly, those Indians who rush to criticise the GoI seem pretty unhappy that New Delhi is jettisoning the 'muscularity' that was in evidence through the past three year period.
Why they should feel so crestfallen at the thought of India-China tensions easing is beyond comprehension. Whose interests are they serving -- Taiwan's? Japan's? Or, America's?
The muscularity didn't bring any dividends and if anything, Chinese attitudes only hardened.
In the final analysis, it merely created the raison d'etre for India to jettison its strategic autonomy and join the US bandwagon. But then, we got nothing out of the US either -- except some seductive rhetoric now and then pampering our vanity.
Basically, the US has been fueling India-China tensions to sell more weapons to India and to legitimise its fifth column among our elite, from a long-term perspective.
Logically, therefore, a need arises today to explore how India's China policy can be productive and can serve national interests.
Generally speaking, rivalry arises within a peer group, but in this case, China happens to have an economy over five times the size of India's.
Our mantra has been that India will eventually 'overtake' China -- circa 2050. But in the long run, we are all dead, aren't we?
Daydreaming is a recipe for inertia. We should live in the present and be realistic. The big question is how we can make use of China's rise.
After all, there must be something we can learn out of the developmental experience of a country, which brilliantly succeeded in lifting 37,000 people above the poverty level every day in the past five years!
China lifted 68.5 million people out of poverty in these past five years and intends to reduce the poor rural population by over 10 million this year.
A good beginning will be that there is high-level Indian participation in the upcoming Boao Forum for Asia annual conference scheduled for April 8-11 in Hainan province in China. This is a far more consequential event from the Indian perspective than the Davos meet.
In an informal setting, meaningful discussions become possible. Forbes magazine carried an interesting article recently, entitled 'Why India's Act East Needs China -- And China's Go West Needs India.'
The point is, despite Doklam, despite the Dalai Lama or the border dispute and despite the China-Pakistan Economic Corridor or other differences, China has consistently commended Modi's reform agenda.