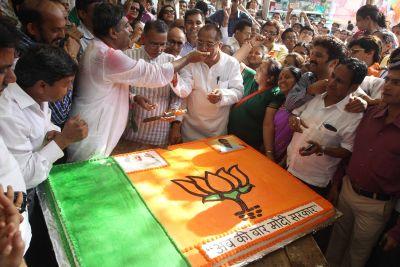 N Suresh on the factors that led to the rout of the Congress-NCP ruling alliance and what lies ahead for the BJP, Shiv Sena, MNS and AAP in the state.
The Lok Sabha election results have been a debacle for the Congress and the Nationalist Congress Party in Maharashtra. Nobody would have anticipated such doom for the Democratic Front government, especially that the Congress would lose in all seats but one.
What an irony for the Congress that its only face-saving candidate is former chief minister Ashok Chavan, who was forced to resign due to the Adarsh scam.
The rest of the Congress candidates got a drubbing. The Nationalist Congress Party, who most had written off, managed to win three seats, mainly the blue-blooded Maratha feudal seats of Madha, Baramati and Satara.
Was this expected? I would admit that I didn't expect such a debacle. I did expect the Shiv Sena to garner a few more votes on grounds of sympathy after being back-stabbed by the Bharatiya Janata Party. While I do admit I didn't think the BJP would go into double digits. I am glad at least the Maharashtra Navnirman Sena and Aam Aadmi Party lived up to my expectations of not getting a single seat.
Generally people had been talking of being fed up of dynasty politics and it did seem initially like it was an anti-Gandhis wave. The shocking results were from Mumbai city and Thane, which were considered most safe for the Congress-NCP. The pro-Narendra Modi wave which I hadn't really seen on the ground, except in pockets of suburbs like Borivali, Kandivali in the Mumbai North constituency, some parts of Mulund and other pockets.
This is the first time that an American-style presidential poll campaign was copied in India. This was not even entertained in any election till now and it has brought such unbelievable results. There were many people who were confused, because they didn't find a 'lotus' on the EVM machines, or the names of Modi on the list of candidates.
What then prompted people to go all out and reject the Congress-NCP candidates, despite being seemingly happy with the state government since 1999?
At the beginning of the campaign it became evident that in Mumbai North, Sanjay Nirupam would find it near impossible to regain this seat. A strong Gujarati pocket, the impact of the Modi wave was evident from the beginning. It is no surprise that Gopal Shetty won.
Another expected candidate to lose the election was Priya Dutt. A high-profile MP, whose father was a stalwart Congress leader, she had been winning on his goodwill. She lost it all due to indifference and disconnect with the voters. In Thane too, voters rejected Sanjeev Naik, a sitting MP and state minister Ganesh Naik's son.
The pattern seen is people rejected dynastic politics. I give credit to the voters of Sindhudurg and Ratnagiri. They stood up to the terrorising tactics of Narayan Rane and his sons. Nilesh Rane lost despite his minister father's money and muscle power.
A big surprise meanwhile was the loss of Chhagan Bhujbal, a formidable leader and state minister. His nephew was the sitting MP and to save this seat Sharad Pawar had given the ticket to Bhujbal, who was reluctant to contest. This will now put Bhujbal in a quandary as there is no guarantee he will get to retain his seat in the assembly election in October, considering his soured relations with Deputy Chief Minister Ajit Pawar.
Talking of dynasties, I am surprised why the voters didn't reject the Sharad Pawar, Praful Patel and Vijaysinh Mohite-Patil legacy. But it is time for the NCP to pull up its socks, as Supriya Sule scraped through with a few thousand votes. Praful Patel, who had been praising the BJP, has had to sit quiet after losing to Nana Patole.
These are telling times for the parties, as their arrogance will also take their toll in the assembly election. Already the Opposition and public feel the government needs to resign and call snap polls for its failure in the Lok Sabha election.
Chief Minister Prithviraj Chavan, who has been portrayed as Mr Clean, had given up from the beginning of the campaign. A novice to Maharashtra, he followed the course set by Sharad Pawar who toiled hard personally, campaigning despite his health concerns.
Now Pawar will have to introspect what went wrong, as with all that effort his party could pull off only four seats and the Congress is totally defeated. The only leader who pulled off a victory on his own merit, Ashok Chavan, worked quietly for three years trying to regain lost glory.
For the BJP, the trouble is from Nitin Gadkari, who is known to be close to the RSS and Narendra Modi, who has won his first-ever election. His rift with Gopinath Munde, who retained his seat, is well known. In fact, the BJP ally, the Shiv Sena too despises Gadkari.
The Sena on its part which was down and out has got a breather from voters, though it will have to pull itself together. The party will have to sort out internal differences and its over-domineering leader, Uddhav Thackeray, who is a rather confused decision-maker.
The MNS, still stuck on gulli-nukkad politics, will need to set its goals higher for the assembly election. The AAP needs to come out of its activism mode and think like a political party.
Image: BJP activists celebrate in Mumbai. Photograph: Sahil Salvi