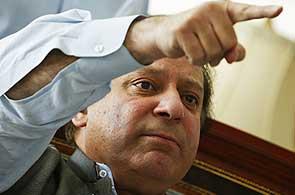 Hurried and ill-planned Summits like the Vajpayee-Musharraf Summit in Agra which preceded the attack on the Indian Parliament in December 2001 are best avoided for now, says G Parthasarathy
American Independence day on July 4 is invariably an interesting day in Islamabad. It provides an occasion to meet Pakistan's elite at the American ambassador's reception. Indian forces had recaptured the high mountain peaks in Toololing and Tiger Hill overlooking the strategic Srinagar-Leh road in Kargil, just prior to July 4, 1999. It was then evident that Pakistan's Kargil misadventure was drawing to an ignominious end. Just the previous day, on July 3, the then prime minister of Pakistan, Mian Nawaz Sharif, who was playing cricket in Lahore, had suddenly and unexpectedly taken off for Washington, being seen off by a haggard looking General Pervez Musharraf.
I saw a distraught and distinctly worried Musharraf at the American reception on July 4 and was asked by Editor Maleeha Lodhi, later Pakistan's ambassador to the US, what I thought was happening. I replied: "Maleeha, we are seeing the end game in Pakistan's Kargil misadventure being played out" -- a comment she headlined next morning. Bill Clinton extracted a heavy price from Nawaz Sharif to bail out an embarrassed and humiliated Pakistan. Sharif was made to commit himself to a total pullback from all areas that Pakistan had intruded into.
Moreover, Sharif was compelled to provide an assurance that Pakistan would respect the "sanctity" of the Line of Control in Jammu and Kashmir. What followed the Sharif-Clinton meeting in Washington was a blame game between Sharif and Musharraf, on who exactly was personally responsible for the Kargil debacle. This ended with Sharif's impulsive, impetuous and ill-advised attempt to oust Musharraf and his subsequent overthrow in a military coup on October 12, 1999.
Born with a silver spoon in his mouth, Sharif suffered the indignity of being jailed and exiled to Saudi Arabia, after the Saudi royalty interceded, to bail out a ruler they held in high esteem.
The Kargil fiasco symbolised all the traits that one has come to associate with Nawaz Sharif. On the one hand he is a suave, cultivated and charming individual who loves Bollywood music and films of the 1950s and 1960s. He has been an ardent cricket fan and played club level cricket quite proficiently. I recall his hosting a sumptuous lunch, with 2000 guests, for the visiting Indian cricket team at his palatial Raiwind home in 1982.
But, at the same, time, Sharif was a product of the era of General Zia ul Haq, having entered politics with the backing of the army, as a member of the army-sponsored Pakistan Muslim League. His political career took off, after he was appointed as finance minister in Punjab. Sharif even then showed sound political and administrative acumen and rose rapidly in the Muslim League hierarchy.
Sharif knows that the challenges he faces are daunting. Given his election campaign rhetoric, he has to be seen to be distancing Pakistan from American policies on Afghanistan. At the same time, he has to work with the international community to get Pakistan the economic assistance it desperately needs from western donors, the World Bank and the IMF. It is also becoming increasingly clear that the end to American combat operations in Afghanistan in December 2014 does not mean an end to the American and NATO military presence there.
With his military establishment and ISI determined to back their protégés in the Taliban and the Haqqani network, it is going to be difficult for Sharif to persuade President Obama to end all drone strikes on Pakistan territory across the disputed Durand Line. How this will play out on the overall US-Pakistan relationship remains to be seen, though it is evident that in its second term the Obama Administration will expand its economic and military engagement with Pakistan.
Many in New Delhi believe that Sharif is being sincere, when he speaks of his determination to improve relations with India and his interest in expanding bilateral economic ties. But he does have internal dilemmas and problems to deal with if he is really sincere about proceeding on this path. Sharif and his party have a track record of links with radical Islamic groups within and beyond Pakistan's borders.
India cannot easily forget that the Mumbai bomb blasts of 1993 were planned and executed by Sharif's handpicked ISI Chief Lt. General Javed Nasir, a religious fundamentalist affiliated to the Tablighi Jamat, then patronized by Sharif's father, the Late Mian Mohammed Sharif.
New Delhi has also viewed with concern Sharif's personal rapport with and regard for Hafiz Mohammed Saeed, the head of the Lashkar e Tayiba, now declared an international terrorist organisation, responsible for several terrorist strikes in India, including an attack on the historic Red Fort in Delhi, in January 2001 and the Mumbai terrorist outrage, in November 2008.
In these circumstances, there are many in India who believe that Sharif personally and his party would not discard their erstwhile jihadi assets that they have patronised for years. A major factor playing on the minds of Sharif and his associates is that if they discard assets like Hafiz Mohammed Saeed, they could well push Saeed into the arms of the military establishment and political rivals, like the army-backed Imran Khan. At the same time, Sharif, however, knows that Pakistan's borders with India will remain tension-free only if he halts terrorist attacks on India.
What is, therefore, likely to happen is that while terrorism directed against India may not end, it will be carefully contained and regulated. The same, however, cannot be said of Pakistan's porous western borders with Afghanistan. It is not going to be easy, or even possible, for his government to halt infiltration into Afghanistan, especially given the strength of the ISI-Taliban-Haqqani nexus. Moreover, with Imran Khan becoming politically influential in the tribal areas bordering Afghanistan, the challenge that the Tehriq e Talibane Pakistan will pose to the writ of the Sharif government will be formidable.
Given this scenario, India would be well advised to proceed cautiously on relations with Pakistan, through enhanced economic cooperation, particularly in areas like electrical power and refined petroleum products, which can be provided relatively easily across the border.
India would also be well advised to promote greater civil society and people to people contacts.
Hurried and ill-planned Summits like the Vajpayee-Musharraf Summit in Agra which preceded the attack on the Indian Parliament in December 2001 are best avoided, till India is sure that Sharif will fulfil his promise to ensure that territory under Pakistan's control will not be used for terrorism against India.
Image: Pakistan Prime Minister Nawaz Sharif | Photograph: Damir Sagol, Reuters
G Parthasarathy is a former high commissioner to Pakistan