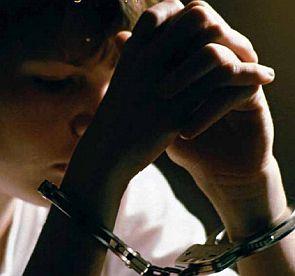 Most juvenile remand homes are in appalling condition and need a massive overhaul. But whether redrafting the law will bring down juvenile crime is the moot question. What is required better remand homes, more specialised care rather than to expose young people to the trauma and stigma of adult jails, says Rashme Sehgal.
Statistics speak for themselves. Latest Census reports show the population of children between the age groups of 16-18 is over 6.5 crore.
But the number of children booked in this age group across the country for heinous crimes in 2012 was only 6,747 according to the National Crime Record bureau data. One year later, NCRB data shows, the figure has gone up to 6,854.
It seems difficult to believe that the government is amending the existing Juvenile Justice (Care and Protection) Act 2000 which allows for the adoption of a special approach towards the treatment and rehabilitation of underage offenders and is coming up with a new law by which underage kids accused of heinous crimes will be treated on par with adults simply in order to deal with such a minuscule number.
The motivation for introducing this law gained momentum because of the dark memories evoked by the Nirbhaya case where the Delhi police spun a yarn before the media, claiming the most brutal attack on the defenceless victim came from the underage offender who succeeded in escaping the death sentence only because he was a juvenile.
Minister of Women and Child Development Maneka Gandhi, dipping into this groundswell of anger, has warned unilaterally that 'an adult crime by a juvenile requires adult punishment, not leniency'.
Delhi based advocate Anant Asthana, who has been working with the Juvenile Justice Board for the last seven years, believes the attempt to portray the juvenile in the Nirbhaya case in a poor light is one more deliberate ploy by the Delhi police to ensure changes in the juvenile act.
"Media reports in the Nirbhaya case portrayed the juvenile boy as having been the most brutal of the lot thereby serving to ignite public anger against him. I believe this was a calculated attempt by the Delhi police who have been trying to discredit the JJA for some years now. The Juvenile Justice Board categorically observed that the youngster was not the most brutal of the lot. And though the Delhi police helped whip up this sentiment, the chargesheet filed by them did not corroborate this," said Asthana.
The Delhi police had made a similar attempt to whip up public sentiment against the JJ Act in the 'fire gang cases' of 2010 in which a group of juveniles were accused of committing theft and then burning the houses where the robbery was committed in order to destroy evidence. This attempt failed to capture the imagination of the public. Public sentiment did however coalesce in the Nirbhaya case.
Bharti Ali, co-director of HAQ Centre for Child Rights, testifies to the mischievous role played by the police, with politicians buying into their specious arguments.
"For the police picking up young kids is the easiest alibi in (pretending) to solve a crime. The Delhi police has a history of picking up large numbers of kids in the 16-18 year old age group and passing them off as adults thereby forcing them to spend extended time in Tihar jail amongst hardened criminals.
"A recent RTI done by us saw 114 kids in a span of eight months being transferred from Tihar jail to the Juvenile Justice Board because they were underage. Similar age enquiries are pending for 1,247 kids. Most of these juveniles are arrested for robbery, theft and sexual assault which are not small enough to be passed off as petty crimes," Ali said.
Ali pointed out that juveniles are being falsely accused in a growing number of rape cases but in fact between 70-80 per cent are cases of elopement.
Child rights activist Minna Kabir, wife of the former chief justice Altamas Kabir, has spent several decades working with juveniles agrees that parents tend to pass off love affairs as rape. Dissecting the NCRB statistics, she points out that 50 per cent of the rape charges on investigation turn out to be love affairs while 30 per cent are cases of exploratory sex by boys in the age group of 12-14 years which cases can be attributed to lack of sex education and increasing exposure to sexually explicit messages in movies, ads and the social media.
"We strongly condemn all sexual violence, be it by adults or juveniles. None of it can be justified by any means whatsoever. But we also condemn pitching human rights of women against human rights of children since that will not provide an answer to creating a healthy society. All we want is a dialogue with the government before a final decision in this regard is taken," says Ali.
A coalition of 58 non-governmental organisations under the banner 'ProChild Network' held a press meet recently in the capital to urge the government to deliberate before deciding to repeal or amend the JJ Act. The coalition also offered support to the government to find a solution to the problem of crimes by juveniles, including sexual violence, by providing professional suggestions based on evidence and research. "We are unanimously looking at the ministry for more dialogue on this issue," Ali added.
There were other eloquent voices asking for the ministry to do a rethink. Senior advocate Vrinda Grover, demanded more informed engagement on this issue. "Neither group majority nor anger and rage should decide law reform," she said especially since India has ratified the 1992 UN Convention on child rights. She stressed the need to strengthen the education system since juveniles in trouble usually hail "from families with incomes of less than Rs 25,000. Almost 58 per cent of these kids are illiterate," she said.
Professor Ved Kumari of the Delhi University and a member of the Juvenile Committee, compared crime rates in India with those in the UK and the US. "In India, the rate of juvenile crime is around 1.2 per cent of the population while in the UK and the US, figures for juvenile crime are as high as 22 per cent of the population. From our population of 40 crore kids, if 3,700 get arrested, do we not have to the resources to deal with them?" she asked.
Kumari revealed details of a study conducted by the US Department of Justice in 2012 which showed that putting juveniles under trial in the adult system had not acted as a deterrent .
"If kids are tried as adults and end up spending 14 years or more in prison and come out of jail at ages of between 24 to 27 to 30, will they be employable? US studies confirm that spending 20 years or more in jails has not helped reform the child," she added.
Psychiatrist Dr A Bhagat, who has also worked extensively with adolescents, reveals that the brain of a 16-18 year old is not even fully developed. "There are two systems in the brain, the cognitive and the more adventurous. Both of these continue to develop till a person is in his early twenties. A 16-18 year old adolescent is more impulsive and sensation seeking. It is only when he grows older that his impulsivity decreases," he said. This has to be understood in the context of juveniles committing crimes. Bhagat believes that the causes of rape lie in discrimination, disparity, patriarchy, lack of mentoring and the existing compartmentalisation and exclusivity between haves and have-nots that prevails in our society."
Advocate Asthana believes the roadmap ahead lies in helping to rehabilitate these youngsters. He cites the example of two children who were accused of heinous crimes but received timely intervention from the juvenile board that helped rehabilitate them and allow them to lead lives of dignity and self-respect.
"The first case was a 16-year-old boy, son of a prominent journalist. His father abandoned him, his mother and two teenage sisters. The boy dropped out of school and began selling hosiery items in order to help his family make ends meet. The wholesale trader from whom he bought hosiery on credit chanced to see his 19-year old sister and wanted to get into a sexual relationship with her which the boy refused to facilitate. The trader then asked him to return his credit. At this point the frightened boy, along with two friends, picked up a kitchen knife and robbed a stranger of his wallet and mobile in order to pay back the money. But because it was such a ham-handed attempt, he and one friend were immediately arrested by the police. They beat him up mercilessly and have ill-treated him since," said Asthana.
Charges against the boy have finally been dropped and he is being encouraged to resume his studies.
"The second case is that of a 17-year-old boy whose father was a painter and who had received training in art. Because of a family altercation he ran away from home and started working as a loader, unloading goods from trucks.
"One night, a truck driver took him to a factory in Ghaziabad to load some items. When he reached the factory, the boy realized the group were planning to commit a robbery. He tried to escape, failed to do so, and ended up being arrested by the police and put in the lock up as an adult.
He spent nine months in jail before Asthana succeeded in getting him out on bail. His problems did not end because the UP police had registered a case against him under the Gangsters Act for committing a crime in a city he had never visited.
Investigation by Asthana showed that a relative of the police office handling his case had had his house robbed. The police could not locate the thief without which the relative could not claim insurance. The boy was made the culprit and was charged under the dangerous Gangsters Act for which this intrepid lawyer had to go to the Allahabad high court to get bail.
It took nearly three years for the boy to get bail during which time he remained in an observation home. "The UP police made several efforts to get him transferred to the Dasna jail which is a highly dangerous place but we succeeded in keeping him in Delhi," said Asthana.
Three years later, the boy is working part-time as an art teacher teaching kids at the Children's Home in Alipur. "Getting him out on bail was an extremely challenging job but all this was possible because he was booked under the juvenile act. If they are booked as adult criminals it will become next to impossible to rehabilitate them," said this committed lawyer.
It is not as though adolescent girls do not suffer the same fate. A 12-year-old girl in Jharkhand entered the home of a senior government official to eat some fruit growing in the courtyard. She was imprisoned in a Nari Niketan and remained there for many years. It was only when a judge visited the Nari Niketan and asked to see her file that they found she had been charged for petty theft . No attempt had been made to locate her parents in all these years. Finally, after a considerable effort, her parents were tracked down.
There is an acute lack of data on how juvenile homes are being run across the country. Most remand homes are in appalling condition and need a massive overhaul. But whether redrafting the law will bring down juvenile crime is the moot question.
What is required is a determined effort to provide better remand homes, more specialised care and attempts to strengthen the disintegrating Indian family system rather than to expose young people to the trauma and stigma of adult jails.