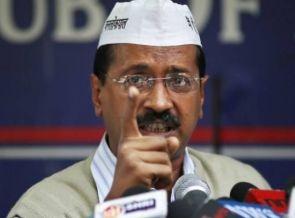 I'm still rooting for you, because you may yet be able to do something good for Delhi. But you and your party will have to get a reality check and some discipline, says Mitali Saran.
Congratulations! I've been rooting for you since December, because it's been so long since anyone in politics seemed to be making an effort, and you seem like a good egg, even though your Aam Aadmi Party was not constituted for the kind of voter who would use a term like "good egg".
I rooted for you when you led your party to an inspiring victory, and I cut you slack when you took your time deciding whether or not to form the government in Delhi. I didn't roll my eyes when you did a poll on whether, for the sake of stability, you should hold hands with the Congress at the risk of having it pinch your bottom. The compulsions of politics are complex, and adaptability is important, so yay for you.
I rooted for you when you took the metro to your inauguration (even though you sat under a sign that said something like 'For Women Only'). I rooted for you when you drove yourself to work in your blue WagonR. We're all sick of the needless privileges of power, and we wanted someone to just go work for us and for our city, so yay for you.

I rooted for you when you proposed a zero-tolerance policy towards corruption, because we need that, and when you said that you're going to deal with water and electricity, and that women's safety is a priority. Yay for you.

However, dear Mr Kejriwal, I'd like to raise a red flag or two. I'm not an expert, but after a couple of weeks of your administration I've got to say: What the hell are you thinking? Caveat: I have written things in the past to the effect that when the revolution comes, the likes of me will be the first to be lined up against the wall, and that is as it should be; so I'm a fan of the political change that you promise. I understand that paradigmatic change involves a certain amount of chaos, and that a new party needs time to find its feet. But there are a few things you need to sort out pronto.

Firstly, rein in your ministers. I'm delighted to hear that they're working at 3 am, but terrorising neighbourhoods by exhorting people to spy on their neighbours and screaming at the police to skip due process is not part of anyone's job description, least of all the law minister's. Remember the Chinese Cultural Revolution? Kids were encouraged to snitch on their parents. Better to go back to having everyone lie down and fast. Either way, please try not to kill and bury nuance? Nobody likes a vigilante. The social forces that you so effectively marshalled can also spin out of your hands with the force of a tsunami.

Related to this, while your anti-corruption promise is tops, your anti-corruption idea, which encourages every citizen to imagine herself as a caped, masked and be-phoned surveillance agent, has the potential to go horribly wrong if the likes of your law minister have anything to do with it, or to be easily deflated by disallowing phones in offices. Also, how many people can you throw in jail, and will you be increasing the judicial backlog, or setting up kangaroo cours? There's a difference between rule of law and settling scores based on personal morality.

Third, not to be unappreciative or anything, but I don't understand my ridiculously low electricity bill. Undercharging people like me is idiotic. Why be insanely populist when Delhi will be happy with bills that are accurately metered and realistically priced? How about plugging distribution leakages in electricity and water instead of being random?

I'm glad you're focusing on education, but don't get all parochial about it and close Delhi University to students from elsewhere. I'm glad you're focusing on healthcare, but stop disrupting hospital functioning in the name of a clean-up. I'm glad you're not being ostentatious, but find housing that doesn't disrupt other people's lives, already.

Here are three other suggestions for how to significantly improve Delhi. One, put women first, not just with robust police and judicial responses to sexual offences, but with a campaign to re-educate and sensitise men, including police and the judiciary. Two, build toilets. Lots of toilets. Everywhere. Keep 'em clean. Three, tackle air and water pollution aggressively.

I'm still rooting for you, because you may yet be able to do something good for Delhi. But you and your party will have to get a reality check and some discipline. Oh, and one last thing. Don't get so busy focusing on the next election that you neglect the work you were elected to do. That's the old politics, remember? Good luck!