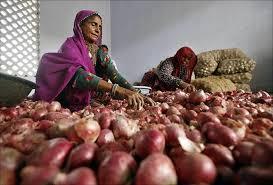 Prithviraj Chavan helping out Delhi's government tide over high onion prices has not gone down well in his home state of Maharashtra, says Neeta Kolhatkar.
The festival season is upon us and food prices don't seem to be falling. To top it the fight over onion prices too seems to be never ending. However, public complaints can fall on deaf ears as right now politicians' only vested interest is in furthering their political interests, with Lok Sabha and various state elections round the corner.
Even Mr Clean, the head of Maharashtra state, Prithviraj Chavan has fallen for the election bait, as he proclaimed to his counterpart in Delhi, Sheila Dikshit, "The Delhi government can directly purchase onions from the market as an emergency measure." Immediately, officials from Delhi government are said to have gone to Lasalgaon, the wholesale onion market in Nashik, to purchase their onion stock.
At a time when the onion prices in Mumbai city touched between Rs 80-90 per kilo nearly two months ago and now are priced at Rs 70, this news has not gone down too well with people in Maharashtra and the opposition. The responsibility of the onion price hike however was solely blamed on Union Agricultural Minister Sharad Pawar, till the time Chavan toed the Congress's line.
Obviously he has to fall in line with party high command wishes to help out Delhi government. As one Nationalist Congress minister from the state said, "This is all a political drama, Chavan has to show he is helping the Delhi government to subsidise onion prices for the public." This is all keeping an eye on the elections.
There has been outrage in the media about this issue, most alleging that the CM isn't concerned about his own state, especially Mumbai city. While Pawar has had to convince the public that the onion prices would stabilise in a fortnight, this news has reduced the pressure on him and his ministry. The basic reason for Chavan's call to Delhi government to buy onions directly from Lasalgaon onion wholesale market is the principle of open market.
Onions are an open market product and not included in essential commodities. Therefore, any purchaser can buy from the market. The fact that onion has brought tears to the public of Maharashtra is simply because reports have indicated that traders have been raking moolah with hiking prices, while the APMC markets are not even getting onion stock from Lasalgaon, which is in Nashik -- barely a few hours from Mumbai city.
On the flip side, the Delhi government has to ensure proper storage of these onions, as it is one food product that can't be kept in cold storage or mass stored like grains. Usually, onions can be stored in fine conditions for maximum two months, else, usually after eight days, they begin rotting.
The reason public in Mumbai city is angry, is there is governmental intervention and CM Chavan is a party to it. The politicians speaking sarcastically, that Chavan could've intervened for his own state, earlier, instead of watching NCP take the flak. In this political bashing, more outlets are being put up to sell vegetables at fair prices and they have become popular. While on Monday, the cost of onions in Mumbai city ranged at Rs 70 per kilo, the public seemed angry due to the various newspaper reports and television breaking news. The topic in public transport was how Chavan is more concerned with Centre than his own state.
It is a well known fact, that Chavan, once a minister with the Prime Minister's Office has a soft corner for Delhi and is said to jet off frequently to Delhi, his onion policy however, has not been welcomed by the public. In addition to the public ire, is the fact that this year, the onion output is expected to touch record high of 95 lakh tonnes, in comparison to 85 lakh tonnes last year, the figures as per National Horticulture Research and Development Foundation, which is based in Nashik. The figures show that onion produce per hectare is slated to rise to nearly 16-17 tonne, nearly 13 percent higher, making Maharashtra one of the top onion producing states.
Congress however is in a catch-22 situation, while Delhi people may appreciate Dikshit's actions, Chavan's actions have been criticised in the state. This onion-political drama has made the NCP chuckle on the side. The Delhi government, while wanting to get its brownie points before the elections needs to watch the price fluctuation.
It would be quite a joke if despite Dikshit's intervention, the onion prices fall and the Delhi government incurs a loss! That however seems the last concern in the whole circus of creating political perceptions for elections.