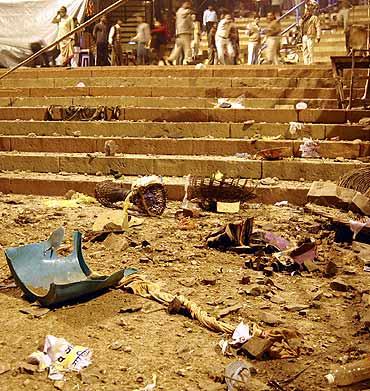 Last Tuesday's bombing might best be interpreted as an attack against the tolerant, cosmopolitan character of modern Varanasi, which also characterises India at its best, says Michael S Dodson.
Last Tuesday, as people gathered for Ganga Aarti, held every evening at the main ghats in Varanasi, a bomb exploded. The death toll currently stands at two: A toddler who lived in the city with her family, and a 60 year-old woman, who was there visiting her son, a student of Sanskrit. Dozens more are still recovering from injuries sustained in the blast and the stampede which followed.
This is not the first time Varanasi has suffered such an outrage. In March of 2006, a deadly series of co-ordinated blasts took place across the city. The Samkat Mochan temple was a principal target, as was the main railway station.
In February of 2005 a bomb exploded at Dasashwamedh ghat, the city's pre-eminent bathing ghat, killing eight people. And more recently, in November of 2007, as part of a series of blasts across Uttar Pradesh, Varanasi's courthouse was bombed, killing nine.
If this most recent bombing, like those before it, is the work of Islamist extremists, which the government and security forces seem convinced of, then it is equally clear why Varanasi remains a popular target for groups such as the Lashkar-e-Tayiba and the Indian Mujahideen. The city's reputation as a centre of the Hindu faith attracts pilgrims from across South Asia and beyond, who gather to worship at the numerous temples and bathing ghats leading to the Ganga, as well as students who study Sanskrit language and literature.
In this way, a terrorist strike at Varanasi is meant to be a strike against Hinduism: A strike meant to highlight a perceived correspondence between the Indian State and a particular religious affiliation. Such terrorist groups seek to create a sense of 'us' and 'them', in other words, and to disturb the normally peaceful relationship which exists in Varanasi between Hindus and Muslims. Thus far, thankfully, they have been unsuccessful in this goal.
But the reality is that Varanasi is not simply a 'stronghold of the Hindu faith', to quote nineteenth-century traveller Bholanath Chandra, but is now a deeply cosmopolitan city with a long history of welcoming people from the world over. A quick scan of the list of people injured in last week's bombing reveals names from across the sub-continent and beyond. Visitors from Madhya Pradesh and Karnataka, as well as Europe and Japan, were amongst those most directly affected.
Indeed, not only do perhaps one-third of Varanasi's residents now profess the Islamic faith, but increasingly the city's reputation as a centre of learning also makes it home to many longer-term residents from Europe, America, Africa, and Asia who study north Indian language here, as well as history, philosophy, and culture.
This cosmopolitanism is not new, however, for it has been a key theme amongst visitors to the city for centuries. As Europeans increasingly came to Varanasi from the seventeenth century onwards, first as merchants and then as rulers, it was not just the city's Hindu character which they commented upon, but also its vibrant commerce and its ethnic and religious diversity. Varanasi was, in the words of one keen observer, the pre-eminent city of northern India not because of its Hindu character, but because of its beauty, diversity, and wealth.
Such sentiments are painstakingly documented in the writings of James Prinsep, who lived in Varanasi during the 1820s. His 1822 directory of the city's notable residents, for example, enumerates a wide range of Maratha and Bengali families, Muslim and Hindu merchant houses, pandits, and descendants of the Mughals and the ruling house of Awadh.
Archaeological evidence also suggests that there has been a substantial Islamic presence here for many centuries. But that presence has, most often, been conducive to forms of cultural interaction and mutual borrowing. The city's eighteenth- and nineteenth-century architecture, in particular, professes the deep sensibility of north Indian cultural syncretism, with Mughal-style domes and arches used in a good number of Hindu temples and gateways.
Well before Europeans came to Varanasi, however, it was the fifteenth-century poet Kabir, a member of the low-caste, Muslim-convert weaving class in the city, who best embodied the city's long traditions of cultural mixing and inter-faith dialogue.
For although Kabir was often scornful of organised religion, he powerfully articulated the sense that religious faith, personal identity, and human experience transcended sectarian boundaries of all kinds. Faith in God, regardless of its outward manifestations, was something which bound human beings together in the end: 'The Hindu says Ram is the Beloved, the Turk says Rahim. Then they kill each other... They're all deluded! Whatever I say, nobody gets it. It's too simple.' It was only here, of all places, in Varanasi, that Kabir could possibly have lived and thrived.
This sense of human commonality, transcending religious affiliation, which Kabir so sharply spoke of, is manifested not simply in the religious tolerance which Varanasi residents display to one another. It also corresponds closely with the deep bonds of belonging which this city commands amongst its residents, and which cuts across religious affiliation.
To be a Banarsi is first and foremost to be a part of a common community, and to partake of a shared way of living which is unique to this special place. This is to enjoy leisure time, some conversation over Chai, a paan, and a walk along the ghats, to watch the passers-by and perhaps take in the spectacle of the evening's aarti.
All this is not to claim that Varanasi is a utopia, of course. The city has seen its fair share of majoritarianism, on display most powerfully in the difficulties Deepa Mehta encountered ten years ago when attempting to produce her film Water. The messiness of the city's religious geography, which includes many 'shared' spaces bequeathed to it by Aurangzeb's iconoclasm, has in the past provoked communal conflict.
The city is over-crowded, and suffers from poor infrastructure, constant road jams, and frequent power cuts. Most recently, economic globalisation and the importation of cheaply made Chinese saris has also negatively affected the city's silk weaving industry, and the livelihood of the Muslim Ansari weaving community. The undermining of this manufacture has, in turn, endangered the economic ties which have, for generations, bound Varanasi's different communities together.
Of course the city's cosmopolitan character should take nothing away from the city's long-standing importance to Hindus. These elements of the city can co-exist, as they have for generations, and enrich one another as well. An evening spent on the ghats of Varanasi can encompass religious activity and individual contemplation, as well as sociability and commerce. And this is a vision of Varanasi at its best, and as it should be.
Along the riverfront, while temple bells ring, the call to prayer can be heard from the city behind, and all manner of people congregate to discuss politics, culture, and the sorry state of the river Ganga without heed to nationality, religion, or personal persuasion.
Last Tuesday's bombing, then, might best be interpreted as an attack against that tolerant, cosmopolitan character of modern Varanasi, which also characterises India at its best.
In the aftermath of this most recent bombing, government officials traded accusations and denials of responsibility. To be certain, it is incumbent upon the governments of India and Uttar Pradesh to be more vigilant in Varanasi, and step up policing and intelligence gathering, though without the curtailing of civil liberties which so often accompanies the fear of terrorism.
Personal freedom remains an important part of this city's vibrant cultural life. Moreover, the Uttar Pradesh government, in particular, needs to ensure that the economic and social conditions of the city are improved with appropriate urban development and programs which support the inter-connected nature of its diverse population.
But perhaps the best defence against terrorism is simply to take the spirit of Kabir's Varanasi into our hearts, and have it inform all of our interactions with one another. In Varanasi, the ties that bind its residents and visitors together cannot so easily be destroyed by bombs.
Michael S Dodson is associate professor of South Asian history at Indiana University, Bloomington, USa, and a frequent visitor to Varanasi.
Image: The blast site at Varanasi