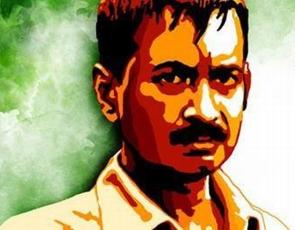 The idea is to make unexceptionable broad promises so as to have the maximum freedom to devise policies if and when the opportunity arises, says Subir Roy.
This is the election manifesto that the Aam Aadmi Party could give itself.

We will:
Fight to remove corruption and poverty.
Ensure minimum education and healthcare for all.
Ensure safe drinking water and sanitation for all.
Make India a world leader in immunisation.
Ensure clean air and clean water.
Pay pension to the aged who are needy.
Protect the environment, forest and wildlife so our children and grandchildren can live healthy lives.
Ensure the natural flow of rivers.
Ensure a friendly environment for business.
Strengthen institutions.
Make regulators independent and powerful.
Make democracy work bottom-up.
Strengthen local communities.
Strengthen local government.
A lot can be faulted in this list. One, it is rather short. India has seen many multi-point programmes of political parties -- a well-known one is Indira Gandhi's 20-point programme introduced during the Emergency. Such programmes have been read by mostly newspaper writers and quickly forgotten. If even a part of what has been listed above is achieved by an AAP government, then it will make history.

Two, the items in the list are a bit tersely stated and more precise promises could be made. This is deliberate and practical. The idea is to make unexceptionable broad promises so as to have the maximum freedom to devise policies if and when the opportunity arises.

Since it is a short list, what has been left out is important. Foremost, the AAP does not promise and try to bring about a social revolution by attacking deep-rooted social prejudices. Its leaders and members will try to set a good example, but Arvind Kejriwal is not -- and does not -- claim to be a Mahatma Gandhi or a Rammohun Roy. So issues like residual untouchability, racial prejudice (colour bias), lack of social reform within a community (status of women among Muslims), conservative social leadership taking quick offence to others exercising their right of free speech (resulting in censorship) and gender bias (in what khaps dish out) will have to be addressed at a level other than the political.

There is a real danger in not seeking to address social issues -- acquiescing to majoritarianism, the sort that former AAP member Madhu Bhaduri has complained about and that has been displayed by former Delhi law minister Somnath Bharti or khaps in Haryana round the year. Social issues do influence electoral behaviour, but social revolutions cannot be fought through elections. One-man-one-vote electoral exercises do result in part in dictatorship of the majority. To guard against this, you have to strengthen institutions -- those that protect citizens' fundamental rights. In order to help bring about social change, you have to be ready to go it alone, making the song Ekla Chalo Re your spiritual anthem.

If the agenda contained in this manifesto is even partially put in place, then what result will it achieve on the ground? Cardinally, rent-seeking -- by politicians, public servants and well-entrenched business (assuming the Competition Commission of India does its job) -- will go down drastically. People will get what they are entitled to without paying additionally in time and money and -- what should particularly interest business newspaper readers -- the cost of doing business will fall. This will result in a jump in productivity and translate into higher growth.

Actually, even a manifesto as short as this is unnecessary. Economics is all about working out priorities and making choices; and it makes sense to argue that if just one or two things are done well in five years then a government will be able to congratulate itself. So if we had to make do with a three-point agenda, then it could well be the following: fight corruption, work towards universal immunisation, and go all out to improve the productivity of rain-fed agriculture. The last will simultaneously address the twin issues of endemic poverty and food price inflation. If we can grow more food in backward areas, it will lift incomes and raise consumption in those regions. The higher food output will also address the issue of overall inflation. If this happens, it will really be like a boon granted by a benevolent god.

In the ultimate analysis, manifestos are a somewhat meaningless political ritual. No party will get re-elected if it is held accountable to its manifesto. All that manifestos can hope to do is concentrate the mind, and help everybody figure out where exactly a party stands. Even this may not be true. A key agenda can be entirely unwritten. No party will put in its manifesto that its aim is to engineer communal riots to polarise voters and thereby win the elections. But that can well be a party's primary agenda.