Home > India > News > First Look


Discuss |
Email |
Print | Get latest news on your desktop


Sreeja on her father Chiranjeevi's politics

August 25, 2008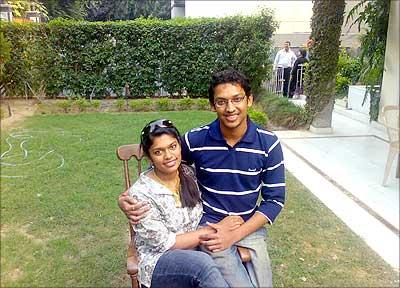 Sreeja, daughter of Telugu megastar Chiranjeevi [Images], married her high school sweetheart Shirish Bharadwaj in Hyderabad last year without the knowledge of her family. Although the couple faced a lot of trouble after the marriage, things seem to have calmed down now. Sreeja, who lives in Hyderabad with her husband Shirish and new-born daughter, spoke to Vicky Nanjappa about her superstar father's plunge into politics.
He will make a great politician and will serve the people well, but one thing that will always make me sad is that he did not give me the one most important thing that I asked for.
I was his lucky mascot. It was after me being born that my father started getting good roles in movies. I have seen some of his movies and my personal favourite is Daddy in which I think he has given a great performance. My father always made me proud. I used to accompany him to the sets and watch him act and also interact with the rest of the cast. I used to have a great time.
I respect my daughter's decision: Chiranjeevi
My father joining politics came as a surprise to me. Not once did he indicate that he would join politics and there was never any kind of talk about it. I am sure nobody has influenced him to take this decision. He has made this decision on his own. I am confident that he will be a fantastic leader. He has a great heart and my father is a very good man. This nature will help him serve the people and I am sure that the people will and can expect a lot out of him. He is a great listener and he always ensured that everyone around him was comfortable.
I have seen him closely as a father and as an actor. Although I am sure he will do a great job in politics and become the next N T Rama Rao, I personally feel that the role of an actor suits him the best. He was the best in movies
and that role suits him the best.
As a father he always pampered me a lot and the best part is that he never ever brought his work home. There was never any discussion regarding work at home. I used to watch him on the sets and I must say that he was a completely different person at home. Earlier we hardly got to see him at home due to his hectic schedule. However in the later years, he took on less work and made it a point to spend more time at home. There were times when he returned home late and would wake me up and have dinner with me. He was a complete family man at home. When he had the time, he used to make breakfast for all of us and there were times I used to make him his favourite breakfast -- bread and omelette.
Being the youngest I was always pampered a lot and there was never a time when he said no to me. My birthdays were always special and he used to give me a lot of gifts. In fact my gifts used to increase with each birthday. However, I feel sad today that the one gift I asked him for he did not give me. When I turned 19, I asked him for Shirish and that he could not give me. This is the one thing he did not give me.
Although I never see myself in politics as I do not understand anything about it, I would like to wish my father all the luck in his latest venture and I am sure that the people can expect a lot out of him.
Image: Sreeja with husband Shirish