Home > News > First Look


Mumbai world's most densely populated city: UN report

June 27, 2007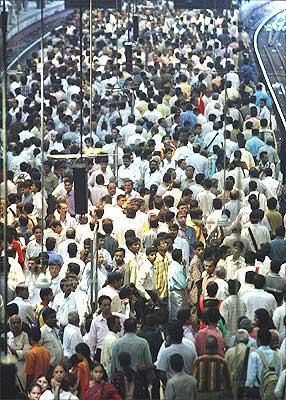 Major cities in the world including Mumbai and Kolkata are witnessing a rare phenomenon as the number of people who are moving out of these metros are on an increase, contrary to what has been predicted.
A UN report said these cities have far greater number of people moving out than into them and few of these cities will be of the size that doomsayers had predicted for them in the 1970s.
Even though by next year more than half of the world population will be living in urban areas, the urban growth is showing a decline in most regions, the United Nations Population Fund said.
Population of towns and cities in developing countries like India is set to double in the space of a generation, while urban population in developed world is expected to grow relatively lower, the State of the World Population 2007 report, which was released on Wednesday said.
In comparison to the urban population growth rate, the world's rural population is expected to decrease by some 28 million between 2005 and 2030.
Mega cities are still dominant but they have not grown to the sizes once projected and has consistently declined in most world regions says, the report said.
Pointing out that large cities like Kolkata or Seoul have more people moving out than in, the report says few are close to the size that doomsayers had predicted for them in the 1970s.
Among the 20 mega cities, the population of only six grew at rates consistently above 3 per cent a year over the last 30 years.
The others experienced mainly moderate or low growth, it said.
The report suggests that over the next 10 years, the population of only Dhaka and Lagos are expected to grow at rates exceeding 3 per cent a year.
Pointing out that 52 per cent of the world urban population continues to live in smaller cities having less than five lakh people, it said small cities will dominate over larger cities when it comes to urban growth in the foreseeable future.
The report said 28 per cent of Indian population live in urban areas while 55 per cent of Indian urban residents live in slums.
Forty per cent of India's urban residents has no access to safe water source, it said adding Mumbai is the most densely populated city in the world with 29,650 per square kilometre and projected that Mumbai will be the second most populous city in the world by 2020 with over 25 million inhabitants.
Suggesting that poor people will make up a large part of the urban growth, it says most urban growth comes from natural increase (difference between the number of births and number of deaths) rather than migration.
Developing regions as a whole will account for 93 per cent of the urban growth while Asia and Africa for over 80 per cent.
The report also suggested that between 2000 and 2030, Asia's urban population will increase from 1.36 billion to 2.64 billion and both Asia and Africa will include almost seven out of every ten urban inhabitants in the world.
The report also suggested that more than half of the Chinese population will be urbanites in less than a decade with 18 million migrating from rural areas to cities every year.
Image: Commuters at Mumbai's Churchgate Railway Station
Photograph: Indranil Mukherjee/AFP/Getty Images