Home > News > First Look


The man who could be UN Secretary General

October 03, 2006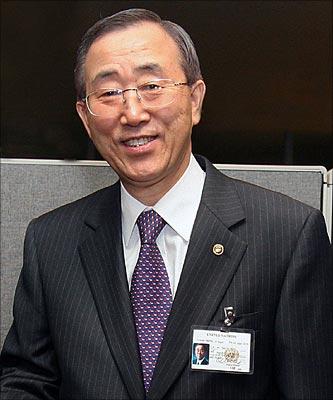 The Havard-educated South Korean Foreign Minister Ban Ki-moon won the final United Nation's Security Council straw poll on Monday for the post of United Nations Secretary General and is almost certain to be elected to head the world body.
The 62-year-old got 14 votes. He did not get any 'discouraging votes,' but one country did not express any opinion.
India's nominee Shashi Tharoor got 10 'encouraging' votes and 3 'discouraging' votes, including that of a permanent member. Two countries did not express any opinion.
Immediately after the poll, Tharoor, United Nations Under Secretary General for Communications, pulled out the race and sent in his congratulations to Ban Ki-moon.
After the straw poll, China's Permanent Representative Wang Guangya said, 'It is quite clear from Monday's straw poll that Minister Ban Ki-Moon is the candidate the Security Council will recommend to the General Assembly.'
A new candidate can still come forward. But nobody expects such a move. United States Ambassador John Bolton noted that new candidates could still come forward but said he would be surprised if any did before Monday. Once the Security Council decides on the secretary general, the General Assembly has to make the final choice. But it is considered only a formality.
Photograph: Jay Mandal
Moon shines at UN, Tharoor quits race
Coverage: Tharoor's race for the UN Secretary General


What do you think about the story?








Read what others have to say:





Number of User Comments: 6








Sub: Any Guesses !!!

Let me guess who that permanent security member was who gave a disouraging vote to India's Nominee........any guesses .....oh you know it........come on...........................CHINA !!! Wayne ...


Posted by Wayne Singh









Sub: hi

it really doesn't matter either Mr. Tharoor lost...... what does we can really refer from the election outcome is the still little support and trust ...


Posted by pankaj









Sub: Slave Indians of the Italian Sonia Maino cannot rule World body

Indians who are slaves of the Italian Sonia Maino cannot rule World body


Posted by vijay









Sub: S.Korean elected UN head

Congrats.But the aid assistance to African countries & ofcourse friend of Big brother USA the S.Koreans tradionally close to them made the difference.Anyhow who cares ...


Posted by Capt Ganeshyam









Sub: Don't loose heart tharoor

Shashi tharoor lost the race probably because bigwigs in the UN don't want Indian to head it. But tharoor is the capable man and still ...


Posted by bhaskar






Disclaimer