Home > News > PTI

Thackeray justifies Sena attack on Zee TV

February 09, 2006 15:27 IST
Last Updated: February 09, 2006 16:06 IST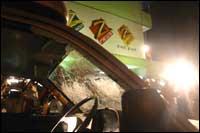 Justifying Wednesday night's attack by Shiv Sena workers on the office of Zee TV, the popular channel, Shiv Sena supremo Bal Thackeray on Thursday congratulated them for 'remaining vigilant'.
In a front-page article in Saamna, the Sena mouthpiece, Thackeray said the outburst was in response to the 'obnoxious' skit presented on the Shiv Sena by Zee Marathi, ridiculing Sena executive president Uddhav Thackeray and his cousin Raj.
The skit titled 'Kaka mala vachva', (Uncle, protect me) was staged during the awards function hosted by the channel at Bandra-Kurla complex recently.
'A thousand thanks to you...keep the flame alive...we need to protect Mumbai from such (distasteful) people', Thackeray said congratulating the Sena workers.
The satirical piece was reportedly a comment on the power tussle within the Thackeray family, which utlimately resulted in the exit of Vidyarthi Sena leader and Sena chief's nephew, Raj from the party some time ago.
Sena workers, allegedly led by Sena's student wing, Bharatiya Vidyarthi Sena leader, Abhijit Panase, had attacked Zee office Wednesday night, ransacking and damaging its office and the OB van stationed outside.
Meanwhile, Mumbai police have detained four persons in connection with the attack, although no formal arrest has been made so far.
"We will book Abhijit Panase since the Sena mouthpiece has named him as the one who had led the attack," a senior Mumbai police official said.
Also read:
'Those who left Sena should return'
Photo: Arun Patil
© Copyright 2005 PTI. All rights reserved. Republication or redistribution of PTI content, including by framing or similar means, is expressly prohibited without the prior written consent.



What do you think about the story?








Read what others have to say:





Number of User Comments: 8








Sub: Who's to blame for India's woes

Thackeray and his Sena thugs have been allowed untrammelled leeway to attack anyone who shows them up for what they are, with total impunity - ...


Posted by labrea









Sub: Sena is right

Why couldn't Zee do a show on the Muslims and Quran? Why only Balasaheb? Because they fear the Muslims, now they've got a slap and ...


Posted by Utsav









Sub: baal thakre...hmmm

i think he pretends to be a dictator of mumbai..he should be in jail for alot of hate crimes against every religion..if someone dont have ...


Posted by jackie









Sub: Sad state

This is indeed a sad state of democracy and freedom of press. I dont understand how these people are scot free and not behind bars.


Posted by Mohith









Sub: Thackeray justifies Sena attack

He is not Bal Thackrey.He is Baal Thackrey.Even if he says that he is pro-Marathi or pro-Hindu,what has he done after all to please them?On ...


Posted by Prasath






Disclaimer