Home > News > PTI

Musharraf pardons A Q Khan

February 05, 2004 15:45 IST
Last Updated: February 05, 2004 21:59 IST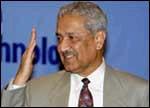 Acting on the recommendation of the cabinet, Pakistan's President Gen Pervez Musharraf on Thursday pardoned the father of the country's nuclear bomb Abdul Qadeer Khan, a day after the latter publicly admitted leaking sensitive nuclear know-how to Iran, Libya and North Korea, a local TV channel reported.
| | |
| --- | --- |
| | Also Read |
| | |
Earlier in the day, the cabinet, headed by Prime Minister Zafarullah Khan Jamali, had recommended that the president pardon Khan.

The metallurgist had on Wednesday met Musharraf and admitted leaking nuclear technology and sought forgiveness.


More reports from Pakistan
Read about: Indo-Pak Peace Talk | Coup in Pakistan


© Copyright 2005 PTI. All rights reserved. Republication or redistribution of PTI content, including by framing or similar means, is expressly prohibited without the prior written consent.






What do you think about the story?








Read what others have to say:





Number of User Comments: 11








Sub: It's all a sham

It's all a big cover up. All this confession, asking for pardon and granting it, is all a cover up. Dr Khan took it upon ...


Posted by Impostor









Sub: It was a trade off

Hi All ! I feel that in the closed door meeting that Musharraf had with Khan, He must have asked Khan to accept the charges ...


Posted by Rahul









Sub: India and Mia Musharraf

Musharaff's act of pardoning A Q Khan for selling nuclear secrets to North Korea and Iran, comes as no surprise, as basically it is a ...


Posted by dayanandnene









Sub: Fooling the world

Fantastic ! The world ( US ) will certainly accept this sincere apology and reward pakistan further.


Posted by Dr. Pravin









Sub: Pardon A Q Khan??

Pakistanis are showing their basic instincts once more. Do they realise the extent of damage his actions have caused?? I hope Mr. Bush is watching ...


Posted by Ashish






Disclaimer