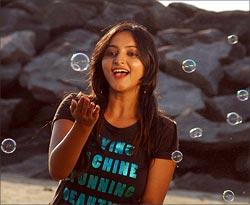 Srikanth Srinivasa feels that Kannada film Tughlaq has a curiosity-inducing title but fails to engage or interest.
In
Tughlaq
, upcoming filmmaker Aravind Kaushik (
Nam Arealli Ondina
) tries to prove the point that all humans have a 'Tughlaq' in them, faced as we all are by dilemmas and indecisions.
The hero Raaghu (
Rakshit Shetty
) can't even decide whether to drink coffee or tea. Two girls fall in love with him and he has to decide who will be his life partner.
The first half is hilarious to the extent that Raaghu manages to balance the love of the two girls Sania (
Anisha Umar
) and Sonia (
Meghana Gaonkar
). The latter happens to be a don's sister who does everything to keep her happy.
Raaghu is ably supported by his friend Giri who knows all about his problem with making decisions. There's a third childhood friend, Balu, who takes advantage of Raaghu's dilemma and makes a film on his friend's life.
Raaghu, who has never been able to make up his mind about a suitable career, now chooses
to become an actor and plays the lead in the film that takes its title from his nickname, Tughlak.
When it comes to shooting the climax scene, Raaghu's friend Balu, the director of the movie, wants him to team up with Sania. When Raaghu approaches Sania, she rejects him. In fact, both the girls reject Raaghu. There are some autorickshaw drivers who come to support him and change the ending.
The second half though a bit shorter than the first half, continues with the hero's dilemma over coffee and tea and drags somewhat. It fails to evoke any curiosity in the audience and doesn't engage much.
Rakshit Shetty has a striking resemblance to Bollywood actor Bobby Deol. He is a good find for the industry, but needs to stop copying Deol.
Anisha Umar has been given little chance to show her abilities. Meghana has a small role but makes her presence felt. B Suresha as the don is unconvincing.     
Arjun's music is passable. Camerawork by Manu Apler is a major highlight of the film. The film could have been more engaging and interesting.
Rediff Rating: