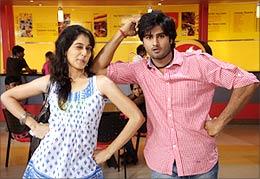 Radhika Rajamani feels SMS has all the ingredients to make it work at the box office.
SMS
(
Shiva Manasulo Shruthi
), yet another love story on celluloid, comes packed with energy and zest and a sprightly new lead pair, Sudheer Babu and Regina Cassandra.
The film has its high moments, though it drags in some places.  Director Tatineni Satya has remade the Tamil film
Shiva Manasula Shakti
but with his own additions.
Shiva (Sudheer Babu) and Shruthi (Regina Cassandra) meet on a train travelling to Vizag. She says she is an airhostess with Kingfisher Airlines when in reality she is a radio jockey. She takes him to be an army man when in fact he is a courier boy. Their paths keep crossing and they fall in and out of love. There are plenty of such misunderstandings as the film progresses.
SMS
is not the usual mushy love story. Here the hero and heroine are often at loggerheads and it's fun watching them argue and take each other for a ride. There's enough humour in the dialogues to make one laugh without the mandatory comedians. There are songs galore. There's some action for the hero too.
There's a mother (Rohini) and two suitors for Shruthi. In a sub-plot, Shruthi's brother, Sada (Vennela Kishore), falls in love with a girl from another community.
There's a bit of everything to make the dish palatable. Sudheer and Regina add the extra spice with their acting and the chemistry between them.
Director Satya ensures the momentum is maintained to a large extent. The low moments in the film would be the drinking sequences and certain sequences in the second half which break the energy and exuberance of the characters.
Sudheer Babu and Regina liven and lighten up the screen with their performances and act with the ease of old hands rather than the newcomers they are. Sudheer dances well and fights well too. He needs to work on his voice and dubbing though.

Regina, too, seems at ease before the camera. She is expressive and can convey a variety of emotions.  Although Rohini's acting was over the top, she did a good job. Tagabothu Ramesh made his presence felt in the climax in his usual role of a drunkard.

Selva Ganesh's music suited the film. The film scores on the technical front too.

Rediff Rating: