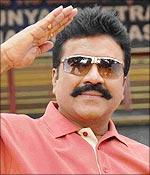 Tthough politician and former police officer B C Patil's Kannada film Salute is based on his personal experiences while in service, it cannot be labelled as an autobiography as the film has a lot of commercial ingredients in it, which are unrelated to anyone's life.
Though Patil has used his own name for the chief protagonist of the film, he has not cared to present the film with a trace of authenticity.
Sadly, Patil who had such rich experience as an actor and director has utterly failed in his attempt to make a commercially viable film. Salute looks like a shoddy attempt in filmmaking what with such glorification of the protagonist and its tasteless dialogues. Added to this is the poor screenplay that has been lifted from Tamil films of Vikram and Vijayakanth.
There are enough sequences and dialogues in the film which clearly in poor taste. The heroine who is also a police officer kicks the belly of the villain and says "Connection Cut, Generator Phut'. She repeats this dialogue three times! B C Patil who has taken the responsibility of writing the dialogues and screenplay should take the blame for this.
B C Patil is a determined police cop who wants to break the criminal and political nexus. He wants the city of Bangalore to be free from criminal activities. He is obstructed by the political bosses and even charged with foisted cases.
Later he becomes a farmer leader and takes up issues relating to farmers. He wins the assembly elections as an independent candidate. His lone vote becomes crucial for the formation of the government. He plays his political games to become the Home Minister and later the Chief Minister. How he cleans up the political system forms the rest of the story.
As an actor, Patil has many deficiencies. Okay, he is good in fights but he should have avoided the dance sequences. The heroine, Ashwini, dances with the hero and has some fight sequences too. B V Radha and Vijay Koundinya sparkle in some scenes. Former Prime Minister H D Deve Gowda's betenoire, Ashok Kheny, is only seen in a special role in the film, but he does not act.
Sai Karthick's background score for the film is effective, but songs are average. Niranjan Babu has completed his work in limited resources.
It is difficult to believe that the same Patil who made award-winning films like Nishkarsha and Shaapa earlier, has come up with this one.
Rediff Rating: