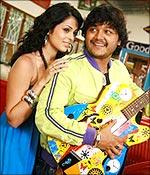 First thing first.
The "Golden Star" Ganesh and director Preetham Gubbi combination has worked well for the Kannada film Maleyali Jotheyali.
The film has some extraordinary music and visuals besides a good script work and dialogues. Ganesh complements these efforts of the technicians by giving the best performance of his career.
All these factors make this film a feast for all those who love good cinema.
Like in the case of Preetham's previous films as a director and writer, even this has a very thin story line. But what is interesting is that the film is presented in an ultra cool fashion from the beginning.
In the film that starts with a flashback, Gubbi has maintained consistency in narration giving little room for confusion or boredom for the audience. The way the songs are placed shows Gubbi's clarity in vision. The spectacular visuals have also added beauty to the whole film.
The idea of engaging a girl to please the other girl with whom the hero has fallen out at first sight is not a fresh idea but Gubbi narrates the story with lots of twists and good comedy elements.
Maleyali Jotheyali wins largely because of the pace and the last twenty minutes of the film. Maleyalli Jotheyalli is Preetham Gubbi's best script after Mungaru Male, but somehow he has not taken care to make crisp editing in the first half.
The story takes off only towards the end of the first half. There are also deliberate efforts by the director to revive the memories of Mungaru Male and introducing Cheluvina Chiththaara heroine Amoolya in a song. There is space for Devadasa, the rabbit who was part of that film. These things were unnecessary.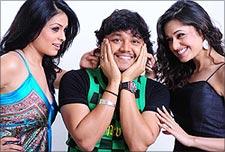 As in many of his previous films, Ganesh once again plays the role of an irresponsible and pampered youngster, Preetham. His rich father is obsessive about superstitions. Preetham is sent to Sakleshpur by his father where he meets Anjali. Later he also meets Shwetha, daughter of an estate owner and falls for her immediately. He seeks the help of Anjali for cementing his relationship with Shwetha who hates marriage.
Slowly all the three characters become closer to each other. Preetham who actually liked Shwetha first, slowly starts liking Anjali. Finally Anjali walks out without informing the other two. A distraught Preetham decides to find her and moves out to Bangalore. An amazing climax also sends a positive message to the audience.
Ganesh has delivered an amazing performance in the film. His body language perfectly suits the character. Anjana looks beautiful, but it is Yuvika Chowdhary who has come out with a very good performance. Rangayana Raghu as usual is classic in his role. Sudharani gives a neat performance in a brief role while the child artist makes a good impact.
Hari Krishna makes a strong comeback with his music composition. Both versions of Nee Sanihake Baralu, the title song are top class. S.Krishna is undoubtedly a perfectionist and each frame shows a glimpse of his talent. Mahesh and Vinayakram have done a good job in their debut as dialogue writers.
Maleyali Jotheyali is an enjoyable film and a real feast for Ganesh fans.
Rediff Rating: